These homemade strawberry pop-tarts are made with an easy, flaky, buttery pastry crust, filled with a candy-like fresh (homemade) strawberry jam, and iced with a simple glaze.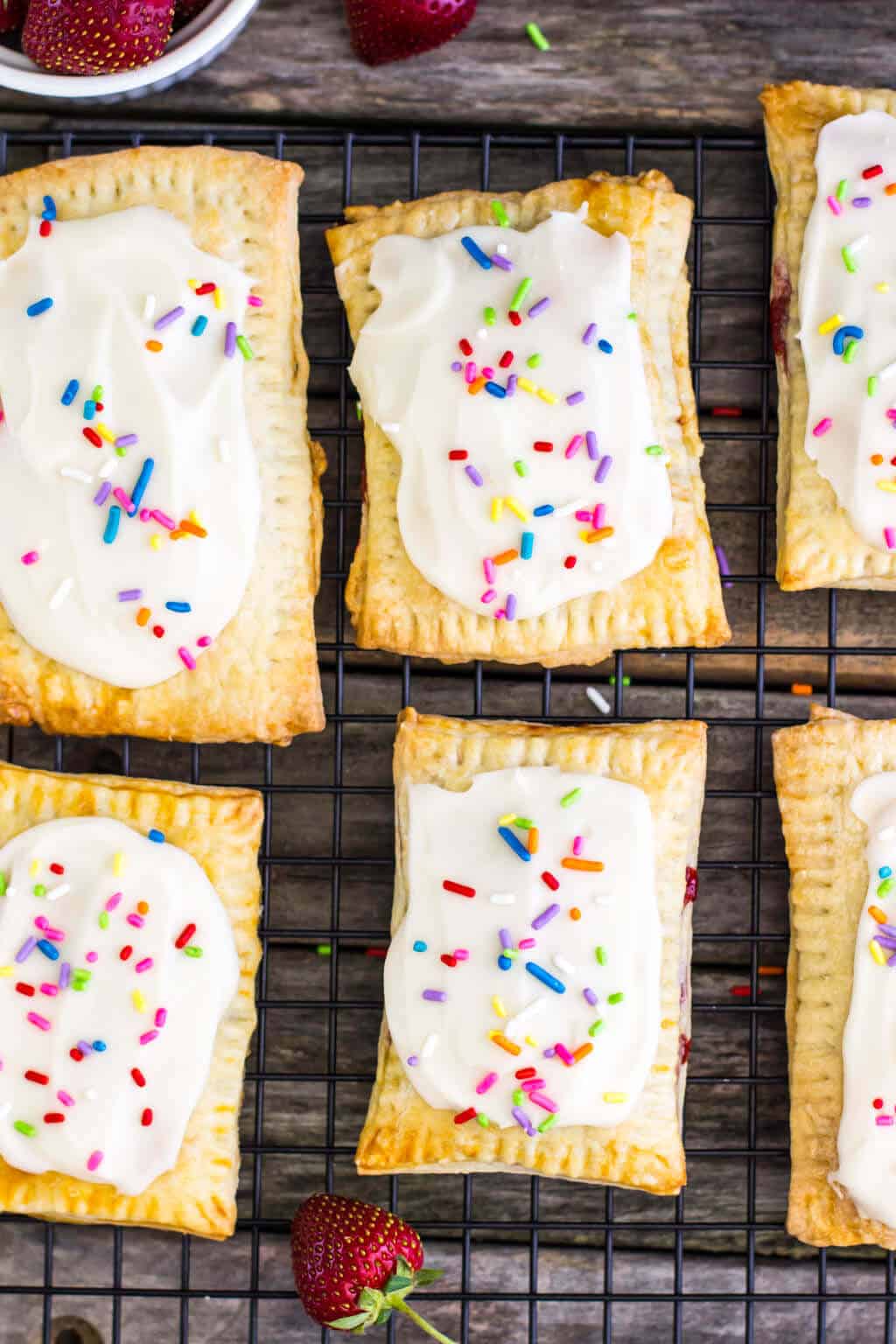 I never reached for the Strawberry Pop-Tarts as a kid. Pass me the chocolate, the cookies 'n cream, the brown sugar & cinnamon (especially the brown sugar & cinnamon — make it two packs), but not the strawberry. When it came to strawberry (or blueberry), just no-thank-you, keep your fruit away from my snacks, please.
Even now as a (supposed) adult, I'll almost always pick something chocolate over something fruit-filled.
But…. But, last weekend Zach and I spent over an hour poring over the strawberry plants of a local field until our fingers were stained red (and our shoulders sun-stained as well… oops) and our baskets were heavy. Really heavy… I'm talking 14 pounds of strawberries between the two of us.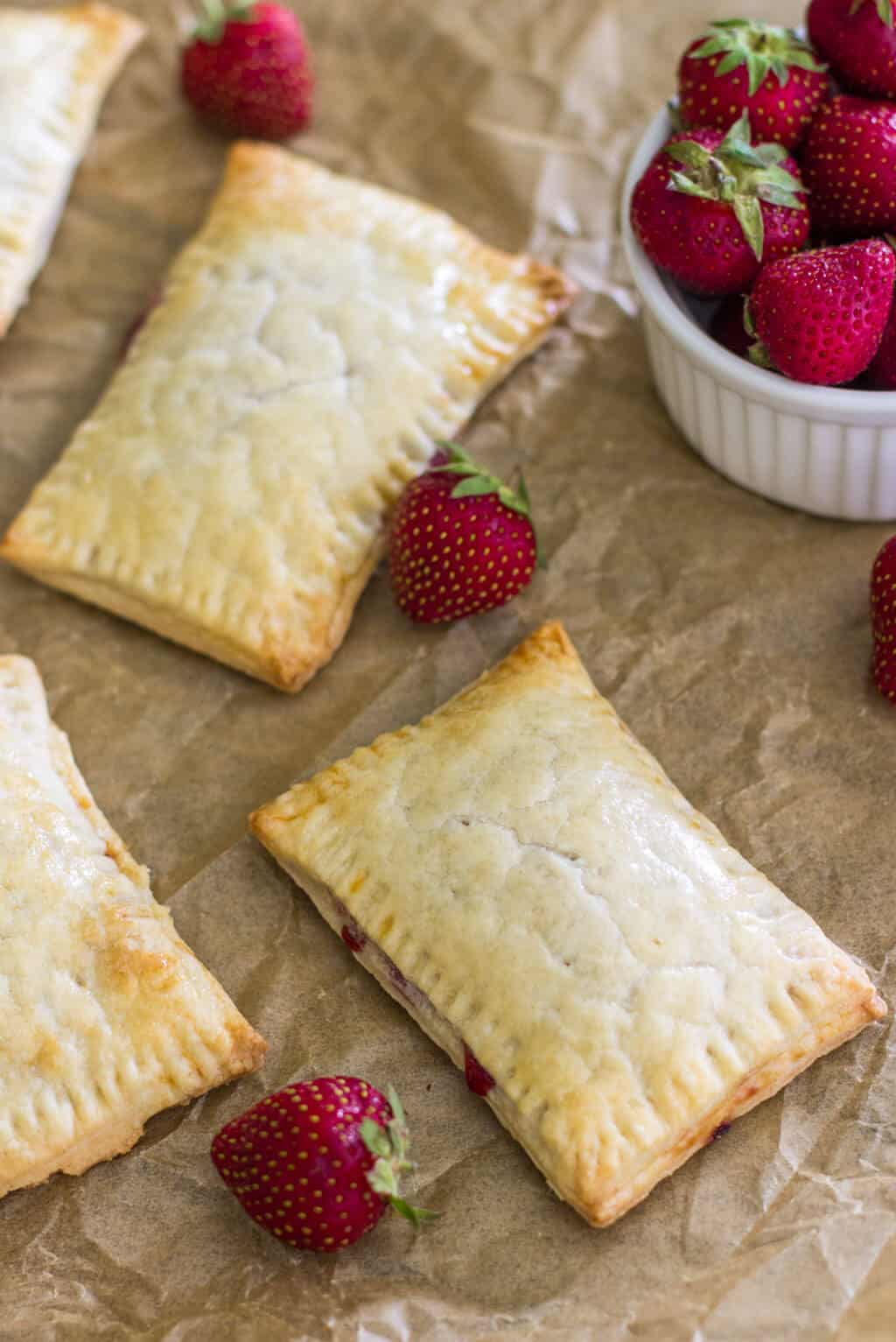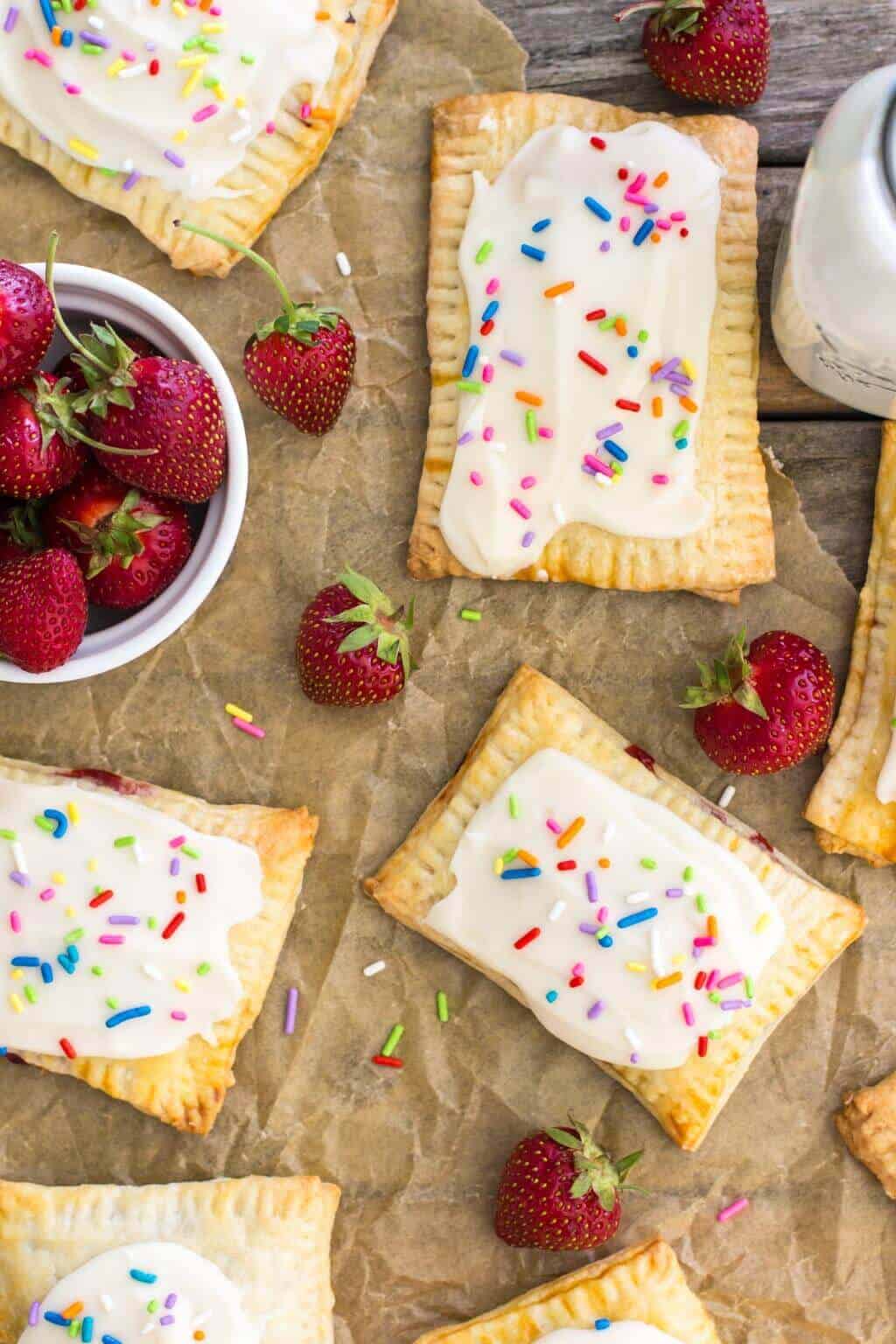 And here's the good/bad thing about these local-grown, hand-picked strawberries. They're not sprayed with preservatives (awesome), so they go bad fast (not so awesome). Despite the pounds of strawberries we were able to devour within twenty minutes of bringing them through the door, I still had a hefty basket of berries on hand that I had to make quick work of (I had this same problem when we went strawberry picking last year).
And even though I'd never liked strawberry pop-tarts as a kid, I couldn't help but think I bet if I made some from scratch with these berries, I'd love it.
I was so right.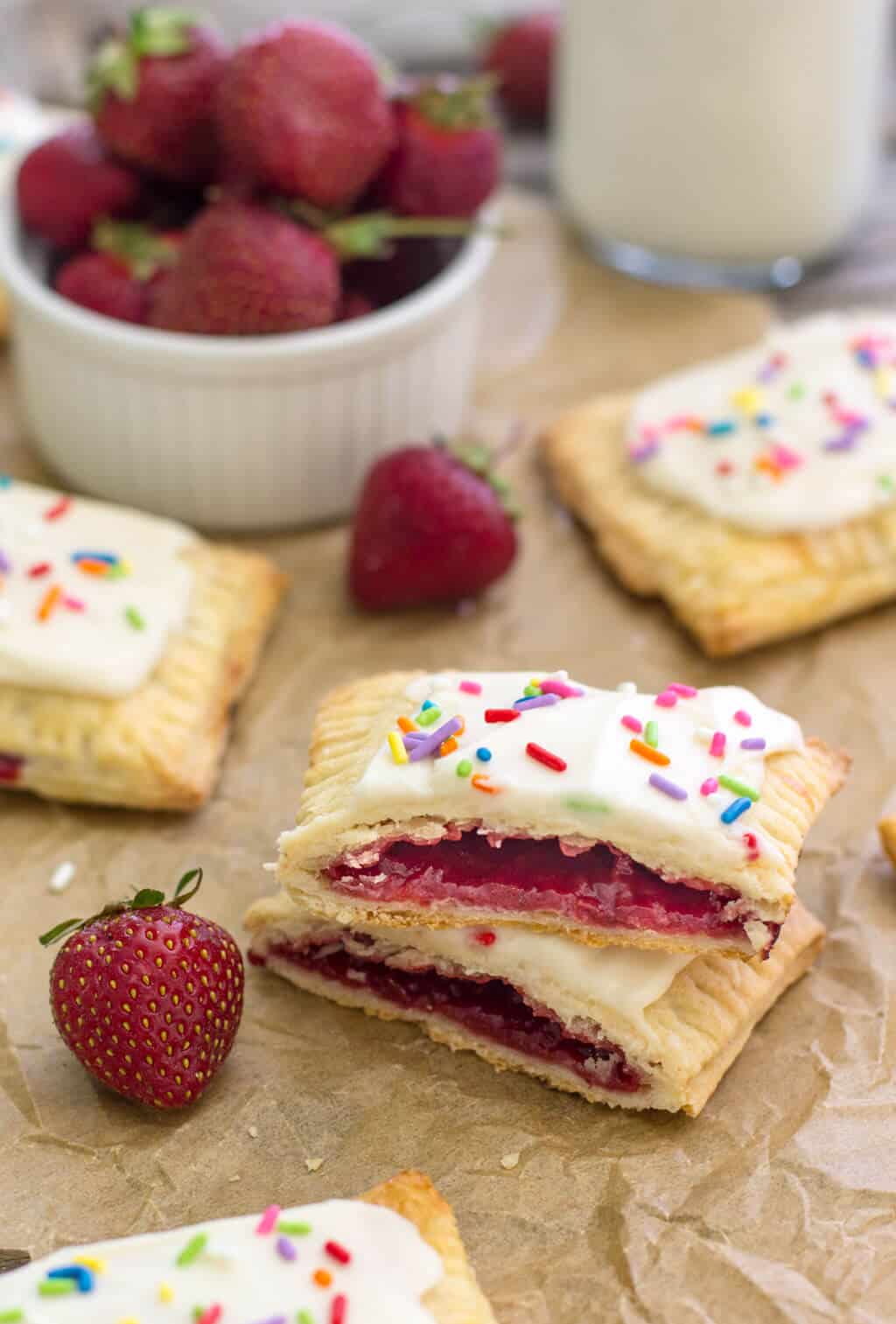 Not only did Zach and I both enjoy these pop tarts, my whole family loved them as well. I even got a disgruntled text message from my sister Nikki, who arrived home to find only one pop tart left, telling me that pop tarts were supposed to come in packs of two and she felt ripped off. I get it. These pop tarts with their sweet homemade jam filling are amazing, and it's almost a shame to eat just one.
The riper the strawberries are that you use for this recipe, the better. Ours tasted like sweet, juicy candy straight off the vine, so they made for a vibrantly red, boisterously flavorful filling. If it's not strawberry season near you and the only picking you can do is surveying the berries through the film of a plastic carton, that's fine and you should still make these. I just highly recommend that you select the juiciest, ripest ones you can find.
I used the same flaky, tender crust here that I used for my chocolate turnovers. It bakes up nice and golden in the oven under the sheen of an egg wash (and is the absolute easiest pie crust I've ever used). It's the perfect encasement for the sweet strawberry jam, flaky and soft inside with a browned exterior.
Add a little bit of sweet glaze and a lot of sprinkles, and you've got yourself the best pop tarts you'll ever taste.
Sweet and nostalgic.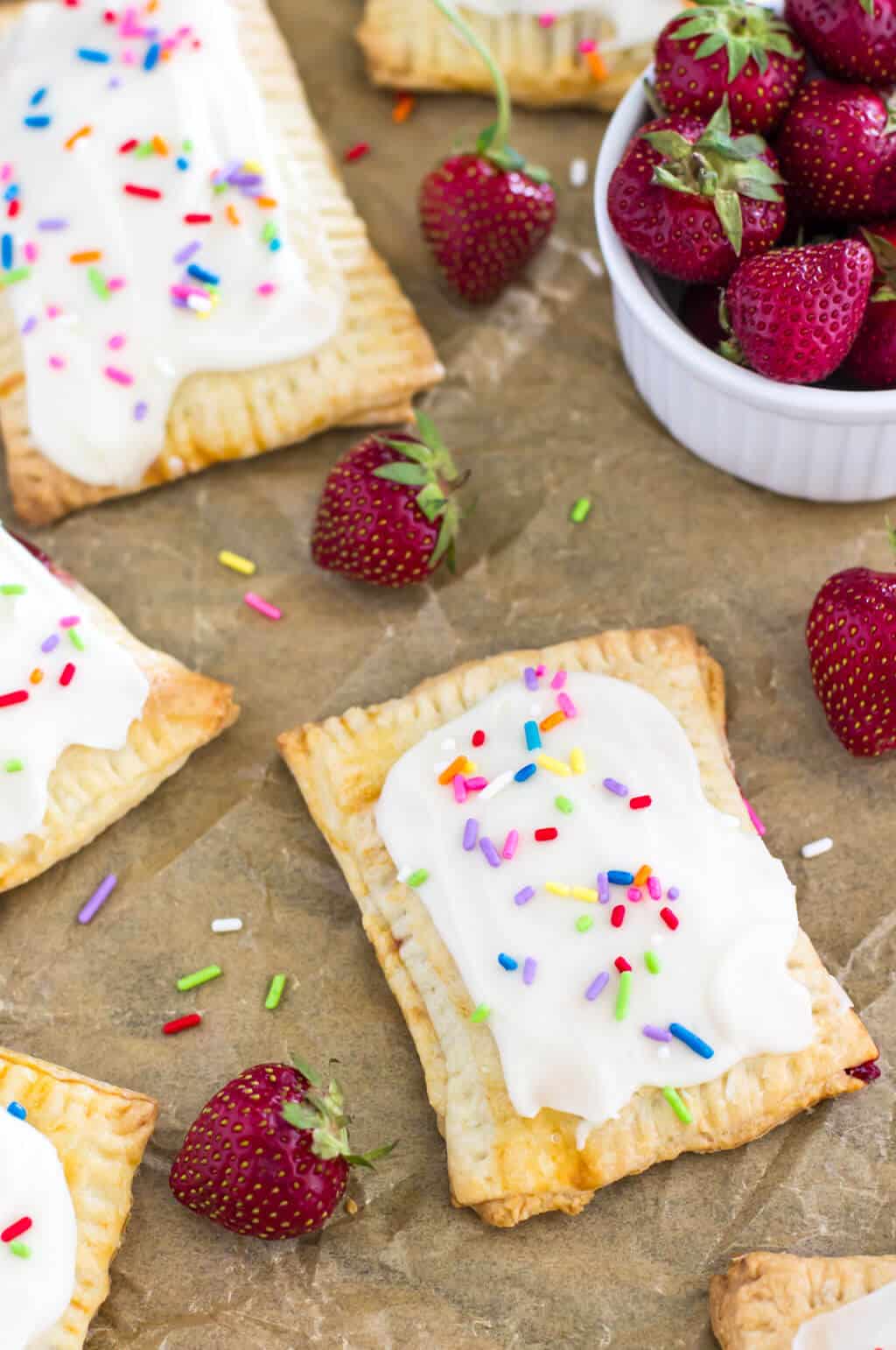 You still won't find me reaching for the store-bought strawberry pop tarts anytime soon, but I think I'll be making this recipe again.
Enjoy, and if you have any requests for future pop tart recipes on Sugar Spun Run I'd love to hear them! 🙂
More Recipes to Try: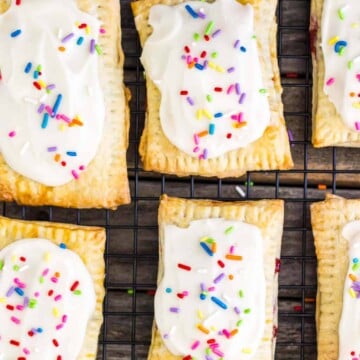 Homemade Strawberry Pop Tarts
Skip the box and try out these homemade strawberry pop tarts, instead!
Print
Pin
Rate
Ingredients
Strawberry Filling*
2

cups

quartered

stems-removed strawberries

½

cup

sugar

2

tsp

cornstarch

2

tsp

lemon juice

¼

tsp

vanilla extract

optional
Pastry Crust
2

cups

all-purpose flour

1

Tbsp

sugar

½

tsp

salt

13

Tbsp

unsalted sweet cream butter

cold and cut into pieces (about 1 Tbsp-sized pieces)

½

cup

sour cream
Egg Wash
1

egg

lightly beaten

2

tsp

water
Glaze
1

cup

powdered sugar

3-4

Tbsp

heavy cream

½

tsp

vanilla extract

Sprinkles

if desired
Instructions
Filling
In a medium-sized saucepan, combine strawberries, sugar, cornstarch, and lemon juice over medium-low heat.

Stir frequently until strawberries release their juices.

Use a potato masher to crush the strawberries until mostly liquid (it's fine if small pieces are remaining).

Increase heat to medium-high and bring to a boil, stirring constantly.

Boil (still stirring constantly) for 3 minutes and remove from heat.

Stir in vanilla extract. Continue to occasionally stir the mixture so that it doesn't burn to the bottom of the pan.

Pour into a canning jar and place in the refrigerator until you are ready to use.
Pastry Crust
In a food processor, pulse together flour, sugar, and salt.

Sprinkle in chopped, cold butter and pulse until coarse crumbs begin to form.

Add the sour cream and pulse until the dough begins to clump together.

Deposit the dough out onto clean, well-floured surface and lightly dust with more flour.

Knead dough, adding flour as needed, until it is cohesive and no longer sticky

Using your palm, flatten the dough on the clean surface.

Fold the dough into itself twice and repeat the flattening process (this helps encourage flaky layers in the crust).

Repeat the folding and flattening process once more.

Divide the pastry dough into two pieces and form each into a smooth ball. Slightly flatten into a disk, wrap tightly with clear wrap and place in fridge to chill for at least 30 minutes.

After the dough has chilled, remove from refrigerator.

Remove clear wrap from dough (working with one disk at a time) and turn dough out onto a clean, lightly floured surface.

Use a rolling pin to roll each disk into a roughly 9x12 rectangle (I always make it larger and then trim the edges, I use a pizza cutter for even cuts).

Cut into 3x4 pieces (I'm a stickler so I use a ruler to make sure they're even, but this isn't necessary and even still my pop tarts end up with slightly varied sizes).

Place two 3x4 piece of crust on a parchment paper lined cookie sheet.

Prepare your egg wash by stirring together your egg and 2 tsp of water with a fork until well-combined.

Brush the surfaces of both pastry pieces with egg wash using a pastry brush (do not discard the egg wash, you will use it again before putting the pop tarts in the oven).

Place 1 heaping Tbsp of filling in the center of one piece of crust, and then place the second piece of pastry on top (the egg-washed side should be facing the filling).

Crimp the edges with a fork to seal, and then use a sharp knife to pierce small holes throughout the pastry.

Repeat until all of your dough has been used.

Chill pop tarts on cookie sheet in refrigerator for 20 minutes.

Once pop tarts have finished chilling, brush with remaining egg wash and transfer to oven.

Bake on 400 for 25 minutes or until edges are beginning to turn golden-brown.

Allow to cool completely before frosting.
Glaze
Prepare glaze by whisking together powdered sugar, heavy cream, and vanilla extract.

Spread over each pop tart and decorate with sprinkles, if desired.

Allow the pop tarts to sit at least 10-15 minutes for the frosting to set.

Enjoy!
Notes
*I prefer to prepare my jam filling a day in advance. It gives the filling ample time to cool, and it firms up and is easier to portion once it has been refrigerated.
Unlike storebought pop-tarts, once these have been frosted they won't hold up to a toaster (the icing will melt right off). I like to pop mine in the microwave for a few seconds, just be warned that the icing becomes pretty melty when heated.
Nutrition
Treat yourself to a

FREE E-BOOK!