This is my all-time favorite, easy pie crust recipe!  Made with an unexpected ingredient (sour cream!) this pie crust can be made in a food processor so that you can have a perfect pie crust chilling in your refrigerator in a matter of minutes.
This is it, guys.  The only pie crust recipe that I ever use, one that my mom has been making for years and one I've actually shared with you a few times already, just not on its own.
You might have caught this easy pie crust recipe before in my favorite apple pie, my chocolate turnovers, or even in my turkey pot pie, but it's about time that this recipe gets its own post (plus, it saves me the trouble of having to re-type it each and every time I use it!).
While it may be a little bit more effort than my graham cracker crust recipe, it's one of the easiest buttery pie crusts I've ever made and the only one that has never failed for me.  It comes together in a food processor (no obnoxious pastry cutters!) and uses a perhaps unexpected ingredient…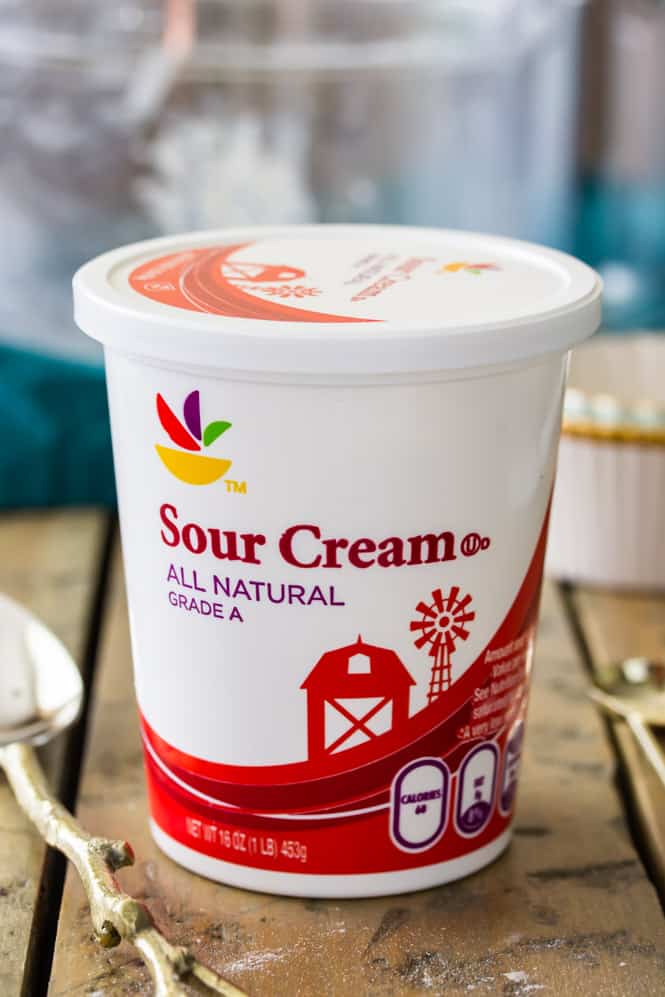 Sour cream!
Instead of worrying over adding exact amount of ice water, you're going to simply add sour cream to this recipe and it will yield one of the flakiest, best tasting pie crusts of your life. Unlike those ice water recipes, this easy pie crust recipe turns out for me perfectly, every time.
You'll make everything in a food processor, combining your dry ingredients first, then adding cold butter that you first chopped into pieces.
Pulse until your mixture looks like coarse, sandy crumbs.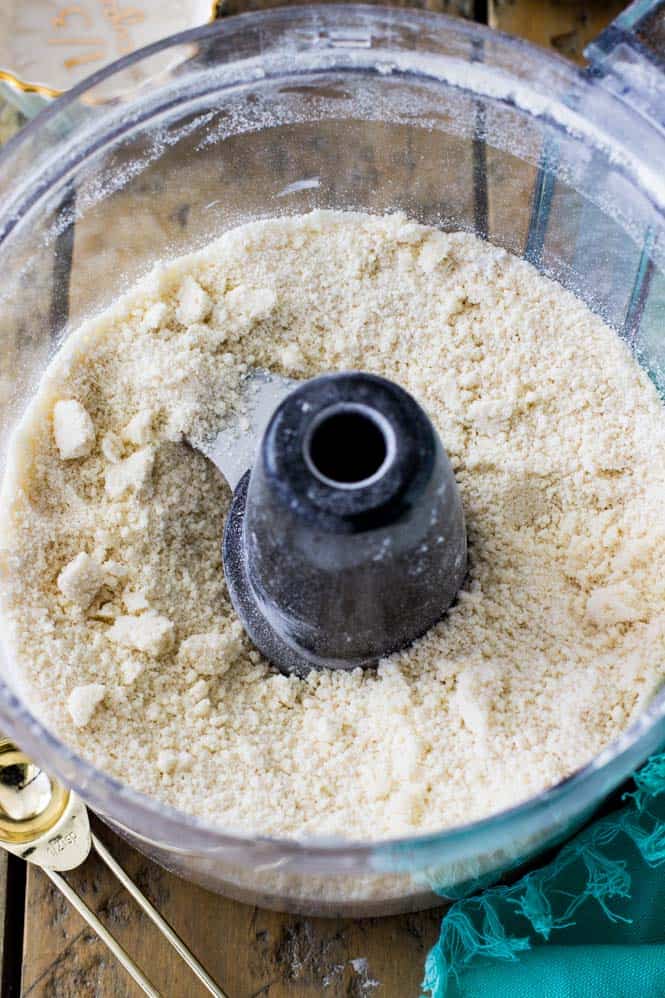 Next, add your sour cream and pulse again until your dough just begins to clump together.  It should look like this when it's finished 👇🏼 (don't overdo it!).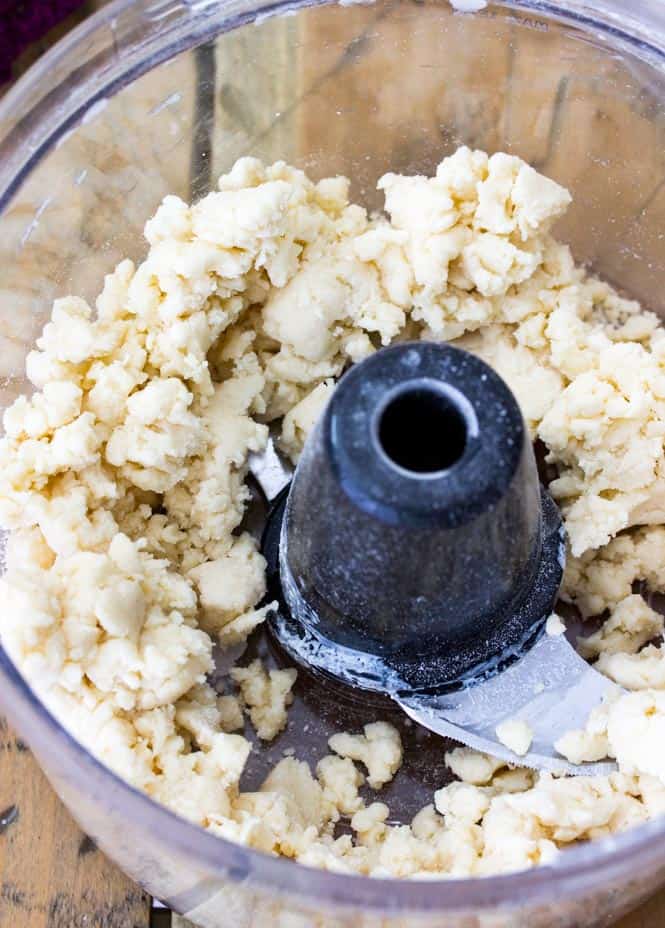 Next, transfer your dough to a clean, lightly floured surface where you'll use your hands to gently knead the dough together.
Once it's formed into a smooth, round ball, use your palms to lightly flatten the dough, and then wrap it tightly with clear wrap and place it in your refrigerator to chill for about 30 minutes.
If you chill the dough for longer, just allow it to sit at room temperature for about 10-15 minutes before rolling it out, as the colder it is the stiffer and more difficult to work with it will be.
Roll your dough out onto a lightly floured surface into a 12″ circle.  I like to roll my dough out slightly larger, and then use a pizza cutter to trim up the edges to that they are neat and even.  If yours aren't, you can always just fold them underneath for a prettier looking edge to your pie crust.
If you're using this easy pie crust as part of another recipe, it's likely that the recipe will have instructions for filling and baking the crust. However, some recipes, especially those with no-bake fillings, will require a pre-baked pie crust, so I've provided instructions in the recipe for blind baking.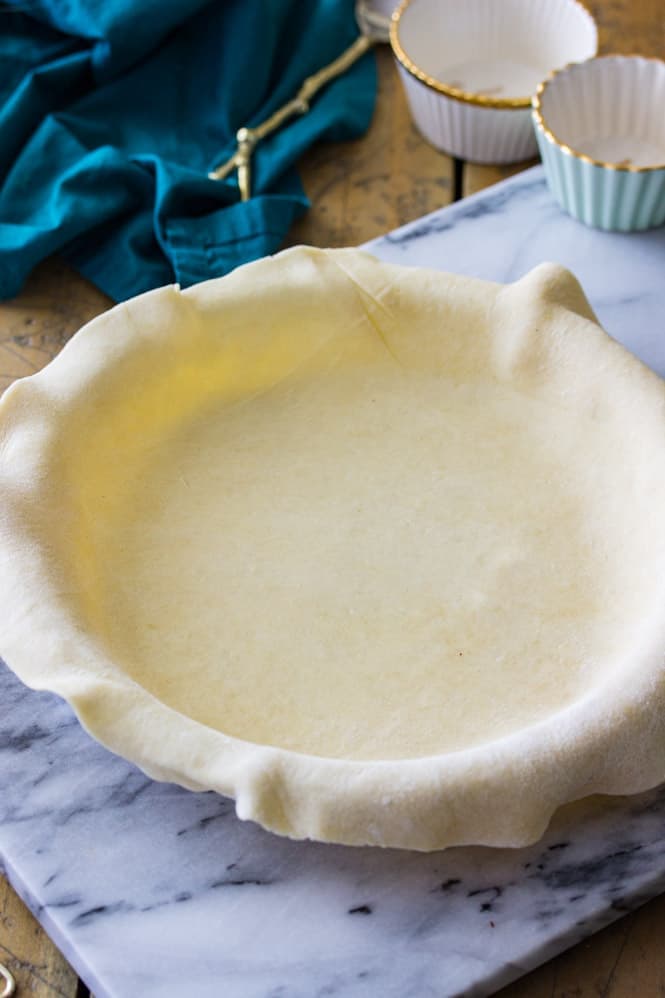 How to Blind Bake a Pie Crust
Blind baking simply means baking a pie crust without filling it first.  In the past, I've blind baked pie crusts by filling with beans or pie weights, but this method from Serious Eats has quickly become my favorite method.
It involves lining your chilled pie crust with aluminum foil (be sure to use a large piece so that you can simply grab each end and and lift it out of the pie once it has finished baking) and then filling the foil with sugar.
The sugar evenly distributes its weight against the pie crust, and once you are finished baking it you can either re-use the sugar in your baking (I used the sugar you see below to make my Chocolate Caramel Sandwich Cookies) or you can save it separately to for all of your future blind baking.
This technique gives me an evenly baked, golden brown pie crust every time.
The pie crust will need to bake for about 50 minutes before it's fully finished.  Make sure that you cover your edges or you'll find that they will get much too dark too fast.
After baking, allow your pie crust to cool completely with the aluminum foil and sugar in place — the edges are liable to shrink in and collapse on themselves if you remove the foil too early.
And that's it, my all time favorite pie crust recipe, the only one that I ever use.
In fact, I used this recipe to make the post that I'll be sharing with you on Wednesday.  I blind baked the crust and filled it with one of my favorite fillings… Any guesses what that might be?!
Stay tuned!
My Favorite Easy Pie Crust
My favorite easy pie crust recipe -- a no-fail, foolproof recipe made with butter and sour cream! It comes together in a matter of minutes in a food processor.
This recipe makes a single layer pie crust for a 9" or 10" pie pan, but can easily be doubled for two layers.
Total Time
1
hour
10
minutes
Ingredients
1

cup

all-purpose flour

(125g)

2

teaspoons

sugar

(you can leave this out for savory recipes, like my turkey pot pie)

1/4

teaspoon

salt

6

Tablespoons

unsalted butter

cold and cut into 10 pieces (85g)

1/4

cup

sour cream

(60g)
Instructions
Make the crust first by combining flour, sugar, and salt in the canister of a food processor. Pulse to combine.

Sprinkle butter pieces over the mixture and pulse again until coarse crumbs form.

Add sour cream and pulse again until mixture begins to clump together.

Carefully (remove the blade first!) remove the dough from the food processor and use your hands to shape it into a ball. Flatten slightly into a disc and wrap in cling wrap. Place in refrigerator for at least 30 minutes.

Remove chilled pie dough from refrigerator and transfer to a clean, lightly floured surface. Allow dough to sit for about 5 minutes and then roll dough out into a 12" circle and place in a 9" or 10" glass pie dish.

Gently lay the pie crust into a 10" pie pan, folding under the excess dough beneath itself and crimping with a fork.

If pie crust is to be used with a baked filling, follow that recipe's instructions for filling and baking.
For Blind Baking
If baking pie crust alone (or "blind baking"), transfer your prepared pie dish to the freezer and preheat your oven to 350F.


Once oven is preheated, retrieve your pie dough and gently line it with aluminum foil*, being sure that the aluminum is molded to the sides of the pie crust, especially (you want to make sure they don't collapse or sag while baking) -- make sure the edges are covered so that they do not over-brown/burn.

Fill the aluminum with sugar and place pie pan on an aluminum cookie sheet.

Transfer to oven and bake on 350F for 45-55 minutes.

Allow to cool completely before lifting out the aluminum foil and sugar* and finishing with desired filling.
Recipe Notes
*Be sure to use one large piece of aluminum on the base so that you can simply lift it up and remove all of the sugar once the pie is finished baking and cooling.  If you use multiple disconnected layers of foil on the bottom, it will be very difficult to get the sugar out. This technique was adapted from Serious Eats.
**After baking, once it cools, the sugar will be just fine to use in your next baking recipe. Alternatively you can store the sugar in a separate container and reuse for all of your blind baking needs.
Nutrition Facts
My Favorite Easy Pie Crust
Amount Per Serving
Calories 1193
* Percent Daily Values are based on a 2000 calorie diet.
PIN IT:
You Might Also Like: