This Bagel recipe is perfect for making chewy, homemade bagels in your own kitchen! They take a bit of elbow grease and a bit of technique, but I'll walk you step-by-step through the process in the post and in the how-to video below the recipe! Unlike many recipes, mine calls for no strange ingredients and can be made in a matter of hours (not days!) You've got this!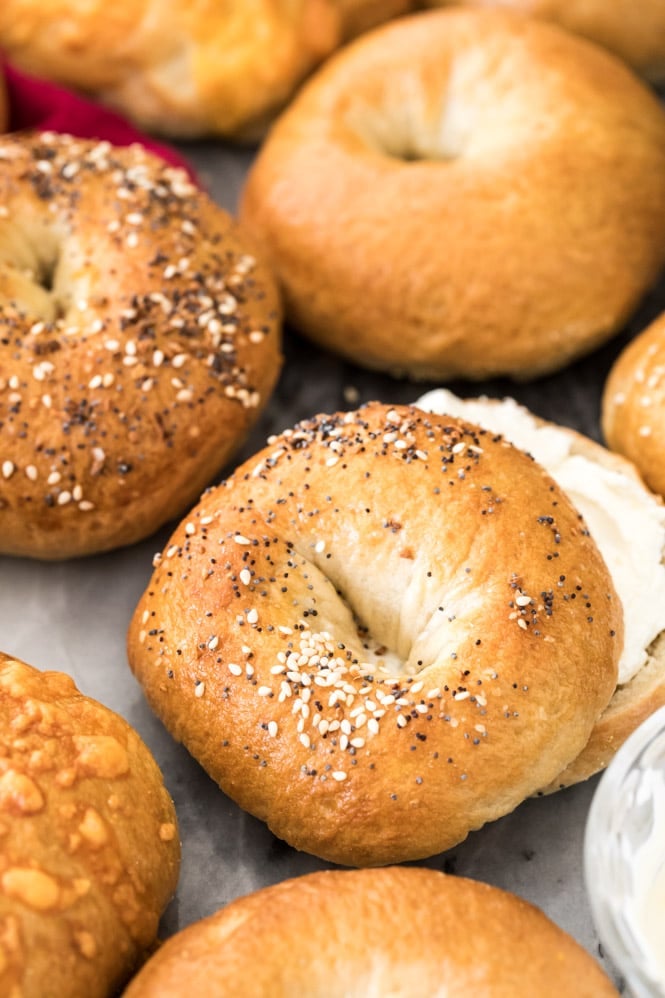 You can do this. You can make amazing, perfect, homemade bagels at home. If your local grocery store is anything like mine is right now, there's a good chance you won't be able to find any there. Don't worry, I've got you covered.
If you've been following my Instagram stories you know it took me a lot of tries to crack the code on this bagel recipe. Too many versions were too fluffy when I wanted them to be chewy, too bland, or took way too much time to prepare (I wanted a recipe that you could knock out in a few hours, not a few days… who has time to let the dough rest for 17 hours!?).
In one day alone I actually tested sixteen different versions (and there were many other days of testing before and after that!). I subjected it to my most critical taste testers; Zach and my little sister are hyper-critical about what a good bagel should taste like. So when I tell you that this bagel recipe is a good one, well it took a lot of rigorous testing to get to this point and I'm so proud of it and excited to share it with you.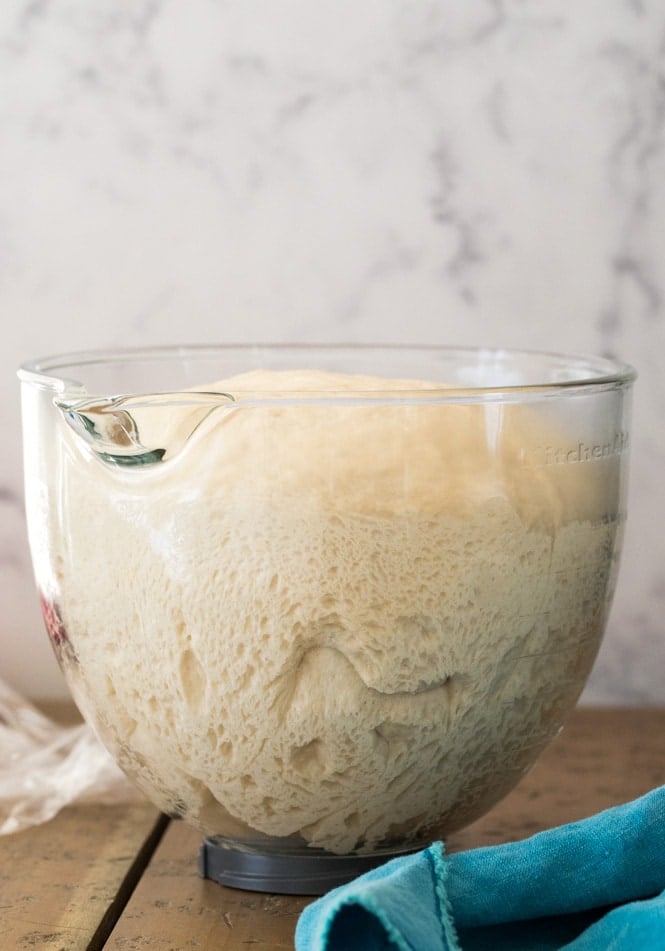 What You Need
Both the ingredients and the process are similar to what you need for my soft pretzels:
Warm water. Use a thermometer. Too cool and your yeast won't proof. Too hot and it will kill your yeast. Remember what I said with my bread bowl recipe? Nobody wants to be a yeast murderer.
Yeast. We're using active dry, not instant.
Sugar. We'll use a pinch of granulated sugar to help activate our yeast and then 3 tablespoons of brown sugar to add flavor to our bagels.
Olive oil. I tried this recipe with olive oil, butter, and a mix of the two. Olive oil was the winner for the chewiest bagels.
Flour. Specifically, bread flour. Bread flour has more protein and produces more gluten, which means chewier bagels. The brand can also matter, I use Gold Medal bread flour but I believe King Arthur Flour contains even more protein.
Salt. 1 Tablespoon, that's not a typo. When I was filming myself make these bagels I accidentally mistook my salt for sugar and tried to activate my yeast with a whole tablespoon of salt. Needless to say it killed my yeast and I had to start all over.
Cornmeal. A little bit sprinkled on your baking sheet keeps the bagels from sticking. I've been using this trick for my pizza dough recently, too.
Honey or Barley Malt syrup. Barley malt syrup is often used in authentic bagel recipes, both in the bagels and when boiling them. However, it's not super easy to find, so I wanted to provide an alternative option for those of you like myself who don't like to spend a lot of time tracking down ingredients, or money buying things they won't use very often. In the bagels themselves I've substituted brown sugar. When boiling, I've learned that a little bit of honey helps to make this bagel recipe a bit chewier.
Egg. To make the egg wash for brushing over your bagels.
Toppings! More on those a bit further down!
This is just an overview of the ingredients used and additional notes on why they were chosen, please scroll to the bottom of the post for measurements and the full recipe and video.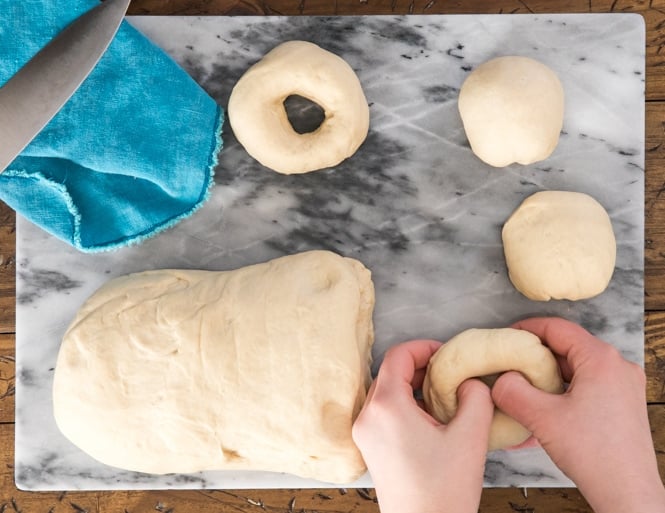 How to form the dough into bagel shapes
Rolling the dough into strips (like I do with my pretzels and garlic knots) and then connecting the ends did not work very well for me; the ends became loose while boiling and the bagels… didn't look like bagels. Instead, I found that the best way to get that nice round shape was to divide the dough into twelve pieces and form each into a smooth, round ball. Use your thumbs to gently work a hole into the center of the ball and try to make the hole about 2″ wide (it will shrink as it sits). See photo above for visual.
Mine still look a little uneven, but I like to think that they're just rustic 😉. At least they still taste like professional, authentic bagels, even if the edges are a little less than perfectly round.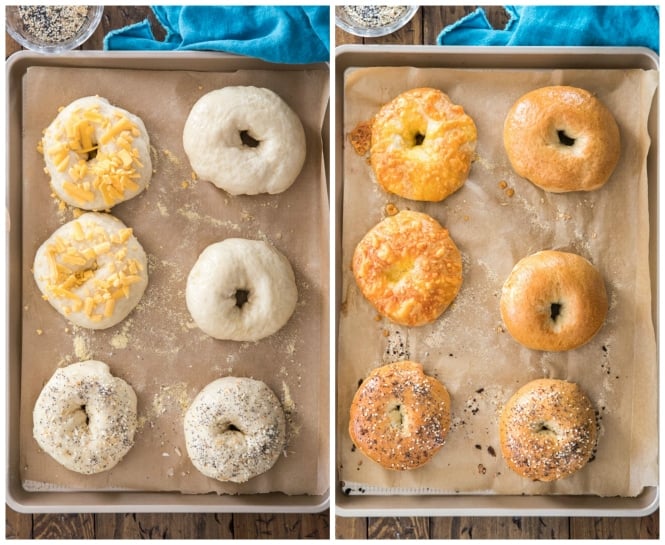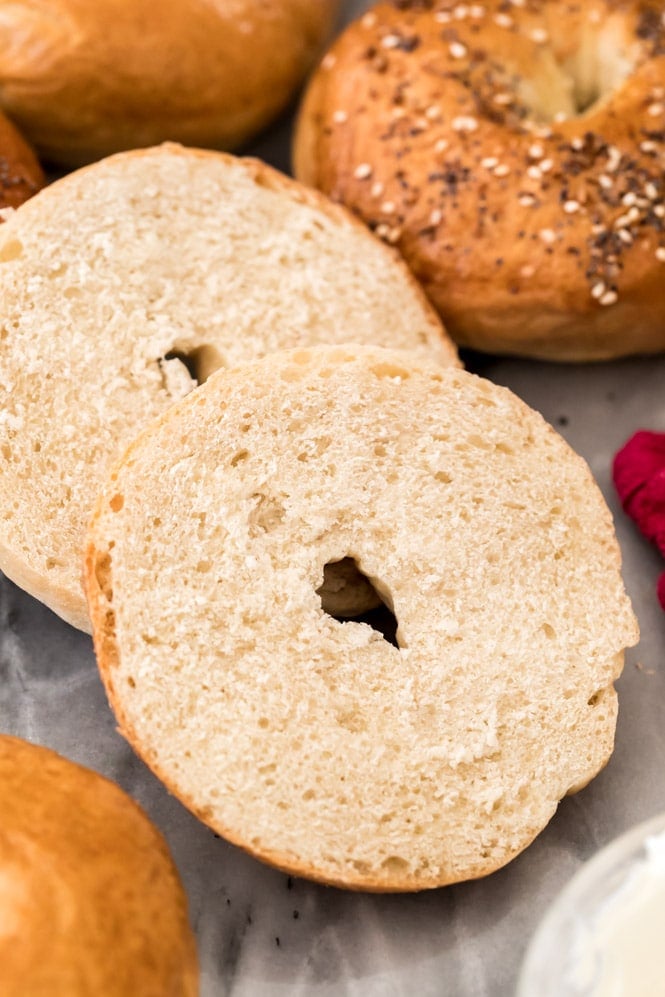 Toppings
There's nothing wrong with a plain bagel (at least that's what Zach insists when I judge him for eating naked bagels for breakfast every morning), but I prefer mine with toppings. Here are a few of my favorites; you'll brush the bagels with egg wash and then sprinkle your toppings before baking:
Poppyseeds
Sesame seeds
Shredded cheese, Asiago or sharp cheddar are great options.
Everything bagel mix
Everything bagel mix has recently become popular and is often available pre-mixed in the spice aisle. I prefer to make my own though, since I usually have all the ingredients in my spice drawer already. I make a blend using poppy seeds, sesames seeds, dried garlic and onion and kosher salt. I've included a simple recipe in the notes section of the bagel recipe.
Tips
This bagel recipe makes a dozen, but can be cut in half. If making the full batch, make sure you use a bowl that's large enough for the dough to double in size as it rises.
My KitchenAid, workhorse that it is, couldn't handle kneading the dough for this recipe. It was simply too much for it. If your mixer seems to be struggling, knead the dough by hand on a clean surface.
Bagel dough can be made up to 2 days in advance, see notes below the recipe for how to make in advance.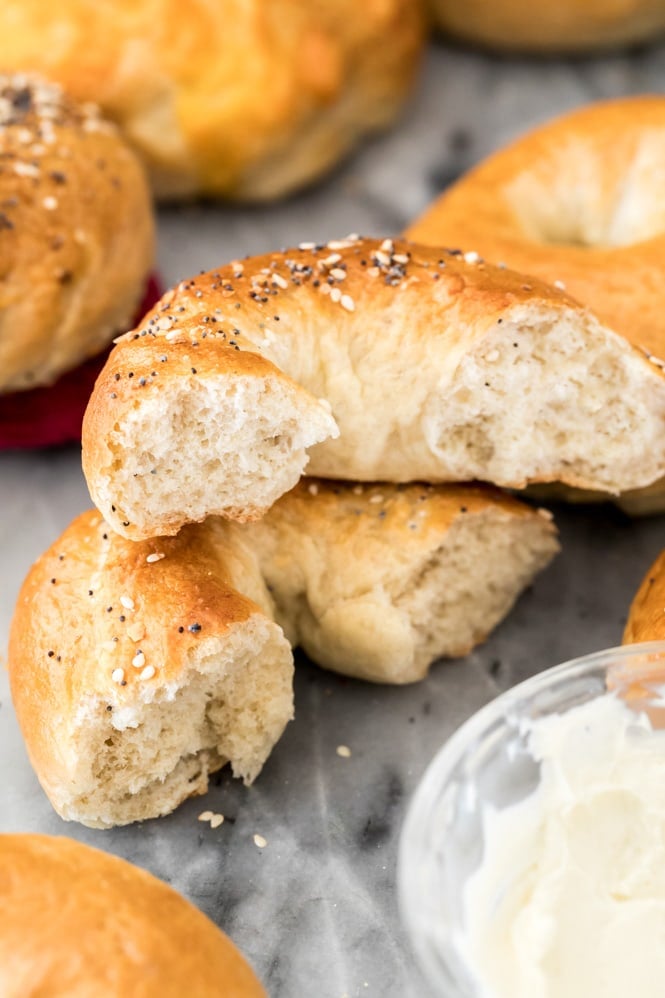 Enjoy!
More Recipes to Try:
Are you more of a visual learner? Check out the video below the post and see my YouTube channel where I show you how to make bagels step-by-step in my own kitchen.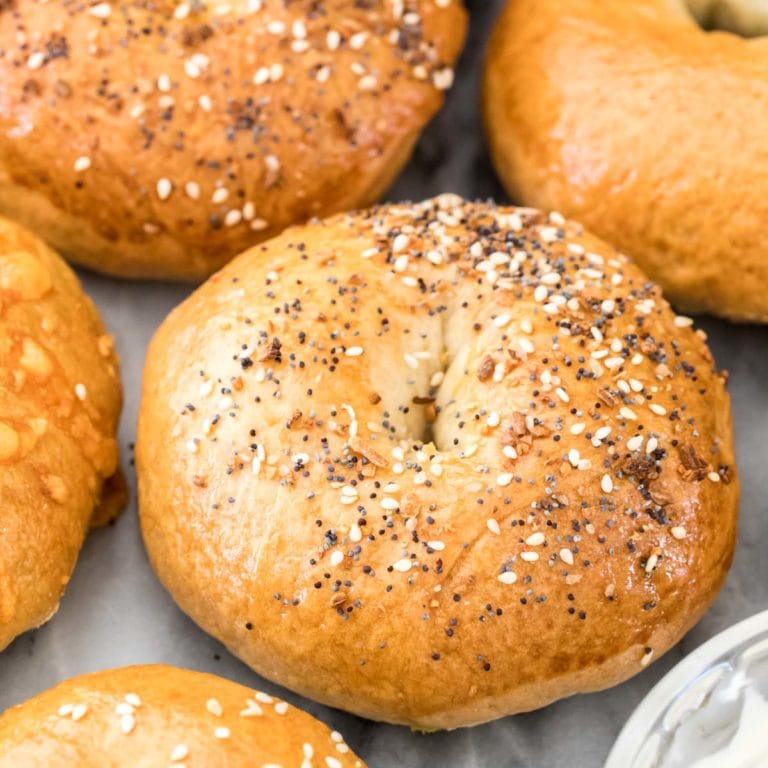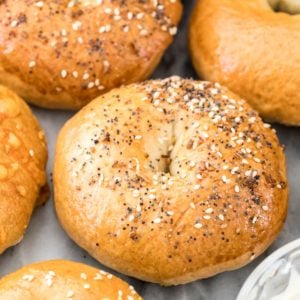 Homemade Bagel Recipe
This Bagel recipe is perfect for making chewy, homemade bagels in your own kitchen! Surprisingly simple, I'll walk you step-by-step through the process. I do recommend reading through the entire recipe and watching the video (below the recipe) before beginning.
Print
Pin
Rate
Ingredients
2

cups

warm water

between 105-110F (475ml, 40-45C)

5

teaspoons

active dry yeast

1

teaspoon

granulated sugar

2

Tablespoon

olive oil

3

Tablespoons

light brown sugar

firmly packed

6

cups

bread flour, plus additional as needed

(750g) + additional as needed

1

Tablespoon

salt

1

Tablespoon

cornmeal

for dusting baking sheet
For Boiling
2

quarts

water

(2L)

¼

cup

honey or barley malt syrup¹

optional (60ml)
Egg wash
1

large

egg

1

teaspoon

water

Bagel toppings²

as desired (see note)
Instructions
Pour water into the bowl of a stand mixer³. Add yeast and 1 teaspoon granulated sugar. Allow to sit for 5 minutes or until foamy. Stir in oil and brown sugar.

In a separate bowl stir together flour and salt.

Attach dough hook to mixer and stir on low speed, gradually adding flour mixture until completely combined until dough is clinging together, is no longer sticky to the touch and is pulling away from the sides of the bowl. If needed, add additional flour, one tablespoon at a time (I often have to add as much as 6 additional tablespoons). Dough should feel almost dry to the touch and should not stick to your fingers.

Knead with a dough hook for 4-5 minutes, but if your mixer seems to be struggling (my KitchenAid can't handle this dough) then remove the dough and knead by hand on a clean countertop for 5-6 minutes or until dough is smooth and elastic.

Place dough in a lightly oiled bowl, cover tightly, and place in a warm, draft-free place to rise until doubled in size (about 1-2 hours).

While dough is rising, prepare two cookie sheets by lining with parchment paper and then sprinkling cornmeal over the surface of the parchment (you only need a light sprinkling, about 1 ½ teaspoon per sheet).

Gently deflate dough and divide into 12 even pieces. Form each into a tight ball and then use your thumb to gently form a hole in the center that is about 2" wide (see video or photos in post for a visual if needed). Place bagels on prepared baking sheets, about 6 to a sheet, spacing each several inches apart.

Cover bagels with a clean towel and set aside. Meanwhile, preheat oven to 425F (220C) and pour two quarts of water into a large pot or Dutch oven. If using honey, add this to the pot as well and stir until combined.

Bring water (and honey, if using) to a rolling boil. Boil bagels, 2-3 at a time, for 45-60 seconds on each side. Return to prepared baking sheet.

Once your bagels have been boiled, prepare egg wash by whisking together egg and water. Brush egg wash liberally over bagels and sprinkle with any bagel toppings you would like to use (see notes for suggestions, you can of course leave them plain instead; brush with egg wash but do not add any toppings).

Transfer to 425F (220C) oven and bake on center rack for 22 minutes or until golden brown. I recommend baking one sheet at a time.

Allow bagels to cool before enjoying. Use a serrated bread knife to cut in half, if desired.
Notes
¹Many bagel recipes call for boiling barley malt syrup or honey with the water for a chewier bagel with a slightly sweet exterior. I usually add honey to the water, but my taste-testers (family members!) have never been able to tell the difference between when I do and don't add honey. Barley malt syrup is used with most traditional bagel recipes, but is harder to find and I've been completely satisfied with the taste of these bagels made without this syrup.
²Poppyseeds, sesame seeds, Shredded Asiago or cheddar cheese all make great toppings. To make a simple everything bagel topping, see below:
³If you don't have a stand mixer, you can make this recipe by hand. Be sure to use a large bowl and keep in mind that initially combining the ingredients will be more of an arm workout, though!
Everything Bagel Topping:
Stir together 2 teaspoons poppyseeds with 1 teaspoon each of sesame seeds, dried onion flakes, dried garlic flakes, sea salt or kosher salt. Sprinkle over bagels, you may not use all of the mixture!
How to make in advance:
Bagel dough may be made 1-2 days in advance. After preparing dough and placing it in an oiled bowl, cover tightly and allow to rise in the refrigerator for 1-2 days before using. Allow the dough to sit at room temperature for 30-60 minutes before proceeding with the recipe.
How to Store:
Allow bagels to cool completely before storing. Store in an airtight container at room temperature for 3-5 days.
Bagels may also be frozen for several months, but I do not recommend refrigerating.
This recipe was developed after studying recipes from many sources, most significantly from Food Guy, Baking Illustrated, and my soft pretzel recipe.
Nutrition
Serving:
1
plain bagel
|
Calories:
305
kcal
|
Carbohydrates:
57
g
|
Protein:
10
g
|
Fat:
4
g
|
Saturated Fat:
1
g
|
Cholesterol:
14
mg
|
Sodium:
602
mg
|
Potassium:
123
mg
|
Fiber:
3
g
|
Sugar:
9
g
|
Vitamin A:
20
IU
|
Calcium:
21
mg
|
Iron:
1
mg
Nutritional information is based on third-party calculations and should be considered an estimate only. Actual nutritional content will vary based upon brands used, measuring methods, cooking method, portion sizes, and more.