Soft, fluffy, and easy homemade Dinner Rolls! Today I'm sharing a step-by-step guide (and video) to making this easy recipe at home. These rolls can be ready in under an hour and would be the perfect companion to your Thanksgiving dinner!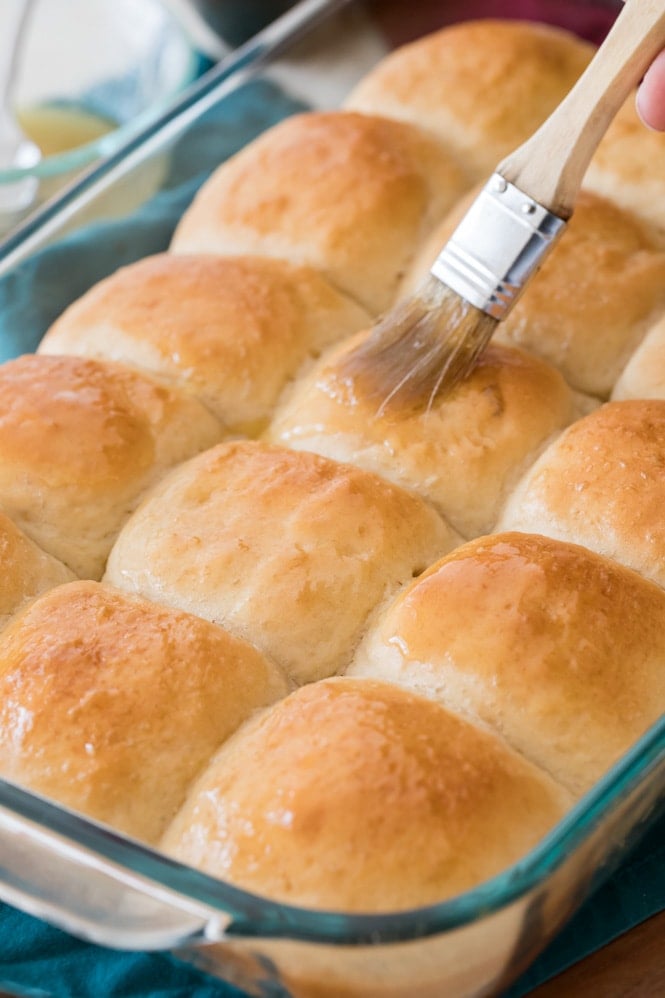 A Soft & Fluffy Dinner Roll Recipe
Baking with yeast used to make me nervous for the longest time, but it's really not that difficult, honestly! I've slowly overcome my fears with recipes like my easy pizza dough, cinnamon rolls, and garlic knots and today I'm sharing this easy yeast recipe for homemade dinner rolls.
Super fluffy, tender, and just melt-in-your-mouth soft, this recipe can be ready in under 60 minutes, and the best part is your stand mixer does most of the work! Bake them until golden brown and then brush (generously) with melted honey butter… just… yum.
If you've ever been intimidated by making dinner rolls or by baking with yeast I'll walk you through this recipe step-by-step; I think you'll be surprised how easy it is.
Still worried about baking with yeast? You can always try out my easy biscuit recipe instead!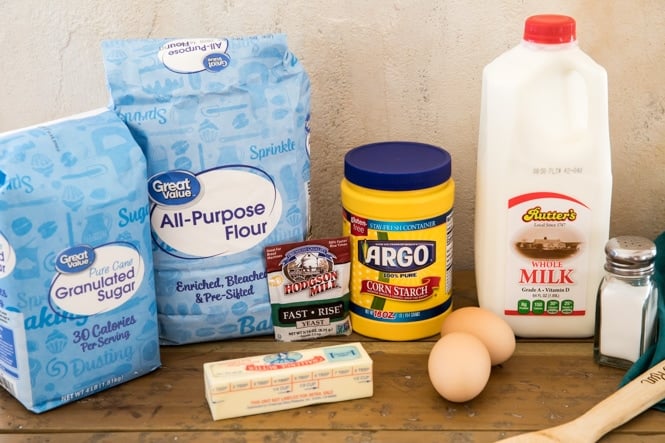 A Few Words on the Ingredients
There are a few key ingredients that I use for my dinner roll recipe that you might not recognize from your average bread dough, so I thought I'd address them here:
Cornstarch. Helps to make our rolls extra soft and melt-in-your-mouth. I discovered how helpful cornstarch can be to yeast doughs when making my cinnamon roll recipe.
Rapid rise yeast. You'll need 2 ½ teaspoons for this recipe, some yeast sachets only contain about 2 ¼ which will work, but I really recommend 2 ½. The Hodgson Mill brand that I have pictured above has recently become my favorite to work with.
An extra egg yolk. This helps with the development of our gluten and encourages nice, tender rolls.
Other than that everything else is pretty standard for dinner roll dough.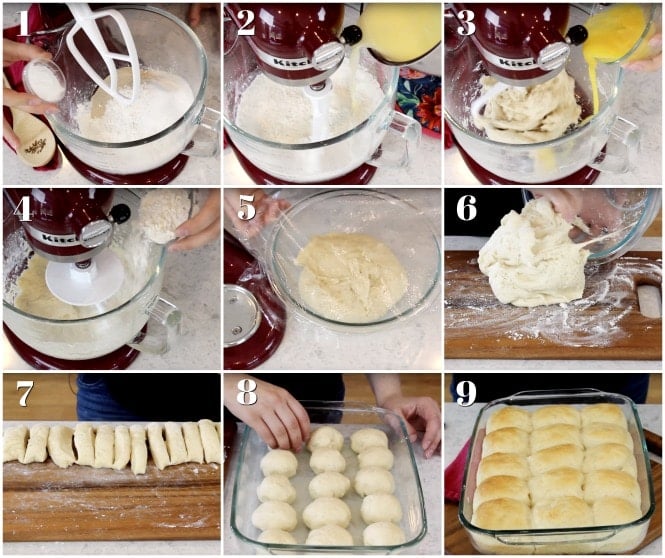 How to Make Homemade Dinner Rolls
The photos above are step-by-step shots of the process (taken from my video below the recipe)! Each step corresponds to the numbered photo above.
Combine sugar, cornstarch, yeast, salt, and 3 cups of flour. Stir to combine.
Heat milk, water, and butter to 110-115F and then stir into dry ingredients.
Stir in 1 lightly beaten egg + 1 lightly beaten egg yolk. The extra yolk helps make our rolls extra tender and soft!
Add more flour, as needed. With many yeast recipes, the amount of flour you may need in your own kitchen can vary. You should be adding flour based off of the feel of your dough rather than just based off of what the recipe says. You want to add flour until the dough is clinging to itself and pulling away from the sides of the bowl. It should be slightly tacky to the touch, but not so sticky that the dough is coming away on your fingers when you touch it.
Transfer to a lightly oiled bowl, cover tightly, and let rest in a warm place for 10 minutes. While the dough is resting I like to prepare my baking dish by melting 1 ½ Tablespoons of butter in a 9×13 glass dish.
Transfer dough to a lightly floured surface.
Divide into 15 even pieces.
Roll each piece into a tight even ball and place into prepared baking dish.
Brush with milk and bake until lightly golden brown and cooked through.

Do not over-bake your rolls!

That's the quickest way to make them tough and dry!
As a slightly sweet bonus I like to brush a little bit of melted honey butter over the top of these dinner rolls while they're still warm. Simply melt together two tablespoons of salted butter and 1 tablespoon of honey, mix well, then use a pastry brush to brush over the rolls while they are still warm. SO good! IF you love this recipe, learn how to make your own burger buns, too!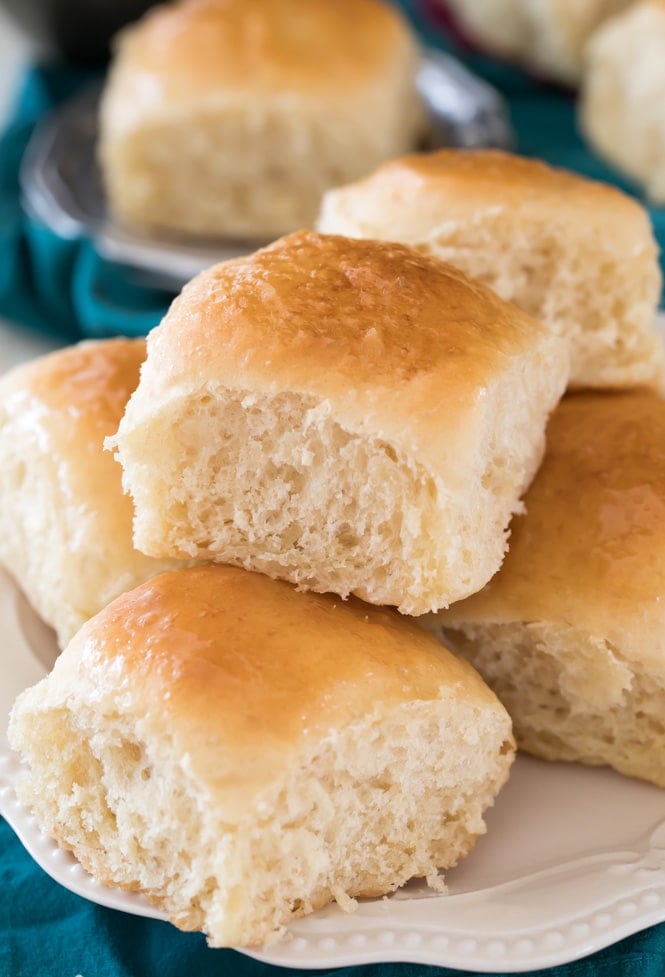 How to Make Dinner Rolls Golden Brown On Top
When making dinner rolls I like to brush the tops with a bit of whole milk before putting them in the oven. This encourages a light browning on top. However, you can achieve a deeper, more golden brown if you'd like to brush the rolls with egg wash instead (1 egg beaten with 1 or 2 teaspoons of water).
While the egg wash on top might look a bit more attractive, I recommend using the milk because it doesn't weigh the tops of the dinner rolls down the same way the heavier egg wash can.
Enjoy!
More Recipes You Might Like:
Let's bake together! Follow me on my YouTube channel where I've already uploaded over 150 recipe videos that you can watch for free!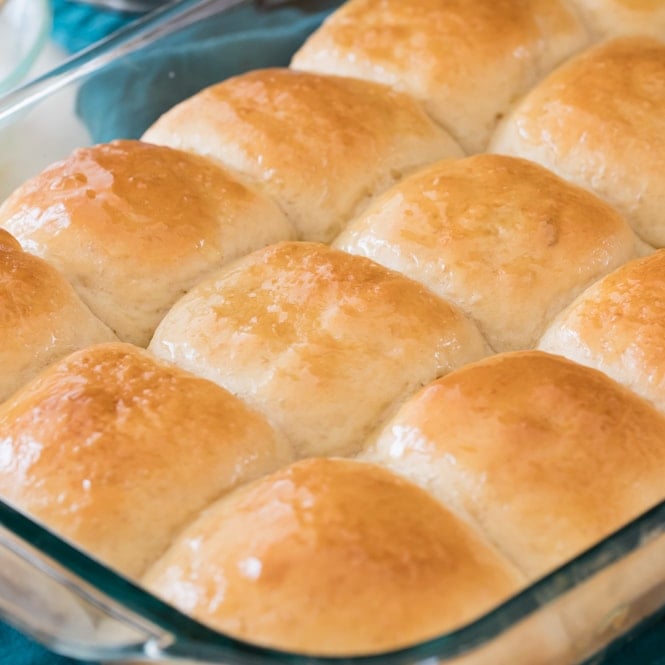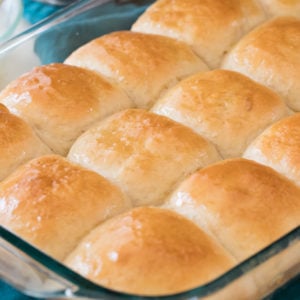 Dinner Rolls
Soft, fluffy, and easy homemade Dinner Rolls!  Today I'm sharing a step-by-step guide (and video) to making this easy recipe at home. These rolls can be ready in under an hour and would be the perfect companion to your Thanksgiving dinner!
Print
Pin
Rate
Servings:
15
dinner rolls
Ingredients
3 ½

cups

all purpose flour

divided (375g + 65g)

2

Tablespoons

granulated sugar

1

Tablespoon

cornstarch

2 ½

teaspoons

rapid rise/instant yeast

1 ¼

teaspoons

salt

½

cup

whole milk (+ additional for brushing tops of rolls)

120ml

½

cup

water

120ml

7

Tablespoons

unsalted butter

divided

1

large egg + 1 large egg yolk lightly beaten

room temperature
HONEY BUTTER GLAZE (optional)
2

Tablespoons

salted butter

1

Tablespoon

honey
Instructions
Preheat oven to 200°F (95C).

In the bowl of a stand mixer fitted with a paddle attachment, combine 3 cups (375g) flour, sugar, cornstarch, yeast, and salt. Stir until ingredients are well-combined.

In a small saucepan¹ combine milk, water, and 5 ½ Tablespoons butter (reserve remaining 1 ½ Tablespoon for greasing the pan) on the stovetop over low heat. Stir occasionally until butter is melted and mixture reaches 110-115°F / 43-46°C (If the milk mixture becomes too hot, just remove it from the heat and allow it to cool down to the correct temperature range before proceeding)

With your stand mixer on low speed, slowly pour milk mixture into the bowl, stirring until combined.

Add lightly beaten egg and egg yolk and increase speed to medium, stirring until completely combined (be sure to scrape down the sides and bottom of the bowl as needed to ensure all flour is absorbed).

If you have one, switch your paddle attachment out for a dough hook and continue to stir on medium-low speed. Gradually add up to remaining ½ cup (65g) flour + additional as needed. What you are looking for is a dough that clings to itself and pulls away from the sides of the bowl. It should develop a soft, elastic texture and will still be slightly tacky to the touch but shouldn't be very sticky. You may need less or more flour than the additional ½ cup indicated, go by the texture of your dough rather than measurements.

Transfer your dough to a lightly oiled, heatproof bowl and cover tightly with plastic wrap. Allow to rest in a warm place (I usually place mine on top of my preheating oven) for 10 minutes.

While your dough is resting, prepare a 9x13 glass² baking dish. Use your remaining 1 ½ Tablespoons of butter and melt this in your dish. I like to just set the butter in my baking dish and pop it in the oven for a few minutes (since my oven is already running) until melted.

Once dough has rested, transfer to a clean, lightly floured surface and divide into 15 pieces, shaping each into a smooth, round ball.

Arrange into prepared dish and cover with aluminum foil

Transfer covered dish to 200F oven and turn off your oven. Leave the covered dish in your warm (but now turned-off) oven to rise for 15 minutes.

After 15 minutes, remove dish from oven but leave it covered. The rolls will continue to rise while your oven preheats.

Preheat oven to 350F (175C).

Once oven is preheated, remove foil and lightly brush rolls with additional milk, if desired (helps encourage a browned top).

Transfer to 350F (175C) oven and bake for 18-20 minutes or until rolls are cooked through and beginning to turn a light golden brown on top (do not over-bake rolls or they will be dry).

Serve warm, if desired prepare honey butter glaze by melting together 2 Tablespoons salted butter and 1 Tablespoon honey and brushing over rolls while they are still warm.
Notes
¹Instead of a saucepan/stovetop you can combine these ingredients in a microwave-safe bowl and heat in 20-second increments until the butter is melted and desired temperature is reached.
²A metal baking dish will work instead but keep an eye on the rolls as they may not need to bake as long.
Nutrition
Serving:
1
dinner roll (does not include optional honey butter)
|
Calories:
172
kcal
|
Carbohydrates:
23
g
|
Protein:
4
g
|
Fat:
7
g
|
Saturated Fat:
4
g
|
Monounsaturated Fat:
2
g
|
Cholesterol:
40
mg
|
Sodium:
204
mg
|
Potassium:
8
mg
|
Fiber:
1
g
|
Sugar:
2
g
|
Vitamin A:
4
IU
|
Vitamin C:
3
mg
|
Calcium:
2
mg
Nutritional information is based on third-party calculations and should be considered an estimate only. Actual nutritional content will vary based upon brands used, measuring methods, cooking method, portion sizes, and more.