My Sticky Buns recipe is one you'll want to bookmark and save, because everyone is going to be asking you for the recipe. I'm walk you step-by-step through the process (you can make it with or without a mixer), and include a video and instructions for making in advance.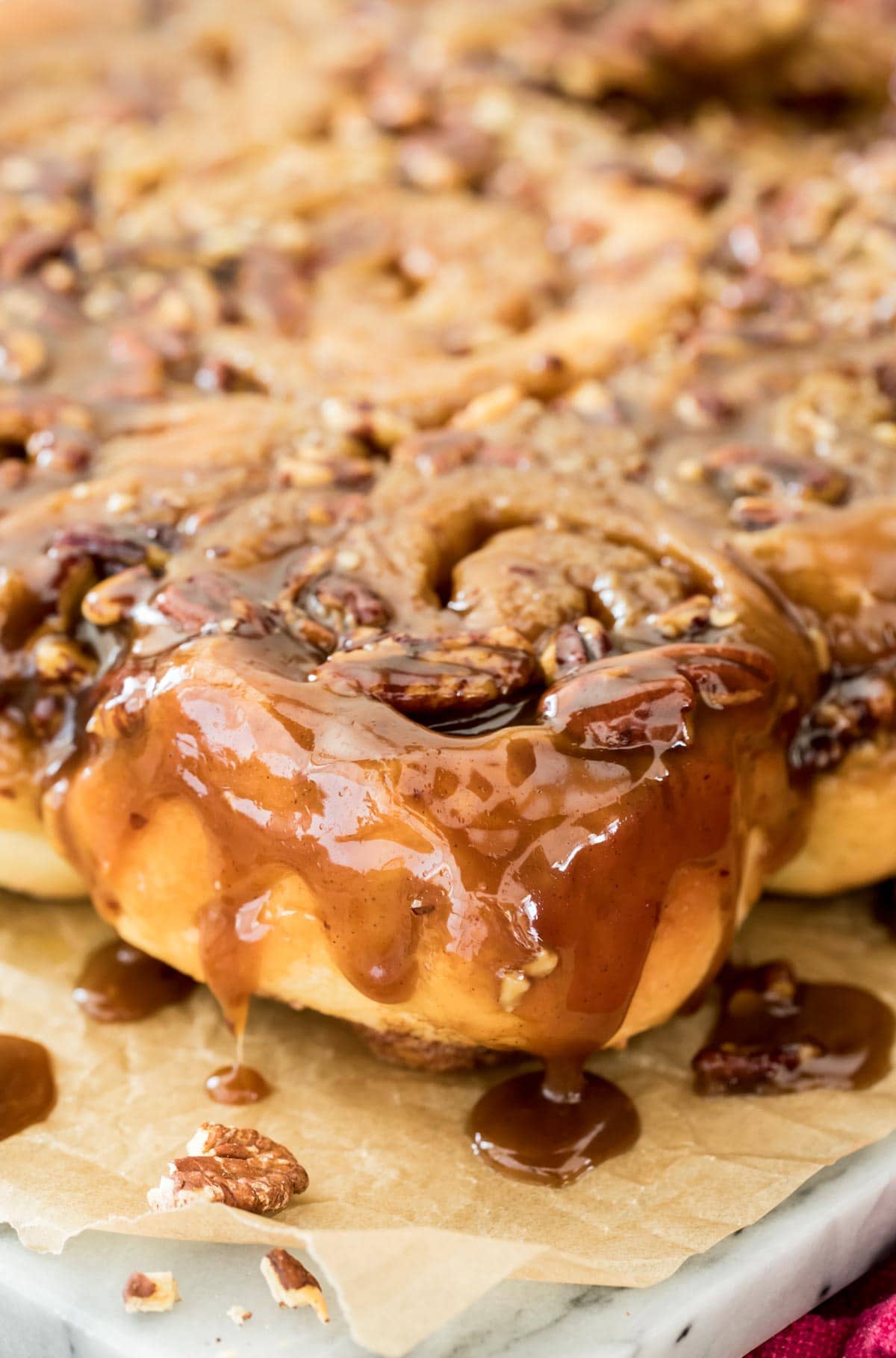 The Coziest Fall Recipe
It's not pumpkin or apple flavored, but I can't think of a better, cozier, more comforting treat for a chilly Fall morning than an ooey, gooey, soft and gloriously sticky sticky bun!
These sticky buns are the best. It took me a long time to get the recipe just right and I'm so excited for you to try it! The first thing you're going to love is the rich, buttery, egg-enriched dough. This. dough. is. incredible. It's going to be the base for many more sweet dough recipes to come. Soft, just the right amount of chewiness, easy to manage… It's sheer sweet roll perfection.
But, besides the dough, what really sets my sticky buns apart is the rich, sticky glaze that I use. While many recipes use honey, I switch things up a little bit… more on that a bit further on!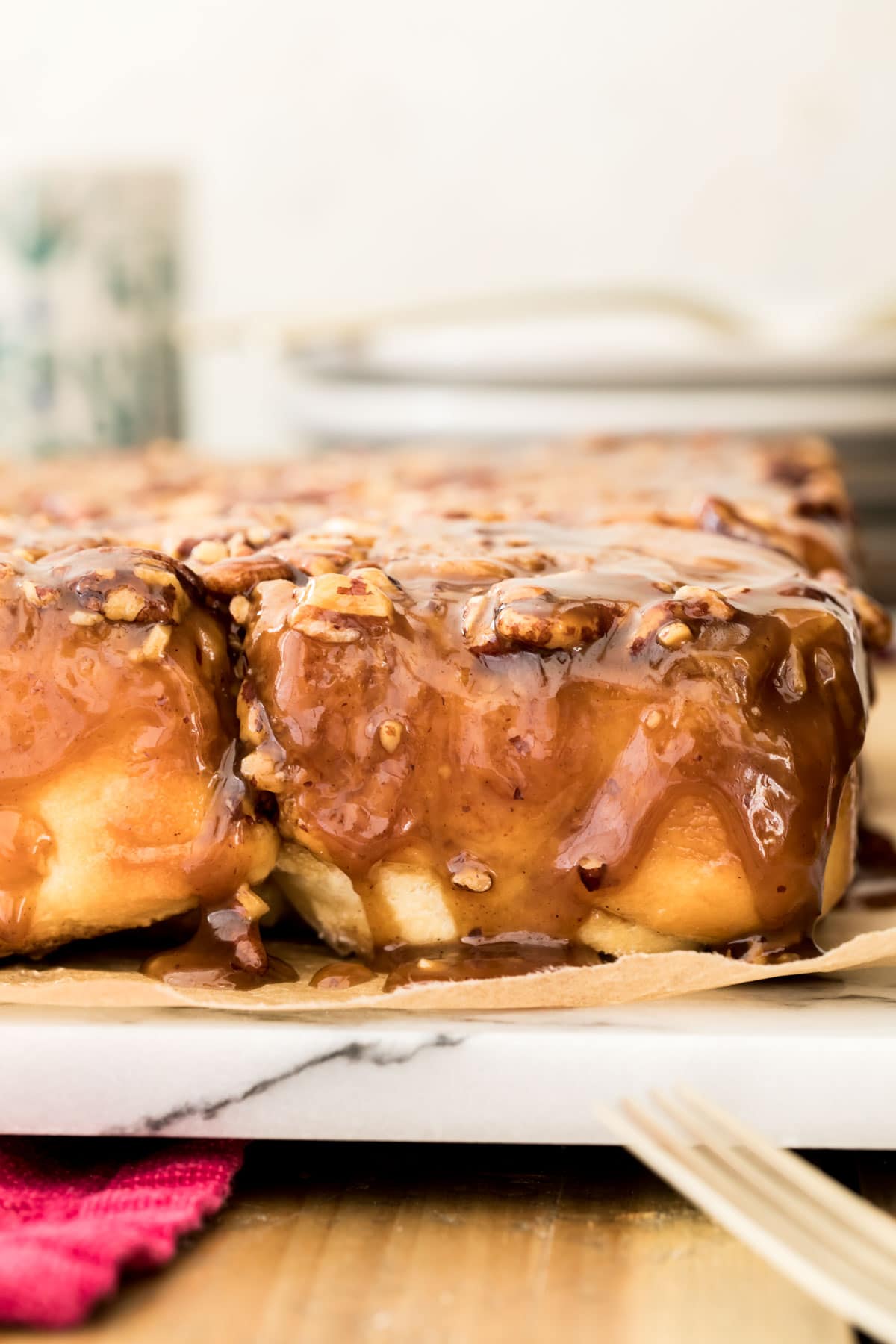 Perfect Sticky Buns, Even For Beginners
Even if you've never baked with yeast before, you can do this! Today I'm walking you through all the steps and sharing all of my favorite tips and tricks. The recipe is detailed and I have plenty of photos and even a detailed how-to video in the recipe card.
It's true that yeast breads are a bit more work and require a bit more technique than your average baked good (like my pumpkin bread). If this is your first time making a yeast dough, make sure to read through the post and watch the video before beginning, then after diving into that golden pool of golden, caramel-y sticky bun perfection come back and let me know how they turned out for you!
Now let's get to it: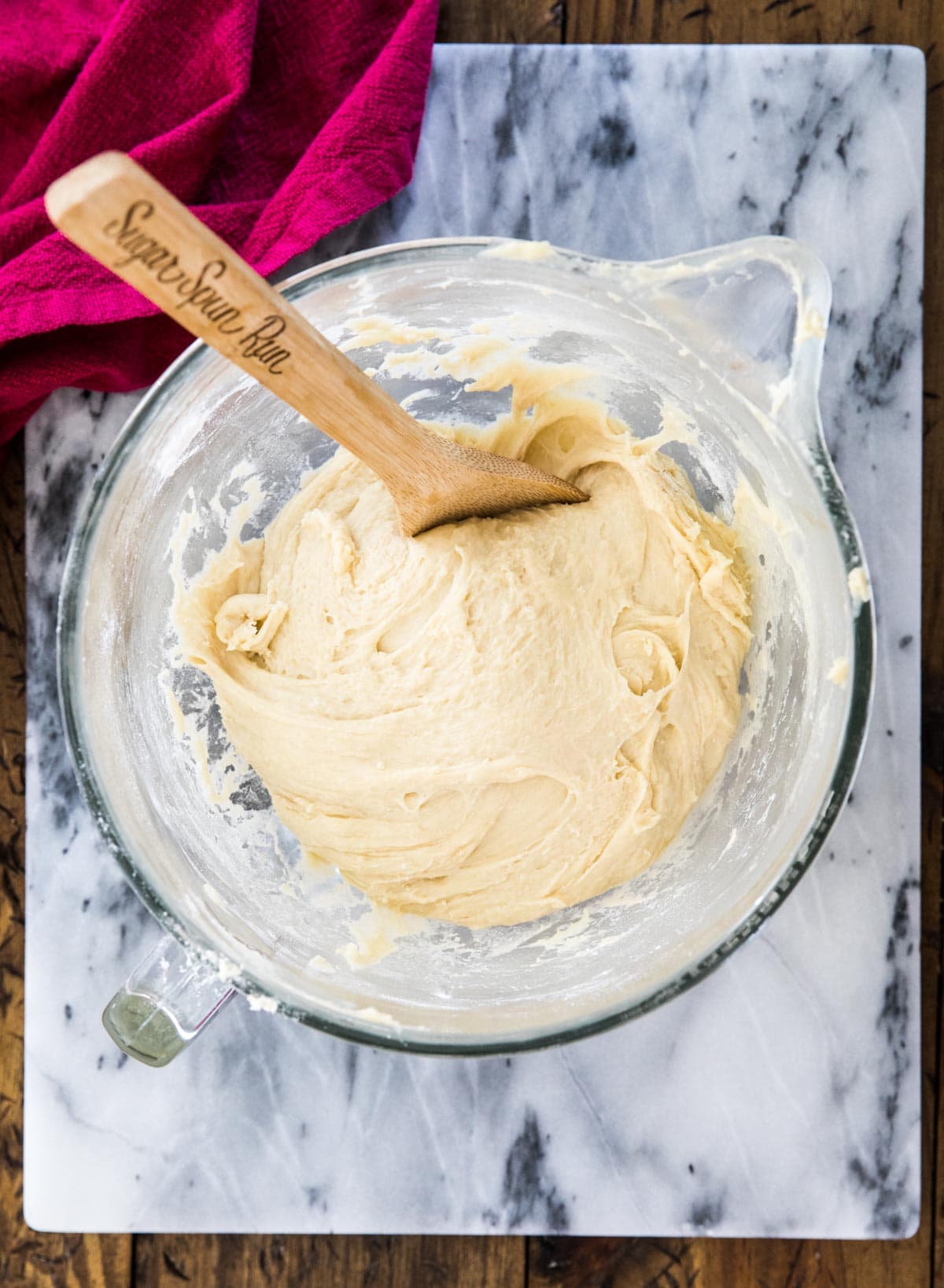 Consistency is Key!
Any time you make a yeast dough, consistency is key. You'll notice in many of my yeast recipes (like my pizza dough and homemade bread) I list a range for the amount of flour that you'll need rather than a specific amount. This is because dough reacts differently in different kitchens under different conditions. Some bakers will need more flour and some will need less. It's all about getting the dough to the right consistency, this will make or break your sticky buns.
Different yeast recipes vary in their required dough consistency. For sticky buns, we're looking for a consistency that is:
Smooth and elastic.
Pulling away from the sides of the bowl and clinging to itself when mixing (either by hand or with a stand mixer)
Slightly tacky to the touch. The dough may stick slightly to your fingertips, but it should not be so sticky that it is unmanageable.
See the photo above or the video in the recipe card for a good visual! While it's rising, you can prepare your sticky bun glaze.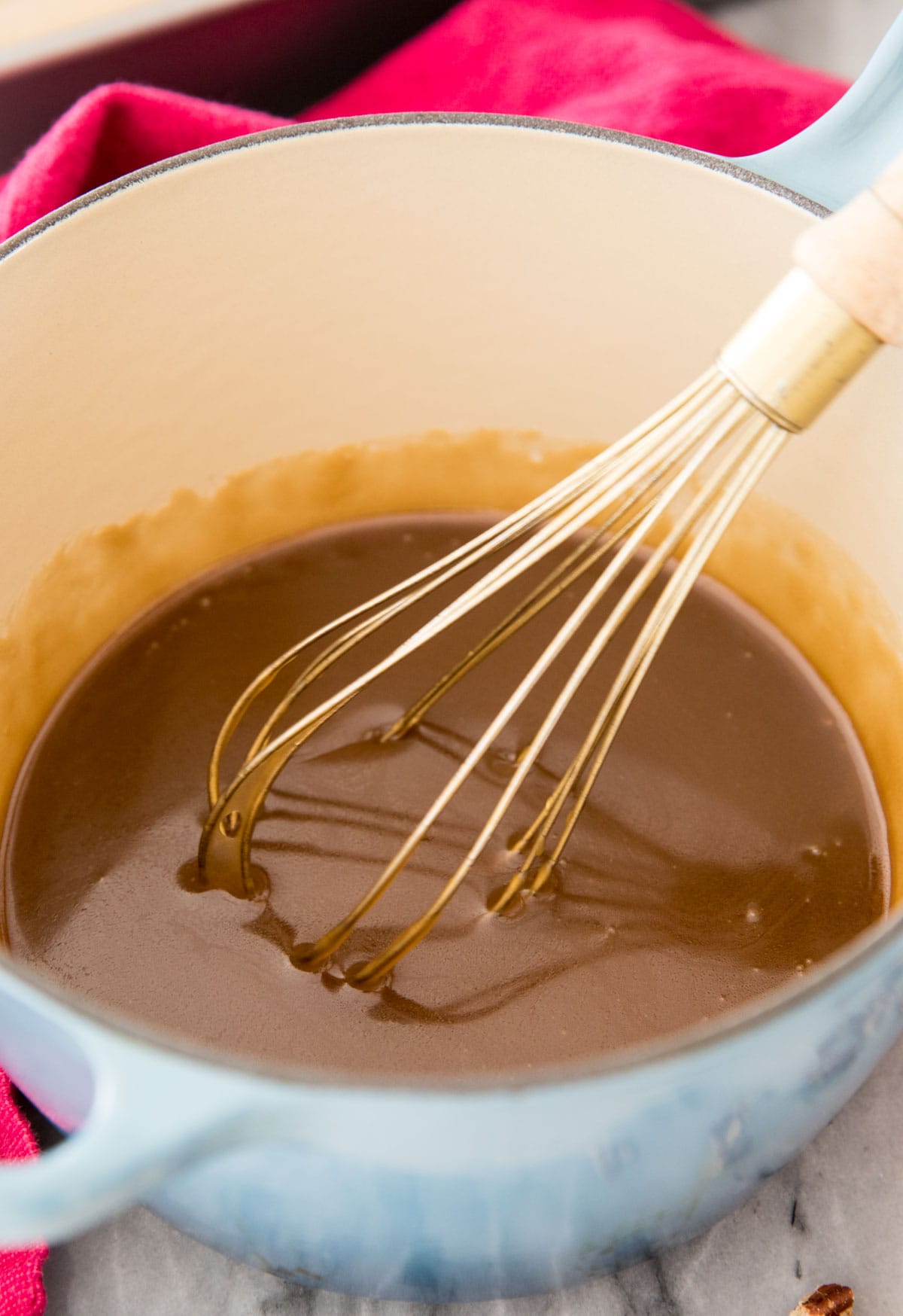 The BEST Sticky Bun Topping
Much like with my pineapple upside down cake, the sticky buns also start a bit upside-down. We make the topping and pour it into the bottom of the pan before adding our rolls. After baking we'll flip everything upside down so the bottom becomes the top, and my sticky, gooey, caramel-ly topping is to die for.
I do things a little bit differently than your average recipe. While most recipes use honey, I think the flavor is enhanced and infinitely improved by using pure maple syrup instead. If you've tried my "worst" chocolate chip cookies, this probably won't be a surprise to you.
Tip: If you don't have maple syrup you can substitute honey, but try it my way at least once, it's so good! I do not recommend pancake syrup for this recipe, the taste just isn't quite as good.
If you want to be even more extra, lightly toast your pecans (as I do in my pecan pie) before scattering them over your syrup/sticky glaze mixture. Make this glaze while your dough is rising, then pour it into your pan and scatter chopped pecans or walnuts overtop. During this time you'll also whisk together a cinnamon/sugar mixture that will be the filling for your sticky buns.
Assembly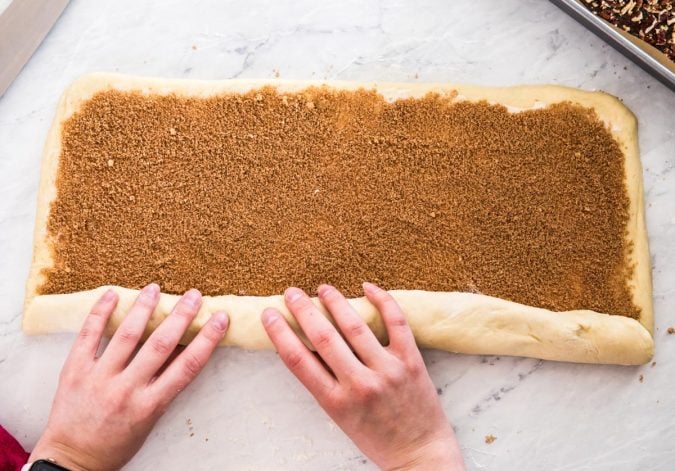 Once your dough has risen, it's time to assemble.
Gently deflate your dough and transfer to a clean, lightly floured surface.
Use a rolling pin (or just use your hands!) to form the dough into an even 10×20″ rectangle.
Spread melty butter over the rectangle (leave about ½″ of the perimeter untouched) and then evenly scatter cinnamon/sugar over the butter.
Starting with a 20″ end, carefully roll the dough into a tight log (see photo above).
Cut dough into 12 even pieces and space evenly into the baking pan that you've poured your glaze and sprinkled the nuts (you can see I used parchment paper to line the pan in the photos but usually don't use it when making sticky buns, your choice!).
Cover the rolls and let rise until increased in size (see photo below) then bake until golden brown.
Tip: Some people like to use un-flavored dental floss to cleanly cut their log into neat rolls. I just use a sharp knife. My rolls get a little misshapen doing it this way, but as they rise they round back out nicely.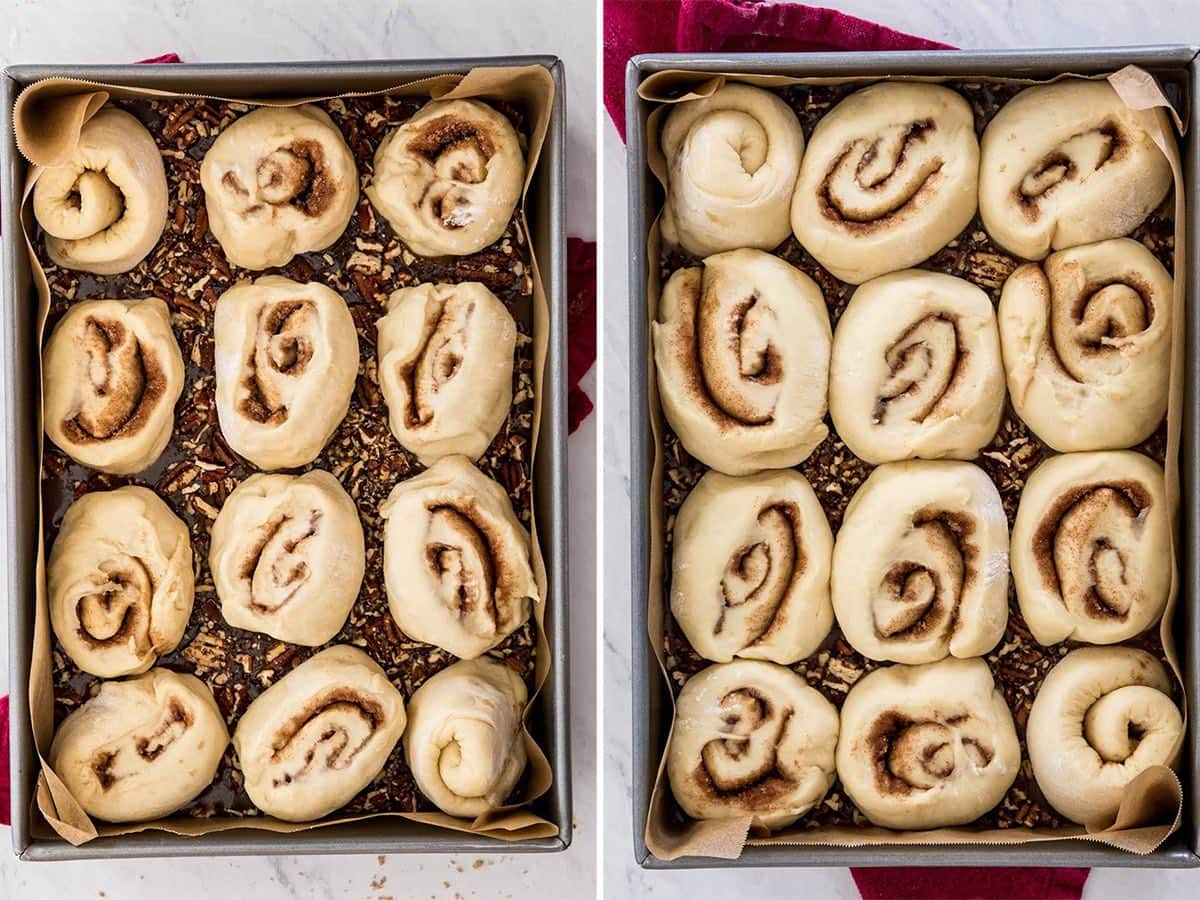 Making in Advance
You can do all the prep-work for these sticky buns a day or even a month in advance, that way the next morning all you have to do is pop them in the oven (how great would that be for Christmas morning?). To do this, prepare the sticky buns according to the recipe: make the dough, roll it out, fill it, roll it up, cut into slices and place the slices it in your sticky-glaze filled baking dish. Then, cover the baking dish very tightly with plastic wrap. You can then either freeze the rolls or refrigerate them.
If refrigerating, just before baking, pull the pan out of your fridge and preheat your oven. Remove the plastic wrap, cover with a clean towel, and let the dish come to room temperature, then bake according to the recipe instructions.
If freezing, freeze the rolls in the pan for up to a month and then remove the rolls from the freezer, and allow them to come to room temperature overnight, then bake according to recipe instructions.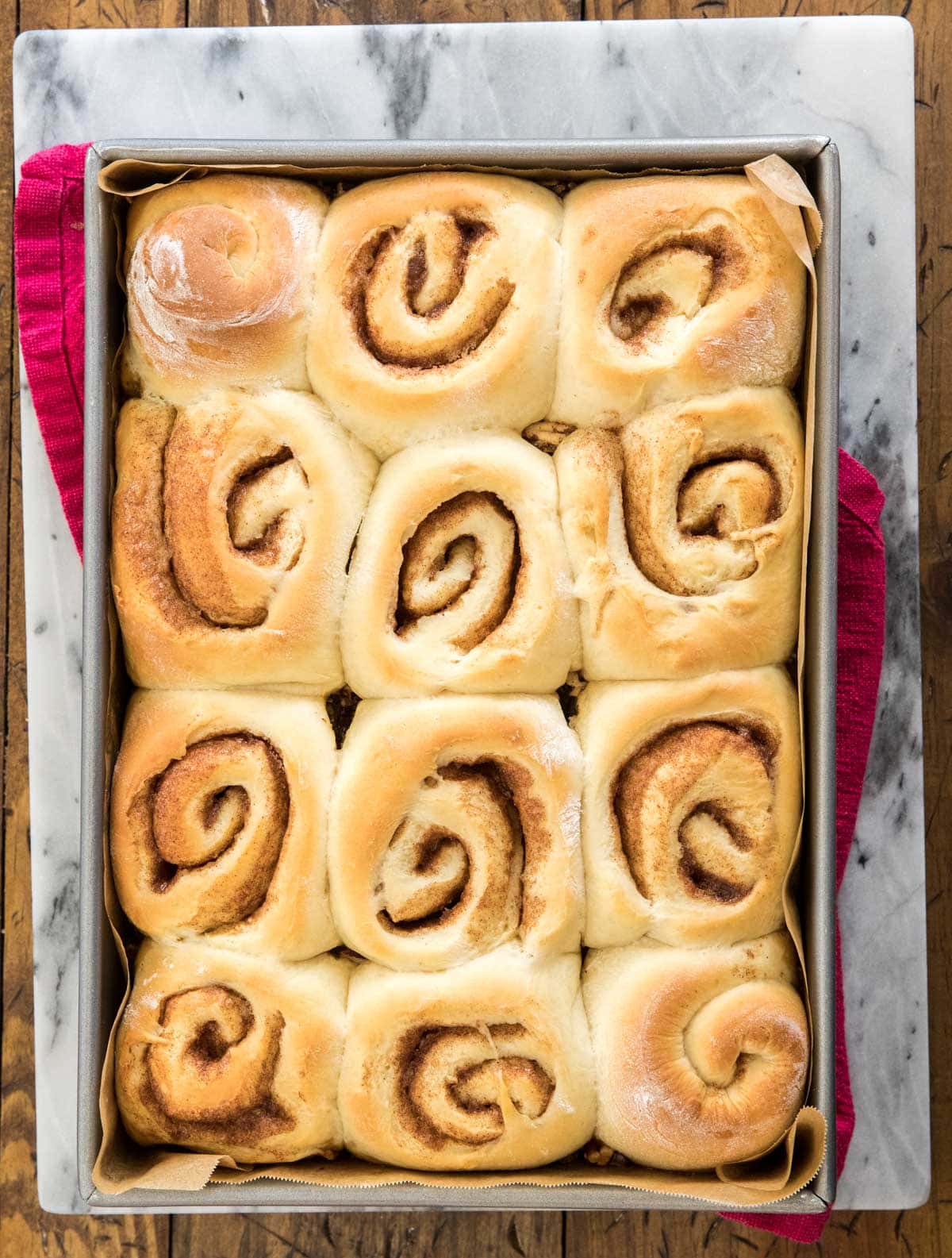 Frequently Asked Questions
What is the difference between a sticky bun and a cinnamon roll?
The actual bun/roll part is very similar in ingredients (even the filling) and preparation, right down to the rolling. The key difference comes in the topping. Cinnamon rolls are often topped with a vanilla glaze or cream cheese frosting. Sticky buns are baked in a pan of caramel-esque glaze and nuts and then inverted immediately after baking so the sticky, gooey bottom becomes the top.
Can I use instant/rapid rise yeast?
I think this recipe is best with active dry yeast, but yes you can use instant. To do so, whisk together the yeast, sugar, 2 cups /250g flour, and salt. Heat the milk and water to 115F (46C) and stir into the flour mixture. Add eggs and butter and stir well, then proceed with the recipe as written (step 3. Please note the yeast will not become foamy).
How should I store leftovers?
Store in an airtight container at room temperature for 2-3 days. I do not refrigerate mine. They may also be frozen: wrap well and freeze for several months.
See my notes above for detailed information on refrigerating or freezing the dough to make in advance.
Can I use this recipe to make Cinnamon Buns?
I already have a great cinnamon roll recipe, but yes you could use the dough and filling for this recipe. Skip the nuts and the glaze and after baking frost with a simple vanilla glaze or the icing that I use in my cinnamon bun recipe.
How to tell when they're finished baking:
The best way to test if they're done is to use an instant read thermometer. Insert it into the center of the bun portion (not the filling) of a center bun. It should read 180F (88C).
If you don't have a thermometer, use a toothpick or sharp knife to gently prod one of the center buns. Insert the knife between two sticky buns and gently pry them apart, just a little bit! If things still seem doughy, give them a few more minutes in the oven. When they're finished baking, they should be a beautiful golden brown color.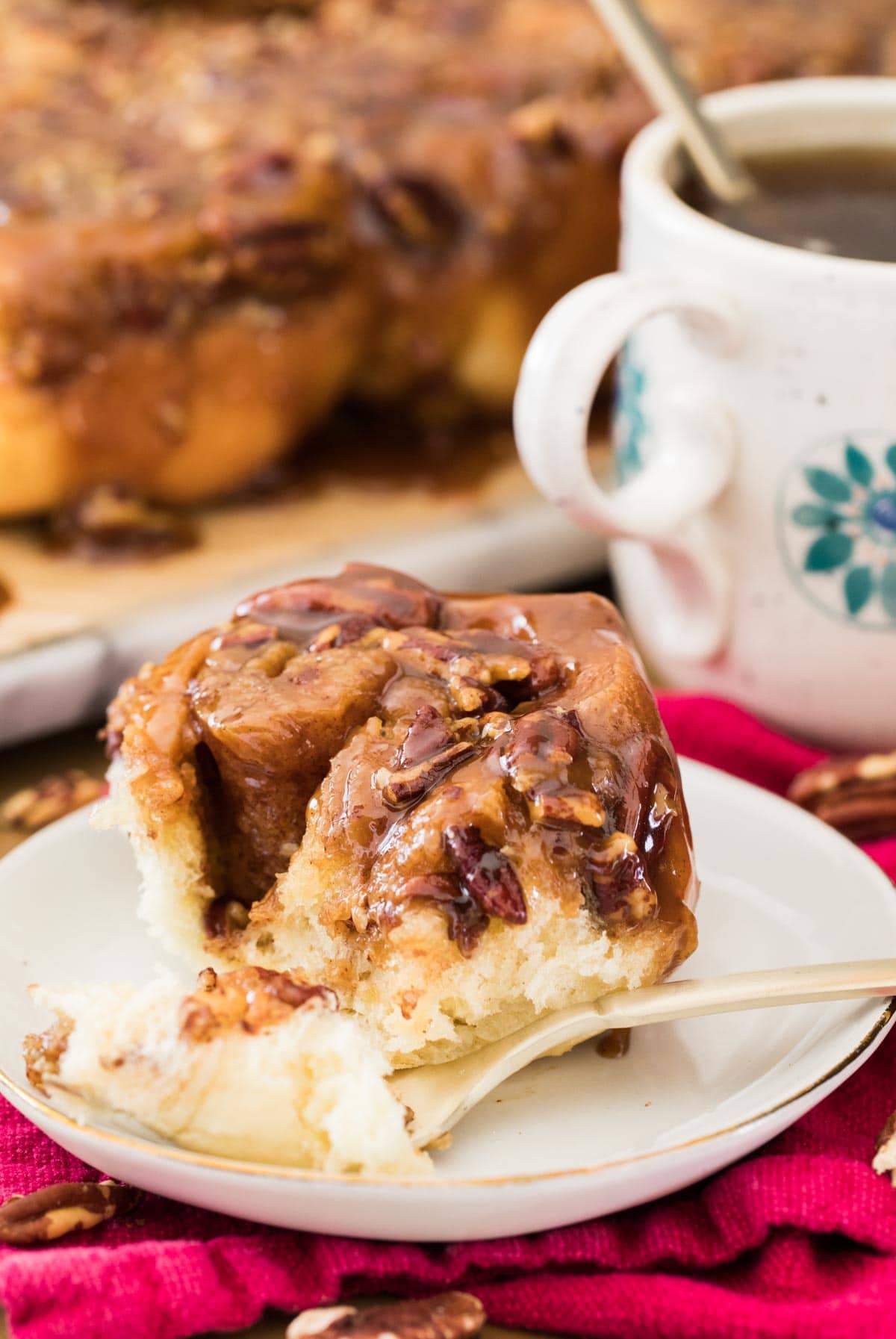 More Recipes You Might Like
Enjoy!
Let's bake together! Make sure to check out the how-to VIDEO in the recipe card!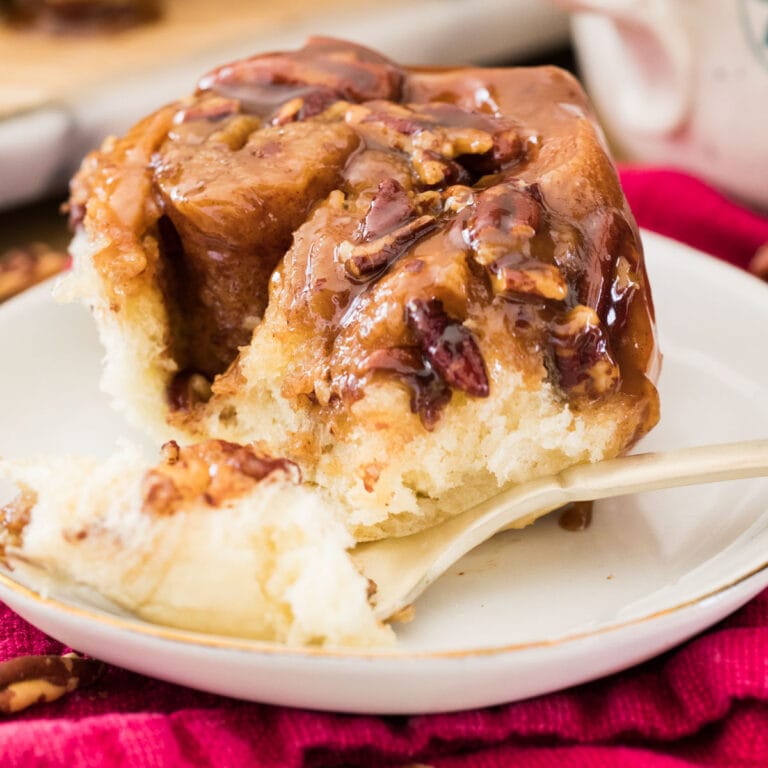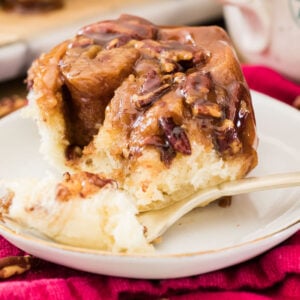 Sticky Buns
The BEST Sticky Buns recipe, this can be made with or without a mixer. So easy and the glaze is better than any other!
Be sure to check out my how-to video!
Print
Pin
Rate
Ingredients
Buns
2 ¼

teaspoons

active dry yeast¹

1 packet

1

cup

(

236

ml

)

whole milk

⅓

cup

(

78

ml

)

water

5

Tablespoons

unsalted butter

melted (but not too hot)

1

large

egg + 1 large egg yolk

room temperature preferred

⅓

cup

(

70

g

)

granulated sugar

2

teaspoons

salt

4 – 5

cups

(

500-625

g

)

all-purpose

plain flour, plus additional if needed
Sticky Bun Topping:
10

Tablespoons

unsalted butter

½

cup

(

118

ml

)

heavy cream

⅓

cup

(

80

ml

)

pure maple syrup²

¾

cup

(

150

g

)

dark brown sugar

may substitute light brown sugar, but I recommend dark

¼

teaspoon

salt

1

teaspoon

vanilla extract

1

cup

(

120

g

)

coarsely chopped pecans

if desired toast first for extra flavor
Filling:
½

cup

(

100

g

)

light brown sugar

firmly packed

2

teaspoons

ground cinnamon

⅛

teaspoon

salt

4

Tablespoons

unsalted butter

softened
Instructions
Buns
Combine milk and water and heat in the microwave until it reaches a temperature between 105-115F (40-46C). Be sure to stir before checking the temperature as sometimes the microwave heats unevenly.

1 cup (236 ml) whole milk,

⅓ cup (78 ml) water

Pour warmed milk/water into a large bowl or the bowl of a stand mixer and sprinkle yeast and a pinch (about 1 teaspoon) of granulated sugar over the yeast. Stir and allow to sit for about 5-10 minutes or until yeast is foamy (if your yeast does not foam it is likely dead and you will need to start over).

2 ¼ teaspoons active dry yeast¹

Once yeast is foamy, add ⅓ cup sugar, melted butter, eggs, salt, and 2 cups (250g) of flour. Stir well until ingredients are well-combined.

5 Tablespoons unsalted butter,

1 large egg + 1 large egg yolk,

⅓ cup (70 g) granulated sugar,

2 teaspoons salt,

4 – 5 cups (500-625 g) all-purpose

Gradually add additional flour (this can be done by hand or with stand mixer and dough hook attachment on low-speed) until dough clings to itself and pulls away from the sides of the bowl.

Dough should be slightly tacky to the touch, but not so sticky that it can't be handled. If making by hand, transfer to a clean, lightly floured surface and knead for 5-10 minutes until dough is smooth and elastic (or about 5 minutes with dough hook on low speed in stand mixer).

Transfer to a lightly oiled bowl, turn the dough to coat with oil, cover bowl, and allow it to rise in a warm, draft-free place until doubled in size (about 1-2 hours).

Once dough has nearly finished rising, prepare your glaze and filling.
Sticky Bun Topping:
Combine butter, cream, syrup, brown sugar, and salt in a medium-sized saucepan over medium heat. Stir often until butter is melted and mixture is bubbling. Allow mixture to bubble for 5 minutes until slightly thickened. Remove from heat and stir in vanilla extract. Pour into lightly buttered 9×13 baking dish . Sprinkle pecans evenly over syrup mixture. Set aside and prepare filling.

10 Tablespoons unsalted butter,

½ cup (118 ml) heavy cream,

⅓ cup (80 ml) pure maple syrup²,

¾ cup (150 g) dark brown sugar,

¼ teaspoon salt,

1 teaspoon vanilla extract,

1 cup (120 g) coarsely chopped pecans
Filling
Prepare topping by whisking together brown sugar, cinnamon, and salt in a small dish. Your butter will need to be soft enough to easily spread, so pop it in the microwave for a few seconds if it's still firm at room temperature. Set these aside as well.

½ cup (100 g) light brown sugar,

2 teaspoons ground cinnamon,

⅛ teaspoon salt,

4 Tablespoons unsalted butter
Assembly
Once dough has risen, gently punch down and transfer to a lightly floured surface. Roll with a rolling pin into a 10×20" rectangle.

Spread softened butter evenly over the surface, leaving about ½" of the perimeter untouched, and sprinkle the butter evenly with brown sugar mixture. Starting with one 20" long side, roll dough into a tight roll.

Cut into 12 even slices and place cut-side down into prepared baking dish over the syrup/pecans, spacing evenly.

Cover with a clean towel and allow to rise again for 30 minutes (they'll increase in size about 50%). Meanwhile, preheat your oven to 350F (175C).

Once sticky buns have risen again and oven is preheated, remove towel and bake on 350F (175C) for 30 minutes or until buns are baked through. After baking, immediately and carefully invert onto a heatproof serving tray (turn the pan away from you when inverting rather than toward yourself, in case you drop it or spill any topping you won't get it on yourself).

Allow to cool for 20 minutes then serve and enjoy.
Notes
¹You may substitute instant yeast. To do this, combine yeast, sugar, salt, and half the flour and then add the warmed milk and water and stir well, then stir in butter, then eggs, then stir in remaining flour as needed.
²Many sticky bun recipes use honey instead of maple syrup. You can substitute honey in equal amounts for the syrup, but I much prefer the taste as written.
³I use a metal baking dish (I linked to mine in the "Recommended Equipment" section above the ingredients), if you use a glass baking dish it will likely take longer for the buns to bake all the way through.
Nutrition
Serving:
1
sticky bun
|
Calories:
750
kcal
|
Carbohydrates:
109
g
|
Protein:
13
g
|
Fat:
30
g
|
Saturated Fat:
15
g
|
Cholesterol:
80
mg
|
Sodium:
487
mg
|
Potassium:
241
mg
|
Fiber:
4
g
|
Sugar:
35
g
|
Vitamin A:
759
IU
|
Vitamin C:
1
mg
|
Calcium:
89
mg
|
Iron:
5
mg
Nutritional information is based on third-party calculations and should be considered an estimate only. Actual nutritional content will vary based upon brands used, measuring methods, cooking method, portion sizes, and more.