Today I'm sharing an easy Homemade Bread Recipe! Today's post includes lots of tips, pictures, and a how-to video. I've also included plenty of substitutions so you don't have to make any additional trips to the grocery store. This is the perfect soft and fluffy recipe for new and experienced bakers alike. Makes one loaf, no bread machine and no mixer required!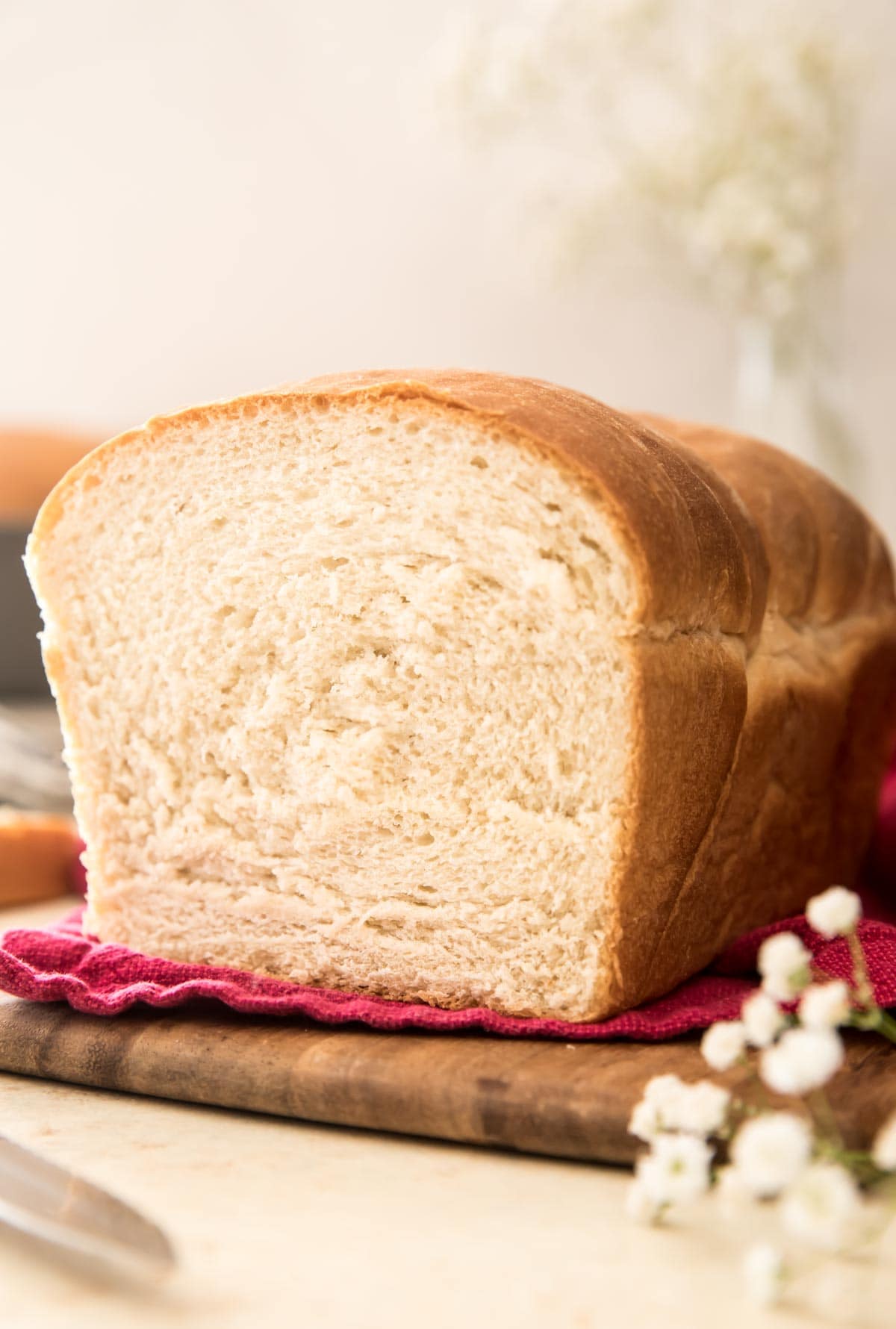 Every home baker should know how to make a soft, fluffy loaf of homemade bread. Especially during times like this when you can't always guarantee that you'll be able to find one in the grocery store.
Today I'm sharing a very simple bread recipe. It uses only a handful of ingredients (and I've included lots of possible substitutions below), can be made with no mixer or bread machine, and yields the softest, best-tasting bread of your life. This recipe is one that will be appreciated by novice bakers and professional bread makers alike. It can be eaten by itself, covered with butter, or used as sandwich bread (my mom's recently been using it to make paninis!). You won't want to go back to store-bought.
If yeast recipes intimidate you, this is actually the perfect recipe to start with. It's simple and uses basic bread making techniques. If you're not a novice baker and have been following the blog for a while, well so far we've tackled bagels, soft pretzels, and homemade donuts, I think we can handle a simple loaf of bread.
Ingredients and Substitutions
The ingredients needed for today's bread recipe are very basic: yeast, flour, salt, sugar, butter, water, and milk. I've specified my preferences for ingredients that I prefer for best results in the recipe, but I completely understand that right now you may not have exactly the ingredients I've called for in your pantry. To help with that, I tested this homemade bread recipe with several substitutions:
Flour. I recommend bread flour. All-purpose (plain) flour will work, but the bread is a bit less sturdy and is fluffier with all-purpose. Bread flour is more ideal for a sturdier, chewier bread, so if you plan to use this for sandwiches bread flour is your best bet. You can also substitute a bit of the flour (about 1- 1 ½ cups/125-190g) for wheat flour to make wheat bread, but I don't recommend a 100% substitution. I do not recommend using self-rising flour, as the bread will likely rise too much and will not turn out properly.
Yeast. This bread recipe will work with active dry yeast or with instant yeast. No changes are required if you use one or the other. Craving bread but don't have yeast at home? Try my biscuit recipe instead.
Milk. Whole milk is my preferences for the softest, most tender bread. However, 2% milk or skim milk will work in a pinch. If you don't have any milk on hand, you may substitute the milk for additional water.
Butter. Butter is my preference for the best flavor, but if you don't happen to have any you can substitute oil. Olive oil, vegetable oil, canola oil… just about any cooking oil will work.
Sugar. If you don't happen to have sugar on hand you can substitute an equal amount of honey. You may need to use a bit more flour if you make this substitution.
Hopefully these substitutions are helpful!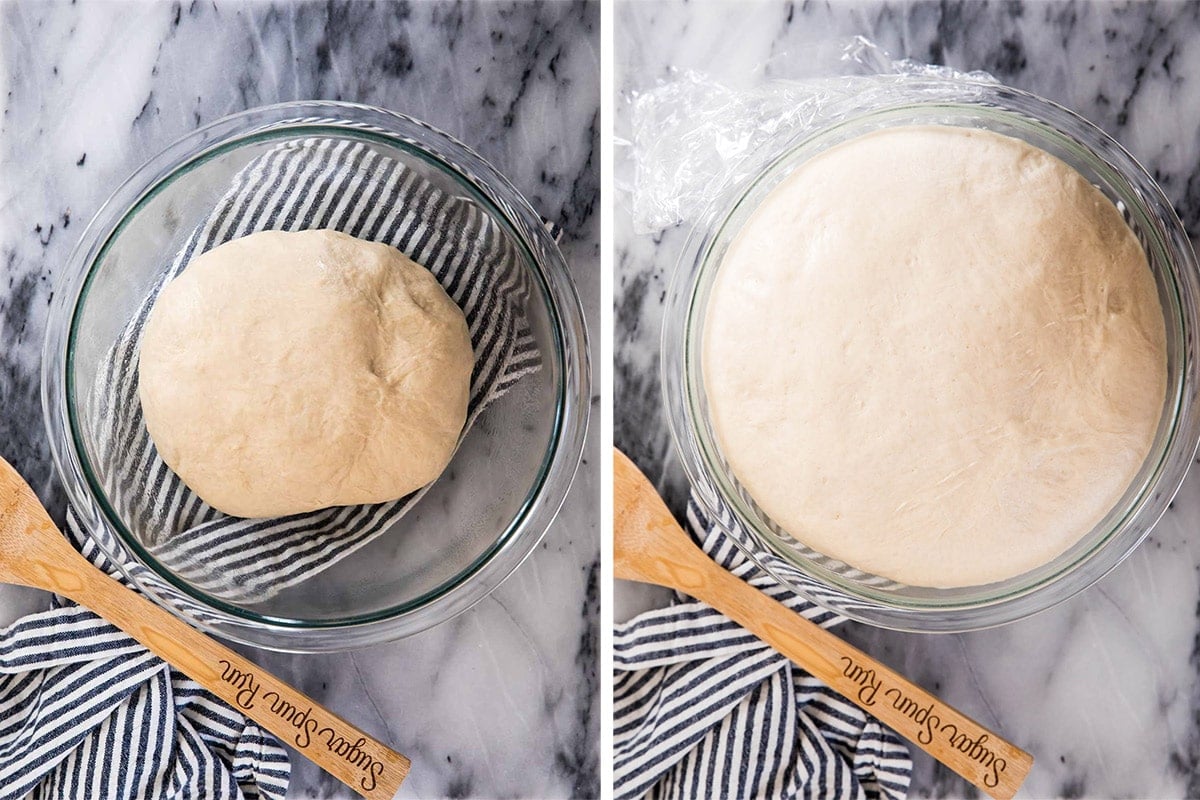 How to Make Homemade Bread
Proof your yeast. Mix it with a mixture of warm water and milk (heat between 105-115F; too hot will kill the yeast and too cool the yeast won't activate) and a pinch of sugar. Wait 5 minutes for it to get foamy.
Add remaining ingredients and stir well until the dough reaches the proper consistency (a word on that below).
Place in an oiled bowl, cover, let rise until doubled in size (see images above).
Deflate and form into an 8×12 rectangle. Roll into a log from the shorter end and pinch the seam. Tuck the ends under and place, seam-side down into a greased 9×5″ bread pan. Let rise until doubled in size (see images below).
Bake until golden brown and the bread sounds hollow when tapped! Allow to cool before slicing!
While the easiest way to make this bread recipe is with a stand mixer (and I've included notes in the recipe on how to do so), it can also be made just with a large bowl and a spoon (just like my pizza dough). In the video I made it without my mixer, a bit of elbow grease and some manual kneading is required to make it this way.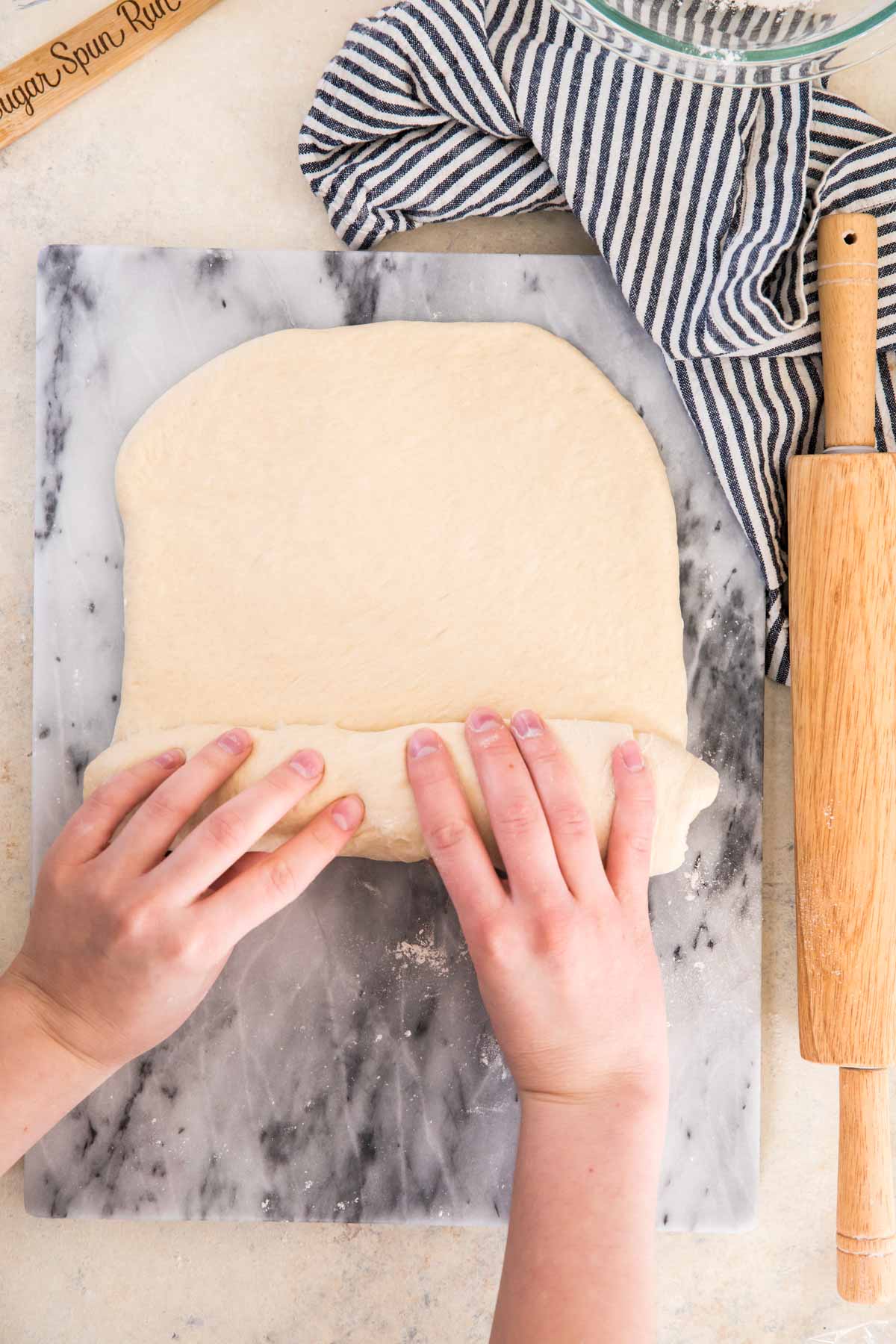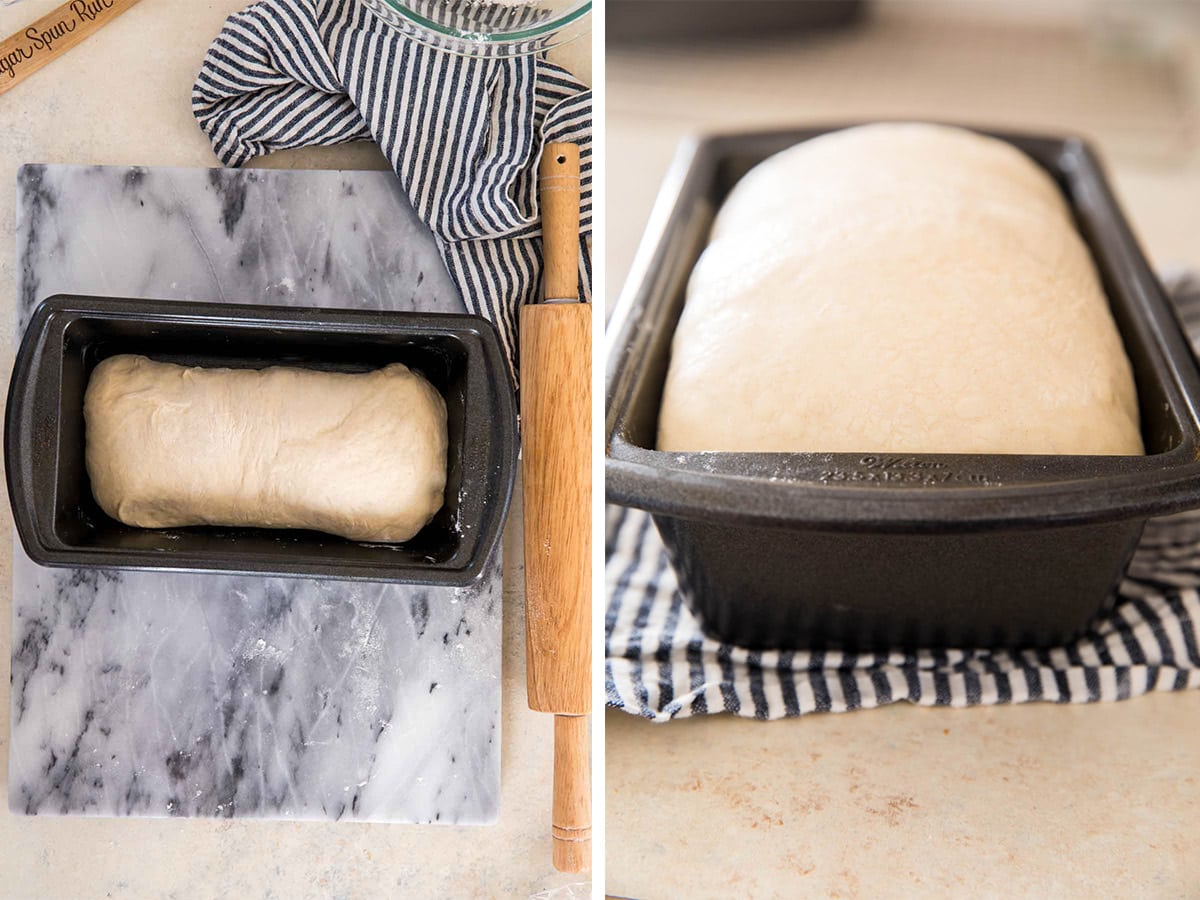 Getting the Right Consistency
You'll notice that in this bread recipe I don't list a precise amount of flour. I indicate 4-5 cups. That's quite a range and you would never find such vague guidelines on any of my recipes that don't use yeast!
When you're baking homemade bread (or other yeast recipes), though, the amount of flour will almost always vary. Rather than using a specified amount of flour and calling it a day, you need to judge based on the consistency of your dough. You're looking for the dough to cling together and form a ball. It should not stick to your hands but should be slightly tacky to the touch. You may need less flour than I do, or you may need more.
For a visual guide on how your bread dough should look, be sure to check out the video below the bread recipe.
How to Store
Store homemade bread tightly wrapped or in an airtight container at room temperature for 2-3 days. This bread may also be frozen. Let it cool after baking and then wrap tightly in plastic wrap and then in foil and freeze.
If you are interested in making the dough in advance, here is a guide I found on how to freeze homemade bread dough.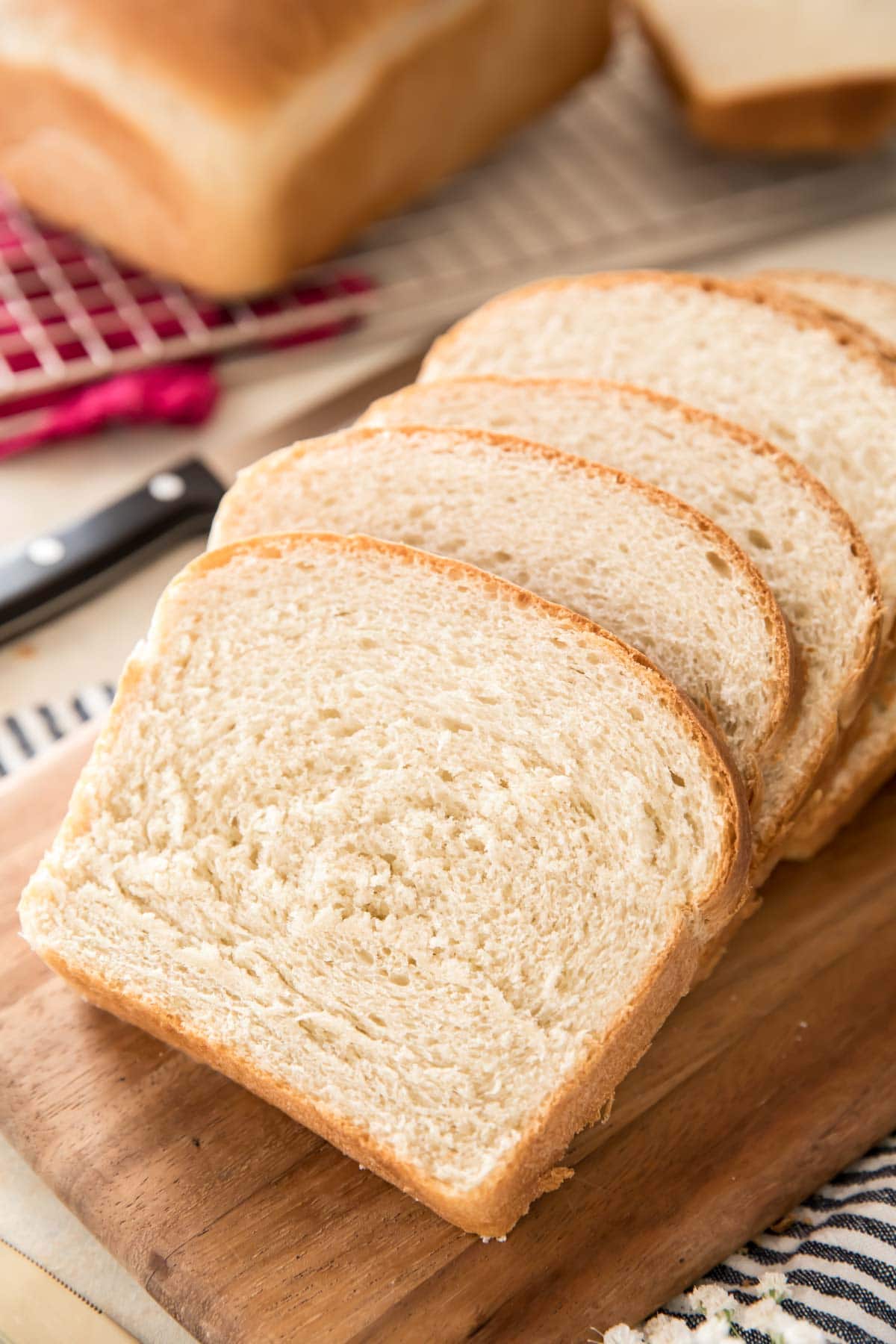 This bread recipe is great served alongside baked ziti, stuffed shells, or lasagna soup! Enjoy!
More Bread Recipes to Try:
Are you more of a visual learner? Check out my YouTube channel where I show you exactly how I make this recipe step-by-step in my own kitchen.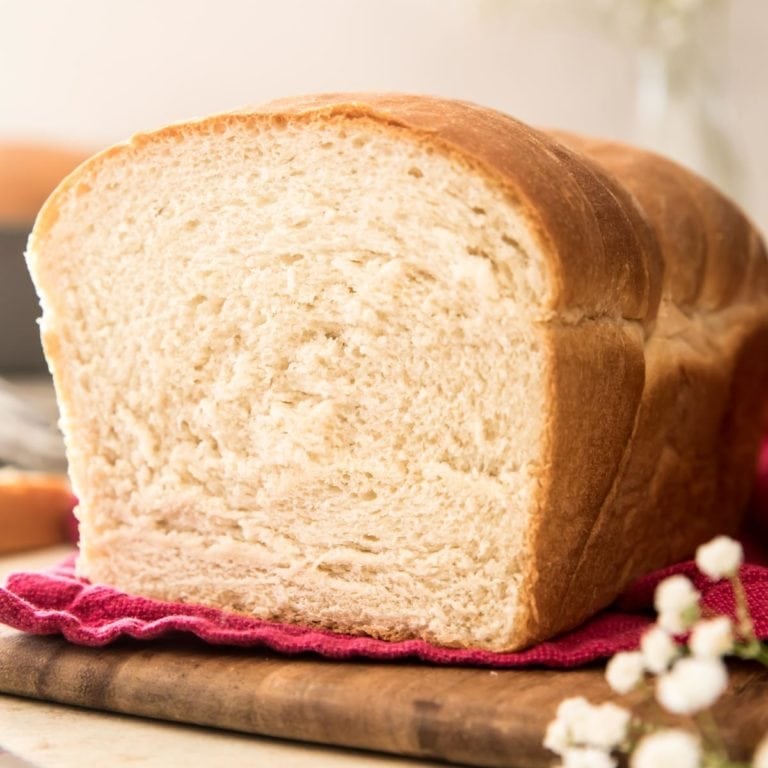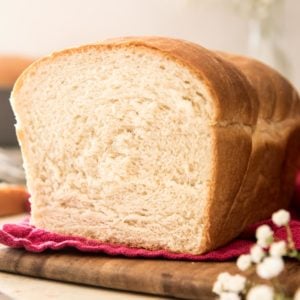 Homemade Bread
A simple recipe for making homemade bread from scratch. If this is your first time making bread, it may be helpful for you to read through the post and/or watch the video below the recipe before beginning.
This recipe makes one loaf of bread but may be doubled.
Print
Pin
Rate
Ingredients
2 ¼

teaspoons

active dry yeast¹

1 packet

1 ¼

cups

water

(236ml)

¼

cup

whole milk²

(60ml)

2

Tablespoons

+ 1 teaspoon granulated sugar

2

teaspoons

salt

2

Tablespoons

butter

softened and cut into 4 pieces

4 - 5

cups

bread flour or all-purpose (plain) flour³

(500-625g)
Instructions
Combine milk and water and heat in the microwave (or on the stovetop) until it reaches a temperature between 105-115F (40-46C). Make sure to stir the liquid before measuring the temperature to make sure it is heated evenly.

Pour warm milk/water mixture into a large bowl or the bowl of a stand mixer. Add yeast and 1 teaspoon of granulated sugar and stir to combine. Allow to sit for about 5 minutes, until yeast is foamy (if yeast does not foam there is something wrong with it, it is likely dead. You will have to throw this out and start over).

Once yeast is foamy, add remaining 2 Tablespoons granulated sugar, salt, butter, and 2 cups (250g) of your flour mixture. Stir well until completely combined (the butter may not be completely combined at this point but as you add more flour it should mix into the dough completely).

Gradually add additional flour, stirring well after each addition (if you are using a stand mixer, stir on low-speed with a dough hook attachment), until dough clings together and forms a ball that pulls away from the side of the bowl. Dough should be slightly tacky to the touch but should not be sticky.

Transfer to a clean surface and knead for about 5-10 minutes until dough is smooth and elastic (or continue to stir with mixer on low-speed with dough hook until smooth and elastic, about 3-5 minutes).

Transfer dough to a lightly oiled bowl, turn dough to coat the surface lightly with oil, cover and allow to rise in a warm place until doubled in size (about 1-2 hours).

Once dough has doubled, transfer to a clean, lightly floured surface and use your hands to deflate the dough. Use lightly floured hands or a lightly floured rolling pin to form into an 8x12" rectangle. Starting with one 8" end, roll dough tightly into a log. Pinch the seam to seal the log and tuck the ends of the dough under to form a loaf (see my video below the recipe for a visual).

Transfer to a lightly greased (I use shortening) 9x5" bread pan. If desired, use a serrated knife to score the bread lengthwise across the top. Cover with a clean towel and allow to rise in a warm, draft-free place until doubled in size and loaf has risen about .5-1" above the edge of the loaf pan. While dough is rising, preheat your oven to 400F (200C).

Once dough has risen and oven is preheated, oncover loaf and transfer to 400F (200C) oven and bake for 25 minutes or until loaf is golden brown and sounds hollow when tapped,

Immediately invert onto a cooling rack. Allow to cool a bit before slicing and serving.
Notes
¹You may substitute instant yeast for the active dry yeast.
²I recommend using whole milk for this recipe for best results. However, 2% milk or even water will work instead, the bread just won't be quite as tender/soft.
³I recommend bread flour for a sturdier, slightly chewier loaf that is better for sandwiches. However, all-purpose flour will work!
Looking for more substitutions? See my section in the post titled: "Ingredients & Substitutions" for more suggestions on substitutions for the butter, sugar, and even how to make a whole wheat bread.
Storing:
Wrap tightly or store in an airtight container in a cool, dry place for 2-3 days. I do not recommend keeping in the refrigerator as it will dry out the bread and make it stale. Bread may be frozen, allow to cool and then wrap tightly in plastic wrap and foil and freeze for up to a month.
Nutrition
Serving:
1
slice
|
Calories:
373
kcal
|
Carbohydrates:
71
g
|
Protein:
12
g
|
Fat:
4
g
|
Saturated Fat:
2
g
|
Trans Fat:
1
g
|
Cholesterol:
6
mg
|
Sodium:
411
mg
|
Potassium:
122
mg
|
Fiber:
3
g
|
Sugar:
3
g
|
Vitamin A:
68
IU
|
Vitamin C:
1
mg
|
Calcium:
22
mg
|
Iron:
1
mg
Nutritional information is based on third-party calculations and should be considered an estimate only. Actual nutritional content will vary based upon brands used, measuring methods, cooking method, portion sizes, and more.