Today I'm sharing my carefully tested and perfected version of an old-fashioned favorite: Red Velvet Cake. This show-stopper features a plush crimson crumb with a slightly buttery, slightly chocolatey, slightly tangy flavor.Top it off with classic ermine or cream cheese frosting! Once you try it you'll understand all the hype! My recipe includes a detailed how-to video in the recipe card!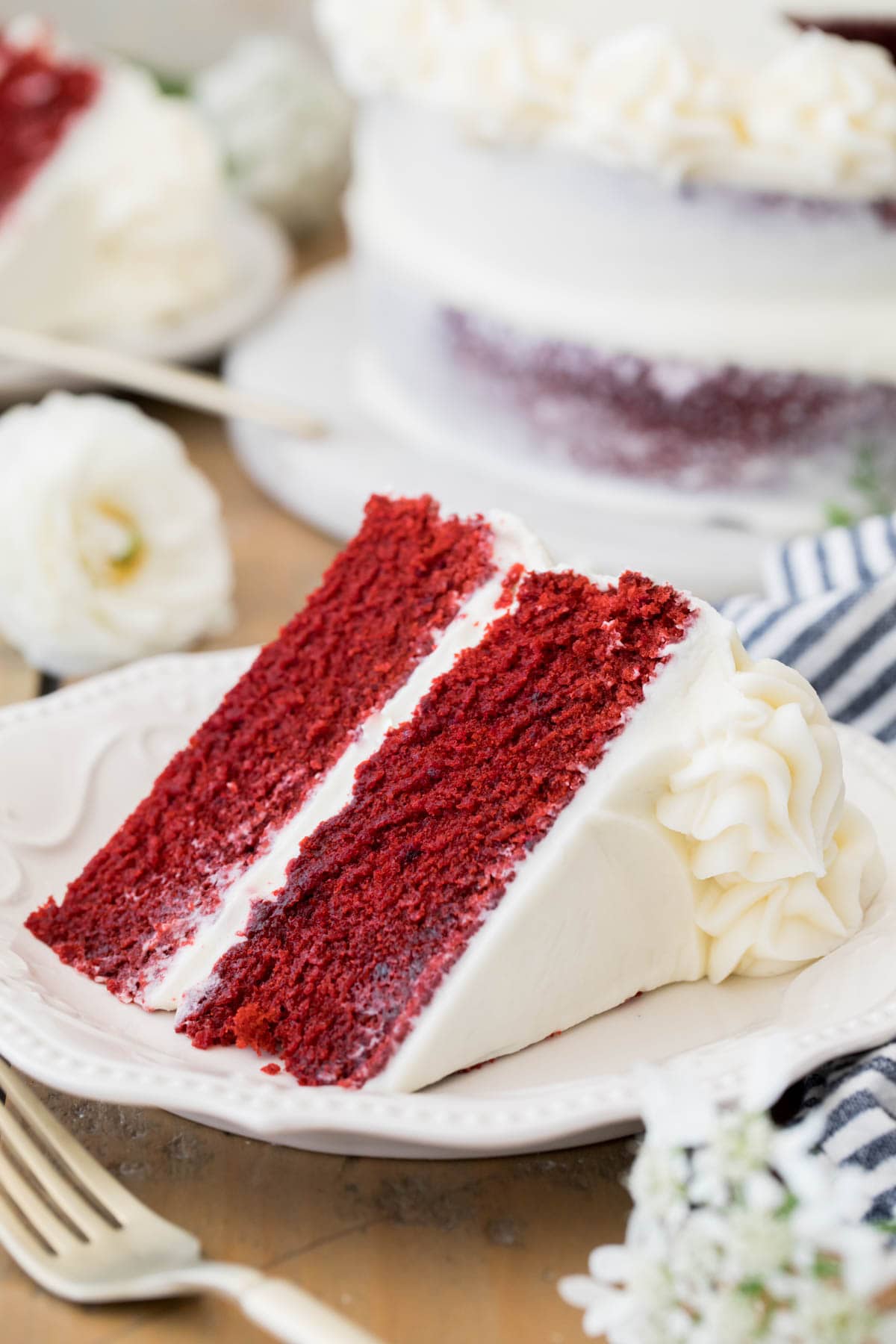 A Classic Favorite Cake
I don't think I've ever received as many requests for a recipe as I have for this red velvet cake. For literally years I've been receiving e-mailed requests and comments asking me to please share my version of this recipe and I'm embarrassed it took me this long to finally get to it.
After receiving my 50th request in a single month, I decided it was finally time I do something about this. OK, actually it was Zach who told me I needed to finally make the darn cake, which, if I'm being honest, has never been my favorite. Not even in the top 10 (angel food cake and carrot cake are my top choices, red velvet cake fell somewhere way down at the bottom of the list). That was my biggest challenge and reason for delay, not just developing this cake recipe, but making it good enough that even I would ask for a second slice.
It took months of taste testing with lots of help from my trusted baking assistant (my sister!). We tested and tweaked dozens of recipes, finally finding our Eureka! moment with this soft, tender, and yes, moist cake with a slightly dense but plush crumb that was tasty enough to enjoy even without any frosting at all. I love it, and I think you're going to, too.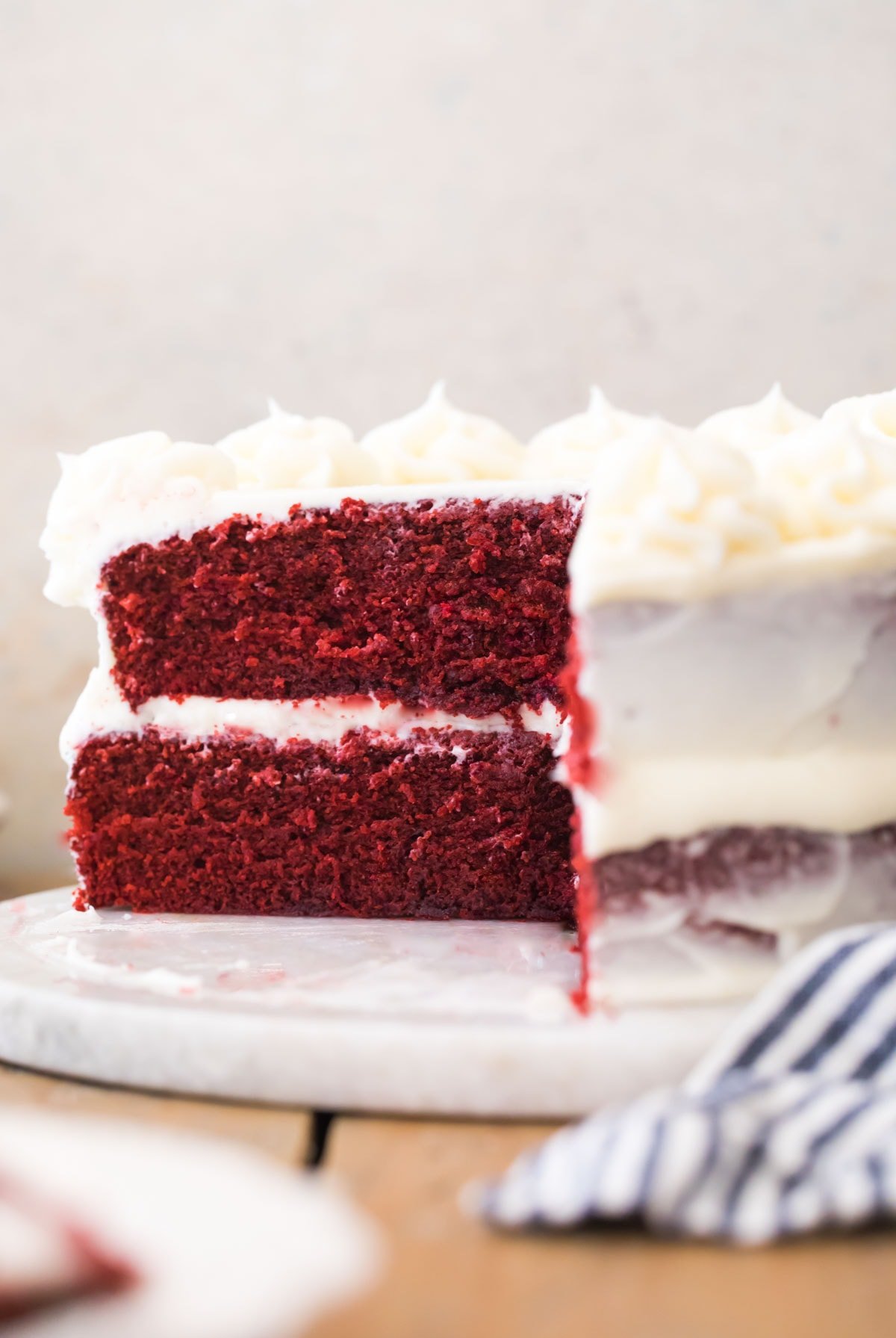 What Is Red Velvet Cake?
An enigma for decades, many people believe it's simply a variation of Devil's food cake (it's not!). It is not simply a chocolate cake that's been dyed red, nor is it merely a crimson-colored vanilla or white cake. Red velvet cake is unique and old-fashioned cake that has origins in the Victorian era. It was popularized somewhere between the Great Depression and the 1950s and several different sources stake their claim as its creator. It should have:
A plush, velvety texture
A vibrant, red-hued crumb
Subtle chocolate flavor
Buttery undertones
A faint acidity from the buttermilk and vinegar.
Neither chocolate nor vanilla, its flavor profile is unique without being as shocking as its coloring.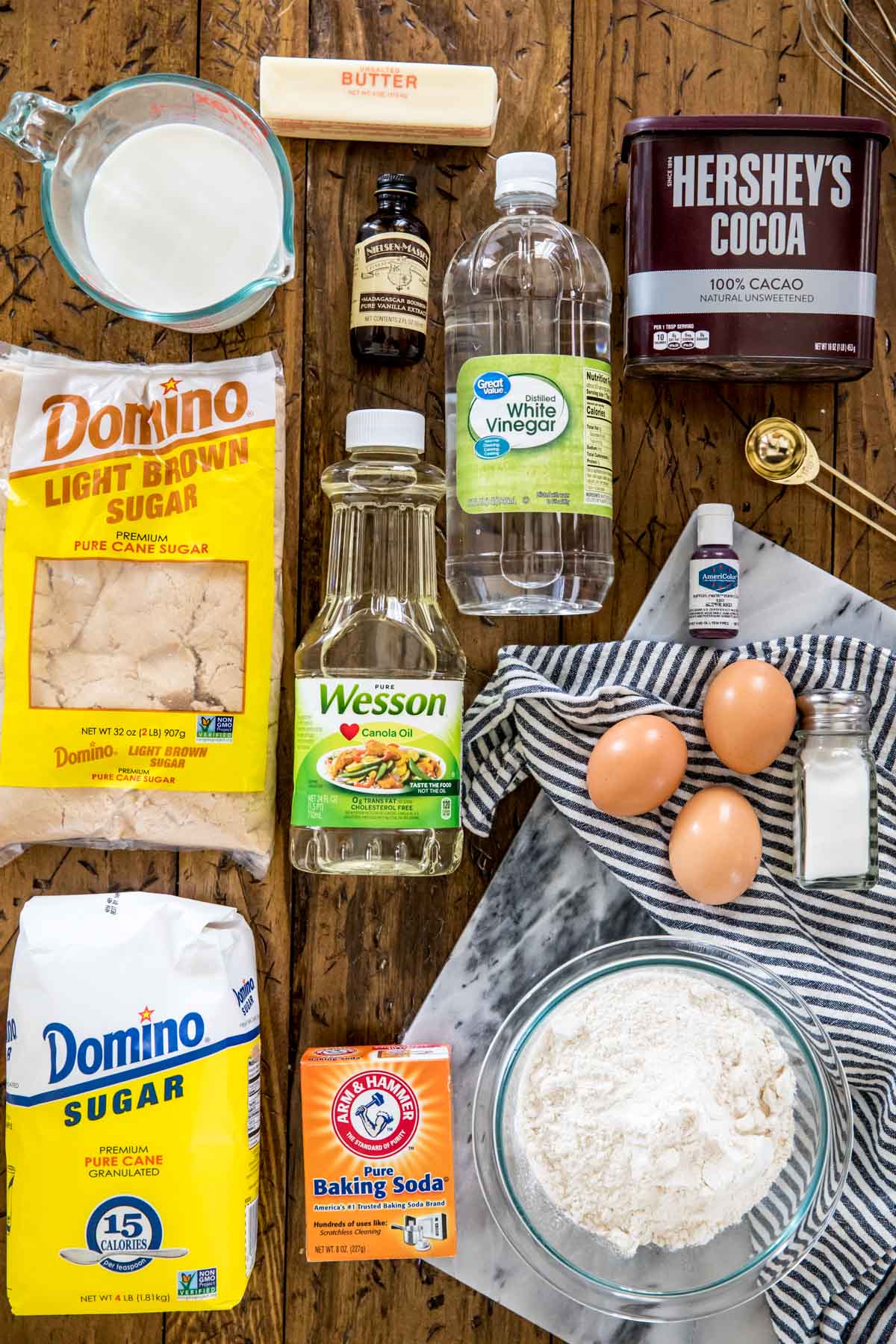 Ingredients and Substitutions
While I tested dozens of different variations while trying to perfect this cake, I primarily developed it by drawing from my chocolate cake recipe and my grandmother's red velvet cake recipe. This is just an overview of the ingredients used and (most importantly), why. For the full written recipe with amounts, please scroll down to the recipe card below.
Buttermilk. One of the key, classic ingredients that gives this recipe its signature subtle tang. This cake has been tested and works just as well with my easy buttermilk substitute (made with whole milk and vinegar). I tried this recipe with buttermilk, hot water, hot coffee, and varying blends (and amounts) of all three and found that using all buttermilk resulted in the best flavor and texture.
Flour. I recommend all-purpose/plain flour only for this recipe. It's been specifically developed with this type of flour and while many of my cakes fare well if you'd like to substitute cake flour, this one does not. Stick to all-purpose!
Sugars. I like to use a blend of granulated and brown sugar. The brown sugar helps to enrich the cake and deepen the flavor.
Oil & Butter. I use a blend of oil and butter in so many of my cake recipes (like my vanilla cake!) because it results in the best flavor and texture. All butter makes for a flavorful cake, but the crumb is too dry. All oil makes for a moist cake, but we lose that wonderful buttery flavor. A blend of the two is almost always the best way to get the best taste and texture.
Eggs. I use two whole eggs and a single egg yolk. The additional egg yolk helps to make the crumb more tender and enriches the overall crumb of the cake.
Cocoa Powder. Use natural unsweetened cocoa powder and not Dutch processed. While the chocolate flavor is subtle, it should still be present. Many recipes skimp on the cocoa powder because it darkens the cake and makes the red less… bright/neon. I much prefer not only the duskier red color but the slightly more present cocoa flavor.
Vinegar. This is a classic red velvet cake ingredient and, along with the buttermilk, contributes to the slightly tangy flavor of the cake.
Salt & Vanilla Extract for flavor.
Baking Soda reacts with our acidic ingredients and helps the cake to rise, giving it its velvety crumb.
Red Food Coloring. A must for this cake, more on this below. I whisk the coloring into the buttermilk before adding to the batter, I find it's the easiest way to evenly incorporate the color.
You'll also need to make your frosting. Ermine frosting and cream cheese frosting are two classic choices. Take your pick, you can't go wrong with either.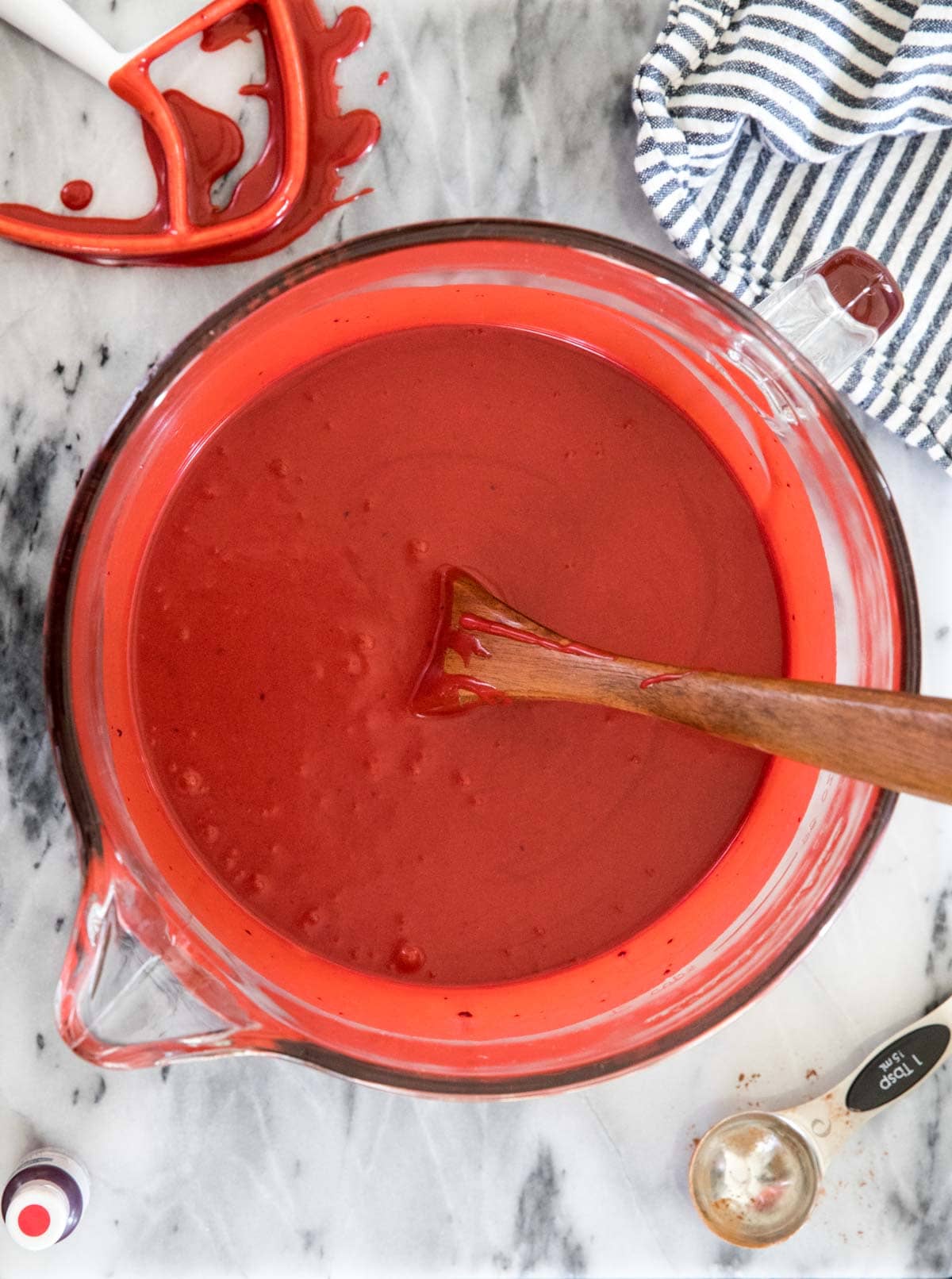 Let's Talk About Food Coloring!
The red food coloring typically used to give the cake its signature red color is often a matter of contention. Back in the day, the vinegar, buttermilk and the natural cocoa powder used in this recipe would have reacted to create a faintly red cake. While you may get a very slight ruddy reddish hue from this reaction today, red velvet cake as we know it gets its hallmark color from food coloring. You simply cannot get that classic crimson color from the chemical reactions alone.
The Adams Extract Company capitalized on this cake (and helped to popularize it) in the 1920s with a clever marketing ploy that advertised an eye-catching, vibrantly red cake. Of course, it was made by introducing a generous splash of their red food coloring into the mix. While they didn't necessarily invent the cake itself, we owe them for the colorful crumb the recipe is known for. Here's a great source that not only goes into detail about the history of this classic cake, but also the science behind the color, in case you love nerding out about food history like I do.
Gel food coloring or liquid will work, but I personally prefer gel as you need a much smaller amount and you don't have to introduce as much additional liquid into the cake (which can alter the texture slightly).
Can you leave out the food coloring?
Sure, you can, and the cake will have a very slightly ruddy brown color. But somehow it truly just doesn't taste the same without the food coloring. If you want to make this cake without it, I recommend a different recipe altogether… why not try my German chocolate cake instead?
Some people like to use natural coloring like beet juice (and beet juice was popularly used in cakes during the Great Depression). Dwight Schrute might prefer his cake prepared this way, but I personally have not tried it and can't advise.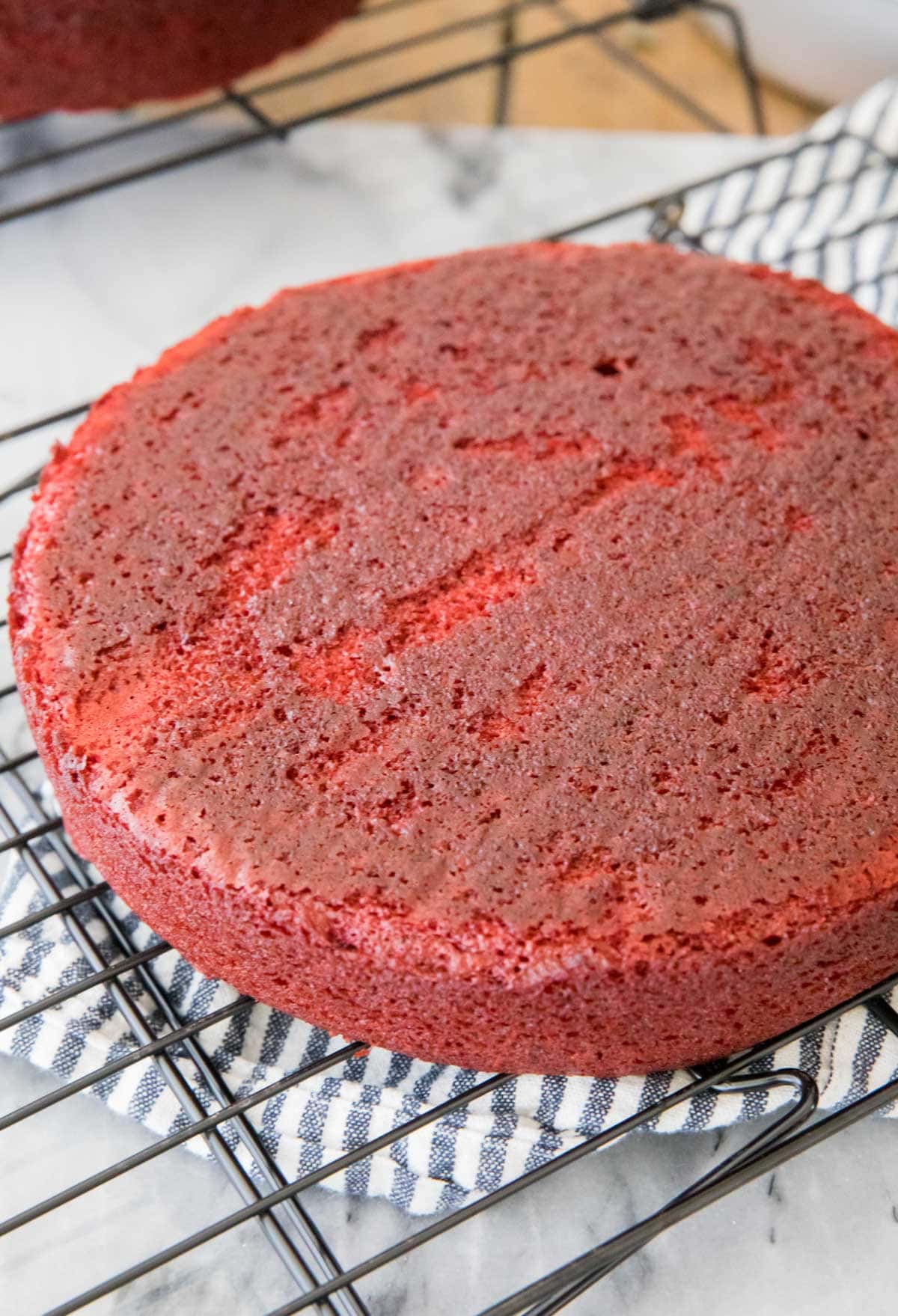 Can I Make This Into a Sheet Cake?
You can bake today's recipe in a 9×13″ pan. I've included instructions on how to do so in the recipe below.
Can I Use This Recipe for Cupcakes?
Unfortunately, I found that this recipe isn't the best for cupcakes. It holds up beautifully in cake form, but the cupcakes are so moist they tend to fall apart a bit, a fork would certainly be required. No worries, though, I wouldn't leave you without a cupcake version for long!
Update: Find my Red Velvet Cupcake recipe here!
What Kind of Frosting Goes With Red Velvet Cake?
Traditionally, ermine frosting is the frosting of choice. Cream cheese frosting has recently replaced old fashioned ermine as the top option and this slightly tangy frosting is a great complement as well. I recommend either of those for a classic cake, but Swiss meringue buttercream or classic buttercream frosting would also work as less-traditional options.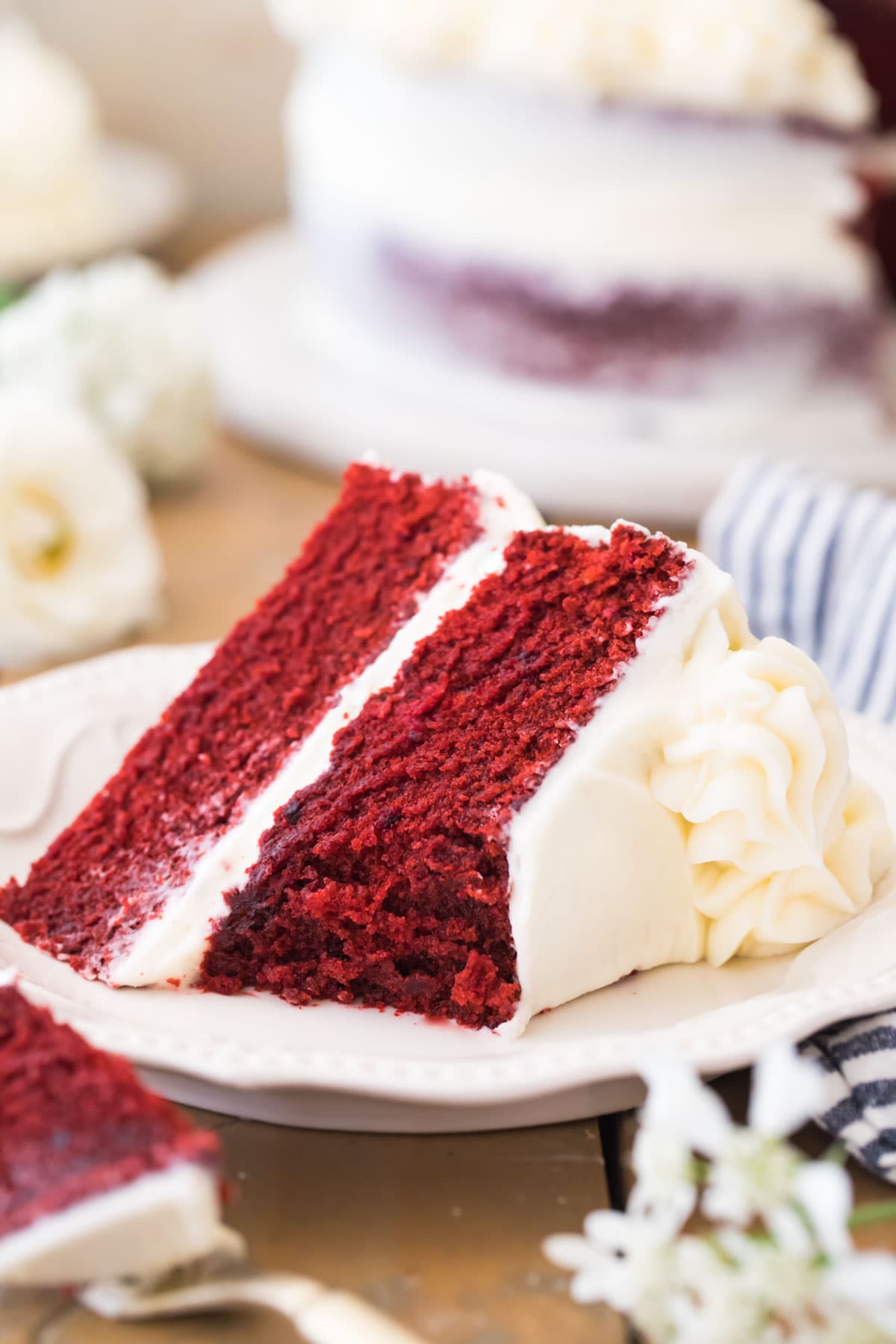 Storing
Store this cake in an airtight container. It will keep at room temperature for 1-2 days or refrigerated for up to a week (keep in mind the refrigerator is notorious for drying out cake!). It may also be frozen and will keep for 2-3 months in the freezer.
More Classic Cake Recipes to Try:
Enjoy! I can't wait to hear how you like this recipe!
Let's bake together! Don't forget to watch the how-to VIDEO in the recipe card!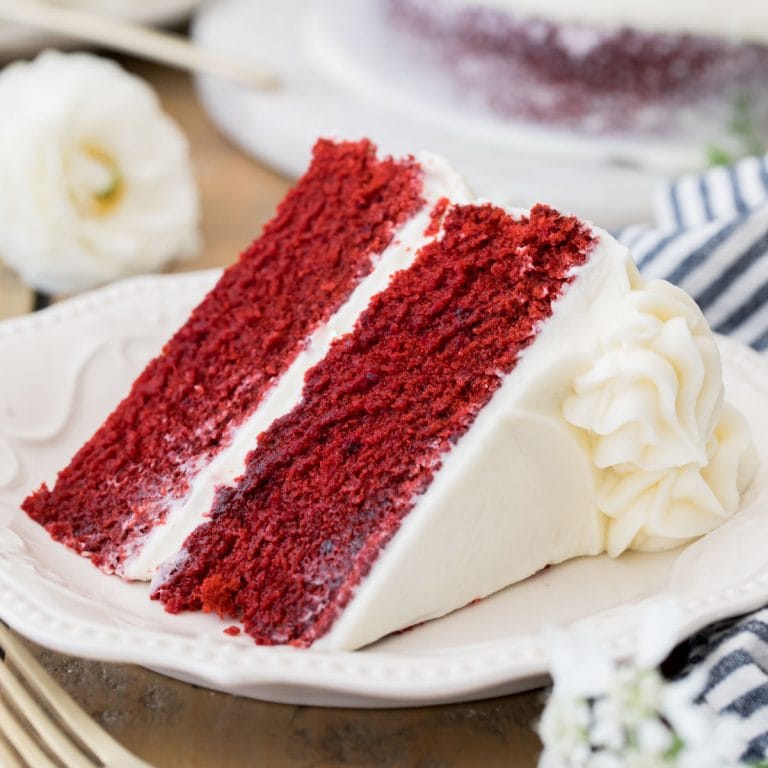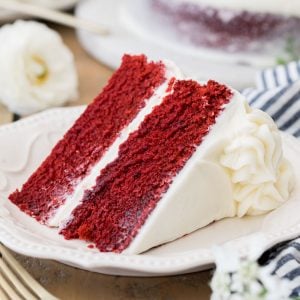 Red Velvet Cake
My Red Velvet Cake has a plush, velvety red crumb with a buttery, subtly chocolatey flavor. Top it off with classic ermine or cream cheese frosting! An easy, moist, and delicious recipe for a classic cake!
Print
Pin
Rate
Ingredients
1 ½

cups

(

355

ml

) buttermilk

See note or click link for my easy buttermilk substitute

2

teaspoons

red gel food coloring (I use Americolor "red red" or "super red")

optional, if you leave it out the cake will be pale brown in color. 1 oz liquid red food coloring would also work but I much prefer gel and linked to the one I used.

2 ¼

cups

(

280

g

)

all-purpose flour¹

1 ¼

cups

(

250

g

)

granulated sugar

¾

cup

(

150

g

)

light brown sugar

firmly packed

3

Tablespoons

(

19

g

)

natural cocoa powder

1 ½

teaspoons

baking soda

1

teaspoon

salt

½

cup

(

113

g

) unsalted butter

melted

½

cup

(

113

ml

)

canola oil

may substitute vegetable oil or another neutral oil

2

large eggs + 1 large egg yolk

room temperature preferred²

1

Tablespoon

vanilla extract

1

teaspoon

white vinegar
Instructions
Preheat oven to 350F (175C) and spray two 8" cake pans (see note for using different sized pans) with baking spray and line the bottoms with parchment paper. Set aside.

Combine milk and food coloring in a large measuring cup or small bowl, whisk to thoroughly combine and set aside.

1 ½ cups (355 ml) buttermilk,

2 teaspoons red gel food coloring (I use Americolor "red red" or "super red")

In a large bowl, whisk together flour, granulated sugar, brown sugar, cocoa powder, baking soda, and salt until thoroughly combined.

2 ¼ cups (280 g) all-purpose flour¹,

1 ¼ cups (250 g) granulated sugar,

¾ cup (150 g) light brown sugar,

3 Tablespoons (19 g) natural cocoa powder,

1 ½ teaspoons baking soda,

1 teaspoon salt

Add melted butter and oil and stir until all ingredients are well-combined and no longer dry (the mixture will be thick).

½ cup (113 g) unsalted butter,

½ cup (113 ml) canola oil

Add eggs and egg yolk, one at a time, stirring until very well-combined after each addition. Pause occasionally to scrape the sides and bottom of the bowl with a spatula.

2 large eggs + 1 large egg yolk

Stir in vanilla extract and vinegar then gradually add milk mixture and stir very well until completely combined and batter is entirely smooth and lump-free. While it's not impossible to over-mix this cake batter, it is difficult to do so and you are more likely to accidentally under-mix, so stir well!

1 Tablespoon vanilla extract,

1 teaspoon white vinegar

Evenly divide batter into prepared pans and bake on center rack on 350F (175C) for 40-45 minutes or until a toothpick inserted in the center comes out with a few moist crumbs (preferred) or clean (once the toothpick comes out clean it is nearing becoming over-baked, take it out of the oven at once).

Allow cakes to cool in their pans for 10-15 minutes, then run a knife along the inside rim to loosen the cakes and carefully invert onto a cooling rack to cool completely before covering with frosting. My cakes generally bake up nice and flat, but if yours are domed, level with a sharp serrated knife after cooling and before stacking and frosting.

1 batch Ermine frosting ³
Notes
Buttermilk. If you don't have buttermilk on hand, measure 1 ½ Tablespoons of white vinegar into a 2-cup measuring cup and then add whole milk until you reach the 1 ½ cup line. Whisk together and allow to sit for 5 minutes, then add food coloring and proceed with the recipe.
¹I do NOT recommend substituting cake flour or any other kind of flour for this recipe.
²To quickly bring eggs to room temperature, place them in a bowl of warm (not hot!) water for 15 minutes.
³Ermine frosting is the classic frosting used for red velvet cake, but I alternatively love and would recommend using a batch of my cream cheese frosting.
Using Different Pans:
This recipe makes 6 cups of batter. I have tested it in the following pans:
9x13 pan: bake on 350F/175C for approximately 33 minutes (may take longer if using a glass dish)
9" pans: bake on 350F/175C for 33-35 minutes or until a toothpick inserted in the center comes out clean or with a few moist crumbs.
Cupcakes: I don't recommend using this exact recipe for cupcakes as it's a bit too moist, try my red velvet cupcake recipe instead.
Storing
Store cake in an airtight container. It will keep at room temperature for 1-2 days or in the refrigerator for up to 7 days (the fridge does tend to dry out cakes!). It may also be frozen for 2-3 months.
Nutrition
Serving:
1
slice (does not include icing, all icing recipes include complete nutrition in the recipe)
|
Calories:
423
kcal
|
Carbohydrates:
56
g
|
Protein:
5
g
|
Fat:
20
g
|
Saturated Fat:
7
g
|
Cholesterol:
54
mg
|
Sodium:
365
mg
|
Potassium:
116
mg
|
Fiber:
1
g
|
Sugar:
37
g
|
Vitamin A:
368
IU
|
Calcium:
60
mg
|
Iron:
2
mg
Nutritional information is based on third-party calculations and should be considered an estimate only. Actual nutritional content will vary based upon brands used, measuring methods, cooking method, portion sizes, and more.