A unique dessert pizza made with finely chopped white chocolate and a cream cheese based"sauce" with a fresh raspberry swirl and crispy-sweet streusel topping.
I am so excited right now I can hardly type.
Despite the fact that this pizza is delicious, scrumptious, and a careful layering of amazingly complementary flavors, it is not this dessert that has me feeling so hyped-up.  In fact, please forgive me if I skimp a bit on paying this (truly wonderful) recipe due homage, and if I share a little more personal information than I'm usually inclined to, but…
My husband got a job!
!
I'm going to take a step back.  I know that anytime someone lands a job it's cause for celebration, but in our case this was the final piece of the puzzle that we have been waiting on for so long to finally be back to "normal".
Since May of 2014 Zach has been hit by a what seemed like an endless string of bad luck.  Life since our engagement has been an utter roller coaster of extreme highs and lows:
Zach's unexpected seizure & car wreck.  Our engagement.  Loss of Zach's drivers' license (due to uncontrolled seizures).  Purchasing our first home.  Zach laid off from his job (less than a month before the wedding).  Wedding, honeymoon, & moving in together.  Zach's brain surgery (just two weeks after our wedding).  Seizures resolved due to surgery.  Zach still unable to find work despite submitting hundreds of applications and even landing a few interviews.  License restored and landed a temp job.  Zach develops a skull infection, is let go from temp job due to requiring emergency surgery (which leaves him missing a piece of his skull for over 6 weeks and needing to wear a helmet—try applying for jobs when you have to wear a helmet!), and not allowed to drive under doctors' orders for 6 weeks.
Have you ever been in the ocean and been struck by a huge wave?  It sucks you under and somersaults you until you don't know which way to swim up for air?  It tangles your bathing suit and scrapes you on the tightly packed sand and broken shells, and when you finally breach the surface and take a jagged half-breath of air, bleeding and choking but thinking you're finally going to be OK, another wave crashes over your head and it happens all over again.
That's what the past 15 months have been like for us (mostly for Zach, all the bad luck has happened to him, but I've been right there for it all).
Finally, this past May, things seemed to finally take a turn for the better.  He had his second skull surgery (skull replaced and no more helmet), his surgeries and seizures should now be a thing of the past, and his license is restored.  The final piece of the puzzle was for him to land a job.
And yesterday, he got the call and the offer letter.  I was so excited I could have cried.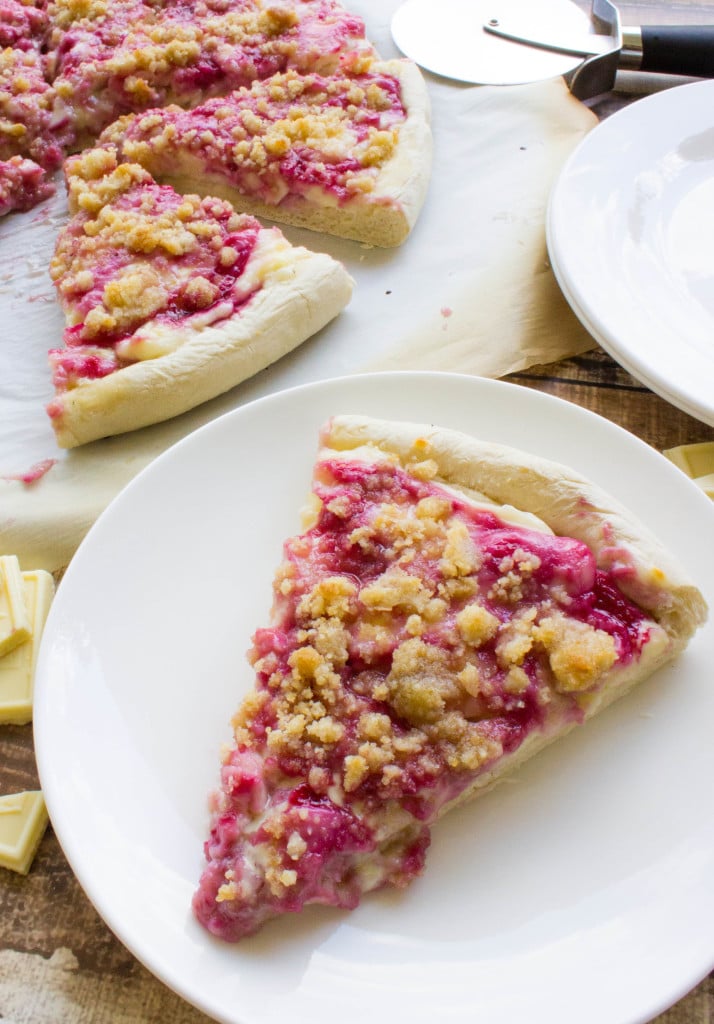 Even more exciting–he landed a job at the same hospital where I work!  He will be in an entirely different department and building, but there will be so many benefits from being able to drive to work together, at least some days.
This dessert really deserves more than to be restrained to just a small little blurb at the end of a lengthy personal post, and I went back and forth for a long time between including a recipe in this post or not (or even if I should post this at all).
But this is a personal dessert blog, and while I usually tone back the personal side a bit I just can't merit containing myself today.  I also feel that if you took the time to read through all that I wrote, you at least deserve a recipe as a reward, though I regret that I'm only briefly talking to you about its perfectly soft crust, the melted flecks of white chocolate which add a pleasant subtext to a creamy, sugared cream-cheese sauce, the tart raspberry swirl and the sweet streusel topping that adds the perfect textural contrast to the rest of the pizza.
Thank you for reading, and I hope you're all having as wonderful of a day as I am.
More Recipes You Might Like:
Enjoy!
White Chocolate Raspberry Cheesecake Dessert Pizza
A unique dessert pizza made with finely chopped white chocolate and a cream cheese based "sauce" with a fresh raspberry swirl and crispy-sweet streusel topping.
Print
Pin
Rate
Ingredients
Dough (Very slightly adapted from Fearless Homemaker to make a single crust without herbs)
Pizza
4

oz

premium white chocolate
Raspberry Swirl (you will have leftover)
¾

cup

raspberries

fresh or frozen

2

Tbsp

sugar

1 ½

Tbsp

water
Cream Cheese Sauce
12

oz

cream cheese

1 & ½ package

¼

cup + 2 Tbsp

granulated sugar

1

tsp

vanilla extract
Streusel
¼

cup + 1 Tbsp

all-purpose flour

¼

cup

granulated sugar

¼

cup + 2 Tbsp

brown sugar

2

Tbsp

cold butter
Instructions
Dough
In large bowl or KitchenAid combine flour, yeast and salt.

Stir in water, stirring until mostly combined and then switch to using your hands to combine until the dough is sticky enough to form a ball.

Turn the dough out onto a lightly floured surface and knead about 5 minutes (until elastic), add additional flour 1 Tbsp at a time if needed (if dough is too sticky and sticks to your hands)

Roll dough out into 12" circle and transfer to pizza pan. Fold over edges to form a thin crust.

Finely chop white chocolate and sprinkle over pizza dough.
Raspberry Swirl
Prepare raspberry swirl by combining raspberries, sugar and water in a small saucepan over medium-high heat.

Using a spoon, press and mash the raspberries, stirring constantly for 5-7 minutes.

Pour through fine mesh strainer into bowl and dispose of the seeds and solid remnants. Allow raspberry liquid to cool to room temperature.
Cream Cheese Sauce
In medium, microwave-safe bowl, heat the cream cheese at 10-second intervals until it is mostly melted and easy to stir.

Stir in sugar and vanilla and stir well.

Pour cream cheese sauce over the white chocolate on the pizza dough (it is OK if the white chocolate sticks to the sauce a little while you are spreading it over the dough, just try to keep it evenly distributed over the base).

Ladle spoonfuls of raspberry sauce over the cream cheese sauce (NOTE: you will not use all of the raspberry sauce and you do not want to overwhelm the cream cheese sauce. I use about 2-3 Tbsp) and use a knife to swirl through the cream cheese mixture.
Streusel
In small bowl, combine flour, sugars and butter.

Cut in butter until mixture is crumblike and sprinkle over the pizza.

Bake on 500F for 7-9 minutes, allow to cool at least 5 minutes before cutting and serving.
Nutrition
Serving:
1
slice
|
Calories:
339
kcal
|
Carbohydrates:
52
g
|
Protein:
6
g
|
Fat:
12
g
|
Saturated Fat:
7
g
|
Cholesterol:
37
mg
|
Sodium:
230
mg
|
Potassium:
113
mg
|
Fiber:
2
g
|
Sugar:
26
g
|
Vitamin A:
457
IU
|
Vitamin C:
2
mg
|
Calcium:
48
mg
|
Iron:
2
mg
Nutritional information is based on third-party calculations and should be considered an estimate only. Actual nutritional content will vary based upon brands used, measuring methods, cooking method, portion sizes, and more.