So there's this pizza place.
It's actually an all-you-can-eat pizza place, you know, the kind where you pay about 5 bucks for unlimited pizza and soda and a kinda-wilted salad bar alongside the company of individuals who evidently only own pajama pants or sweatpants and therefore justify wearing them out in public all the time and whose collective primary parenting technique seems to just be "eh, screw it".
I digress.
Anyway this pizza place serves a genuinely amazing chocolate chip dessert pizza.  Like, truly, amazing.  Worth going back time and time again (even though the salad bar is always out of ranch) just for this dessert pizza.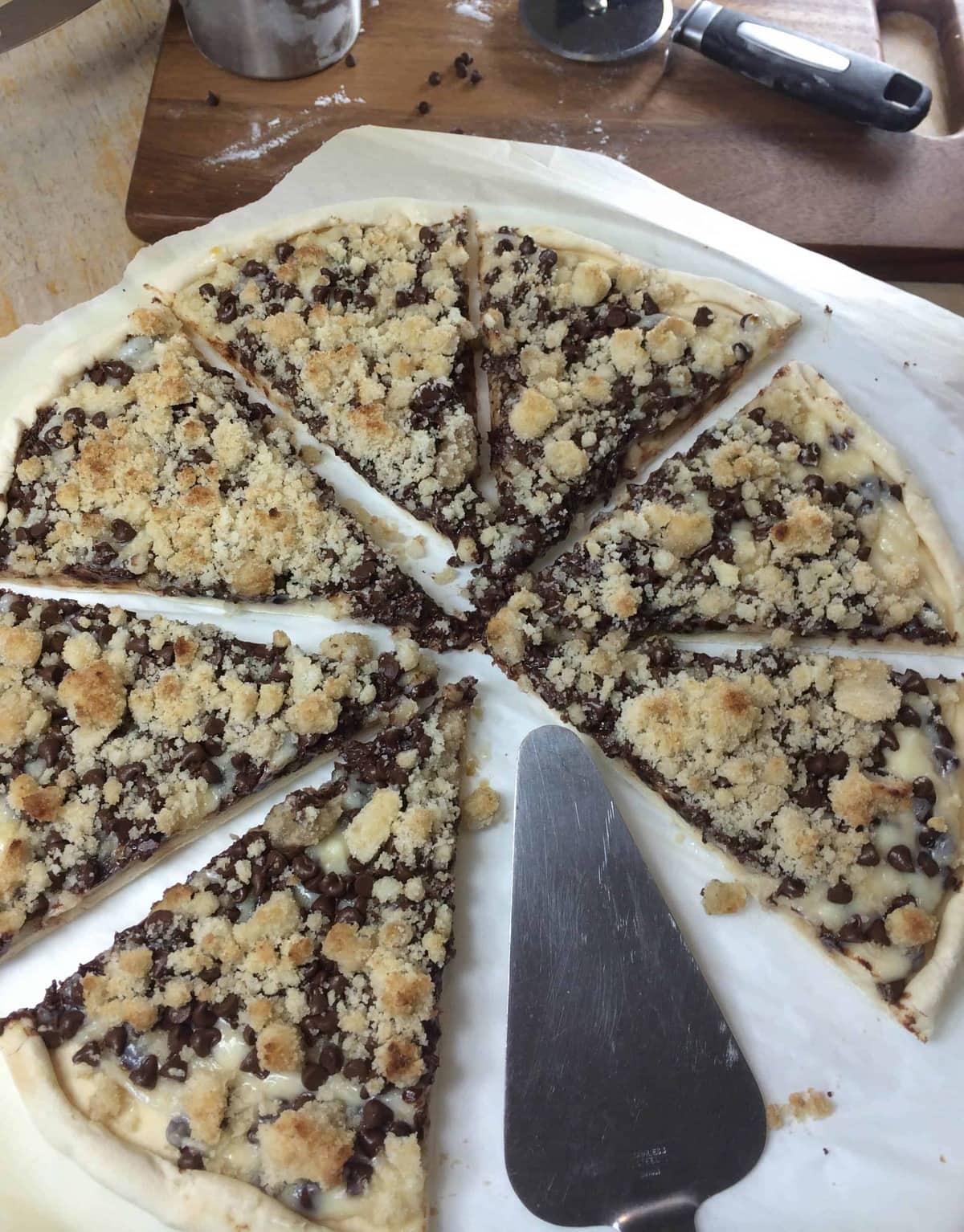 Naturally I wanted the recipe, and I wanted it bad.  I badgered at least three employees about the ingredients in the toppings layer (as Zachary internally sighed and pitied the clueless employee with an exasperated eye-roll towards me each time) and got no results.  Only that it was "Mostly dairy.  I think."  Thanks, pizza-place guys.
Much, much taste-testing research ensued.  I must have eaten a whole dessert pizza in a single sitting (for science, of course).
Then I went home, and after 3 (tasty but just not quite right) attempts, I think I got it.  No, let me be clear, I know I got it.
This. Pizza. Is. Amazing.  During each of my attempts I tried a new crust recipe (I needed something very thin but not exactly crispy) and the third recipe (found on this blog from the Fearless Homemaker… I'm not ready to venture into trying my own yeast-containing recipes just yet) nailed it.  The dough recipe I've linked to actually makes two 12-inch diameter pizza crusts and I only use one for this recipe, so feel free to double the "toppings" portion if you want to make two (trust me, you do).
It is absolutely best when served warm.  The base is a swirly, creamy combo of melty chocolate chips and cream cheese, sprinkled with more chocolate chips, topped with a slightly browned streusel topping
Mmmm, eating an entire dessert pizza at home in your pajama pants is completely fine by me.
Chocolate Chip Dessert Pizza
Ingredients
1

12-inch-diameter thin crust pizza dough

(I strongly recommend using the one mentioned in the recipe notes, omitting the herbs/spices)

1/3 + 1/2

cups

mini semisweet chocolate chips

divided
Sauce
8

oz

cream cheese

(1 package)

4

Tbsp granulated sugar

1

teaspoon

vanilla extract
Streusel
2

tablespoons

butter

melted

1/3

cup

+ 1 Tbsp all purpose flour

1/3

cup

granulated sugar

2

Tbsp brown sugar

packed

1/4

tsp

vanilla extract
Instructions
Preheat oven to 500°F. Line a pizza pan with parchment paper and place 12" rolled out pizza dough on parchment paper.

Sprinkle 1/3 cup mini chocolate evenly over pizza dough.
Sauce
In a microwave-safe bowl, heat the cream cheese at 10 second intervals, stirring at each interval until it is just melted.

Add 4 Tbsp sugar and vanilla. Stir well.

Pour cream cheese mixture over dough and chocolate chips, using a knife or the back of a spoon to spread it evenly over the crust.

Top with 1/2 cup mini chocolate chips, sprinkling evenly.
Streusel
In a small microwave-safe dish, melt 2 Tbsp butter and set aside.

In a medium-sized bowl combine flour, 1/3 cup granulated sugar, and brown sugar.

Add in butter and vanilla extract, combine using a fork. The streusel topping should clump together in smaller pieces.

Using your hands, sprinkle the streusel topping evenly over the pizza.

Bake for 7 minutes, the streusel should begin to turn a light brown.

Remove from oven, allow to cool for several minutes and then cut and serve.
Recipe Notes
THIS IS THE CRUST RECIPE THAT I USE
The pizza crust recipe that I linked to actually makes two 12" pizza crusts. Feel free to double up on your toppings and make two dessert pizzas.
You May Also Like:
Raspberry White Chocolate Dessert Pizza
Cheesecake Filled Chocolate Chip Cookie Cups
Cookies & Cream Cheesecake Batter Ice Cream (No Churn!)