You'll love this fluffy, made-from-scratch Oreo Cake! It's peppered with cookie pieces and covered in a cookies & cream-style frosting. My recipe can be made as a two or a three layer cake and includes a how-to video!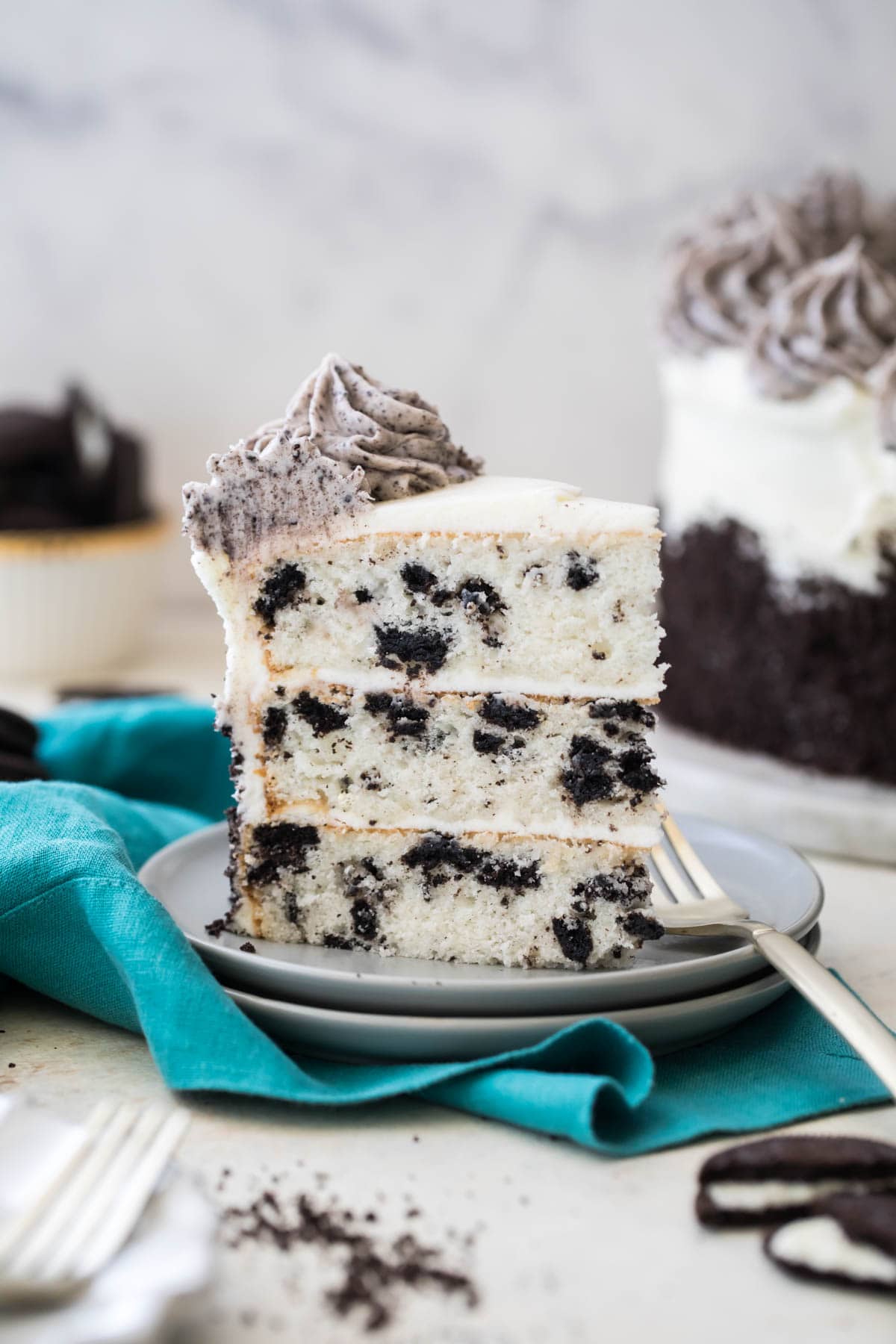 The BEST Oreo Cake Recipe
Why choose between cookies and cake when you can have both? My Oreo cake combines the best of both desserts and turns them into a plush, soft, amazingly tender, cookie-filled cake! It's frosted with my favorite cream cheese frosting (though I do include a few alternative options) and stacked tall for impressive results. For such humble inspiration, this one is a stunner!
Cakes have always been an endeavor for me to develop because I am a cake perfectionist (OK, I'm a perfectionist with every recipe, my madeleines took over 100 attempts to get right). Fortunately, developing this Oreo cake was easier than usual because I borrowed heavily from my zebra cake. Just as with that recipe, we'll also be using the reverse creaming method today (it's easy, a new favorite of mine and I think it'll be a new favorite technique of yours, too!).
Combined with whipped egg whites, this method creates a bright white base that contrasts beautifully against the black cookies pieces…and don't even get me started on the texture! It's wonderfully light, springy, and fluffy (just like my strawberry cake), but still stable enough to stack. And yes, it can hold its own under fondant too!
What You Need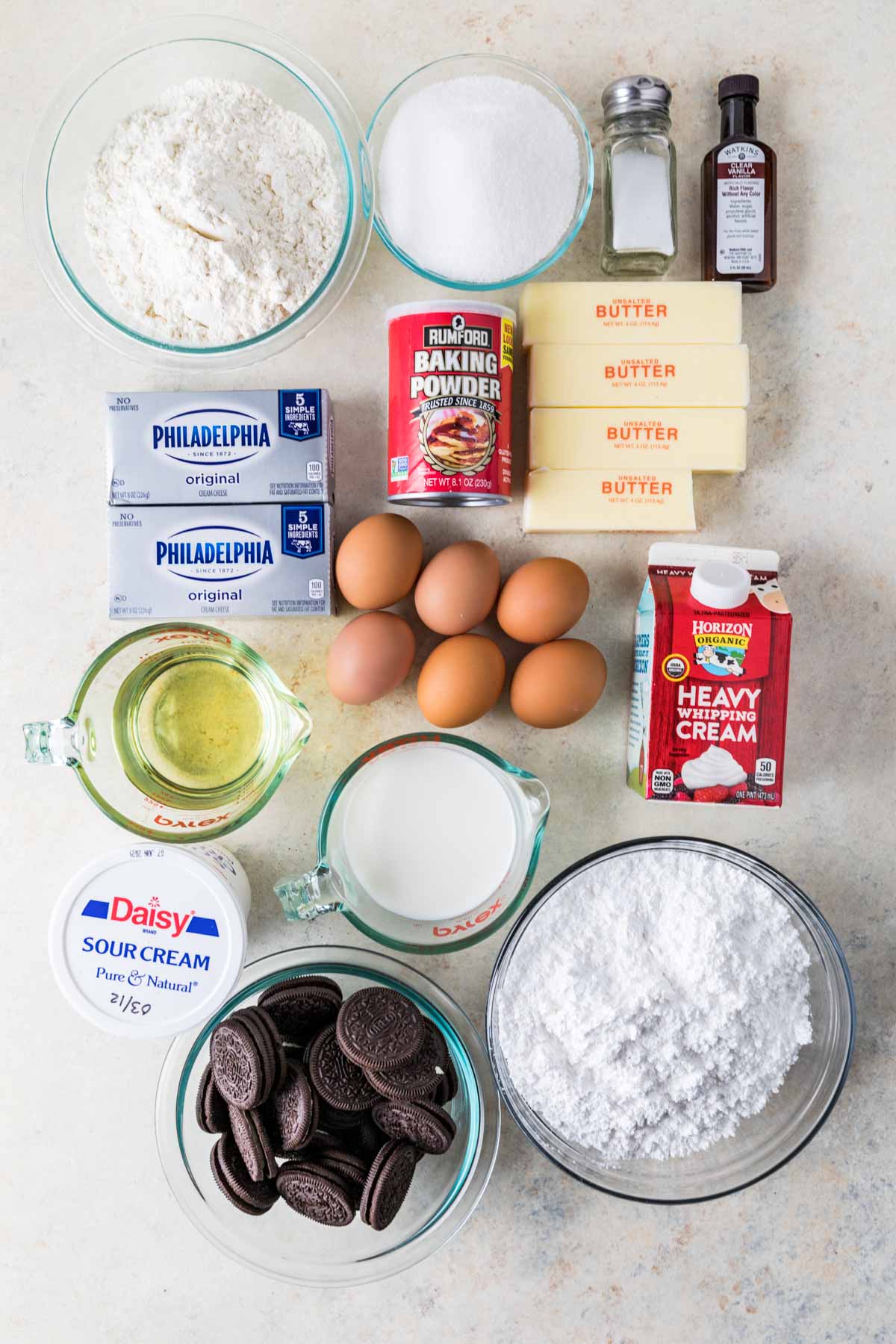 Here are the key ingredients in today's Oreo cake recipe:
Oreos. You'll use the entire cookie sandwich–no need to remove the filling. I just roughly break my cookies into pieces by hand. Don't make the pieces too small and don't over-mix once you add them to the batter, or you'll end up with an Oreo cake that's grey without discernible pops of cookie.
Egg whites. Separate your eggs yourself and do NOT use the kind from the carton–those don't always whip nicely. Don't want to waste your egg yolks? Use them to make my pound cake, chocolate pie, creme brulee, lemon pie, or key lime cheesecake.
Sour cream. I love using sour cream in my cakes to add moisture and flavor (it won't make it taste like sour cream though!). If you can't find sour cream, full-fat, plain Greek yogurt will also work.
Vanilla extract. If you can find it, use clear vanilla extract. This will yield the whitest, brightest Oreo cake that will contrast beautifully against the cookies.
Cream cheese. Use full-fat, brick-style cream cheese for the frosting. Tub-style or low-fat cream cheese makes for a runny, messy frosting that is nearly impossible to use.
SAM'S TIP: While we want our Oreos in larger pieces for the Oreo cake itself, we want them totally pulverized for the frosting decoration (use a food processor if you have one; I love this multi-tool for quick jobs like this). Otherwise, when you pipe the swirls on top, the cookie pieces will clog the piping tip, and there is not much more frustrating than that!
Remember, this is just an overview of the ingredients I used and why. For the full recipe please scroll down to the bottom of the post!
Reverse Creaming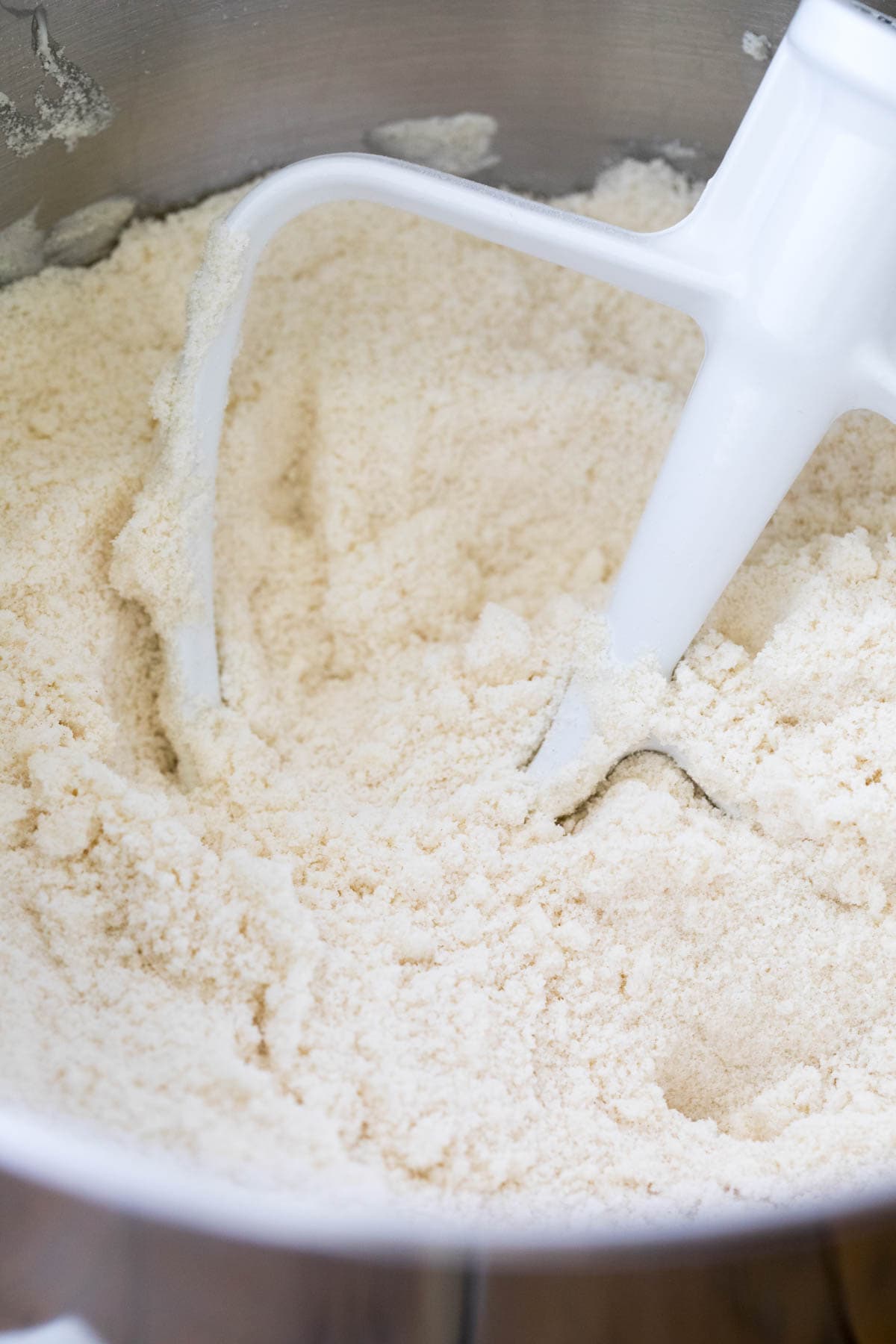 As with my caramel cake and yellow cake, I make my Oreo cake batter by using the reverse creaming method. I've been on a kick with this method recently, not only for the results, but also the process. It's much harder to over-mix a cake when using this technique.
It does take a bit of patience, though. We'll slowly be adding our butter to the dry ingredients, adding one tablespoon at a time until it's been incorporated into the flour. This method allows us to coat all of the flour with fat from the butter, making for a supremely tender and moist cake with a tight (but soft) crumb.
Whipped Egg Whites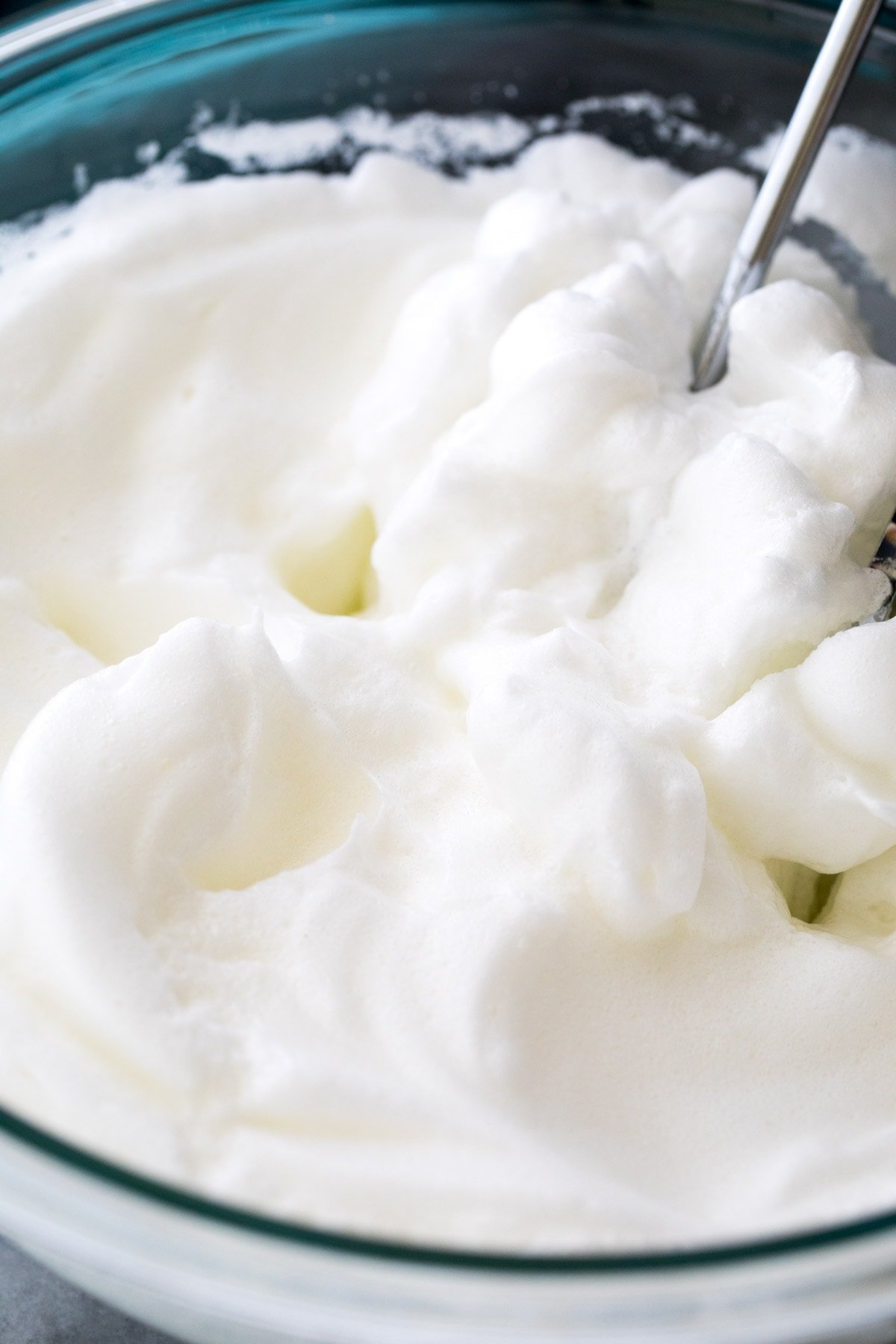 We are using just egg whites in this recipe for two important reasons:
Color. By eliminating the egg yolks, we keep the crumb of the Oreo cake a pristine white color, which contrasts nicely against the black cookie crumbs. I first dabbled with egg whites when I developed my white cake recipe, and I was so impressed with the results, I've used them over and over (and over and over).
Texture. The color is a lovely plus for this black & white cake, but more importantly, whipped egg whites = light and fluffy texture. This Oreo cake is sturdy enough to be stackable, but its crumb is still very light, plush, and soft. 
The photo above shows what your whites should look like once they reach the "stiff peaks" stage. They're billowy, opaque, and thick and will have increased in volume greatly. If you lightly touch them should hold their shape. They'll feel almost foam-like (but sturdy) and are more solid than wet. This will take several minutes to achieve, and I highly recommend using an electric mixer, as doing this by hand would take a very long time.
To ensure you've achieved stiff peaks, lift your beater directly out of the whites; the peak that forms should hold its shape (a peak!) without dissolving back into the bowl or folding over itself.
Once you add your egg whites though, switch to a spatula and be gentle–never use an electric mixer for this step! The whites should be thoroughly incorporated to ensure there are no lumps; however, you don't want to mix too much, or you could deflate all the air you just whipped in.
SAM'S TIP: Whip your eggs in a completely clean, dry, and grease-free bowl. And don't even get a tiny bit of yolk in there with the whites–otherwise your whites may never reach stiff peaks!
Once you master whipping egg whites to stiff peaks, you'll be ready to tackle many other recipes, like meringues and pavlova!
How to Make Oreo Cake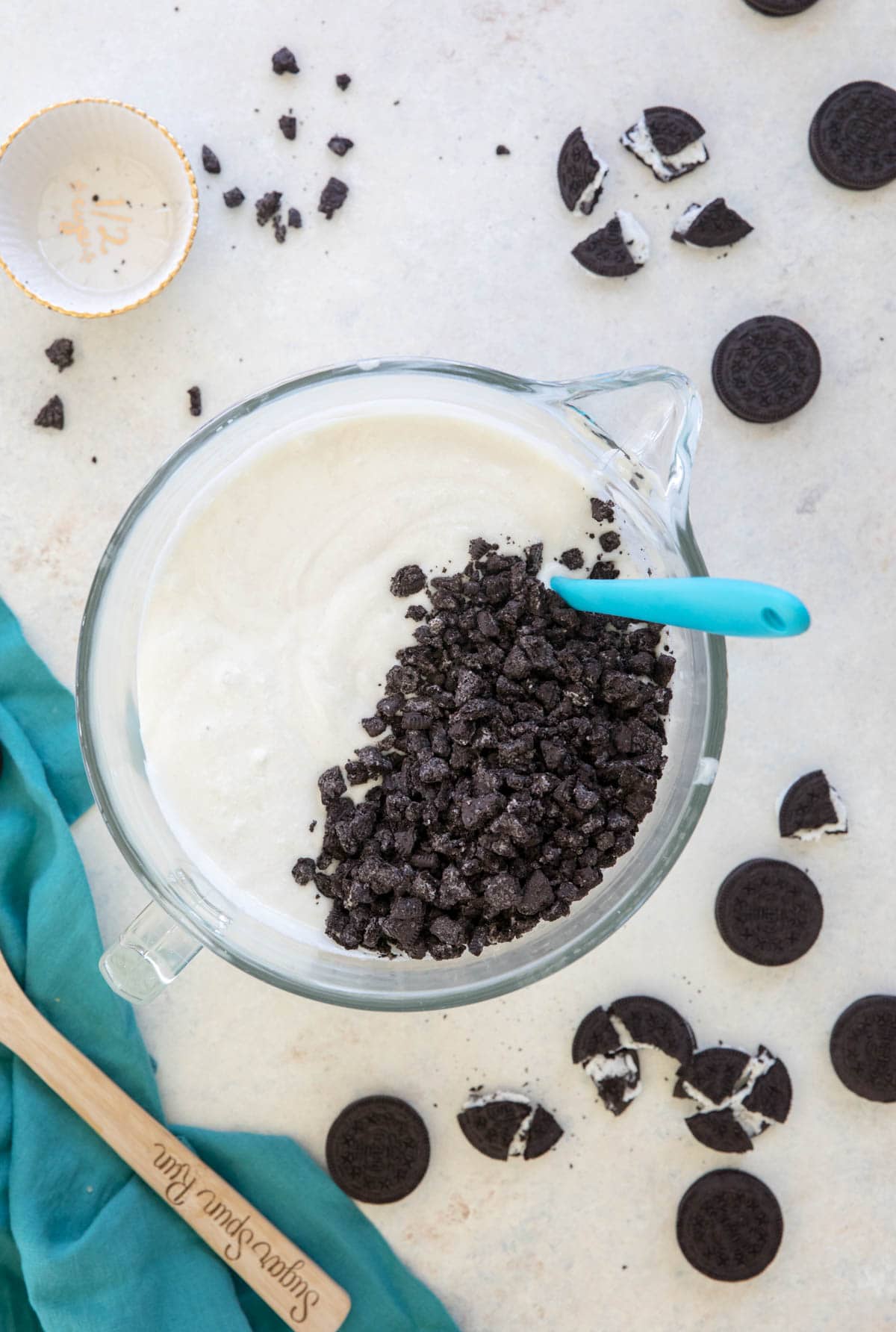 Combine the dry ingredients – Whisk together the flour, baking powder, sugar, and salt.
Gradually add the butter – Add the softened butter one tablespoon at a time with the mixer on low speed.
Stir in the wet ingredients – Add the oil, then stir in the sour cream and vanilla. Add the milk and stir on low until fully incorporated.
Whip the egg whites – Beat the egg whites to stiff peaks in a separate, grease-free bowl, then gently fold them into the batter.
Divide between pans and bake – Stir in the broken Oreo pieces, then transfer your batter to your greased, floured, and lined pans. Bake for 30-35 minutes at 350F.
Frost and enjoy! Let the cakes cool in their pans for 15 minutes before removing to a cooling rack. Once cooled completely, stack and frost the cake as desired.
SAM'S TIP: I like to decorate my Oreo cake by pressing Oreo crumbs halfway up the sides and piping swirls on the top (instructions included below!), but you can get as creative or simple with the decoration as you like.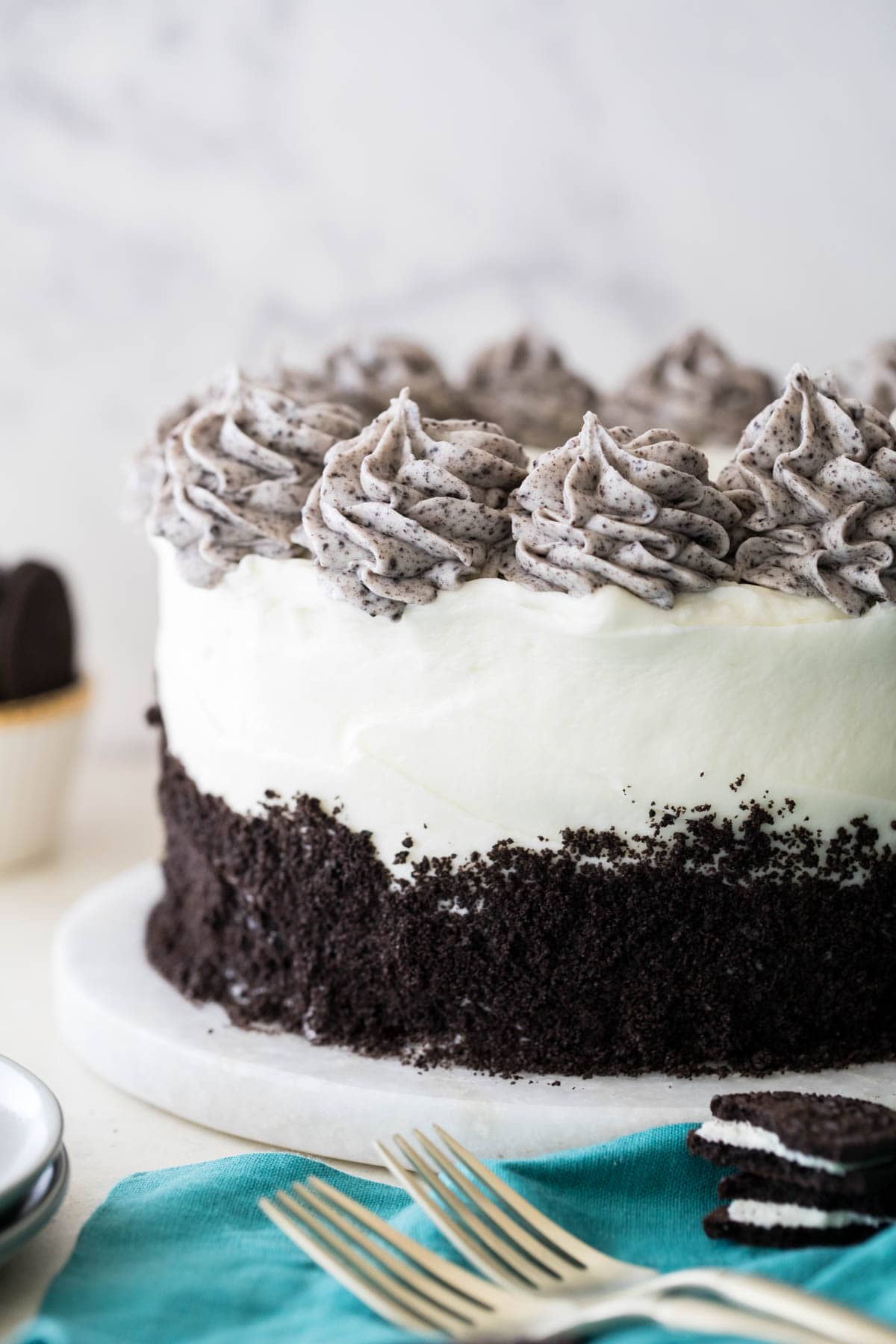 Frequently Asked Questions
Can I make this Oreo cake in advance?
The cake layers can be made and stored at room temperature for 1-2 days, in the fridge for up to a week, or in the freezer for several months (wrap them really well in plastic first!). Always store in an airtight container.

The frosting can be made up to a week in advance and stored in an airtight container in the fridge. You will need to let it sit at room temperature for about 30 minutes and stir well before using. Don't add the additional cookie crumbs for the decorative swirls on top until you are ready to decorate.
Can I make this recipe in a different pan?
If you want a 2 layer cake, don't change the recipe, just only fill each cake pan ¾ of the way full (no higher!) and discard the extra batter (or use it to make a couple of cupcakes or mini cupcakes!). I provide detailed instructions on this in the recipe notes below.
For cupcakes, I recommend using my Oreo cupcake recipe instead.
This Oreo cake recipe can also be made in a 9×13 sheet pan (no adjustments to the recipe needed).
Why is my cake dry?
Over-mixing, over-baking (by even a minute or two) and over-measuring your flour will result in a cake that is dense, dry, or even one that tastes like cornbread. Avoid all of these things! 
How do I keep my cake bright white?
Use clear vanilla extract and break your crumbs by hand, shaking out any fine crumbs. Crushing your Oreos too small or using too many finely crushed crumbs will cause your cake to look dirty or grey.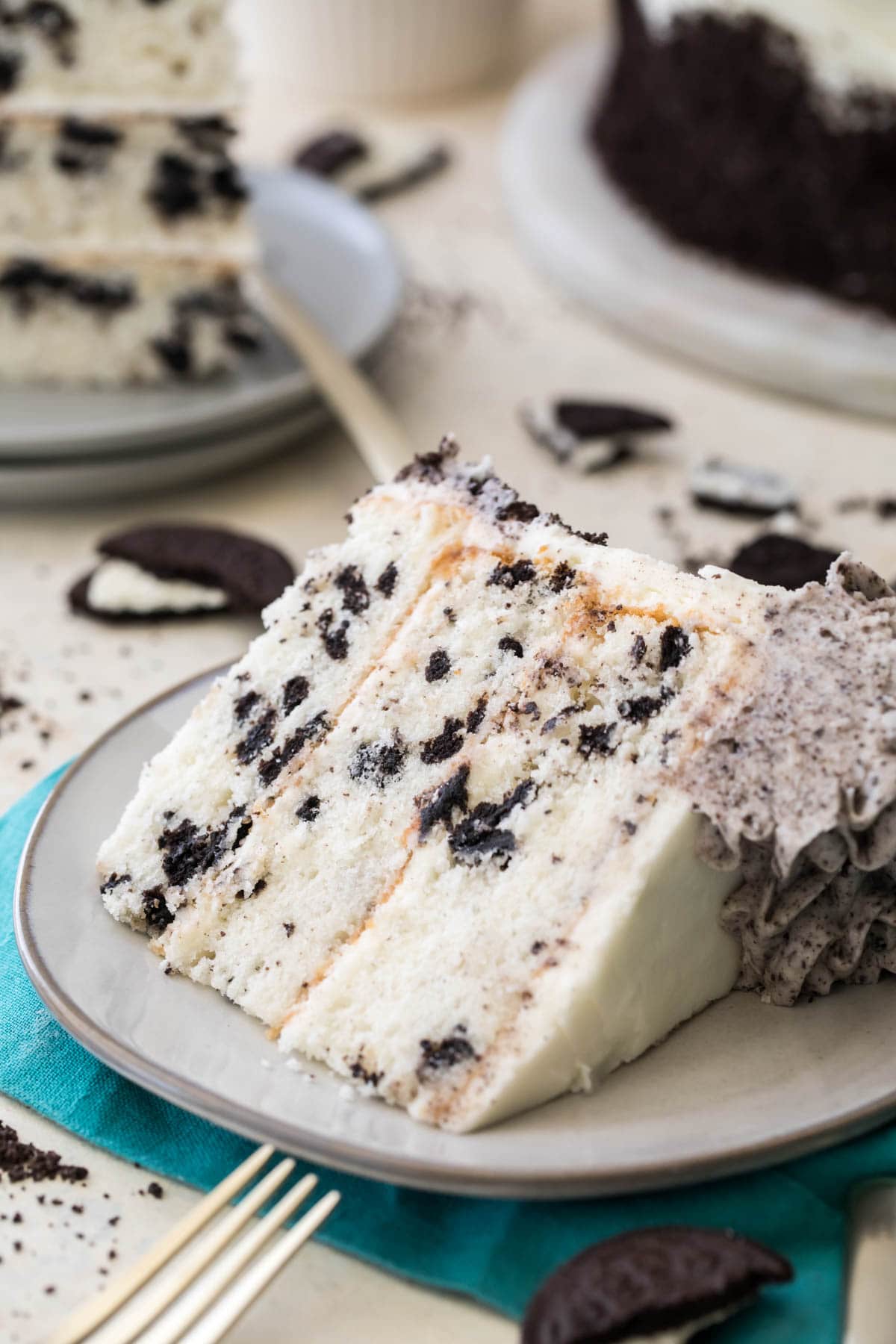 I know you're going to love this one ❤️
Enjoy!
Let's bake together! I'll be walking you through all the steps in my written recipe and video below! If you try this recipe, be sure to tag me on Instagram, and you can also find me on YouTube and Facebook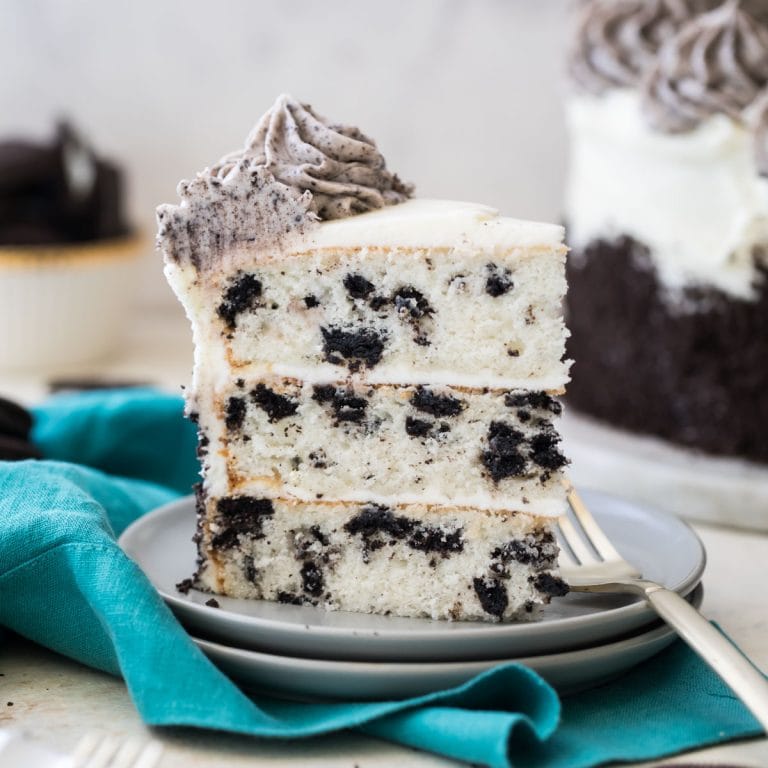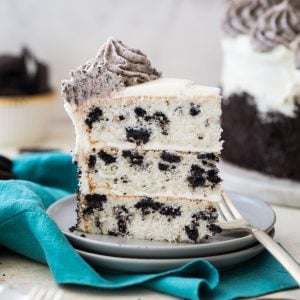 Oreo Cake (Cookies & Cream Cake!)
You'll love this fluffy, made-from-scratch Oreo cake peppered with cookie pieces and covered in a cookies & cream-style frosting. My recipe can be made as a two or a three layer cake.
Recipe includes a how-to video!
Print
Pin
Rate
Ingredients
2 ½

cups

(

315

g

)

all-purpose flour¹

2

cups

(

400

g

)

granulated sugar

1

Tablespoon

baking powder

1

teaspoon

salt

6

Tablespoons

(

85

g

) unsalted butter softened to room temperature

⅔

cup

(

157

ml

)

canola oil or vegetable oil

½

cup

(

120

g

)

sour cream

1

Tablespoon

clear vanilla²

¾

cup

(

175

ml

)

whole milk room temperature preferred

6

large or extra large egg whites³,

room temperature preferred (see note for suggestions on recipes to try with leftover egg yolks.)

20

Oreo cookies

broken into pieces
Cream Cheese Frosting ⁴
¾

cup

(

170

g

) unsalted butter

softened, use full-fat brick-style cream cheese

12

oz

cream cheese

softened

5 ¼

cup

(

655

g

)

powdered sugar

¼

teaspoon

salt

1 ½

teaspoons

clear vanilla extract

1

Tablespoon

heavy cream

optional

10

Oreo cookies

pulverized to fine crumbs (if any significant pieces remain they will clog your piping tip)
Instructions
Preheat your oven to 350F (175C) and prepare three 8-inch round cake pans (see note 5 to make in two pans) by lining the bottom of each pan with a round of parchment paper and greasing the sides with baking spray.

In the bowl of a stand mixer (or in a large bowl using an electric mixer) whisk together flour, sugar, baking powder, and salt.

2 ½ cups (315 g) all-purpose flour¹,

2 cups (400 g) granulated sugar,

1 Tablespoon baking powder,

1 teaspoon salt

Turn mixer to low-speed and add butter, one tablespoon at a time, not adding the next tablespoon until the first is completely combined. When you're finished, the mixture should resemble coarse sandy crumbs (see video above for visual).

6 Tablespoons (85 g) unsalted butter softened to room temperature

Add canola oil and stir until combined, then add sour cream and vanilla extract and stir on low-speed until completely combined. With mixer still on low-speed, add milk until combined.

⅔ cup (157 ml) canola oil or vegetable oil,

½ cup (120 g) sour cream,

1 Tablespoon clear vanilla²,

¾ cup (175 ml) whole milk room temperature preferred

In a separate bowl that is completely clean, dry, and grease-free, use clean, dry beaters to beat egg whites to stiff peaks (I show a visual of this in the post above and in the video if it's your first time doing this!).

6 large or extra large egg whites³,

Use a spatula to gently fold your whipped egg whites into batter (don't overmix, but make sure there are no lumps of egg white remaining).

Carefully fold in broken Oreo pieces. Divide batter evenly into prepared baking pans and transfer to 350F (175C) oven and bake for 30-35 minutes or until the tops spring back if lightly touched and a toothpick inserted in the center comes out clean or with a few moist crumbs. If your oven does not bake evenly you may need to rotate pans halfway through baking.

Allow cakes to cool in pan for 15 minutes then carefully invert onto cooling rack and allow to completely cool before assembling and decorating.
Cream Cheese Frosting (makes enough to decorate cake as seen in photos)
Prepare frosting by creaming together butter and cream cheese with an electric mixer or stand mixer until creamy and well-combined.

¾ cup (170 g) unsalted butter,

12 oz cream cheese

Gradually add powdered sugar with mixer on low-speed (or see my video for a tip for adding all the sugar at once without making a mess!), scrape the sides and bottom of the bowl, and stir in salt and vanilla extract. With mixer on low speed, add cream and gradually increase mixer speed to high. Beat for 15-30 seconds until light and smooth.

5 ¼ cup (655 g) powdered sugar,

¼ teaspoon salt,

1 ½ teaspoons clear vanilla extract,

1 Tablespoon heavy cream

Evenly ice cake (you'll only need approximately ⅔ of the icing for this), and once whole cake is covered in icing use your hands to press pulverized Oreo crumbs evenly halfway up the cake. Pour about 3-4 Tablespoons of remaining Oreo cookie crumbs into remaining frosting and stir to combine (you can adjust how many crumbs you'd like to use according to how light or dark you would like your frosting to be). Fit a large piping bag with Ateco 848 piping tip and fill with frosting. Pipe swirls around the top of the cake. Serve and enjoy.
Notes
¹Cake flour
You may substitute 2 ¾ cup or 315g cake flour, if desired
²Clear vanilla
Clear vanilla helps to keep the cake bright white (rather than tinted slightly yellow) but regular/classic vanilla extract can be used instead.
³Egg whites 
I recommend using fresh and not carton egg whites. Some readers have used carton egg whites with success, but for others they never whip to stiff peaks (and many say on the side of the packaging that they will not), so whether or not they will work for you is a bit of a gamble.
⁴Frosting
Here are a few of my other favorite frosting options:
Swiss Meringue Buttercream
Chocolate Cream Cheese Frosting
Ermine Frosting
⁵Baking in two pans instead of three
This recipe can be made in two 8" or 9" round pans but only fill each pan ⅔-¾ of the way full and discard any extra batter, otherwise it will overflow in your oven. Two 8" pans will take approximately 35-40 minutes, and two 9" pans will take a bit less time. Keep in mind dark-colored pans typically take less time in the oven and light-colored pans usually require longer.
Storing
This cake will keep in an airtight container at room temperature for 1-2 days or refrigerated for up to a week (unfortunate fact: refrigerators dry out cakes!). It may also be frozen for several months. Please see the post for more detailed information about storing.
Nutrition
Serving:
1
slice
|
Calories:
834
kcal
|
Carbohydrates:
111
g
|
Protein:
7
g
|
Fat:
41
g
|
Saturated Fat:
18
g
|
Trans Fat:
1
g
|
Cholesterol:
73
mg
|
Sodium:
442
mg
|
Potassium:
258
mg
|
Fiber:
1
g
|
Sugar:
85
g
|
Vitamin A:
869
IU
|
Vitamin C:
1
mg
|
Calcium:
101
mg
|
Iron:
4
mg
Nutritional information is based on third-party calculations and should be considered an estimate only. Actual nutritional content will vary based upon brands used, measuring methods, cooking method, portion sizes, and more.
Related Recipes