Soft, fluffy, and dipped in white chocolate, these homemade marshmallows are flavored with peppermint and swirled red for heavenly holiday marshmallows. These would go great in hot chocolate or wrapped up in cellophane as a sweet Christmas gift!
For some reason, it wasn't until very recently that I ever entertained the idea of making marshmallows from scratch. While I make as much as possible from scratch, I've always just gone to the store for a pillowy-bag of puffy, fluffy marshmallows whenever I wanted a few to drop in my hot chocolate.
Most (all?) things, though, taste better homemade and I assumed that marshmallows were not an exception to this.
I was right. Lighter than air, fluffy, melt-in-your mouth, and customizable in a million different ways once you master the basics (here we are just doing an easy peppermint swirl), I don't think I can ever buy a bag from the store again.
Yes, there is a bit more elbow-grease required to make marshmallows from scratch than there is to just pick up a bag from the store. But, as with any homemade dessert, the effort shines through in the end product.
I chose to infuse these marshmallows with just a touch of vanilla and a splash of peppermint extract, and then dip the finished product in white chocolate. You could also cloak them entirely in white (or dark!) chocolate and then sprinkle them with crushed candy canes, which I imagine would be nothing short of sheer perfection. Get creative!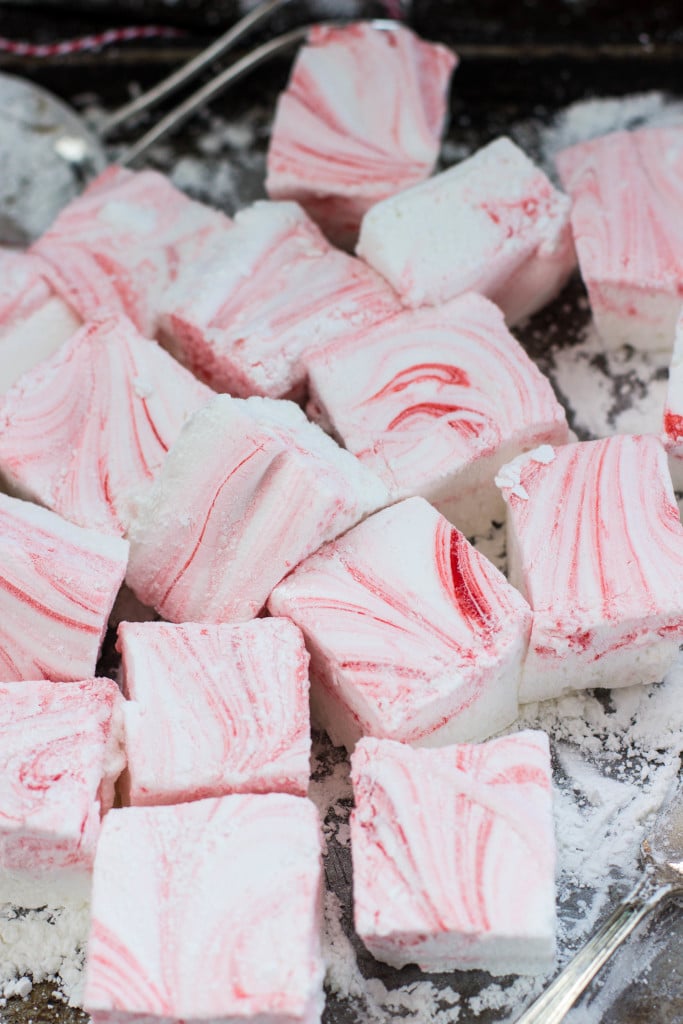 While I generally prefer to use a candy thermometer as infrequently as possible (due to some bad experiences with a broken one when I was younger), you will need one for this recipe. I picked up mine for $5 for the local grocery store and expect it to last for many marshmallow batches to come.
Despite the candy thermometer and the ingredients that you may not have in your pantry right at this moment (I know I don't typically keep gelatin stocked), please do not be intimidated by this recipe. The ingredients can be found at pretty much any grocery store (the gelatin should be located alongside the Jello and is inexpensive–I used Knorr brand which was less than $2 for 4 pouches).
Please don't balk at the length of the recipe, either. While the instructions may appear lengthy, I've included a lot of helpful notes throughout to make sure your marshmallows come through perfectly and you have as easy of a time making these as possible. Just read through the recipe before beginning and I'm confident you won't have any problems.
There may be some sticky spills, and the sugar/cornstarch mixture is ornery and eager to dust your whole kitchen in a fine layer of powder. But it's worth it.
And then, once you've tasted your homemade marshmallows (especially in hot chocolate!!! The hot chocolate above is topped off with my homemade whipped cream), I'm also confident that you'll never want to go back to store-bought again.
More Recipes You Might Like:
Enjoy!
Ingredients
3

in

packages plain gelatin

unflavored, can usually be found the Jello section

1

cup

ice cold water

divided

1 ⅔

cup

granulated sugar

1

cup

light corn syrup

¼

tsp

kosher salt

1

tsp

peppermint extract

¼

tsp

vanilla extract

Shortening

for prepping pan

⅓

cup

powdered sugar

⅓

cup

cornstarch

Red food coloring

2

cups

premium white chocolate chips

2

tsp

shortening
Instructions
Combine ½ cup of your cold ice water and all of your gelatin in bowl of KitchenAid stand mixer affixed with whisk attachment.

In medium saucepan over medium-high heat, stir to combine the second half of ice cold water, sugar, corn syrup and salt.

Cover with lid and allow mixture to cook for 3 minutes.

Once the 3 minutes have passed, remove the lid, attach your candy thermometer, and continue to cook until temperature reaches 240 F (this may take 8-10 minutes. There is no need to stir while this is cooking).

As soon as thermometer indicates that temperature has reached 240F, remove mixture from heat.

Turn your KitchenAid (fitted with whisk attachment) on low speed and carefully pour hot mixture into the bowl with the gelatin.

Increase speed to high and whisk for 13-14 minutes (mixture will become very light and fluffy).

While your mixture is whisking, carefully grease the sides and bottom of a 13x9 pan with shortening. Additionally, lightly grease a rubber spatula that you will use to transfer the marshmallow mix to the pan.

In a medium-sized bowl, sift together powdered sugar and cornstarch. Liberally sprinkle this mixture over the shortening-prepared pan, shaking the contents to be sure to coat the bottom and sides completely with powder.

Save any excess powder by tapping it back into the medium-sized bowl that it was mixed in (you will need this later).

When marshmallow mix has been whisking for 14 minutes, reduce speed to low, add peppermint and vanilla extracts, return speed to high and beat one more minute.

Using your lightly greased spatula, evenly spread marshmallow mix into the bottom of your prepared 13x9 pan.

Drop several drops of red food coloring (I used a gel food coloring) over the surface of the marshmallows and then use a butter knife to swirl the color through the marshmallows as desired (try to not scrape the bottom of the pan with your knife--this may scrape away the shortening/powder mixture and your marshmallows may stick to the pan).

Lightly dust the top of the marshmallows with your reserved powdered sugar/cornstarch mixture. Do not discard this as you will use it again once you cut your marshmallows (if needed you can easily make more of this mixture by just using a 1:1 ratio of powdered sugar to cornstarch. Do NOT omit the cornstarch, otherwise you could have a very sticky mess on your hands).

Allow marshmallows to sit at least 4 hours before cutting (I prefer mine to sit overnight).

Once marshmallows have set, run a butter knife around the edge of the pan to gently loosen the marshmallows and invert the pan onto a cutting board (if the marshmallow doesn't want to budge, a rubber spatula can help persuade it to come loose).

Use a pizza cutter to cut the marshmallows into desired size/shape and dust the newly-cut edges with your powdered sugar/cornstarch mix.

Prepare your chocolate for dipping by melting white chocolate chips and shortening together in microwave at 15-second intervals (stirring well after each) until white chocolate is completely melted.

Prepare a cookie sheet with wax paper and set aside.

Gently brush as much excess powder from the bottoms of your marshmallows as is possible.

Dip the bottoms of your marshmallows into the melted white chocolate and then set on prepared cookie sheet until chocolate has hardened (about 10-20 minutes).

Enjoy!
Nutritional information is based on third-party calculations and should be considered an estimate only. Actual nutritional content will vary based upon brands used, measuring methods, cooking method, portion sizes, and more.