Peppermint bark fudge — An easy no-bake fudge that can be made with condensed milk and without a candy thermometer.  An easy, few-ingredient recipe that makes a great edible Christmas gift.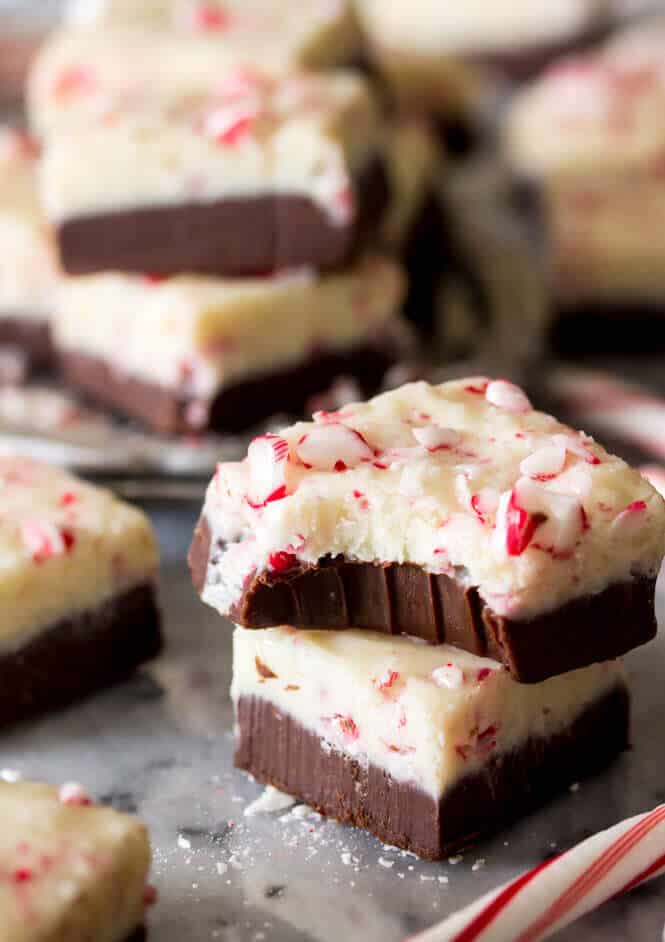 What are your rules on Christmas-y desserts?
I understand that Christmas music is largely put on hold until after the Thanksgiving turkey is polished off, but, in your household, does the same apply for Christmas desserts?  Which, in my world means anything made with candy canes.
I hope that I'm not breaking any house rules by bringing out this peppermint bark fudge before Turkey Day, but if I am, I hope you'll forgive me as this is one dessert that I can't wait any longer to share.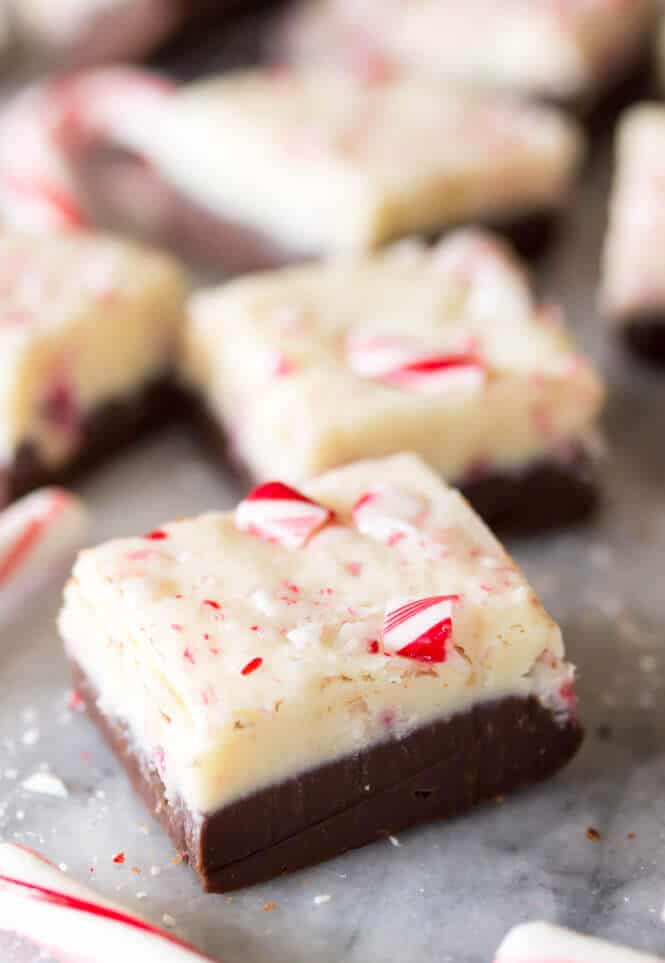 This peppermint bark fudge is possibly the simplest fudge you could make this season.  With just 4 key ingredients (OK, 6 if you count the extracts) — white chocolate, dark chocolate, condensed milk and candy canes, there's no candy thermometer needed and it takes just 15 minutes to prepare.
I chose to make this fudge on the stove top, but it could also be made in the microwave (just microwave condensed milk & chocolate at 30 second intervals, stirring well in-between until chocolate is fully melted, then stir in your crushed peppermint/extracts as indicated).
During this time of year when oven space is such a hot commodity, it's nice to have a dessert that doesn't require any preheating.
Easy, fun, and festive.  ✔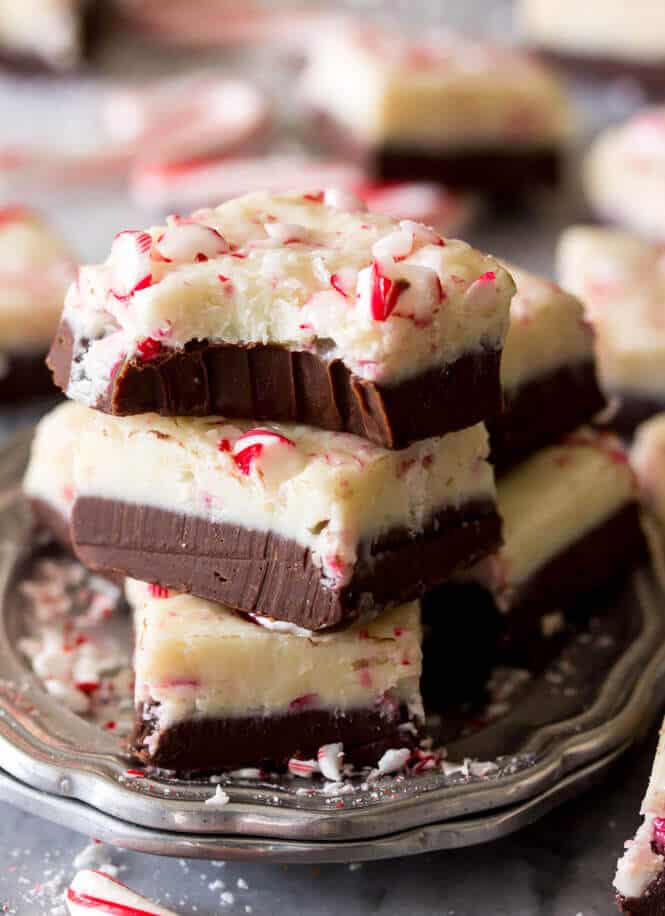 If you ask me, peppermint desserts are completely appropriate for serving at your Thanksgiving dessert table.
Enjoy!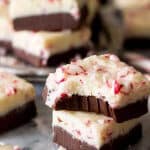 Peppermint Bark Fudge
Peppermint bark fudge -- An easy no-bake fudge that can be made with condensed milk and without a candy thermometer.
Ingredients
1

14 oz can

sweetened condensed milk

(396g)

1

cup

dark chocolate chips

(175g)

1

cup

premium white chocolate chips

(175g)

1/2

teaspoon

vanilla extract

1/4

teaspoon

peppermint extract

optional

1/3

cup

crushed candy canes

divided. About 5 regular-sized candy canes, crushed (75g)
Instructions
Line an 8x8 square pan with aluminum foil and lightly butter the sides and bottom of the foil. Set aside.

Divide condensed milk equally into two separate small/medium saucepans (just over 1/2 cup in each pan).

Add dark chocolate chips to one pan and white chocolate chips to the other.

Melt chocolate chips over medium heat, stirring constantly until completely melted.

Once chocolate has melted, remove dark chocolate mixture from heat and stir in vanilla extract. Immediately spread evenly into prepared pan.

Once white chocolate has melted, remove from heat and stir in mint extract, if using. Stir in 1/4 cup (50g) crushed peppermint pieces and immediately spread evenly over chocolate layer.

Immediately sprinkle with remaining crushed peppermint pieces.

Allow fudge to harden completely before slicing and serving (about 4-6 hours at room temperature, or about 1-2 hours in refrigerator).
Nutrition Facts
Peppermint Bark Fudge
Amount Per Serving
Calories 128
* Percent Daily Values are based on a 2000 calorie diet.
This post contains affiliate links, which means that if you purchase anything through these links I will get a small commission at no extra cost to you.  Please view the disclosure policy for more information.
PIN IT:
You Might Also Like: