Easy homemade Apple Butter!  This simple apple butter recipe is made in a crockpot and requires only minutes of prep time.  Thanks to the slow cooker, you can set yours up before you go to bed, let it cook overnight, and enjoy fresh apple butter in the morning.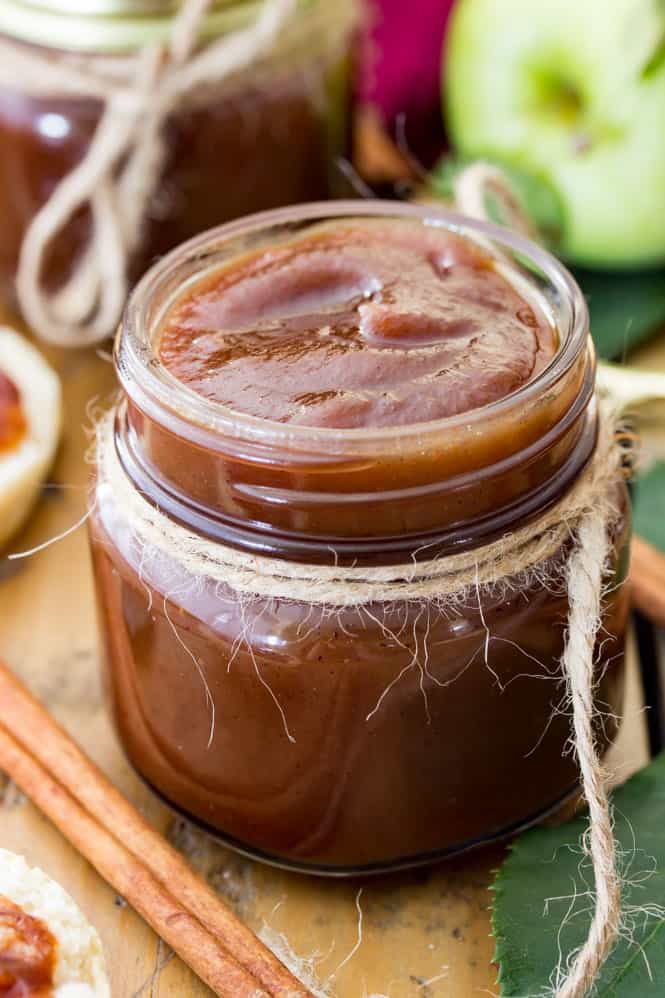 We went apple picking last weekend and I have so many apple recipes coming up for you, but I'm especially excited to share today's apple butter recipe.
Have you ever had apple butter before?  It's very similar to applesauce — in fact it essentially is applesauce, only cooked longer. It has a rich golden brown color that comes from the caramelization of the sugars in the apples during the extended cooking time, which also gives it the traditional rich, sweet taste of classic apple butter.  There's no actual butter in apple butter, it's just a nice smooth spread that tastes just as good on toast as butter does.
We like eating ours on English muffins, but toast, biscuits, you name it, apple butter tastes good on just about everything.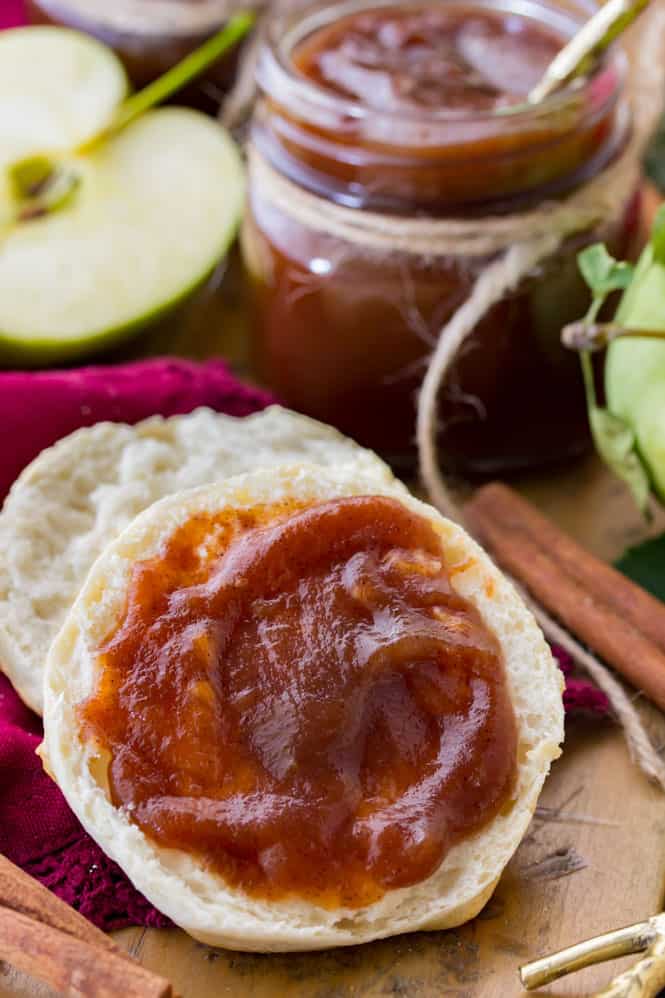 Apple butter is really truly easy to make, but it takes a long time to cook… 12 hours total, in fact.
Thanks to the slow cooker, you can set everything up before you go to sleep and allow it to cook overnight, which is what I like to do.  I put mine in the crockpot before I went to bed and in the morning not only did my house smell amazing, but I had fresh apple butter for my breakfast.
The first time I made this apple butter I peeled all of the skins off.  However, traditional apple butter is made with the skins and cores intact.  I couldn't leave the cores in for this slow cooker version, but I tried making this both with and without the skin and found that it didn't make much of a difference at all, so save yourself a lot of effort and leave the peels — after 12 hours in the crockpot and a bout with the blender, you won't be able to even tell.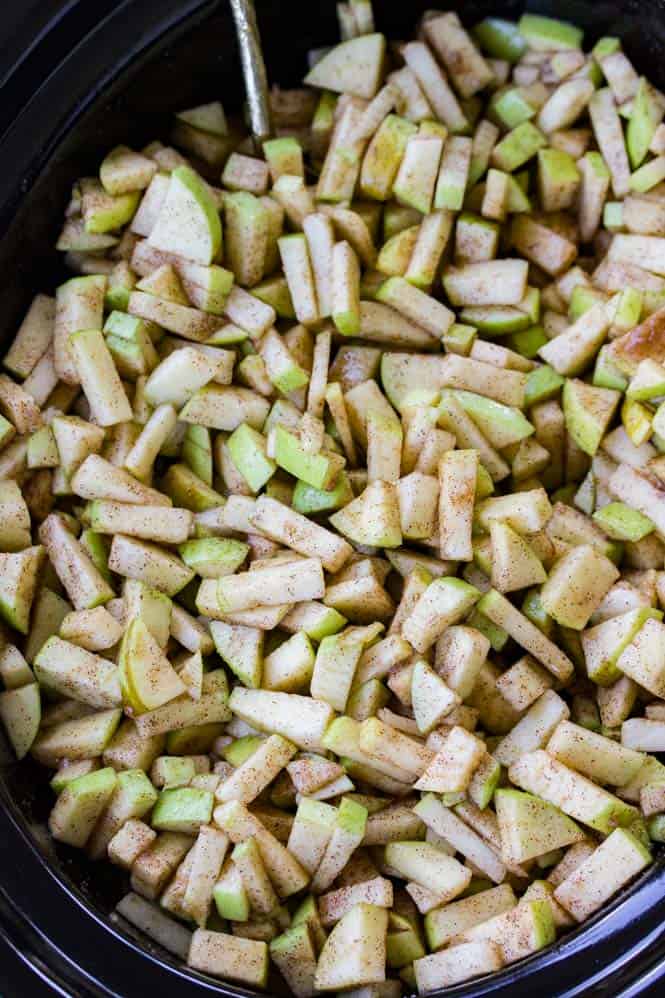 You'll cook the apples for ten hours overnight before pureeing them and continuing to cook another two hours.
After the initial ten hours, your slices will be incredibly tender and can be blended into smooth apple butter.  If you have an immersion blender (this is mine, affiliate), I recommend using it to puree the apples right in the bowl of the crockpot.  If not, transfer the apples to a blender and puree until smooth and lump-free, then return the puree to your crockpot.
The apple butter will need to cook another two hours or so to achieve the perfect consistency.  At this point I stir in my vanilla, and then cook the apple butter another two hours on low heat with the lid removed, stirring occasionally.  If the apple butter is still too thin for your liking you can cook it longer to thicken it (I've never needed to cook longer than the additional 2 hours).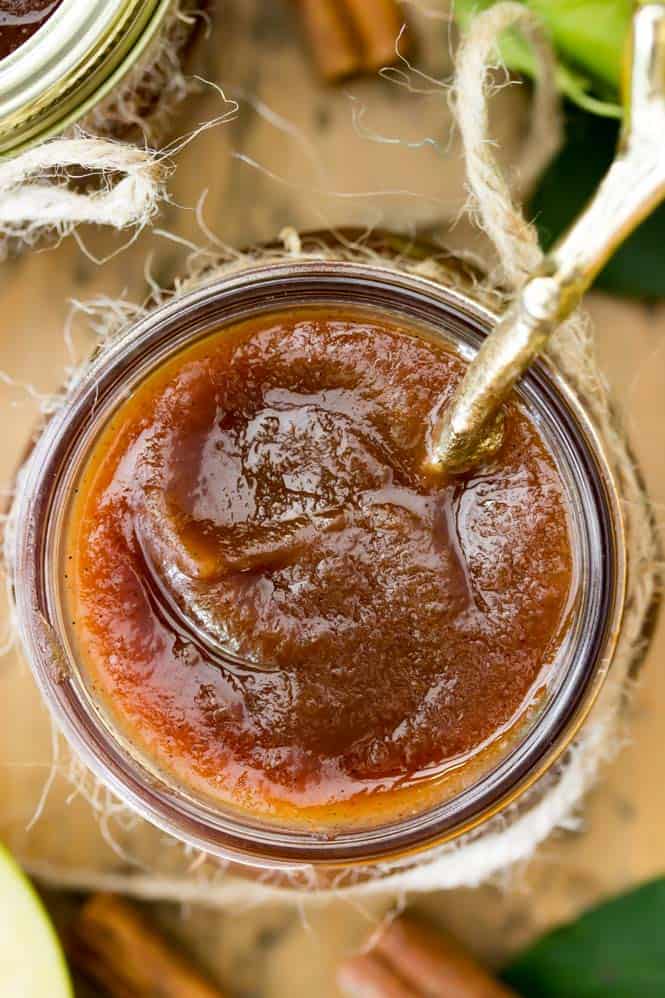 I used Golden Delicious apples for this recipe and while I recommend them, you could certainly get away with using a variety of different apples, just keep in mind that different apples will yield slightly different flavors and degrees of sweetness.
Enjoy!
Apple Butter
Easy homemade apple butter made in the Crockpot
Total Time
12
hours
15
minutes
Ingredients
5.5

lbs

Golden Delicious Apples*

Cored and chopped into small pieces (2.5kg)

1

cup

brown sugar

tightly packed (200g)

3/4

cup

sugar

(150g)

1

Tablespoon

ground cinnamon

1/4

teaspoon

salt

1/8

teaspoon

ground cloves

1

vanilla bean

or 1 1/2 teaspoon vanilla extract
Instructions
Slice apples into small pieces (you do not need to peel) and dispose of cores.

Place apples in the basin of large slow cooker

In a medium-sized bowl stir together sugar, brown sugar, cinnamon, salt, and cloves until well-combined.

Pour sugar mixture over apple pieces and stir until well combined.

Cook covered in crockpot over low heat for 10 hours.

Once 10 hours has elapsed, either use an immersion blender** to puree apples until smooth and no chunks remain.

Scrape the inside of the vanilla bean into your apple puree (or add vanilla extract).

Turn crockpot on to low heat and cook another 2 hours uncovered, stirring occasionally.

Store apple butter refrigerated in resealable container, should keep about 2 weeks.
Recipe Notes
*Weigh before coring and chopping. For me this was about 13 apples.
**If you do not have an immersion blender, pour the apples into a blender and puree until smooth, then return to crockpot.
Nutrition Facts
Apple Butter
Amount Per Serving
Calories 100
* Percent Daily Values are based on a 2000 calorie diet.