You only need four ingredients to make my flavorful, homemade applesauce recipe. This quick and easy recipe uses just one pot and finishes in less than an hour. It's also super customizable! Recipe includes a how-to video!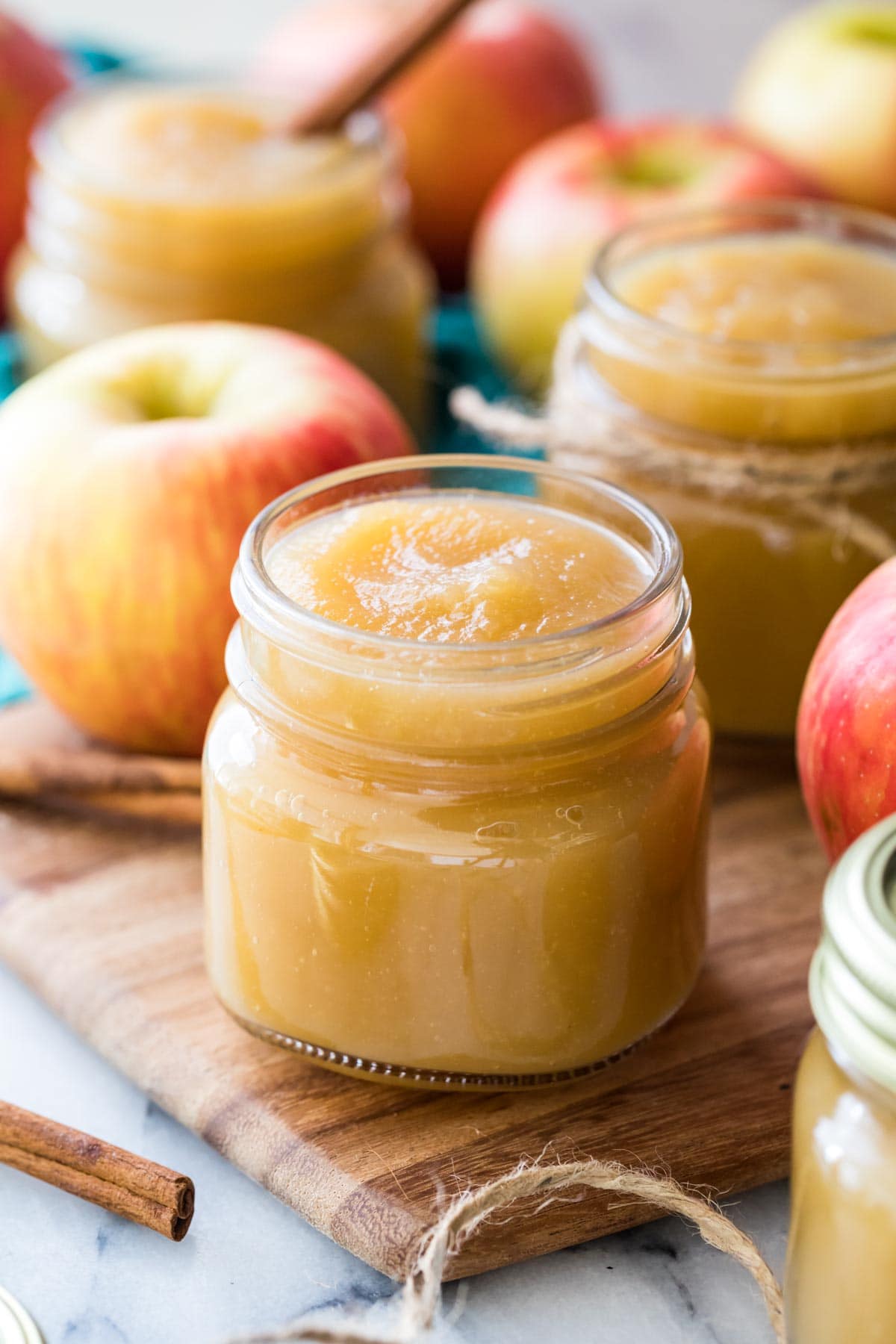 An Easy Homemade Applesauce Recipe
It's apple season, and I hope you've got your apples ready! So far we've covered apple butter, apple crisp, apple fritters, apple dumplings (to name just a few) and today we're enjoying the BEST way to enjoy fresh apple flavor (other than biting into one fresh off the tree): applesauce!
Besides the flavor, perhaps the best thing about my homemade applesauce recipe is that it can be easily adjusted to fit your needs–whether that means quantity, taste, or even technique.
It doubles well, can be made with pretty much any kind of apple, and it can be blended/mashed using several types of tools. You also know exactly what's in it, which can't always be said for the kind you buy in the store!
Simple, and adaptable–let's get to it!
What You Need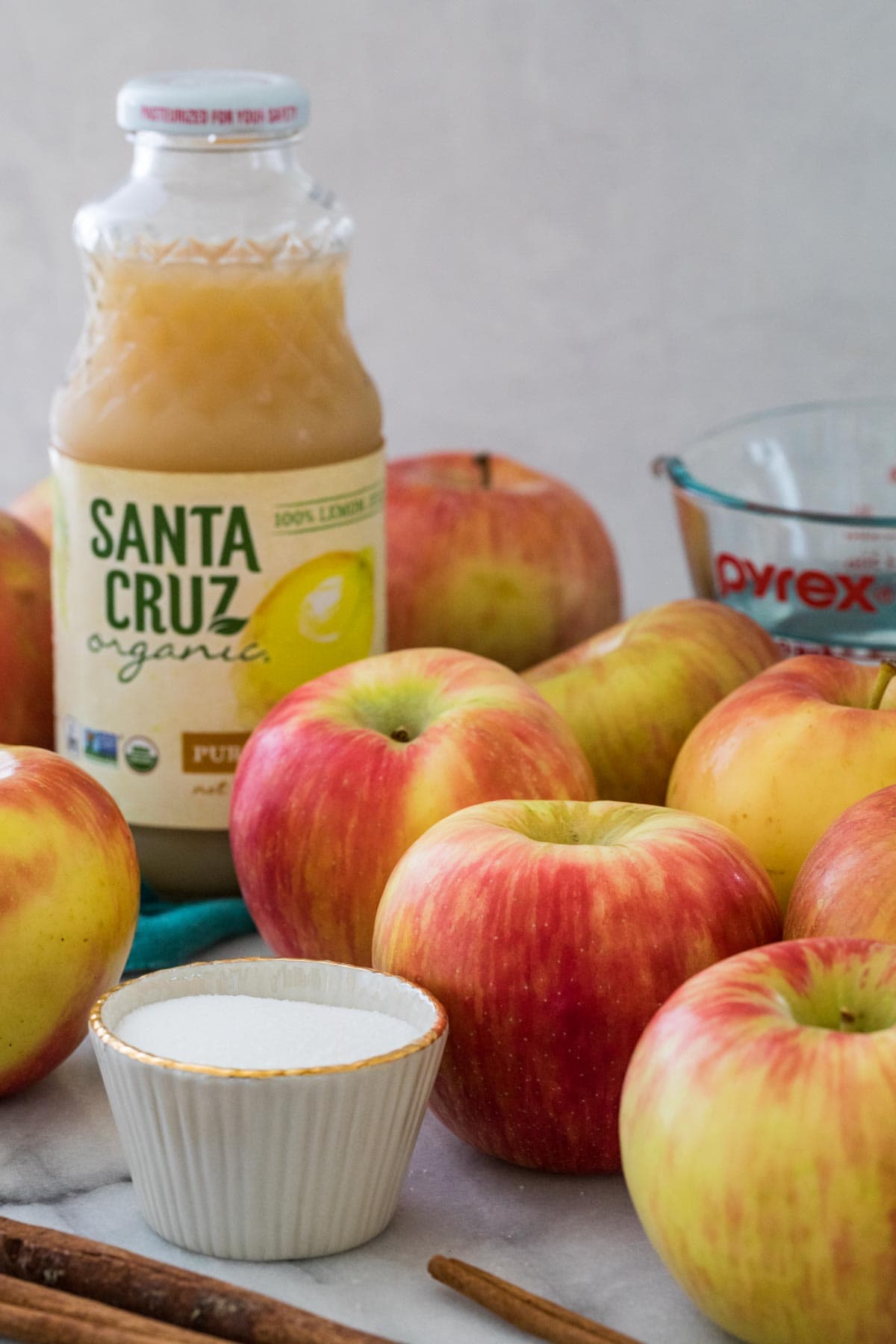 You only need four ingredients (five if you count water) to make my homemade applesauce recipe:
Apples. Use an apple that you enjoy the taste of, and make sure to peel the apples before cooking! While I tried making applesauce without peeling my apples, every time it let me with tough bits of peel in finished product.
Water. If your apples are very juicy you may not need as much water as I call for. I recommend starting with the amount listed in the recipe, then if you find your sauce is too liquidy after pureeing, simply return it to the stovetop and cook over medium/low heat until you reach your desired consistency. You could substitute apple juice or cider for water, but just remember that will affect the sweetness of your applesauce.
Sugar. I like adding sugar for a slightly sweetened applesauce recipe, but you can always make it without. Depending on the tartness of your apples, you may need to use more or less than I recommend. Feel free to substitute brown sugar (light or dark) or even honey or maple syrup!
Lemon Juice. Lemon juice (fresh or bottled) prevents the apples from oxidizing (turning brown). This can be omitted if needed, but I don't recommend doing so if you plan to can your applesauce, as it helps preserve the color.
Cinnamon. I prefer using cinnamon sticks, but you can also cook the apples as instructed without cinnamon and then stir in ½ tsp of ground cinnamon at the end. If you use the sticks, make sure to remove them before blending. Or, if you don't want any cinnamon at all, you can leave it out entirely.
SAM'S NOTE: Many people confuse applesauce and apple butter, and while they have very similar ingredients, there are some major flavor, color, and texture differences between the two. Applesauce isn't as smooth and doesn't have the same rich, almost dessert-like consistency that apple butter has. This is because it cooks for less time and as a result, it contains more liquid, and it also has less sugar and fewer spices added. You may also find bits of apple in applesauce, which you'll never find in apple butter.
This homemade applesauce recipe is pretty customizable. Feel free to adjust these ingredients to your liking–it's pretty hard to mess this one up!
How to Make Homemade Applesauce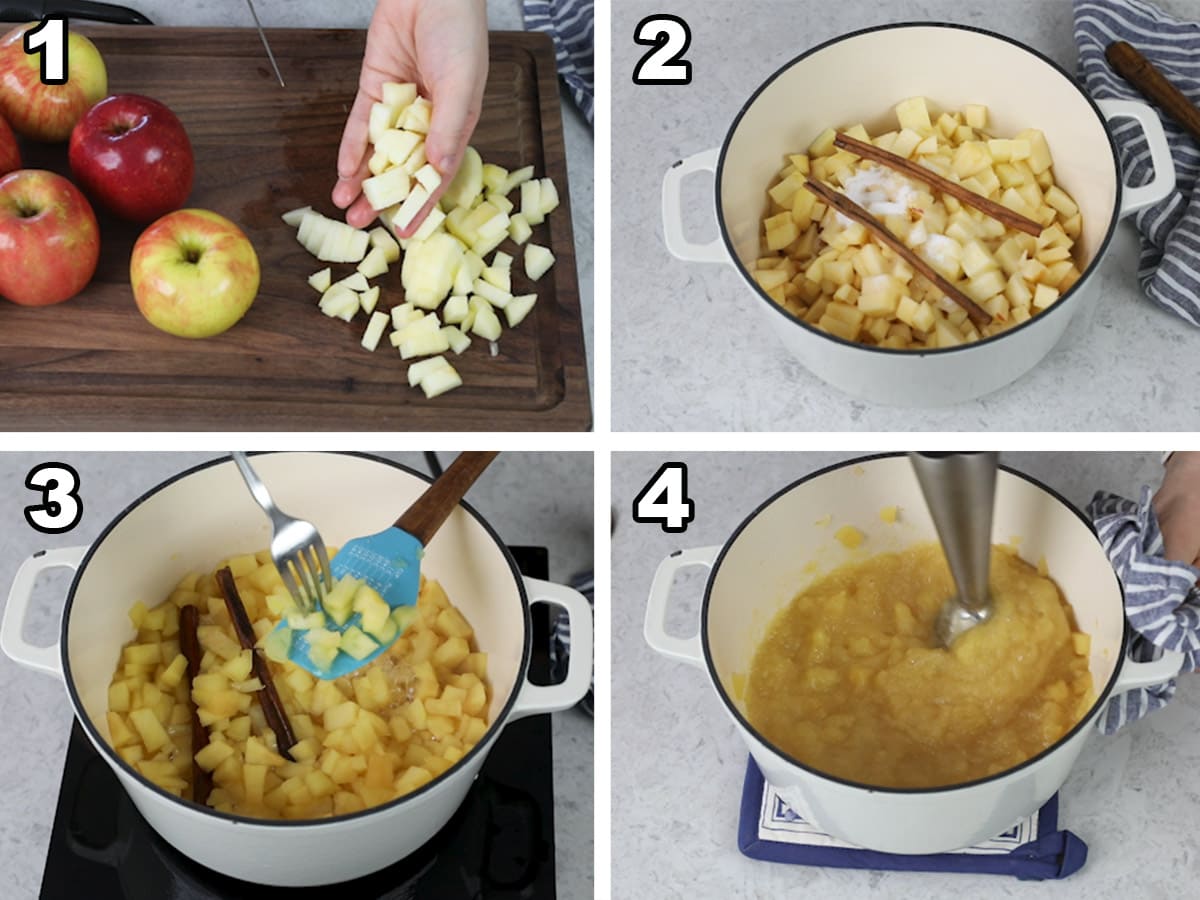 Peel, core, and dice your apples. Place them in a large pot (I love using my Dutch oven!).
Add water, sugar, lemon juice, and cinnamon sticks (if using) and stir to combine.
Bring everything to a simmer over medium heat before covering and cooking on medium/low for 20-30 minutes, stirring just once or twice (don't open the lid more than you need to as it slows the cooking process, but I do recommend taking a peek once or twice to ensure you're not accidentally burning the apples!). Your apples should be completely soft and tender when pierced with a fork, the apple should offer essentially no resistance!
Remove from heat and discard cinnamon sticks. Then puree, blend, or mash the apples. If you like your applesauce thicker, you can return it back to the stove, otherwise, simply let it cool and enjoy!
SAM'S TIP: This applesauce recipe calls for an immersion blender, but you can also use a potato masher instead. Your applesauce won't be as fine/smooth this way, but as long as you cook your apples properly, it will still work. Alternatively, you can also just transfer your sauce to a blender and blend in batches.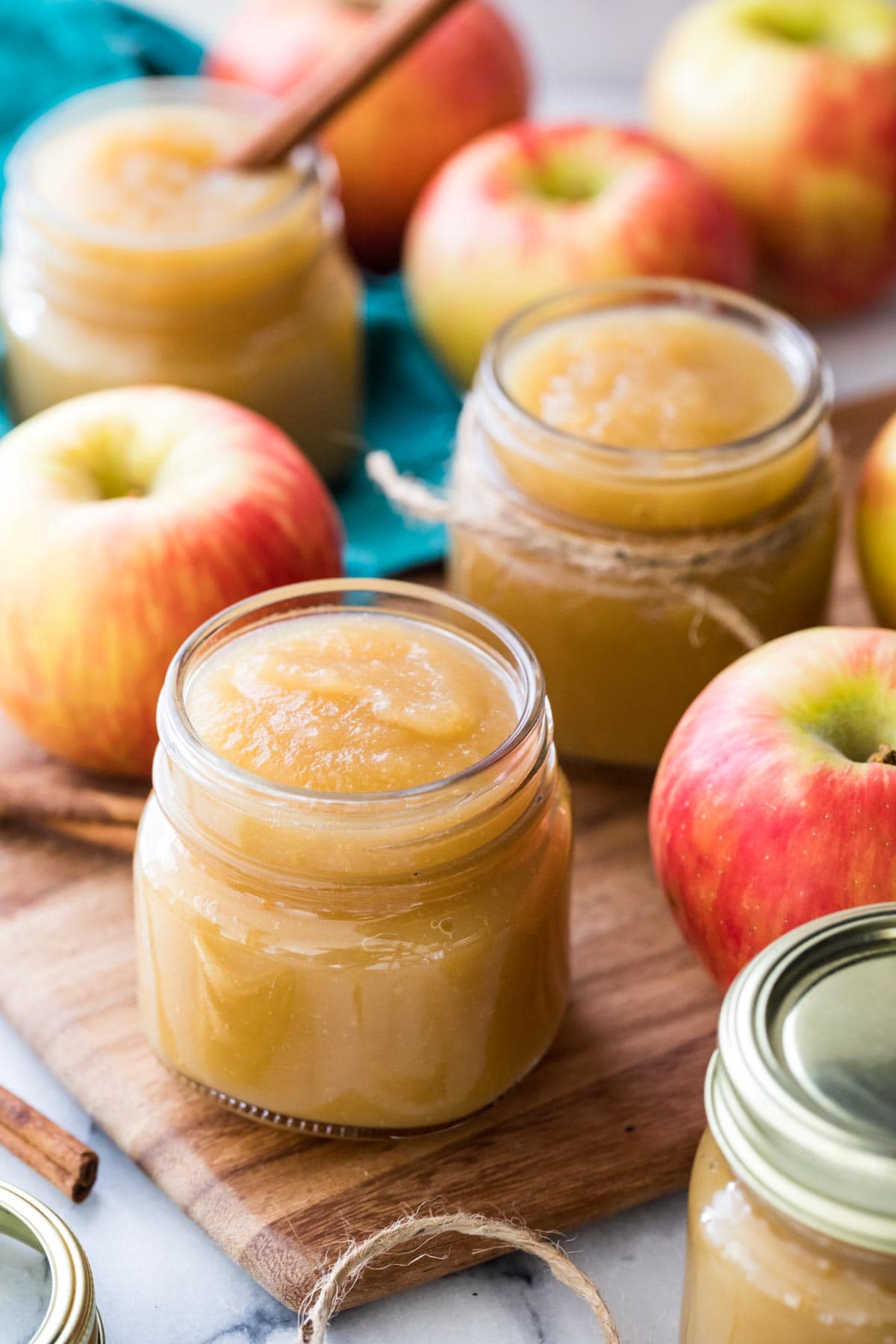 Frequently Asked Questions
What apples make the best applesauce?
Choosing the right apple for your applesauce can be hard when there's so many varieties! I recommend a crisp, sweet apple like Fuji, Honeycrisp, Gala, Pink Lady, or Cortland. Using a blend of different apples is also a great option, and I used a combination of Honeycrisp and Fuji for the applesauce shown here!
Does homemade applesauce need lemon juice?
Not necessarily. It's commonly added because it helps keep the apples from turning brown and helps with the acidity. While I do like to use it in my applesauce recipe, if you don't have any you can leave it out.
What can I add to applesauce to make it taste better?
Fruits like cranberries, strawberries, pears, and even mangoes taste great in applesauce. Dice and cook them right along with your apples.
To enrich the applesauce you can use brown sugar, honey, or even maple syrup instead of granulated sugar, and experiment with increasing the amount according to your personal preference. Some people also like to melt in a pat or two of butter or a splash of homemade vanilla extract after the apples have finished cooking for a richer flavor. Try experimenting with different flavors to find your favorite combination!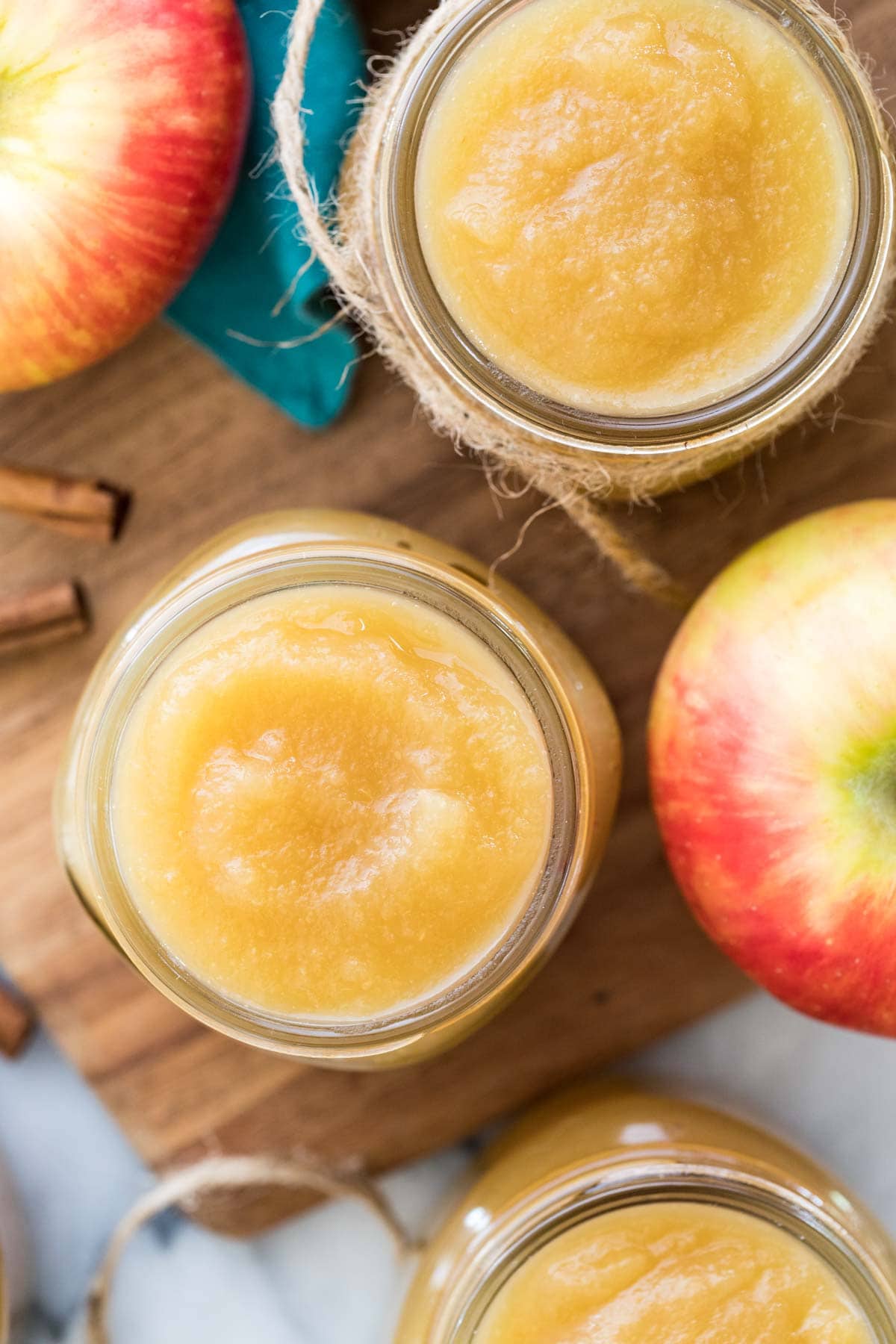 Enjoy!
More Fall Recipes You Might Like
Let's bake together! I'll be walking you through all the steps in my written recipe and video below! If you try this recipe, be sure to tag me on Instagram, and you can also find me on YouTube and Facebook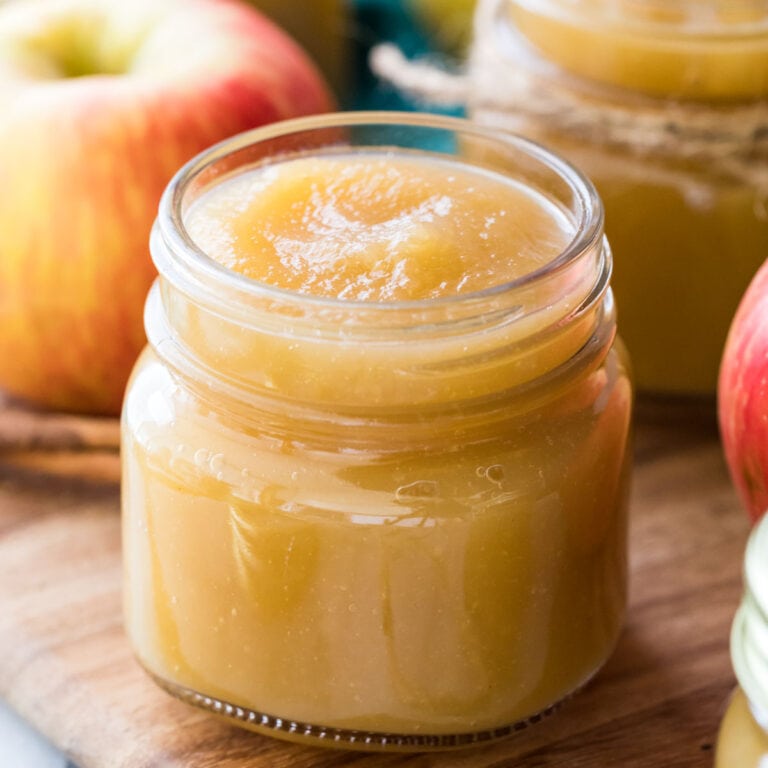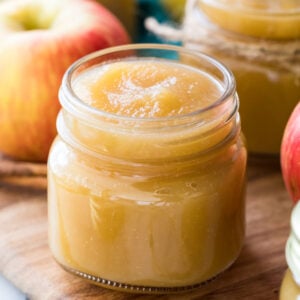 Homemade Applesauce
You only need four ingredients to make my flavorful, homemade applesauce recipe. This quick and easy recipe uses just one pot and finishes in less than an hour. It's also super customizable!Scroll down to the how-to video for instructions!
Print
Pin
Rate
Servings:
4.5
cups (1 liter)
Ingredients
3

lbs

(

1.4

kg

)

apples

peeled, cored, and diced to be about ½" (I recommend using a crisp, sweet apple like Fuji, Honeycrisp, Gala, Pink Lady, or Cortland.) Weigh before peeling/coring apples.

1

cup

(

236

ml

)

water

3

Tablespoons

(

38

g

)

granulated sugar¹

2

teaspoons

lemon juice

2

cinnamon sticks²

optional, see note to omit or use ground cinnamon
Instructions
Combine apples, water, sugar, lemon juice, and cinnamon sticks in a large pot on the stovetop. Stir to combine.

3 lbs (1.4 kg) apples,

1 cup (236 ml) water,

3 Tablespoons (38 g) granulated sugar¹,

2 teaspoons lemon juice,

2 cinnamon sticks²

Turn stovetop heat to medium and bring mixture to a simmer. Reduce heat to medium/low, cover with lid, and continue to cook for 20-30 minutes, checking/stirring just once or twice to make sure the heat is not too high and apples are not burning to the bottom of the pot.

Cook until apples are completely soft and tender when pierced with a fork (they should give easily to the fork and offer no resistance).

Remove from heat and carefully remove cinnamon sticks. Mash with a potato masher (for chunkier applesauce) or blend with an immersion blender until smooth (for a smoother applesauce). You may also transfer the apples to a blender and puree until smooth if you don't have an immersion blender.

If applesauce is too watery for your liking you can return to the stovetop and cook over medium/low heat, stirring occasionally, until the water is reduced and mixture is the desired consistency.

Allow to cool and then serve!
Notes
¹Sugar and substitutitons
I recommend using the amount listed, but you may reduce or even omit the sugar (if you have very sweet, flavorful apples) or increase it up to 4 Tablespoons or even more if you are using particularly tart apples. Brown sugar (light or dark), honey, or maple syrup may be substituted for the sugar but each will impart their own flavor into the applesauce.
²Cinnamon
I like to use cinnamon sticks for a subtle cinnamon-flavored applesauce. You may omit if you do not like the flavor. If you do not have them but want the flavor, stir in ½ teaspoon of ground cinnamon after pureeing/mashing the applesauce.
Scaling the recipe
This applesauce recipe may be reduced in half or doubled or even tripled (if you have a pot that's large enough). I usually only add an additional ½ cup (113ml) of water for every additional 3 lbs (1.4kg) of apples that I use.
Storing and Canning
Store in a sealed container in the refrigerator for up to two weeks. Applesauce may also be stored in the freezer for 6 months or longer, just use an airtight container, preferably a plastic bag that you can remove the air from. To defrost I thaw in the fridge overnight. While this applesauce recipe may be canned, I have not personally canned it and don't feel comfortable advising on the specifics of how to do so. Here is a canning guide that I found that may be helpful, though!
Nutrition
Serving:
1
cup
|
Calories:
193
kcal
|
Carbohydrates:
51
g
|
Protein:
1
g
|
Fat:
1
g
|
Saturated Fat:
1
g
|
Polyunsaturated Fat:
1
g
|
Monounsaturated Fat:
1
g
|
Sodium:
6
mg
|
Potassium:
333
mg
|
Fiber:
8
g
|
Sugar:
39
g
|
Vitamin A:
168
IU
|
Vitamin C:
15
mg
|
Calcium:
36
mg
|
Iron:
1
mg
Nutritional information is based on third-party calculations and should be considered an estimate only. Actual nutritional content will vary based upon brands used, measuring methods, cooking method, portion sizes, and more.
Related Recipes