An easy, creamy pumpkin cheesecake served on a simple homemade graham cracker crust and topped off with a cinnamon whipped cream.  This would make a great Thanksgiving dessert!
Zach, my husband (of over 3 years now!), is quite useful for many things.  He's always game for opening a pickle jar, reaching whatever thing it happens to be that I need from the highest shelf, fixing my car (and everything else that breaks around here), and tackling even the most precariously stacked tower of dirty dishes.  Most importantly, though, he's really skilled at serving as a gauge for whether a dessert is really blog-worthy or not.
Most recipes (barring the coconut ones, which he won't touch) need his approval before I'm confident that they're worth sharing with you.
Over the past few years, he's become pretty particular about his desserts and he is definitely my toughest, most honest critic.  Sometimes I am grateful for this, other times I want to smash whatever "too-dry/too-sweet/too-whatever" dessert into his face, but every time I need his feedback before moving forward with a recipe (or completely starting over again from scratch).
He's not even a true lover of cheesecake, so even though I tasted this pumpkin cheesecake myself and fell in love with its subtle Fall spices, its rich pumpkin-ness, the creamy texture, melt-in-your-mouth whipped cream, and crisp graham cracker crust, I was worried about running this pumpkin cheesecake past him for his approval.
I worried for nothing, because after Mr. Critical ate not one but two giant slices before I could even ask his opinion, I knew we had a winner on our hands, and I'm so excited to share the recipe with you today.
And as far as cheesecakes go, this is an easy, easy recipe.  It's made with 100% real pumpkin puree, a touch of sour cream, and, as with all of my cheesecakes so far, this pumpkin cheesecake does not require a water bath and has come out crack-free for me every time (do take care not to over-mix your eggs, though!).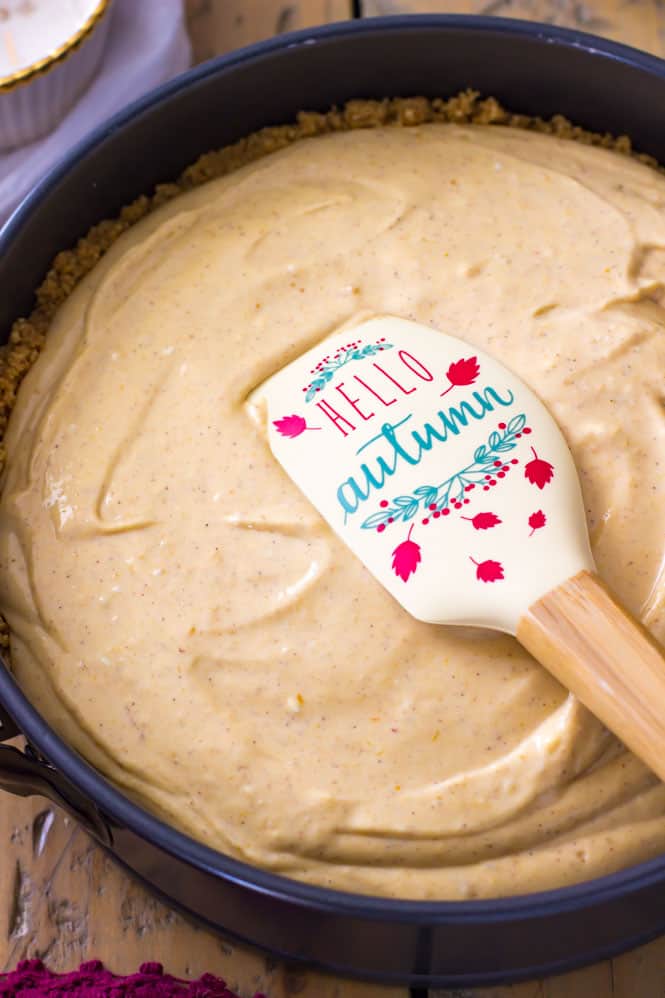 I enlisted the help of my favorite easy graham cracker crust recipe for this pumpkin cheesecake.  Press it into the bottom and up the sides of a 9″ springform pan, and place it in your refrigerator to chill while you prepare the filling.
As usual, I recommend making your own whipped cream to top off this pumpkin cheesecake.  Sure, you could take the Cool Whip route, but that flavor doesn't even hold a candle to homemade.
I've beaten this drum so many times before, but homemade whipped cream is so simple to make that there's no excuse to skip it.  It's just three ingredients (OK, 4 for this recipe, since we're flavoring it with cinnamon), beaten with an electric mixer to fluffy whipped cream heaven.
After whipping mine together, I dropped it into a disposable piping bag with a Wilton 2D tip to decorate the border, but if you could just as easily dollop it on the center with a spoon.  Whatever you do, make it and try it, if you're not already a homemade whipped cream convert, you will be after this.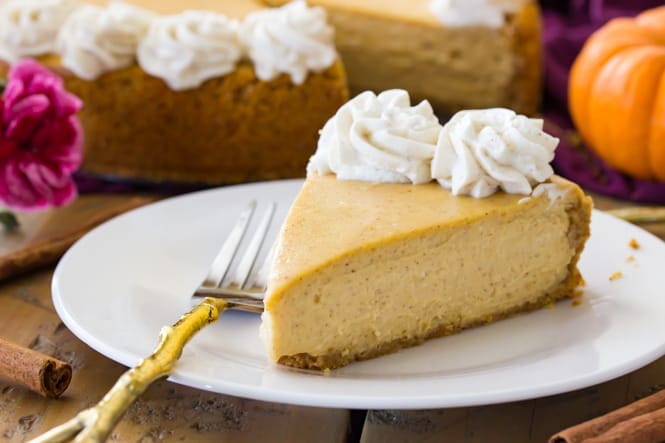 Enjoy!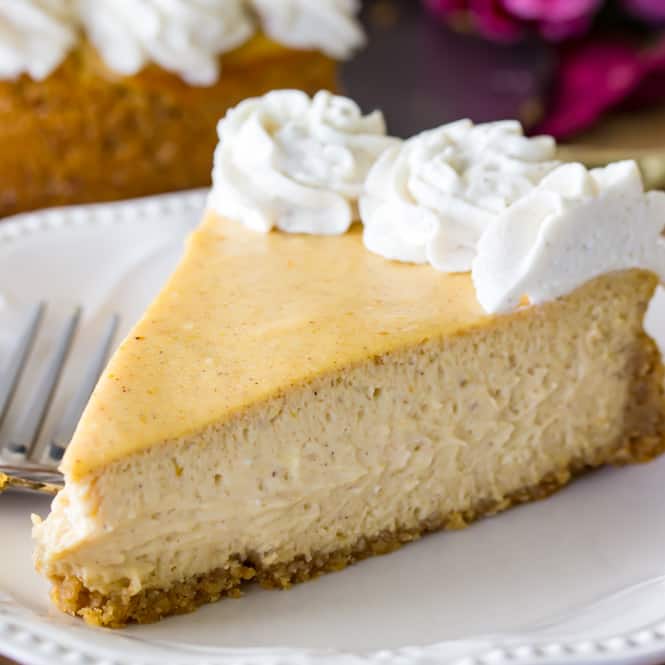 Pumpkin Cheesecake
Ingredients
1

9" graham cracker crust

(prepared according to recipe in 9" or 10" springform pan, not pre-baked)

24

oz

cream cheese

softened to room temperature

3/4

cup

brown sugar

packed (150g)

1/2

cup

sugar

(100g)

1/3

cup

sour cream

1 1/2

teaspoon

vanilla extract

1

cup

pumpkin puree

(244g)

2 1/2

teaspoons

pumpkin pie spice

3

eggs

room temperature
Cinnamon Whipped Cream
3/4

cup

heavy cream

(175ml)

1/4

cup

powdered sugar

(30g)

1/2

teaspoon

vanilla extract

1/8

teaspoon

ground cinnamon
Instructions
Preheat oven to 350F (175C)

Prepare graham cracker crust in a 9" springform but do not bake. Place in refrigerator to chill while you prepare your cheesecake filling.

In a stand mixer (or in a large bowl with a hand-mixer), beat together softened cream cheese and sugars, scraping down the sides with a spatula occasionally to ensure ingredients are mixed well. (beat on medium-speed about 1-2 minutes, scraping down side occasionally).

Add sour cream and stir well, pausing once to scrape down the sides and bottom of the bowl.

Add vanilla extract, pumpkin puree, and pumpkin spice and stir until well-combined.

Add eggs, one at a time, beating until just mixed after each addition (and scraping down the sides after each addition).


Spread cheesecake batter evenly over prepared crust.


Transfer to oven and bake on 350F for 30 minutes or until center of cheesecake is set and bounces back to the touch.

Allow pumpkin cheesecake to cool to room temperature and then transfer to refrigerator and chill for 6 hours or overnight.

Before serving, prepare your cinnamon whipped cream.
Cinnamon Whipped Cream
For the cinnamon whipped cream topping, combine heavy cream, powdered sugar, vanilla extract, and ground cinnamon in a clean medium-sized bowl.

Use an electric mixer to stir on low-speed. Gradually increase speed to high and beat until stiff peaks form.

Use an electric mixer to stir on low-speed. Gradually increase speed to high and beat until stiff peaks form.
Nutrition Facts
Pumpkin Cheesecake
Amount Per Serving (1 slice)
Calories 510
* Percent Daily Values are based on a 2000 calorie diet.