Soft puffy peanut butter cookies loaded with melty semisweet chocolate chunks.
This isn't my first peanut butter cookie recipe.  Not by a long shot.
In fact, this isn't even my first peanut butter cookie recipe this month,  but I make no apologies.
Recently I have been in love with baking with peanut butter, and I have found through batches and batches of tasty "research" that peanut butter cookies are much like puppies in that you should always have more than one, and it is impossible to have "too many".
Since our "puppies" usually get a little bit of peanut butter in their Kongs every now and then, they are also loving this recent peanut butter trend and come running to the kitchen as soon as I start to unscrew the jar.
More than once, Penny's nose gravitated just a bit too close to the cookies as she sniffed at the countertop where they were cooling.
They may be even more obsessed than I am.
These particular peanut butter cookies are different from my first, chewier version in that they do not spread much at all when baking.  I made them with cornstarch and they are particularly soft, puffy cookies loaded with chocolate pieces that stay warm and melted long after baking.
I also opted to use butter as well as shortening in the dough, and while the peanut butter has a distinct taste all on its own, I find that it's nicely enhanced by the addition of butter, and I prefer the soft, airy texture this way.
Enjoy!
Ingredients
1/2

cup

butter

softened, 1 stick

1/2

cup

shortening

Crisco

1 1/2

cup

creamy peanut butter

1 1/4

cups

light brown sugar

tightly packed

1/3

cup

white sugar

2

eggs

1

Tbsp

vanilla extract

2 1/2

cups

all-purpose flour

2

tsp

cornstarch

1

tsp

baking soda

1/2

tsp

salt

8

oz

semisweet chocolate

chopped into pieces
Instructions
In large bowl or KitchenAid mixer cream together butter, shortening, peanut butter and sugars until light and fluffy.

Add eggs, one at a time, pausing after each addition to scrape down sides of bowl.

Stir in vanilla extract.

In separate, medium-sized bowl, whisk together flour, cornstarch, baking soda and salt.

Gradually, with mixer on medium-low speed, stir flour mixture into peanut butter mixture, pausing occasionally to stir down sides of bowl.

Stir in chocolate pieces.

Cover with plastic wrap and chill in the fridge for 10 minutes

Preheat oven to 350F. Line cookie sheets with parchment paper and set aside.

Scoop cookie dough into roughly 2 tsp-sized ball and drop onto prepared cookie sheets.

Lightly flatten with your fingertips so that cookies are no taller than 1/2 inch.

Place cookies at least 1 1/2 inch apart in oven and bake for 9 minutes.

After baking, remove cookies from oven and allow to cool at least 10 minutes before serving (the chocolate will be very melty and hot for a while after baking, and the cookies will be very soft and may fall apart if you try to pick them up before they have cooled completely.
You may also like:
Peanut Butter Blondies
Peanut Butter Cupcakes with Milk Chocolate Frosting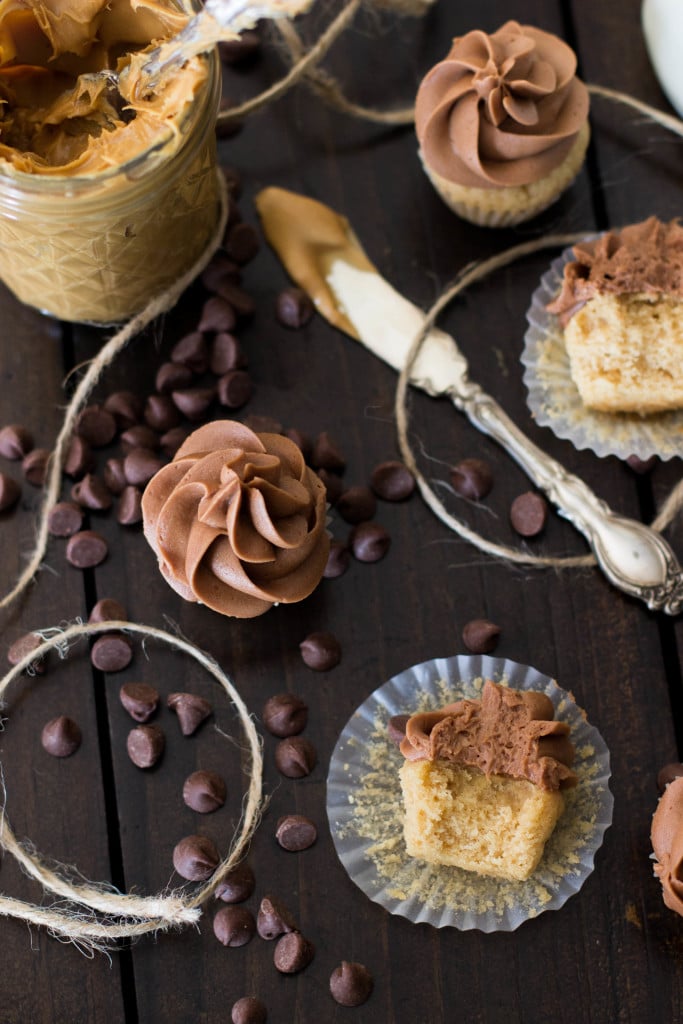 Best Ever Peanut Butter Cookies