Learn how to make your own carnival-worthy Funnel Cakes at home with just a handful of basic ingredients! This is a super simple recipe that can be made in under 20 minutes without a deep fryer. Recipe includes a quick how-to video!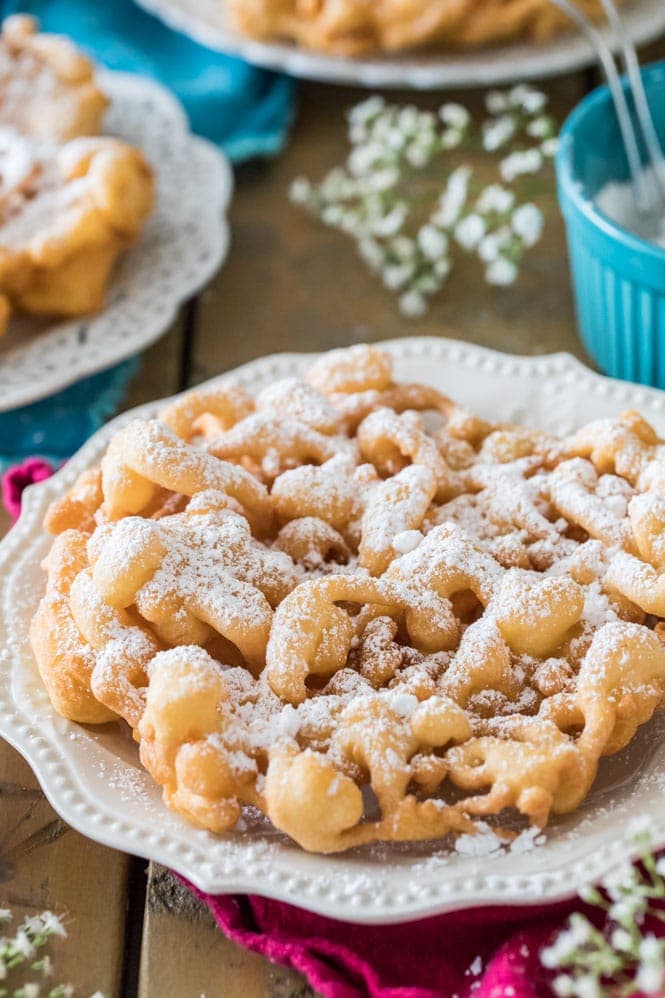 Carnival-Worthy Funnel Cakes (No Carnival & No Funnel Required)
Is it really summertime if you haven't had a funnel cake yet?
Each year when the carnival rolls into town, Zach and I live for funnel cake. When we lived in our old house, we would walk to the carnival every evening at twilight just to hit up the funnel cake stand and walk back home with a giant, greasy plate of fried dough (buried beneath a literal mountain of slowly-melting powdered sugar, of course).
This year, we're in a new town with a new carnival (that's not within walking distance) and nightly funnel cake walks are a little less doable. We'll still venture out (and probably more than once), but until then we're making funnel cakes at home. And, guess what, it's actually very easy! 
Funnel cakes are made of a simple pancake-esque batter that's drizzled into a pot of hot oil. The batter takes literally less than 5 minutes to stir together, and the frying process is also only a few-minute affair. Oh, and if you don't have an actual funnel, that's not even a problem, I'll tell you how to make funnel cake without one.
What is Funnel Cake Made Of?
Funnel cake batter is similar to a pancake batter, and in fact this recipe is a variation of my buttermilk pancakes. The only ingredients you need are:
Flour
Sugar — just a pinch, funnel cakes end up being quite rich thanks to the oil they're cooked in and the powdered sugar on top, so you don't need much in the actual batter.
Baking powder
Salt
Milk
Eggs
Vanilla extract — optional, this will also make the funnel cakes sweeter and richer, so it's a matter of personal preference.
In addition, you'll also need oil for frying and powdered sugar for sprinkling on top.
How to Make Funnel Cake Without a Funnel
Sorry funnel cake purists, but you can actually make funnel cake without a funnel. If you happen to have one, that's great (you'll want a funnel with a ½″ opening), but if not you can still make these at home.
My favorite way is the easiest: portion some of the batter into a measuring cup and then pour that in a thin stream in a circular/criss-cross/zig-zag into the hot oil. Easiest to clean up, smallest chance of spills. The only thing you have to watch for here is that it's very important that you tip the measuring cup slowly and pour a thin stream while constantly moving your measuring cup, otherwise you could end up with big clumps of batter that are golden brown on the outside and raw at the center.
If you don't have a funnel but are having trouble getting a thin enough stream, you can pour the batter into a piping bag fitted with a large round tip (½″ diameter). Plug the tip with your finger, portion the batter, and then pipe it into the oil.
Here are a few other techniques for making funnel cake without a funnel.
What Kind of Oil Do You Need for Funnel Cake?
I recommend using a neutral oil for frying your funnel cakes. Vegetable, canola, or peanut oil will all work great for frying this recipe.
Can You Refrigerate Funnel Cake Batter?
Yes. Cover any leftover batter with plastic wrap or store it in an airtight container and store for up to two days.
Enjoy!
Other Recipes You Might Like:
Let's bake together! Be sure to check out my video at the bottom of the recipe where I'll show you exactly how I make this Funnel Cake recipe in my own kitchen! If you enjoy watching, make sure to subscribe to my YouTube channel where I've already uploaded over 150 recipe videos that you can watch for free!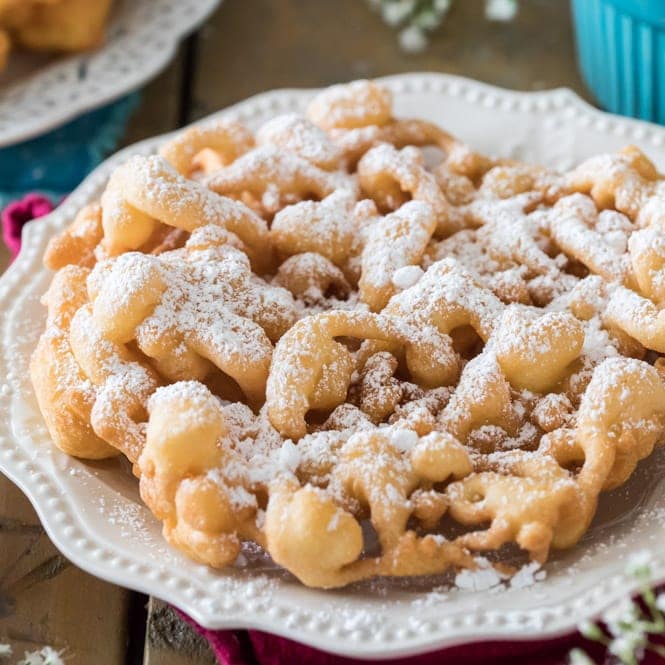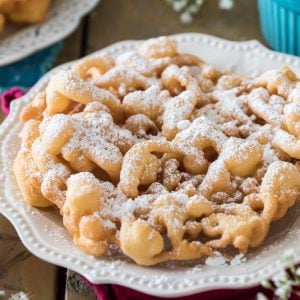 Funnel Cake Recipe
Make your own carnival-worthy FUNNEL CAKES at home in under 20 minutes!
Be sure to check out the how-to VIDEO below the recipe!
Print
Pin
Rate
Ingredients
2

cups

all-purpose flour

(250g)

2

Tablespoons

granulated sugar

1

teaspoon

baking powder

½

teaspoon

salt

1

cup

milk¹

(236ml) (or more, if needed)

2

large eggs

lightly beaten

½

teaspoon

vanilla extract

optional

Vegetable oil

for frying

Powdered sugar

for dusting funnel cakes
Instructions
In a medium-sized bowl, whisk together flour, sugar, baking powder, and salt until well-combined.

In a separate bowl, whisk together milk, eggs, and vanilla extract (if using) until well-combined.

While whisking, gradually add dry ingredients to wet, stirring until mixture is smooth and combined. Set aside.

Fill a medium-sized saucepan 2-3" deep with vegetable oil. Set on stovetop over medium-low heat and place a candy thermometer in the oil (make sure the tip of the thermometer is in the middle of the oil and not touching the bottom or it will read hotter than the actual temperature of the oil). Heat oil to 370-375F (187-190C).

Once oil is heated, portion about ⅓ - ½ cup of batter into a liquid measuring cup². Slowly drizzle batter into oil in a thin stream, swirling and criss-crossing the batter over itself. Fry on each side until golden brown (about 90 seconds per side) then remove to a paper-towel lined plate.

Dust with powdered sugar and serve warm.

Repeat with remaining batter but make sure that oil returns to temperature in between batches.
Notes
¹If your batter is too thick, add additional milk as needed until your batter reaches a pour-able consistency. Some people have needed to add as much as ½-3/4 cup milk.
²If you have a funnel, you can of course use that instead! You'll need a clean funnel with a ½" opening. Use your finger to plug the bottom of the funnel and then portion ⅓-1/2 cup of batter into the funnel. Hold funnel over oil, remove your finger, and then move the funnel in a circular/criss-cross pattern until all of the batter has been drizzled into the oil.
Nutrition
Serving:
1
funnel cake -- nutrition information is calculated assuming 1 Tbsp of oil per funnel cake from deep frying and 1 Tbsp of powdered sugar on top
|
Calories:
410
kcal
|
Carbohydrates:
53
g
|
Protein:
9
g
|
Fat:
18
g
|
Saturated Fat:
4
g
|
Polyunsaturated Fat:
10
g
|
Monounsaturated Fat:
4
g
|
Cholesterol:
79
mg
|
Sodium:
381
mg
|
Potassium:
147
mg
|
Fiber:
1
g
|
Sugar:
15
g
|
Vitamin A:
2700
IU
|
Calcium:
700
mg
|
Iron:
2.3
mg
Nutritional information is based on third-party calculations and should be considered an estimate only. Actual nutritional content will vary based upon brands used, measuring methods, cooking method, portion sizes, and more.