Today we're making homemade Fried Pickles WITHOUT a deep fryer! My recipe makes a big batch of perfectly crisp, breaded dill pickle slices in just 20 minutes. Recipe includes a how-to video!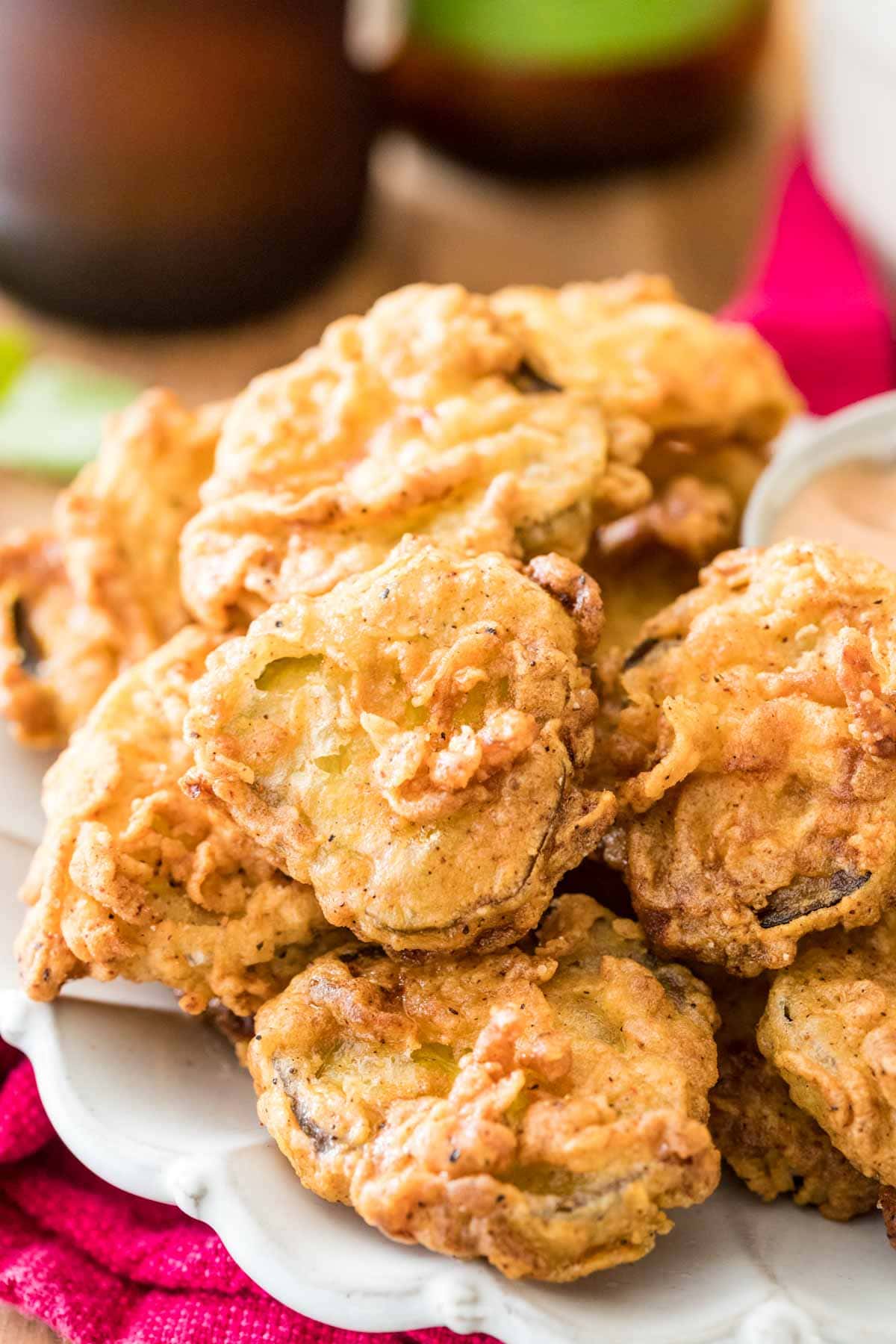 How to Make the BEST Fried Pickles
Did you know? Know that fried pickles are actually shockingly easy to make at home? That you don't need to wait until the next time you're bar-side or at a restaurant in order to indulge in them? That you can make them with basic kitchen ingredients and no deep fryer?
They're made much the same way as many of my other fried recipes (like my kettle chips, homemade mozzarella sticks, and donut holes), simply and on the stovetop. All you need is a heavy-bottomed pot, some neutral cooking oil, and a thermometer (and yes, you do need the thermometer, but you should really have one in your kitchen for a hundred reasons besides just to make fried pickles)!
When testing this recipe I was moving along happily towards thinner, barely breaded pickles when I found a variation I liked even better. Today's recipe features a crispy, more prominent batter (paired with a more thickly sliced dill pickle, so as not to overwhelm the taste), and they're the absolute best fried pickles you'll ever taste.
Why you'll love my recipe:
No deep fryer required!
Includes tips for perfectly crispy (not soggy!) pickles.
Takes just 20 minutes from start to finish.
Uses a few basic ingredients you'll already have on hand.
Tastes great with ranch dressing or my zesty dipping sauce (included in the recipe).
What You Need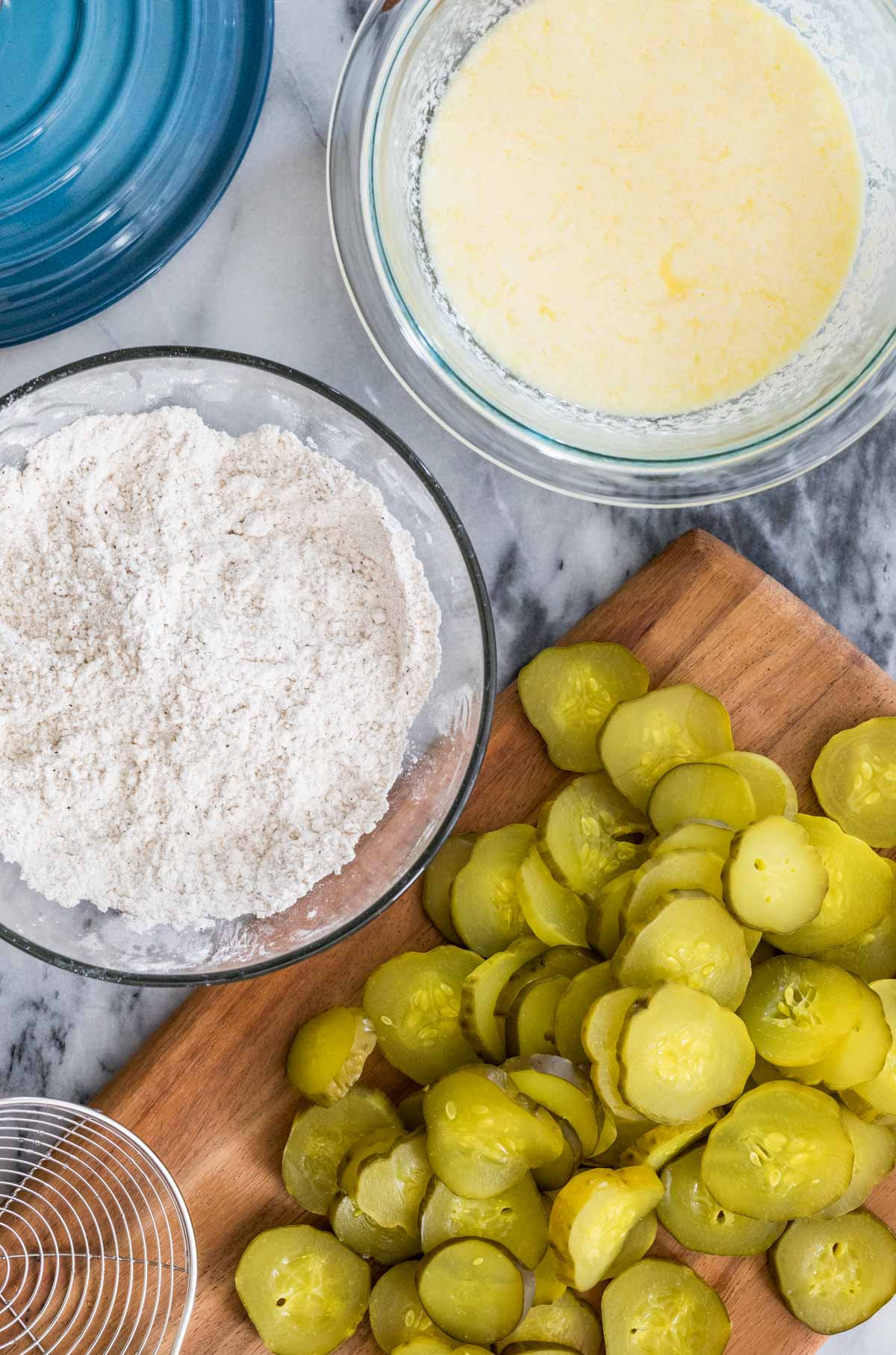 You only need a few ingredients to make fried pickles at home:
Buttermilk. The tangy flavor of the buttermilk is the perfect complement to dill pickles. If you don't have buttermilk on hand, you can use my easy buttermilk substitute, which just requires milk (preferably whole milk) and either a splash of lemon juice or vinegar.
Whole Pickles. You can start with pre-sliced dill pickle chips, but I prefer to cut my own from whole kosher dill pickles. I find I have better control over the width of the pickle this way!
Oil. Use a good, neutral frying oil, like vegetable, peanut, or canola. Olive oil is not recommended here.
Spices. We'll season our breading with salt, pepper, paprika, cayenne pepper, and garlic powder. Feel free to play around with adding some of your favorite spices.
SAM'S TIP: The thickness of your pickle slice matters! I found that the thin pickle slices I originally was going for became overwhelmed by this batter. When I tried them this way, it was kind of just like eating deep fried batter (tasty, but not what we're aiming for!). Slices that were just shy of ¼″ thick provided the perfect amount of pickle. This way you can actually taste the pickle and experience that satisfying pickle crunch in every bite. Any thicker and they became awkward, two-bite snacks!
Remember, this is just an overview of the ingredients I used and why. For the full recipe please scroll down to the bottom of the post!
Pickle-Frying Basics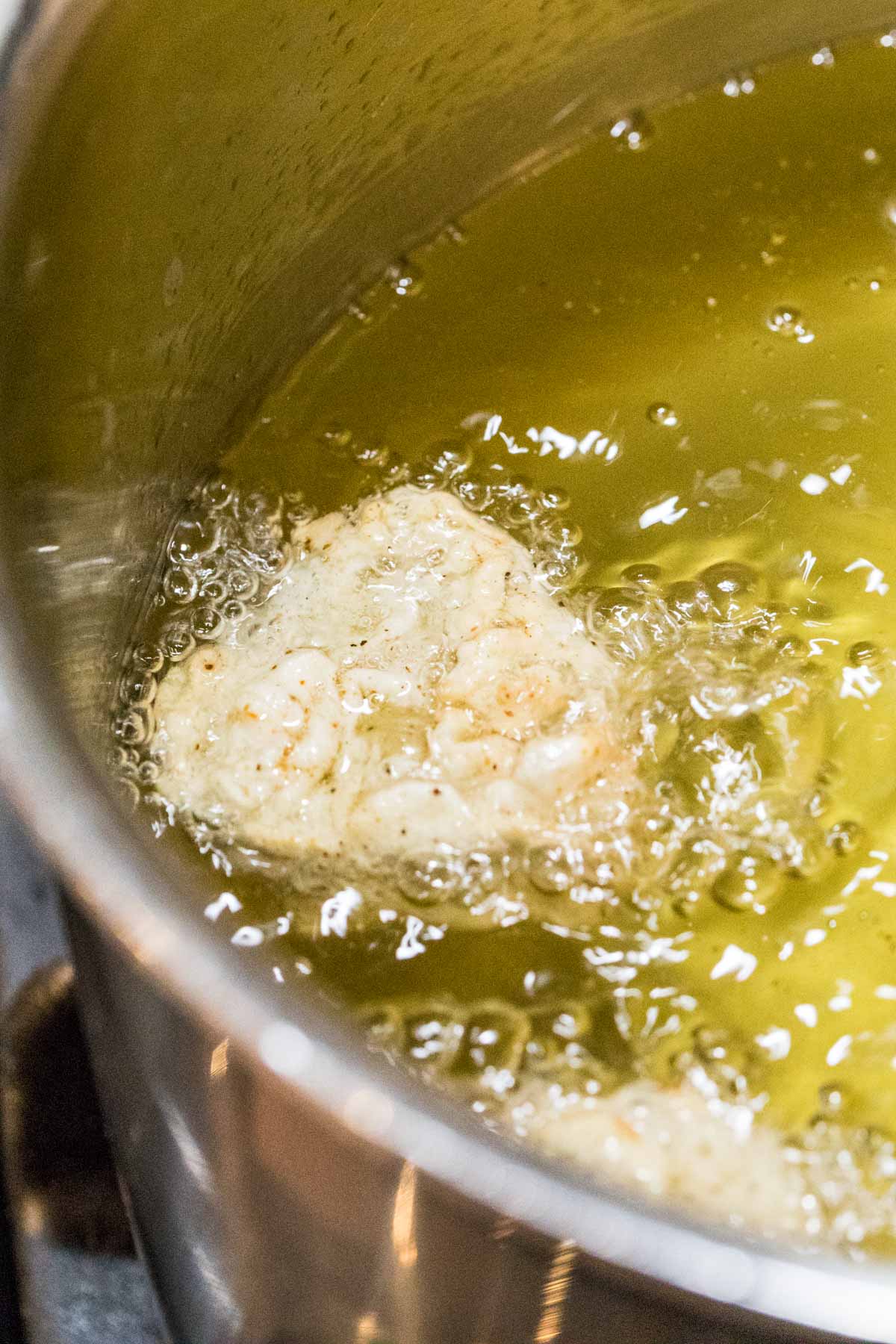 Heat your oil to 375F.

Use a thermometer and make sure it's suspended about midway in the oil and not touching the bottom of the pan.
Slice your dill pickles

and make your breading and dipping mixtures while your oil is heating.

Once your oil is hot, toss 3-4 pickle slices in your flour-based breading mixture, shake off the excess, dip in a buttermilk/egg mixture, and dip in flour mixture again.
(Carefully!) transfer to oil and fry until golden brown.
Remove from oil using a strainer or slotted spoon, then repeat with your next batch of pickles. If you've made any of my fried recipes like my sour cream donuts or apple fritters recently, you know the drill — make sure your oil returns to temperature before adding the next round of pickles!
Fried pickles are best enjoyed warm, and I love them dipped in my simple zesty dipping sauce (included in the printable recipe).
SAM'S TIP: Pickles tend to float while frying, so remember to flip them over during the cooking process so both sides get evenly golden!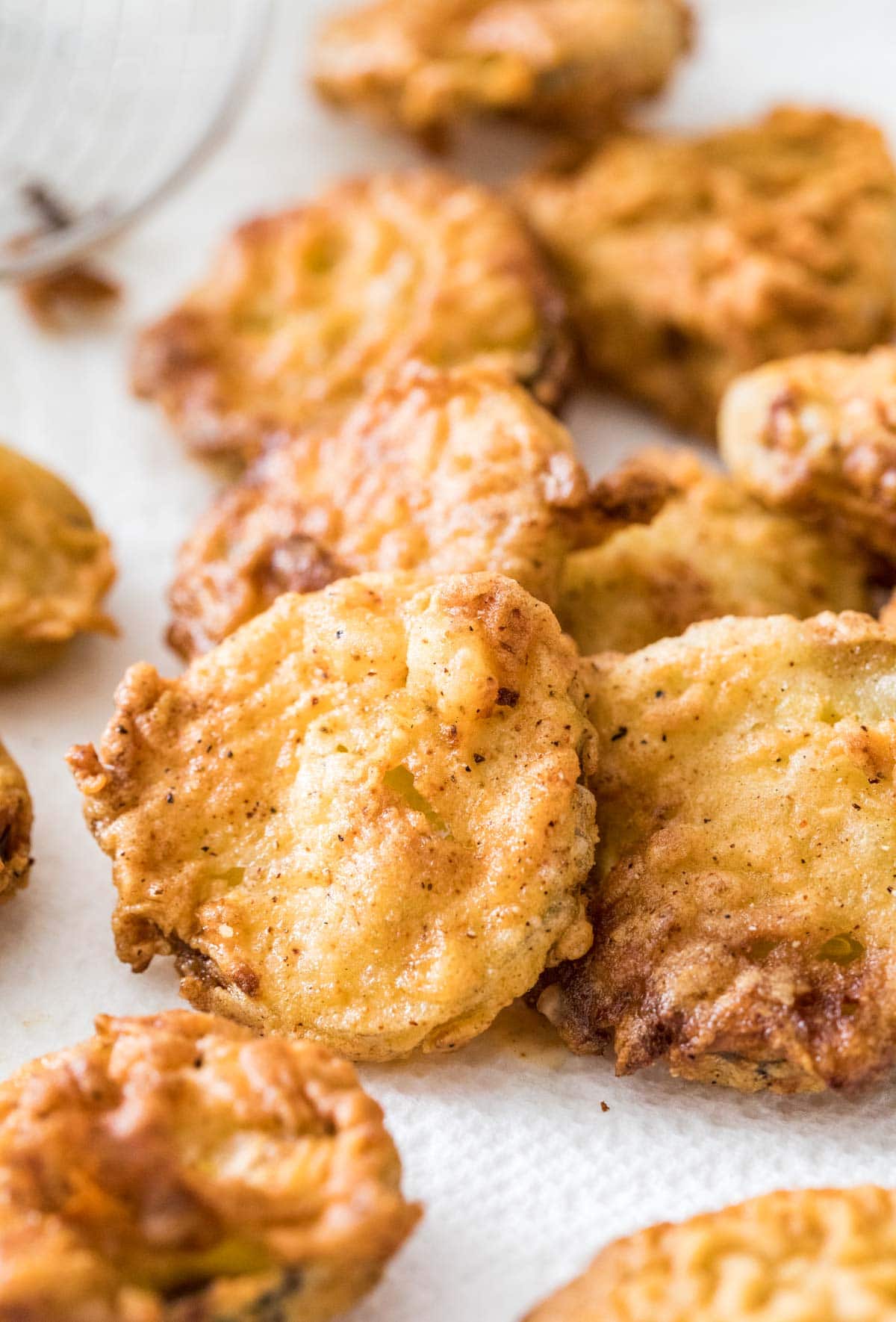 Frequently Asked Questions
Can I make fried pickles in the air fryer?
I personally haven't tried this, so I can't say for sure how it would go. I think it could end up being quite a mess, especially when working with slices as we are here. Reheating any (unlikely) leftovers in the air fryer would be fine though!
How do I make fried pickles crispy?
My biggest tip for making sure your pickles are crispy is to use a thermometer! By maintaining a constant temp of 375F, your pickles will come out crispy every time. To do this, I recommend working in batches of 3-4 pickles to prevent your oil temp from dropping too much (if it drops too low, your pickles will take a long time to cook and will become greasy). And remember to make sure your oil comes back to 375F before adding your next batch!
Can you freeze this recipe?
This might work if you froze your pickles in a single layer on a cookie sheet before placing in a ziploc or airtight container, but this is not something I've yet tested. If you try this, I'd love to hear how they turned out!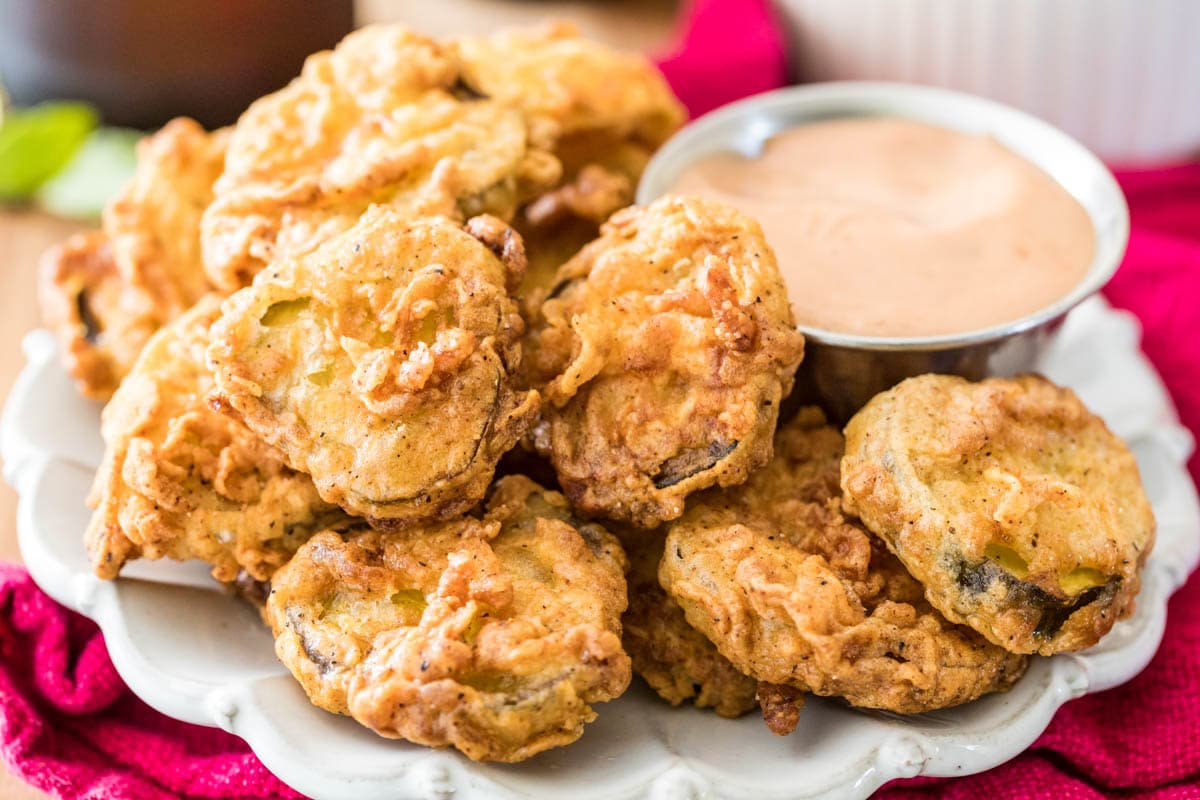 You can also dip these in my homemade BBQ sauce–yum!
Enjoy!
Let's bake together! I'll be walking you through all the steps in my written recipe and video below! If you try this recipe, be sure to tag me on Instagram, and you can also find me on YouTube and Facebook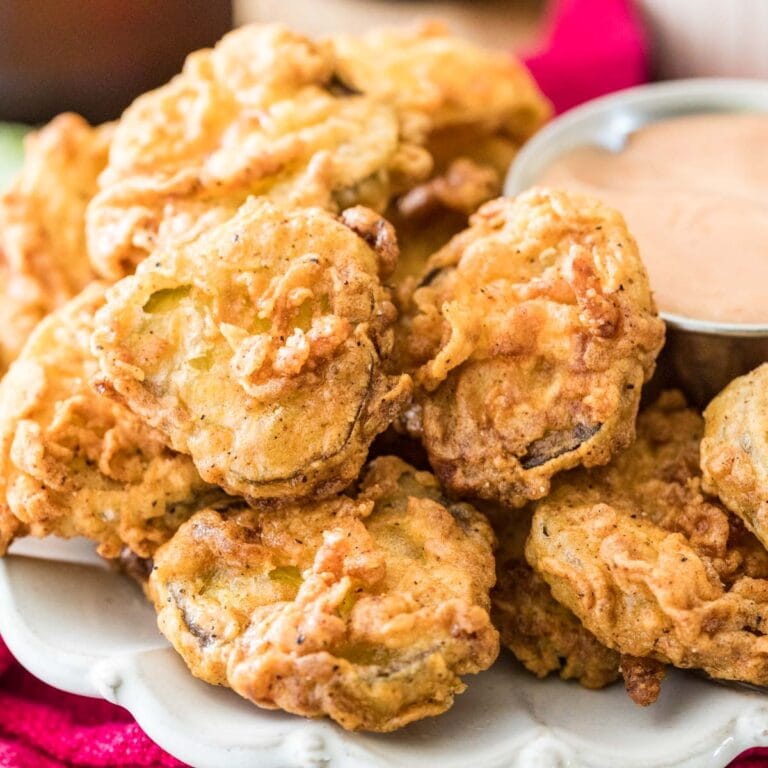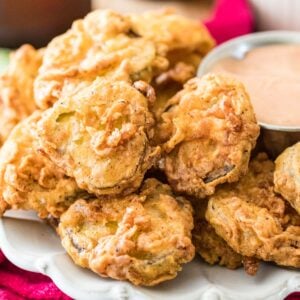 Fried Pickles
My famous crispy fried pickles recipe is easy to make and includes instructions for a zippy dipping sauce! Recipe includes a how-to VIDEO!
Print
Pin
Rate
Ingredients
Vegetable oil

for frying

1

cup

all purpose flour

(125g)

½

teaspoon

Salt

1

teaspoon

ground black pepper

¼

teaspoon

paprika

¼

teaspoon

cayenne pepper

¼

teaspoon

garlic powder

½

cup

buttermilk

(118ml)

1

large egg

3

kosher dill pickles

cut into slices just shy of ¼" thick and lightly patted dry (see note)
Dipping Sauce (optional, plain old Ranch dressing also works great for dipping!)
2

Tablespoons

Ranch dressing

1

Tablespoon

BBQ sauce

1

teaspoon

ketchup

1

teaspoon

mayonnaise

Dash tabasco sauce

Dash of ground black pepper
Instructions
Fill a Dutch oven or heavy-bottomed saucepan 2-3" deep with oil for frying. Fix a frying thermometer to the edge (make sure it is in the oil but not touching the bottom of the pan) and set your heat to medium. Oil will need to reach 375F (190C) before you can begin frying, but this will take 10 minutes or so.

Meanwhile, prepare your breading mixture by whisking together flour, salt, pepper, paprika, cayenne pepper, and garlic powder. Set aside.

In a separate bowl, whisk together buttermilk and egg.

Once oil has reached 375F (190C), prepare pickles for frying in batches of 3-4 slices

Coat slices in flour mixture, gengly shake off excess, dredge in buttermilk/egg mixture, then coat with flour mixture again.

Transfer (carefully!) to oil and fry 3-4 pickle slices at a time for 90 seconds on each side or until golden brown.

Use a slotted spoon or strainer to remove from oil and transfer to a paper towel lined plate. Make sure oil returns to 375F (190C) before frying your next batch of pickles.

Fried pickles are best enjoyed warm. If desired, serve with dipping sauce, which can be made by stirring together all of the dipping sauce ingredients until combined.
Notes
Pickles
Alternatively you can use 1 ½ cups of pre-sliced dill pickle chips
Nutrition
Serving:
1
serving
|
Calories:
139
kcal
|
Carbohydrates:
20
g
|
Protein:
4
g
|
Fat:
5
g
|
Saturated Fat:
1
g
|
Trans Fat:
1
g
|
Cholesterol:
31
mg
|
Sodium:
607
mg
|
Potassium:
111
mg
|
Fiber:
1
g
|
Sugar:
3
g
|
Vitamin A:
223
IU
|
Vitamin C:
1
mg
|
Calcium:
49
mg
|
Iron:
1
mg
Nutritional information is based on third-party calculations and should be considered an estimate only. Actual nutritional content will vary based upon brands used, measuring methods, cooking method, portion sizes, and more.
Related Recipes