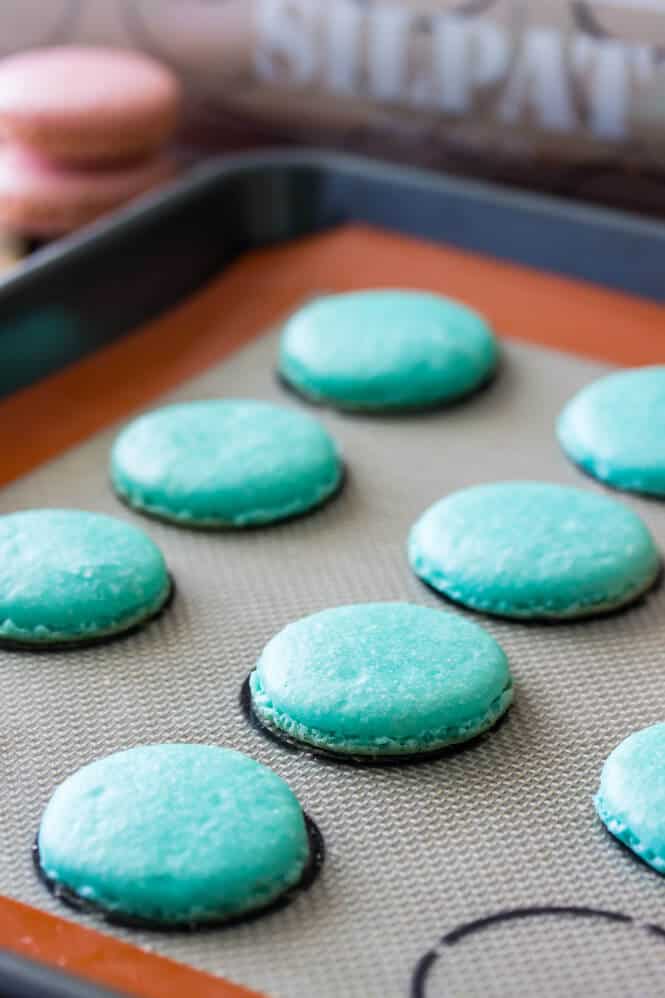 This post contains affiliate links, which means that if you purchase anything through these links I will get a small commission at no extra cost to you.  Please view the disclosure policy for more information.
There's so much that I want to share with you that doesn't always fit into the margins of my recipes, so I thought I'd start this mini series where we just talk.  Every month or so, I'll keep you updated on what's going on, you leave me comments, maybe even let me know if you don't love these chats (just say it nicely, with smiley emojis, please)!  We will get to the less-than-perfect macarons above in a moment, but first, the big news that I've been dying to share: We got a puppy!
Yes, a third dog!
Zach has always wanted to rescue a dog, and since I'm home a lot more now that I quit my day job, we decided now would be a good time to rescue, and we adopted our newest family member… Meet Colt!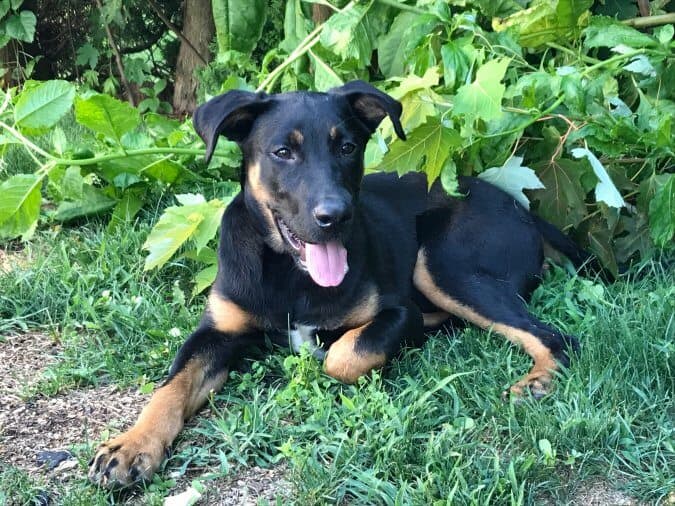 I was super skeptical about getting a third dog (50% more dog hair… and I already vacuum nonstop!), but Colt fits perfectly into the family.  Three dogs has turned out to be a breeze.  Does anyone out there have four dogs?  More?  Never mind, don't tell me, I don't need any encouragement (please tell me, leave a comment).
We were told that he was a German Shepherd-mix, but since he came into the shelter as a rogue pup they didn't really know what his lineage was, so we did a DNA test on him, which is a totally normal thing to do, right?  I felt justified in doing it once the vet told us that the DNA test can actually give them valuable information about his genetics should he ever need serious antibiotics or medications.
The results showed that he is actually mostly Lab with some Staffordshire Terrier (pit bull) mixed in, a bit of hound, and a bit of "herding dog" (which we assume could be a small amount of Shepherd).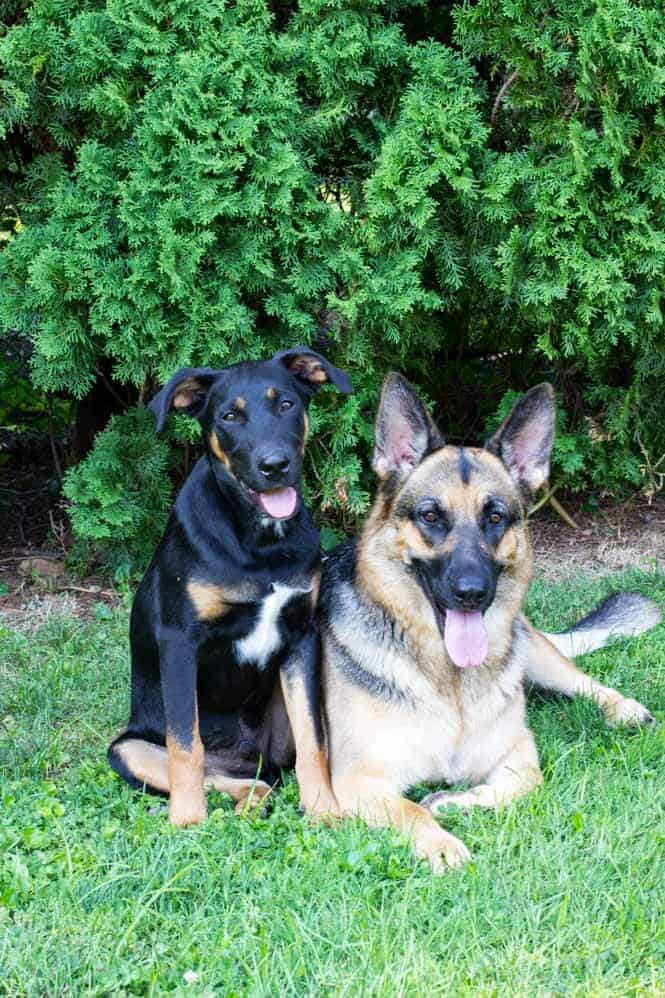 Leia absolutely adores her little brother.  Penny is… well, she is adjusting.  Zach and I like to say that Penny thinks she's a person, and she's not really a dog person.  She has started to come around, though, and even was tugging with Colt yesterday.
At 5 months old, Colt is completely housebroken.  He's also proven to be a fast learner, and it helps that he's extremely, extremely, extremely food motivated.  We're currently working on his leash manners, which have been the biggest struggle so far, so any tips would be appreciated.
We adopted Colt from a small PA rescue called PA Caring for K-9s, they rescue dogs from high kill shelters in the south and find them new families, we are so grateful to have gotten our little boy from them.
In less cuddly news…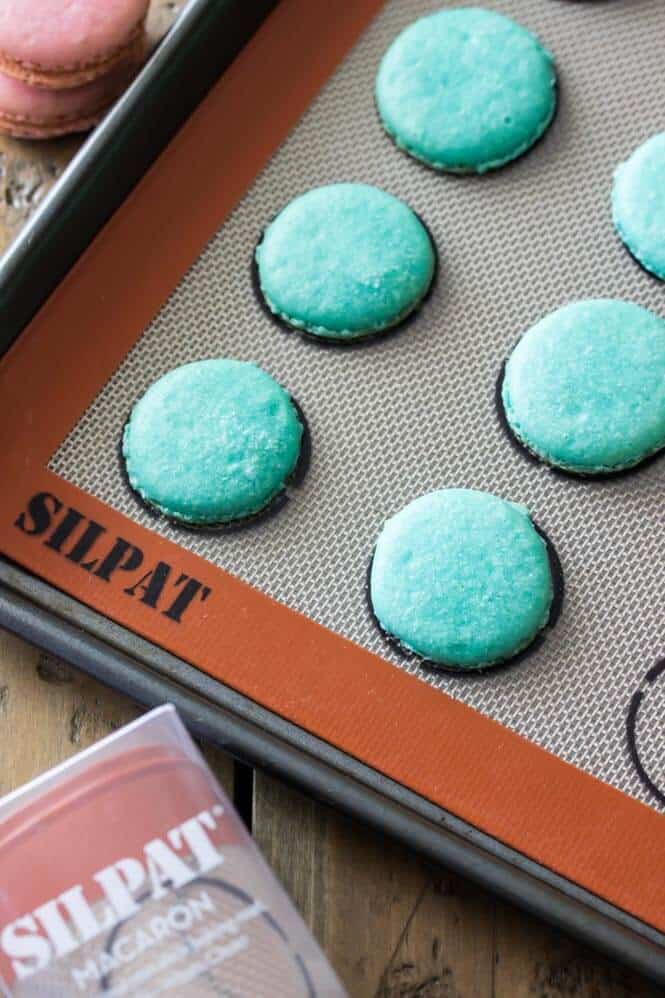 I'm currently in the process of developing my own macaron recipe for you, and guess how much the extreme humidity around here is helping (answer: not at all… please have patience with me, this could take a while).
Silpat recently sent me one of their macaron mats, and while my recipe isn't quite perfect yet (macaron experts will be able to tell by looking at the picture above!), this Silpat mat totally is, and it's the only thing I bake my macarons on anymore.  It also has a macaron template printed right on the mat, which is so helpful since I'm terrible at freehand piping.
And guess what — I'll be giving one away on Instagram in the next few weeks, so make sure you are following me for your chance to win!
A lot of my summer so far has been spent working on making those quick, how-to videos that I share in my posts and on my Facebook page, and I just finished filming my bakery-style chocolate chip muffins.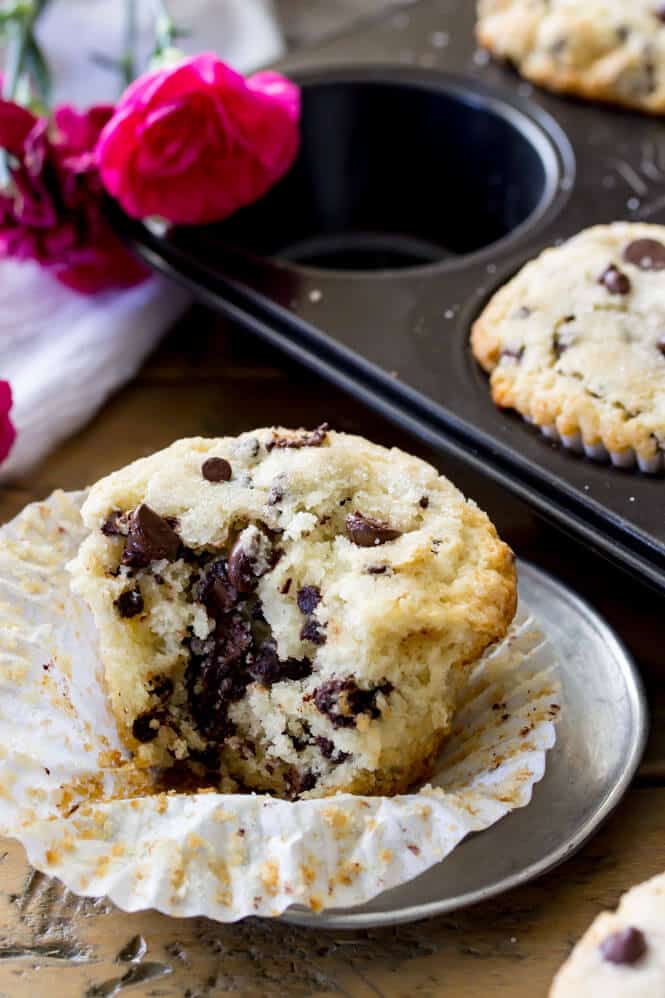 Have you tried them yet?  They've gotten great reviews!  Probably not surprising when you look at all that melty chocolate 👆🏻👆🏻👆🏻
In addition to the video, I've been doing a lot of baking here (shocking, right?), playing with the pups, and trying to squeeze in as many good books as I can, reading them while I work out on the elliptical.
I just finished The Seven Husbands of Evelyn Hugo (very engrossing!) and picked up Uprooted, which is a fantasy/fairy tale sort of book, and while it's not Game of Thrones, it's pretty good and has helped make my cardio sessions fly by (that never happens)!  I would love any great book suggestions from you — just none that will make me cry, please!
In addition to the afore-mentioned books and my Silpat, here are a few of my other current obsessions:
OK, that's all from me for today, have a wonderful weekend, from all of us!