Lemony, buttery, and pillowy-soft, these light little muffins are loaded with natural lemon flavoring, peppered with poppy seeds, and then finally shellacked with a sweet lemony glaze.
I always seem to fall into a little bit of a depression after the holidays.  I mean this in the mildest, least-clinical definition of the word possible, but it seems to be recurrently true that the day after Easter (or Christmas, a birthday, the 4th of July, etc.) always leaves me feeling so… ho-hum… blah… dispirited.
I live for the preparation and anticipation of a holiday celebration, and after days (sometimes weeks) of looking forward to family get-togethers, home-cooked meals spread buffet-style across a white-clothed table, and an extra day off of work, the next day can be a big let-down.  It's not easy to step back into the 9-5 routine, usually with nothing to look forward to except the next big holiday (which I believe now isn't until the 4th of July!).
This Easter I tried to create a little buffer around the holiday, taking today off of work and trying to chase the post-holiday blues with muffins.
Not just any muffins, of course, but peppy miniature ones packed with real lemons, cheerful, sunny, and bite-sized (so you can enjoy them in multiples, of course) designed to take your mind off of the inevitability of getting back to the grind in the near future.
Shhh, don't think about it.  Just have another muffin.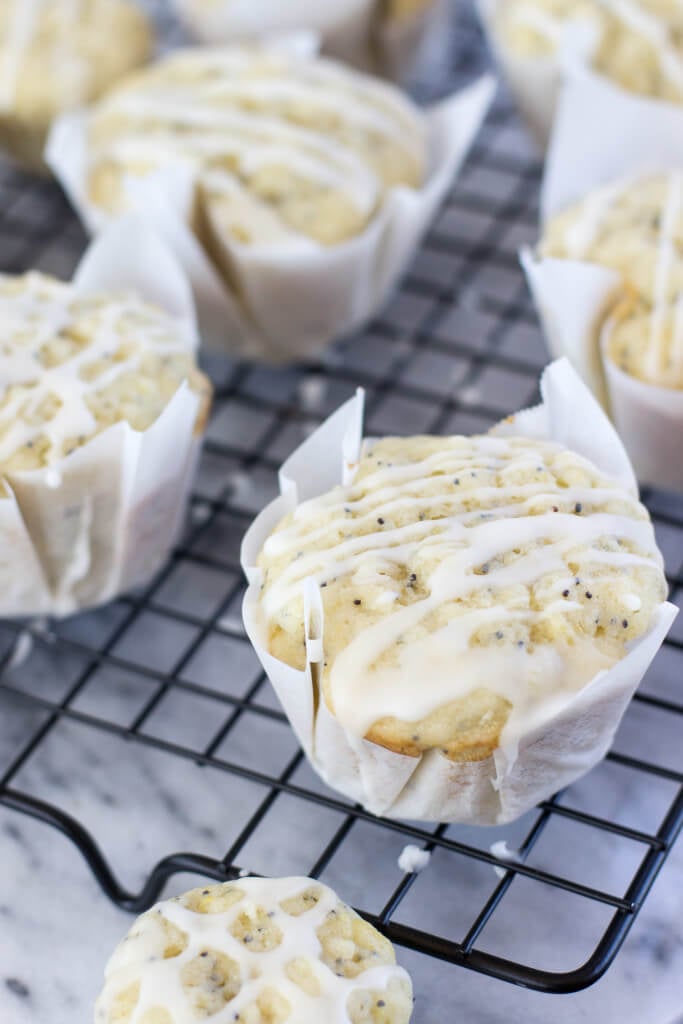 Made with lemon zest and freshly squeezed lemon juice (though I'd be lying if I said I've never substituted bottled), these muffins manage a distinct lemon flavor without any extracts.  Their texture is light and soft with pebbly pops of poppy seeds (which I'm borderline addicted to–the texture is downright fun and unlike any other muffin I've had before).
The lemon glaze is easy to make and both sweet and tart, made with sugar and lemon juice and drizzled scantily over each muffin for an extra zing.
You can also make these regular-sized (of course), and I included instructions in the recipe for cook-time for both miniature and regular muffins.
Hopefully these muffins help to ease any post-holiday blues you may be having; they certainly seemed to work for me.
Mini Lemon Poppy Seed Muffins
Ingredients
1/4

cup

butter

1/2 stick, or 4 Tbsp

2

Tbsp

lemon zest

1/4

cup

canola oil

1

cup

granulated sugar

1

egg + 1 egg white

lightly beaten

3/4

cup

heavy cream

2

Tbsp

lemon juice

2 1/4

cups

all purpose flour

2

tsp

baking powder

1/2

tsp

salt

1

Tbsp

poppy seeds
Glaze
1

cup

powdered sugar

1 1/2

Tbsp

lemon juice

1 1/2

tsp

water

1/4

tsp

vanilla extract
Instructions
Preheat oven to 350F and line 2 mini muffin trays with paper liners.

In a large, microwave-safe bowl, cut butter into 4 pieces and microwave at 15 second increments (stirring between) until butter is completely melted.

Stir in lemon zest and set the mixture aside to cool for 5 minutes.

Meanwhile, measure out the heavy cream and stir in the lemon juice. Allow this mixture to sit for at least 5 minutes as well.

In medium-sized bowl, whisk together flour, baking powder, and salt.

Return to your butter mixture and stir in canola oil, sugar, egg, egg white, and vanilla extract. Stir well.

Add heavy cream/lemon juice mixture and stir well again.

Gradually add the flour mixture to your wet mixture, begin to fold it into the wet mixture, add poppyseeds, and then continue to fold the mixtures together, taking care not to overmix.

Scoop batter into prepared muffin tins, filling 3/2-3/4 of the way full.

Bake on 350F for 15 minutes*
Recipe Notes
*If making regular-sized muffins, bake for 22 minutes
Nutrition Facts
Mini Lemon Poppy Seed Muffins
Amount Per Serving
Calories 0
* Percent Daily Values are based on a 2000 calorie diet.
You may also like:
Lemon Crumble Cheesecake Squares
Blueberry Cream Cheese Muffins