Today I'm sharing my favorite recipe for homemade baklava! While this Greek recipe may appear complicated (and it is time consuming) it's actually quite simple to make. I'll walk you step-by-step through the process and include a how-to video!
Dessert of the Gods
Flaky, buttery, nutty layers drenched in a citrus-kissed, clove & cinnamon-infused honey syrup, baklava is a unique and sweet dessert of Greek origins (well, that's debatable I suppose). It's crisp, flavorful, and impossible to eat just a single slice.
I've been sharing recipes from my Italian heritage (remember my meatball recipe!), so I thought it's about time that I shared my Greek side as well (I know, who would've guessed that this blue-eyed blonde is Greek and Italian!?). My great-grandfather, Constantinos, left his family and immigrated to the United States when he was very young, and while my family hasn't maintained many Greek traditions (sadly) I've always felt that I should know how to make a killer batch of baklava.
Baklava looks complex with its many, many flaky layers, but don't be intimidated. You are going to need a large chunk of time to layer all of your phyllo (it gets pretty tedious) but the process itself is quite simple. Let's get to that recipe!
What You Need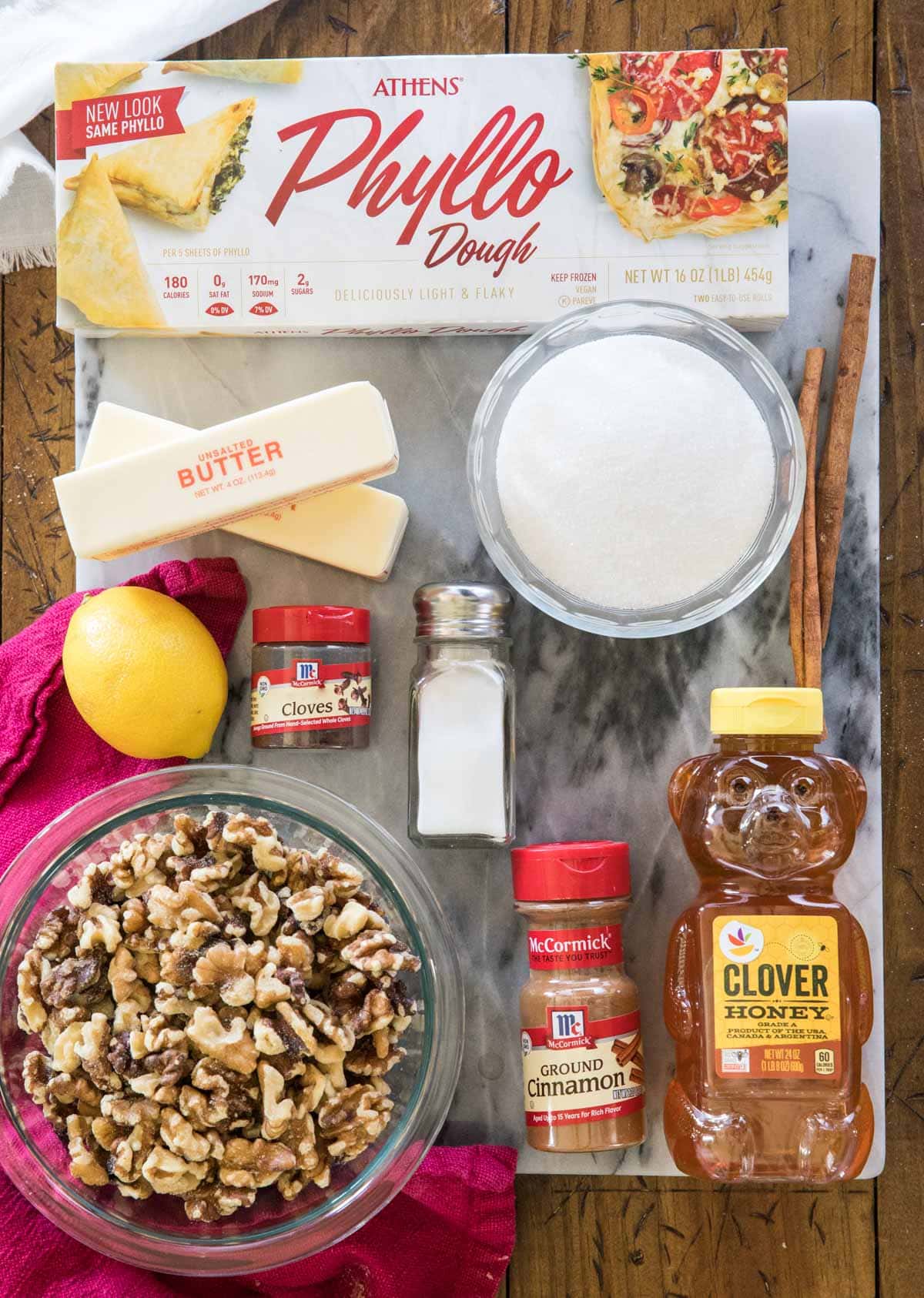 Let's go over some (not all) of the key ingredients, notes and tips.
Phyllo (also commonly known as "Filo"). I usually find this in the frozen section, near the ice cream and other frozen desserts. You must thaw this before beginning, I leave mine in the fridge overnight.
Butter. You need a lot of butter for this recipe, 2-3 sticks. I know this is quite a range, it really just depends on how heavy-handedly you brush your phyllo sheets. I use unsalted but honestly think you'd be fine using salted butter, I just haven't tried it myself yet. While some recipes use clarified butter, I find simply melting the butter to be sufficient.
Nuts. Walnuts, pecans, or pistachios are all great choices (or a blend of all 3!). Chop them finely with a food processor or use a knife and mince them as you would garlic. I like mine fine, but don't grind them all the way to dust, you want some texture!
Sugar. I like to use brown sugar with my nut mixture (I prefer the flavor) but granulated would would as well. For the syrup I use granulated sugar.
Honey is the base for our syrup. We'll infuse it with a splash of fresh lemon (and a slice of fresh lemon!) and a few key spices…
Spices. A dash of cinnamon goes into the nut mixture, then the rest of the flavor comes from a cinnamon stick and whole clove boiled into the syrup.
Tip: Add some extra depth of flavor to your syrup by adding a splash of vanilla extract at the end. It's not necessarily a traditional ingredient, but it is good!
Remember, this is just an overview. For the full recipe please scroll down to the bottom of the post!
How to Make It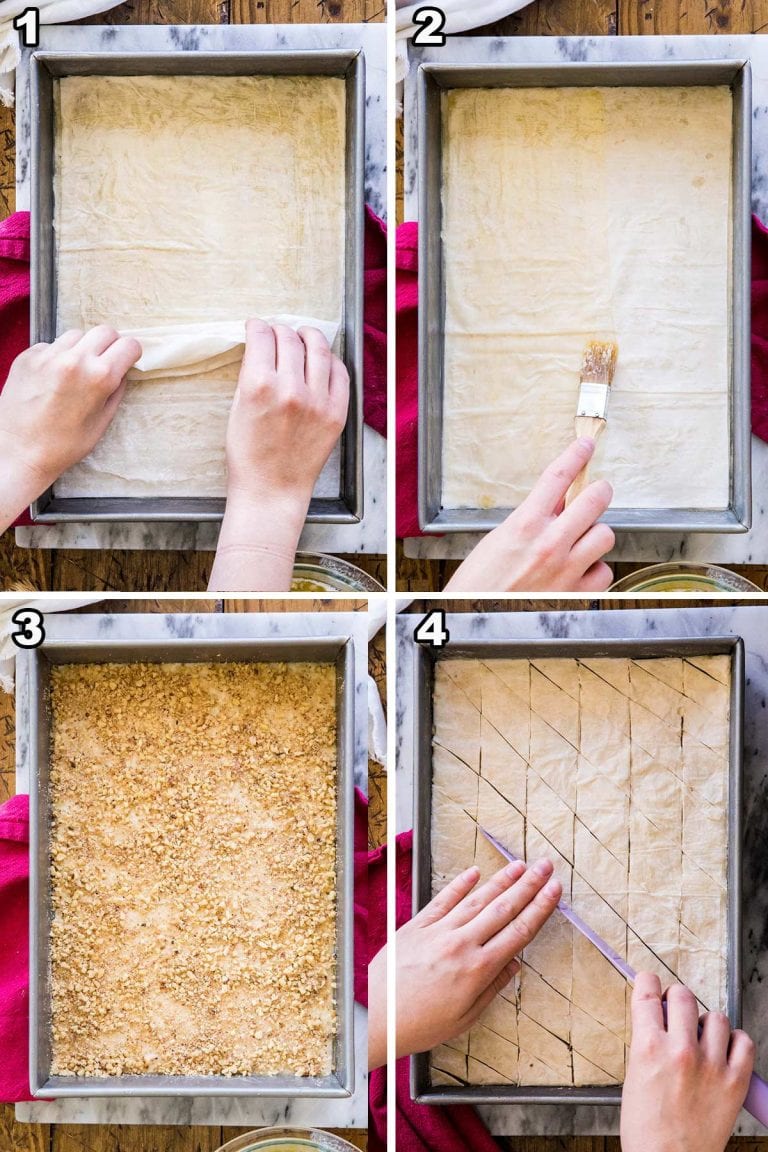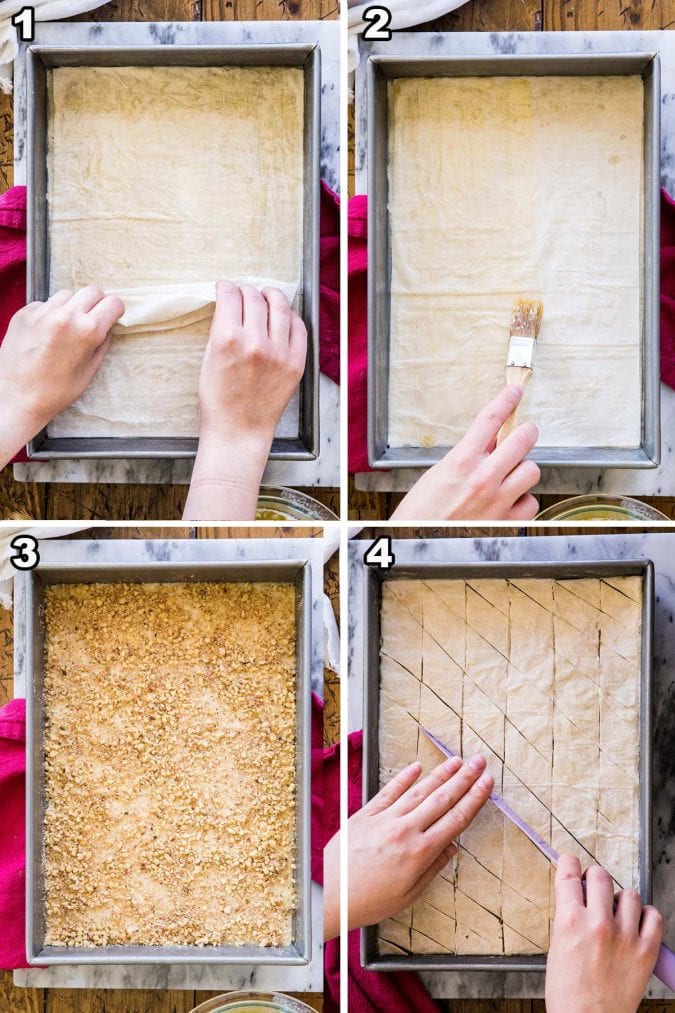 Baklava isn't difficult to make, but it is certainly time consuming. Unrolling and buttering 35 sheets of phyllo takes more time than you probably think, so make sure you give yourself enough time!
Roll out your phyllo into a deep, buttered 13×9 pan. Phyllo is delicate and thin as bible paper. To carefully move it without tearing it, I've found the easiest thing to do is to roll it over itself, transfer it to the pan, then carefully unroll it (see photo). The good news is that if you tear it a few sheets most boxes usually have a few spares. Use a knife to trim the excess phyllo in the pan.
Use a pastry brush to brush the phyllo thoroughly with melted butter (without over-doing it! Too much butter can make it soggy). Repeat with another sheet, then another, then another….
Sprinkle ¼ of your mixture of finely chopped nuts, cinnamon, sugar, and salt evenly over the phyllo sheets. Repeat layering with more buttered phyllo and then more nuts as indicated in the recipe, ending with 10 buttered sheets on top.
Chill your baklava in the freezer for at least 20 minutes to make it easier to cut. To make diamonds, cut 5 lines straight down the pan, then cut on a diagonal. Scatter a few droplets of water over the surface before baking to help keep the phyllo from curling.
Tip: Working with phyllo can be tricky as it's very delicate and dries out easily. Before beginning, run a clean kitchen towel under water and then wring it out very well. After unrolling the phyllo, cover it with this towel and recover each time you remove a sheet.
While the baklava is cooking you'll prepare your syrup…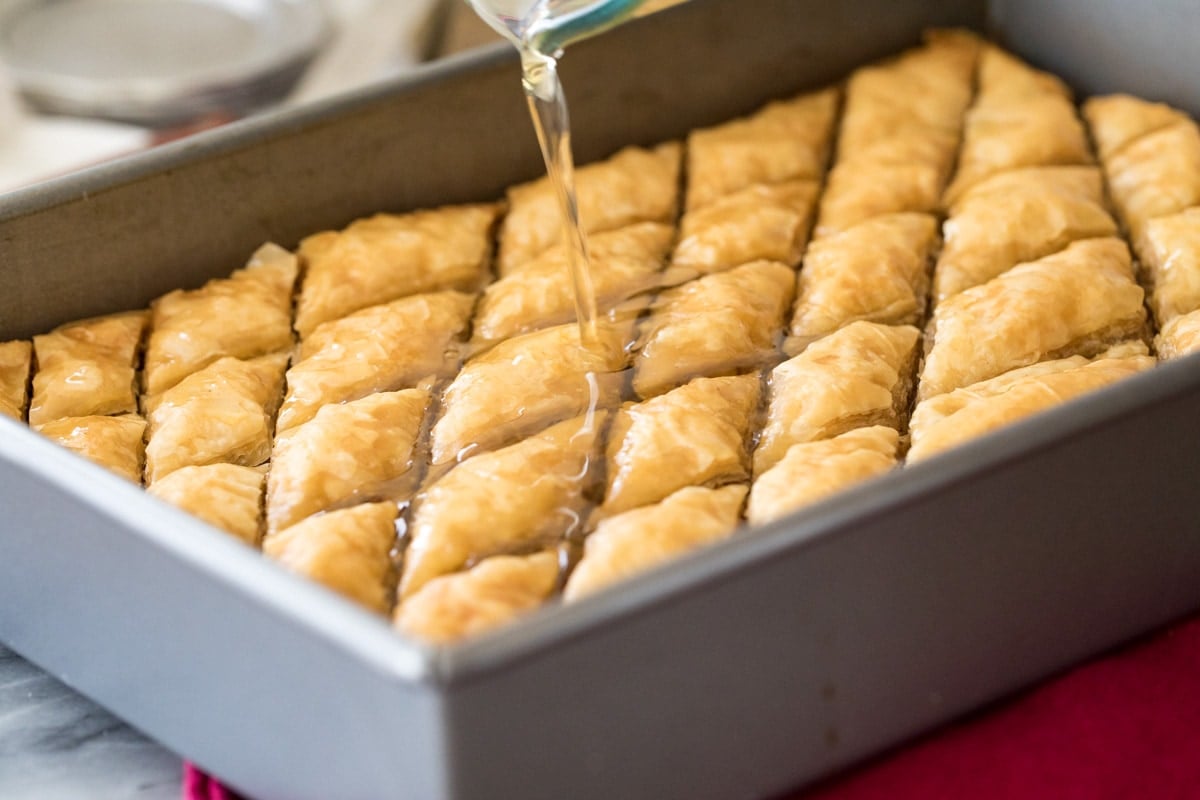 Syrup
One of the most critical components of good baklava is a good syrup. It mustn't be too much or too little (to prevent baklava that's too sweet and soggy or too dull and dry) and the timing of adding it is critical. It's made of honey, water and sugar, cooked until the sugar is dissolved and boiled with a cinnamon stick, clove, and lemon slice to infuse a perfectly spiced and slightly citrus flavor.
Begin to prepare your syrup immediately once the baklava is in the oven. It's important that the syrup have some time to cool before it's used and it's also important that the pastry be very hot when you add it. This keeps the baklava from becoming soggy. Pour slowly and evenly over the pan so the syrup is evenly distributed.
And enjoy that beautiful sizzling sound as it soaks into every sliver of the baklava!
Tip: After it's cooled, dress up your Baklava with a drizzle of chocolate. It adds such a lovely accent flavor to the dessert!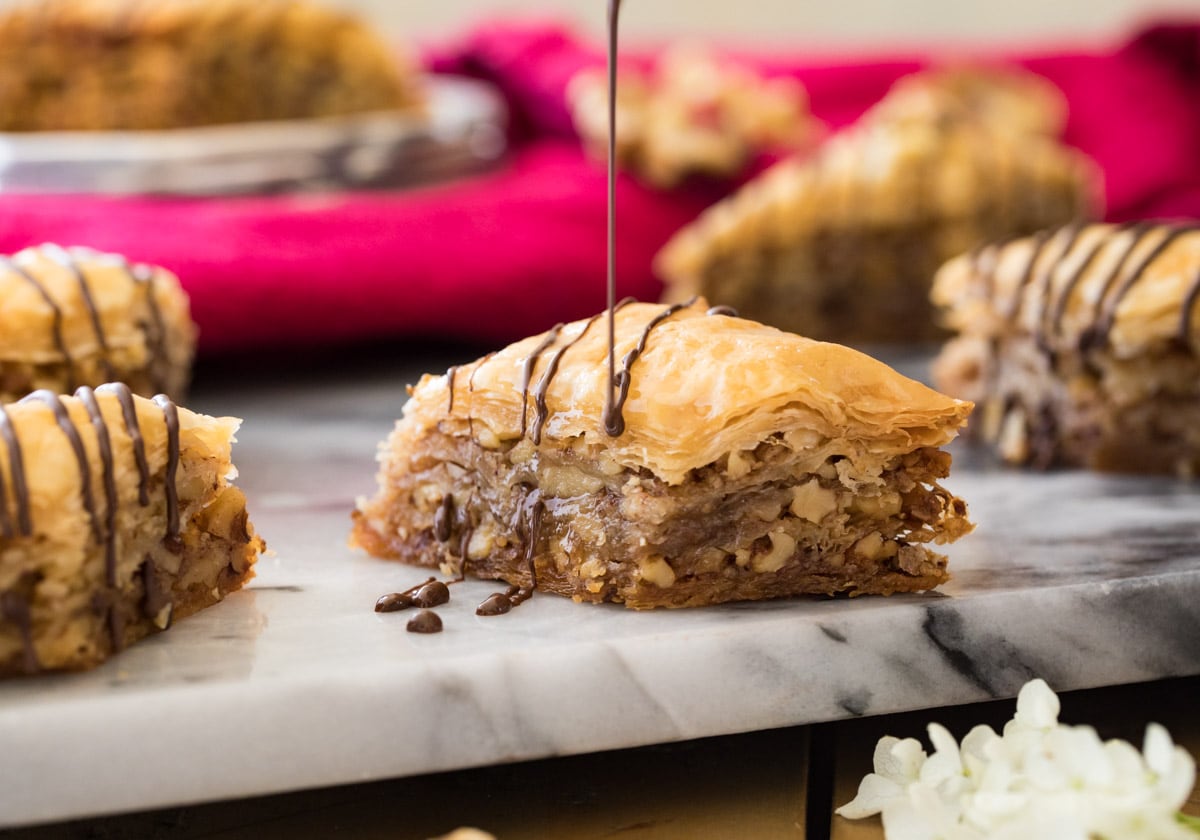 Frequently Asked Questions
What does baklava taste like?
Flaky, syrup-y, honey-doused heaven! It has a subtle cinnamon and clove flavor with just a hint of citrus infusion.
What are the best nuts to use for baklava?
Different regions tend to prefer different nuts, but pistachios and walnuts are the most common choice. Pecans or hazelnuts are sometimes used, and you can even mix & match and use a blend of your favorite nuts.

My personal preference is to use walnuts, plus they're cheaper than pistachios so that's a bonus!
How should it be stored?
Store uncovered at room temperature for up to a week. While it may be refrigerated, I really don't recommend it as the baklava will lose its crispness. It may also be carefully wrapped and frozen for several months but again, may lose its crispness.
Must I let it sit overnight?
For best results, YES! Letting the baklava sit (uncovered) overnight gives it time for the syrup to soak all through those beautiful flaky, nutty layers. I know it's hard to be patient, but it gets better as it sits!
Why is my baklava soggy?
Using too much butter to brush the phyllo could be the culprit, or if your syrup is still hot when you pour it over your baklava, this could also make it soggy. Make sure you pour cooled syrup over the hot, fresh-out-of-the-oven baklava. If you cover or refrigerate the baklava, this could also make it soggy.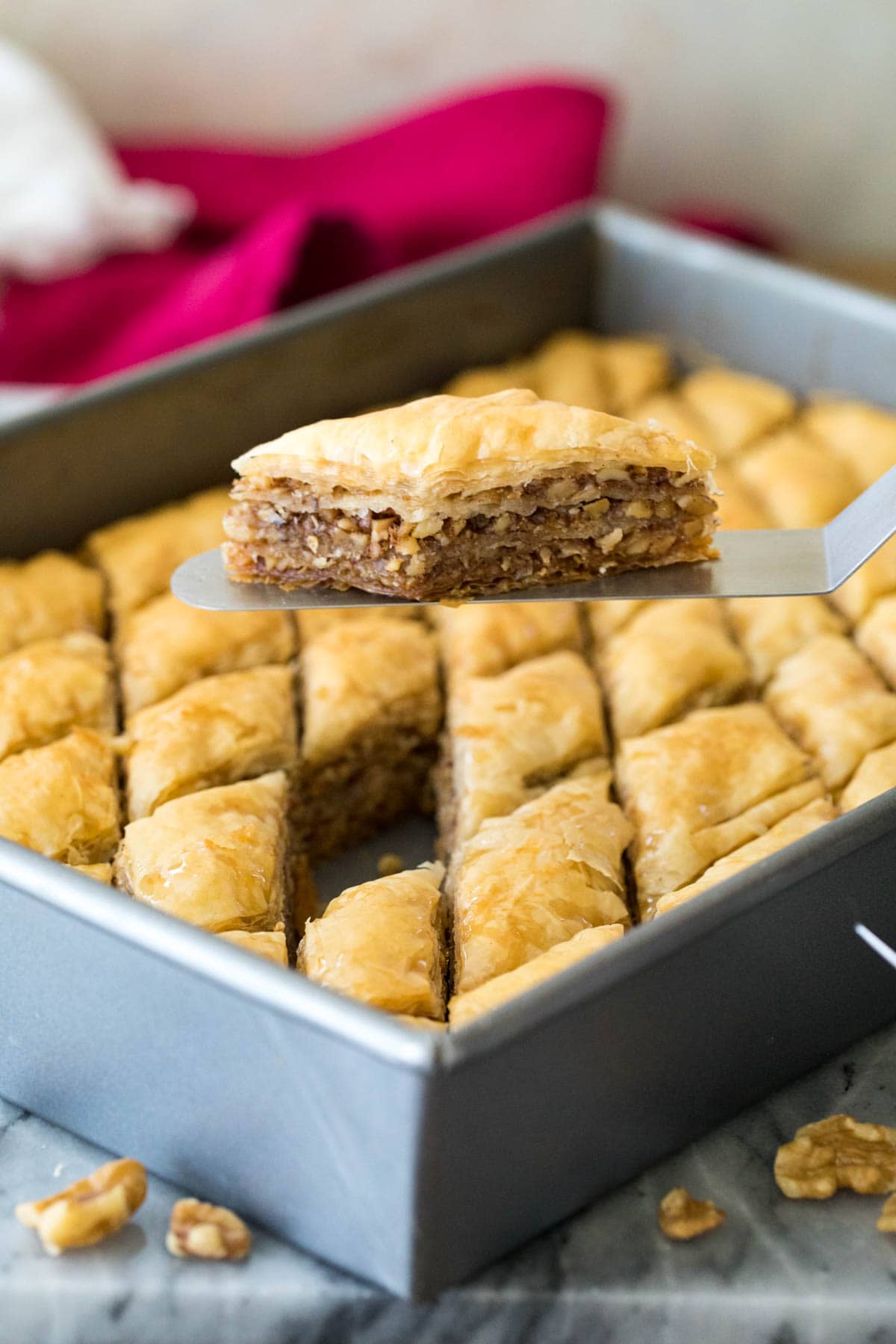 More Recipes You Might Like
I wanted to say a special thank you to Carol J. who shared her YiaYia's baklava recipe with me several years ago! While I have tweaked the recipe (you know I can't help it, just look at my own grandmother's apple cake) over the years, without her base recipe I'm sure this version would never have existed. Many of the tips and notes I've included came from her own helpful hints. Enjoy!
Let's bake together! Make sure to check out the how-to VIDEO in the recipe card!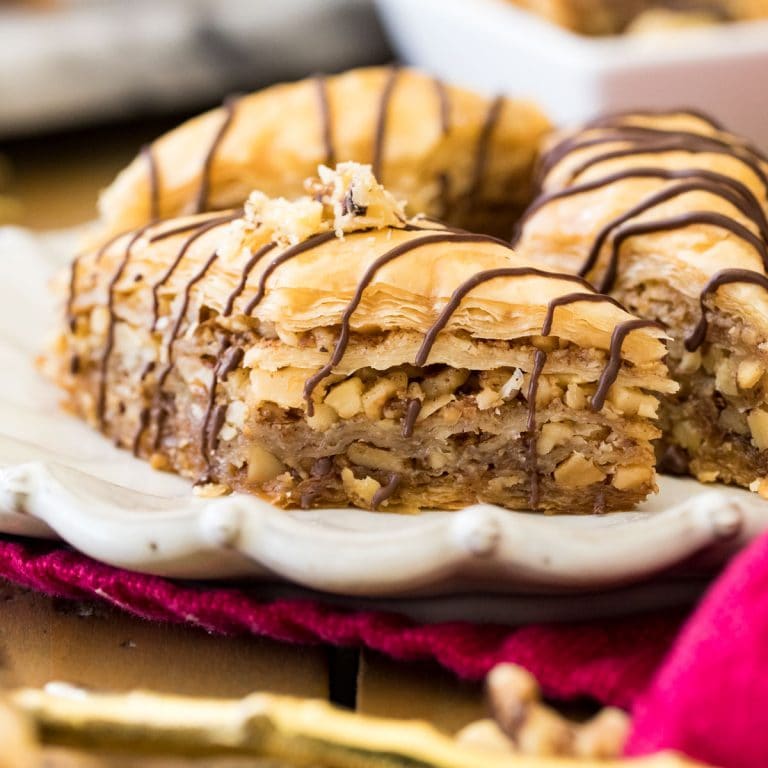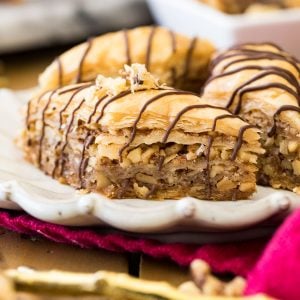 Baklava
Today I'm sharing my favorite recipe for homemade baklava! While this Greek recipe may appear complicated (and it is time consuming) it's actually quite simple to make.
If this is your first time making baklava, I recommend watching my video before you begin.
Print
Pin
Rate
Ingredients
16

oz

(

454

g

)

Phyllo dough¹

thawed

¾

lb

(

340

g

)

finely chopped nuts²

¼

cup

(

50

g

)

light brown sugar³

firmly packed (you may substitute granulated sugar)

1

teaspoon

cinnamon

¼

teaspoon

salt

1

cup

(

226

g

)

unsalted butter⁴

melted, plus more as needed
SYRUP
1

cup

(

236

ml

)

water

1

cup

(

200

g

)

granulated sugar

1

lemon slice

2

Tablespoons

lemon juice

fresh-squeezed preferred

1

cinnamon stick

1

whole clove

½

cup

(

118

ml

)

honey

½

teaspoon

vanilla extract

optional

Semisweet or dark chocolate

for drizzling (optional)
Instructions
Combine nuts, sugar, cinnamon, and salt in the basin of a food processor⁵ and pulse until nuts are finely chopped (about eight 1-second pulses). Set aside.

¾ lb (340 g) finely chopped nuts²,

¼ cup (50 g) light brown sugar³,

1 teaspoon cinnamon,

¼ teaspoon salt

Brush melted butter evenly over the bottom and up the sides of a metal 9×13" baking dish⁶ (see note). Run a clean kitchen towel under water and thoroughly wring it out so it is still damp but not dripping. Remove the phyllo from the packaging and lay it on a clean workspace, then lay the damp towel overtop. It is important to re-cover the phyllo with this towel each time you take a sheet or it will dry out.

16 oz (454 g) Phyllo dough¹,

1 cup (226 g) unsalted butter⁴

Lay one sheet of phyllo onto the bottom of your pan, trim any excess (I use a paring knife). I have found the easiest way to transfer the thin, fragile phyllo is to carefully roll it up, move it to the pan and line up the edges, then carefully unroll. Most packages of Phyllo have a few more sheets than you actually need in case you accidentally tear some! Brush the surface of the phyllo all over with melted butter.

Layer another sheet of phyllo over the first and lightly brush all over with butter. Repeat until you have 10 buttered sheets.

Sprinkle approximately ¾ cup of the nut mixture (or one fourth of the mixture) evenly over the phyllo.

Lay a sheet of phyllo over top and brush with melted butter, repeat until you have a layer of 5 buttered sheets (see note for final layout of phyllo and nuts).

Evenly sprinkle another ¾ cup of the nut mixture, then add another 5 buttered phyllo sheets, then another ¾ cup of the mixture, 5 more buttered sheets, ¾ of the mixture, and then finally 10 buttered phyllo sheets. Be sure to brush the top with butter as well.

Place the pan in the freezer for 20 minutes. While it chills, preheat the oven to 325F (160C).

Remove the baklava from the freezer and using a sharp knife cut into diamond or square shaped pieces. I usually do 5 cuts straight down and 13 cuts diagonally for diamonds. Sprinkle a few drops of cold water over the surface to keep the phyllo from curling and bake on 325F (160C) for 60-75 minutes or longer, until baklava is golden brown on top.
Syrup (prepare while baklava is in oven)
While baklava is baking, prepare the syrup by combining water, sugar, lemon slice and juice, cinnamon stick, and clove in a small saucepan and bringing to a boil. Reduce heat and simmer, stirring occasionally for 10 minutes.

1 cup (236 ml) water,

1 cup (200 g) granulated sugar,

1 lemon slice,

2 Tablespoons lemon juice,

1 cinnamon stick,

1 whole clove

Remove from heat and stir in honey and vanilla extract. Allow mixture to cool while baklava finishes baking.

½ cup (118 ml) honey,

½ teaspoon vanilla extract

Once baklava has finished cooking, remove the clove, cinnamon stick, and lemon slice from the syrup then immediately pour evenly over baklava.

Allow baklava to cool uncovered at room temperature for at least 4-6 hours (preferably overnight) before enjoying.

Semisweet or dark chocolate
Notes
Phyllo is sometimes also called "Filo" and at my grocery store it is sold in the frozen section near the ice cream and Cool Whip.
Nuts. Pistachios, walnuts, and pecans are all great choices. Pistachios are most traditional (and possibly most expensive) and walnuts are my personal preference.
Sugar. Traditional baklava uses white granulated sugar. You may use this but I prefer the slight extra depth of flavor the molasses in brown sugar adds.
Butter. I usually need 2-3 sticks. Start by melting 2 and have one on standby in case you need more.
Food Processor: If you don't have a food processor you may just finely chop the nuts and stir them together with the sugar, cinnamon, and salt until well-combined.
Baking pan. I recommend using a pan that is at least 2″ deep. Do not use a foil/disposable pan, as it will be shredded when you slice the Baklava and when you pour the syrup it will fall right through, leaving you with a mess!
Layers: The layers look like this:
10 sheets, nut mixture
5 sheets, nut mixture
5 sheets, nut mixture
5 sheets, nut mixture
10 sheets
While baklava isn't difficult to make, it is time consuming to unroll, brush, and layer so many sheets of phyllo!
Storing. Store in an airtight container at room temperature for up to a week. I prefer not to refrigerate as it makes the baklava lose its crispness. You may tightly wrap and freeze for several months (thaw overnight in the refrigerator before serving).
Nutrition
Serving:
1
piece
|
Calories:
125
kcal
|
Carbohydrates:
13
g
|
Protein:
2
g
|
Fat:
8
g
|
Saturated Fat:
3
g
|
Trans Fat:
1
g
|
Cholesterol:
9
mg
|
Sodium:
53
mg
|
Potassium:
42
mg
|
Fiber:
1
g
|
Sugar:
8
g
|
Vitamin A:
107
IU
|
Vitamin C:
1
mg
|
Calcium:
11
mg
|
Iron:
1
mg
Nutritional information is based on third-party calculations and should be considered an estimate only. Actual nutritional content will vary based upon brands used, measuring methods, cooking method, portion sizes, and more.