Today I'm channeling my Italian roots and sharing the BEST Meatball recipe! Unbelievably flavorful, tender, and soft, I use special (but simple) techniques and spices to bring you one of my all-time favorite dinner recipes! Includes a how-to video!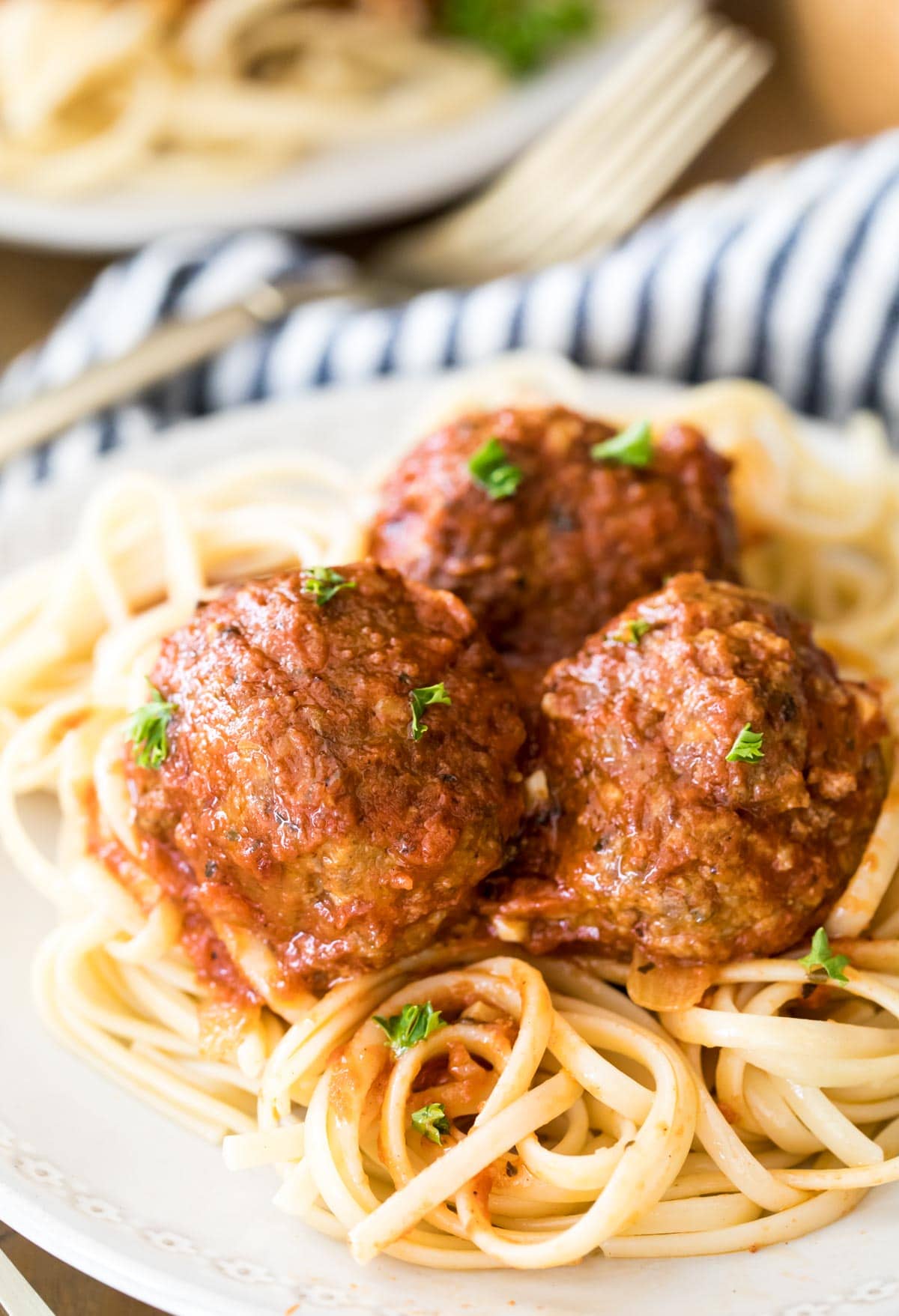 I think it's about time that I introduce you to my Italian side (in the form of a meatball recipe, of course).
My great-grandmother was 100% Italian, born of Italian immigrants (she was born shortly after they landed in America) and growing up I was absolutely and irreconcilably spoiled by her fettuccini and meatball recipe. She. made. the. best. and I turned up my nose at any others I was ever offered, it was just never good enough.
She passed away several years ago at 101 years of age and I regret that I never got her actual meatball recipe, but I did have incredibly high standards and a seriously discriminating palate. I set out to make my own meatballs (and sauce), and while I'll admit it's not the same as hers, it passes the test and I always look forward to a big plate of this: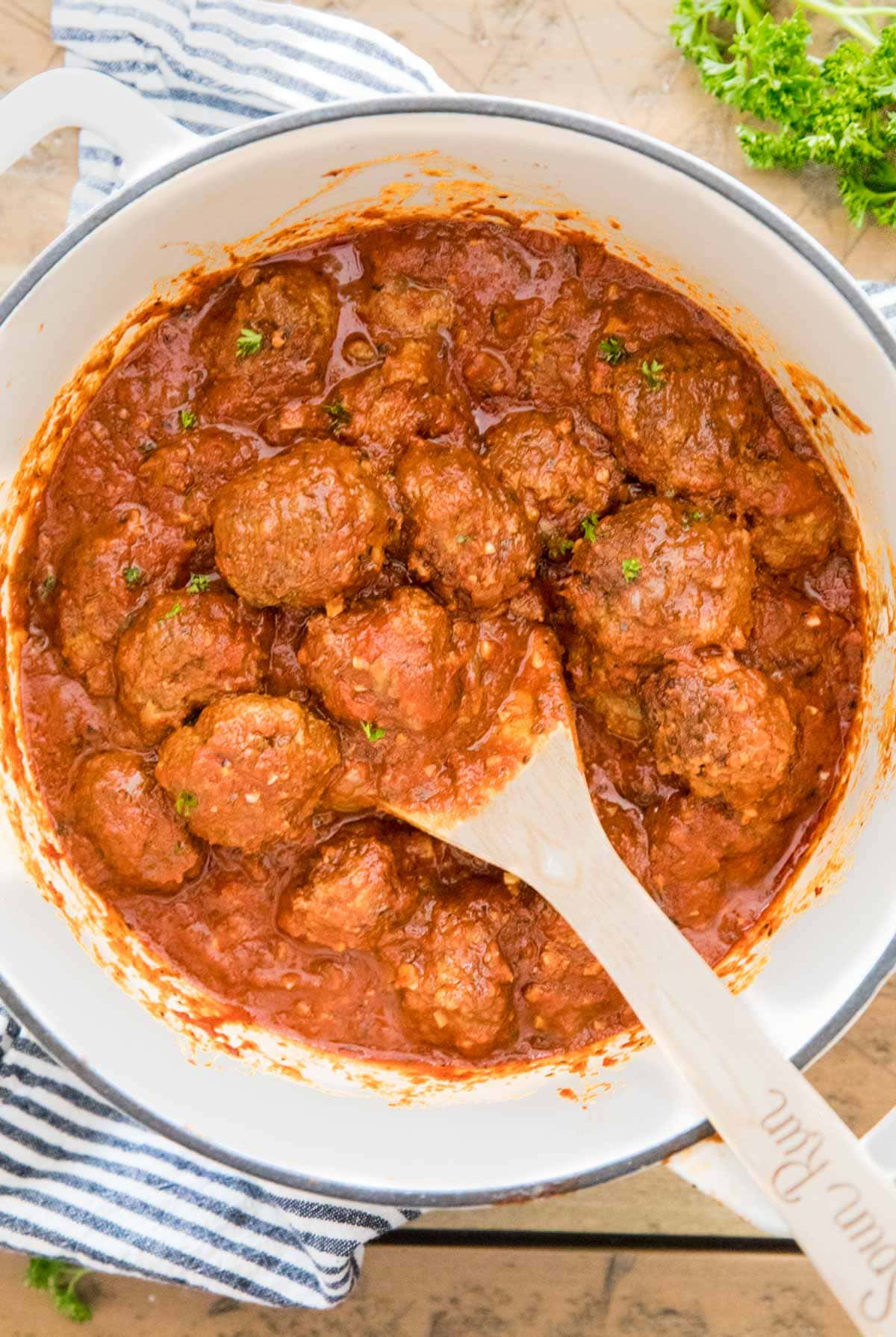 So How Do They Taste?
So what's so great about this meatball recipe? It yields meatballs that are:
Incredibly flavorful, good enough to enjoy on their own.
Super moist and tender inside
Simple to make! I have a lot of notes in the recipe, mostly due to my tendency to over-explain and because I want to make sure you understand exactly how to make them, but it's really not a complicated recipe!
I also include my killer sauce recipe (I've borrowed from this for many of my Italian recipes, like my rigatoni!). The meatballs are first briefly seared (which gives them BIG flavor then the sauce is built on this flavor. After making the sauce, the meatballs are returned to the pot and simmered until cooked through. This technique makes my meatball recipe incredibly flavorful (as do a few other tricks and techniques I have up my sleeve… starting with the panade)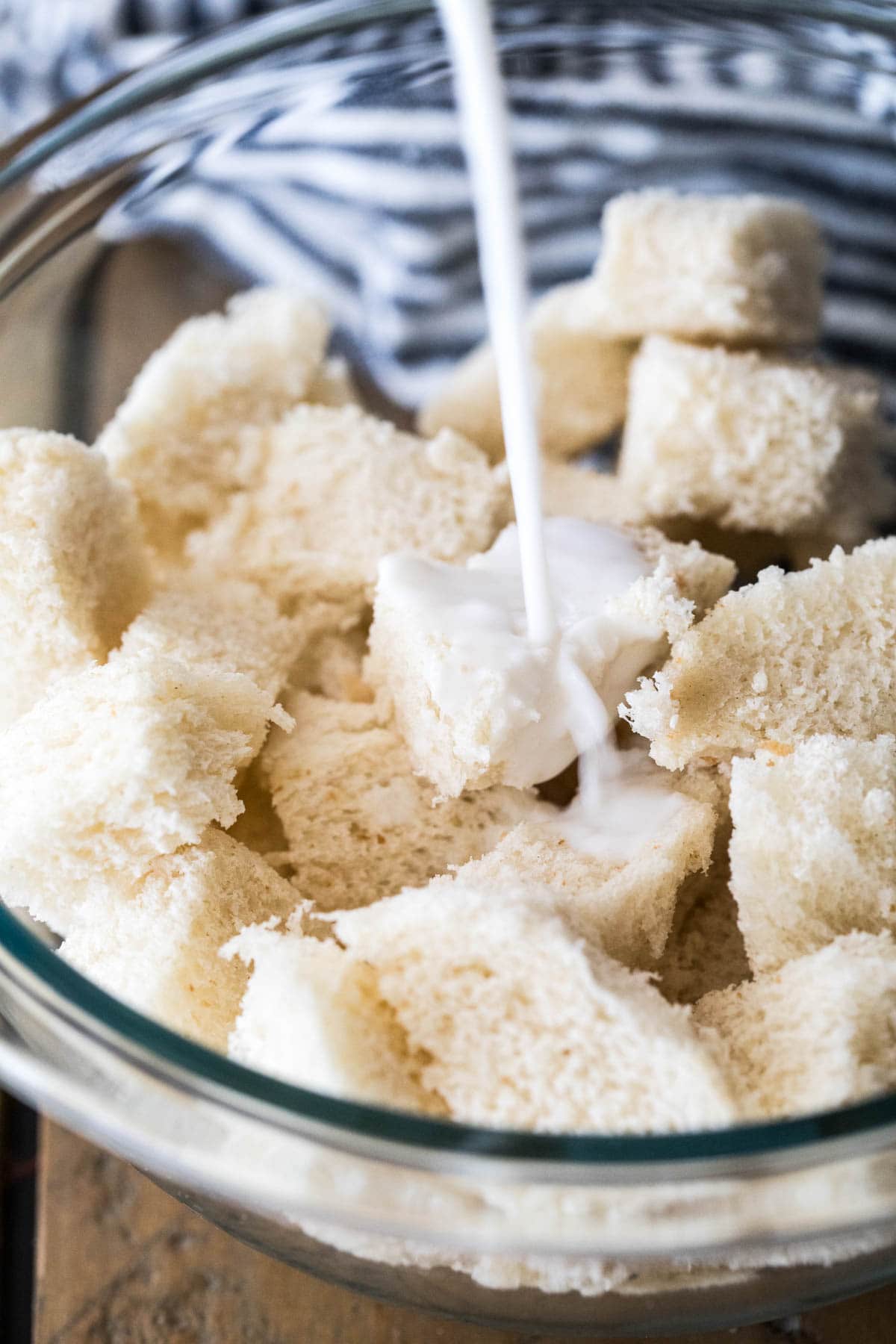 Panade
If you've made meatballs before, it's possible you've made a panade but not realized it. A panade is simply starch and liquid mixed together (here: white bread and whole milk) and its purpose is to add moisture to the meat.
I credit this panade to the incredible flavor and moisture that my meatball recipe has. Well, mostly. Another key factor is the mixing technique.
Tip: Use white bread and remove the crust for the softest meatballs! Do not use breadcrumbs or they won't be nearly as soft & juicy!
The Secret's In How You Mix It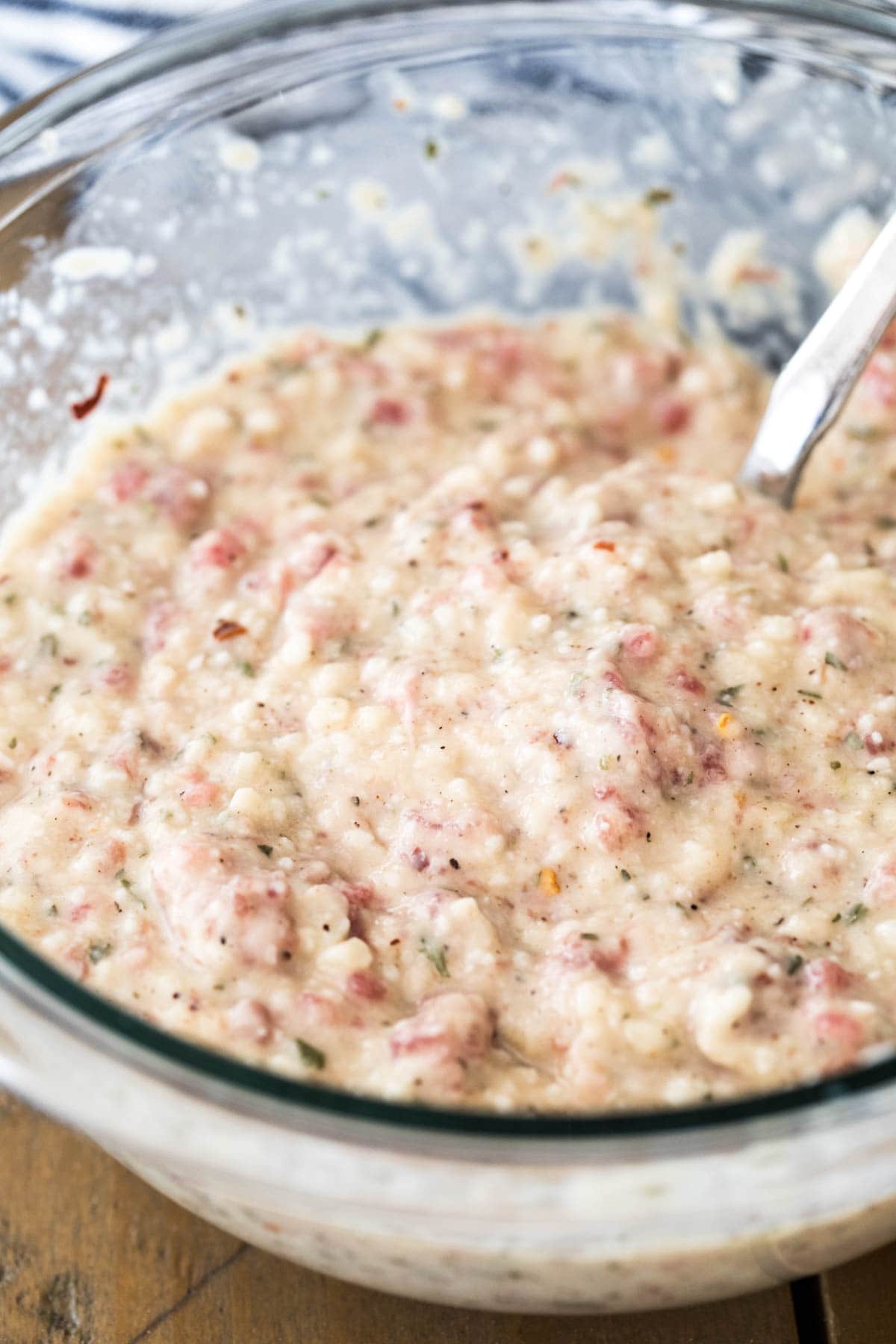 Here's where a lot of people go wrong when making their meatballs: they tend to over-work the meat. It's necessary to work the panade and the remaining ingredients together, but thoroughly combining these two very different textures so often causes the meat to be over-worked. This causes the meatballs to lose their moist, soft texture.
So, after lots of experimenting and lots of research, I ended up borrowing a technique from Serious Eats. Rather than trying to mix together our panade and our meat all at once (high over-mixing risk!) we first stir together the panade and all of the remaining ingredients except for the meat, then add only a few Tablespoons of the meat.
This we mix together very, very thoroughly (a technique that Daniel Gritzer cleverly refers to as a "temper"). Then we're safe to gently incorporate the remaining meat, which works together easily. It's much easier to combine and you're much less likely to over-work your meatballs this way.
Tip: You want your ingredients, especially your meat, to be as cold as possible (if the meat gets too warm the fat will melt and you'll lose precious flavor). Keep the meat in the fridge until the last-second, and consider using a chilled metal bowl when mixing things together!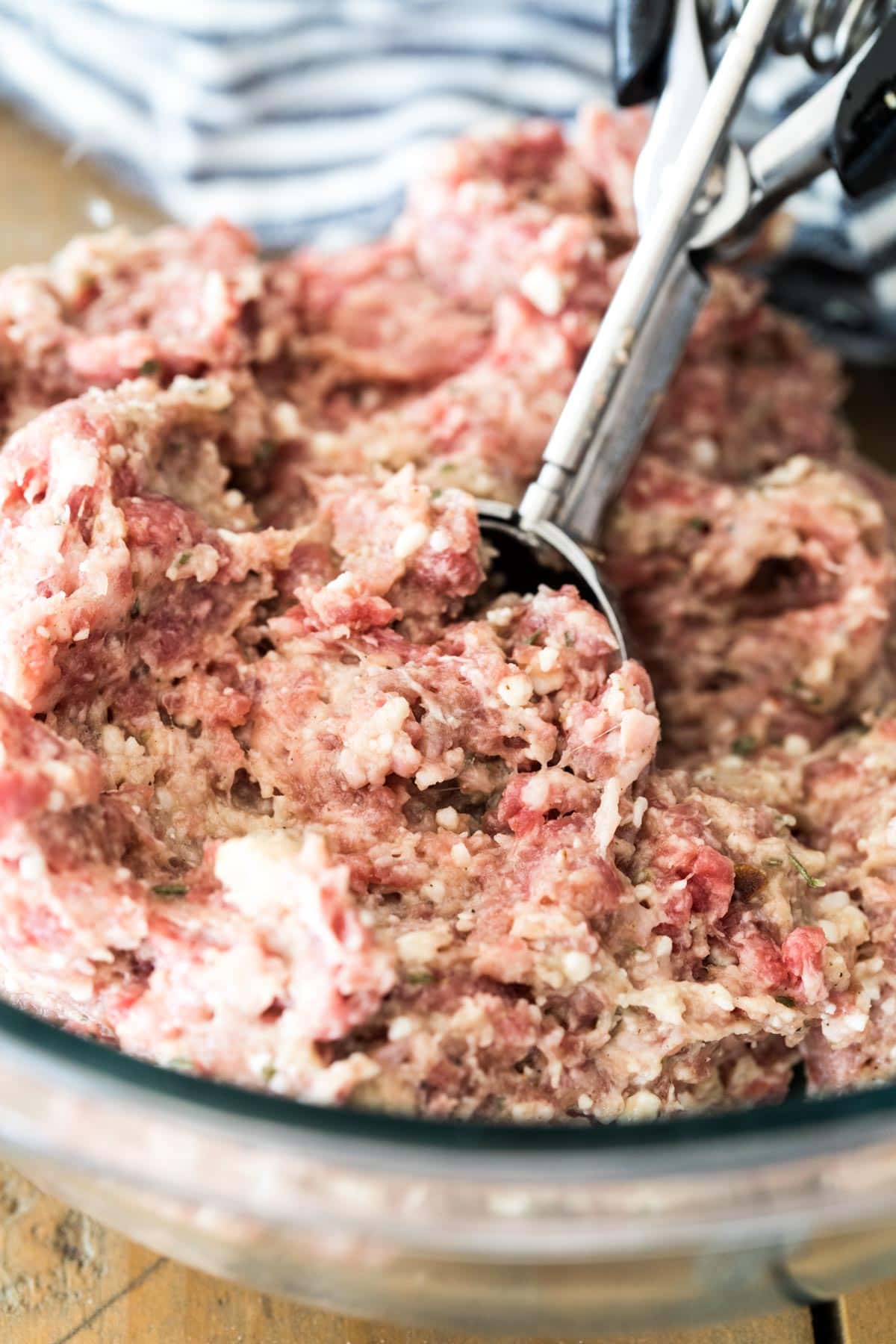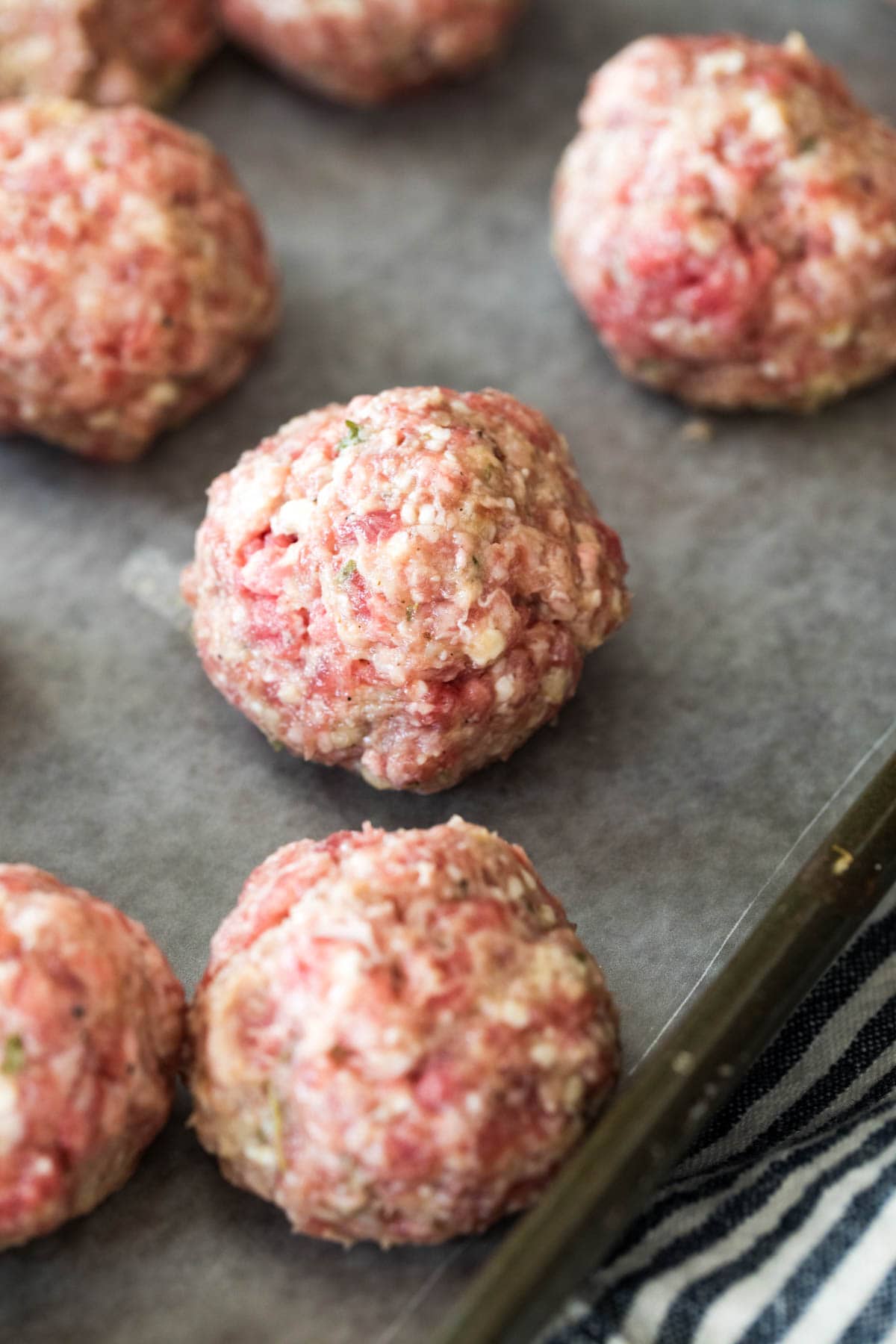 The Perfect Sear (for Best Flavor!)
For the best meatball recipe, I sear them first so the outsides are browned and cooked (the flavor this gives them is amazing) but the insides are still pink. Then I remove the meatballs from the pan, make my sauce, and then drop them back into the sauce where they'll cook through.
This not only creates the best tasting meatballs but it imparts an incredible flavor into the sauce, making it seriously to-die-for. To properly sear:
Generously coat the bottom of a large pot with a layer of olive oil and heat until the oil is shimmering.
Sear in batches of 3-4 at a time (more or less depending on how large your pot is!). You only need to sear on two sides, not the whole way around! They won't be cooked through and it's totally OK (/expected!) if you still see quite a bit of pink
Once browned on both sides (and they should be a pretty brown color, not grey), remove the meatballs to a separate plate while you prepare your sauce.
Tip: The meatballs might stick a bit to the pot, even with the oil. I recommend using a small spatula to gently pry loosen them from the pot before turning them with tongs.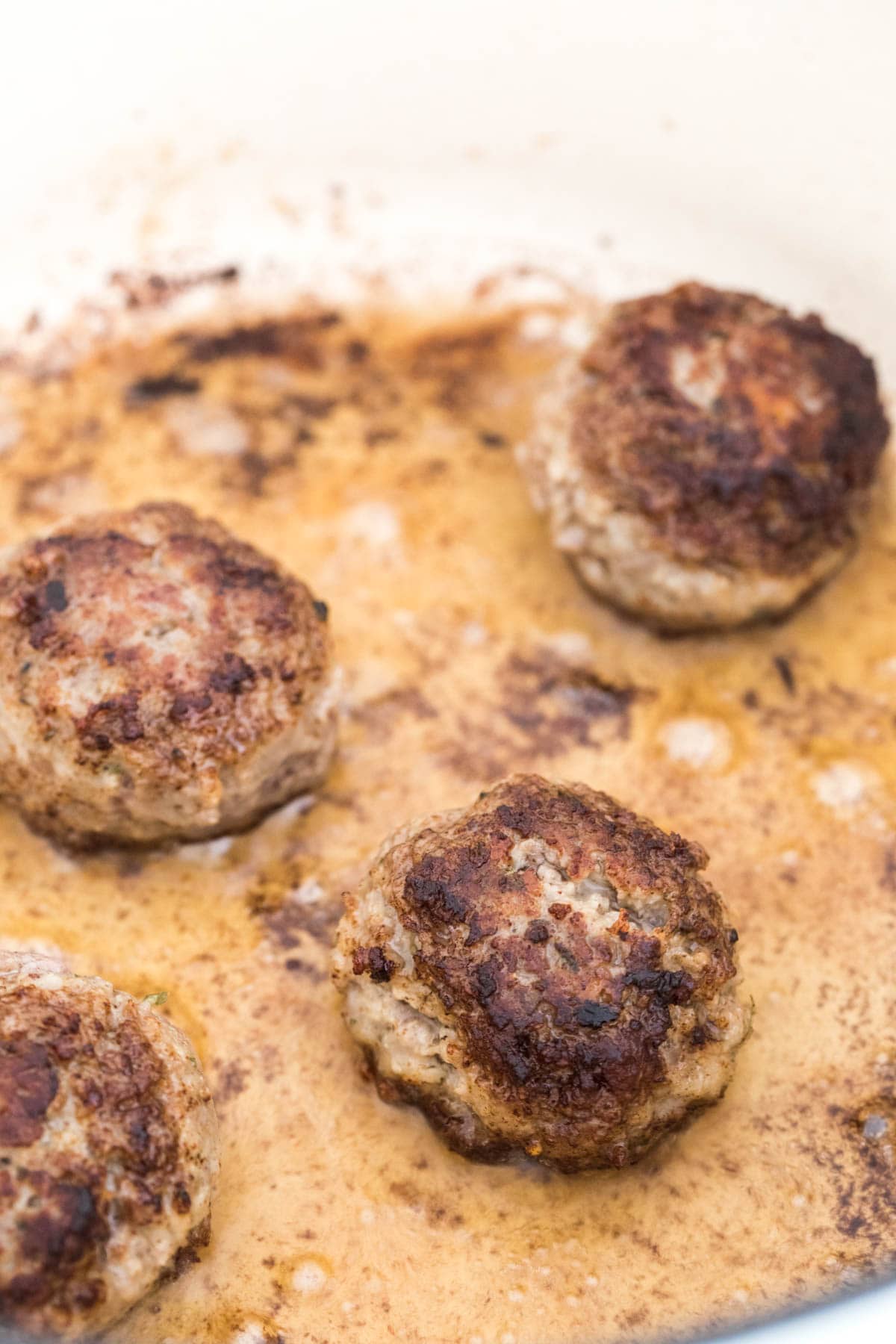 If you have an excessive amount of grease in the pot you can drain some (but not all) of it. I usually aim to have 2 Tablespoons to cook my onions/sauce in.
There will be plenty of browned bits remaining in the pot once you've seared all of your meatballs. These are total flavor-bombs and should never ever be scraped out/removed. Never! This is the starting point and a critical building block for the sauce. The browned bits will be loosened from the bottom of the pot as you cook and stir your onions (scrape the bottom of the pan with your spatula). It's going to taste so good!
The sauce that I include in my meatball recipe is just a slight variation of my homemade marinara sauce recipe. Once the sauce is prepared, the meatballs will be returned to the pot and submerged to simmer until cooked through.
Tip: In a pinch you can substitute 3 cups of your favorite sauce, but if you have the time I highly recommend making the recipe as written!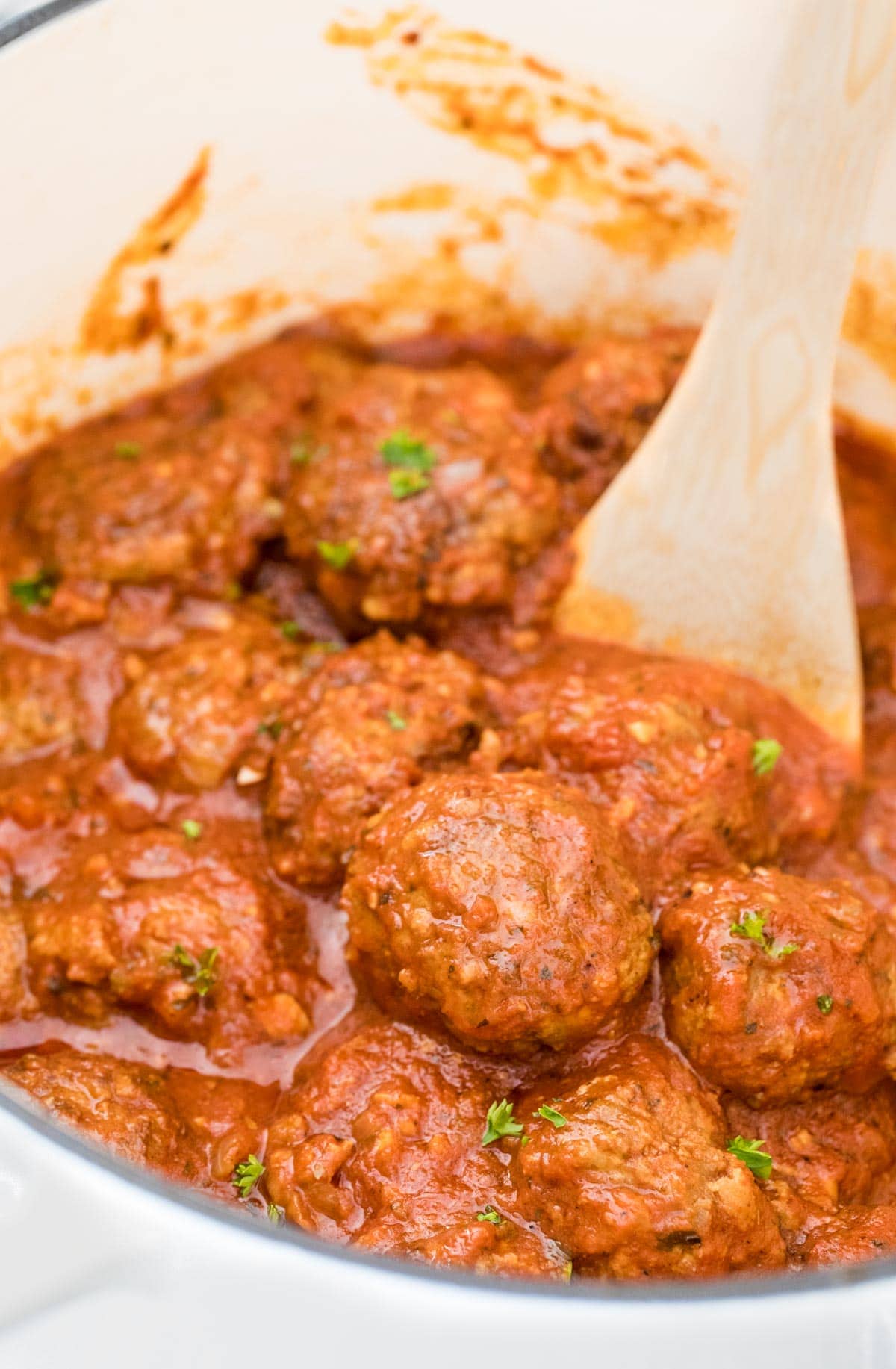 Frequently Asked Questions
Can I freeze after making?
Yes, this meatball recipe freezes well. After making, allow the sauce and the meatballs to cool and then freeze in an airtight container for 3-4 months.
I typically thaw mine in the refrigerator overnight the night before I intend to enjoy.
Can I bake these in the oven?
I don't recommend baking. SO much of the flavor comes from the sear, so I only recommend making this meatball recipe as written.
What should I serve with meatballs?
A side salad with homemade garlic knots or a thick slice of buttered homemade bread or even biscuits are great options.
I also like to make my burger buns, only shape them into sub rolls and then add a bit of provolone or mozzarella over the meatballs for 100% homemade meatball subs (this is HEAVEN!).
Can I use breadcrumbs instead of the bread?
Please don't! Your meatballs would be much more dry this way.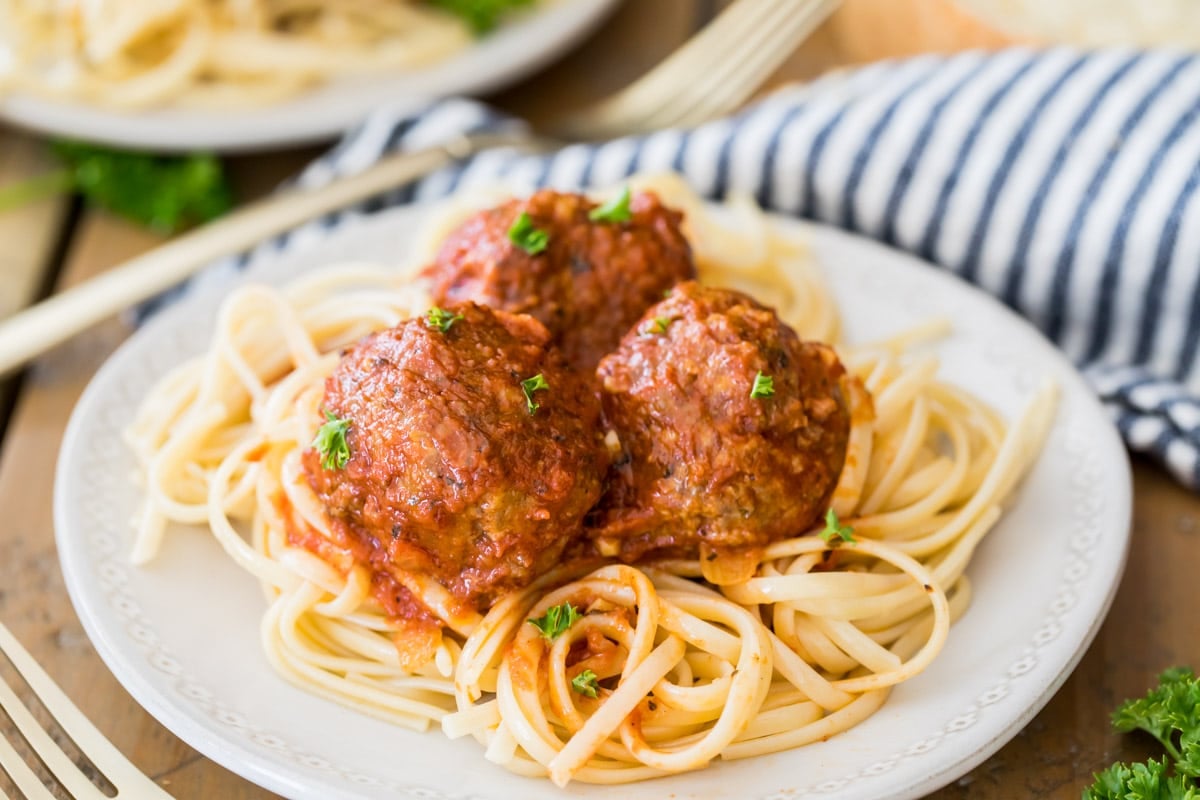 More Recipes You Might Like
I seriously cannot wait to hear how you like this meatball recipe! Please leave me a comment (and I love seeing your pictures on Instagram, don't forget to tag me @sugarspun_sam!
Let's cook together! Make sure to check out the how-to VIDEO in the recipe card!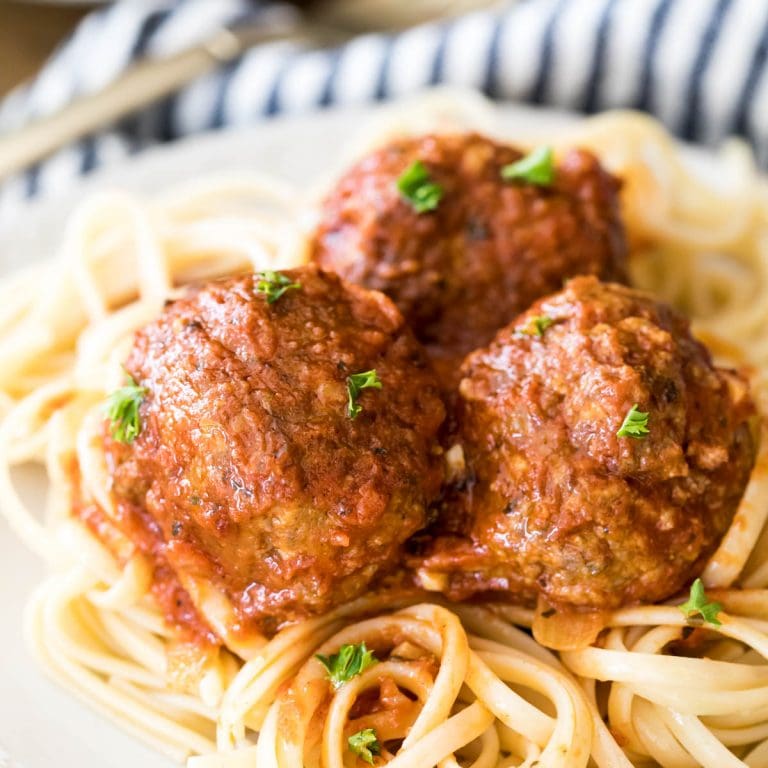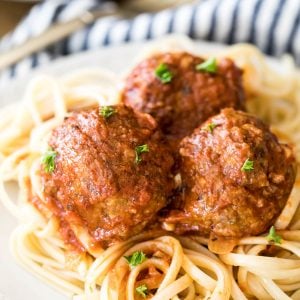 The BEST Meatball Recipe
I'm channeling my Italian roots and sharing the BEST Meatball recipe! Unbelievably flavorful, tender, and soft, I use special (but simple) techniques and spices to bring you one of my all-time favorite dinner recipes!
Be sure to check out the how-to VIDEO!
Print
Pin
Rate
Servings:
6
servings (approximately 5 meatballs per serving)
Ingredients
For Meatballs
3

slices

white bread

crust removed

½

cup

(

118

ml

)

whole milk

cold

⅓

cup

(

45

g

)

grated parmesan

1

large

egg

cold, lightly beaten

3

large cloves

garlic

pressed (or minced if you do not have a garlic press)

1 ½

teaspoons

dried parsley

½

teaspoon

onion powder

¼

teaspoon

dried oregano

¼

teaspoon

crushed red pepper

optional

¼

teaspoon

ground nutmeg¹

1

teaspoon

salt

½

teaspoon

ground pepper

1

lb

(

455

g

)

ground beef

I used 90% lean

1

lb

(

455

g

)

ground pork

Olive oil
For Sauce (Or you may substitute 3-4 cups of your favorite, quality marinara sauce)
1

cup

(

145

g

)

finely chopped yellow onion

1 ½

Tablespoons

minced garlic

about 3-4 cloves

28

oz

(

793

g

)

crushed tomatoes

2

teaspoons

dried basil

2

teaspoons

granulated sugar

¾

teaspoons

dried oregano

½

teaspoon

sea salt

½

teaspoon

ground black pepper
Instructions
For Meatballs
Start by making a "panade". To do this, tear bread into approximately 1" sized pieces and place in a medium-sized bowl. Pour milk over bread and turn with a fork until completely coated with milk. Allow to sit for 10 minutes until milk is fully absorbed and then use your fork to mash bread until it forms a paste.

3 slices white bread,

½ cup (118 ml) whole milk

Add grated parmesan cheese, egg, garlic, parsley, onion powder, oregano, crushed red pepper (if using), nutmeg, salt, and ground pepper to panade and stir until well-combined.

⅓ cup (45 g) grated parmesan,

1 large egg,

3 large cloves garlic,

1 ½ teaspoons dried parsley,

½ teaspoon onion powder,

¼ teaspoon dried oregano,

¼ teaspoon crushed red pepper,

¼ teaspoon ground nutmeg¹,

1 teaspoon salt,

½ teaspoon ground pepper

Place ground meats in a separate, large bowl. Tear off about 2 Tablespoons of meat each from ground beef and ground pork and add to the panade mixture. Stir very well until well-combined.

1 lb (455 g) ground beef,

1 lb (455 g) ground pork

Pour panade mixture into large bowl with remaining meat and use your hands to gently work ingredients together until completely combined. Do not over-work or your meatballs will be tough!

Scoop dough into 2-Tablespoon sized balls (I use a cookie dough scoop to make this easier) and lightly grease your hands with olive oil. Roll into a round ball (don't roll too tightly) and place on a wax paper lined plate or baking sheet until you have formed all of your meatballs.

Grab a large stockpot or enameled Dutch oven (I don't recommend non-enameled cast-iron as it can cause a metallic taste) and add enough olive oil to completely cover the bottom of the pan so that it is ⅛-¼" deep. Heat over medium/medium-high heat until oil shimmers.

Add meatballs to the pan (I use tongs) in batches of just 3-4. Sear/cook until browned on one side, flip and cook until browned on the other side (if your meatballs are sticking, use a spatula to gently loosen them from the pan), then remove to a clean plate. Meatballs will still be pink inside, this is expected.

Repeat until all meatballs have been cooked.

If you have more than about 2 Tbsp of grease left in the pot, drain excess grease (I use a ladle to remove). If you don't have any grease left, add a splash more olive oil and allow it to heat and prepare your sauce. Do not remove caramelized/brown bits at the bottom of the pot!
For Sauce
Add onion to pot and cook until translucent. As the onion cooks, use your spatula to gently scrape the bottom of the pan, loosening any browned bits from the meat (don't discard these).

1 cup (145 g) finely chopped yellow onion

Add garlic and cook, stirring, until fragrant (30 seconds)

1 ½ Tablespoons minced garlic

Add crushed tomatoes, basil, sugar, oregano, salt, and pepper and stir well.

28 oz (793 g) crushed tomatoes,

2 teaspoons dried basil,

2 teaspoons granulated sugar,

¾ teaspoons dried oregano,

½ teaspoon sea salt,

½ teaspoon ground black pepper

Bring sauce to a simmer and then gently place meatballs back into the pot, submerging in the sauce (it may seem like a lot of meatballs but they should all be able to be submerged into the sauce).

Cover pot and continue to simmer over low heat until meatballs are cooked through (internal temperature should reach at least 165F/75C. This usually takes about 15-20 minutes for me.

Gently stir sauce and serve alone, with a side salad, on subs, or over pasta.
Notes
¹Nutmeg may seem like an unusual ingredient but it's commonly used in making authentic meatballs. It really rounds out the flavor and none of my taste testers could pick up on the fact that I'd added nutmeg (just that the meatballs were really really good!)!
Nutrition
Serving:
1
serving (approximately 5 meatballs)
|
Calories:
539
kcal
|
Carbohydrates:
23
g
|
Protein:
34
g
|
Fat:
35
g
|
Saturated Fat:
14
g
|
Trans Fat:
1
g
|
Cholesterol:
146
mg
|
Sodium:
1020
mg
|
Potassium:
943
mg
|
Fiber:
4
g
|
Sugar:
10
g
|
Vitamin A:
452
IU
|
Vitamin C:
16
mg
|
Calcium:
219
mg
|
Iron:
5
mg
Nutritional information is based on third-party calculations and should be considered an estimate only. Actual nutritional content will vary based upon brands used, measuring methods, cooking method, portion sizes, and more.