With just 5 simple ingredients and under 15 minutes to prepare, this saltine cracker candy (saltine toffee) is one of the simplest, quickest candies I've ever made and is sure to be a holiday favorite.  Make sure to scroll down to the bottom of the post to enter in a great Amazon giveaway, too!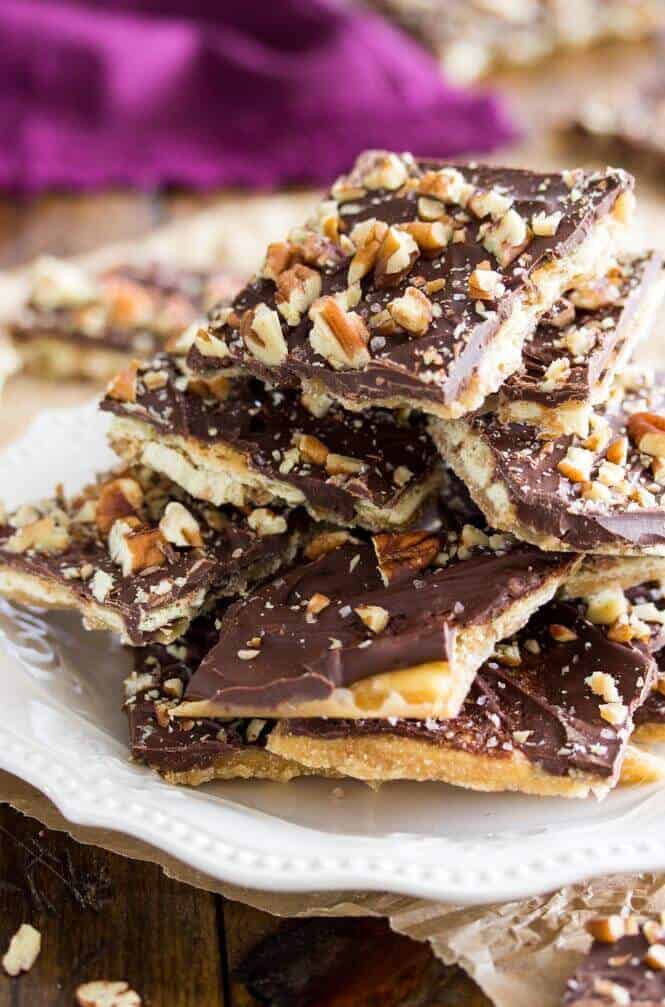 Saltine Cracker Candy.  Toffee Bark.  Crack Candy.  Christmas Crack.  Saltine Toffee.
This salty and sweet treat goes by a lot of different aliases, but you've probably come across it at some point in your life, introduced under one moniker or another.
We call it simply "Saltine Cracker Candy", and so that's how I'm introducing this favorite treat here.  It's extremely popular around my house (especially around Christmastime), mostly because it's so simple to make.
Let's walk through this process in way more pictures than you probably really need, shall we?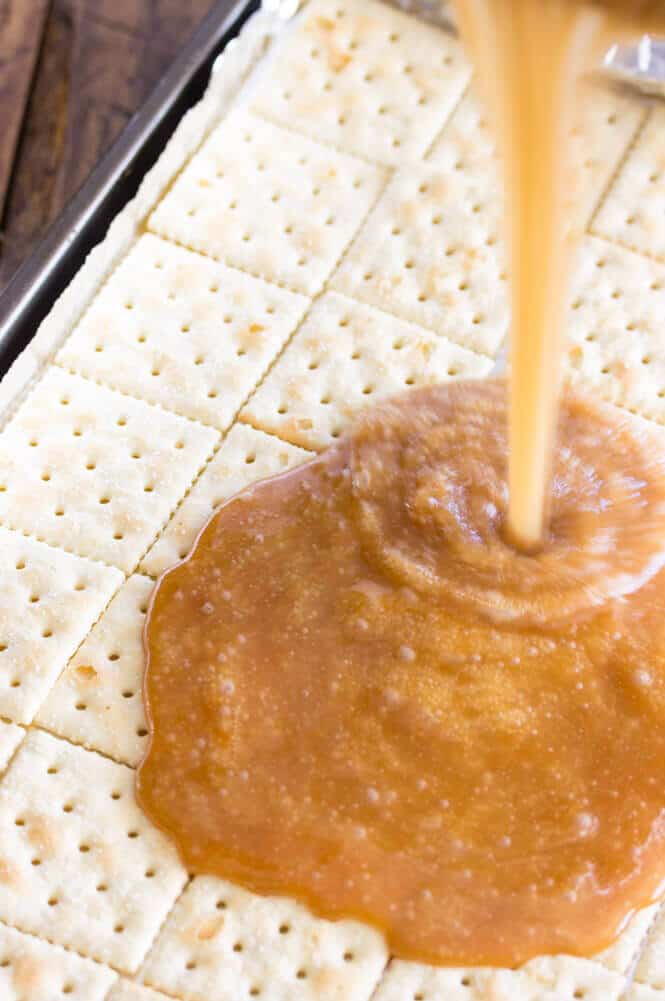 The trickiest part of this whole candy-making business is preparing the toffee.  Look at that sweet, caramel-colored, bubbling beauty.  
The toffee is made with just two ingredients: butter and brown sugar.  Melt the two together on the stovetop and allow it to come to a boil.
Do not, under any circumstances, disturb this toffee while it is working its magic during the boiling process.  This was a hard lesson for me to learn, I always tend to worry about my sauces burning so if your natural inclination is to toss in a few stirs or scrape the sides, just don't.  The toffee knows what it's doing.
Let it boil for 3 minutes, and then immediately spread it over your crackers.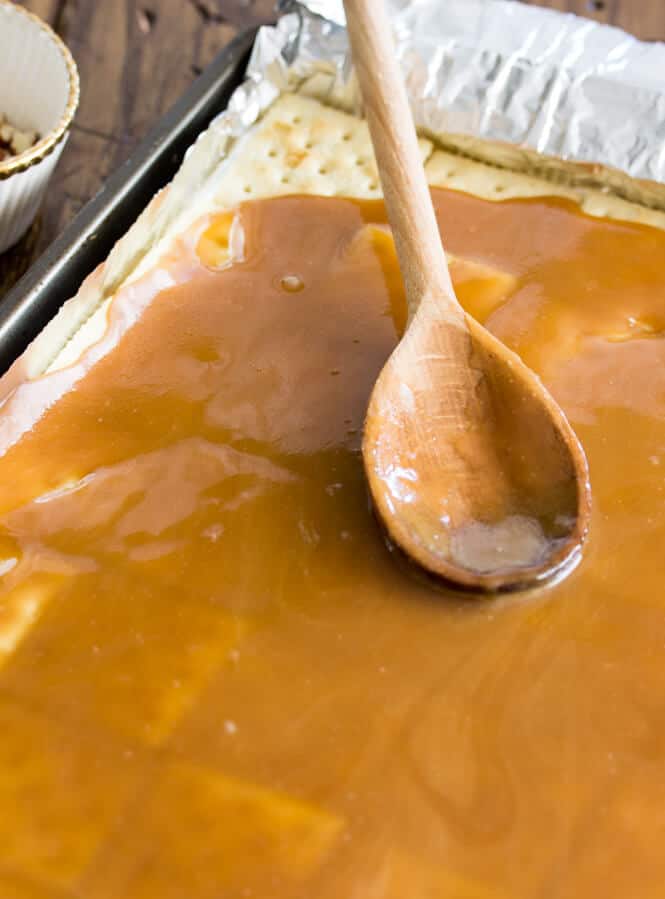 After you've doused your saltine crackers with toffee, bake them in the oven at a high temp for a few minutes until that golden toffee blanket becomes nice and bubbly.
Don't panic if some of them look like they're trying to float away — it's OK to have some space between your crackers, just let them do their thing.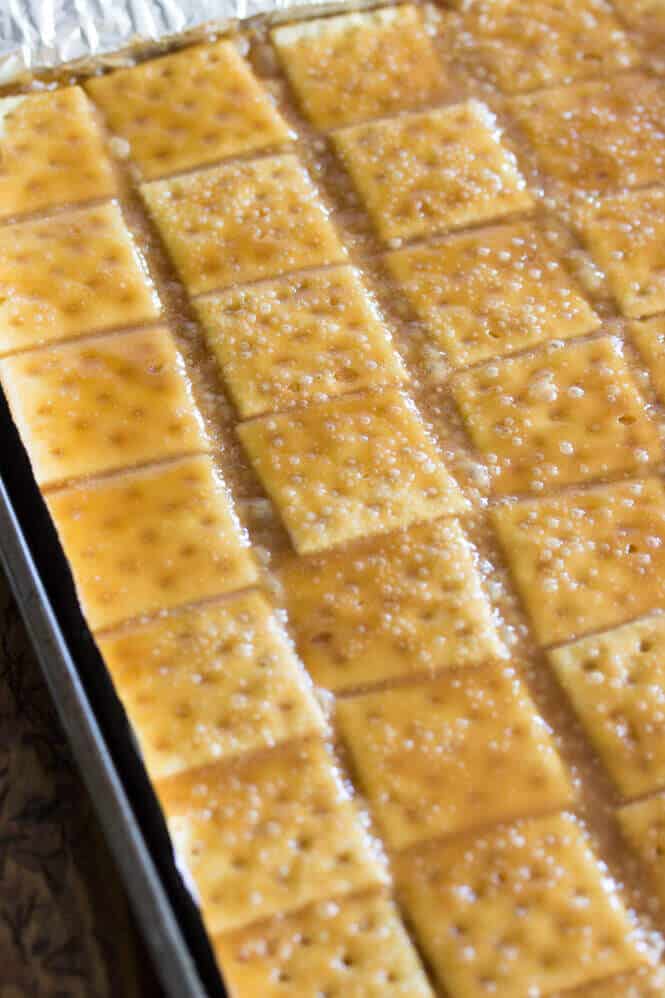 Now my favorite part.
Sprinkle your toffee layer with plenty of chocolate chips and return them to the oven for just two more minutes.  This makes the chips nice and melt-y and easy to spread.
I know that some people make saltine cracker candy without chocolate (and you can certainly skip the chocolate, if that's your preference), but that doesn't fly in my house.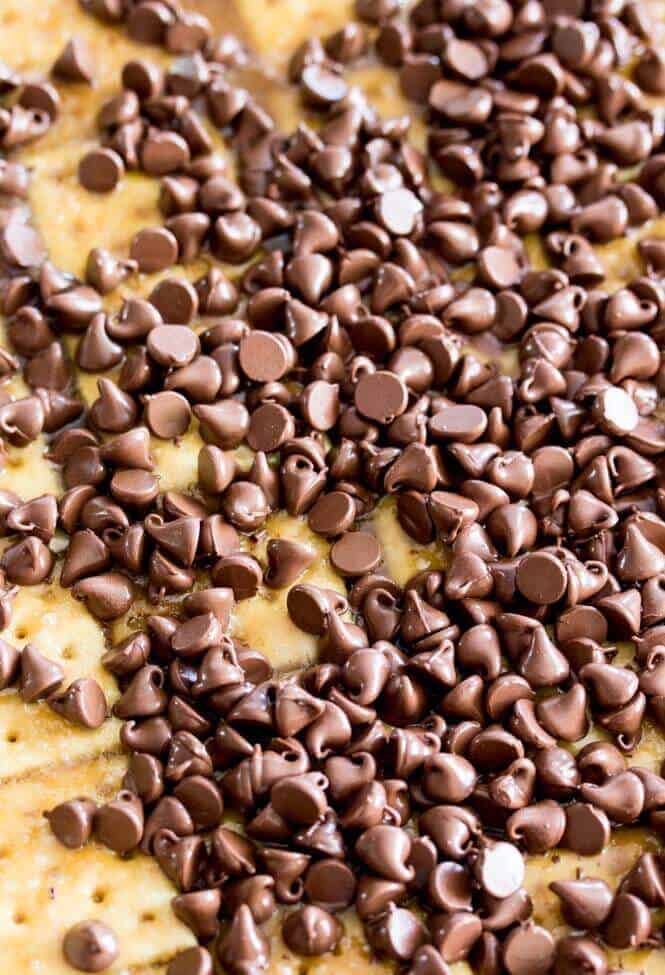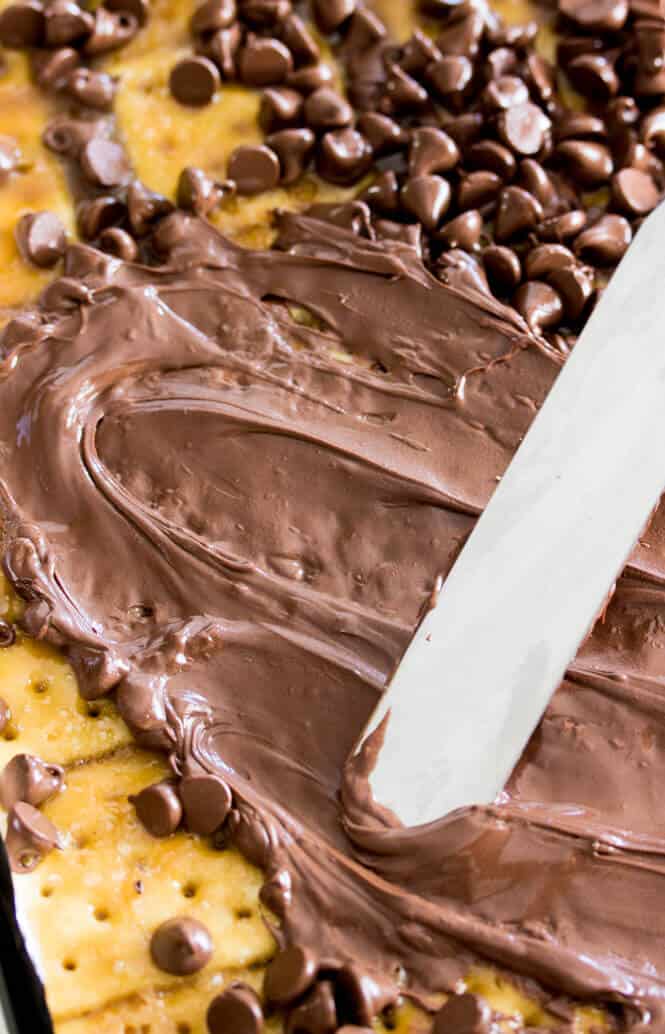 When I used to make this in the past, I never added any topping on top of the chocolate.  Recently I've been using chopped pecans, but you can use pretty much any topping you'd like.  Walnuts, peanuts, sprinkles, candy pieces, pretty much anything goes well with saltine cracker candy.
If you're one of those people I mentioned above and are trying to make this without chocolate, just skip this step and sprinkle any toppings you'd like to use directly on the toffee as soon as it comes out of the oven.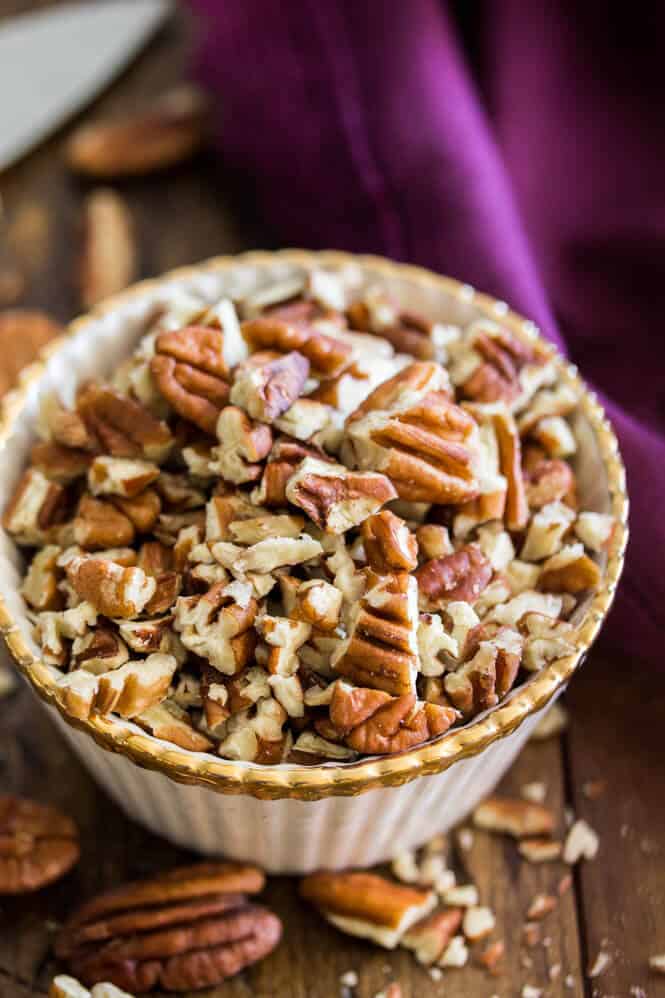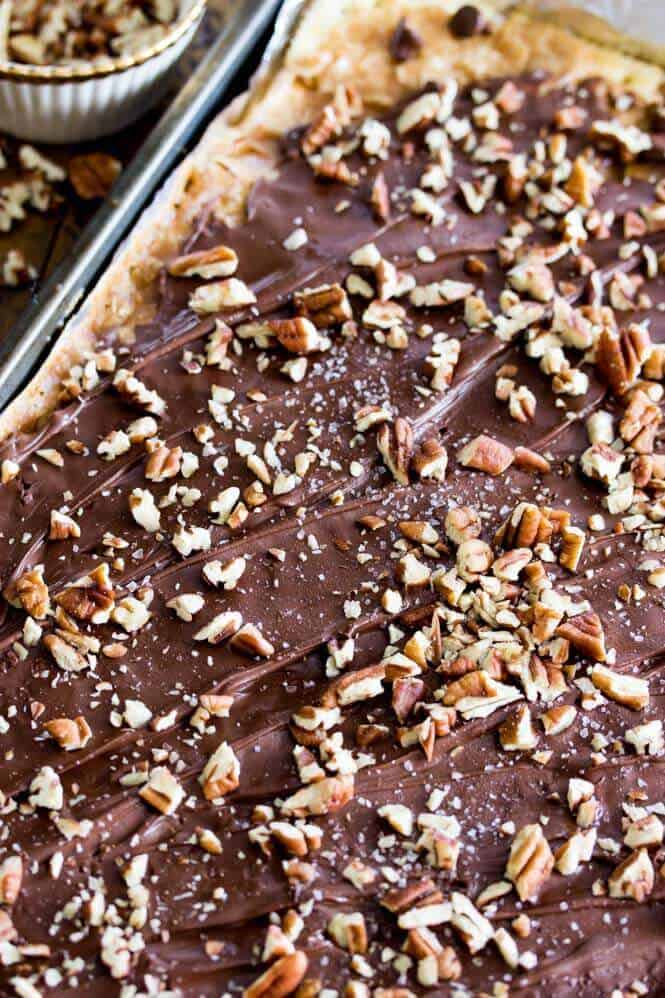 Since the chocolate topping is made with melted chocolate chips, it would take a while to set at room temperature, so I usually slide it into the fridge for at least 30 minutes.  Then remove it and break (or cut) into pieces.  They don't cut very evenly but the jagged pieces are all part of the rustic character 😉
Saltine cracker candy doesn't have to stay refrigerated, but because the chocolate can melt in your hands pretty quickly I personally prefer to keep it chilled in the fridge.
Personal preference!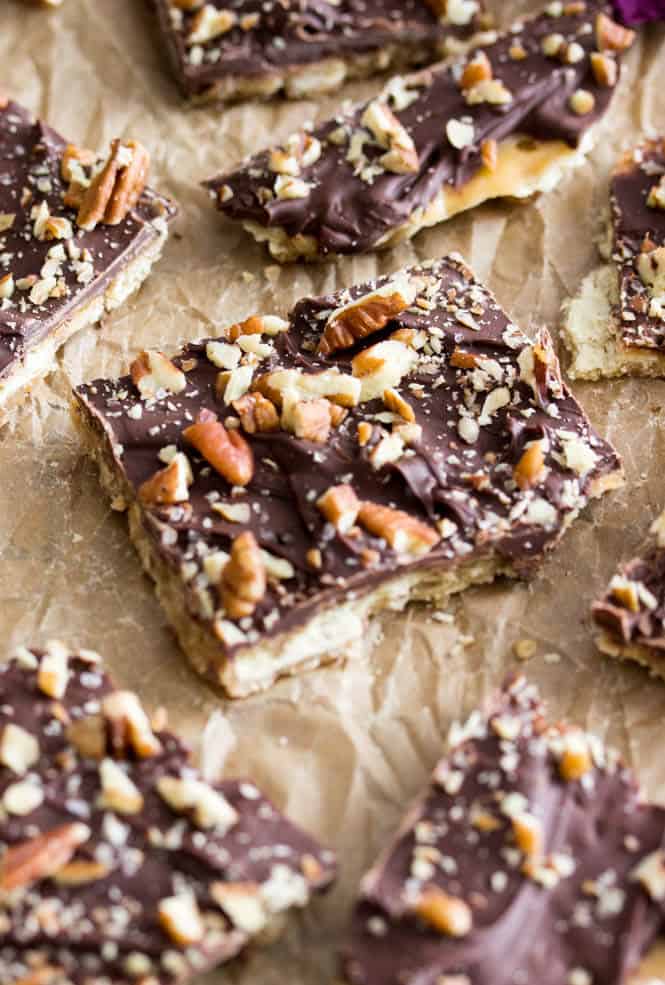 Enjoy, and make sure you enter the giveaway below!
Holly from Spend with Pennies is graciously hosting a giveaway for two! $100 Amazon gift cards — that should help you get your holiday shopping done, I'd hope!  Make sure you enter below!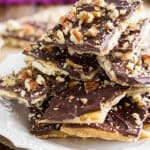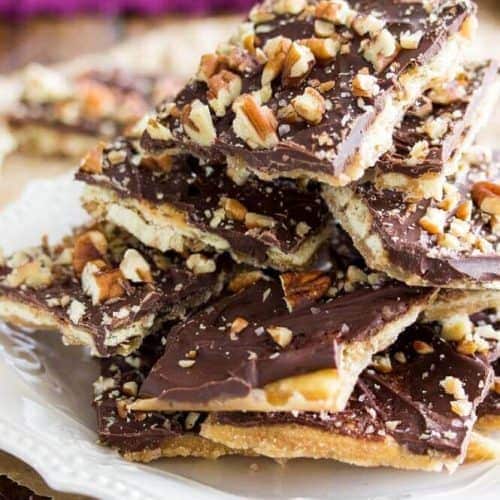 Saltine Cracker Candy
Whether you call it Christmas Crack, Saltine Toffee, Toffee Cracker Candy, Crack Candy, or just Saltine Cracker Candy, this easy, snappy dessert is sure to be a hit this holiday season.
Ingredients
1.5

sleeves

salted saltine crackers

about 45 crackers

1

cup

unsalted butter

(226g)

1

cup

brown sugar

tightly packed (200g)

2

cups

semisweet chocolate chips

(350g)

1

cup

chopped pecans

or other topping (100g)

flaky sea salt for sprinkling

optional
Instructions
Preheat your oven to 400F (205C) and line a standard-sized cookie sheet with foil. Lightly spray with cooking spray or grease lightly with butter.

Layer crackers evenly over the foil (salted side up); it's alright if there are spaces between the crackers and not every edge is completely filled in.

Prepare your toffee by combining butter and brown sugar in a small saucepan over medium heat, stirring occasionally.

Allow mixture to come to a boil and allow it to boil for three minutes -- do not stir while it boils.

Immediately remove from heat and pour over crackers (it's ok if some of them start to float, just try to keep them in an even layer), spread with a heatproof spatula to completely coat crackers.

Place in 400F (205C) oven for 5 minutes -- toffee will begin to bubble.

Remove from oven and evenly sprinkle chocolate chips over toffee. Return to oven for two minutes, then remove and use a spatula or knife to spread chocolate evenly over crackers.

Sprinkle evenly with chopped pecans (or preferred topping -- or no topping!) and a scant amount of flaky sea salt.

Allow to chill in refrigerator for at least 30 minutes or until chocolate hardens. Cut into pieces using a large knife and serve.
Recipe Notes
Cleanup tip:  Did the toffee harden to your saucepan, rendering it virtually impossible to clean?  Fill it about halfway with water and return it to the stovetop.  Bring the water to a boil and the toffee should melt away from the sides -- then just pour everything down the drain (scrape the sides while it's hot, if there's still some toffee stuck) and allow the pot to cool and clean as you would normally.  
Nutrition Facts
Saltine Cracker Candy
Amount Per Serving
Calories 225
* Percent Daily Values are based on a 2000 calorie diet.
This post contains affiliate links, which means that if you purchase anything through these links I will get a small commission at no extra cost to you.  Please view the disclosure policy for more information.
Click to PIN IT:
You Might Also Like: