Alfajores are sweet and simple dulce de leche sandwich cookies made of two buttery cookies filled with a dulce de leche filling. Roll yours in coconut, dust with powdered sugar, drizzle with chocolate, or just enjoy plain like I do! Be sure to check out the how-to video in the post!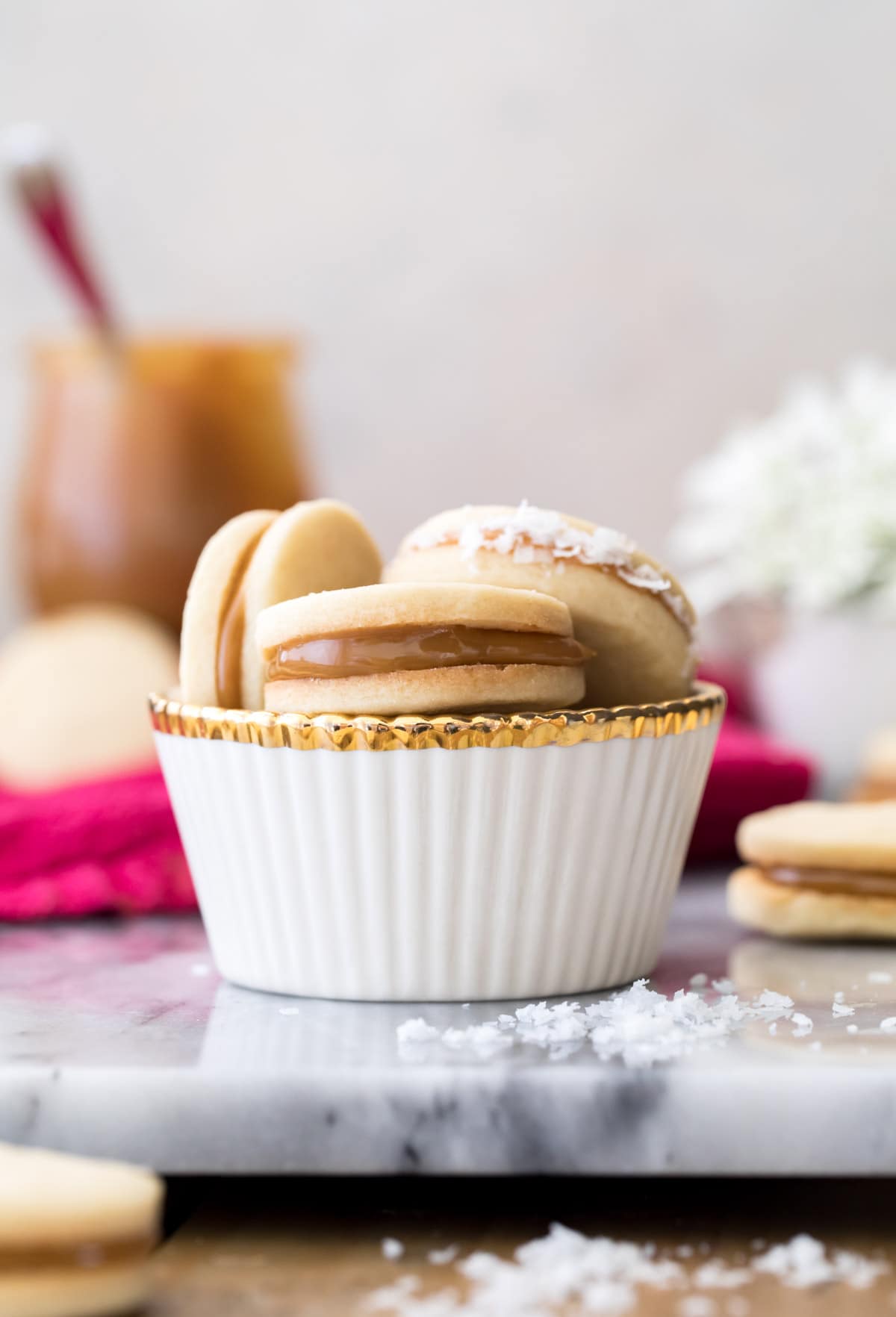 Alfajores
I hope you saved some of that dulce de leche from earlier this week! If not, head to your kitchen and make a batch (make it a double, actually, you'll need it) and then get back here. I'll wait…
If you've never had alfajores before, there are a few things to know about them:
They're exquisite, melt-in-your mouth sandwich cookies made with a rich dulce de leche filling and often rolled in coconut (not mandatory if you're a coconut-hater, like Zach is!)
They're embarrassingly under-rated in America, as they're difficult to find here and many people don't even know what they are. I'm hoping to change that as they're absolutely delicious.
They're of South American origin (OK, they most likely actually originated in the Middle East, but South America lays a strong claim to them).
There are several different methods and recipes for making alfajores. I prefer my version which yields a buttery and sweeter cookie that's similar to a shortbread (though enriched with egg). The key to an alfajore is that creamy dulce de leche filling.
What You Need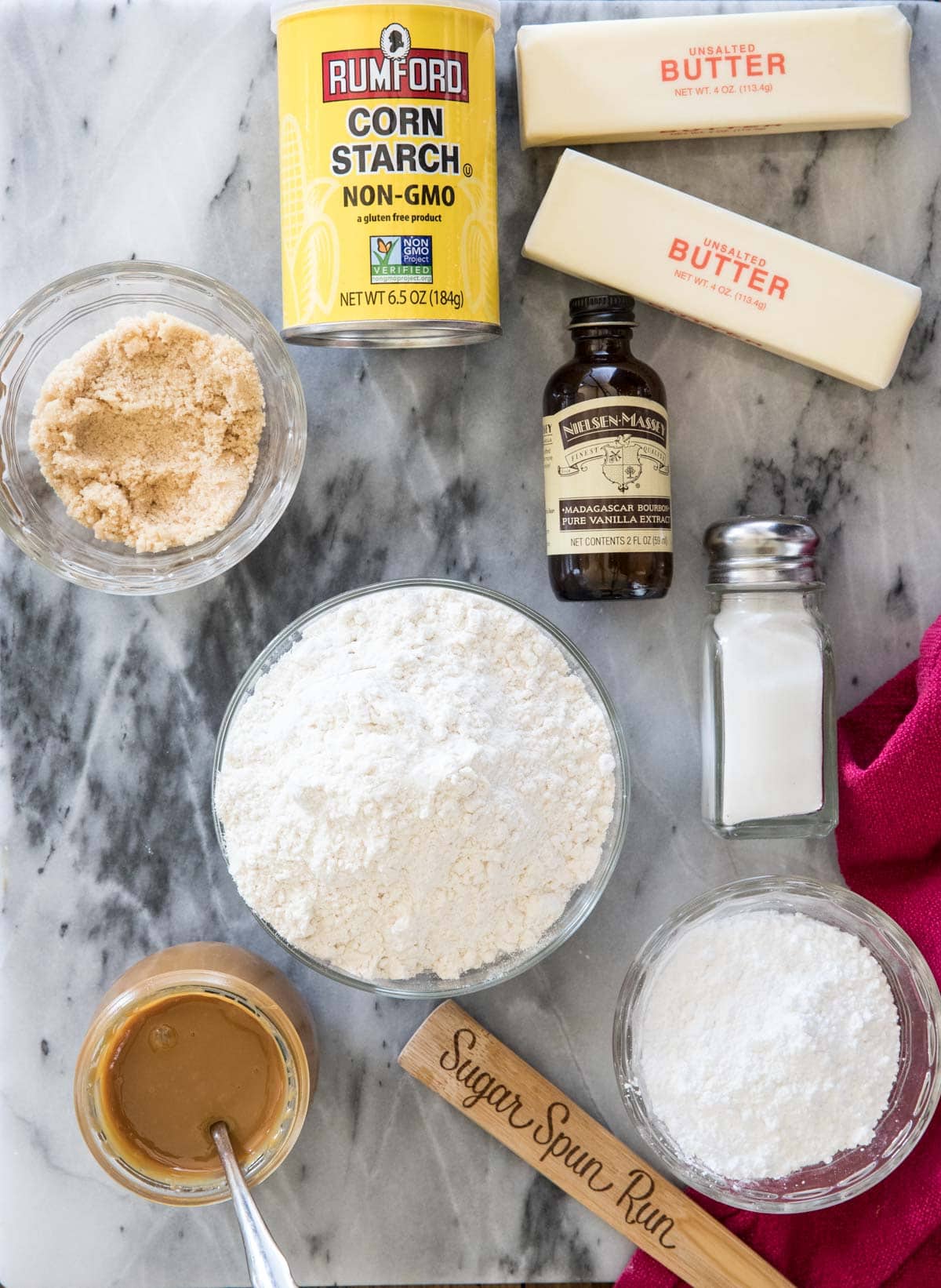 Let's talk about just a few of these ingredients…
Butter. I always use unsalted butter (here's why). You want it to be softened, but the center should still have a chill to it and the exterior shouldn't be so soft that it's oily or beginning to melt (or your cookies will spread too much).
Powdered sugar & brown sugar. Many alfajores recipes use only powdered sugar but I much prefer the added flavor from using brown sugar, too.
Cornstarch. Cornstarch helps these cookies to be light and tender, making them the perfect "bread" for your dulce de leche sandwich.
Dulce de Leche. I just shared my post on how to make this out of a can of sweetened condensed milk and it's unbelievably easy! I'll usually make this the day before I intend to make my alfajores. Keep in mind that you'll need a bit more than a single batch of dulce de leche, so either make two batches or just plan on eating some of the cookie shells plain!
Dessicated coconut (optional). It is common to roll the sticky sides of alfajores through finely shredded coconut for added texture and flavor. I just buy shredded sweetened coconut and pulse it a few times in my food processor.
Now here's an ingredient I don't use: brandy. It's commonly used in alfajores but it's not an ingredient I typically keep in my pantry (or a flavor I particularly care for). If you'd like to add it, add two teaspoons along with the vanilla extract. You may need to dust your dough with a bit more flour when rolling it out.
How to Make Alfajores
Make your dough. Beat the butter by itself until light and creamy. Add sugars, cornstarch, vanilla, and salt. Gradually add flour until completely combined.
Chill. At least 30 minutes in the refrigerator is necessary to make the dough easy to manage and keep the cookies from spreading in the oven.
Cut. Use a 1 ½″ or 2″ cookie cutter to cut out circles. Keep your cuts close together to get as many as possible, then re-roll the scraps to get even more cookies!
Bake. 375F (190C) until the edges are just beginning to turn a light golden brown.
Fill. Fill with a heaping teaspoon of dulce de leche. Keep in mind that if you plan to make your own dulce de leche, you'll need to prepare it in advance (I usually make mine the day before).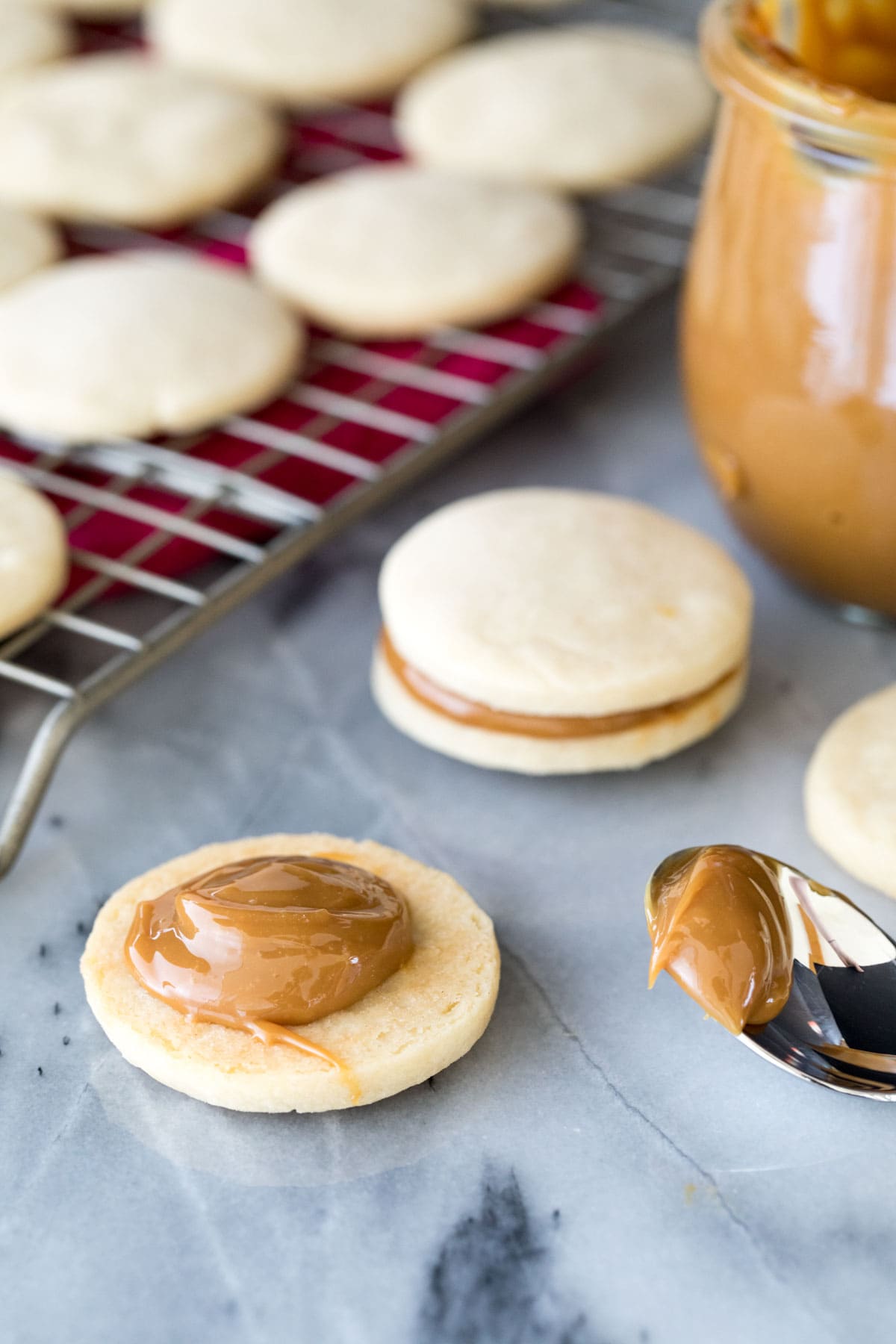 If you'd like, you can also roll the sides of the cookies through desiccated coconut!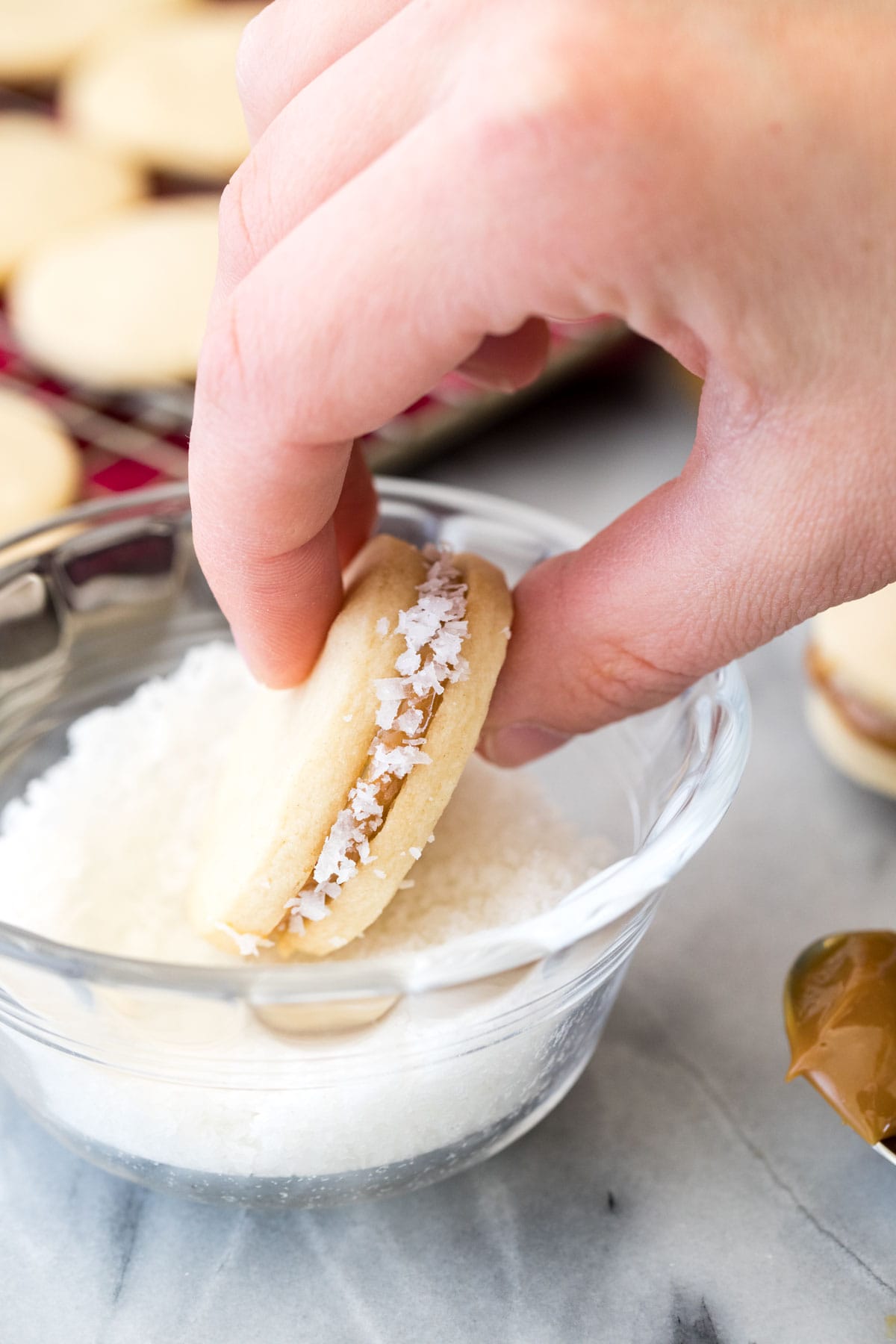 Frequently Asked Questions
Why is my dough too sticky?
Typically this happens if the butter is too soft, if the dough is much over-mixed, or if not enough flour is used. If the dough gets too warm that can also cause this problem. Usually these issues can be resolved by either chilling the dough for longer or dusting more flour on your counter and on the dough.
Why is my dough dry and crumbly?
Most often this happens if you have accidentally over-measured the flour (see my post on how to measure flour properly). If that's not the case, sometimes you just need to mix the dough longer for the flour to completely absorb (never add your flour all at once!).
Keep in mind that if chilling the dough for longer than 30 minutes it may be tough to roll. If it's stiff and cracking, just let it sit at room temperature for 15-25 minutes before trying again.
How long can I store alfajores?
They may be stored at room temperature in an airtight container for up to 5 days. They freeze well, up to several months in an airtight container. Thaw at room temperature overnight in an airtight container (don't remove the lid until thawed completely or you'll end up with condensation).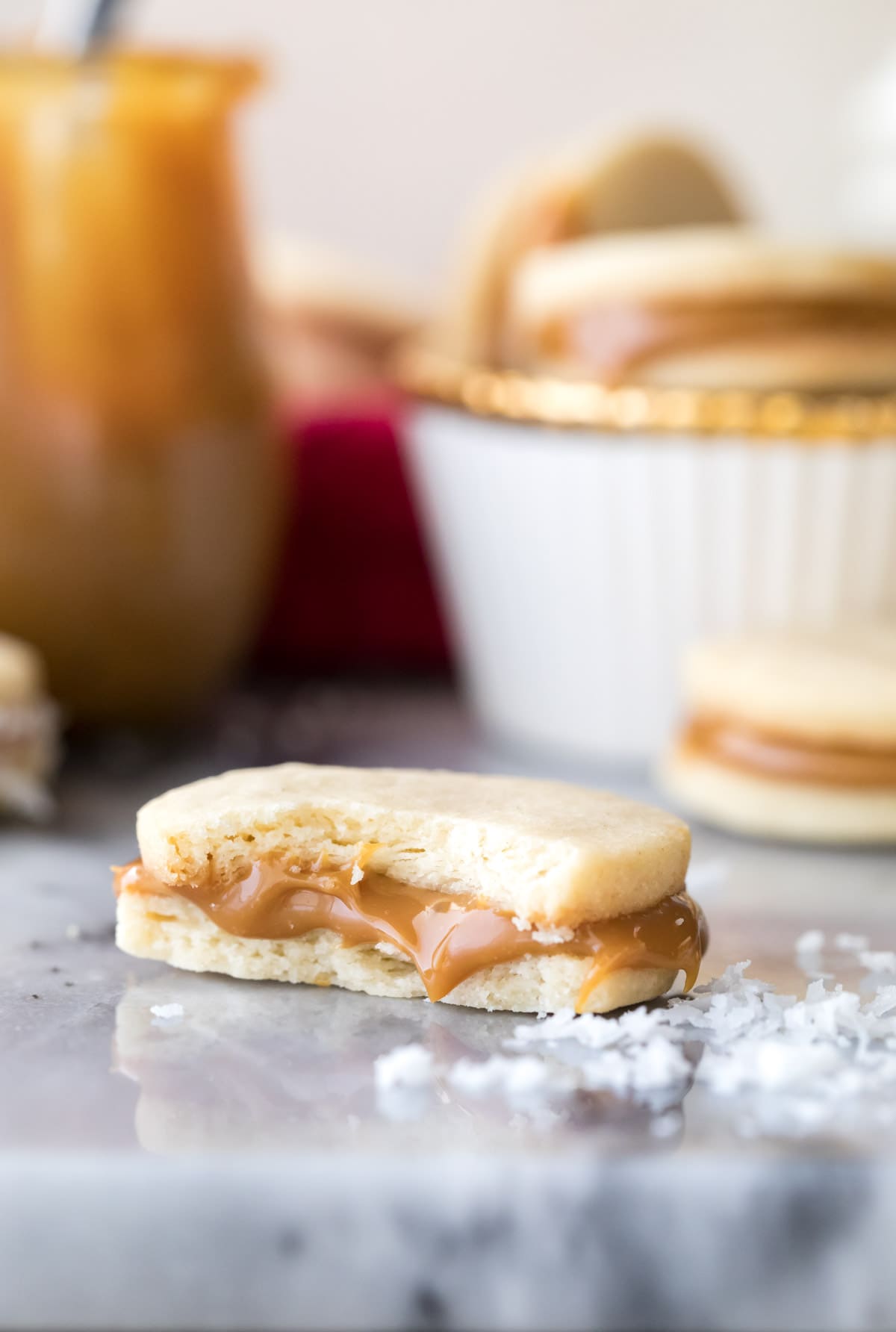 More Recipes You Might Like
Enjoy!
Let's bake together! Make sure to check out the how-to VIDEO in the recipe card!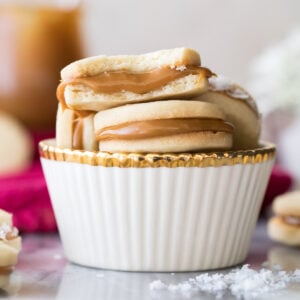 Alfajores
These sweet and simple sandwich cookies are made of two buttery cookies filled with a dulce de leche filling. Roll yours in coconut, dust with powdered sugar, drizzle with chocolate, or just enjoy plain, like I do! Be sure to check out the how-to video in the post!
Please note that if you plan on making your own dulce de leche, you will need to prepare this several hours in advance (I usually make mine the day before)
Print
Pin
Rate
Servings:
35
sandwich cookies
Ingredients
1

cups

unsalted butter softened¹

(226g)

½

cup

powdered sugar

(65g)

3

tablespoons

light brown sugar firmly packed

¼

cup

cornstarch

(32g)

1 ½

teaspoons

vanilla extract

½

teaspoon

salt

2

cups

all-purpose

plain flour (250g)

1 ½

cups

dulce de leche

click the link to make your own dulce de leche at home!

Desiccated coconut² for rolling or powdered sugar for sprinkling

optional
Instructions
In a large mixing bowl using an electric mixer (or using a stand mixer) beat butter by itself until creamy.

Add powdered sugar, brown sugar, cornstarch, vanilla extract, and salt and beat until creamy and well-combined.

Gradually add flour (I usually add in about 4 parts) and stir until combined.

Divide dough in half and form each half into a disk. Cover with plastic wrap and transfer to the refrigerator to chill for at least 30 minutes and up to 5 days.

Once your dough has chilled, preheat oven to 375 F(190C) and line a baking sheet with parchment paper. Set aside.

Lightly dust a clean surface with flour and, working with one disk at a time, roll dough to be ⅛" thick.

Use a round cookie cutter (I like to use 1 ¾" but 2" would also work) to cut into circles. Place on prepared baking sheet, spacing at least 1" apart.

Transfer to 375F (190C) oven and bake for 8-9 minutes or until edges are just beginning to turn light golden brown.

Allow cookies to cool completely on baking sheet before removing and filling. Repeat with remaining dough until all cookies have been baked (never place cookie dough on a hot baking sheet!). Make sure to re-gather and re-roll out the dough scraps to get as many cookies as possible!

Once cookies have cooled, portion 1 ½ teaspoons of dulce de leche onto the bottom of one cookie and sandwich with another. If desired, you can roll the sides of the cookie through desiccated coconut (squeeze the "sandwich" so the dulce de leche reaches the sides and the coconut sticks to it) or dust the tops of the cookies with powdered sugar.
Notes
¹Butter
Butter should be softened, but not so soft/warm that it's greasy or melty.
²Coconut
Desiccated coconut is just very finely shredded coconut. I will usually take sweetened shredded coconut (you don't need much, ⅓ cup is usually plenty) and drop it in my food processor and pulse until it's fine.
Nutrition
Serving:
1
sandwich cookie
|
Calories:
87
kcal
|
Carbohydrates:
9
g
|
Protein:
1
g
|
Fat:
5
g
|
Saturated Fat:
3
g
|
Trans Fat:
1
g
|
Cholesterol:
14
mg
|
Sodium:
34
mg
|
Potassium:
11
mg
|
Fiber:
1
g
|
Sugar:
3
g
|
Vitamin A:
162
IU
|
Calcium:
4
mg
|
Iron:
1
mg
Nutritional information is based on third-party calculations and should be considered an estimate only. Actual nutritional content will vary based upon brands used, measuring methods, cooking method, portion sizes, and more.