Authentic Edible Cookie Dough made with toasted flour and no eggs so that you can enjoy without worry! I'll be showing you how to heat-treat your flour (it's easy) and include suggestions for some of my favorite add-ins. Try your own mix-ins and let me know your favorite!
I know what you're probably thinking: isn't all cookie dough "edible cookie dough"?
I know, I know. I certainly treat it like it is (I'm pretty sure I've eaten more chocolate chip cookies raw than baked in my lifetime). But you know you're not supposed to eat raw cookie dough, right?
Most of us know the raw eggs are a Salmonella risk. Eggs are easy enough to omit, but have you heard about the warnings against eating raw flour? Raw flour, and therefore raw cookie dough, is at risk of carrying bacteria like E.coli. This is fine if you're cooking your dough or batter because the heat kills off any bacteria, but it's not exactly easy to leave out flour when you're trying to make cookie dough… It's kind of a key ingredient.
Well, because I have something of an obsession, I finally perfected a recipe that's completely safe to eat. This one not only eliminates the eggs, but also takes into account the concerns about eating raw flour and eliminates them. Today I'll show you how to heat treat your flour so you can eat as much raw cookie dough as you please.
How to Heat Treat Flour
According to this article from Cooking Light, by toasting our flour in a 350F oven for just 5 minutes we kill off any harmful bacteria that it might contain (such as E. coli, which is our main concern here).
To do this:
Preheat your oven to 350F and line a cookie sheet with parchment paper (this will make transferring the flour so easy).
Measure out your flour and evenly spread it over the parchment paper.
Bake in your preheated oven for 5-7 minutes.
To ensure that the flour is really safe, I recommend using an instant read thermometer to verify that the temperature is at least 160F. Allow flour to cool before proceeding with recipe.
During the heat treating process, I found that some of the flour has the tendency to clump or bake together. To keep these clumps out of your cookie dough, run the flour through a sifter before stirring it into your edible cookie dough. Very important! make sure you let it cool! It cools quickly, but too-hot flour can melt your other ingredients, leaving you with nothing but an edible mess.
What You Need:
With your flour cooked & cooled and any bacteria eradicated, it takes only a few minutes to mix together a big bowl of edible cookie dough. The cast of characters should be pretty familiar:
Butter
Brown Sugar
Sugar
Vanilla Extract
Salt
Flour (heat-treated)
Chocolate chips
Milk (maybe, read on)
You'll beat together the butter, sugars, vanilla extract, and salt until creamy and well-combined. Creaming these ingredients a little extra long helps to dissolve some of the sugar, decreasing some of the grit in the cookie dough (more on that below!). Then, gradually add in the flour until it's well incorporated into good old cookie dough. Finally, stir in your chocolate chips!
Trouble-shooting Crumbly Edible Cookie Dough
Now, here's why the milk is a "maybe". I've made this edible cookie dough dozens of times and have never needed to add milk. I like mine to have a, well, cookie dough-like consistency. It should be a bit firm, enough to be scoop-able and shape-able. However, the first time I made this I had a few emails from people telling me that their results were actually crumbly and stiff! Not what I was hoping to hear!
I went back to the kitchen and tested this recipe again but couldn't replicate this. Then I tried two more times, and had a friend test in their own kitchen, and still everything was fine. Then I tried again the next few days, which I claimed was for research but really I just have an addiction and needed an excuse for a quick fix. Anyway, the point is that I could not replicate this issue, but I'm guessing the problem is that the flour is accidentally being over-measured. Unfortunately, this is really easy to do. We can remedy this problem by adding milk, if needed, but first let's talk how to properly measure flour.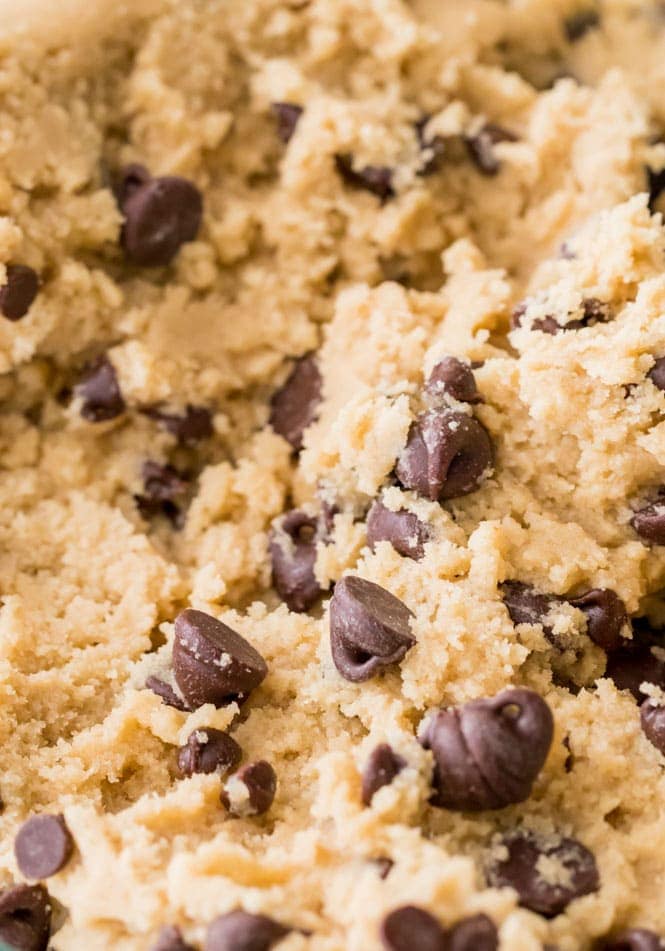 How to avoid over-measuring flour and ending up with crumbly dough (for any recipe):
Use a scale! This is my number one recommendation for anyone looking to take their baking to the next level! Using a scale means precise measurements, no risk of over or under-measuring anything. It really makes things so much easier, and there are no measuring cups to wash when you're finished baking!
Here's the kitchen scale that I use and love. It's inexpensive and I haven't had to change the batteries in over a year! It makes making edible cookie dough a breeze.
Measure with caution! Ok so you ordered your scale but you still have to wait two days for it to get to you and the edible cookie dough craving is fierce. Here's the "right" way to measure your flour:
Stir the flour first to loosen it up in case it's packed tightly into its container. Then, use a spoon to spoon it gently into the measuring cup, then use a knife to level off the top. Whatever you do, don't scoop the flour directly into your measuring cup. This will pack it in and you'll end up with a crumbly dough. I have a whole post dedicated to explaining how to measure flour properly because it's such a common problem.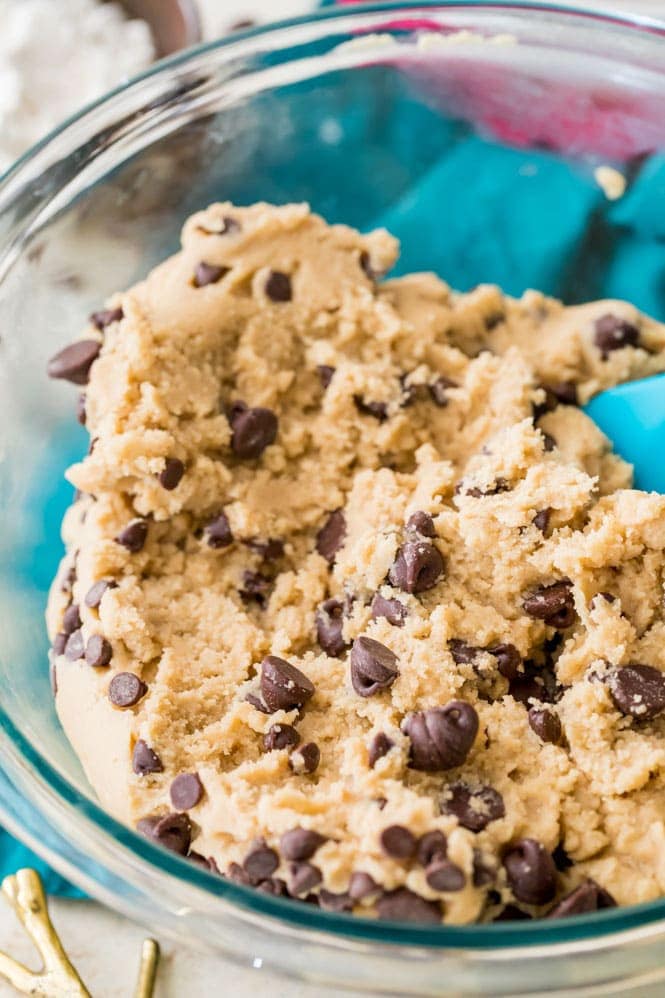 The Nitty Gritty
A few people who have made this recipe have commented that they can taste (or, rather, feel) the sugar in the cookie dough. I want to stress that this is completely normal, expected, and, in my opinion, desirable for edible cookie dough.
Cookie dough should have a bit of almost grit-like texture to it. Because cookie dough is raw/un-baked, the sugars in the dough have not yet melted. Anyone who has ever swiped a fingerful of cookie dough from their mixing bowl knows there's a texture to it that comes from the sugar. Once the dough is baked, the sugars melt, and the texture goes away.
My recipe has the true, authentic grit of cookie dough, but because I know this texture isn't for everyone I have a few alternative options for you. I've developed my cookie dough bites and my cookie dough frosting to be less gritty and more smooth (thanks to a secret ingredient!), so feel free to try those to get a smoother cookie dough fix! The flavor is authentic there, but you get the true authentic taste and texture here.
Once you've made your cookie dough, you can dress it up with all kinds of add-ins. In the photo above I tried a (from top to bottom) peanut butter chocolate chip version, a funfetti version, a cookies & cream version, and traditional.
Can you think of any other fun mix-ins for your own edible cookie dough? I can't wait to hear what you come up with!
More Recipes You Might Like:
Enjoy!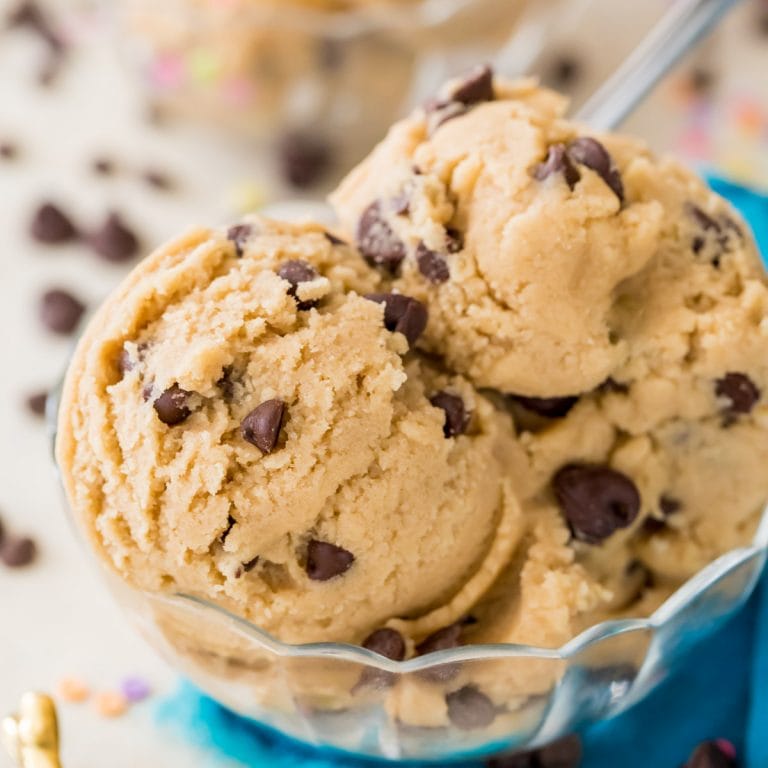 Edible Cookie Dough
How to make a completely edible cookie dough! This recipe uses no eggs and includes instructions for heat-treating flour to make it safe to eat!
Be sure to check out the quick & simple how-to video!
Print
Pin
Rate
Ingredients
1 ¾

cup

all-purpose flour

(215g)

1

cup

unsalted butter

softened to room temperature! (226g)

1 ¼

cups

brown sugar, tightly packed

(250g)

¼

cup

sugar

(50g)

1

teaspoon

vanilla extract

½

teaspoon

salt

1-2

Tablespoons

milk

optional¹

½

cup

semisweet chocolate chips

I recommend using a mix of mini and regular sized (85g)
Optional Mix-Ins
creamy peanut butter

colored sprinkles

broken Oreo pieces
Instructions
Preheat your oven to 350F. Line a cookie sheet with parchment paper and spread flour in an even layer over the parchment paper.

Bake on 350F (72C) oven for 5-7 minutes²

Allow flour to cool, then run it through a sifter to break up any clumps that may have formed while baking. Set aside.

In a large bowl (preferably a stand mixer), combine softened butter, sugar, vanilla extract, and salt. Use an electric mixer to cream together until very creamy and very well-combined, 1-3 minutes.

Gradually add cooled, sifted flour, stirring until completely combined. If dough is too stiff after thoroughly stirring, add milk, one tablespoon at a time, until desired consistency is reached.

Stir in chocolate chips (and any additional add-ins you might like!)

Store cookie dough in an airtight container in the refrigerator for up to one week. Cookie dough will firm up some in the refrigerator, so for best enjoyment let it sit at room temperature for 15-20 minutes before enjoying leftovers. 
Notes
¹I've never needed to use milk, but if your cookie dough is too stiff/crumbly add milk as needed, one Tablespoon at a time, to reach desired consistency.
²To ensure your flour is safe, I highly recommend using an instant read thermometer to check that temperature has reached 160F (72C) immediately after removing from oven. Make sure your thermometer is inserted in the flour and isn't touching/reading the temperature of the pan
Nutrition
Serving:
1
serving (does not include optional add-ins)
|
Calories:
526
kcal
|
Carbohydrates:
67
g
|
Protein:
4
g
|
Fat:
28
g
|
Saturated Fat:
17
g
|
Cholesterol:
62
mg
|
Sodium:
161
mg
|
Potassium:
146
mg
|
Fiber:
2
g
|
Sugar:
44
g
|
Vitamin A:
709
IU
|
Calcium:
49
mg
|
Iron:
2
mg
Treat yourself to a FREE E-BOOK!
This edible cookie dough recipe was originally posted 07/20/2017. Updated to include more information. Original photos below.