With a caramelized crust and plenty of melty cheese, these is a restaurant-quality smash burger recipe! Just 10 minutes to make on the stove and includes a simple burger sauce too!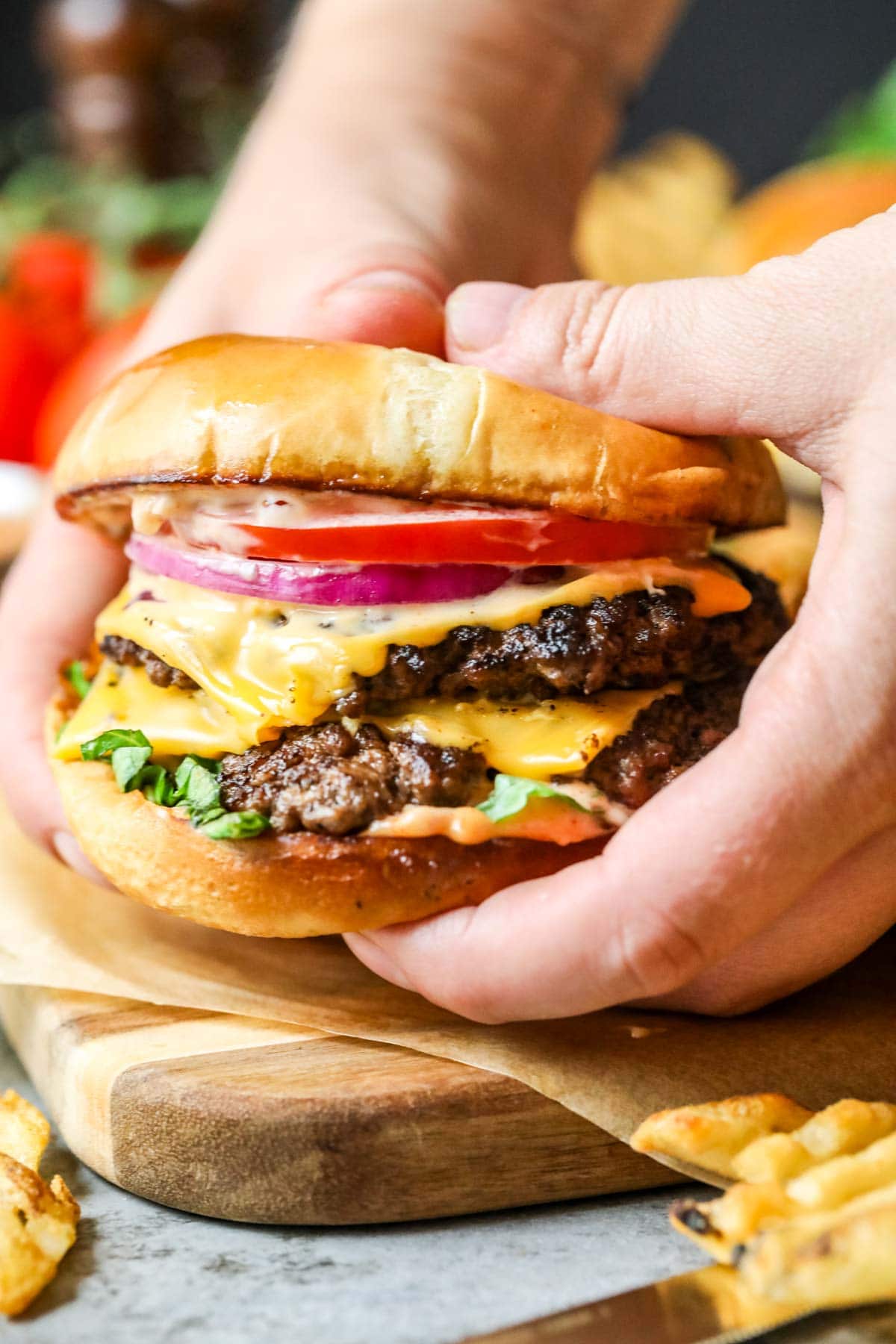 Quick & Easy Smash Burger Recipe
Crispy edges and juicy insides, these smash burgers are easy to make and come together in a FLASH! The burgers are cooked through (well done, no pink inside), but because they are so thin, they stay flavorful, tender, and juicy.
What makes these burgers so good:
Juicy & flavorful: searing the chilled meat in a hot pan locks in the flavor and the juices.
Melty, creamy American cheese: a classic choice for any smash burger! But you can always use something else like cheddar, pepper jack, etc. I honestly usually stay away from American cheese, but there's something classic about it's creamy texture against the burter.
Easy 4-ingredient smash burger sauce: my favorite part! This is optional, but I highly recommend adding it (takes 30 seconds to make).
Toasted buns: toasting the buns in butter adds another incredible dimension of flavor. Feel free to use my burger buns or potato buns here.
Endless toppings: fresh tomato, crisp lettuce, tangy pickles–go wild!
The best part about my smash burger recipe is that you don't need a fancy flat top grill or burger press. I simply use a flat cast iron skillet and a combination of large spatula and mallet to press my burgers. Trust me, they taste amazing this way. Hooray for homemade!
What You Need
My smash burger recipe is about as simple as you can get while still maintaining mouth-watering flavor. Here is everything you will need to make them: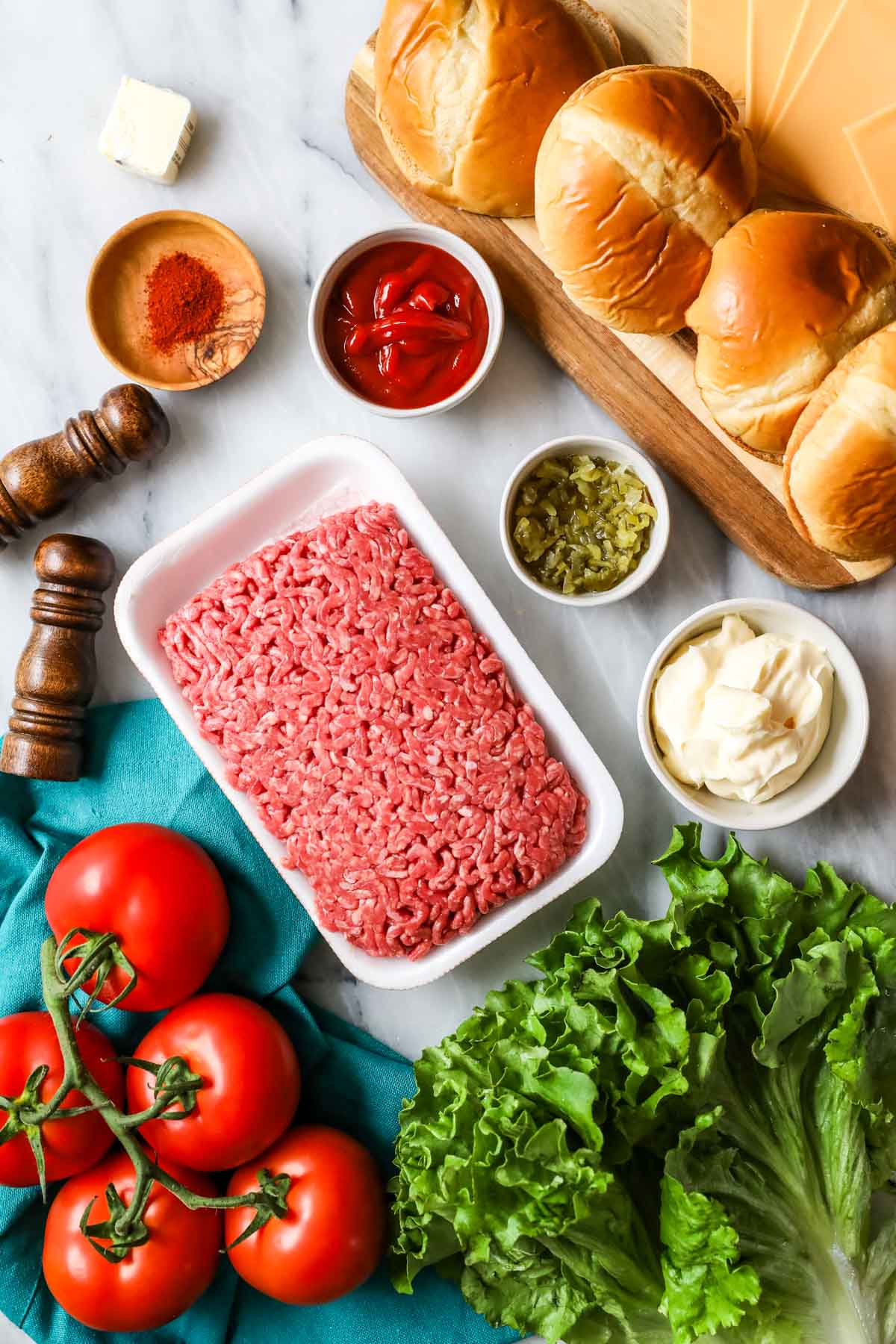 Ground beef. The magic of the smash burger (that crisp, caramelized crust) comes from the combination of high heat and the high fat content of the burger. Because of this, smash burgers don't work as well with a leaner ground beef, so aim for an 80-85% meat to fat ratio. Ground chuck would also work wonderfully here.
Cheese. While I'm typically a cheddar cheese girl, I think processed American cheese is best on a smash burger. Feel free to use whatever type of cheese you like here though!
Buns. Toasting the burger buns in butter on the skillet adds even more flavor to this smash burger recipe. You will only need to cook the buns very briefly–they toast quickly!
Toppings. Lettuce, tomato, onion, pickles, bacon, or all of the above! I also love adding caramelized onions; I'll make a batch in advance and reheat when I'm ready to serve. They are sooooo good, and everyone go nuts for them!
Sauce. My easy smash burger sauce combines mayo, ketchup, relish, and paprika. It's optional, but I feel that it is what really takes this smash burger recipe over the top (and it's much better than just ketchup and mustard)!
SAM'S TIP: A cast iron skillet or griddle is best for cooking the smash burgers, though a stainless steel pan could also work. Lightly oil your pan before using and let it get HOT and smoking before you cook your burgers. You will definitely want to turn on your stovetop kitchen fan while cooking!
Remember, this is just an overview of the ingredients I used and why. For the full recipe please scroll down to the bottom of the post!
How to Make a Smash Burger (and my custom sauce)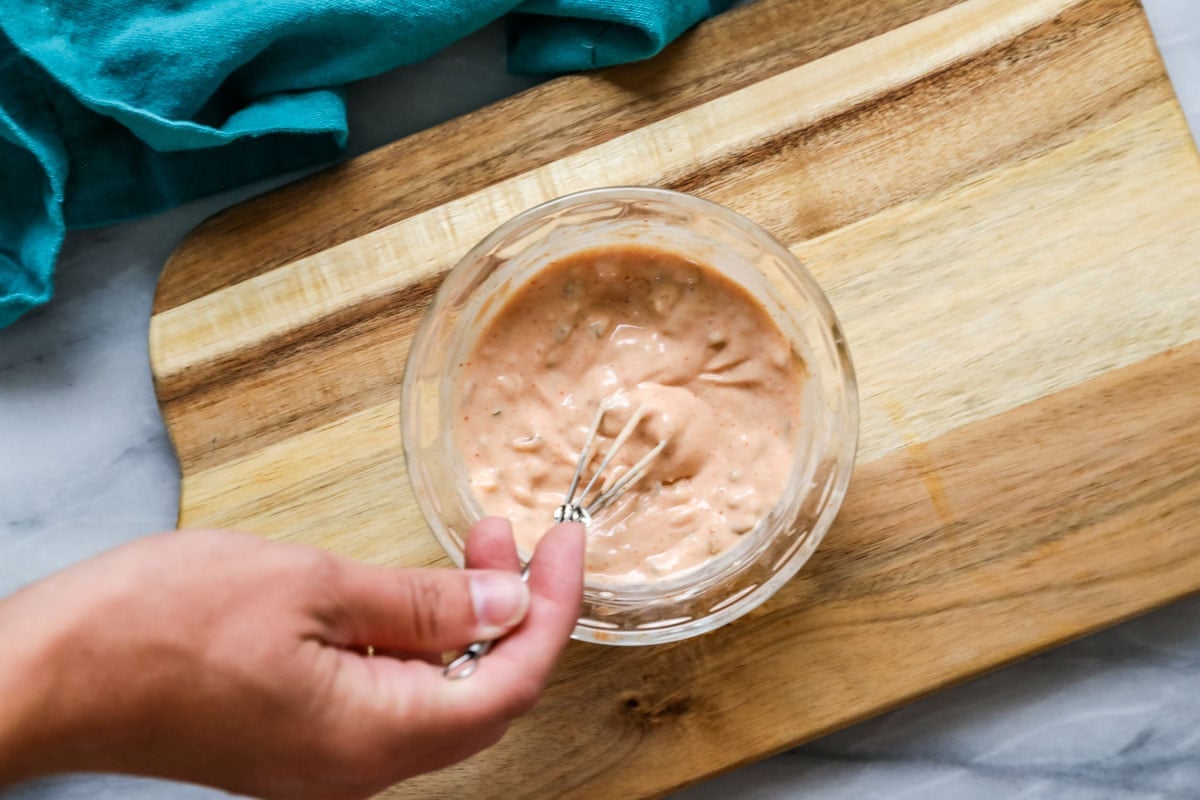 Make the sauce. Whisk together the ingredients for the sauce until combined. Cover and refrigerate until you're ready to use.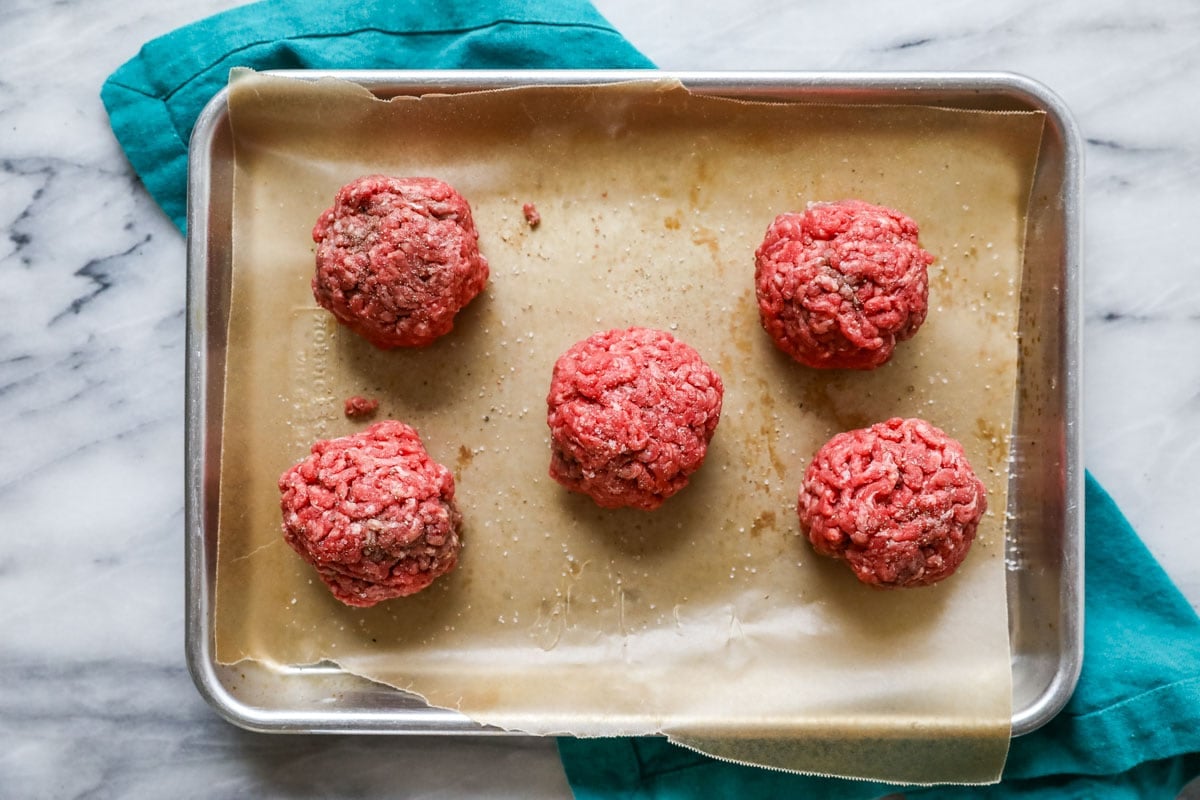 Prep the meat. I allot 4 oz (113g) per burger. Be very gentle and just loosely form the meat into round balls. Sprinkle salt and pepper on the tops of each ball. Pop this in the fridge or freezer while you start heating the pan.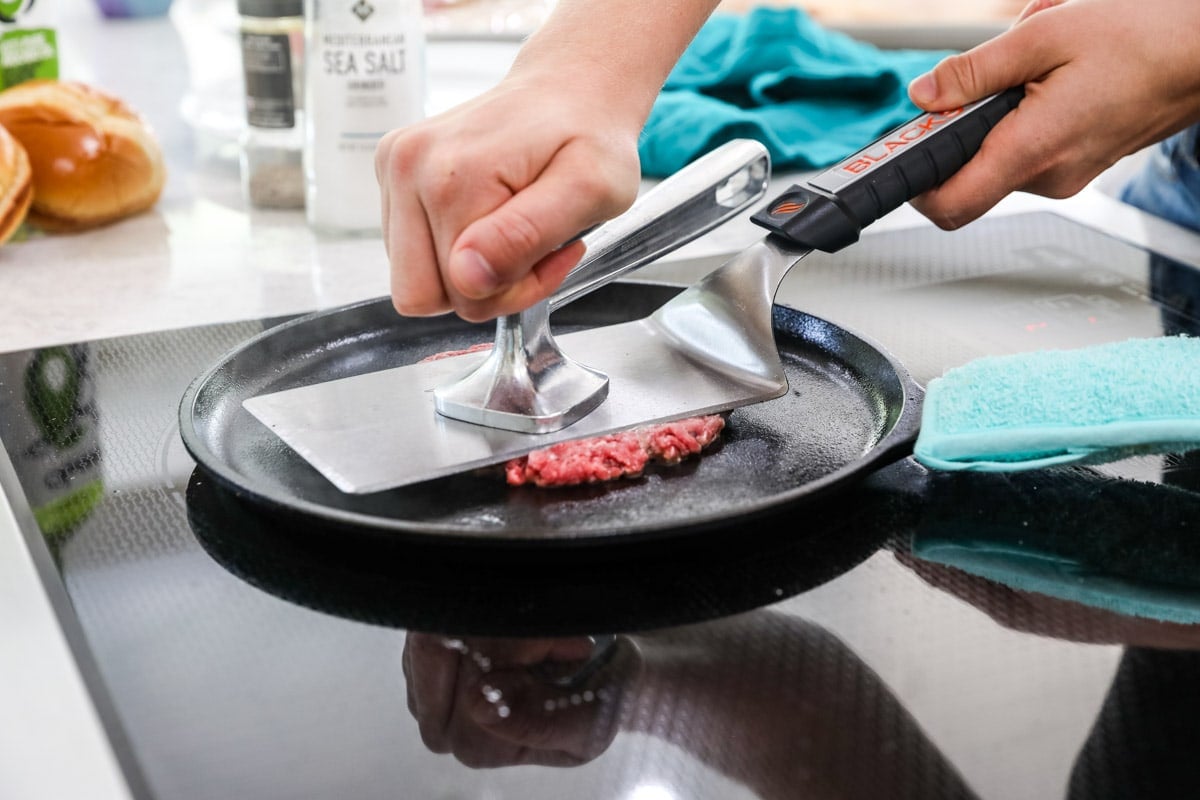 Lightly oil a cast iron pan and heat over medium-high heat until smoking. It is essential that the pan be very hot/smoking. Add a ball of the chilled and seasoned ground beef to the pan, seasoned side down, then immediately press straight down until flat. You can use a burger press for this step, but I just use a large spatula and mallet (pictured above).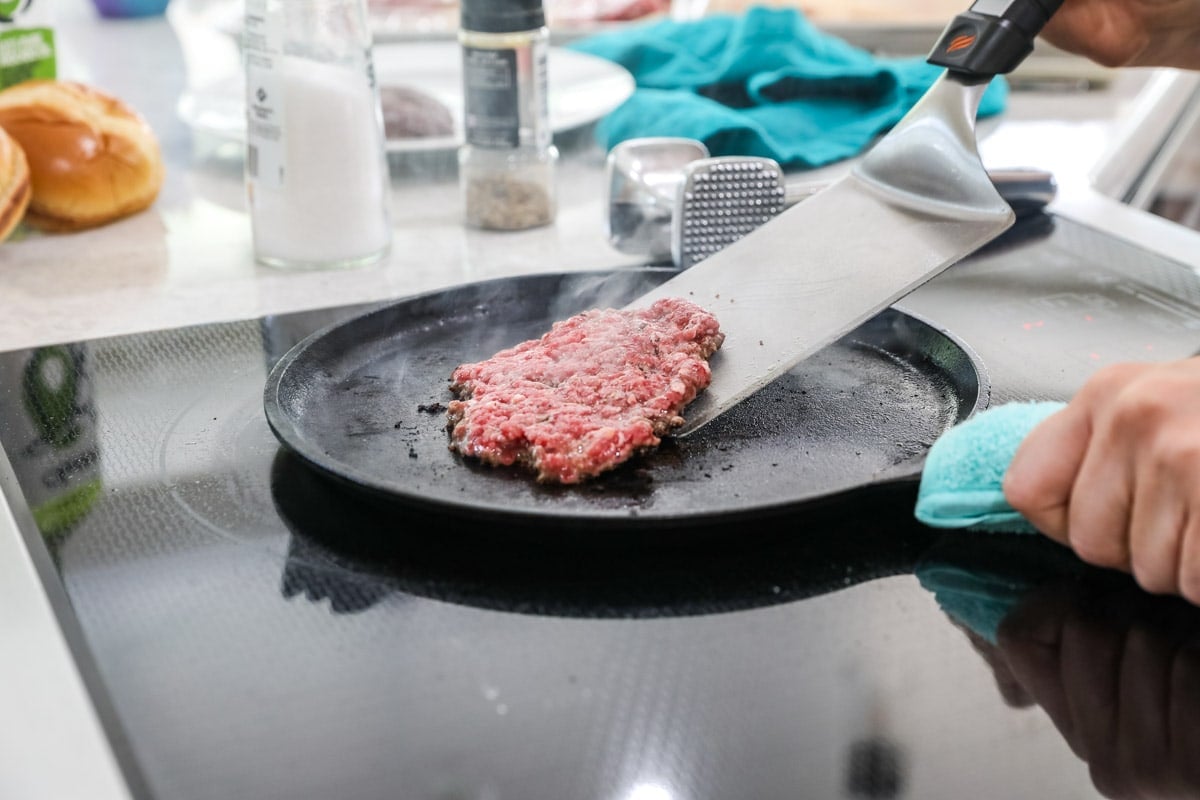 Cook until a crust forms (approximately 1 minute, don't cook either side too long or you'll make the burgers tough). While this cooks, I will sprinkle the surface of the patty with additional salt and pepper. Next, use a spatula to scrape up the burger and flip. Make sure you scrape that caramelized crust with the patty!
SAM'S TIP: Caramelization is the magic of a smash burger! It adds flavor, keeps the inside juicy, and adds such a lovely texture. Whatever you do, DON'T lose that crispy caramelization when flipping the burgers! Use your spatula to scrape as you go under the patty to be sure to you get every last bit of that caramelization.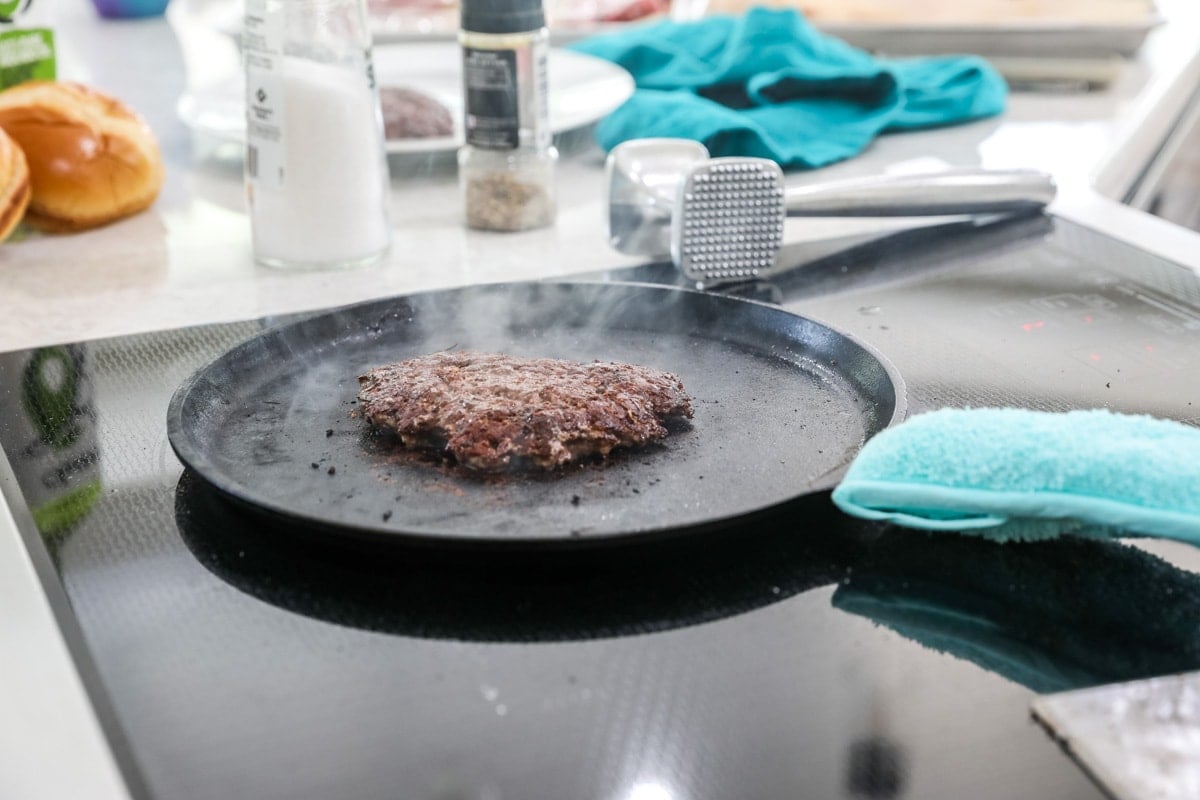 Cook the burger until done, about 45 seconds or so, before transferring to a clean plate. If you'd like, you can add a slice of cheese here, too, so it will start melting. I then transfer the burger to a plate and cover with foil to keep warm.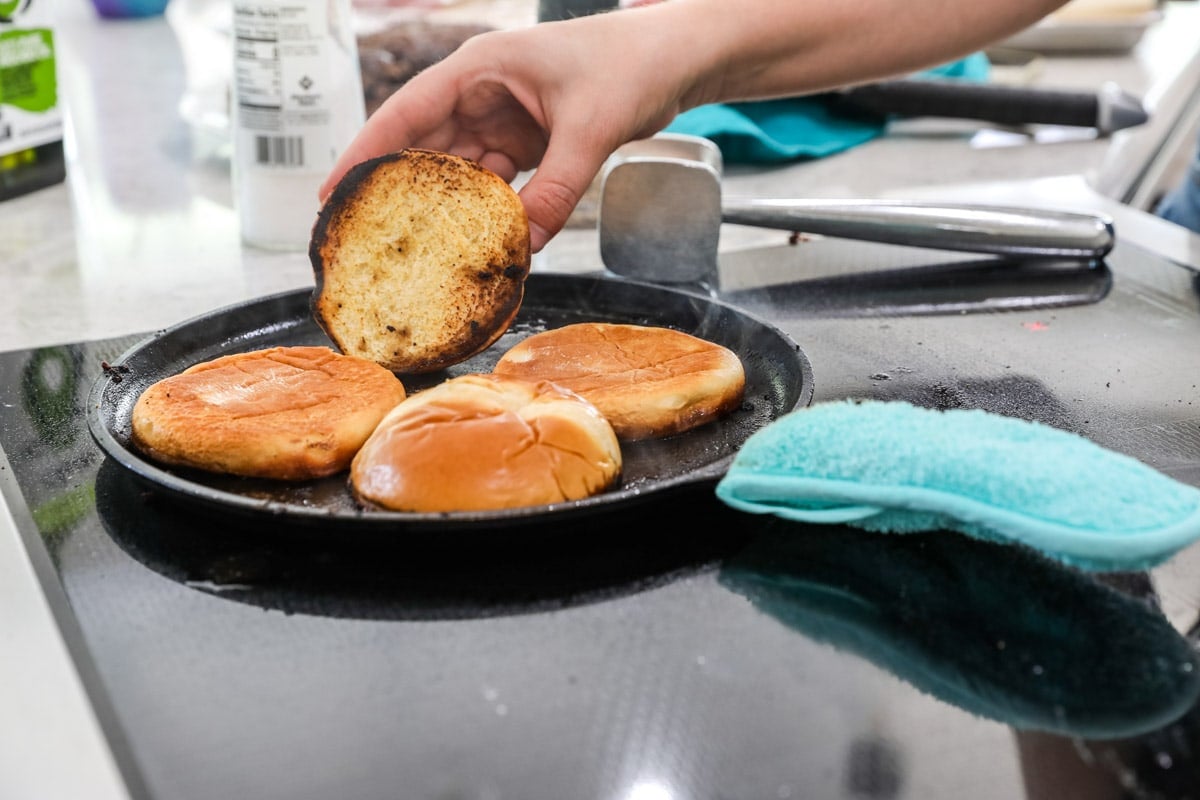 Toast the buns. Add butter to the hot pan, and, once melted, turn off the pan and add your buns cut-side down. Cook until the buns are warm and toasted (this takes only seconds), then serve.
SAM'S TIP: Once you smash the burgers, do not re-smash! Also, resist the urge to peek underneath to check for caramelization; doing this could actually ruin any caramelization that has formed.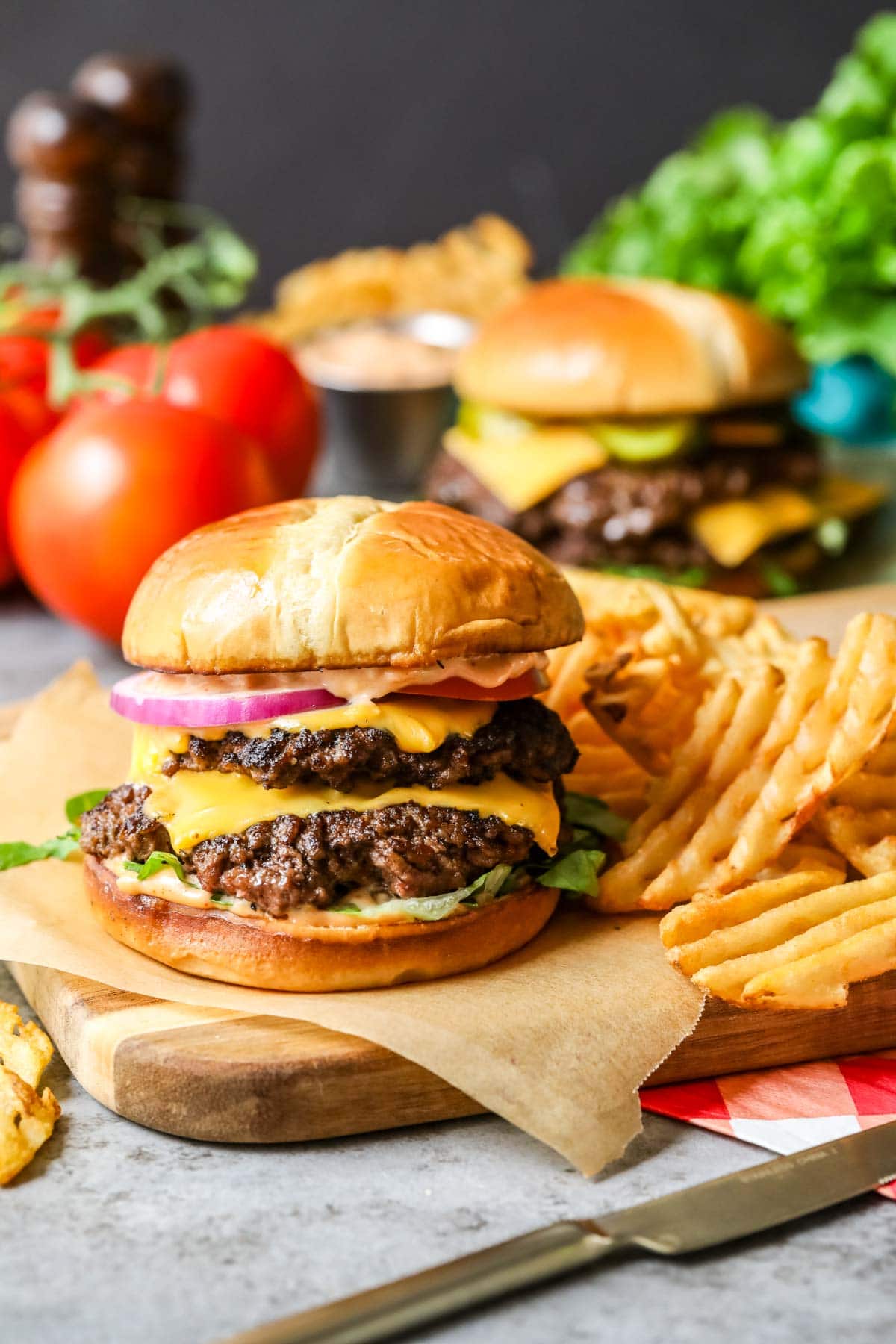 Frequently Asked Questions
Should I freeze smash burgers before cooking?
Some people recommending freezing the patties before making the smash burgers. While you do want the meat to be cold, it shouldn't be frozen. Keeping the burgers in the freezer or fridge for a few minutes while you prepare your pan will work fine.
What makes a burger a smash burger?
Smash burgers originated in Kentucky and the name comes from the technique of smashing cold ground beef against a very hot pan or griddle until it's seared. This technique creates thin and juicy burgers with crispy, caramelized exteriors. Smash burgers are often served with two patties on one bun since they are thinner than traditional burgers.
Can smash burgers be pink?
Typically a smash burger is cooked all the way through, so there shouldn't be any pink in the center. This is because this type of burger is cooked on a higher heat until caramelization occurs.

So, if you are cooking your burgers properly, they likely will not have a pink center–but that is fine! They will have incredible flavor and are designed to be this way.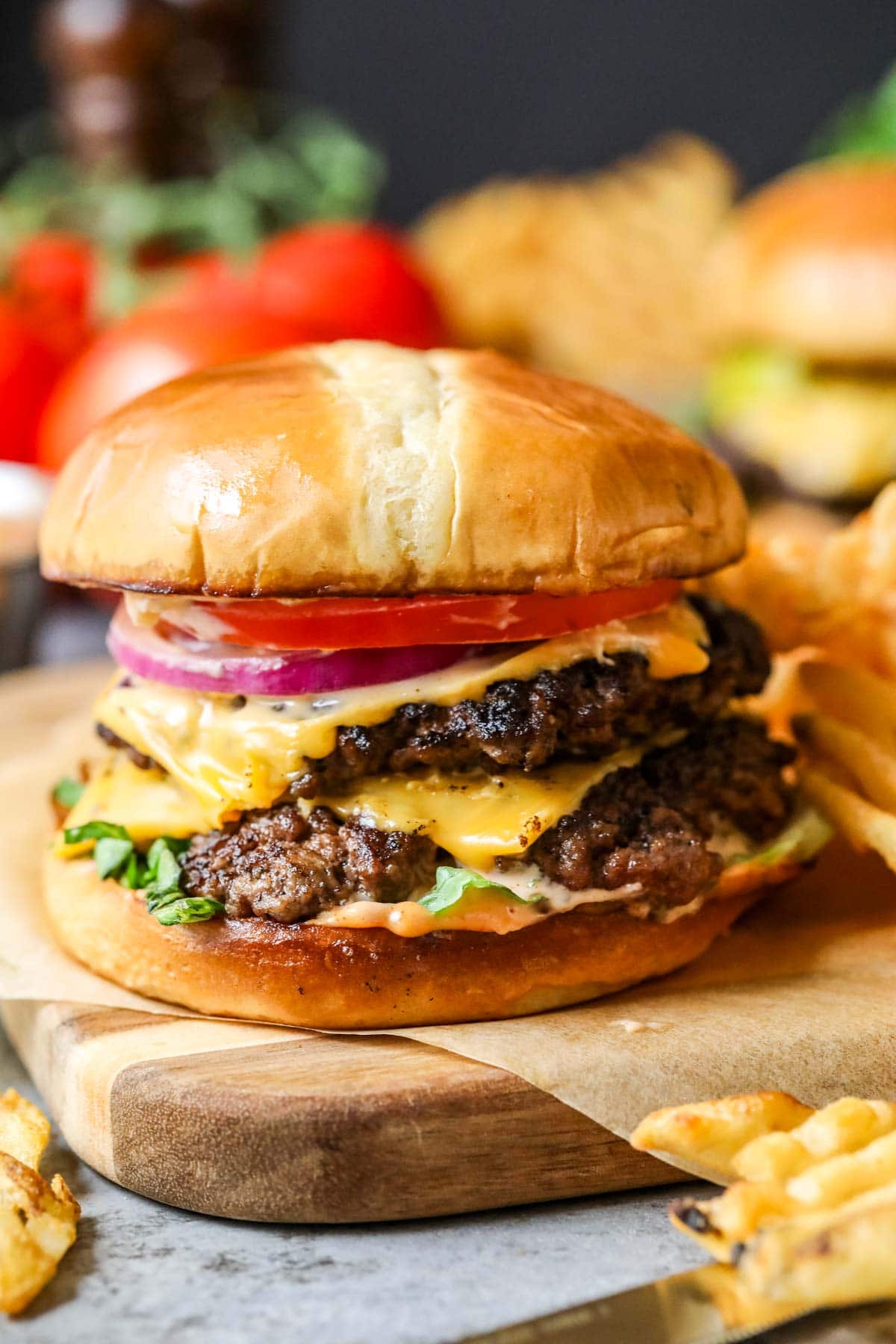 I know this smash burger recipe is about as far as possible from my usual cookies and cakes, but I seriously can't wait to hear how you like it!
Enjoy!
Let's cook together! I'll be walking you through all the steps in my written recipe below! If you try this recipe, be sure to tag me on Instagram, and you can also find me on YouTube and Facebook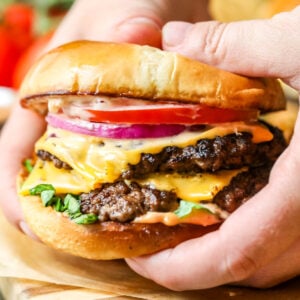 Smash Burgers
With a caramelized crust and plenty of melty cheese, this is my restaurant-quality smash burger recipe! Just 10 minutes to make on the stove and includes a simple burger sauce too!
Print
Pin
Rate
Ingredients
Sauce
¼

cup

(

60

g

)

mayonnaise

1

Tablespoons

(

17

g

)

ketchup

1

Tablespoons

(

20

g

)

sweet relish

¼

teaspoon

smoked paprika
For burgers
1

teaspoon

cooking oil

avocado, canola, vegetable, or even olive oil

1

lb

(

453

g

)

80-85% ground beef

Salt and pepper

to taste

1

Tablespoon

salted butter

4

burger buns

Sliced cheese

if desired

Toppings: Lettuce

tomato slices, onion slices, pickle chips, and/or other desired toppings
Instructions
For the Sauce
Whisk together mayo, ketchup, relish, and smoked paprika until well-combined. Cover and refrigerate until ready to use for burgers.

¼ cup (60 g) mayonnaise,

1 Tablespoons (17 g) ketchup,

1 Tablespoons (20 g) sweet relish,

¼ teaspoon smoked paprika
Burgers
Prepare the patties: Line a plate with wax paper. Divide beef into four equal (4oz/113g) pieces. Use your hands to loosely form each into a round ball. Do not overwork the meat, just gently form it into a ball.

1 lb (453 g) 80-85% ground beef

Season and chill: Place meatballs on a wax paper lined plate and sprinkle the tops with salt and pepper. Keep cold in fridge or freezer while you preheat your pan.

Prepare the pan: Drizzle a teaspoon of oil over a cast iron pan and use a paper towel to smear it evenly over the surface. Turn heat to medium-high and heat until pan is smoking.

Smash the burgers: Add a ball of meat to the pan. Immediately use your burger press or large spatula to firmly press straight down on the burger and smash it flat (if using a spatula, grip a mallet and use that to help you press into the burger, see photo in post for visual if needed). If meat sticks to the press, you may place a square of parchment paper over it before flattening.

Cook for approximately 1 minute, until a crust has formed on the burger (avoid the temptation to re-squish the burger or flip it early!). Sprinkle with more salt and pepper while it cooks.

Flip. Use spatula to scrape up the burger (you want to be sure to scrape up all the caramelized crust and not leave anything behind), flip, and add a slice of cheese if desired. Cook through (approximately 45 seconds longer). Transfer burgers to a clean plate and cover with foil while you toast the buns.

Toast the buns: Immediately add butter to the hot pan. Once melted, turn off pan and place burger buns cut-side down on the skillet and cook briefly, until warm and toasted on the bottom.

1 Tablespoon salted butter,

4 burger buns

Assemble & enjoy: Spread burger sauce onto toasted buns, top with burgers and any additional desired toppings and enjoy immediately.
Notes
Preparing in advance
Sauce can be prepared up to 5 days in advance, store in an airtight container in the refrigerator. Burger balls may be prepared up to 2 days in advance, cover rightly with plastic wrap and store in the refrigerator.
Burger Press
Here's a burger press you can buy, but personally I use a makeshift press. I press a large spatula straight down onto the meat and use a mallet to press into the spatula to press it even thinner.
Burgers sticking?
If your burgers are sticking to the spatula, place a square of parchment paper over the ball of meat before pressing down. Remove parchment immediately after pressing.
Nutrition
Serving:
1
serving
|
Calories:
501
kcal
|
Carbohydrates:
24
g
|
Protein:
25
g
|
Fat:
33
g
|
Saturated Fat:
11
g
|
Polyunsaturated Fat:
8
g
|
Monounsaturated Fat:
11
g
|
Trans Fat:
1
g
|
Cholesterol:
91
mg
|
Sodium:
461
mg
|
Potassium:
404
mg
|
Fiber:
1
g
|
Sugar:
5
g
|
Vitamin A:
223
IU
|
Vitamin C:
1
mg
|
Calcium:
81
mg
|
Iron:
4
mg
Nutritional information is based on third-party calculations and should be considered an estimate only. Actual nutritional content will vary based upon brands used, measuring methods, cooking method, portion sizes, and more.
Related Recipes