If you're hoping to encourage the special someone in your life to ask a big question this weekend 💍 I have just the thing to nudge them down to one knee.* These "Marry Me" cookies are loaded with caramel, sea salt, dark chocolate and bacon and no one in their right mind will let you out of their sight once they've tasted them.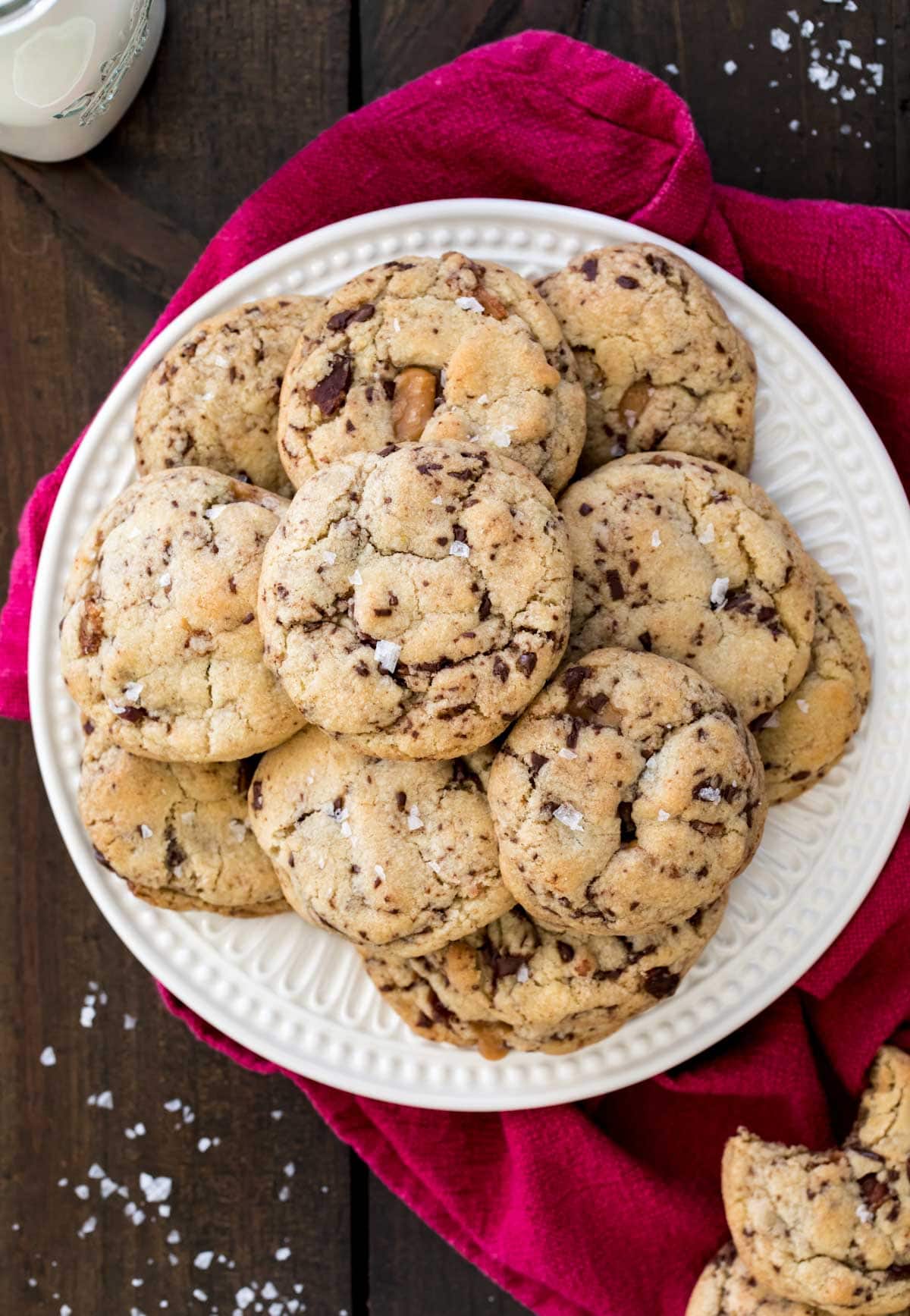 The idea for these bacon cookies started as a Valentine's idea. Even though I'm baking almost constantly, Zach rarely gets excited about what I'm making. He's just not much of a desserts person and unless he smells bacon sizzling on the stovetop he doesn't often come around asking for samples.
So I thought I'd invent this recipe as sort of a love letter to him for Valentine's Day and I married together one of my favorite cookie bases (my brown butter chocolate chip cookies, though the add-ins would be excellent with my worst chocolate chip cookies, too) with his favorite thing in the world: bacon.
I tripped over him in the kitchen not long after he heard the bacon sizzling and, even though I'd kept the bacon flavor to a minimum to keep it from overwhelming the other (incredible) flavors, after one bite he told me that if we weren't already married he'd propose to me right then and there. He's asked me to make them three times since then and we've just been referring to them as the "Marry Me" cookies. And while I can't guarantee you'll also receive a marriage proposal (belated or not), after careful analysis I believe this recipe is at least 85% likely to procure you one. I mean, just look at it.
If you follow me on Instagram you already got a sneak peek at these cookies and in fact, I'm only even publishing the recipe today because so many of you asked me to share. Let's get to it!
What You Need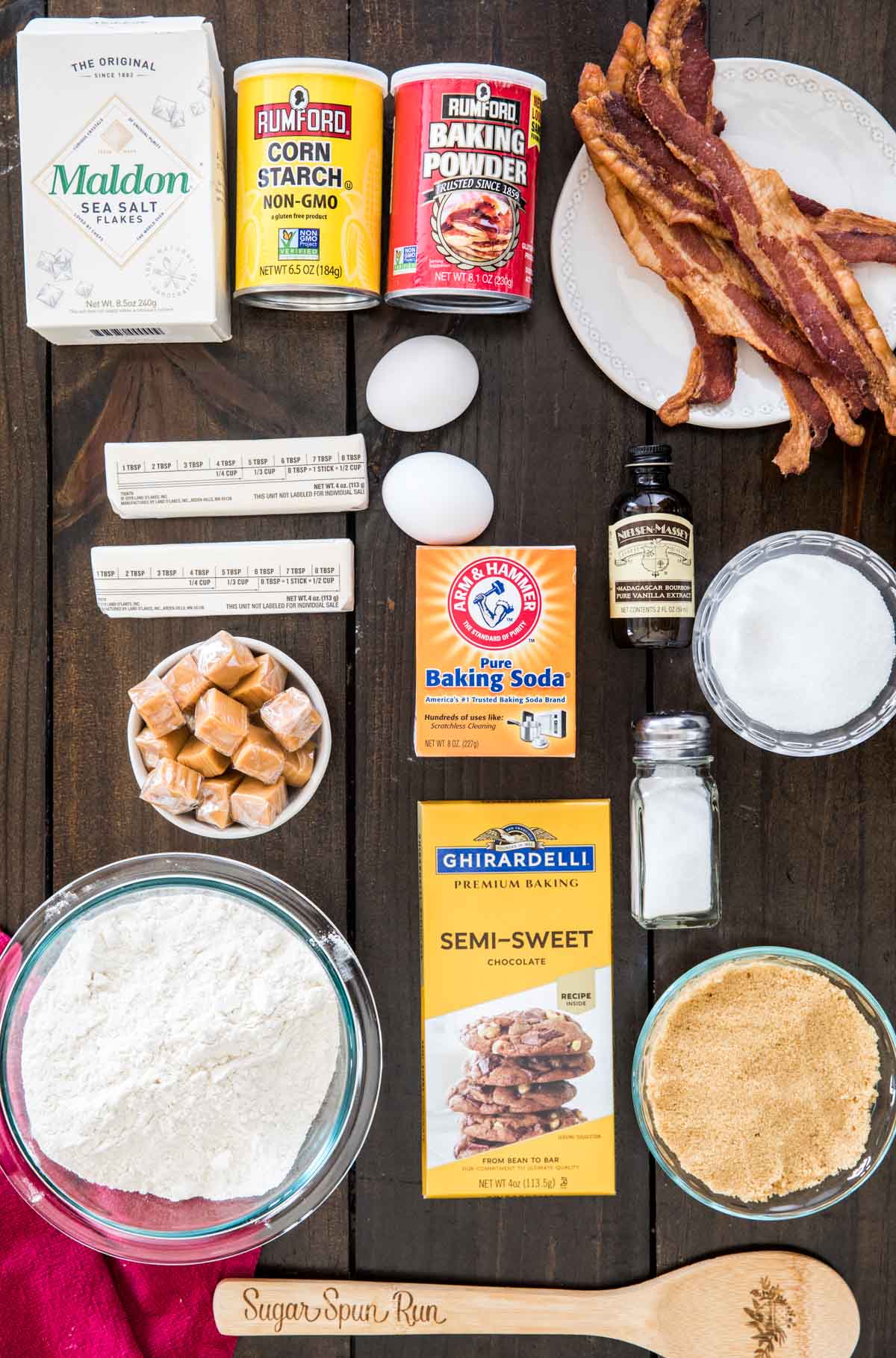 The base recipe is essentially a chocolate chip cookie base (a really, really good one) with a few over-the-top add-ins. Let's discuss just a few of the key ingredients:
Butter. We're browning the butter for best flavor (more on that below). NOTE: I also tried a few variations of this recipe where I substituted a small amount of the butter with bacon grease but Zach and I were both shockingly underwhelmed by the results.
Flour. You'll use all-purpose flour. As with all of my recipes you want to measure the flour accurately, but it's especially critical with this recipe as it's already prone to being stiff and slightly crumbly and accidentally using more flour than called for can make the dough too crumbly to work with.
Bacon. Use real bacon you've cooked to crisp yourself! What I love about this recipe is that the bacon flavor is present without being overwhelming. I use ½ cup of crumbled bacon, but feel free to up this to ⅔ cup or even a bit more if you really want a lot of bacon flavor.
Caramel. You may use caramel baking bits or, if you can't find them, just buy classic soft caramels and use a sharp knife to cut them into small pieces (which is what I did).
Chocolate. You could use a scant cup of chocolate chips, but I prefer to finely chop a quality chocolate bar. The easiest way to do this is to use a large sharp knife and go over the chocolate bar in a mincing motion just as if you were mincing garlic. It makes for a melty chocolate experience in every bite.
Remember, this is just an overview of some of the ingredients I used and why. For the full recipe please scroll down to the bottom of the post!
Why Brown Butter?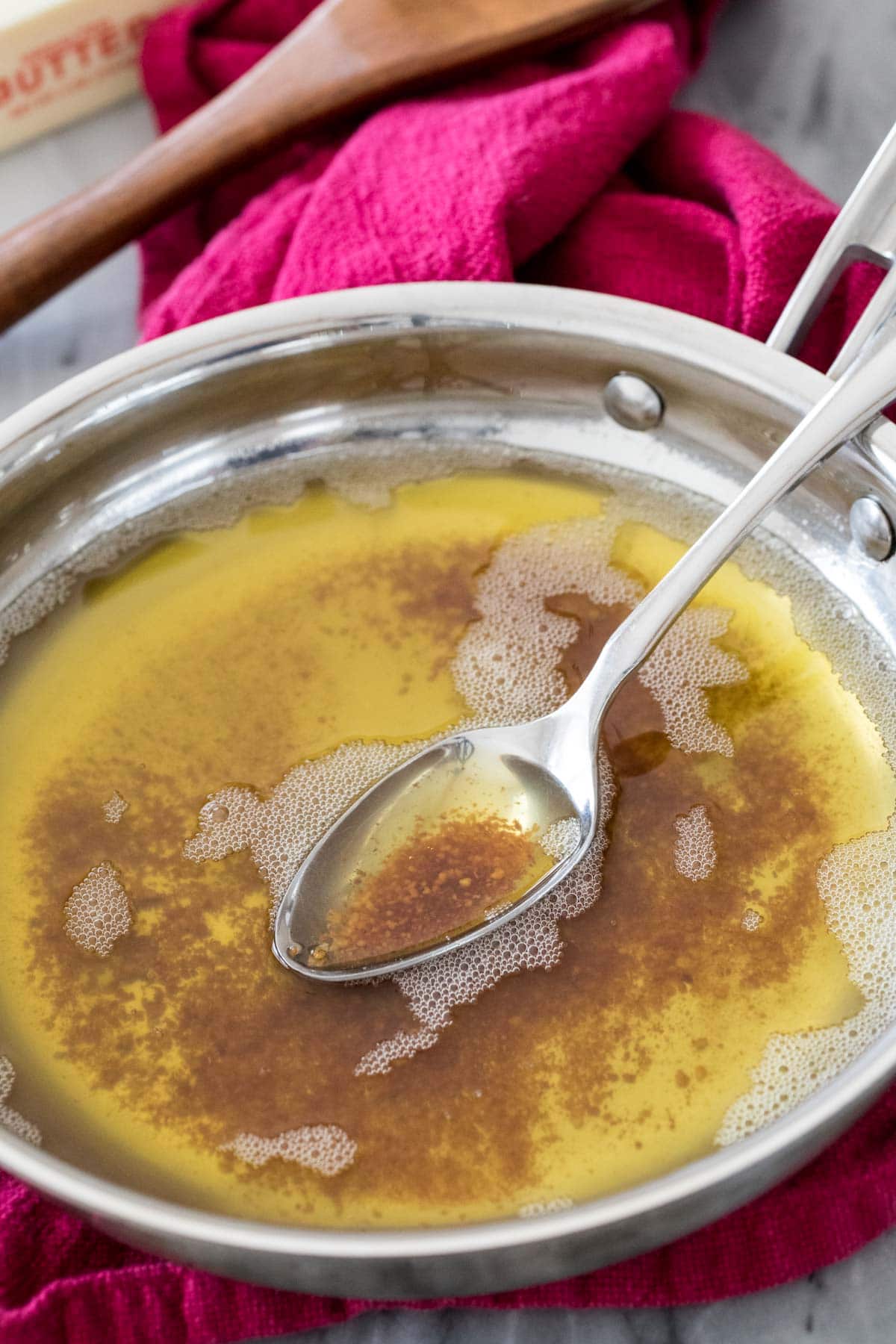 Browning your butter is one of the absolute best thing you can do for most of your baked goods. If you've never done it before I recommend checking out my post on how to brown butter before beginning, though I do briefly walk through the (easy) steps in the recipe card.
Essentially you're cooking out much of the water and browning the milk solids that remain. This gives the butter (and in turn the cookies) a rich and deep flavor.
The butter will need to cool to room temperature before you can add your sugar to make your cookie dough. Use this cooling period to cook your bacon!
How to Make Bacon Cookies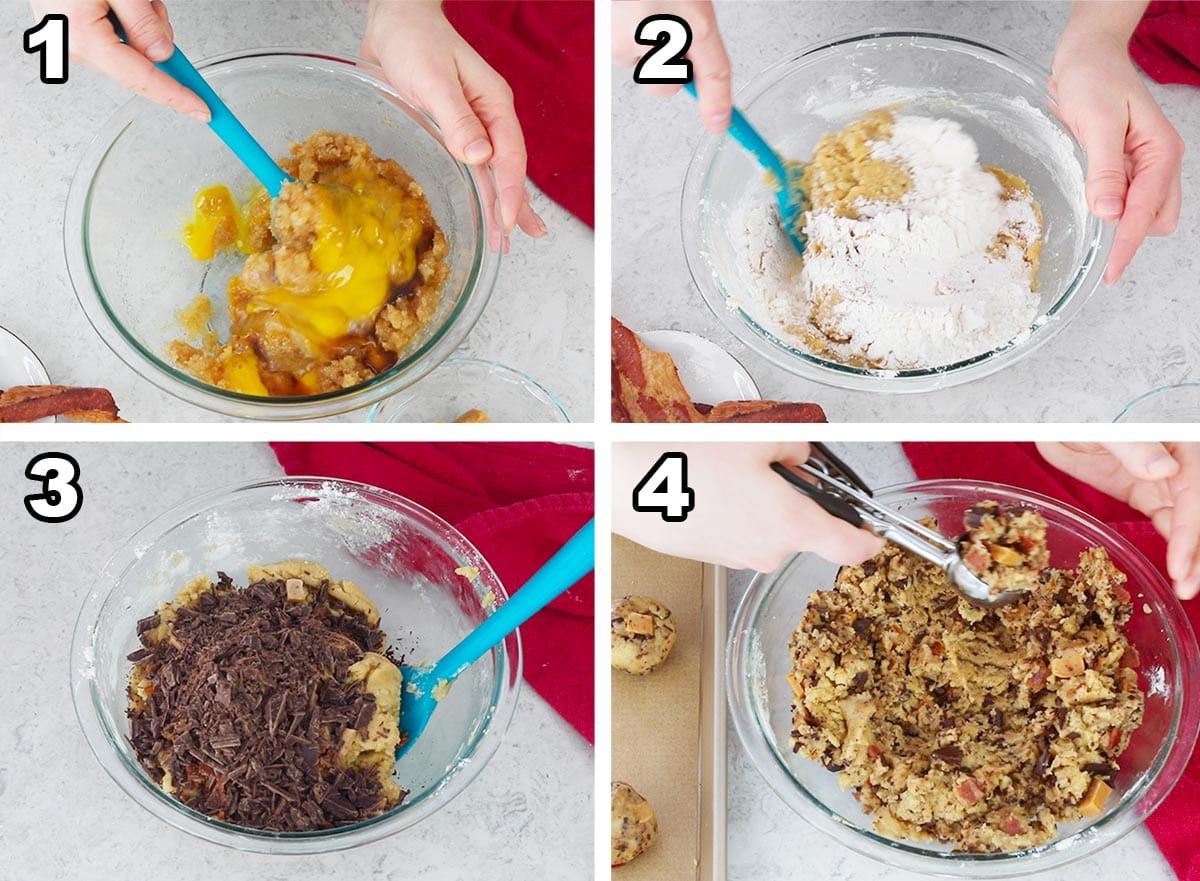 After browning (and cooling!) your butter, add your sugar, vanilla, and eggs and stir well.
Whisk together your dry ingredients in a separate bowl and then gradually (in 4-5 parts) stir the dry mixture into the batter.
Stir in add-ins; we're using caramel, chocolate, and BACON.
Scoop, roll, and bake until light golden brown.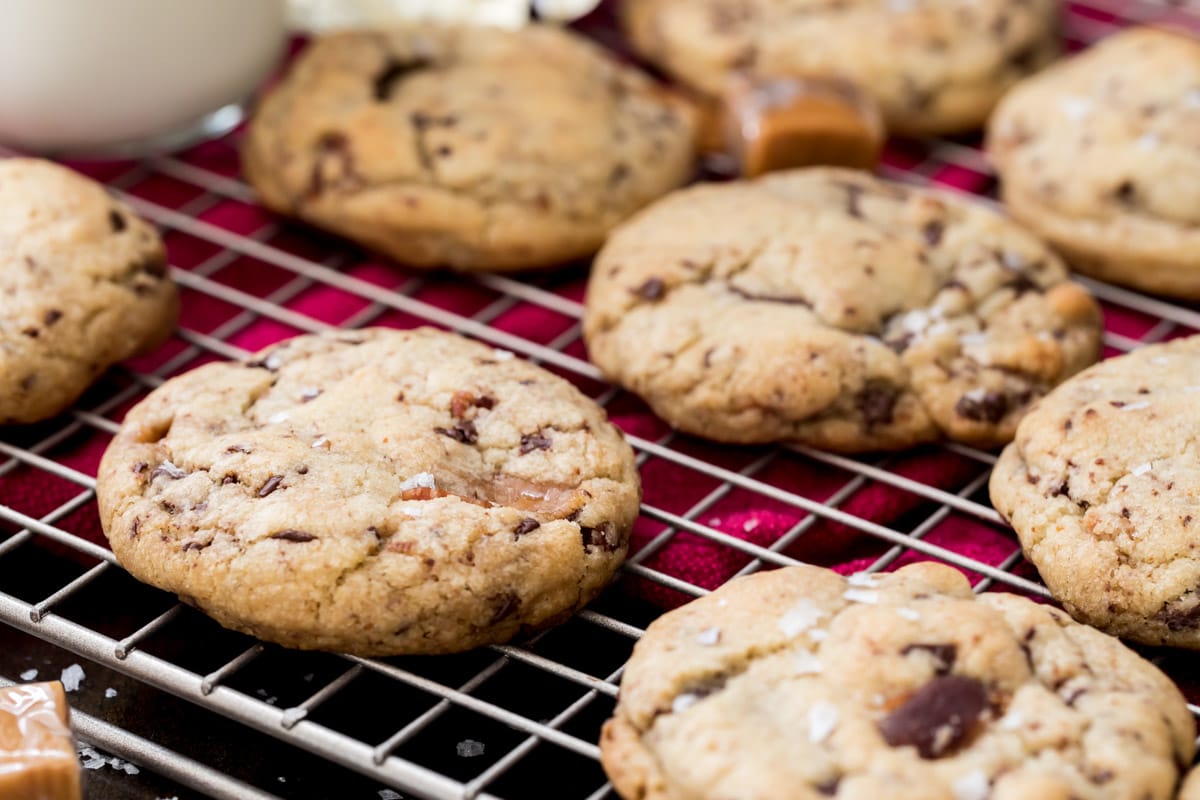 Frequently Asked Questions
Why is my dough crumbly?
This is a more dry dough by nature. We've cooked out a lot of the water from the butter (so the liquid is reduced there) and added cornstarch and the end result is a dough that's stiff but actually perfect for making without waiting for it to chill. Because of that, it's extremely important that you do two things properly:
1) Add your flour gradually (I add mine in 4 parts). Adding it all at once makes it nearly impossible for the dough to properly absorb all of the flour, making for a crumbly dough.
2) Measure your flour properly. This means using a scale (ideally!) or stirring the flour in its container, spooning it lightly into your measuring cup, and then leveling the top of the measuring cup with the back of a knife.
Can I use store-bought bacon bits?
I do not recommend it. Bacon bits made with artificial flavoring will give your cookies that same artificial flavor (yuck!) and the ones made of real bacon are too dry and chewy to work well here.
Can I make this cookie dough in advance?
This dough is a fairly dry and crumbly one by nature. Unfortunately, the longer it sits the more dry it becomes. I recommend scooping/rolling all of your cookies shortly after mixing the batter. If you want to store, save the rolled cookies, but don't store the dough by itself in a bowl with the hopes of scooping later.
How long can I store?
These cookies will keep up to a week in an airtight container at room temperature.
Is there a guarantee on receiving a marriage proposal after sharing these cookies? What are the risks of sharing them with someone I don't want to marry?
Marriage proposal likely but not guaranteed and will be dependent on the work you put into the relationship prior to sharing cookies. I can't do all the work here, my goodness.
Risk of receiving an unwanted marriage proposal is medium-to-high so share with caution.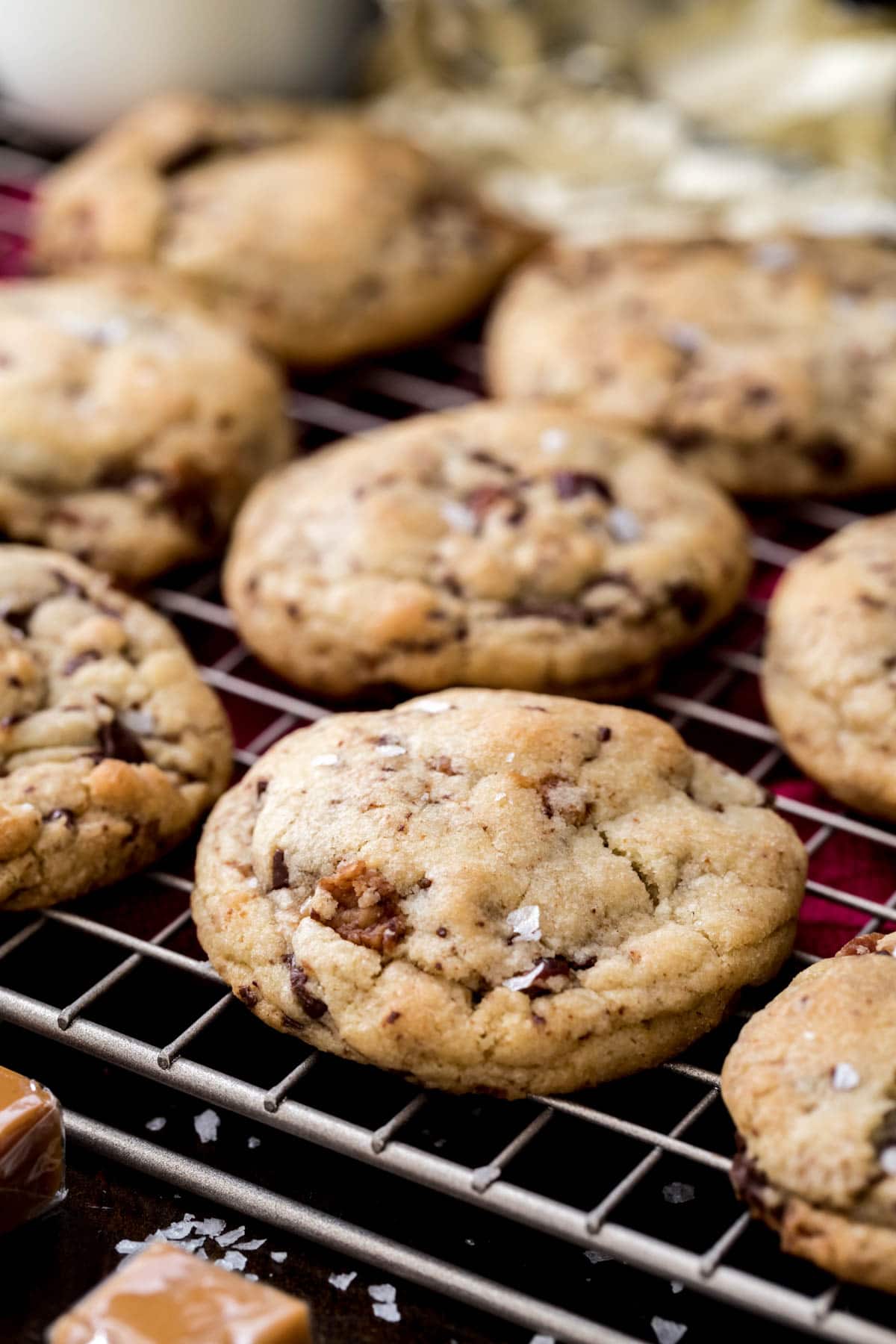 More Recipes You Might Like
Enjoy!
Let's bake together! Make sure to check out the how-to VIDEO in the recipe card!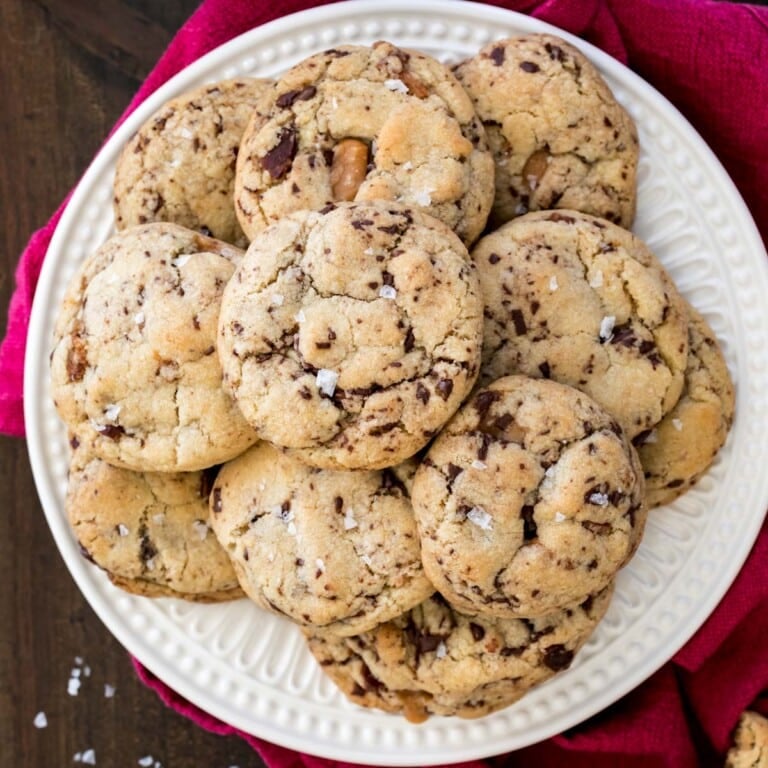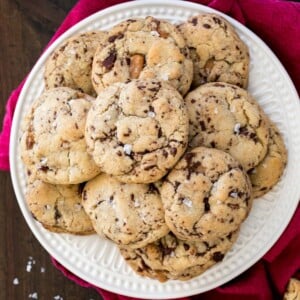 Bacon Cookies
These Bacon Cookies take chocolate chip cookies to the next level and are approximately 85% likely to score you a marriage proposal from the recipient! They're loaded with crispy crumbled bacon, caramel, and finely chopped chocolate and topped off with a sprinkling of sea salt. Be sure to check out the how-to video!
Print
Pin
Rate
Ingredients
1

cup

(

225

g

) unsalted butter

1

cup

(

200

g

)

light brown sugar

⅔

cup

(

135

g

)

granulated sugar

2

large eggs

room temperature

2

teaspoons

vanilla extract

2 ¾

cups

(

340

g

) all-purpose flour

1

teaspoon

cornstarch

1

teaspoon

baking powder

1

teaspoon

baking soda

¾

teaspoon

salt

flaky sea salt for sprinkling

optional

⅔

cup

caramel bits or chopped caramels

I cut 12 soft caramels into 6 pieces each

4

oz

(

113

g

)

semisweet chocolate bar

finely chopped

½

heaping cup crumbled bacon

about 5 slices
Instructions
First, brown your butter:
Place butter in a medium-sized saucepan and melt over medium/low heat.

1 cup (225 g) unsalted butter

Once butter has melted, increase stovetop heat to just above medium heat and stir constantly. The butter will begin to bubble and sizzle. Keep stirring.

Once you notice bits beginning to turn golden brown on the bottom, remove the butter from heat and pour into a large heatproof bowl. Let this cool to room temperature before proceeding.
Cookie Dough
Preheat oven to 375F (190C) and line baking sheets with parchment paper.

Once butter is no longer warm to the touch, add sugars and stir well.

1 cup (200 g) light brown sugar,

⅔ cup (135 g) granulated sugar

Add eggs and vanilla extract and stir until completely combined.

2 large eggs,

2 teaspoons vanilla extract

In a separate bowl whisk together flour, cornstarch, baking powder, baking soda and salt (not the sea salt, reserve that for topping).

2 ¾ cups (340 g) all-purpose flour,

1 teaspoon cornstarch,

1 teaspoon baking powder,

1 teaspoon baking soda,

¾ teaspoon salt

Gradually (in 4-5 parts) add your flour mixture to butter mixture, stirring until ingredients are completely combined after each addition. Batter will be stiff, this is normal.

Add caramel pieces, chopped chocolate, and crumbled bacon and stir until combined.

⅔ cup caramel bits or chopped caramels,

4 oz (113 g) semisweet chocolate bar,

½ heaping cup crumbled bacon

Scoop dough into 2 Tablespoon-sized scoops and gently roll in your hands to form a ball. Place on prepared baking sheet, spacing cookies 2" apart.

Bake on 375F (190C) for 9-11 minutes or until the edges of the cookies are beginning to turn golden brown. Immediately sprinkle lightly with flaky sea salt.

flaky sea salt for sprinkling

Allow cookies to cool on baking sheet then enjoy.
Nutrition
Serving:
1
cookie
|
Calories:
293
kcal
|
Carbohydrates:
40
g
|
Protein:
4
g
|
Fat:
13
g
|
Saturated Fat:
8
g
|
Trans Fat:
1
g
|
Cholesterol:
46
mg
|
Sodium:
258
mg
|
Potassium:
112
mg
|
Fiber:
1
g
|
Sugar:
25
g
|
Vitamin A:
314
IU
|
Vitamin C:
1
mg
|
Calcium:
40
mg
|
Iron:
1
mg
Nutritional information is based on third-party calculations and should be considered an estimate only. Actual nutritional content will vary based upon brands used, measuring methods, cooking method, portion sizes, and more.
*I don't need to disclaim that this is tongue-in-cheek and meant to imply that these are incredible cookies, right? Right.