Infused with the toffee-like flavor of browned butter, studded with two different kinds of chocolate chips, pecans, and topped off with flaky sea salt, these brown butter chocolate chip cookies are world-class cookies.  
I usually reserve my brown butter recipes for chilly, grey (preferably snowy) days, but today it's slated to reach the 90's, so this is a little out of my norm.  However, my sister is headed to Colorado where it will evidently be snowing (!? It's the end of May!), so it's possible that, depending on where you are when you read this, you could be currently in the midst of my favorite butter-browning weather right now.
If so (or even if not, really), I encourage you to immediately grab a saucepan and two sticks of butter and make up a batch of these brown butter chocolate chip cookies, ASAP.
Because of the browned butter, they do take a bit more effort than my go-to chocolate chip cookies (but at least you don't have to chill the dough, so that makes up for it, right?!), but the flavor… oh my gosh the flavor makes every second worth it.
Browned butter is amazing, it gives everything it touches a wonderful toffee like flavor, it makes your taste-buds sing and all of your worries disappear.  Last time I ate a browned butter cookie I saw a unicorn.
I exaggerate, perhaps, but just a little.
Browned butter cookie dough is gold-standard cookie dough, and it demands quality add-ins.  For these cookies, I chose two different kinds of chocolate chips (milk and semisweet), pecans, and of course, a sprinkling of sea salt on top.
If you've read a lot of my cookie recipes, you may have noticed that I often call for room temperature eggs, and I do here, too.
The biggest reason for this is because we've just taken all of this time and effort to carefully brown our butter.  If we were to add a cold egg into the batter, it could potentially shock and curdle our butter.  Browned butter is liquid. gold. and this would be a terrible way to treat such a beloved ingredient.
Also, as this recipe can be mixed completely by hand (no need for a stand mixer, here), the eggs will be much easier to mix and evenly incorporate throughout the better if they are room temperature.
I usually set my eggs out the night before I'm going to start baking, but if you have forgotten to do this you can quickly warm them up to room temperature by placing them in a bowl of warm (not hot, you don't want to cook the egg!) water for about 15 minutes.
Enjoy!
Brown Butter Chocolate Chip Cookies
Infused with the toffee-like flavor of browned butter, studded with two different kinds of chocolate chips, pecans, and topped off with flaky sea salt, these brown butter chocolate chip cookies are world-class cookies.
Print
Pin
Rate
Ingredients
1

cup

unsalted butter

(225g)

1

cup

brown sugar

(200g)

2/3

cup

white sugar

(135g)

2

eggs

room temperature preferred

1 ½

teaspoon

vanilla extract

2 3/4

cups

all-purpose flour

(350g)

1

teaspoon

cornstarch cornflour in UK

1

teaspoon

baking powder

1

teaspoon

baking soda

3/4

teaspoon

salt

3/4

cup

milk chocolate chips

(130g)

3/4

cup

semisweet chocolate chips

(130g)

1/2

cup

chopped pecans

sea salt for sprinkling
Instructions
Preheat oven to 350F (175C) and line cookie sheets with parchment paper. Set aside.

Cut your butter into Tablespoon-sized pieces and place in a medium-sized saucepan. Melt over medium-low heat.
To Brown the Butter (It's easy, I promise!)
Once butter has melted, increase heat to just above medium heat.

Swirl and scrape the sides of the pan frequently with a wooden spoon or heatproof spatula - the butter will bubble and pop. Once the bubbling/popping slows, the butter will begin to turn brown, it will look like this once it's finished:

Watch the butter very carefully at this point, and once it begins to brown and you smell the nutty aroma of browned butter, remove from heat quickly and pour into a large, heatproof bowl.

Allow butter to cool for 25-30 minutes before proceeding with the recipe.
Cookie Dough
Add sugars into cooled browned butter, stir well.

Stir in eggs, one at a time, stirring well after each addition.

Add vanilla extract and stir.

In a separate, medium-sized bowl, whisk together flour, cornstarch, baking powder, baking soda and salt.

Gradually add flour mixture to butter mixture, stirring until ingredients are nearly completely combined.

Add chocolate chips and chopped pecans and stir until ingredients are well-incorporated.

Drop by heaping, rounded 1 1/2-Tbsp scoops onto prepared cookie sheets, placing at least 2" apart.

Bake on 350F (175C) for 10-12 minutes or until edges are just beginning to turn golden brown (cookies should still be quite soft when you remove them from the oven, and may even appear slightly underbaked in center).

Sprinkle lightly with sea salt.

Allow cookies to cool on baking pan for about 3 minutes and then use a spatula to gently scoop beneath them and carefully wiggle them free from the parchment paper, as the toffee tends to stick.

Allow to cool several more minutes and then transfer to cooling rack to cool completely.
You Might Also Like:
The Worst Chocolate Chip Cookies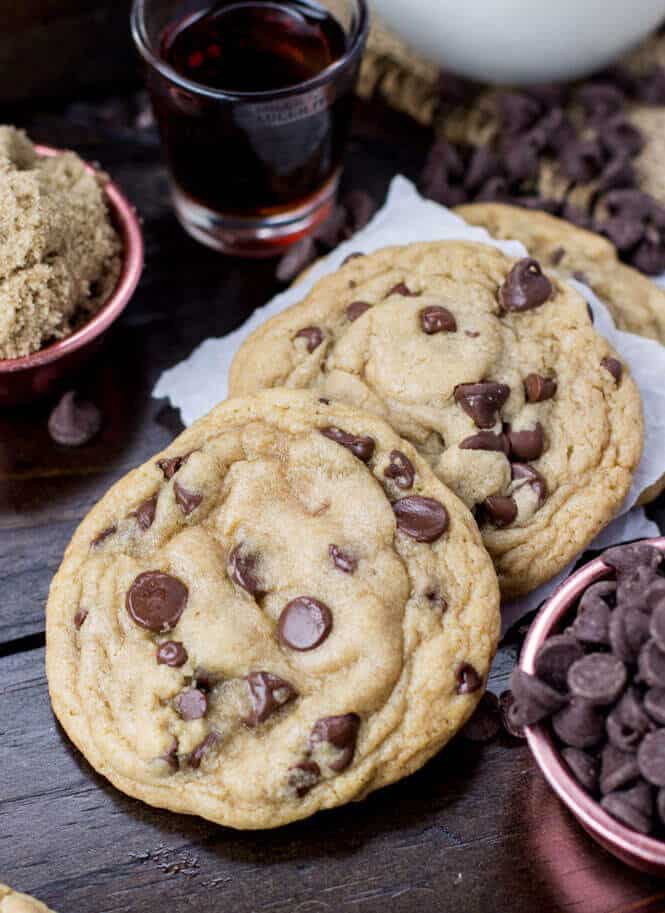 Funfetti Filled Chocolate Chip Cookies