There are deviled eggs, and then there are these Million Dollar Deviled Eggs.  This is my favorite, best deviled egg recipe, and it includes a secret ingredient that notches up the filling to the next level.  Top everything off with paprika and bacon (if you feel so inclined) and enjoy!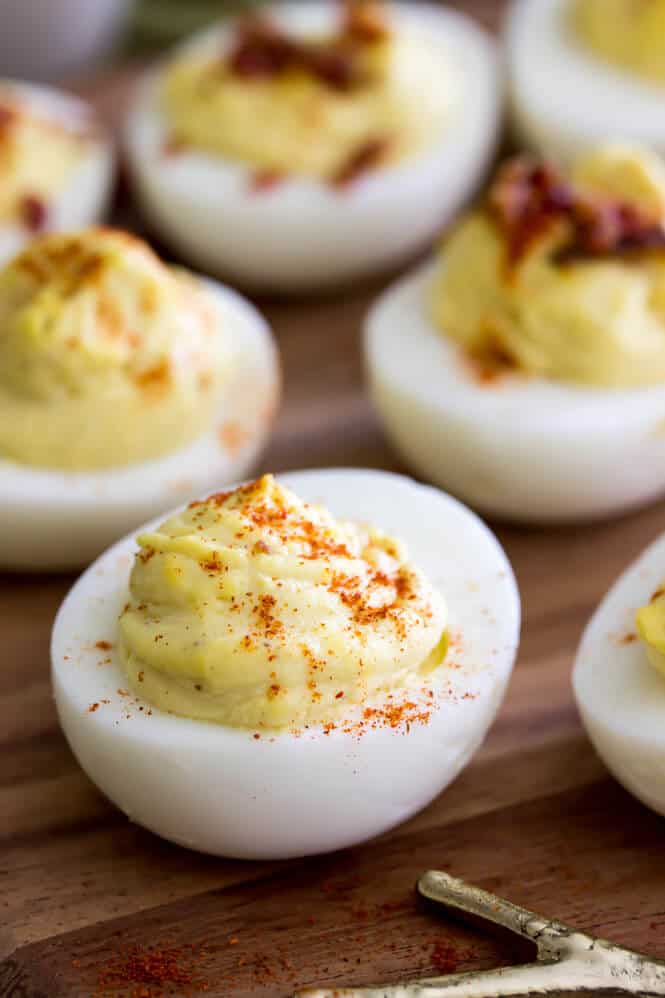 Let's start the week off with a classic.
While Monday might have you reaching for a "Whiskey Sour" kind of classic, I have something slightly different for you today: the best deviled egg recipe that I have in my repertoire.
It's also a little different from the classic deviled egg recipe that you might have stowed away,  scribbled on a scrap of paper in the back of your kitchen cabinet, and that's largely due to my addiction to secret ingredients.
That's right, there's a secret ingredient in these deviled eggs.  Can you spy it below?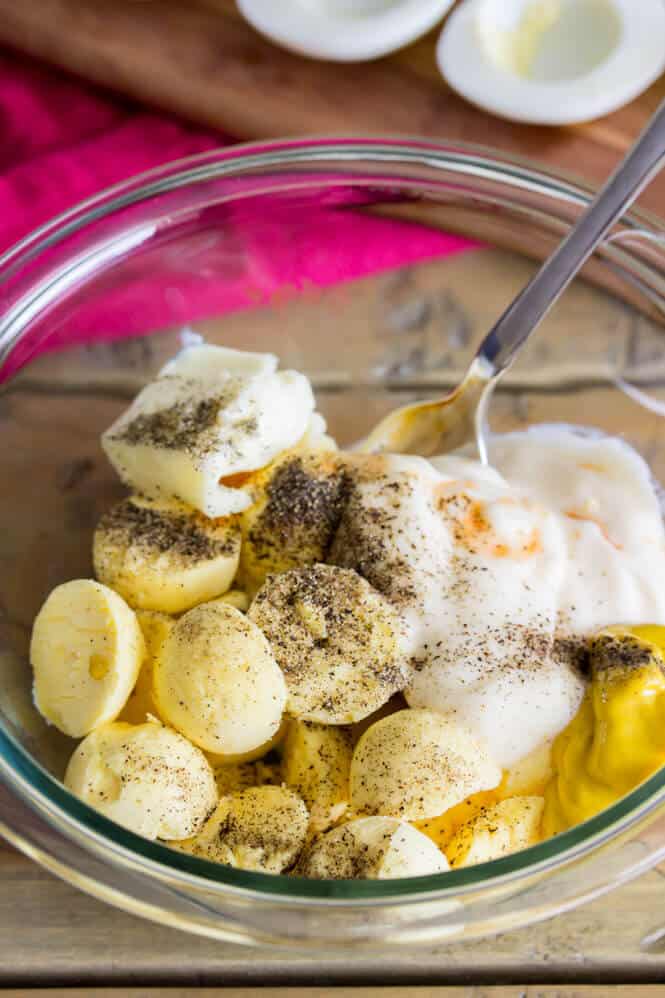 Right there, at 11 o'clock.  That's one Tablespoon of pure, delicious, sweet cream butter.
Have you ever made deviled eggs with butter before? It's a sneaky secret ingredient, nearly imperceptible except that the filling is just a touch creamier, just a tad more velvety, there's just something about it that you probably won't quite be able to put your finger on…
Something really, really good, but not overpowering.  Just a little bit extra without being overwhelming, subtle, but so important.
In addition to preferring my deviled eggs with a spoonful of butter, I also prefer them to be slightly on the sweet side of things.  To this end I've added a splash of sweet pickle juice and a sprinkling of sugar.
I'm told sweeter deviled eggs are a southern thing, but I happen to live just a notch above the Mason Dixon Line and can vouch for their deliciousness here, too.
I topped off about half of these eggs with bacon (mostly for my husband's benefit, to be honest I have a very meh attitude about bacon myself) and cross-sections of sweet pickles, and all of them got a sprinkle of Paprika.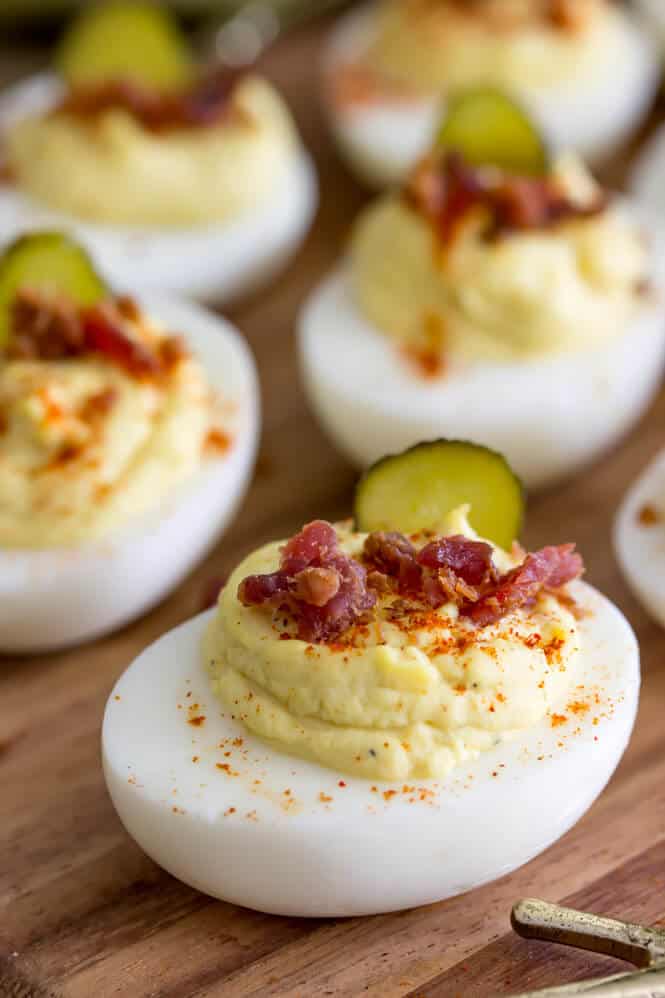 Here's a fun fact on peeling eggs that those of you who have your own chickens probably know all too well.
If you can help it, when making deviled eggs do not use fresh eggs that were just laid yesterday, or even a week earlier.
Those eggs cling to their shells like they were laid by hens with superglue diets.  I tried to use a dozen eggs that were two weeks old, and every one of them ended up ragged, even after their ice water bath, and I ended up having to make my third grocery store trip of the day for a dozen store-bought eggs, despite having three dozen fresh eggs in my refrigerator.
The dogs were pretty thrilled about the wasted eggs, but I was not.  Spare yourself some time and frustration and just don't use fresh eggs.
Let me know what you think!
And if you happen to have some really amazing tricks for peeling fresh eggs, I want to hear them!  We've tried the baking soda trick, the ice bath trick, the spoon trick… none of it has worked here!
How to Make Deviled Eggs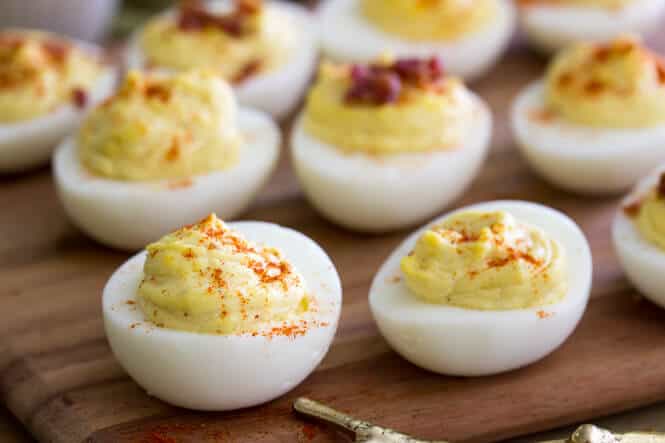 Million Dollar Deviled Eggs
The best deviled egg recipe, made slightly sweet and extra creamy thanks to the addition of butter.
Print
Pin
Rate
Servings:
24
deviled eggs
Ingredients
12

large

eggs

1/4

cup

mayo

(55g)

1

Tablespoon

butter

softened to room temperature

2

teaspoons

yellow mustard

2

teaspoons

dijon mustard

2

teaspoons

sweet gherkin pickle juice

1

teaspoon

sugar

1/8

teaspoon

salt

1/8

teaspoon

pepper

dash

Tabasco sauce

optional

paprika

for sprinkling

bacon pieces

optional
Instructions
How To Hard Boil Eggs
Place eggs in a large saucepan and cover with water.

Transfer to stovetop over high heat until water begins to boil.

Boil for one minute, cover with lid, and remove from heat. Allow to sit for 17 minutes and then drain and transfer to an ice bath.

Peel eggs and set aside.
How To Make Deviled Eggs
Slice eggs in half lengthwise.

Remove yolks and transfer to a medium-sized bowl.

Add mayo, butter, mustards, pickle juice, sugar, salt, pepper, and Tabasco sauce. Use a fork to mash well.

Spoon filling into each egg white. Sprinkle with paprika and bacon (if using) and serve.

If desired, top with a small slice of sweet gherkin pickle, as seen in pictures.
Nutrition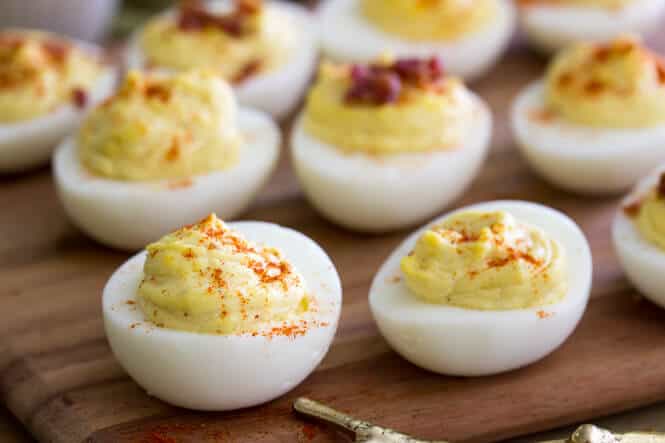 PIN IT:

You Might Also Like: