These classic, easy vanilla cupcakes are made extra soft and irresistibly with the addition of buttermilk (don't worry, I have an easy substitute if you don't have buttermilk on hand) and are made with butter, not oil, for a rich buttery flavor.  They're soft, moist, and springy, sweet but light, and crowned with a lusciously rich whipped chocolate buttercream frosting.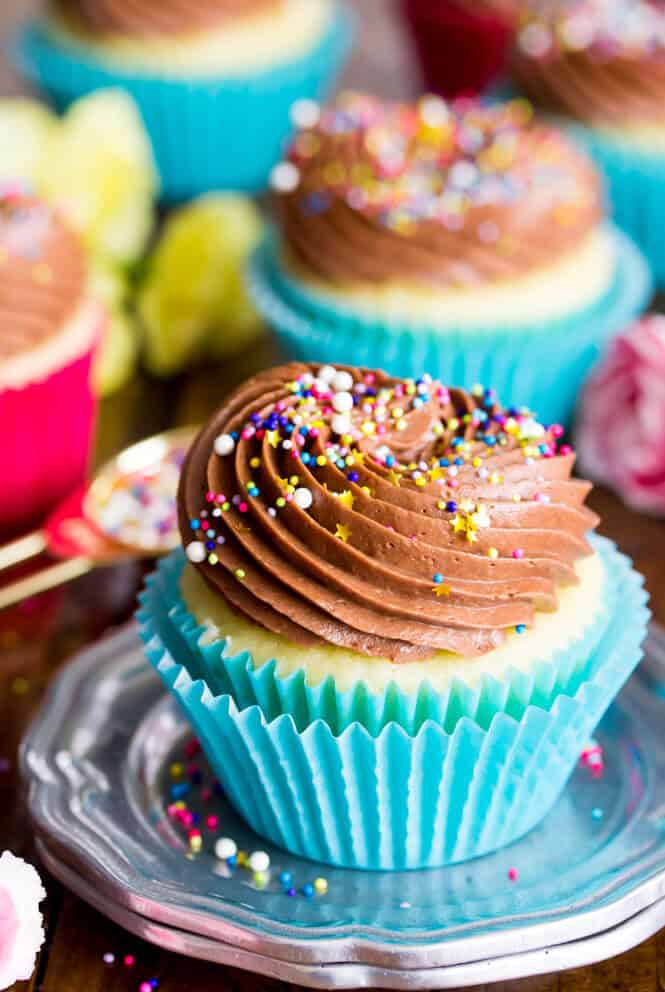 My typical reaction to being offered a vanilla cupcake is to not-so-subtly glance over the dessert table to see whether or not there are any other (perhaps more chocolaty) options available before accepting.  If there aren't, I'll graciously devour one (because you won't find me turning down sugar), but vanilla has never been my go-to flavor.
Perhaps that's most evident in my website's glaring lack of vanilla desserts, crafting recipes that don't use chocolate always seems to be a struggle.  If I was going to share a vanilla cupcake recipe, it had to be really, really good.
This one is, I promise.  It's certainly worth the mere minutes that it takes to whip up the batter and is actually worth your attention even if there's a chocolate alternative available.
I have high standards for my cupcakes, and this vanilla cupcake recipe especially took me a long time to get just right (I started working on the recipe over Christmas break, to give you an idea of how obsessive I've been about it).
These are up to standard.  They're buttery soft — while oil is usually my preference when making chocolate cakes, for a good vanilla cupcake you really need that genuine butter flavor.  They're also delicate and light, but still sturdy enough to hold a heavy crown of frosting.  They're moist and sweet without being over-sweet, they're just all around perfect, honestly.
I had the thought in my head that it was absolutely imperative that these vanilla cupcakes have puffy, slightly rounded domed tops.  Once I got the flavor and texture of them to be perfect, I was still obsessed with getting the tops to be rounded rather than flat.
I was successful with achieving the domes, but over and over again the cost was too great — the cupcakes came out just slightly too dry, slightly crumbly.  I couldn't sacrifice taste for appearance, so the recipe stayed the same, flat tops, but perfect texture (they do have the slightest hint of a dome and they're definitely not concave).
Besides, we're covering the tops with an amazing sky-high pile of chocolate frosting, anyway, right? 
Right.
Enjoy!
Easy Vanilla Cupcakes
Sweet, buttery, easy vanilla cupcakes with a rich chocolate buttercream frosting.
Print
Pin
Rate
Ingredients
Cupcakes
6

Tablespoons

unsalted butter

softened (85g)

3/4

cup

sugar

(150g)

1/4

cup

brown sugar

(50g)

1

large

egg

room temperature preferred

1 1/2

teaspoons

vanilla extract

1 1/3

cup

all-purpose flour

(150g)

1/2

teaspoon

baking soda

1/2

teaspoon

baking powder

1/2

teaspoon

salt

3/4

cup

buttermilk

room temperature referred (175ml)
Chocolate Buttercream Frosting*
Instructions
Preheat oven to 350F (175C) and line a 12-count muffin tin with paper liners. Set aside.

Combine butter and sugars in the bowl of a stand mixer (or in a large bowl -- and use an electric hand mixer) and beat on medium speed until well combined and light and fluffy.

Add egg, beat well.

Stir in vanilla extract.

In a separate, medium-sized bowl, whisk together flour, baking soda, baking powder, and salt.

Remove butter/sugar mixture from stand mixer and use a spatula to gradually fold in about 1/4 of the flour mixture until just combined.

Add about 1/4 cup of the buttermilk and use spatula to fold in until just combined.

Continue to alternate until flour mixture and buttermilk are completely combined -- be sure not to over-mix.

Fill cupcake liners 2/3-3/4 of the way full with batter and bake on 350F (175C) for 18 minutes or until tops spring back when gently touched.

Allow cupcakes to cool completely in pans before frosting.
Chocolate Buttercream Frosting
In a microwave-safe bowl, microwave chocolate chips at 15 second intervals, stirring between intervals, until chips are completely melted. Set aside and allow to cool slightly (about 10 minutes, stirring occasionally).

Cream room temperature butter with an electric mixer. Stir in slightly cooled chocolate and beat well.

Gradually add sugar, scraping down the sides and bottom of bowl occasionally.

Sprinkle in salt and vanilla extract, stir well.

Gradually add heavy cream, increase speed to high and beat for 1 minute, pausing halfway through to scrape down sides of bowl.

Spoon frosting into a piping bag fitted with tip of choice (I used a large French tip) and pipe on cooled cupcakes.
Notes
*The chocolate frosting makes enough to put quite a bit of frosting on each cupcake -- as much as you see in the pictures.  If you plan on using less frosting, you can certainly half the recipe!
Nutrition
This post contains affiliate links, which means that if you purchase anything through these links I will get a small commission at no extra cost to you.  Please view the disclosure policy for more information.
Recommended Kitchen Tools

You Might Also Like: