A sweet, caramel infused cheesecake dip (made with a foolproof, 5-ingredient homemade caramel) that pairs perfectly with freshly-cut Fall-time apples.
I have a general distaste for caramel apples. The reason for it is simple and a little silly: I felt that I was deceived by one as a child.
It was my first encounter, years and years ago at the fair amidst pastel clouds of cotton candy, buckets of butter-saturated popcorn, and chocolate-vanilla swirls of soft serve ice cream. The over-sized candy-coated orbs caught my attention in a way that the other sweets and deep-fried monstrosities failed to do, making my sweet tooth ache for a bite.
It wasn't often that my parents conceded to buying my sister and me snacks, and I'd already managed not only to secure a silver seahorse necklace, but also a trip through the haunted house with my cousins, so it was pressing my luck to ask for a dessert. But, when my cousins asked their parents for their own apples, my parents graciously allowed me to pick out one of my own– a behemoth of a fruit half the size of my face, supported by a sturdy wooden spike.
It was nothing short of glorious to behold, the lights of the ferris wheel and balloon-dart games shone on its surface in the night, it was illustrated-storybook-worthy enrobed in a sleek veneer of caramel and a wicked drizzle of chocolate.
I chomped in for my first bite and it was… sadly disappointing.
It was too big to secure a satisfying-sized bite. The caramel stuck to my teeth and was glazed onto the apple on in such a shallow coating that it was utterly underwhelming compared to the overabundance of fruit. I managed my way through the layer of caramel and then felt like I was being punished as I forced myself to finish a gigantic piece of fruit rather than the sweet dessert I'd been expecting.
I should have gone for the cotton candy that day, and I've carried that regret with me all of those years (I may be acting a bit dramatic here, but I definitely haven't forgotten the experience) and I haven't touched a caramel apple since.
Recently, though, with the mind-boggling variety of apples available in all hues of red and green (sporting names as colorfully quaint as the ones you usually find slapped on lipstick tubes… Pink Lady, Honeycrisp and Red Delicious, to name a few), candied and caramel apples have been heavy on my mind (as has been apple pie and apple dumplings)
So here, finally, I've taken all of the complaints I had about caramel apples and eliminated them with a vengeance. With this creamy caramel cheesecake dip, every bite is laden with exactly as much caramel as you would like. It smacks heavily of cheesecake flavor (with a pound of cream cheese blended into the caramel sauce, it's no wonder). Creamy and soft, it suits the apple slices far better than a paper-thin coating of caramel alone would do.
A sprinkling of walnuts, brown sugar and flour adds another dimension and crunch to the dip, accenting the warm caramel undertones with a distinct nuttiness (you may also double the prescribed amount and sprinkle half of it on the chocolate coated apples, if desired).
While it's optional, I strongly recommend dipping your apples in chocolate before serving for an added dimension of flavor (and the satisfying snappy crunch of chocolate breaking between your teeth).
I know that some of you are going to ask: can I use store-bought caramel sauce instead of making my own?
Yes… but I don't know why you would. If you're absolutely pressed for time I recommend using the thicker kind that is sold as a sundae topping in a glass jar (not the squeeze bottle of syrup) and, because it is so sweet I would combine it with the cream cheese first and do a taste test before deciding whether or not to add the additional ⅓ cup brown sugar, it might be sweet enough without it.
But really, this caramel sauce is so easy to make I try to keep a mason jar of it in my house at all times, it goes so quickly, though.
More Recipes You Might Like:
Enjoy!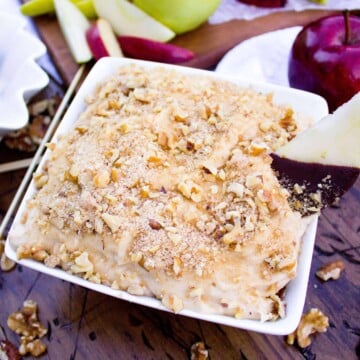 Caramel Apple Cheesecake Dip
A sweet, caramel infused cheesecake dip (made with a foolproof, 5-ingredient homemade caramel) that pairs perfectly with freshly-cut Fall-time apples.
Print
Pin
Rate
Ingredients
1

cup

light brown sugar

packed

½

cup

heavy cream

5

Tbsp

butter

cut into Tbsp-sized pieces

1

tsp

vanilla extract

½

tsp

salt

16

oz

packages cream cheese

softened

⅓

cup

brown sugar

packed

2

cups

semisweet chocolate chips
Crumble (optional)
3

Tbsp

brown sugar

packed

1

Tbsp

flour

2

cup

walnuts

finely chopped
For dipping
4-6

apples

cored and sliced (do not slice more than an hour in advance as apples may brown. graham crackers or pretzels would also make good dipping options)
Instructions
In medium-sized saucepan over low heat, stir together brown sugar, cream and butter until butter is completely melted and ingredients are well combined.

Turn heat up to medium-high, stirring constantly until mixture begins to boil. Continue to stir constantly while mixture boils for one minute.

Remove from heat (continue to stir for another minute or the mixture may still burn to the pan).

Allow to cool 5 minutes then stir in vanilla and salt.

Allow caramel to cool to room temperature before proceeding.

While caramel is cooling, prepare your apples by melting chocolate chips or melting wafers in a medium-sized bowl for 30 seconds. Stir, and continue to microwave at 15 second increments (stirring after each round) until chocolate is completely melted.

Dip apple slices halfway in chocolate (or drizzle on top).

Transfer dipped slices to wax-paper lined cookie sheet and store in refrigerator for chocolate to harden.

Prepare the crumble topping by whisking together brown sugar and flour in a small bowl until combined.

Finely chop your walnuts (I do this with a large knife, cutting them as if I were mincing garlic) and stir into brown sugar/flour mixture. Set aside.

Once caramel has cooled, in KitchenAid mixer (or with hand mixer), beat cream cheese until well-creamed.

Scrape down the sides of the bowl and add ⅓ cup tightly packed brown sugar.

Beat until well-combined.

Add room temperature caramel and beat on low-medium speed until ingredients are well incorporated.

Transfer to bowl, sprinkle with walnut mixture, and serve alongside sliced (and dipped) apples.
Nutrition
Serving:
1
serving
|
Calories:
1291
kcal
|
Carbohydrates:
112
g
|
Protein:
15
g
|
Fat:
91
g
|
Saturated Fat:
41
g
|
Trans Fat:
1
g
|
Cholesterol:
139
mg
|
Sodium:
551
mg
|
Potassium:
839
mg
|
Fiber:
10
g
|
Sugar:
91
g
|
Vitamin A:
1702
IU
|
Vitamin C:
6
mg
|
Calcium:
218
mg
|
Iron:
6
mg
Nutritional information is based on third-party calculations and should be considered an estimate only. Actual nutritional content will vary based upon brands used, measuring methods, cooking method, portion sizes, and more.
Treat yourself to a

FREE E-BOOK!