Strawberry Rose Ice Cream — a creamy no-churn, no-ice-cream-maker-needed ice cream made with fresh strawberries and just a hint of rosewater.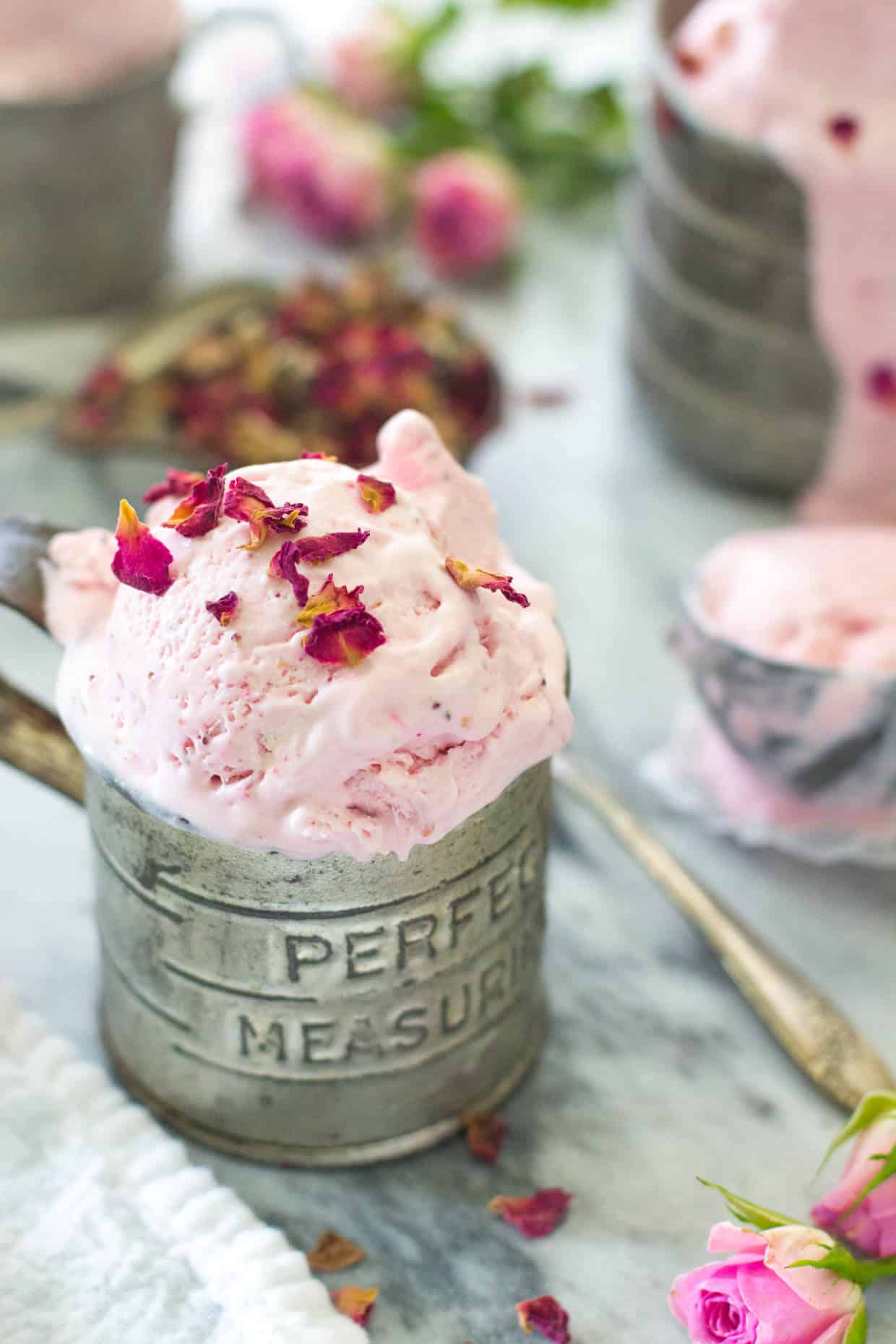 I used to have a pretty… interesting… job.  For 3 years I worked as a research assistant in the field of behavioral pharmacology (basically studying how drugs affect your behavior), and I worked in the psychedelic department.
We would bring people in (for my study they were people who had or once had cancer) and give them a dose of the psychedelic/hallucinogenic psilocybin (the chemical that makes magic mushrooms "magic").  Totally legally.
Part of my job would be to sit with another "guide" and the person in a small room while they experienced their "trip", and to monitor them and help them work through issues that arose during the session.
At every session there was a rose, usually red, that we would ask the subjects to take a moment to look at and contemplate midway through their experience.  Sometimes they weren't particularly interested, sometimes they were too distracted by other things they were "seeing" and sometimes they would get lost staring down into the petals.
The whole thing was (to put it way simply) pretty neat, and probably a pretty unique experience as far as jobs go.
I left that job almost four years ago, but whenever I see a rose it always throws me back to those sessions.  Those were transformative experiences, not only for the patients, but often for the guides, and sometimes the rose could be the catalyst for that.  If nothing else, it was a pretty and consistent symbol of transcendence.
When I decided I wanted to start incorporating roses into my baking (or rather freezing, here), I wanted to pay at least a little homage to that.  I'm not pretentious enough to suggest that this ice cream will change your life or that it is transcendental, but just maybe for strawberry ice cream it is.  Here, rosewater takes possibly one of the most basic ice cream flavors ever to grace your palate and turns it into something nearly other-worldly.
Fresh strawberries (the riper the better) give this ice cream a vibrant, bright flavor — a taste as familiar as summer sunshine on your skin.  If you like larger pieces of strawberry in your ice cream (as opposed to just the strawberry puree) , feel free to chop up a few extras into small pieces (I wouldn't make any of them larger than your pinky nail) and fold them in just before you pour your ice cream into the pan to freeze.
The rose flavoring is subtle, and you only need a very small amount for this recipe.  I'd definitely call the flavor sophisticated, and it makes every bit of difference to this otherwise familiar strawberry ice cream.  It's a dusky, floral (obviously) infusion, and I'll admit it's not for everyone. I didn't even offer any to my youngest sister because I didn't think she would enjoy it (and also maybe because nearly all of it melted by the end of this photo shoot).
I certainly enjoyed it, though.
You might be able to find a bottle of rose-water at your local grocery store — I'd check the exotic food section if your store is fancy enough to have one.  If not, though, you can buy a bottle off of Amazon (affiliate link) as I did.
Yes, I know, $8 is a lot to spend when you just need two teaspoons of rosewater, but think of how many batches of rose-flavored desserts you can make with it!  White chocolate rose frosting? Rosewater macarons?  The floral opportunities are endless and I'm jotting down ideas in my notebook as I type (no seriously).
Plus it's sure to last longer (and taste better) than a dozen real roses, which you probably won't be able to find for $8.
If you want to read more about the psychedelic research I mentioned, you can check out this article.
Strawberry Rose Ice Cream
A creamy no-churn ice cream made with fresh strawberries and just a hint of rosewater.
Print
Pin
Rate
Ingredients
1

lb

strawberries

stems removed

2

tsp

rose water

1

tsp

vanilla extract

14

oz

can sweetened condensed milk

2

cups

heavy cream

1-3

drops pink food coloring

optional
Instructions
In blender, puree strawberries (some small pieces are fine)

Add condensed milk, rose water and vanilla extract and blend until combined.

In a separate bowl (preferably a chilled metal bowl), beat heavy cream with an electric mixer on high-speed until stiff peaks form.

Pour your strawberry mixture into the heavy cream and fold until completely combined.

If desired, stir in 1-3 drops of food coloring for a deeper color.

Pour into a parchment paper or wax-paper-lined 9x5 bread pan and cover tightly with clear wrap.

Freeze overnight.

Allow ice cream to soften at room temperature for at least 10 minutes before scooping and serving.
Nutrition
Serving:
1
serving
|
Calories:
200
kcal
|
Carbohydrates:
5
g
|
Protein:
1
g
|
Fat:
20
g
|
Saturated Fat:
12
g
|
Cholesterol:
72
mg
|
Sodium:
21
mg
|
Potassium:
117
mg
|
Fiber:
1
g
|
Sugar:
3
g
|
Vitamin A:
784
IU
|
Vitamin C:
30
mg
|
Calcium:
42
mg
|
Iron:
1
mg
Nutritional information is based on third-party calculations and should be considered an estimate only. Actual nutritional content will vary based upon brands used, measuring methods, cooking method, portion sizes, and more.
PIN IT:
You May Also Like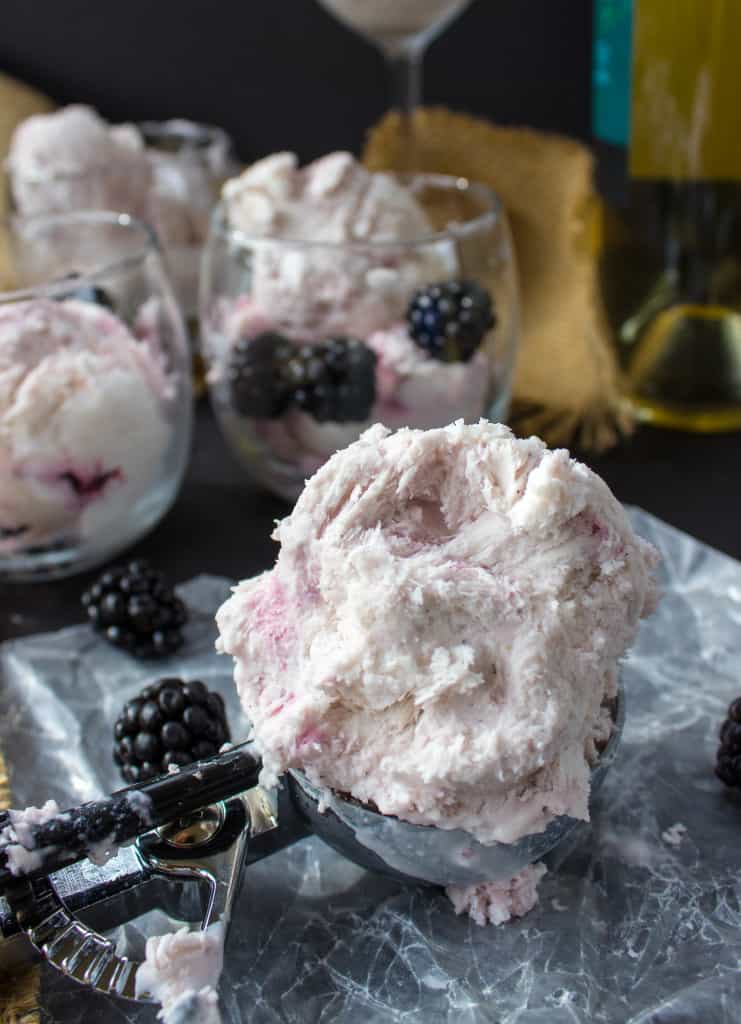 Chocolate Covered Strawberry Buttercream Candies