Creamy, melt in your mouth strawberry buttercream candies made with real, fresh strawberries, cloaked in dark chocolate and sprinkled with shimmery sugar.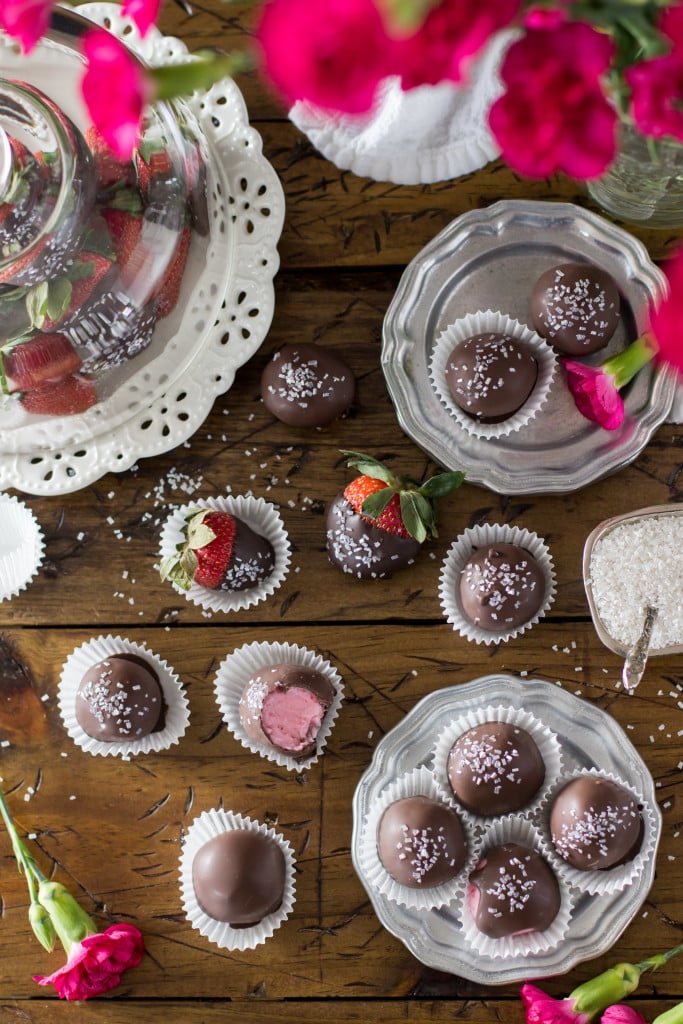 I found a tiny, pepper-flake of an ant trying to sneak its way into my kitchen this weekend.
Normally, this would call for a careful sweeping and a thorough examination of the floor for crumbs, extra care when measuring flour and rolling dough, and a bit more thoughtfulness when transferring cake layers from counter to counter for the next few days, but this time it just called for celebration.
Because you don't see bugs in the wintertime.  Not ants, at least (I can't remember them being a problem during the winter, anyway).
So with this determined little bug that I promptly deposited back outside (you don't squash harbingers of good weather) came a reminder that Spring is coming, and I couldn't be more excited about it.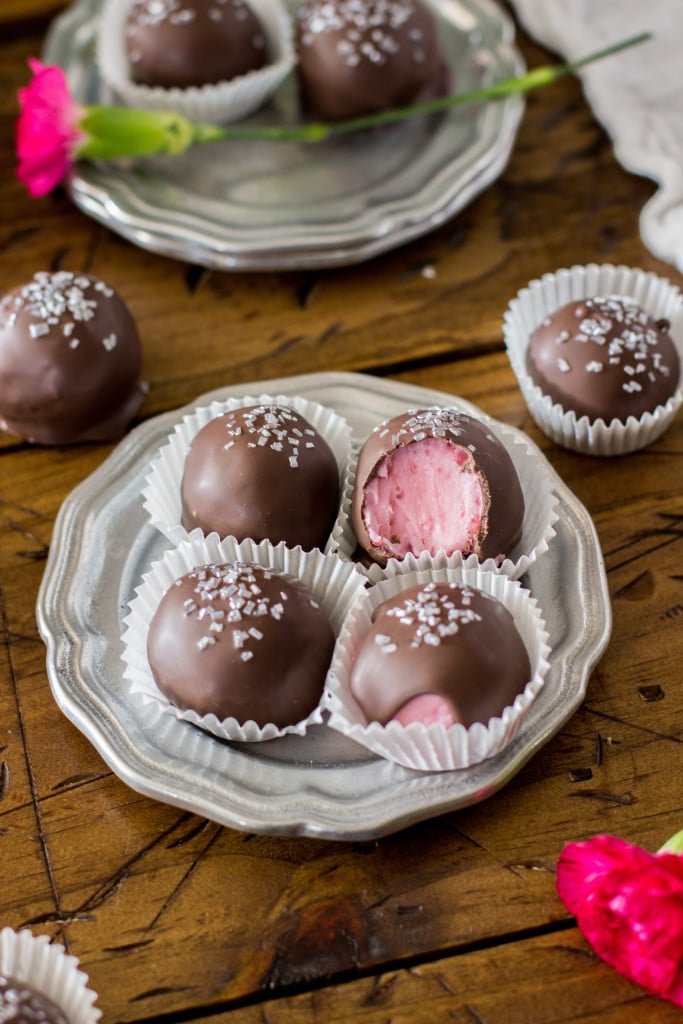 And I'm starting to see more and more signs of Spring everywhere I look.
The weather app on my phone is predicting a week full of sunshine and 60-70 degree days.  The sun is shining by the time I get to work in the morning, and still hasn't settled beneath the horizon when I pull into the driveway at the end of my workday.  The dogs are getting to go on a lot more walks, and soon it will be time to go strawberry picking again.
And, while it's obviously not quite picking season just yet, prices on cartons of strawberries at the supermarket are finally beginning to dip and the berries are looking much juicier than their tiny, mostly green and mostly flavorless counterparts of just a month ago.
This weekend I picked up a pound and made quick work of transforming them into a fresh strawberry buttercream filling.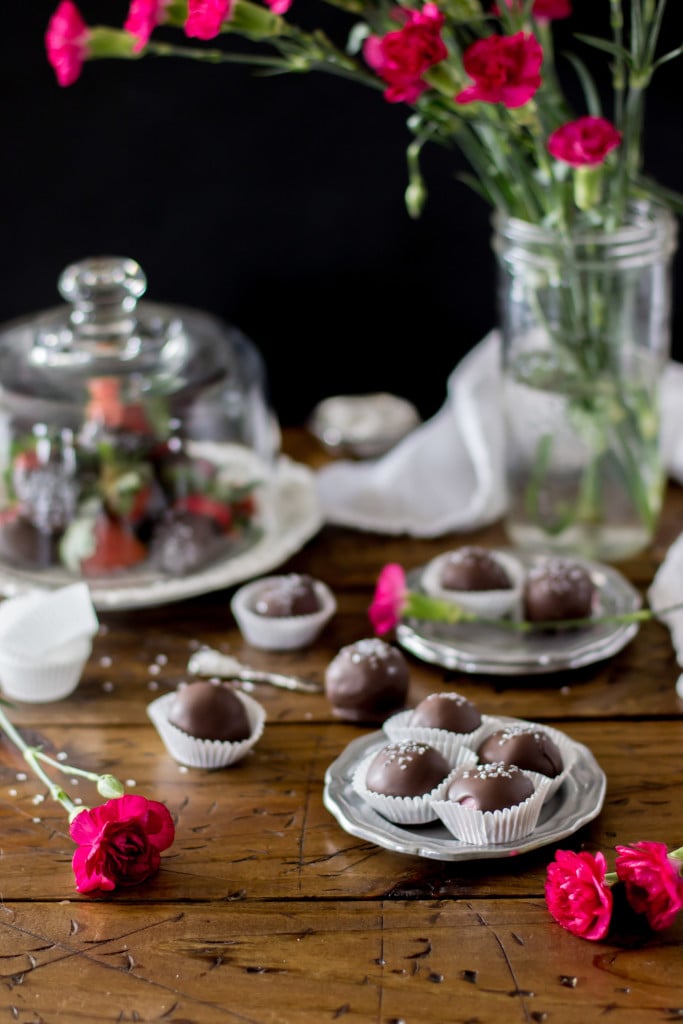 Because I wanted that real, fresh strawberry flavor in these buttercreams I flavored them with only strawberries (and a dash of vanilla for some depth of flavor) and no artificial strawberry extracts.
In order to work the strawberries into the cream in such a way that full flavor was achieved but the cream wasn't watered down, I made a strawberry reduction and cooked all of the liquid out of the berries first.  Doing this is not difficult, you will need to puree your strawberries first in a blender so that there are no large pieces remaining, combine the puree with a few tablespoons of sugar, and then cook at a slow boil over medium heat until the water has cooked out and what remains is a thick strawberry paste.
This is cooled (completely!) and stirred along with butter, cream cheese, vanilla extract and sugar, chilled, and then rolled and covered in chocolate.  I also added a single drop of pink food coloring because I wanted the color to be a bit more vibrant, though it will be a nice pale pink even without the added coloring.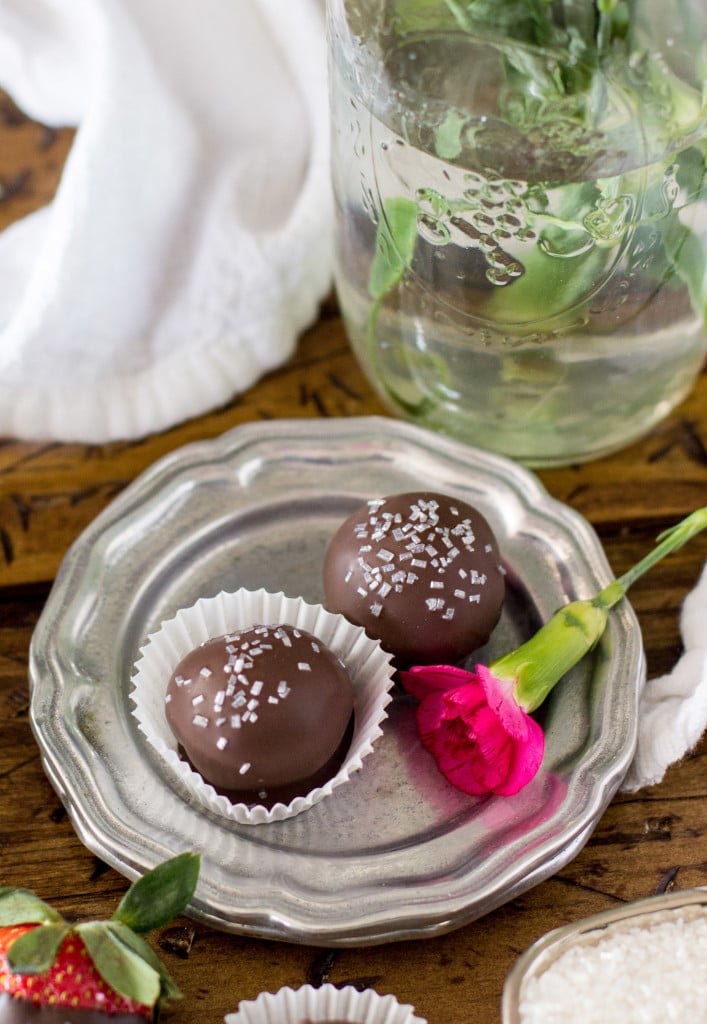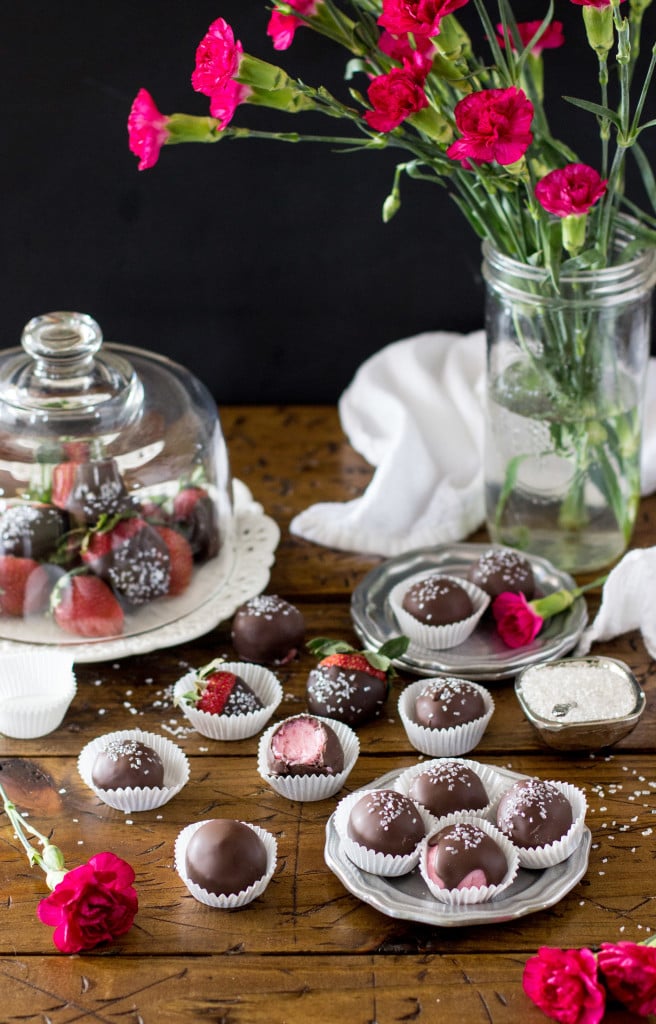 The filling is sticky and can be a bit tricky to roll.  I suggest spreading it into a shallow pan to chill because if you leave it in a bowl the bottom half seems to stay particularly sticky.  I do not recommend adding (much) more sugar, though, because too much powdered sugar only dilutes the taste of the fresh berries that you worked so hard to achieve and minimizes the rich creaminess that is a hallmark of buttercream candies.
Do, however, dust your hands with sugar repeatedly as you roll the buttercream into balls, otherwise it may stick to your hands.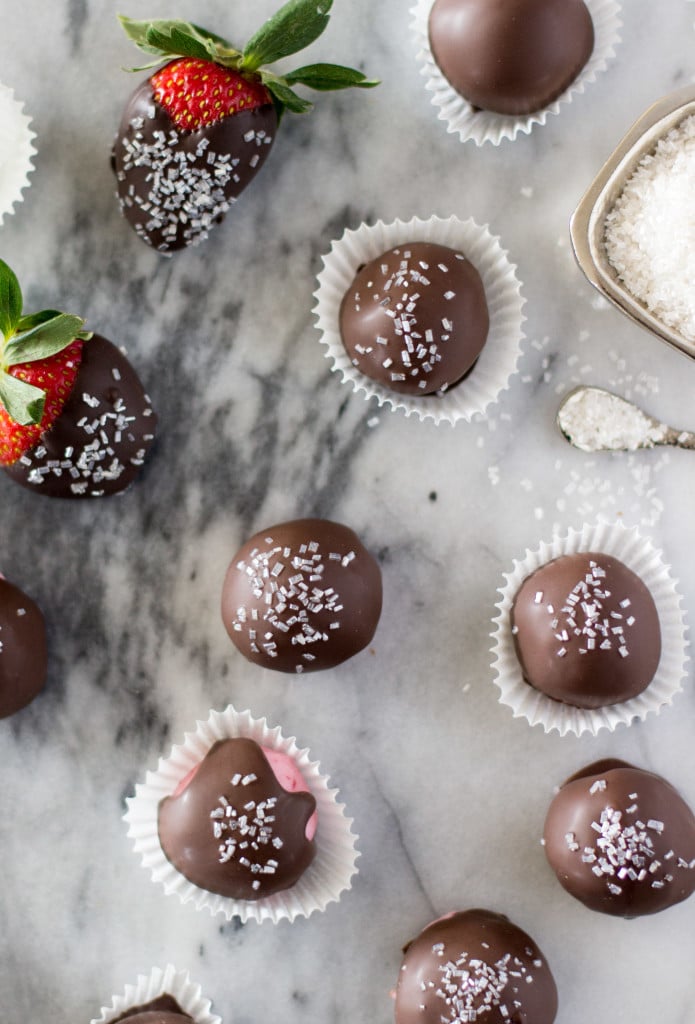 Enjoy!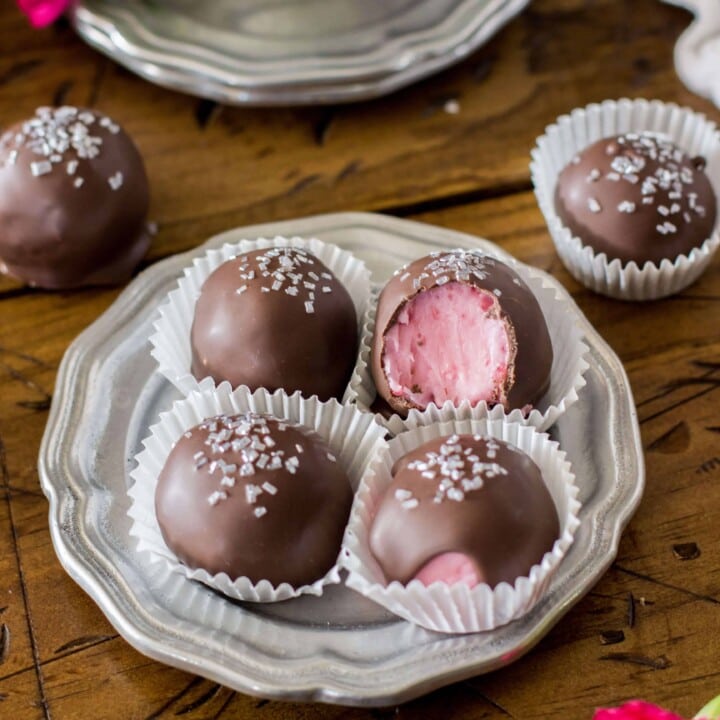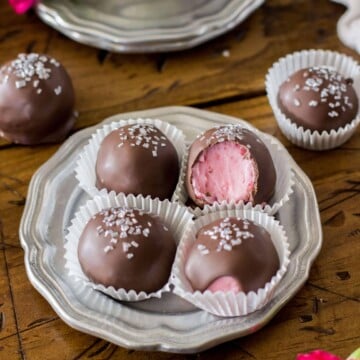 Strawberry Buttercream Candies
Strawberry candies made with real strawberries
Print
Pin
Rate
Ingredients
1 ½

cup

fresh strawberries

tops removed (about 12 medium-sized strawberries)

2

Tbsp

sugar

½

cup

salted butter

softened, 1 stick

4

oz

cream cheese

softened

½

tsp

vanilla extract

4 ½

cups

powdered sugar

1

tsp

cornstarch

1

drop pink/red food coloring

optional

12

oz

dark chocolate melts

Coarse sugar for sprinkling

optional
Instructions
In a food processor or blender, puree strawberries until well-blended (there should be no discernible pieces).

Transfer the strawberry puree to a small saucepan over medium heat, add 2 Tbsp sugar and stir.

Cook, stirring frequently, until mixture begins to come to a slow boil.

Continue to stir while the mixture boils for about 10 minutes. The goal here is to cook the water out of the mixture so that you don't have a runny buttercream filling. As the strawberries lose their water, you may have to decrease your heat to prevent burning.

Cook about 10 minutes, or until mixture is about half of its original size (it will be like a paste)

Allow to cool completely before proceeding.

Once strawberry reduction has cooled, combine your butter and cream cheese in KitchenAid or in a large bowl.

Cream until well-combined.

Stir in vanilla.

Stir in 1 cup powdered sugar.

Add strawberry mixture and stir until well-combined.

Add cornstarch and continue to add powdered sugar, about ½ cup at a time, until well-combined.

If desired, add a drop of food coloring to enhance color.

Spread the buttercream mixture into a shallow dish (such as a 9x9 pan), cover with cling wrap and transfer to the refrigerator to chill for at least 2 hours or overnight.

Once buttercream filling has chilled, remove from refrigerator and lightly dust your hands with powdered sugar.

Roll into nearly 1 Tbsp-sized balls. The dough will be sticky and you will have to re-dust your hands with powdered sugar after every few candies. If the mixture becomes too sticky to manage, place in the freezer for 10 minutes.

Return to freezer for at least 10 minutes while you prepare your chocolate coating.

Melt chocolate according to instructions on packet. Remove your rolled buttercream filling from refrigerator and set it on the blade (width) of a butterknife. Pour chocolate over until covered, slide off of the knife onto a wax-paper-lined cookie sheet and immediately sprinkle with sugar (if using). Allow to harden.

Buttercream should be stored in an airtight container in the refrigerator, but I like the taste/texture best at room temperature so you may set out 15-20 minutes before serving to allow to come to room temperature.
Nutrition
Serving:
1
piece
|
Calories:
76
kcal
|
Carbohydrates:
13
g
|
Protein:
1
g
|
Fat:
3
g
|
Saturated Fat:
2
g
|
Cholesterol:
8
mg
|
Sodium:
26
mg
|
Potassium:
3
mg
|
Sugar:
12
g
|
Vitamin A:
97
IU
|
Calcium:
3
mg
|
Iron:
1
mg
Nutritional information is based on third-party calculations and should be considered an estimate only. Actual nutritional content will vary based upon brands used, measuring methods, cooking method, portion sizes, and more.
Craving more berries!?  Try out this 
Strawberry Lemon Layered Angel Food Cake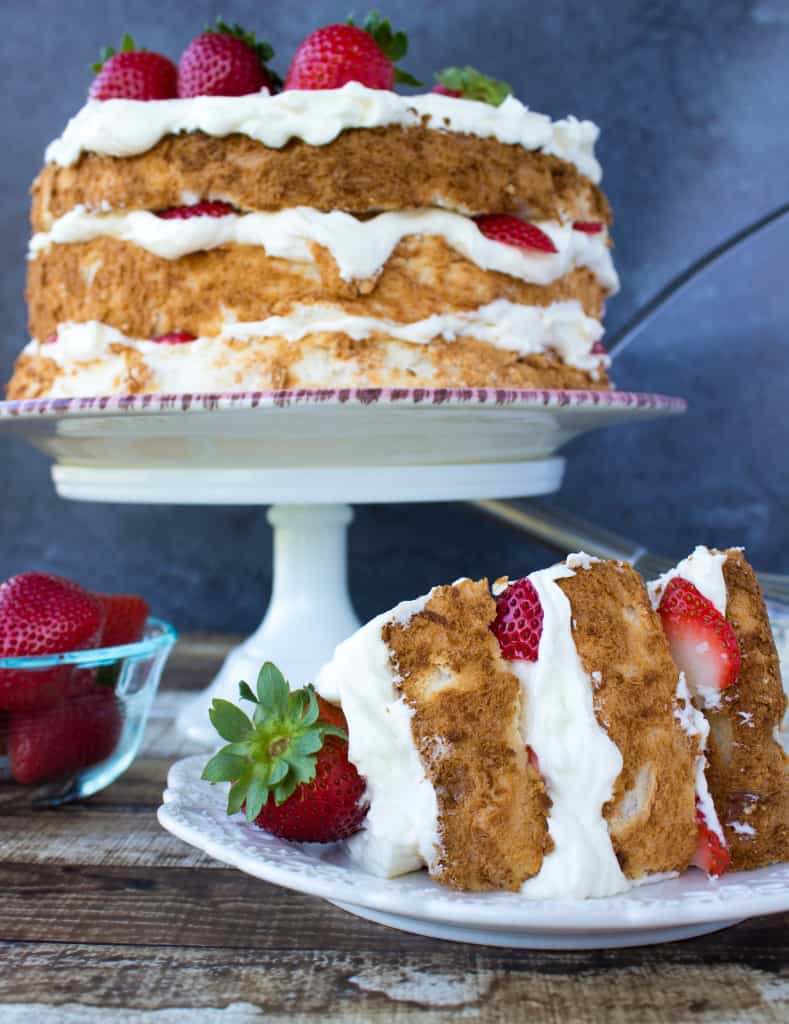 Or these Cheesecake Filled Cookie Cups 
Or, if you're craving more candy, try out one of these:
Salted Caramel Buttercream Candy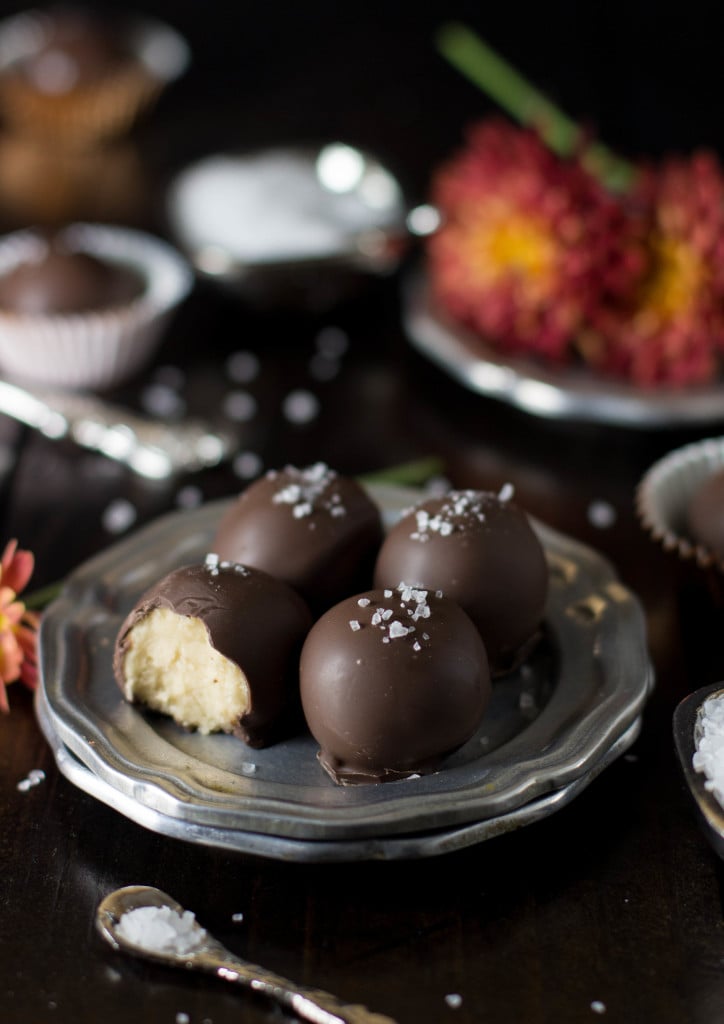 Cookie Dough Buttercream Candy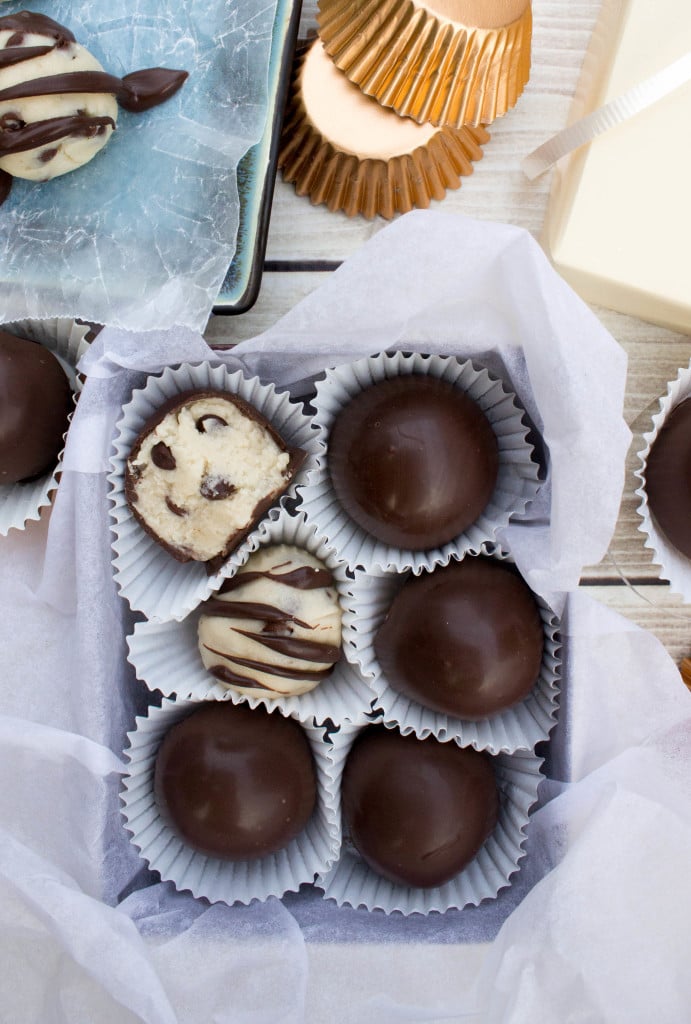 Old Fashioned Easter Egg Candy