This 5 ingredient boozy ice cream requires no ice cream maker, no stove-top, no eggs, and no hard work.  Made with sweet dessert wine, fresh fruit, cream, sugar and a vanilla bean it's easily whipped together the night before serving.  Perfect for a girl's night in, a stay-in date night, or for a cozy summer night around a bonfire.
Hellllllloooo Friday.  What took you so long to get here?
I'm incredibly excited to start my weekend because I have plans for tonight.  Great plans.  Plans to sit down with my husband and some wine and ice cream.  Err, some wine ice cream.  Wine, and ice cream.  Together. <3
Tasty, creamy, vanilla ice cream flavored with fresh blackberries and infused with the greatest of all wines–Moscato.
I have a pretty small range of wines I enjoy drinking.  For me it's go sweet and fruity or go home.  I do not like dry wines (and I kinda think you have to in order to be considered a true wine aficionado) but I love Moscato and I have a cabinet full of fruit flavored wines (mango, peach, blackberry, you name it).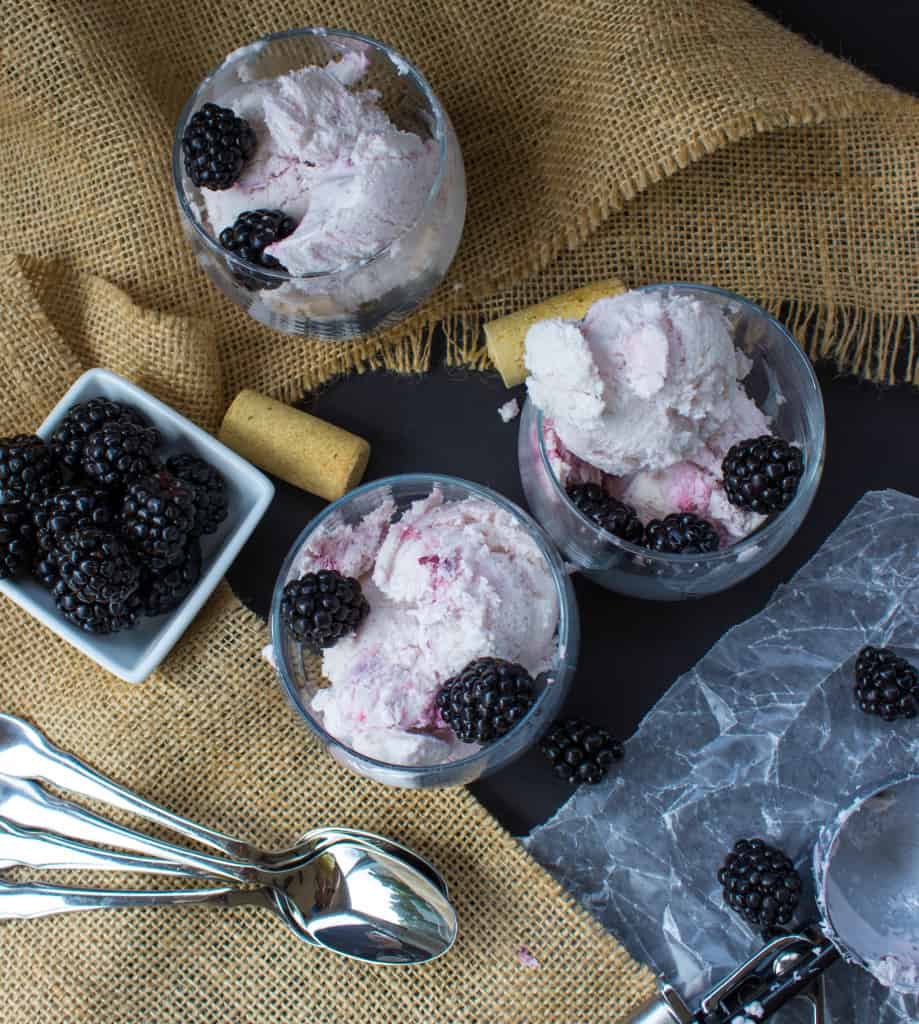 Zach and I recently found a blackberry wine from a local vineyard that we LOVE, and the saleswoman recommended that we pour a little bit of it over ice cream.
The saleswoman was clearly a genius and a woman after my own palate, and she got me to thinking about pairing ice cream and wines.  Then I decided to step things up a notch by combining wine and cream and making ice cream out of wine.  And fruit of course (like I said, sweet and fruity or go home).
This Moscato Blackberry Vanilla Ice Cream is so beautifully simple and refreshing.  It's a blend of the best flavors of sweet summertime in a smooth, creamy ice cream.
You need this in your Friday night… now.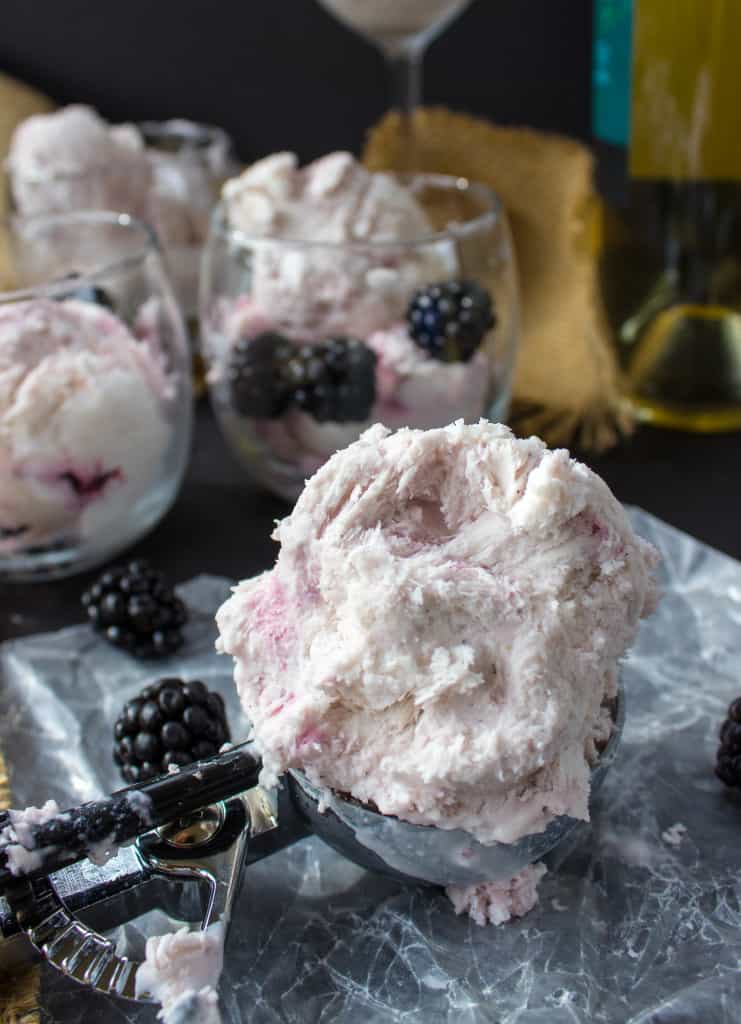 Oh, and in case you need a little more incentive to make this ice cream, you should know that May 9th is National Moscato Day.  That's 8 days from now.  Now you have wine ice cream plans.  You're welcome 😉
[jetpack_subscription_form title="Never miss a recipe!" subscribe_text=" Subscribe to receive my recipes straight to your inbox.  I never spam or share your e-mail address!  Enter your e-mail address below and click Subscribe." subscribe_button="Subscribe"]
Ingredients
1 1/4

cup

Moscato

1

cup

blackberries

1/2

cup

superfine granulated sugar

1

vanilla bean

or 1 tsp vanilla extract

2 1/3

cups

heavy cream
Instructions
Pour Moscato into large bowl

Process blackberries in food processor and strain blackberry juice through a fine mesh sieve into the Moscato*

Add sugar, and split the vanilla bean lengthwise and scrape along the inside of the pod to remove the seeds inside. Scrape into the Moscato mixture.

Whisk ingredients together until sugar is mostly dissolved.

Using an electric beater (for fastest results) add cream and beat on high until soft peaks

just begin to form and mixture has thickened

Transfer to a Tupperware container with an airtight lid and freeze overnight or at least 5 hours before serving.**
Notes
*This is important in order to remove the seeds and pulpy parts of the blackberry from the ice cream. Be careful not to stain yourself with the blackberries. **To achieve the darker blackberry swirl seen here, dip a butter-knife or spoon in leftover blackberry juice and swirl it through the mixture before freezing