My Sourdough English Muffins boast an incredible, slightly tangy flavor and chewy texture. They are packed with plenty of nooks and crannies for catching your favorite jam and butter. Recipe includes a how-to video!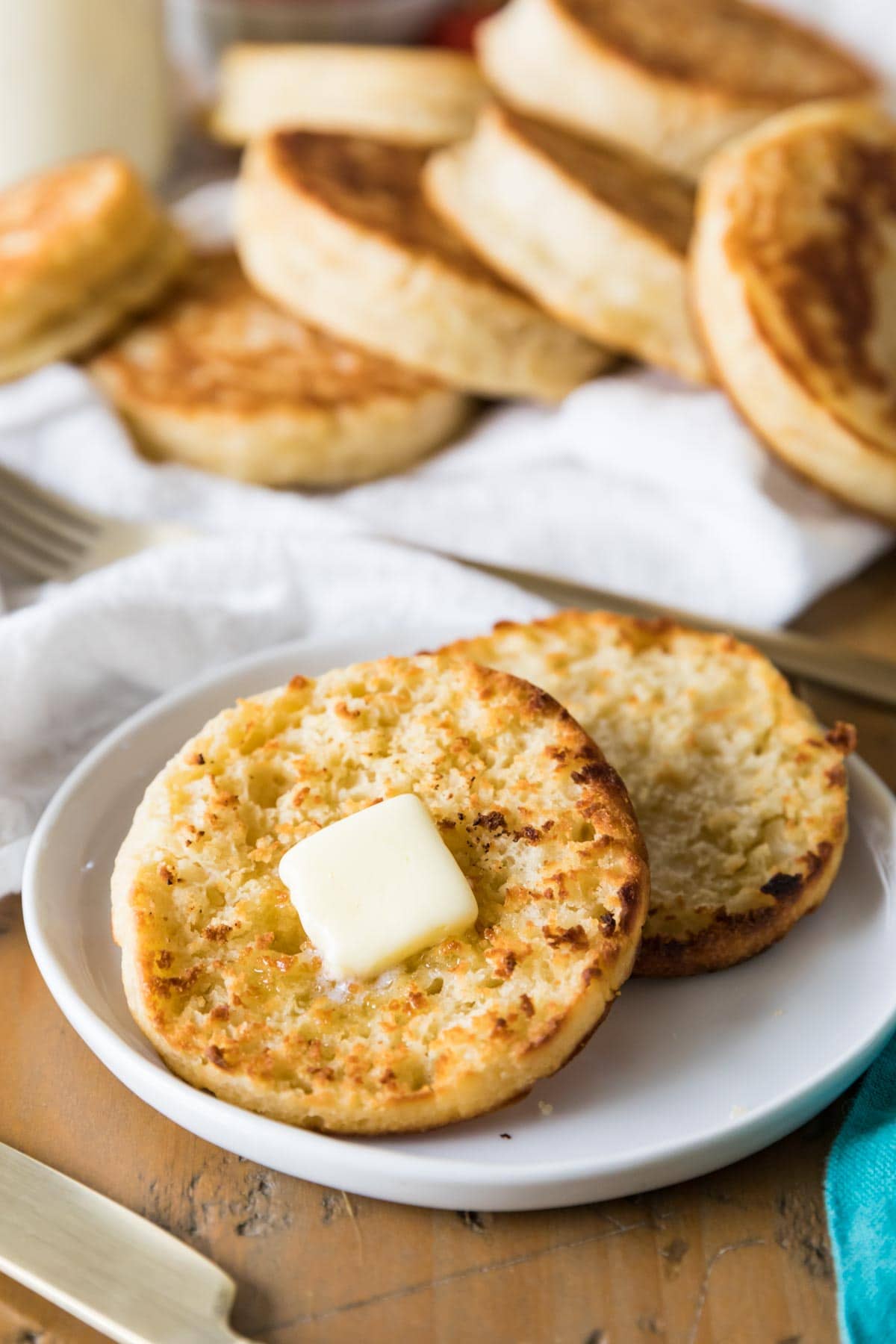 Simple & Hearty English Muffins
The sourdough saga continues today with these incredible (if I do say so myself) sourdough English muffins! Instead of using store-bought yeast (as we would with classic English muffins), we're using the power of wild yeast from active sourdough starter to create lots of lift and flavor in this classic breakfast treat.
Sourdough English muffins are fun and very easy to make with basic ingredients. They are mildly tangy with a unique flavor profile that tastes like something you'd buy from a fancy bakery. Texture-wise, they're the same as their non-sourdough counterparts just as robust and hearty (but, as a bonus, healthier!).
This recipe makes muffins that are perfect doppelgangers of their non-sourdough counterparts: a beautiful mottled golden color on the outside and full of lovely nooks and crannies on the inside, perfect for trapping melted butter (or honey butter) and raspberry sauce or strawberry sauce (ooh, or lemon curd!). I highly recommend toasting your muffins before topping them; this elevates them even more, giving a subtle, lovely crunch on the outside with a soft and chewy interior. 
What You Need
My sourdough English muffin recipe is surprisingly simple (perhaps just surprising to me, I hadn't expected I could manage such a wonderful flavor with basic pantry staples and no sugar). You'll need just a few ingredients: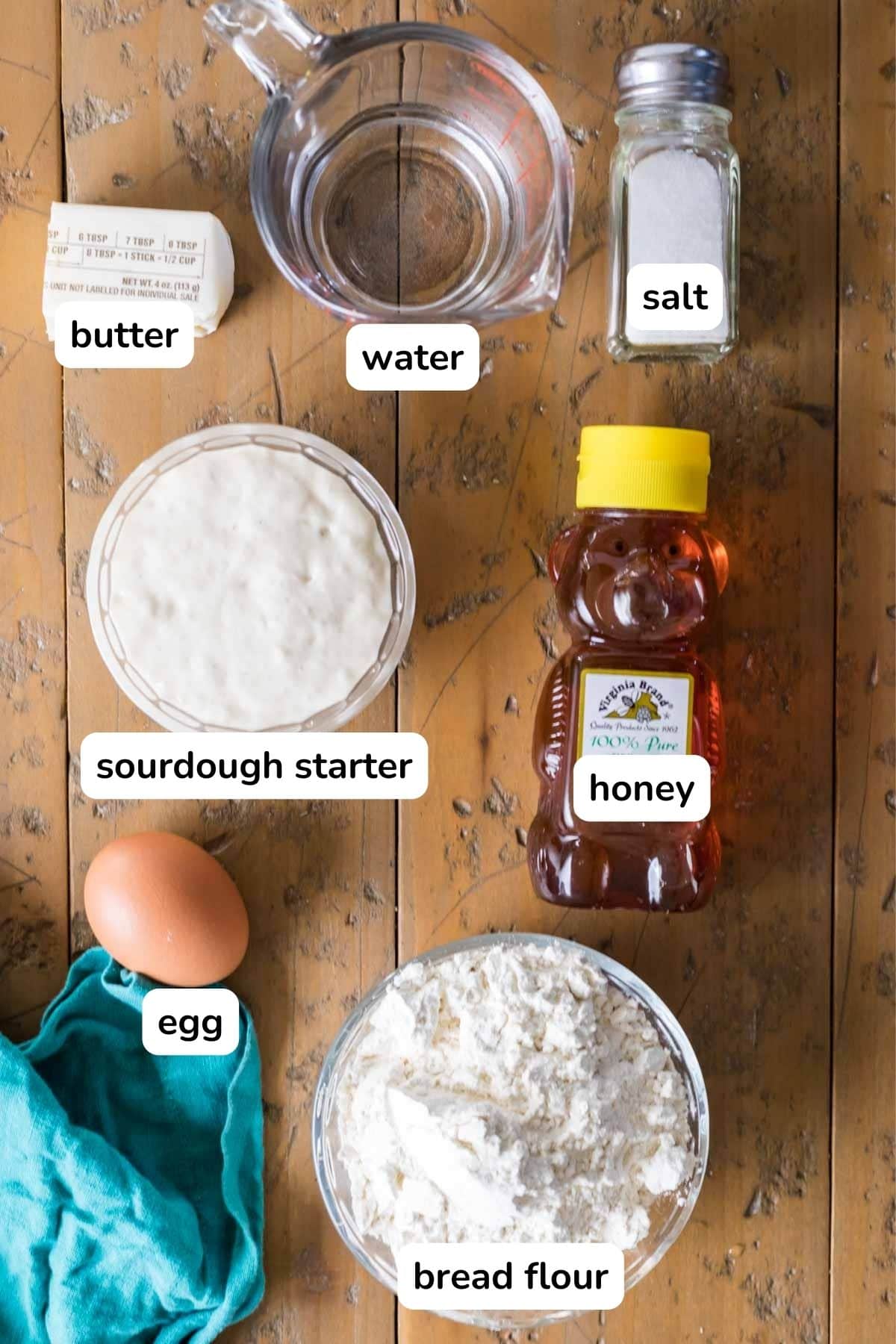 Sourdough starter. You'll want your sourdough starter (not discard!) to be active and bubbly before adding it. Don't have any starter? Learn how to make your own in my how to make sourdough starter post–it's easy and there's so much you can make with starter.
Bread flour. I prefer bread flour here for a chewier and more-true-to-the-classic texture. Make sure to measure your flour properly, or you could end up with dense, dry English muffins.
Honey. This feeds the yeast in our starter, and it adds a bit of sweetness, flavor, and moisture to the dough. When writing this recipe, I was intentional about not using sugar, but if you'd like you could instead use granulated sugar here.
Egg. A single egg enriches the dough and adds to the flavor. It also helps give it some added lift as it cooks.
Warm water. This should be between 90-100F (32-37C).
Cornmeal. This ingredient is optional. Its original purpose was to keep the English muffins from sticking, but this isn't an issue if you use parchment paper like I do. It does add a fun texture though, and if you're looking to replicate the feel of that orange and white brand you can find in the supermarket, you'll want to sprinkle some on your baking sheet. I typically don't add it with this recipe so it's entirely a personal choice.
SAM'S TIP: I like to use these rings when making English muffins; however, if you don't have some or don't want to buy any, you can still make this recipe. You'll simply drop the batter into the skillet and gently smooth it into a round shape (but don't make it too flat!) with the back of a spoon. They won't be as precise, but they'll still taste amazing!
Remember, this is just an overview of the ingredients I used and why. For the full recipe please scroll down to the bottom of the post!
How to Make Sourdough English Muffins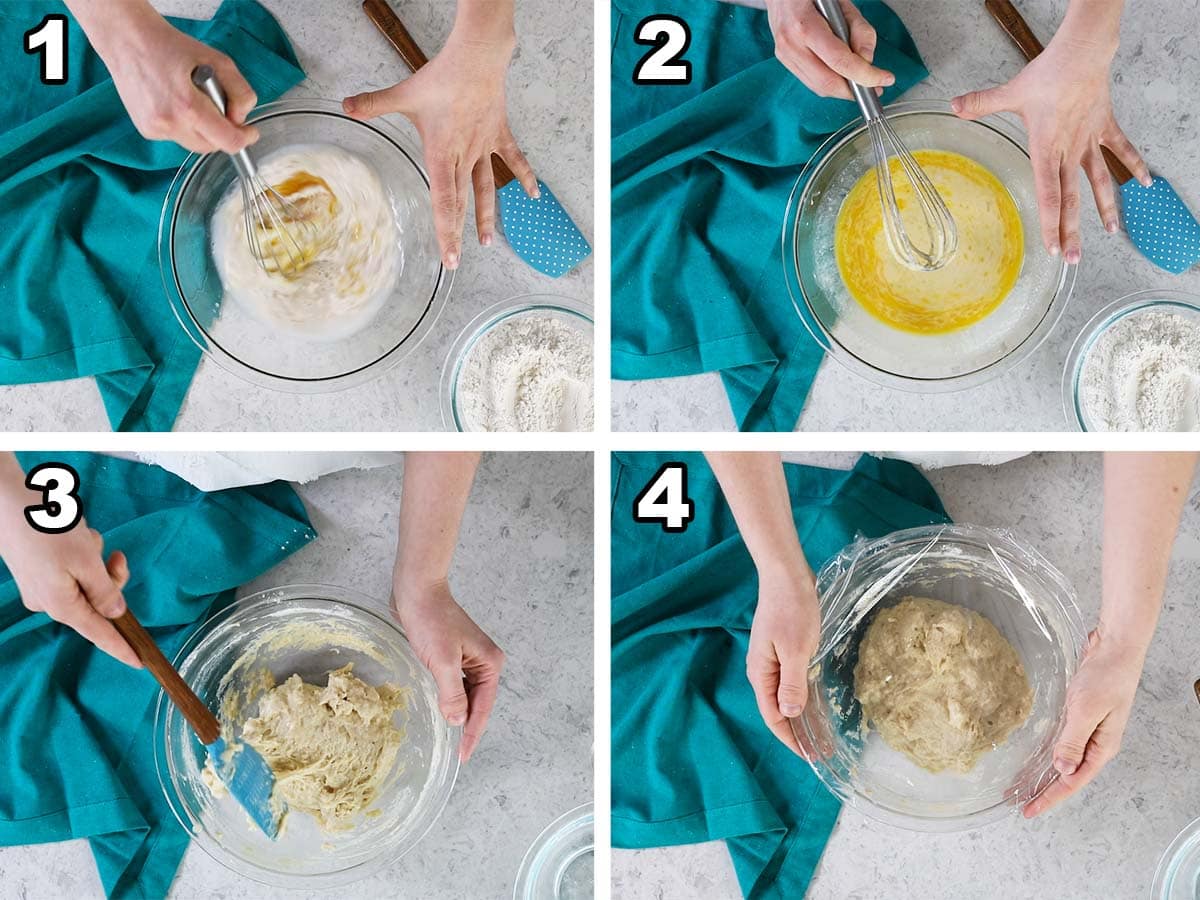 Whisk together the sourdough starter, honey, water and egg until smooth and combined. Note: It's helpful to use a room temperature egg, this will make it easier to thoroughly combine the ingredients. If your egg is straight out of the fridge, see my tip on how to bring eggs to room temperature quickly.
Slowly drizzle in the butter while whisking constantly. The mixture might separate a bit–this is okay!
Stir in the flour and salt until it is incorporated and you have a sticky dough. Cover with plastic and let sit at room temperature for 30 minutes. Transfer to the fridge to chill overnight.
Remove the dough from the fridge and let it sit (still covered) at room temperature for at least one hour.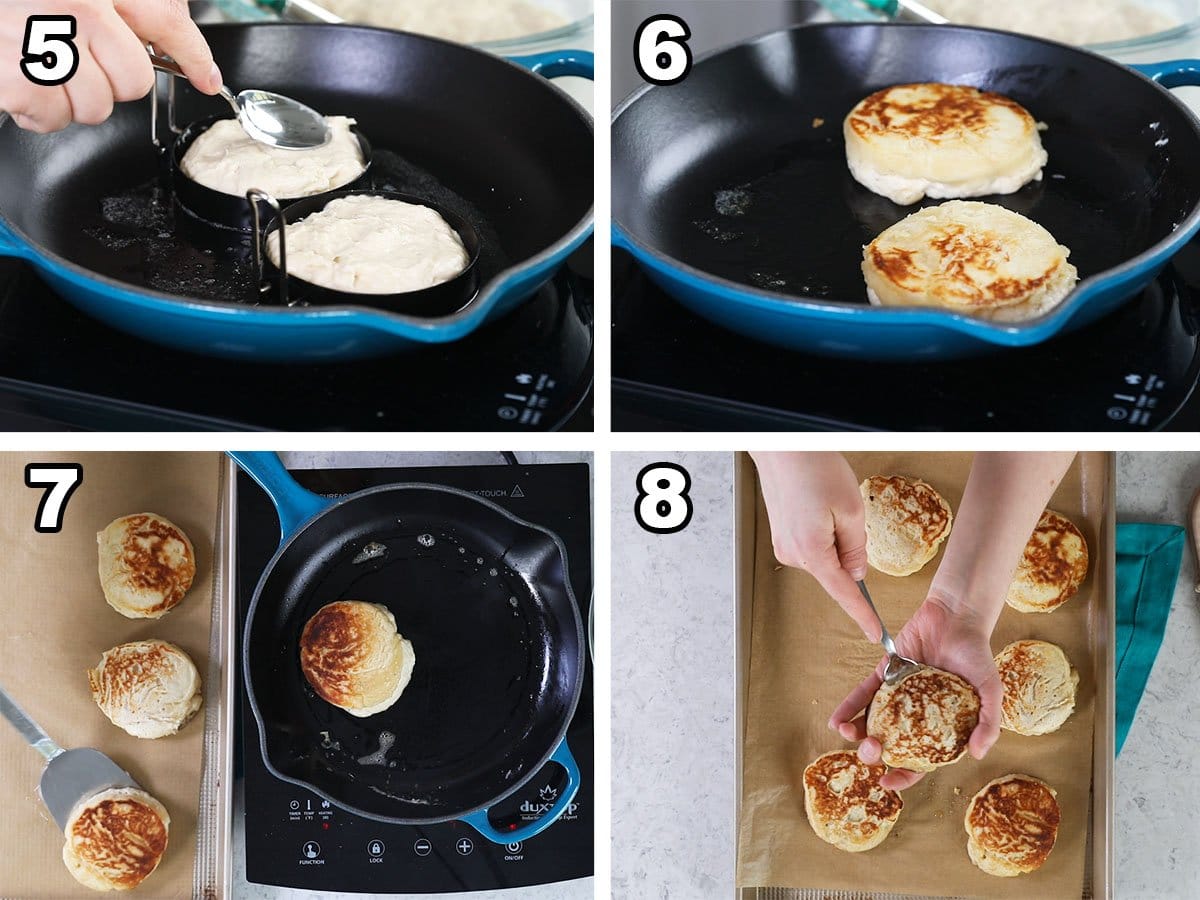 Melt butter over medium low heat, then add your English muffin rings. Once the pan is hot, spread ⅓ cup of dough into each ring, smoothing the tops with the back of a spoon. It'll be sticky, this is normal.
Cook for about a minute, then remove the ring and flip to cook on the other side.
Once golden brown on both sides, place your English muffins on a parchment lined baking sheet dusted with corn meal. Bake at 350F for 12-15 minutes or until the internal temperature reaches 205F.
Let the English muffins cool completely before splitting open with a fork. Don't use a knife, or you might lose all those nooks and crannies!
SAM'S TIP: You'll notice I include a range of time for baking the English muffins. This is because the bake time largely depends on how long your muffins are first cooked on the stovetop. I usually find mine take about 13 minutes. An instant read thermometer is best for testing that they're done, otherwise it can be difficult to tell for sure.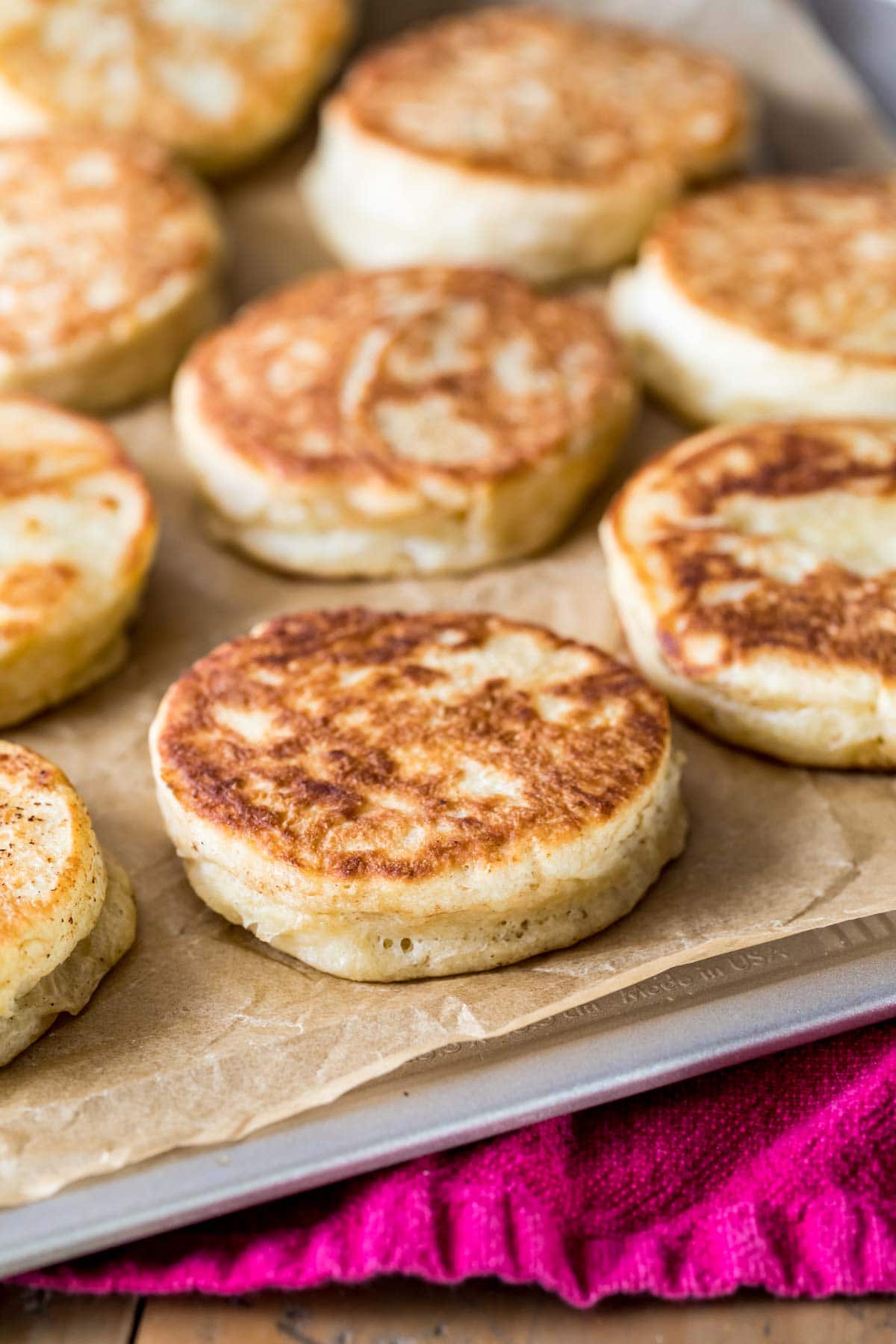 Frequently Asked Questions
Can I just cook my English muffins on the stove?
Unfortunately, no. Beginning your English muffins on the stovetop is critical for creating those signature nooks and crannies, but because the dough is so thick, it's challenging to cook them entirely on the stove without burning the exterior.

Instead, we'll use a combination of stovetop cooking and baking in the oven for perfectly cooked English muffins with plenty of nooks and crannies.
Are sourdough English muffins gluten free?
No, but they do have a lower gluten content (and a lower glycemic index!) than regular English muffins. I talk more about this in my sourdough bread recipe, so head over there if you'd like to learn why this is.
How long do sourdough English muffins last?
Well that all depends on how hungry you are! 😉 If you have any leftover, you can store these English muffins in an airtight container at room temperature for about 5 days. They can also be wrapped in plastic and frozen in an airtight container or bag for several months.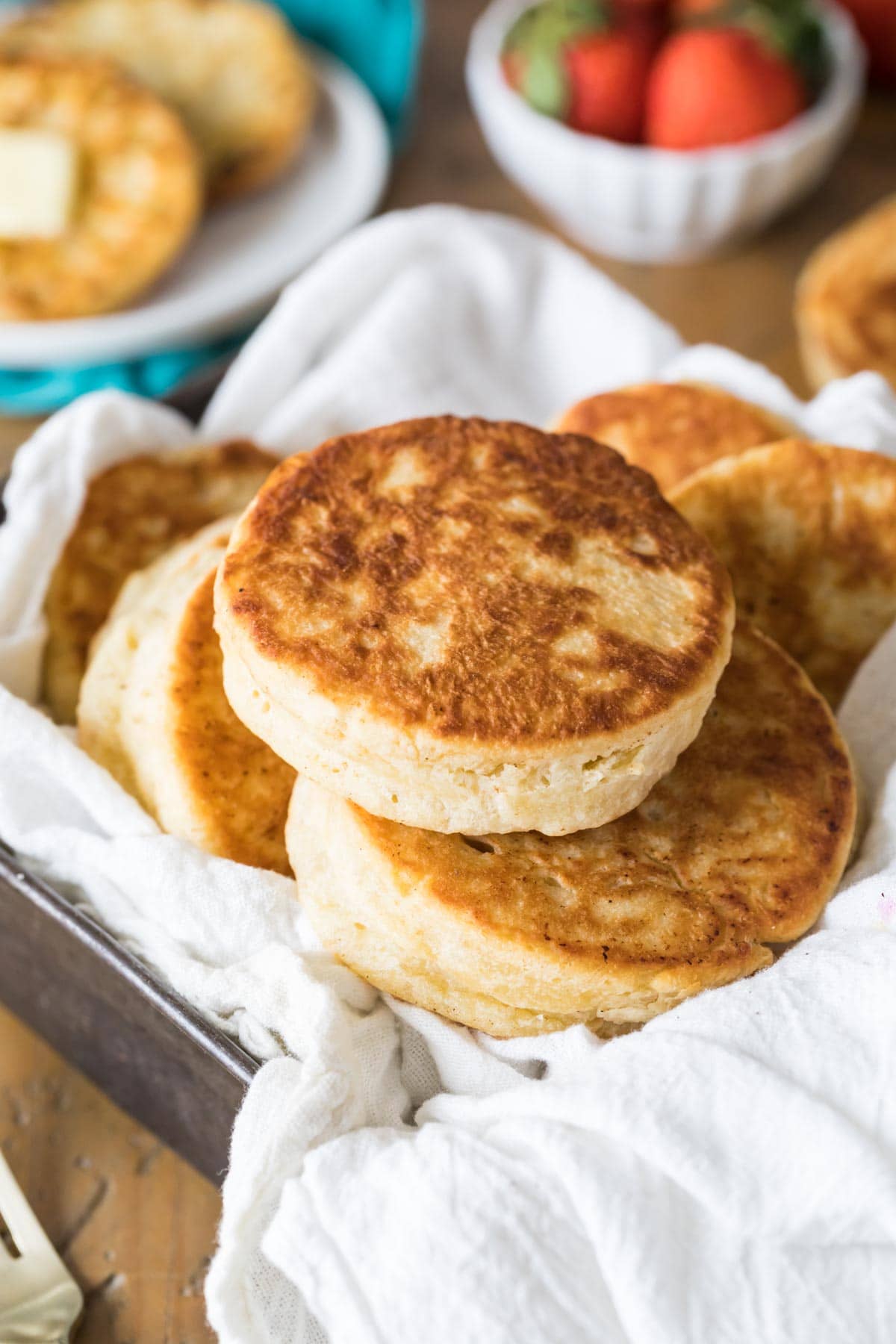 I've been developing a lot of sourdough and sourdough discard recipes (like these sourdough blueberry muffins and sourdough biscuits) recently, but I've been hesitant to share as I'm frankly not sure how interested you might be in sourdough recipes specifically. Is this something you'd like to see more of, or does sourdough simply not interest you? I'd love to know, as it helps me plan what to share in the future!
Enjoy!
Let's bake together! I'll be walking you through all the steps in my written recipe and video below! If you try this recipe, be sure to tag me on Instagram, and you can also find me on YouTube and Facebook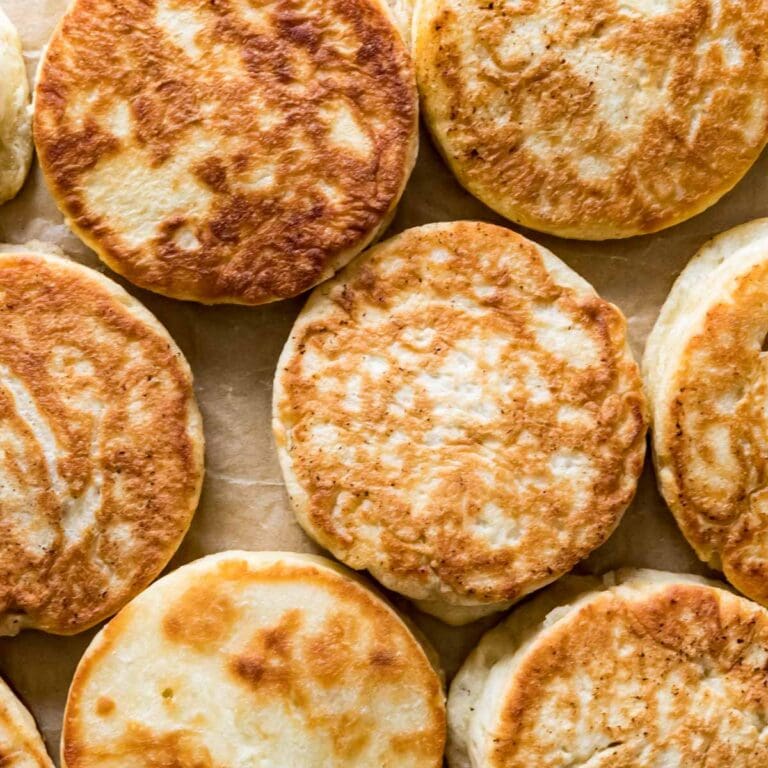 Sourdough English Muffins
My sourdough English muffins boast an incredible, slightly tangy flavor and chewy texture. They are packed with plenty of nooks and crannies for catching your favorite jam and butter.
Recipe includes a how-to video!
Print
Pin
Rate
Servings:
8
English muffins
Ingredients
⅔

cup

(

150

g

)

active

bubbly sourdough starter

⅔

cup

(

157

ml

)

warm water

100F/38C

2

Tablespoons

(

40

g

)

honey

1

large egg

lightly beaten (room temperature)

3

Tablespoons

(

43

g

) unsalted butter

melted

2

cups

(

250

g

)

bread flour

¾

teaspoon

table salt

1

Tablespoon

cornmeal

optional

Unsalted butter

for cooking muffins
Instructions
In a large mixing bowl, whisk together sourdough starter, warm water, honey, and egg until well-combined.

⅔ cup (150 g) active,

⅔ cup (157 ml) warm water,

2 Tablespoons (40 g) honey,

1 large egg

While whisking, drizzle in melted butter, stirring until incorporated (it's OK if it separates a bit).

3 Tablespoons (43 g) unsalted butter

Add the bread flour and the salt to the bowl and stir until a sticky dough forms, stirring until combined. It will resemble a thick pancake batter.

2 cups (250 g) bread flour,

¾ teaspoon table salt

Cover the bowl and let the dough rest at room temperature for 30 minutes, then refrigerate overnight before proceeding.

Once dough has rested overnight, remove from refrigerator and allow it to sit, covered for at least an hour. Ideally the dough should be at room temperature before you begin cooking it.

Preheat oven to 350F (175C) and line a baking sheet with parchment paper. If desired, dust the baking sheet with cornmeal. Set aside.

In a skillet set over medium-low heat, melt about ½ Tablespoon of butter. Once butter is melted and skillet is hot, place English muffin rings in the pan (note: if your rings are not nonstick, spray them with cooking spray before using) and portion about ⅓ cup of dough into each ring. I use an ice cream scoop to do this. Use the back of a spoon to gently nudge the dough evenly into the ring. (remember, it's sticky so it may not spread on its own). If not using rings: Simply drop the dough into the skillet and use the back of a spoon to nudge into a round-ish shape (it likely won't be perfect, that's OK).

Cook English muffins about 60 seconds. Once the bottom is golden brown, remove the ring and carefully flip. Cook until golden on both sides, then remove to prepared baking sheet.

Repeat with remaining dough, spacing English muffins at least 2" (5cm) apart on the baking sheet.

Bake for 12-15 minutes, until cooked through and English muffins reach an internal temperature of 205F (96C) when temped with an instant-read thermometer.

Allow muffins to cool before splitting open using the tines of a fork.
Nutrition
Serving:
1
English muffin
|
Calories:
243
kcal
|
Carbohydrates:
36
g
|
Protein:
13
g
|
Fat:
7
g
|
Saturated Fat:
3
g
|
Polyunsaturated Fat:
1
g
|
Monounsaturated Fat:
2
g
|
Trans Fat:
0.2
g
|
Cholesterol:
32
mg
|
Sodium:
238
mg
|
Potassium:
235
mg
|
Fiber:
6
g
|
Sugar:
4
g
|
Vitamin A:
162
IU
|
Vitamin C:
0.1
mg
|
Calcium:
16
mg
|
Iron:
1
mg
Nutritional information is based on third-party calculations and should be considered an estimate only. Actual nutritional content will vary based upon brands used, measuring methods, cooking method, portion sizes, and more.
Related Recipes