A sweet and simple recipe for no-chill sugar cookies, these are buttery and soft with crisp defined edges and don't require any chilling in the refrigerator.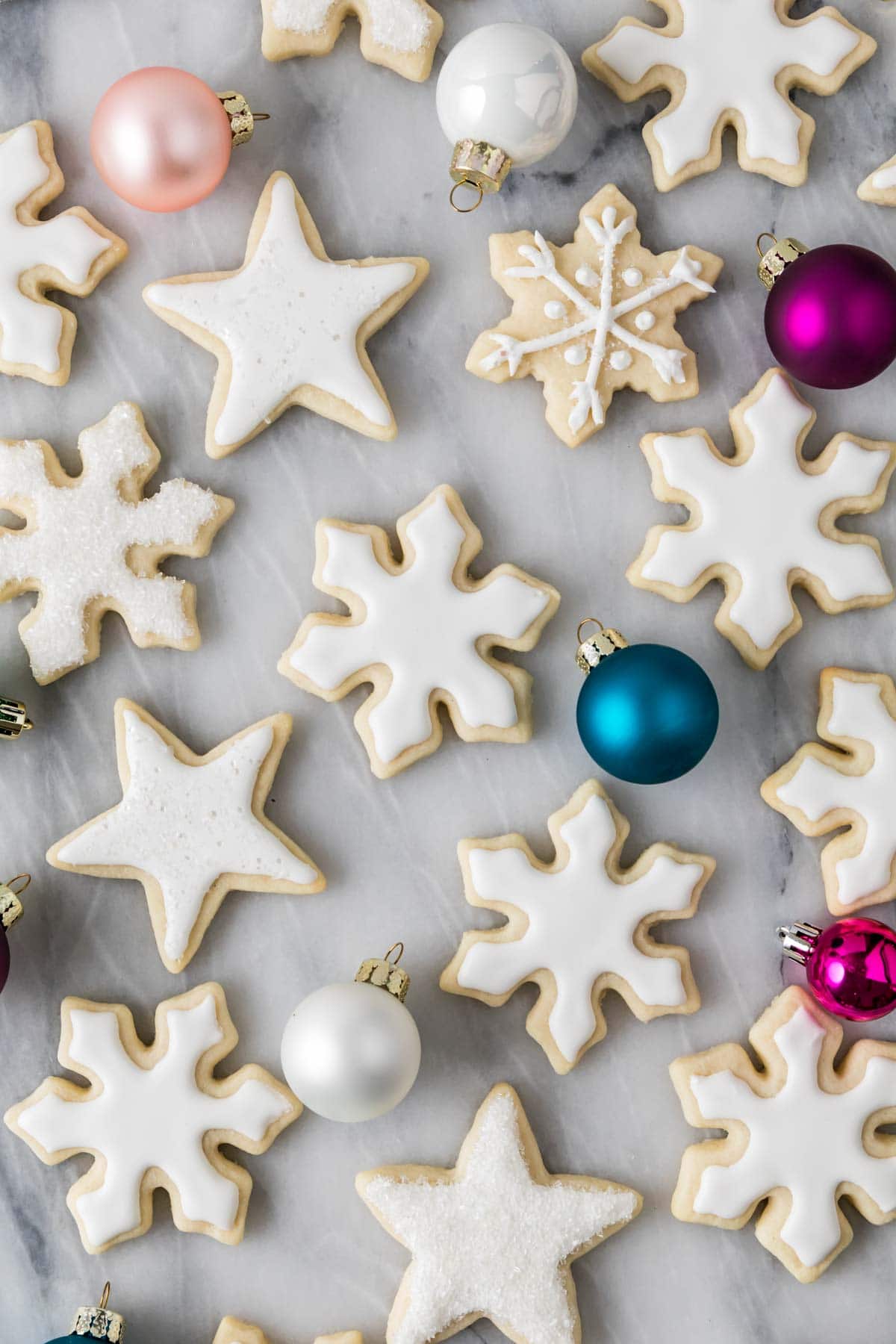 Last-Minute Cut-Out Cookies
Sneaking in just before Christmas with a last-minute cookie recipe for all of my fellow procrastinators out there! I actually hesitated quite a bit to share this no-chill sugar cookie recipe, and almost didn't. Only because I already have a pretty incredible, well-loved, highly-rated and easy sugar cookie recipe on the blog.
The only drawback? My original recipe requires several hours of chilling. If you have the time, I will always favor the original. But, sometimes, well, we need sugar cookies without chilling. We need them fast and don't have time to wait for refrigeration, no matter how obnoxiously important we know that step may be.
Which is why I'm very pleased to be sharing today's absolutely no-refrigerator required, no-chill sugar cookie recipe. For those of you who are procrastinators (much like myself) and find yourself in desperate need of cookies for Santa and barely any time remaining before the sleigh pulls up to the rooftop.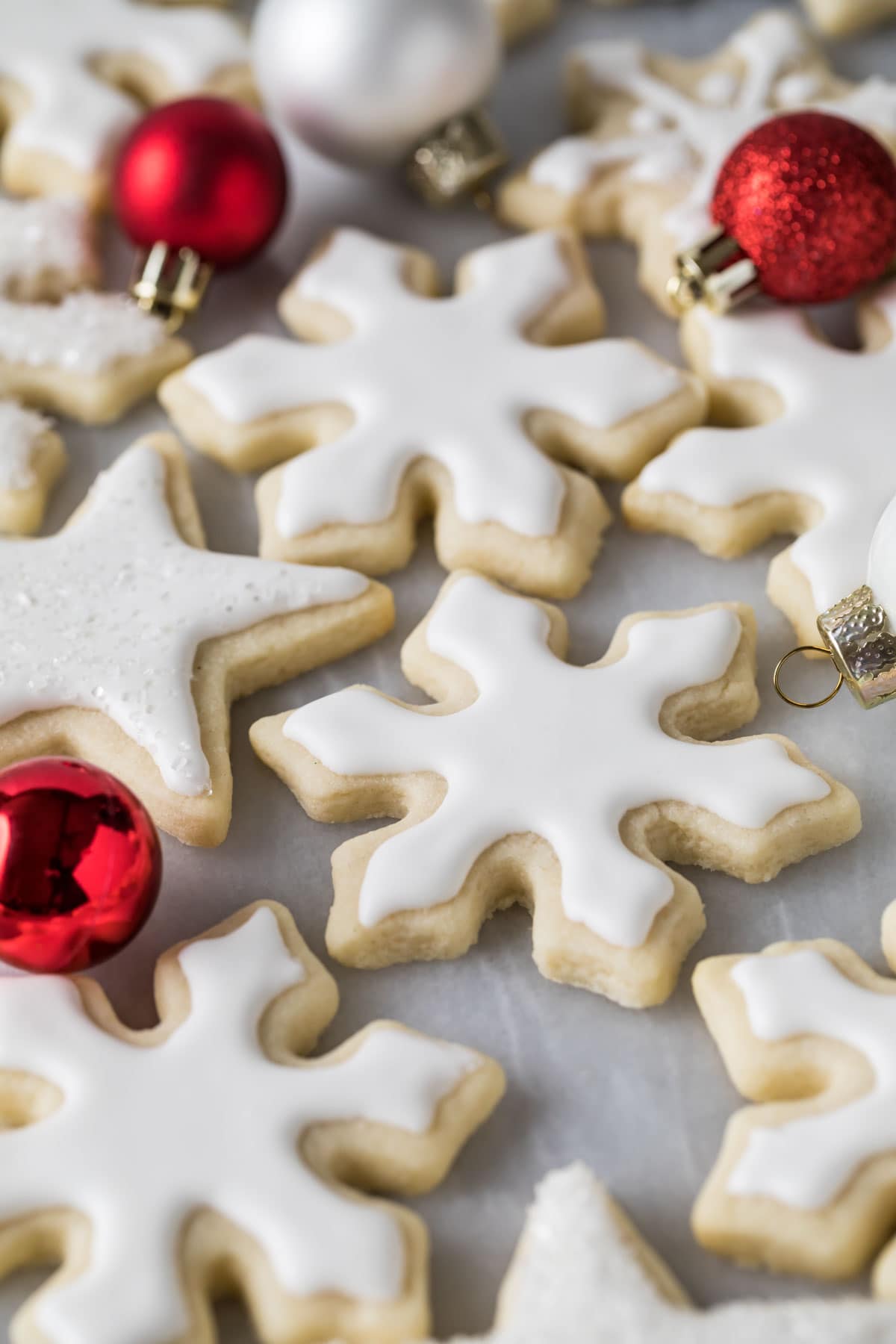 Why you'll love this recipe:
NO CHILLING!
Simple to prepare with basic ingredients.
Yields beautiful, even cookies with sharp, defined edges.
A forgiving dough; I include tips to avoid common sugar cookie pitfalls, but also how to resolve them if you skipped over the tips and ran into them anyway.
Yields buttery, perfectly sweetened cookies that you can customize the flavor of with your favorite extracts.
Quick and easy, this recipe can be done in under an hour!
What You Need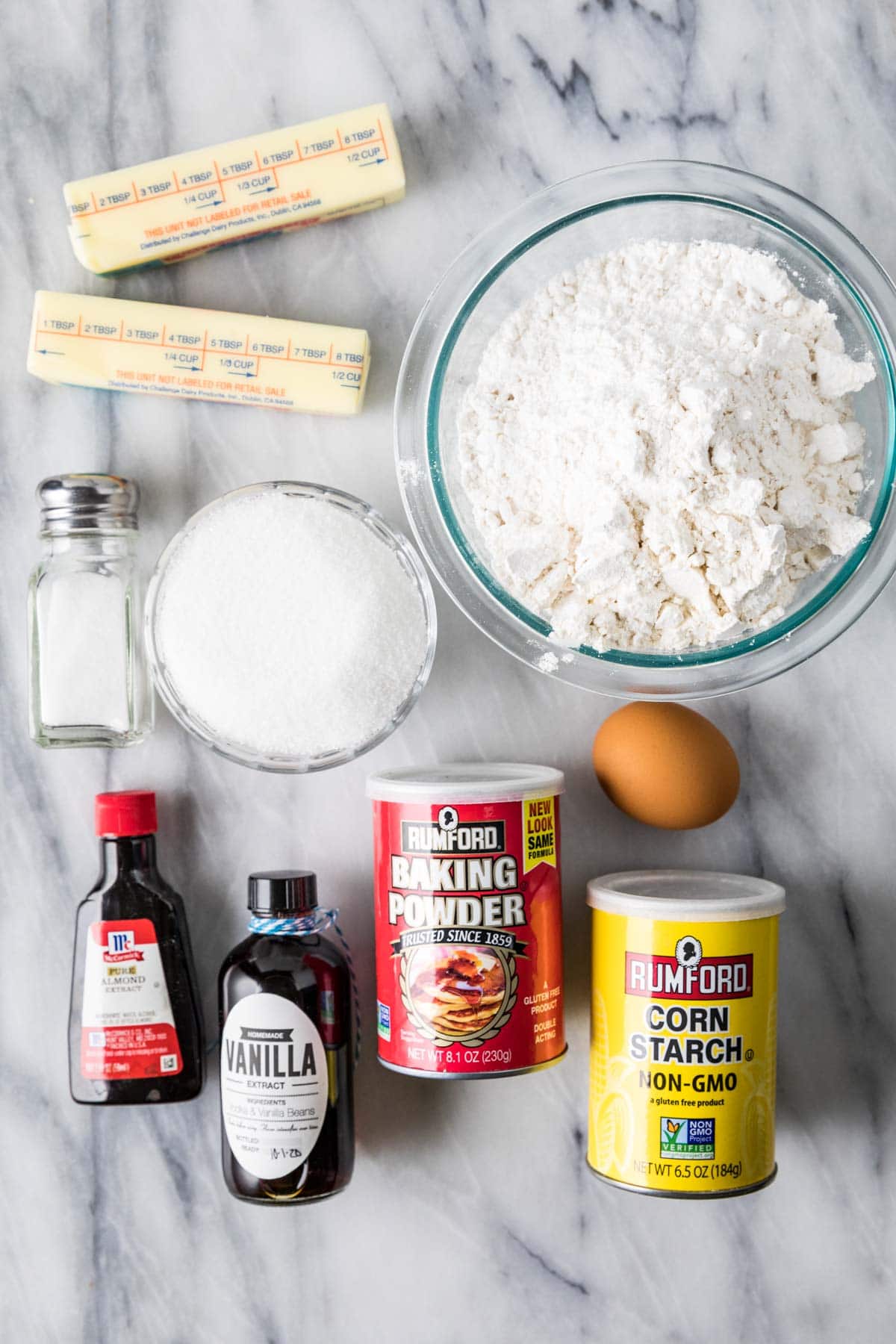 The ingredients needed here are essentially the same as the ones used in my classic sugar cookies, with one notable exception. Let's go over these before we get started:
Butter. Arguably the most important ingredient, your butter has the power to make or break your no-chill sugar cookies. Your butter should be softened, but not entirely to room temperature. It should still have a bit of a chill to it, if it's too warm or soft it can make the dough sticky and difficult to use. Check that your butter isn't melting (the outside of it shouldn't be oily). If you want to be really technical, use an instant read thermometer (⬅️ affiliate link for the one I use) to check the temperature of your butter. At its center, it should read close to 65F (18C).
Extracts. Vanilla extract gives the cookies their classic vanilla flavor. A bit of almond extract adds something extra special, but can be skipped if you don't love the flavor (or feel free to substitute with lemon extract).
Flour. Use all-purpose flour. While I recommend always measuring your flour properly, with this recipe you actually have a bit of wiggle room, and if you run into an issue with sticky dough you can always add a spoonful more as needed.
Cornstarch. My secret weapon, I prefer to use a blend of flour and cornstarch rather than just flour. Too much flour can make the cookies cakey and bland. Cornstarch works much like flour in this recipe, but you can use much less of it, keeping the cookies tender and flavorful.
Baking powder. A pinch of baking powder keeps the cookies from being too dense. It offers a slight bit of lift that keeps their texture perfect.
SAM'S TIP; TOPPINGS: My easy sugar cookie icing and easy royal icing both work wonderfully for icing these cookies (I used my royal icing in the photos here). However you can also skip the icing completely and just sprinkle the cut-out cookies with colored sanding sugar before baking them.
Remember, this is just an overview of the ingredients I used and why. For the full recipe please scroll down to the bottom of the post!
How to Make No-Chill Sugar Cookies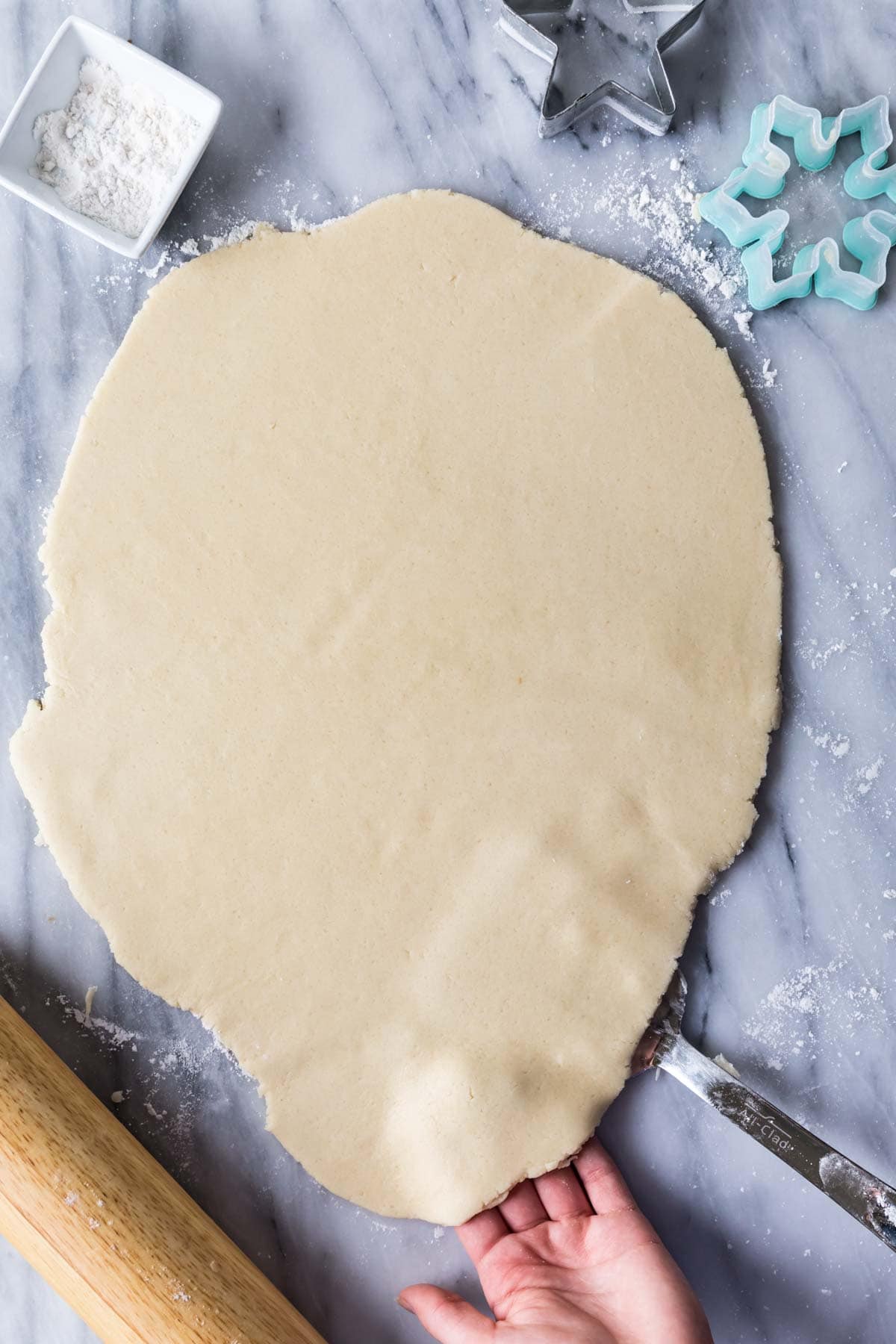 Cream the butter & sugar. Beat them together until light and fluffy, about a minute or so with an electric mixer.
Stir in egg and extracts. Scrape the bowl periodically to ensure all ingredients are well-combined.
Prepare the dough. Whisk together the dry ingredients separately, then, with your mixer on low-speed, gradually add the flour until completely combined. You don't want to over-work this dough (which could warm the butter and make the dough sticky) but take your time adding the flour and make sure it's completely combined.
Roll it out. No chilling needed, take your dough straight to a clean lightly floured surface and roll it out as thick or thin as you'd like. Make sure to periodically scrape beneath the dough with a spatula while you're rolling it to be sure it's not sticking to your counter!
Cut & bake! Use cookie cutters to cut out shapes and place these wonderful no-chill sugar cookies on a baking sheet. The cookies won't spread, but give an inch or so of space between cookies to give them some breathing room. Bake until the cookies are just beginning to turn a very light golden brown on the edges.
SAM'S TIP: Add your flour gradually. This dough is designed to be a bit more dry and firm than other cookie doughs (it's how we're able to skip the chilling), so it takes some time for the wet ingredients to absorb all of that flour. I recommend adding the flour mixture in 4 or 5 parts and ensuring it's all been incorporated before adding the next bit. If your dough seems dry and crumbly, you might have just overwhelmed it with flour. Just keep mixing and it will come together.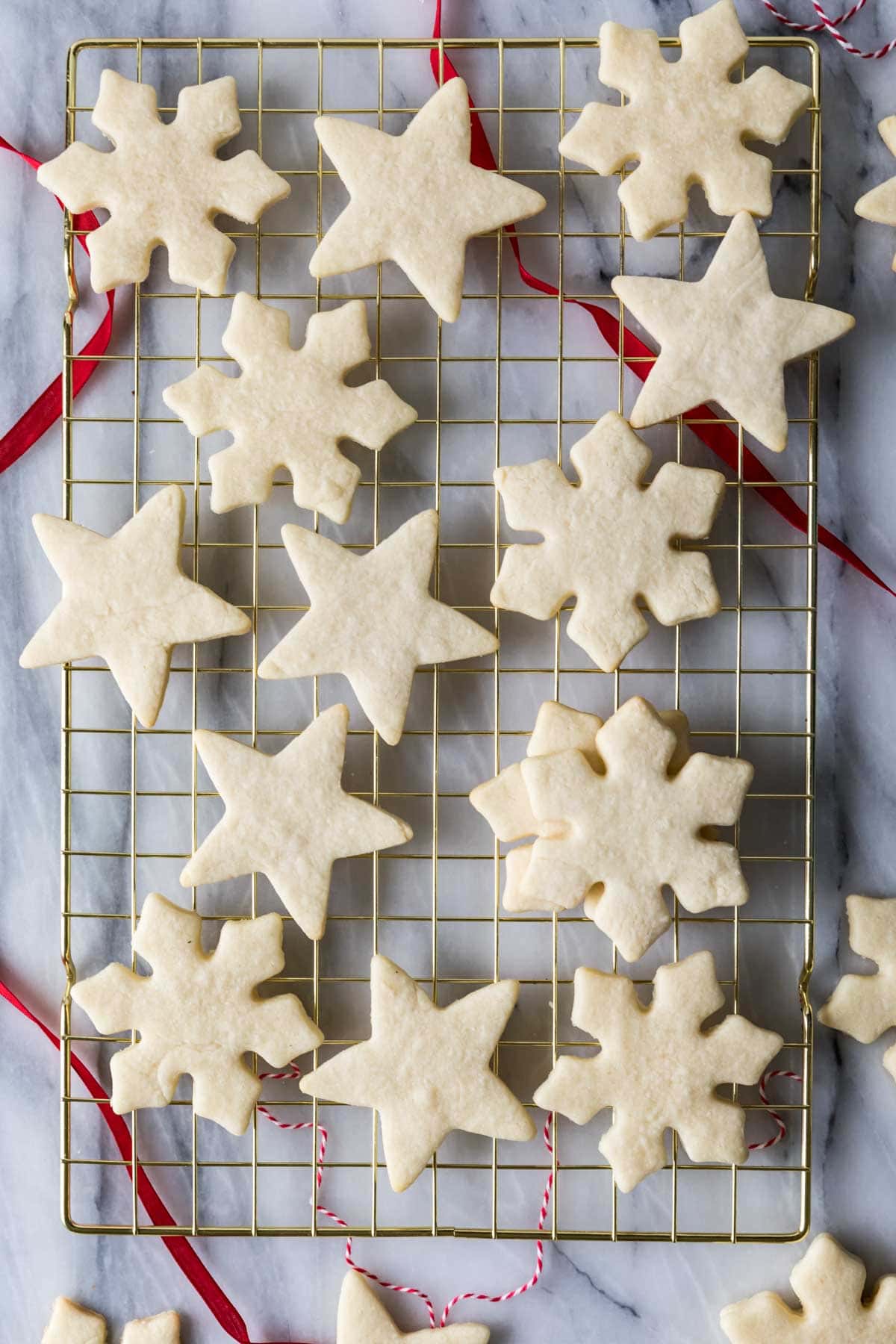 Frequently Asked Questions
Can I make no-chill sugar cookies if I don't have cornstarch?
If you do not have cornstarch you can leave it out and instead use 3-4 additional Tablespoons of all-purpose flour.
Why is my dough too crumbly and how do I fix it!?
Dough that is too crumbly is often caused by accidentally using too much flour. Please see my post on how to measure flour properly.
That being said, this is a fairly forgiving dough and can handle more flour than is called for. If your dough is too dry and crumbly and cracking the flour may have been added too quickly, faster than the wet ingredients could properly absorb it. To prevent this, add the dry ingredients slowly, in 5 parts, and stir until all of the flour has been absorbed before adding more. If you're in the thick of it and have already added all of your flour, just keep mixing. It will all come together nicely, but it might be more of an arm workout this way.
Why is my dough too sticky and how do I fix it!?
Sticky dough is most likely the result of butter that was too warm or over-handling your dough. I designed this dough to be just dry enough that it didn't need to chill, but I was intentional about making it still soft enough that you'd have a nice, buttery, and flavorful cookie (one that didn't taste like flour!). If your butter was melty/oily when you used it (you didn't microwave it to soften it, did you!?) or if you mixed the dough much longer than called for or handled it with your hands a great deal, this can cause it to be sticky.
This can be fixed; slowly stir more flour into the dough until it is manageable or, if the dough is already on your clean surface for rolling, sprinkle dough on the counter and over the dough and mix it in by hand until manageable.
You also could chill this dough for 15-20 minutes to remedy dough that's gotten too warm. This works great, but then of course these won't exactly be no-chill sugar cookies 😉
Can I make these as drop cookies?
I would not recommend it as the dough is too stiff and purposefully designed to be rolled out. Instead, I would recommend trying my drop sugar cookies.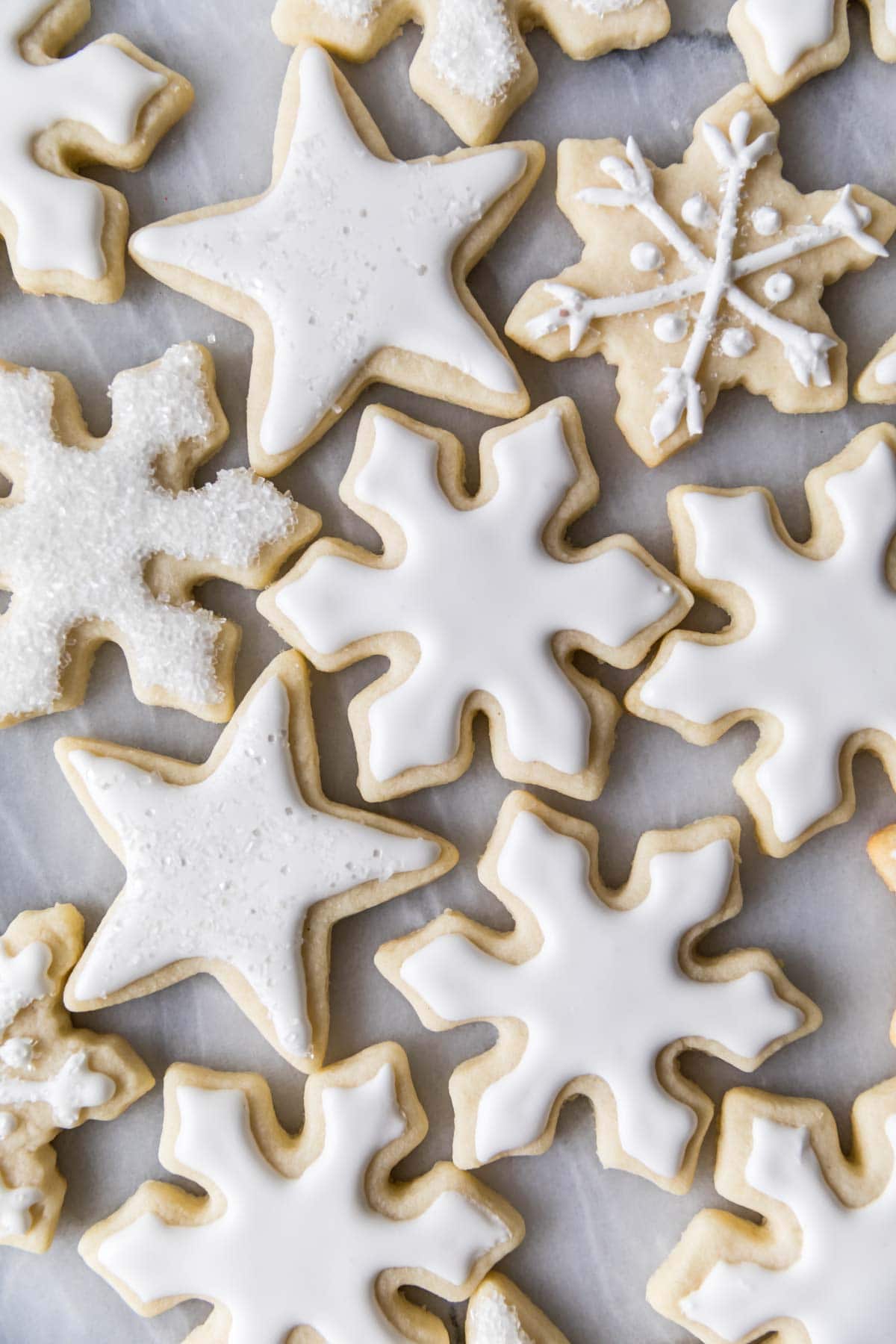 I have a few more recipes in store for you this year but this will be my last dessert recipe of 2022. Merry Christmas, and I hope this recipe is helpful (if you enjoy it let me know and I will try to film a video for it for the next holiday season)!
Enjoy!
Let's bake together! I'll be walking you through all the steps in my written recipe and video below! If you try this recipe, be sure to tag me on Instagram, and you can also find me on YouTube and Facebook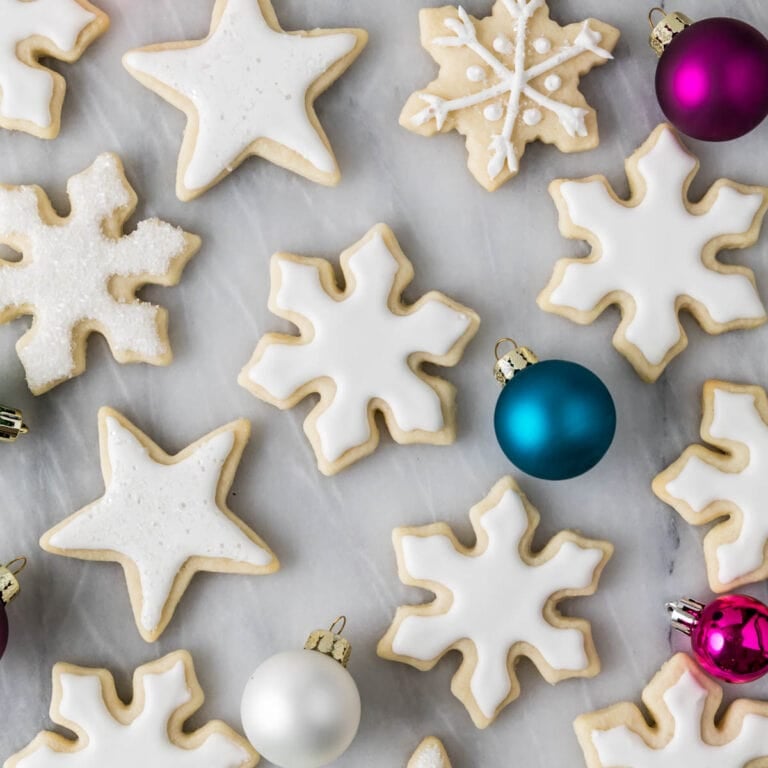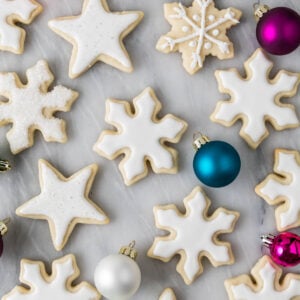 No-Chill Sugar Cookies
The perfect last-minute cookie, this no-chill sugar cookie recipe requires, well, no chilling! It's simple to make and yields perfectly-sweet, buttery sugar cookies with crisp defined edges.
Print
Pin
Rate
Servings:
30
2.5″ cookies, see note
Instructions
Preheat oven to 350F (175C) and line a baking sheet with parchment paper. Set aside.

In a large mixing bowl, use an electric mixer (or stand mixer) to beat together butter and sugar until creamy and well-combined (about 1 minute on medium speed).

1 cup (226 g) unsalted butter,

1 cup (200) granulated sugar

Add egg, vanilla extract, and almond extract and beat on medium-speed until completely combined. Be sure to scrape the sides and bottom of the bowl so ingredients are thoroughly combined.

1 teaspoon vanilla extract,

1 large egg,

¼ teaspoon almond extract

In a separate mixing bowl, whisk together flour, cornstarch, baking powder, and salt.

2 ¾ cup (345 g) all-purpose flour,

2 Tablespoons cornstarch,

¼ teaspoon baking powder,

½ teaspoon salt

With mixer on low-speed, very gradually add flour mixture to butter mixture until completely combined. This is a fairly dry dough, the best way to keep it from being dry and crumbly is to add the flour slowly (in 4-5 parts) and make sure it's all been incorporated before adding the next bit of flour.

Form the dough into a disk and transfer it to a clean, lightly floured surface and sprinkle the surface of the dough lightly with additional flour.

Additional flour for rolling cookies

Use a lightly floured rolling pin to roll dough to be about ¼" (6.5mm) thick. As you roll, occasionally use a spatula to scrape beneath the dough to loosen it from the counter to ensure it isn't sticking to the surface. If your dough is sticky at all, simply sprinkle it with additional flour.

Use cookie cutters to cut shapes out of the dough (keep your cookie cuts close and re-group and re-roll out any dough scraps!) and transfer to prepared baking sheet, spacing cookies at least 1" apart.

Transfer to center rack of 350F (175C) oven and bake for 8-10 minutes (this is the suggested time for 2.5-3"/7.5cm cookies; smaller cookies will need less time and larger cookies may need longer). When cookies are finished baking, edges will be beginning to turn very light golden brown.

Allow cookies to cool on baking sheet for 5-10 minutes before using a cookie spatula to carefully transfer to cooling rack to cool completely.
Notes
Butter
Butter should not be so soft that it's oily/melty and it's actually ideal if it still has a bit of a chill to it. If you want to be very precise, use an instant read thermometer to check for a temperature of 65F (18C). 
I use unsalted butter, but if you use salted butter then reduce the salt in the recipe to just a pinch (about ⅛ teaspoon).
Cornstarch
This is a powdery white substance (similar in appearance to baking powder) that is often labeled as "corn flour" in the UK. If you do not have cornstarch, you may omit it and increase the amount of flour in the recipe by 3-4 Tablespoons.
Servings
How many cookies you get out of this dough will vary depending on the size of your cookie cutters and precisely how thick you roll the dough. I used 2.5″ cookie cutters and rolled the dough to ¼″ thickness for the testing this recipe and re-rolled out my cookie scraps. 
Decorating
I recommend decorating the cookies with either my easy sugar cookie icing or my easy royal icing (for the cookies in the photo you could use either to achieve the results shown, but I used royal icing and then sprinkled on some sanding sugar while the icing was still wet for some of the cookies). You may also simply sprinkle the cookies with colored sanding sugar before baking. 
Storing
Store baked cookies in an airtight container at room temperature for up to two weeks. Cookies may also be tightly wrapped and frozen for several months.
Nutrition
Serving:
1
unfrosted cookie
|
Calories:
127
kcal
|
Carbohydrates:
16
g
|
Protein:
1
g
|
Fat:
6
g
|
Saturated Fat:
4
g
|
Polyunsaturated Fat:
0.3
g
|
Monounsaturated Fat:
2
g
|
Trans Fat:
0.2
g
|
Cholesterol:
22
mg
|
Sodium:
45
mg
|
Potassium:
17
mg
|
Fiber:
0.3
g
|
Sugar:
7
g
|
Vitamin A:
198
IU
|
Calcium:
7
mg
|
Iron:
1
mg
Nutritional information is based on third-party calculations and should be considered an estimate only. Actual nutritional content will vary based upon brands used, measuring methods, cooking method, portion sizes, and more.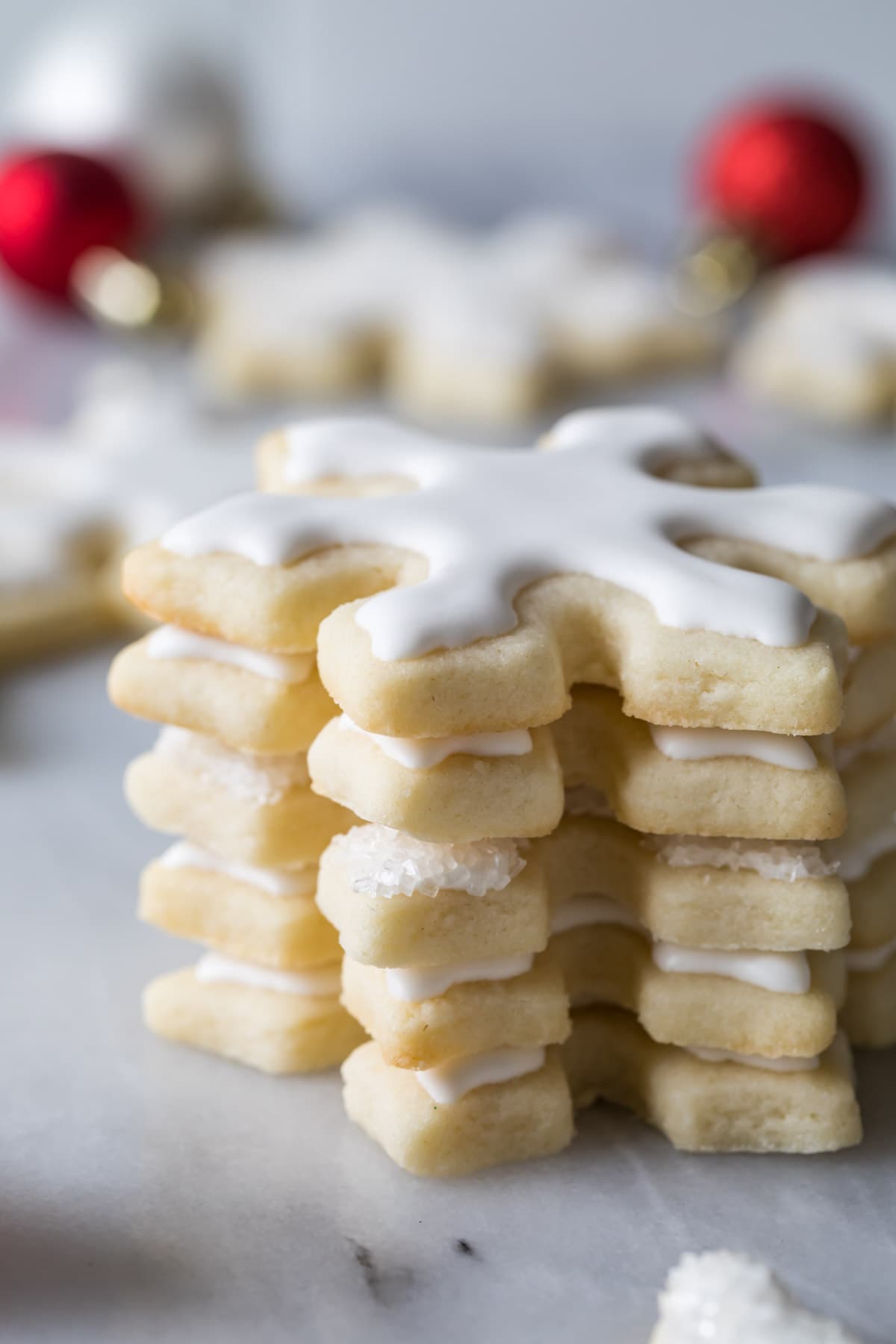 Related Recipes