You can make perfectly soft Lofthouse Cookies right in your own kitchen. My carefully-tested copycat recipe is surprisingly simple, with all the flavors of the real thing but none of the artificial stuff! Recipe includes a how-to video.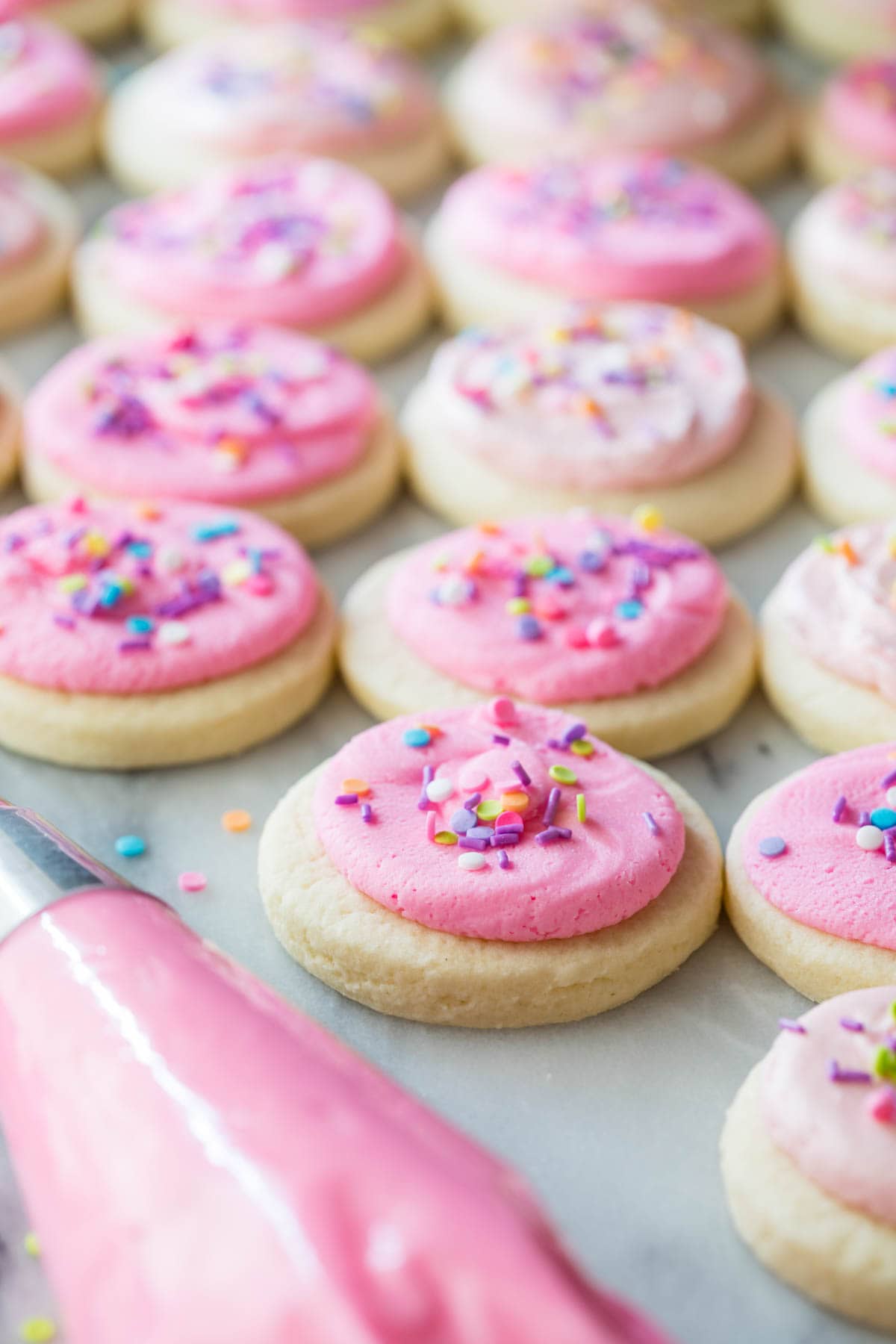 Sweet & Soft Lofthouse Cookies
Well, this recipe sure was an adventure. I spent the past few weeks exhausting my ovens and mixer while working to capture the true essence and texture of real Lofthouse cookies, only without any of the artificial flavors/mass-produced taste.
I tried uncommon ingredients, cumbersome techniques, and spent about 10lbs of butter tweaking the recipe to perfection, only to land on a version that is surprisingly unfussy (thank goodness!) and that uses very basic ingredients. They have a classic, soft and cakey, not-too-sweet base that's paired with a much sweeter frosting. Exactly like the real thing.
The Lofthouse cookie frosting is a slightly modified American buttercream; it's sweet and will develop a crust as it sits (though it's still not great for stacking — you'll get smudged icing). I chose to color mine with pretty shades of pink (which my sister insisted was the classic and only choice), but you could use any color or leave them white. They make cute fall cookies decorated with orange icing and halloween sprinkles, too!
What You Need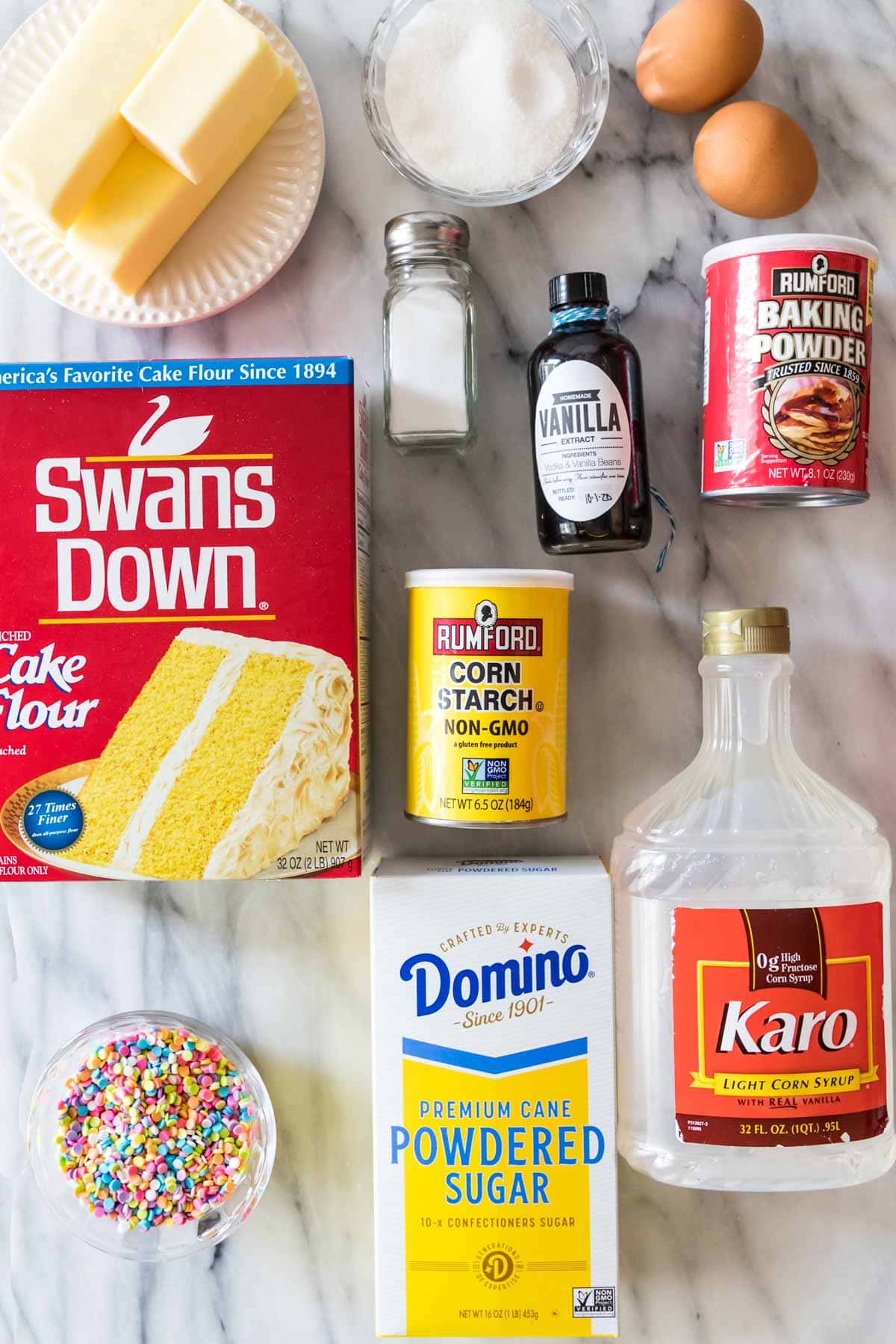 Here's what you need to make your copycat Lofthouse cookies taste just like the real thing:
Cake flour. Cake flour is one of the key ingredients that makes these cookies a true copycat. It gives them that light, melt-in-your-mouth texture. I tried so many methods to make the cookies taste authentic and found that cake flour made the biggest difference. While you can substitute an equal-weight amount of all-purpose flour, you simply won't get the same texture.
Corn starch. This makes our Lofthouse cookies soft and tender, and it helps them keep their shape too! Don't skip it!
Vanilla extract. I use pure vanilla extract here, but you can substitute imitation vanilla extract for a flavor that's slightly closer to the store-bought version.
Egg + egg white.

The extra egg white adds structure to the dough and contributes to that light, slightly more cakey texture that you're familiar with (such a switch from the chewy cookies I usually aim for!).
Corn syrup. This is for the Lofthouse cookie icing. While you could leave this out (expect a softer frosting), just a tablespoon gives the frosting the perfect texture and makes it taste like the real deal!
Here's what you won't find: Sour cream! While many recipes use it, I found it was not necessary and did not yield a true taste or texture. While I use it in my (similar) frosted sugar cookies, it just didn't belong in a Lofthouse cookie recipe (though I went through several tubs of sour cream during my testing, trying to make it work!)!
SAM'S TIP: For the frosting, I prefer using gel food coloring because it's more potent and yields a much brighter, more vibrant color than liquid food coloring. A single drop of gel works for this icing!
Remember, this is just an overview of the ingredients I used and why. For the full recipe please scroll down to the bottom of the post!
Texture & Technique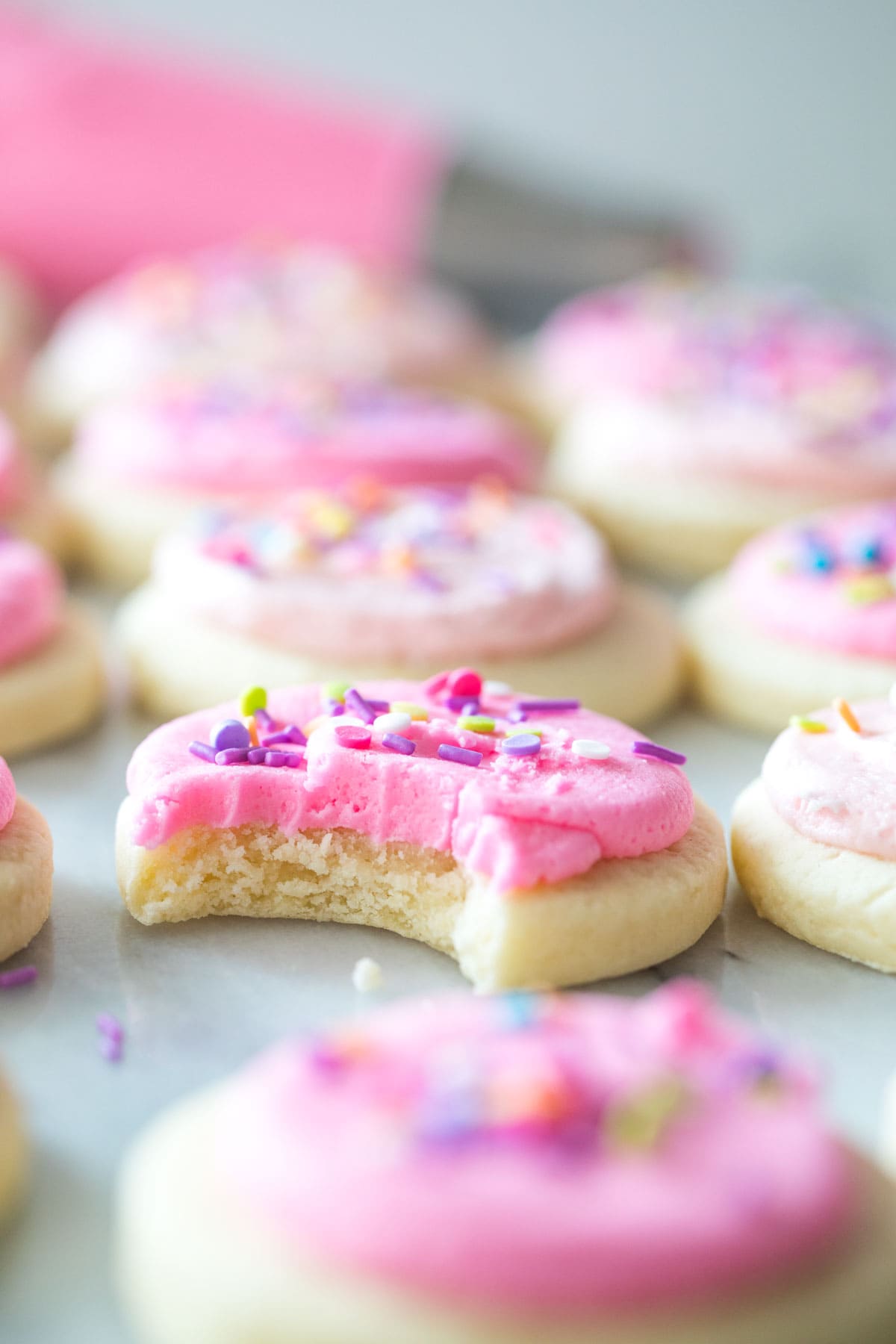 Before we go any further, let's talk texture and technique for a moment.
You'll notice that if you break a store-bought Lofthouse cookie in half, the cookie is sort of made up of delicate layers, almost like a scone or biscuit. To achieve this effect, I tried using a food processor to make this dough (cutting butter into the dry ingredients) and was able to recreate that same, flaky/layered appearance in my cookies… but it did nothing for the taste and in a blind-taste-test was indiscernible from the cookies made in a more traditional manner.
Because of this, I decided it wasn't worth a more complicated method (or the extra dirty dish), and opted for the simpler, more traditional creaming method instead (detailed below!).
How to Make Lofthouse Cookies (The Dough)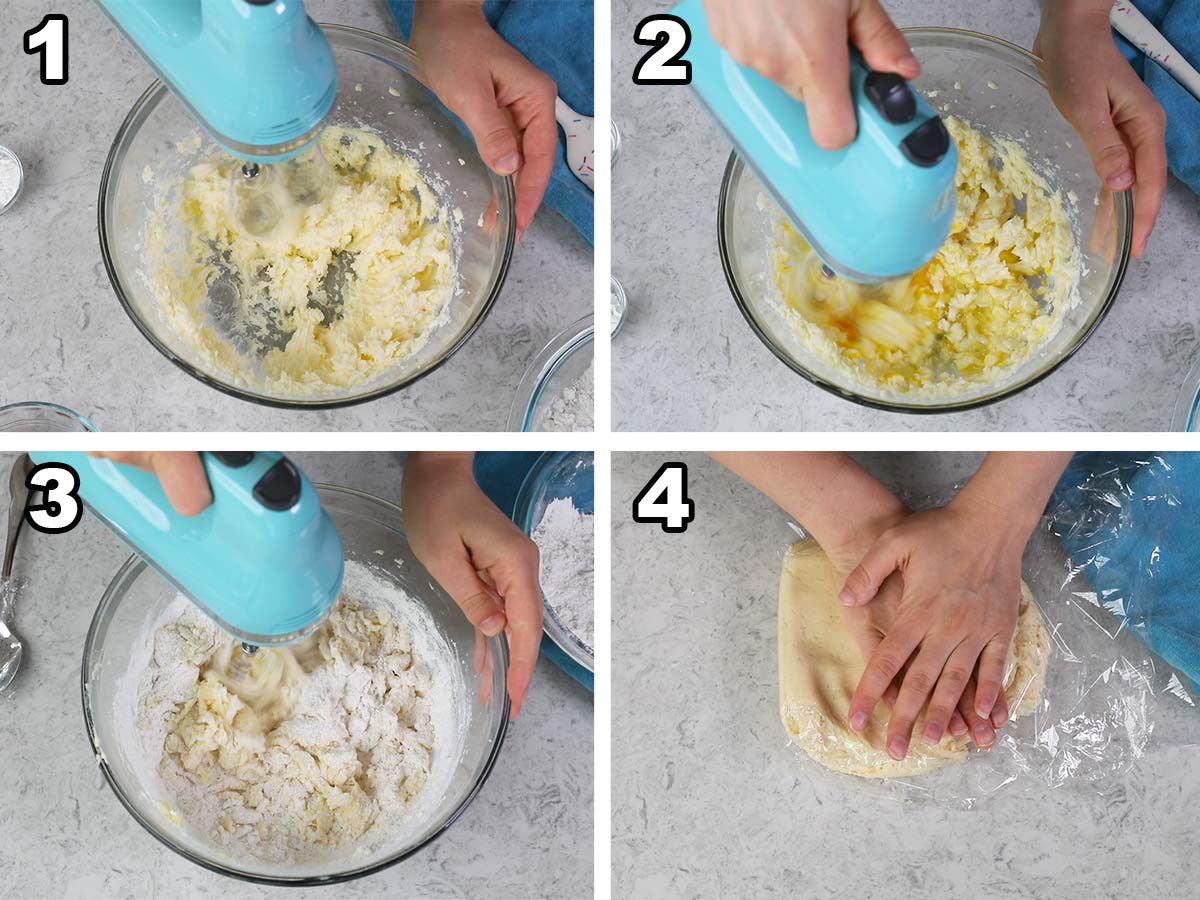 Cream together the butter and sugar until the mixture is light, fluffy, and creamy.
Add the eggs and vanilla and stir until combined. Always scrape the sides and bottom of your bowl frequently while mixing, this ensures even distribution of the ingredients.
Combine the dry ingredients in a separate bowl, then gradually add them to the wet ingredients.
Form the dough into a disc, cover it with plastic, and let it chill for at least an hour and up to 3 days — this will make the dough more manageable and less prone to spreading in the oven.
Cutting, Cooking & Frosting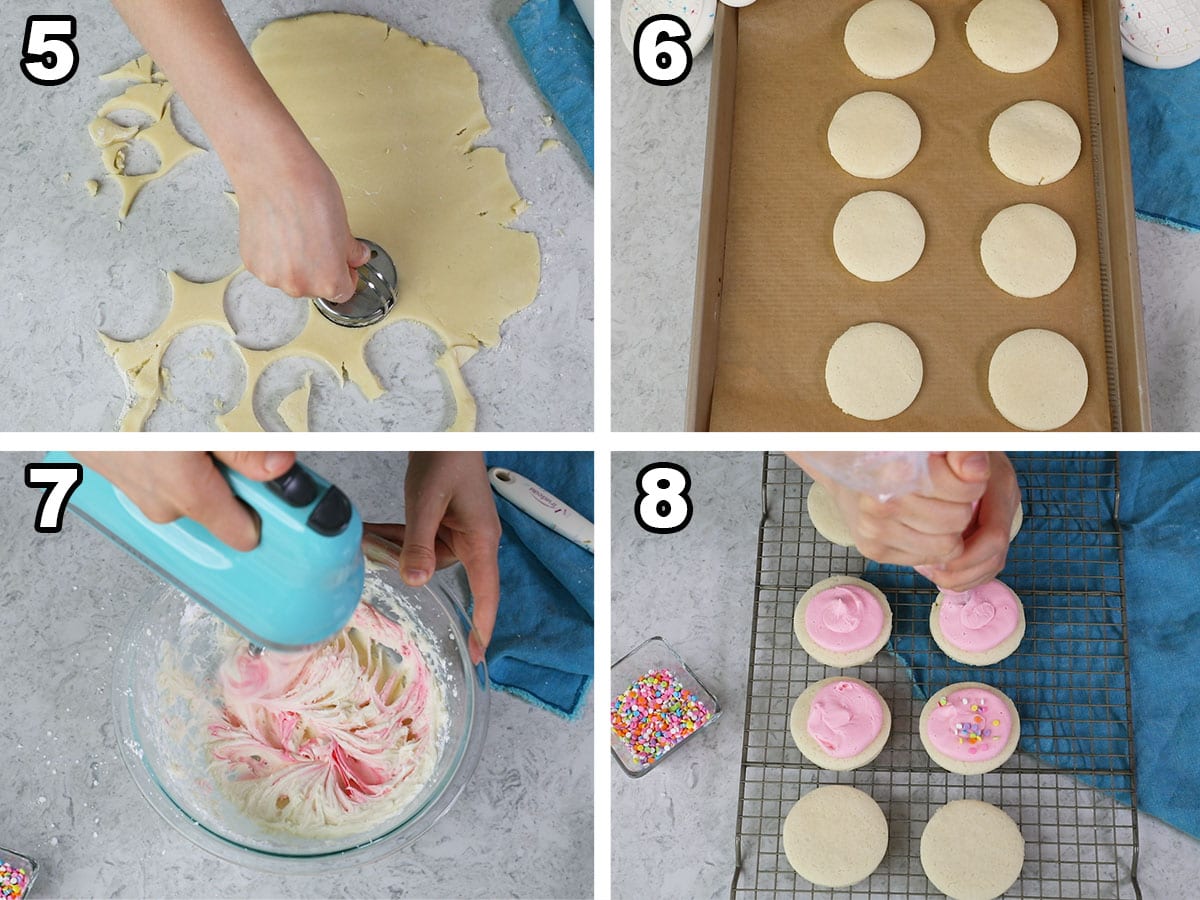 Roll out the dough and cut out 2″ circles. Bake the cookies on a parchment lined baking sheet for 8-10 minutes.
Let the cookies cool on their sheet for 5-10 minutes before transferring to a cooling rack.
Preparing the frosting, adding food coloring if desired.
Pipe the frosting onto the cookies and top with sprinkles.
SAM'S TIP: Plan your cuts carefully to get as many cookies as you can out of your first roll, but don't forget to regroup your scraps from cutting out your cookies! We want to get as many cookies as possible from our dough.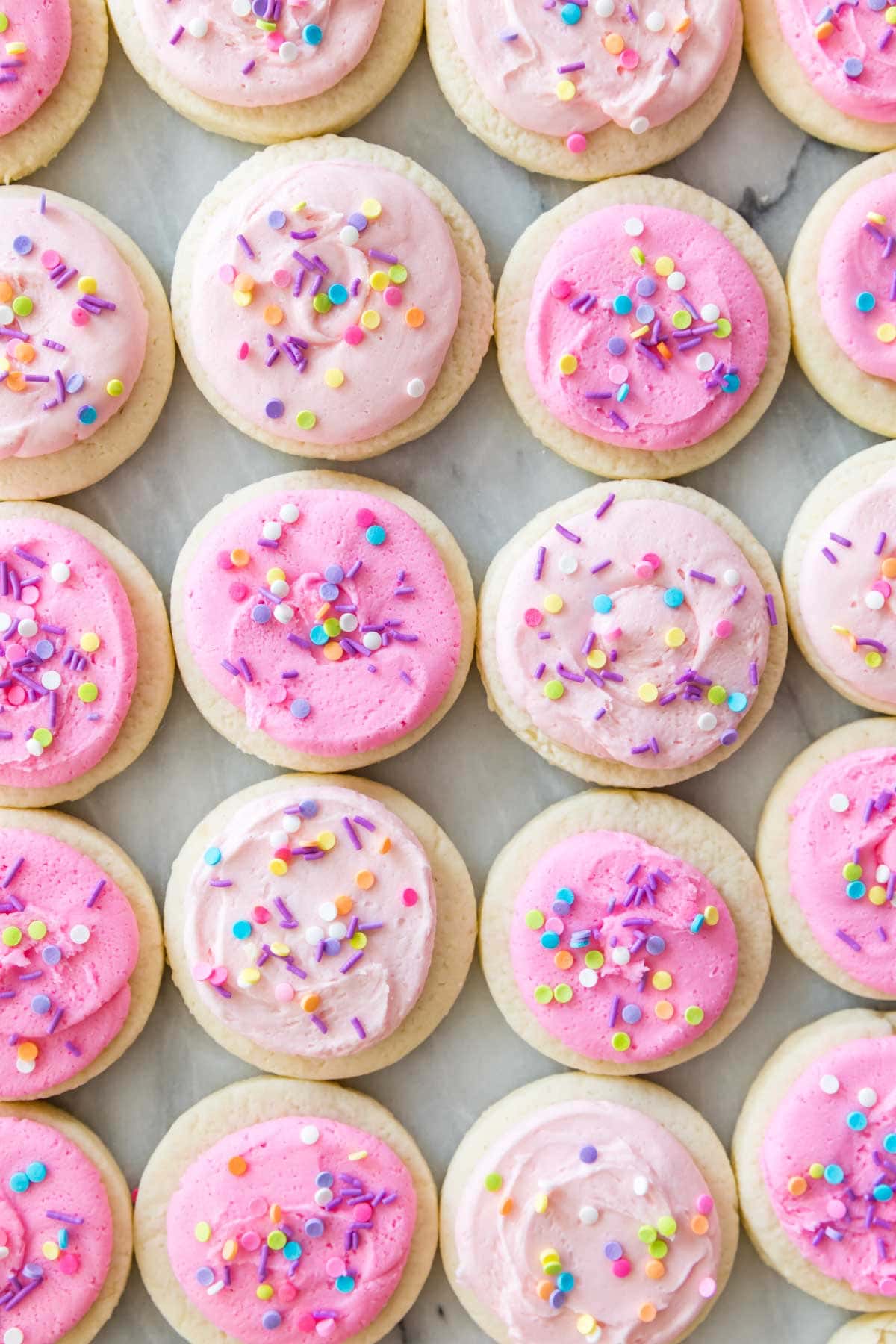 Frequently Asked Questions
Why are my cookies dry?
If your cookies are hard and dry, you may have added too much flour or over-baked them. Lofthouse cookies are very pale and shouldn't have any browning when you pull them out of the oven (even the bottoms should appear pale if you flip them over – if the bottoms appear golden, that's actually an indicator they baked too long!).
What makes Lofthouse cookies so soft?
Using the right ingredients helps (don't stray from the recipe!) as well as proper storage. Store these cookies in an airtight container at room temperature. Do NOT put them in the fridge, or they will become dry and hard!
Are sugar cookies and Lofthouse cookies the same?
Not quite. While Lofthouse cookies can technically be considered sugar cookies, a classic sugar cookie is a much sturdier, thinner, and sweeter cookie that's more crisp, great for using more detailed shapes, and often decorated with a sprinkling of sugar or royal icing. Lofthouse cookies are distinct in that they have softer, cakier layers, a buttercream-esque frosting, and a traditionally circular shape.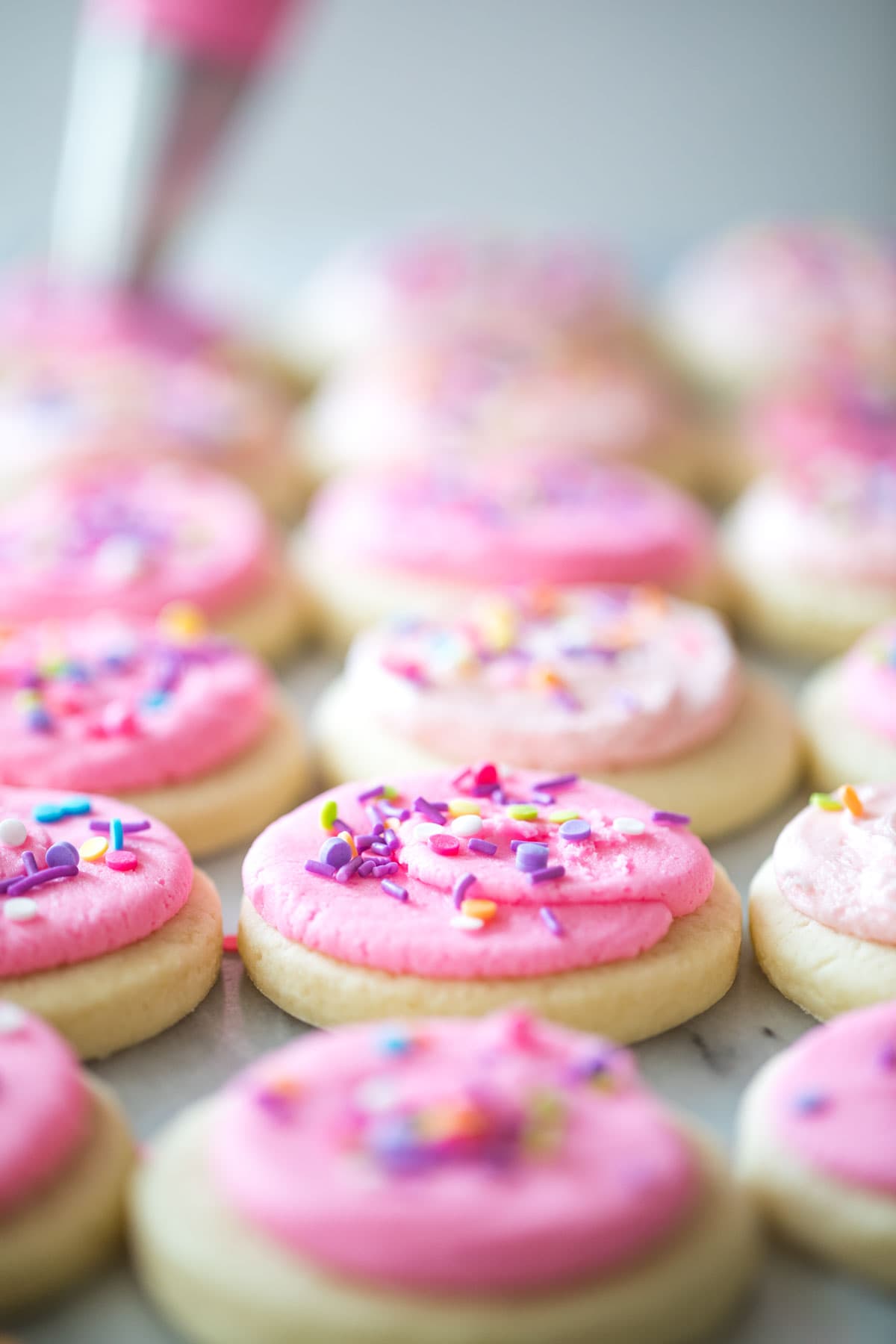 These copycat Lofthouse cookies were quite a project for me to develop and get just right (took months!) but ultimately they were so much fun to make. I hope you enjoy making them just as much!
Enjoy!
Let's bake together! I'll be walking you through all the steps in my written recipe and video below! If you try this recipe, be sure to tag me on Instagram, and you can also find me on YouTube and Facebook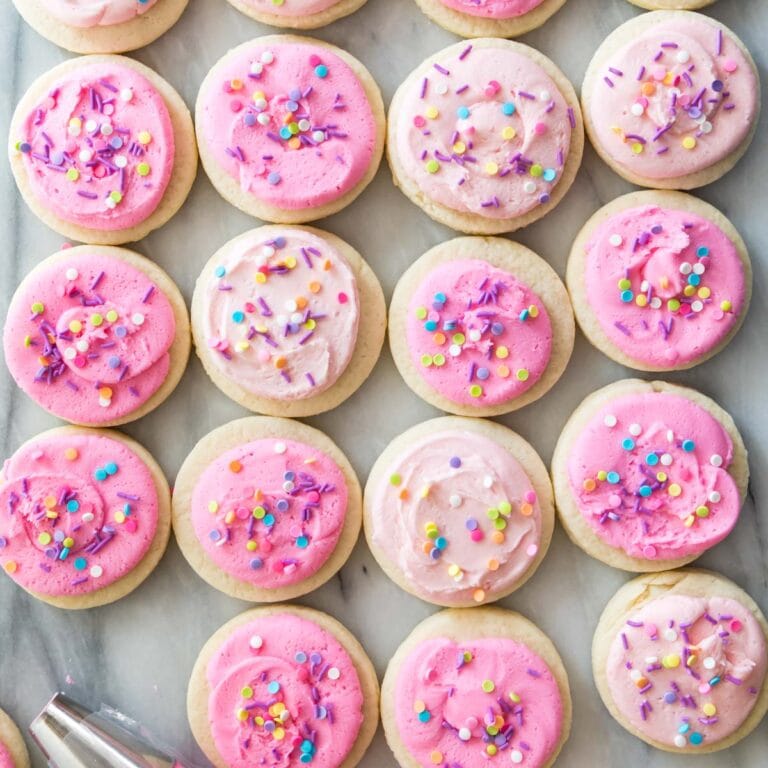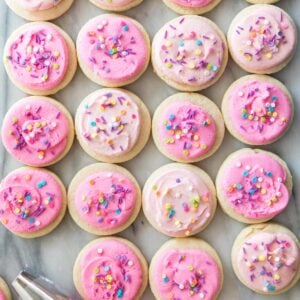 Copycat Lofthouse Cookies
You can make perfectly soft Lofthouse Cookies right in your own kitchen. My carefully-tested copycat recipe is surprisingly simple, with all the flavors of the real thing but none of the artificial stuff!
Recipe includes a how-to video!
Print
Pin
Rate
Ingredients
Cookies
1

cup

(

226

g

) unsalted butter

softened

¾

cup

(

150

g

)

granulated sugar

1

large

egg + 1 large egg white

½

teaspoon

vanilla extract

3 ¼

cups

(

375

g

)

cake flour

1

Tablespoon

cornstarch

1

teaspoon

baking powder

¾

teaspoon

table salt
Frosting
¾

cup

(

170

g

) unsalted butter

softened

2 ¼

cups

(

280

g

)

powdered sugar

1

Tablespoon

light corn syrup

1

teaspoon

vanilla extract

⅛

teaspoon

table salt

Food coloring

optional, I used Americolor "soft pink" and "electric pink" for the cookies in today's post

Sprinkles

optional
Instructions
Cookies
Combine butter and sugar in the bowl of a stand mixer (or in a large bowl using an electric mixer) and beat until light and creamy.

1 cup (226 g) unsalted butter,

¾ cup (150 g) granulated sugar

Stir in egg, egg white, and vanilla extract until thoroughly combined.

1 large egg + 1 large egg white,

½ teaspoon vanilla extract

In a separate bowl, whisk together cake flour, cornstarch, baking powder, and salt.

3 ¼ cups (375 g) cake flour,

1 Tablespoon cornstarch,

1 teaspoon baking powder,

¾ teaspoon table salt

With mixer on low-speed, gradually add dry ingredients to wet until completely combined.

Form dough into a 1" thick disk and cover tightly with plastic wrap. Refrigerate for 1 hour.

Once dough has chilled, preheat oven to 350F (175C) and line baking sheets with parchment paper.

Remove dough from refrigerator. Transfer to a clean, lightly floured surface and use a rolling pin to roll dough to be between ¼-½" (about 1 cm) thick (if too is too sticky, return to refrigerator, if it is too difficult to roll and/or is cracking, let sit at room temperature for a bit before trying to roll again).

Use a 2" (5cm) round cookie cutter to cut out cookies as close together as possible and place on prepared baking sheet, spacing cookies at least 2" (5cm) apart.

Bake in 350F (175C) oven for 8-10 minutes. Allow cookies to cool on baking sheet for at least 5-10 minutes before carefully removing to cooling rack to cool completely Note: over-baked cookies are dry, crumbly cookies. Yours should be very pale coming out of the oven (not golden-brown), even the bottoms should be pale and not browned.

Once cookies have cooled completely, decorate with frosting.
Frosting
In a large bowl (or stand mixer) using an electric mixer, beat butter until smooth and creamy. Add about half the powdered sugar, corn syrup, vanilla extract, and salt and stir until smooth and thoroughly combined, then gradually stir in remaining powdered sugar. If using food coloring, stir it in at the end adding a small bit at a time until desired color is reached.

¾ cup (170 g) unsalted butter,

2 ¼ cups (280 g) powdered sugar,

1 Tablespoon light corn syrup,

1 teaspoon vanilla extract,

⅛ teaspoon table salt,

Food coloring

Spread or pipe frosting evenly over cookies (I use a ½" open tip) and decorate with sprinkles, if desired.
Notes
Cake Flour
I recommend cake flour for the best texture! All-purpose flour will yield cookies with a texture that's not quite true to traditional Lofthouse cookies. If you must substitute all-purpose, you will need 3 cups (375g) all-purpose flour.
Corn Syrup
Corn syrup is recommended in the frosting for a true-to-the-original smooth frosting that crusts properly. You may leave it out if desired, but the frosting won't be quite the same (and you may need a Tablespoon more of butter or a splash of milk to keep the frosting from being too thick).
Making in Advance
The dough may be made up to 3 days in advance of baking. Wrap tightly in plastic wrap. If the dough starts to crack upon rolling it, let it sit at room temperature for 15 minutes or so until it rolls without breaking/cracking. The frosting may be prepared up to 3 days in advance as well, store in an airtight container (room temperature or refrigerated) with a piece of plastic wrap directly against the surface then allow to come to room temperature (if refrigerated) and stir until smooth before using.
Storing
Store in an airtight container at room temperature for up to 5 days. They may also be wrapped and frozen for several months.
Nutrition
Serving:
1
cookie
|
Calories:
278
kcal
|
Carbohydrates:
34
g
|
Protein:
2
g
|
Fat:
15
g
|
Saturated Fat:
9
g
|
Polyunsaturated Fat:
1
g
|
Monounsaturated Fat:
4
g
|
Trans Fat:
1
g
|
Cholesterol:
48
mg
|
Sodium:
111
mg
|
Potassium:
25
mg
|
Fiber:
0.4
g
|
Sugar:
20
g
|
Vitamin A:
463
IU
|
Calcium:
22
mg
|
Iron:
0.2
mg
Nutritional information is based on third-party calculations and should be considered an estimate only. Actual nutritional content will vary based upon brands used, measuring methods, cooking method, portion sizes, and more.
Related Recipes