This is a simple and essentially fool-proof Royal Icing Recipe! It can be used for outlining and/or flooding and includes plenty of tips for adjusting the consistency to be perfect for your needs. Easy to make and no raw eggs required!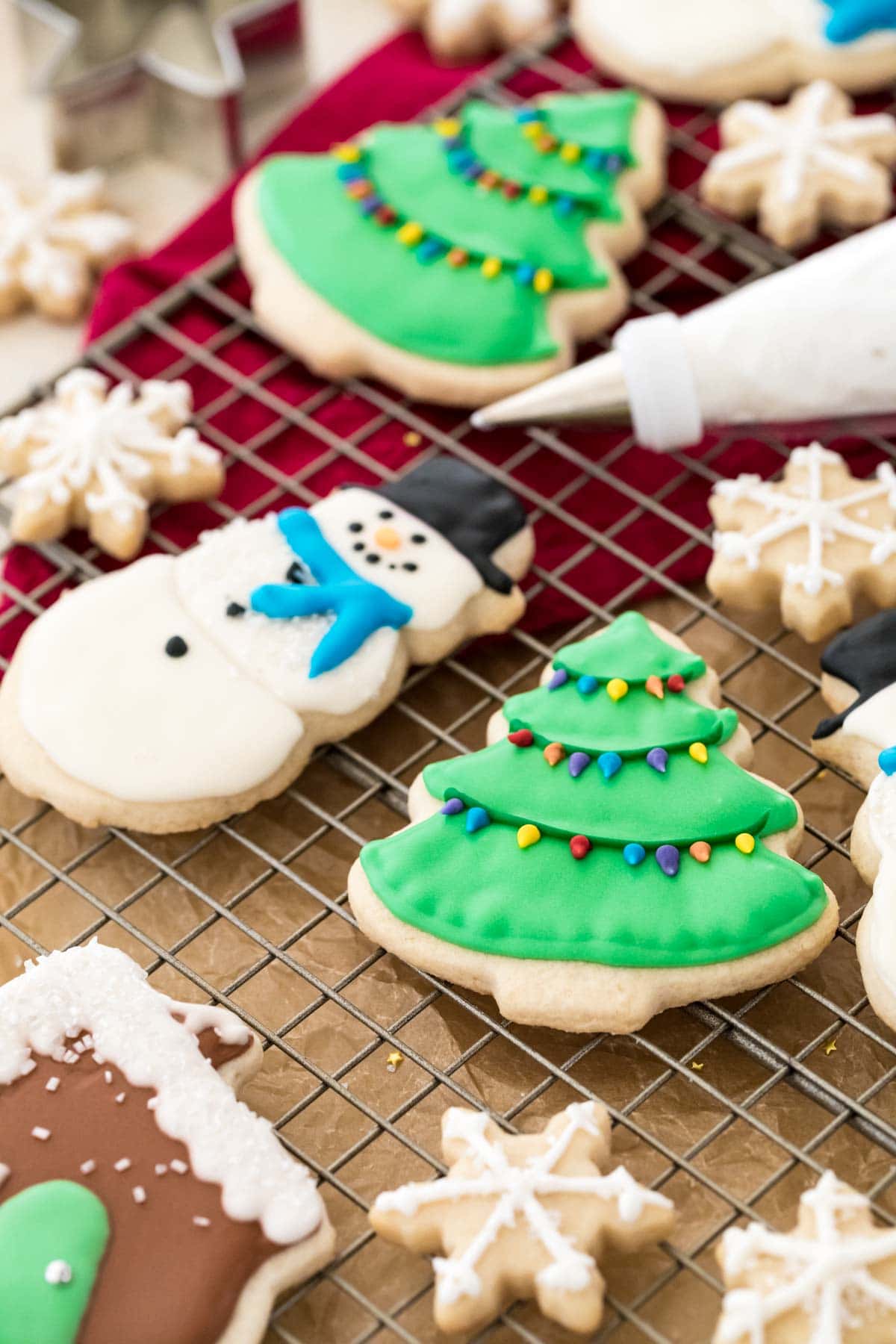 The Only Royal Icing Recipe You'll Ever Need
It's finally (/already!) December and we are in Christmas cookie season! And Christmas music season, despite Zach's constant protests…
A while back I shared my sugar cookie recipe and gingerbread cookies complete with a simple decorating frosting. Since then, many of you have been asking me for a classic royal icing recipe to go with them.
Well finally, your requests have been answered. Today I have a classic and easy royal icing recipe. While I'll admit that the frosting I shared with my sugar cookie recipe is still my personal favorite, this is great if you're looking for more precisely decorated cookies with a matte finish.
This recipe is great for intricate designs and I have plenty of tips (and a video) so yours comes out perfectly every time. Let's get started!
What You Need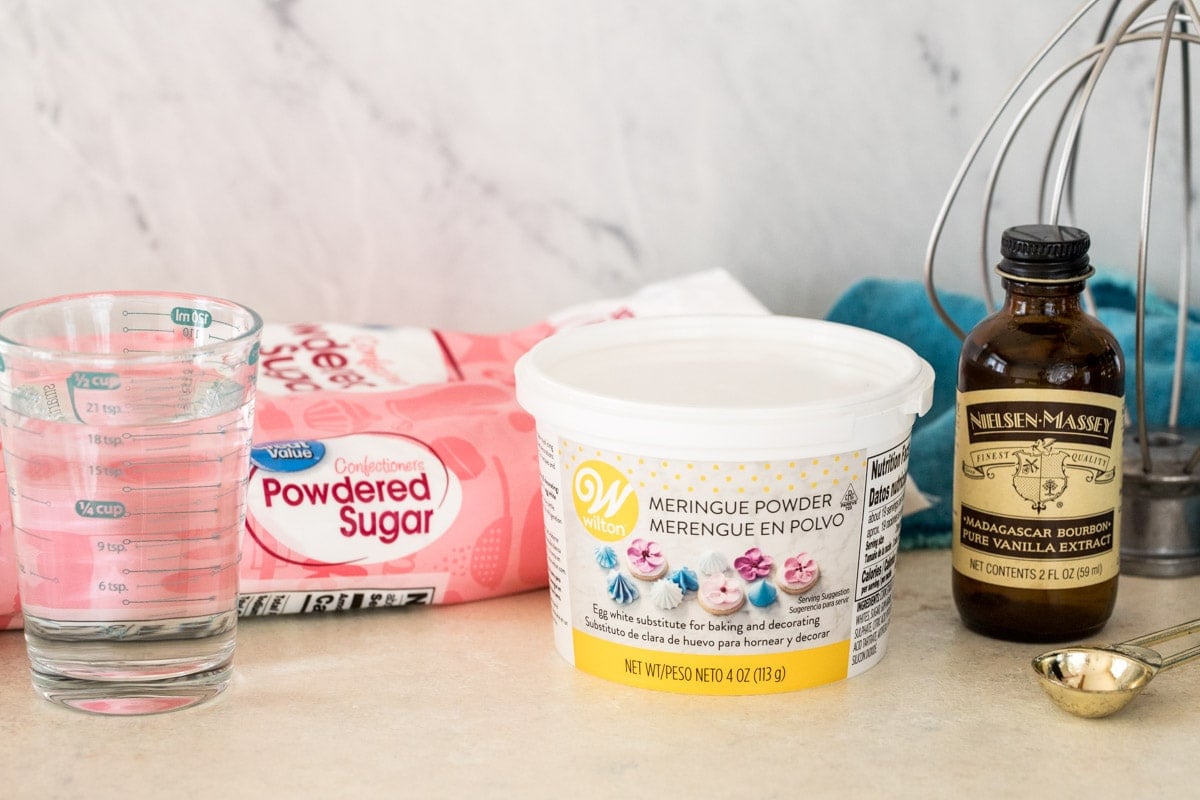 Here's what you need:
Powdered Sugar. Often referred to as "confectioners sugar" or "icing sugar", this will be the base of your icing (and the reason it's nice and sweet!).
Meringue Powder. This ingredient is non-negotiable, it's critical for the firm finish of your royal icing. I have heard that different brands may vary in taste, but locally I'm only able to find Wilton-brand meringue powder and I've never received any complaints!
Water. This is necessary to thin the icing to the proper consistency.
Vanilla Extract. If you want your royal icing to remain pure white in color, use a clear vanilla extract. You can make the icing a different flavor by substituting or adding different extracts as well, just ensure that they do not contain oil, which can break down the meringue (just check the label).
Royal Icing doesn't have a great reputation in terms of flavor. While it'll never taste as good as, say, cream cheese frosting, I think its poor reputation is a little bit unfair, and possibly due to the fact that so many recipes just leave out vanilla extract, which I'll never understand! This simple ingredient adds a beautiful flavor, don't leave it out!
How to Make Royal Icing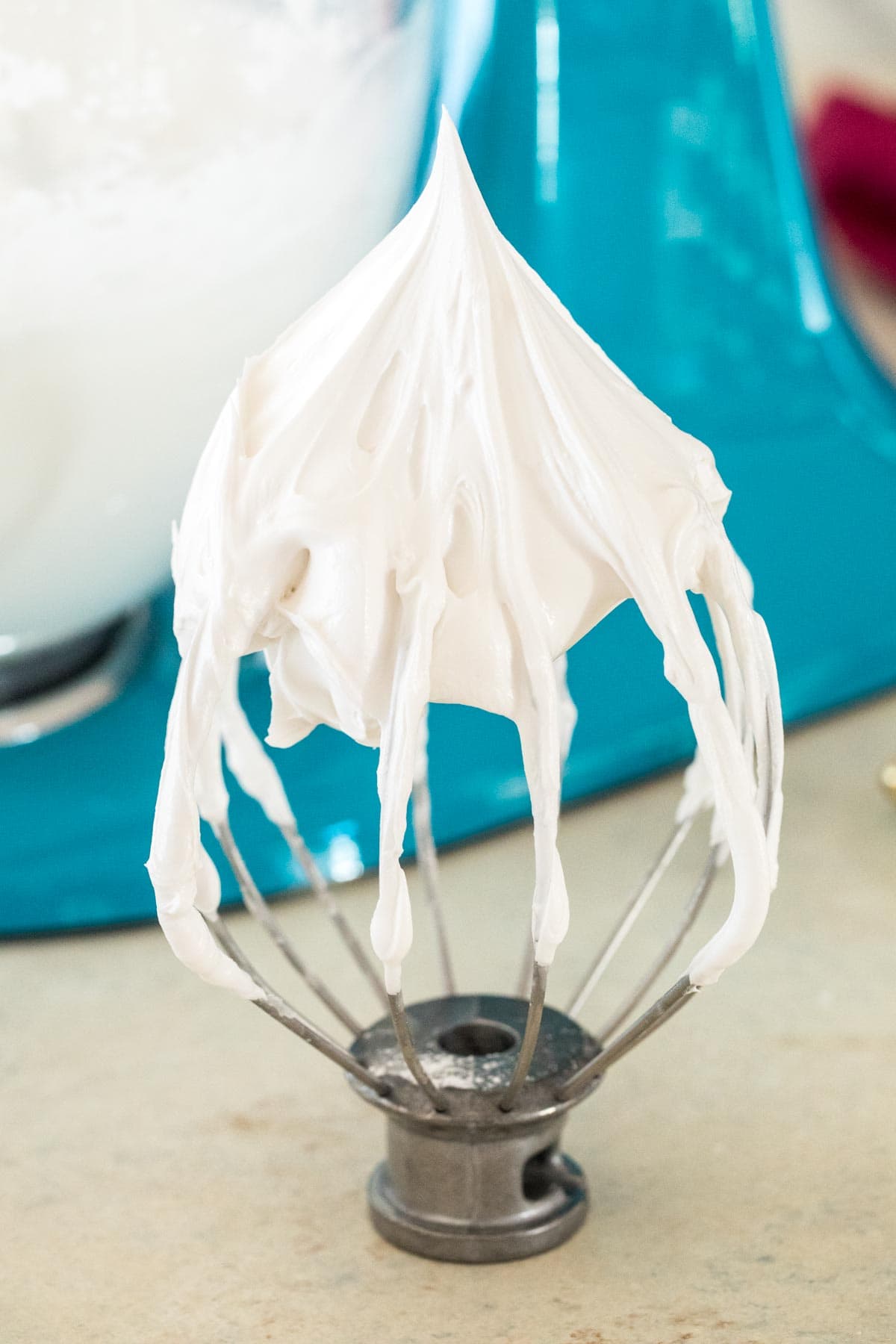 Combine all of your ingredients in the bowl of a stand mixer and beat until you achieve stiff peaks.
This stiff icing will be your outlining icing. If you need to color your frosting, divide your frosting into bowls now and color as desired (I recommend using gel food coloring, I linked to the ones I use in the recipe).
Now divide your colored frosting into two bowls. One will be your outlining icing, you don't need to do anything to this icing. The second will be your flooding icing. Add water to this icing one teaspoon at a time until you achieve a consistency where the icing that drizzles off of your spoon holds its shape briefly (several seconds) before melting back into the rest of the icing in the bowl.
SAM'S TIP: As when making meringues, it's critical that you beat your ingredients to stiff peaks when making royal icing. Stiff peaks should be thick, firm, and fluffy and will hold their shape firmly, as depicted in the photo above. If your icing is drooping over, weepy, or not holding its shape, you need to keep whisking.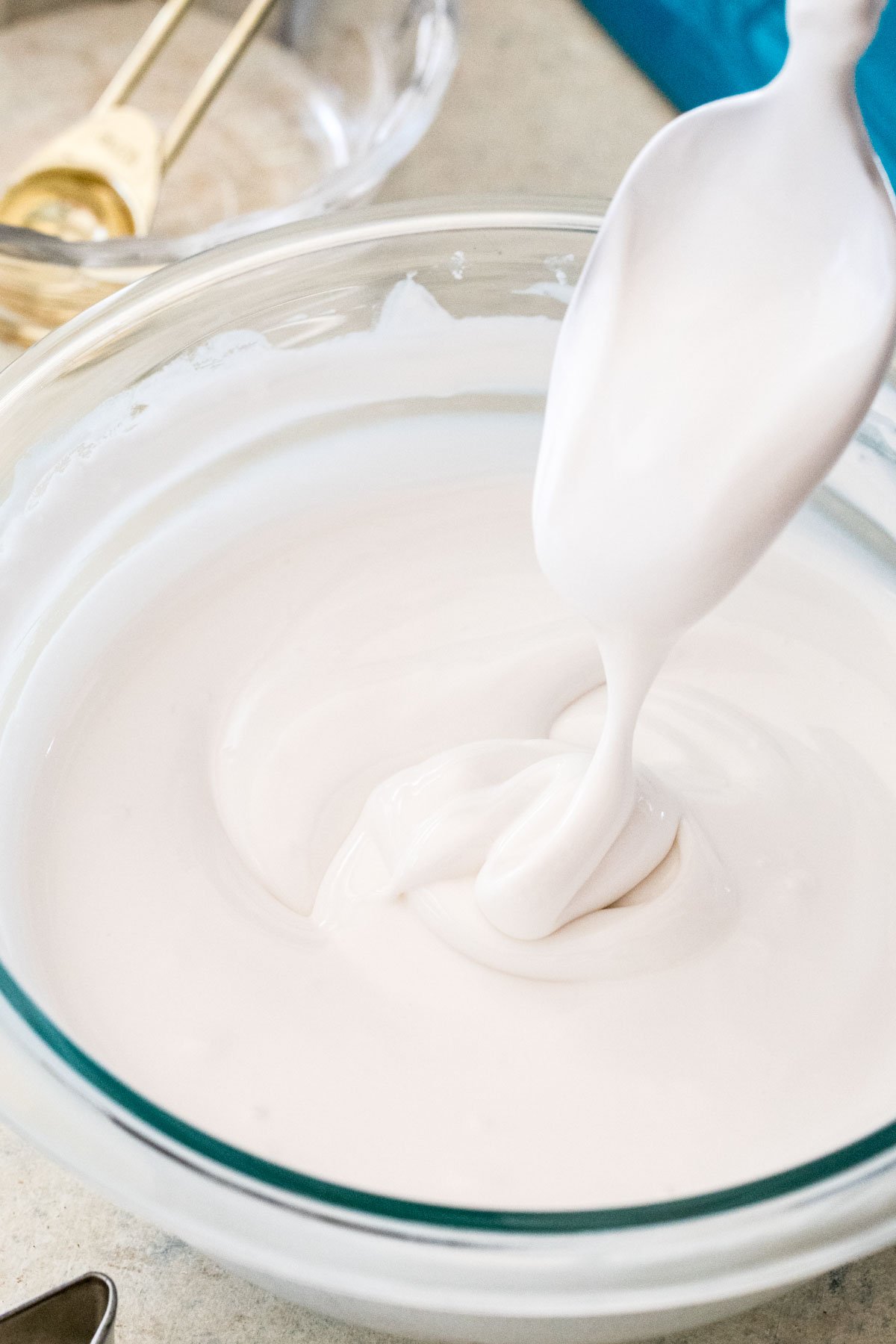 Now all that's left to do is decorate!
Use your stiff icing for crisp, well-defined outlines and details, and use your thinner icing for flooding and filling. I like to use an inexpensive set of scribing tools to help smooth the thinner frosting, but you can certainly just use a toothpick instead!
Frequently Asked Questions
Is royal icing safe to eat?
Yes, royal icing is safe to eat! Many people worry about the safety of consuming royal icing because it is traditionally made with egg whites. However, here we are using meringue powder, so no worry about salmonella here! How sad would that be to have a beautifully decorated cookie that you couldn't even eat!?
Why is my royal icing too thin (or too stiff)?
Royal icing that is too thin simply needs to be beaten longer. Keep whipping and things should thicken up!
If your icing is too stiff, simply thin it out by stirring in water, one teaspoon at a time until the desired consistency is reached.
How long does it take for royal icing to dry?
It honestly depends on how thick your layer of icing is. You should allow your cookies to sit for at least several hours for them to dry completely, but to be safe I like to let mine sit overnight. And no, the cookies don't get stale sitting out overnight!
You can try to speed up the process by turning on a fan over the cookies, but I don't recommend moving them to the refrigerator (or freezer) to speed up the process.
Can I make this icing in advance, and how do I store it?
My royal icing recipe can be made up to a week in advance. Place the icing in an airtight container and, before placing the lid on your container, place a piece of plastic wrap directly in contact with the surface of the icing. Because this recipe is made with meringue powder and not eggs it may be stored in the refrigerator or at room temperature.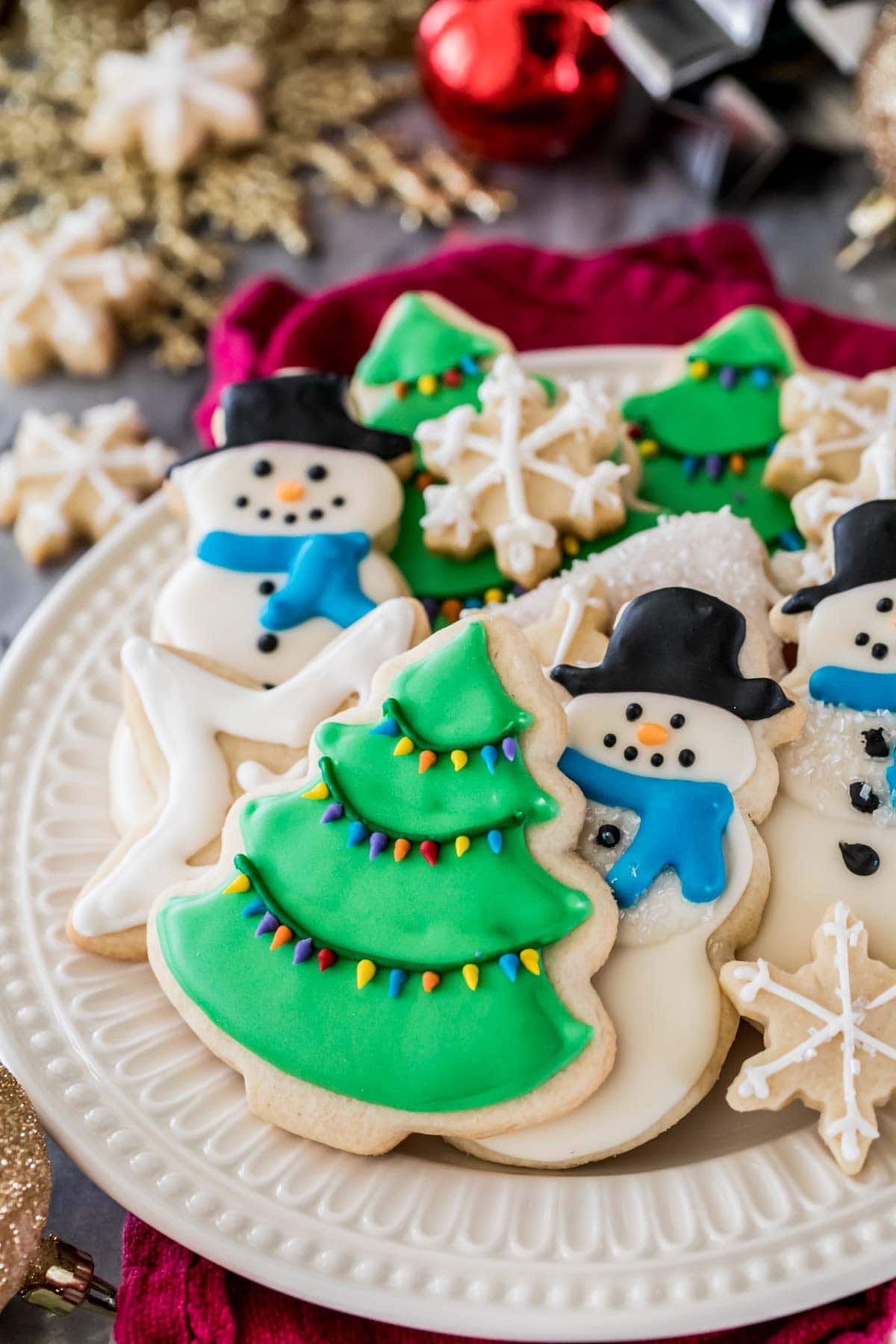 Enjoy!
Let's bake together! I'll walk you through all the steps in my written recipe and video below! If you try this recipe, be sure to tag me on Instagram, and you can also find me on YouTube and Facebook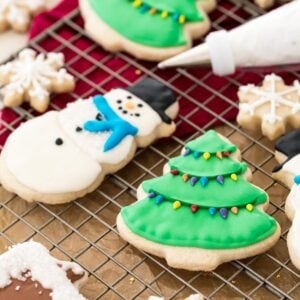 Easy Royal Icing Recipe
How to make an easy royal icing using meringue powder. Great for outlining, filling, and all your sugar cookie decorating needs. This recipe is essentially foolproof, can be made in advance, and includes a how-to video!
Print
Pin
Rate
Ingredients
4

cups

powdered sugar

(500g)

2 ½

Tablespoons

meringue powder

6

Tablespoons

water

1

teaspoon

vanilla extract

you may use other flavorings instead/in addition, but make sure they are not made with oil or they may keep your icing from reaching the proper consistency.
Instructions
IMPORTANT NOTE BEFORE YOU BEGIN: Your bowl and all utensils must be clean and grease free in order for the icing to whip properly.

In the bowl of a stand mixer fitted with a whisk attachment or in a large bowl (you will need an electric hand mixer) combine sugar, meringue powder, and water. Beat on low speed until combined, then add vanilla extract (or other flavoring).

Gradually increase mixer speed to high and beat until icing forms stiff peaks (5 minutes or longer).¹

Divide and color icing as desired (I like to use gel food coloring).

Icing at this consistency can be used as a stiff outlining icing. To thin the icing for flooding/filling, tint as desired first (so that your outlining and flooding icing is the same tint), divide (so you have one bowl of outlining and one bowl of flooding icing), and then stir your bowl of flooding icing, adding about a teaspoon of water at a time until frosting reaches desired consistency. For me this usually means that if I pull my spoon out of the royal icing, the icing that drizzles off holds its shape for several seconds before dissolving back into a puddle.
To Decorate Cookies:
First pipe your outlines with your outlining frosting, then fill with your flooding icing. Use the point of a toothpick to swirl/smooth the icing until it is smooth and even.

Allow cookies to dry completely before stacking/transporting, this will take several hours. I like to let mine dry overnight to ensure they are dried all the way through.
Notes
¹Personally I rarely do intricate designs on my cookies. If you are doing simple decorations, I recommend simply beating the ingredients together until they reach a consistency where the icing that drizzles off of your whisk holds its shape for several seconds (5 or so) before dissolving into a puddle. For me it's often unnecessary to whip all the way to stiff peaks simply to then thin all of my icing back down to a looser consistency.
How to Store Royal Icing:
Royal Icing can be stored at room temperature or in the refrigerator. Transfer frosting to an airtight container and cover with a piece of plastic wrap that's directly in contact with the surface of the icing before sealing your container. This icing will keep at least several days, but may need to be stirred again before using.
My Favorite "Equipment" for Making Royal Icing
Help! The next day my cookies were splotchy!
I have had this happen to me just once but it did not make me happy! Here is a great tutorial I found for fixing splotchy royal icing. Essentially all you need to do is turn your oven light on (don't actually turn the heat of your oven on, the heat from the light will be sufficient) and let the cookies sit in the oven overnight. Worked like magic for me, though the cookies did end up being much crisper after a night in the oven (but at least they were beautiful!).
Nutrition
Serving:
2
Tablespoons royal icing
|
Calories:
61
kcal
|
Carbohydrates:
15
g
|
Sodium:
3
mg
|
Sugar:
15
g
|
Calcium:
1
mg
Nutritional information is based on third-party calculations and should be considered an estimate only. Actual nutritional content will vary based upon brands used, measuring methods, cooking method, portion sizes, and more.
Related Recipes