Cookie Butter infused no-bake cookies, made on the stovetop with a heaping portion of Cookie Butter and oats — no baking required!  
Finding a new ingredient to experiment with is a bit like going on a blind date.  I don't know you, but I've heard good things… and hopefully you're not going to kill me at the end of this.  
At least, that's how I imagine blind dates go.  I only had the misfortune of being unwittingly thrown into one by a well-meaning friend one time, and it ended so, so awkwardly.
I was a little worried that this was how my first tryst with cookie butter would end.  You're alright, but I just don't think we can be a thing.
But instead, we clicked.
And oh, did we click.  As soon as I peeled away the gold foil seal and sampled my first miniature spoonful (and subsequently larger spoonfuls), I knew we had chemistry.
If you haven't tried cookie butter before, it's a creamy version of Belgian Speculoos cookies.
That… probably doesn't help at all, but was pretty much the extent of a definition that I could find, which is why when I first tried cookie butter I had no real idea of what to expect.
So to break it down: Speculoos cookies are spice cookies, and cookie butter tastes (to me) like buttery cinnamon graham crackers, and Zach said it reminded him of Snickerdoodles.  It has a faint gingery taste, and is basically just all around amazing.  I tried both the Biscoff brand, which was creamy and had a deeper, almost molasses-y flavor to it, and the store brand which had little pieces of cookie throughout (my favorite).  Any brand will work just fine for this recipe.
Despite instantly falling head over heels for cookie butter, It wasn't all smooth sailing when it came to baking.
First, I baked the cookie butter into blondies and was extremely disappointed by how much the flavor was compromised despite emptying nearly a whole (expensive!) jar into the batter.  So, I started to search for something that would accentuate their flavor rather than diminish it.
After a few more trials, I settled on these "quick" cookies, or no-bake cookies.  Traditionally made with peanut butter and cocoa powder, I nixed the cocoa powder and substituted the peanut butter for cookie butter.
Made on the stovetop, these cookies come together in under 15 minutes (though they'll need to cool for at least just as long).
The result is a sweet, slightly spiced cookie that eats almost more like a candy bar, or an amped up, candied oatmeal cookie.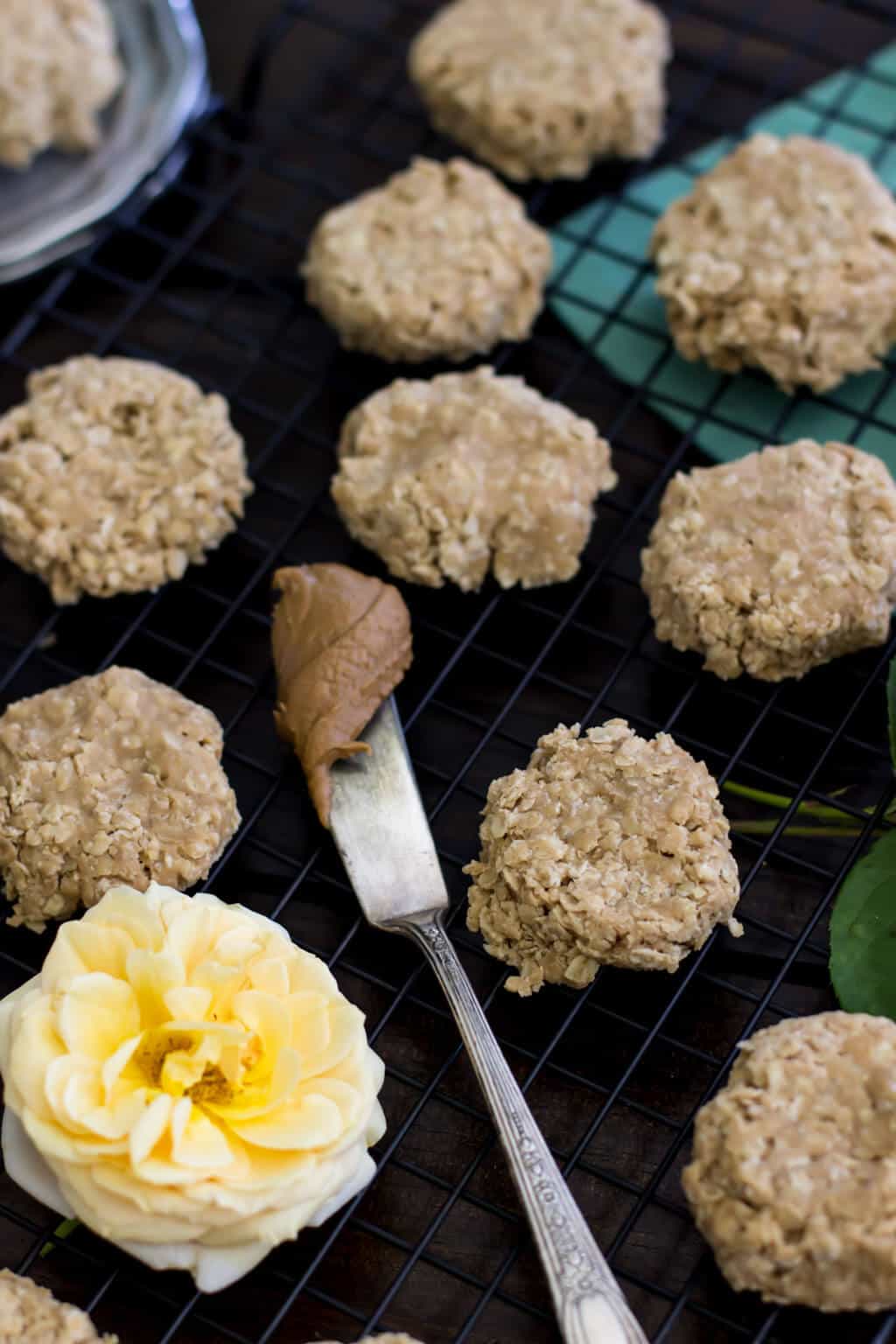 If you haven't tried cookie butter for yourself, I recommend grabbing a jar ASAP.  And if you end up "accidentally" eating 3/4 of said jar for dinner, I totally get you.
Enjoy!
Cookie Butter No Bake Cookies
Easy no-bake cookies made with cookie butter (speculoos) and oats!
Print
Pin
Rate
Ingredients
6

tbsp

salted butter

1/2

cup

milk

1 1/2

cup

sugar

2/3

cup

cookie butter

Speculoos

1 1/2

tsp

vanilla extract

2 1/2

cups

instant oats
Instructions
Prepare two cookie sheets by lining with wax paper. Set aside.

Cut butter into Tbsp-sized pieces and add to medium-sized saucepan along with heavy cream and sugar.

Stir ingredients constantly over low heat until butter is completely melted (I recommend using a long wooden spoon as a metal spoon can become pretty hot pretty fast).

Increase heat to medium-high and, stirring constantly, bring to a full boil.

Boil (still stirring) for 2 minutes then remove from heat, continuing to stir for another two minutes while mixture cools.

Add cookie butter and vanilla extract, stirring until cookie butter is completely combined.

Stir in oats until coated in cookie butter mixture

Drop oat mixture by approximately 1 ½ - Tbsp-sized spoonfuls onto prepared cookie sheet and flatten slightly with the back of a spoon or the clean bottom of a glass.

Allow to cool (approximately 20-30 minutes) before serving.
You May Also Like:
Chocolate Malted Oatmeal Cream Pies