These Lace Cookies are thin, flat cookies with a toffee-like flavor and a brittle candy-like texture. They're super simple to make and the dough (batter?) can be prepped in just fifteen minutes. It's impossible to just eat one!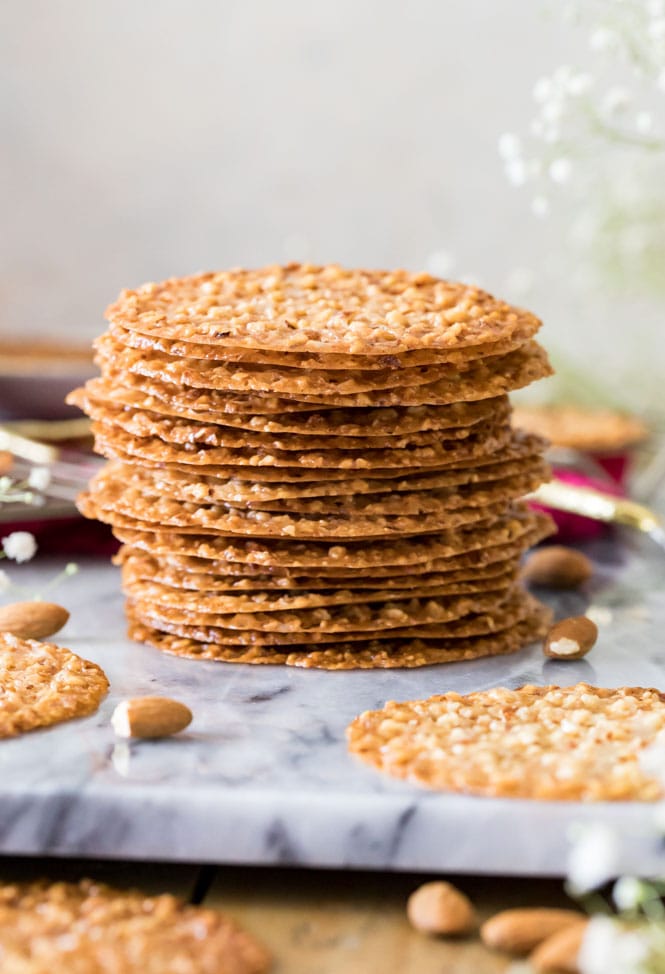 I ate about 200 of these Lace Cookies while developing this recipe and I'm still not completely decided if they're more of a cookie or more of a candy.
They look a bit more like cookies (with their round shape and the fact we use a cookie scoop to portion out the batter) but the taste and texture reminds me more of candies like my peanut brittle or toffee recipe. They're flat and thin with a crisp, brittle texture that shatters against your teeth and the cookie starts to melt on your tongue on contact. The flavor is certainly toffee-like and caramelized thanks to the fact that the base of the cookie dough is made by melting together butter, sugar, and corn syrup.
Essentially they're like a candied potato chip. Absolutely addictive and neither Zach nor I can stop eating them. I'm not exactly sure yet how baking with a baby will go, but one way or another these are going to have to make an appearance on my Christmas cookie tray.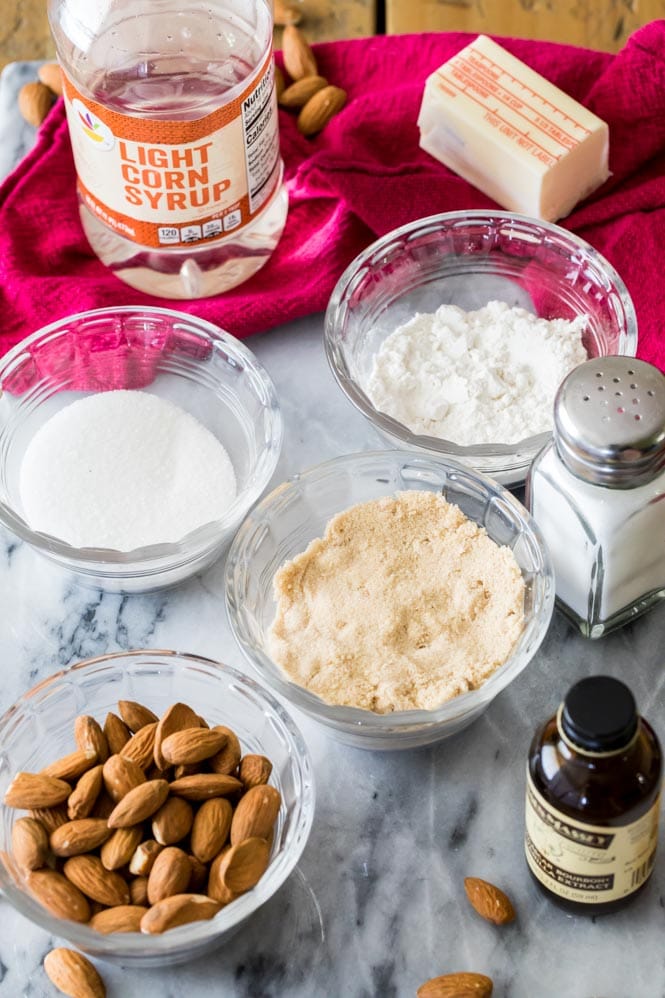 What You Need:
Butter.
Light corn syrup. I've mentioned this before in my sugar cookie frosting recipe and my pecan pie, but corn syrup is not the same as high fructose corn syrup and you really can't leave it out of this recipe.
Sugar. We're using granulated and light brown sugar here.
Salt.
Vanilla extract.
Flour. Just a bit (¼ cup) helps bind the cookies together. Make sure to measure your flour correctly or your cookies could come out soft instead of brittle.
Almonds. You'll measure these out and then finely chop them. Let's talk more about this briefly.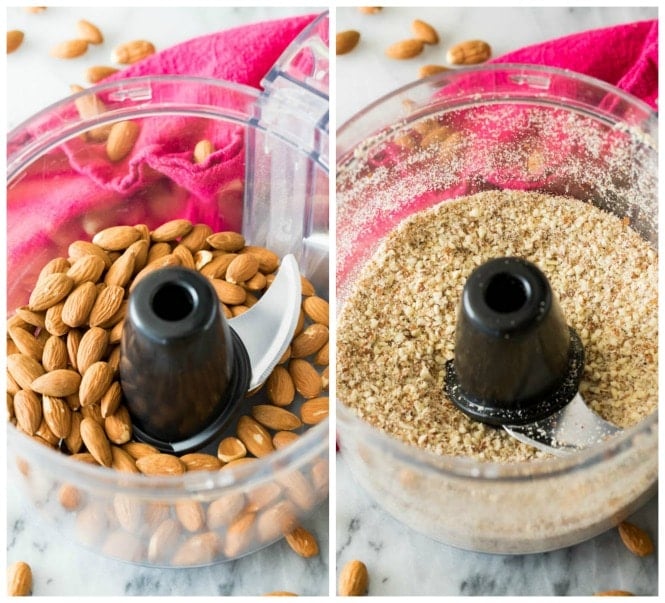 Preparing the Almonds
Measure out your almonds and then finely chop them. I'll usually do this with a large knife the same way I would mince garlic. At least, that's how I used to do it. Now I just toss the almonds into my food processor and pulse until they are finely chopped (see photo above).
Take care that if you are using a food processor you do not over-process the almonds, or you will end up with a paste or almond butter. That won't work for your Lace Cookies!
Some people recommend starting with blanched almonds (ones that don't have the brown skin on them). I tried these lace cookies with blanched and unblanched almonds (as seen here) and couldn't tell a difference (except that blanched almonds were a pain in the butt to find!).
Is There a (Nut-Free) Substitute for Almonds in Lace Cookies?
I tried this recipe substituting ⅔ cup of old fashioned oats for the finely chopped almonds and had success making them that way! No other substitutions were needed.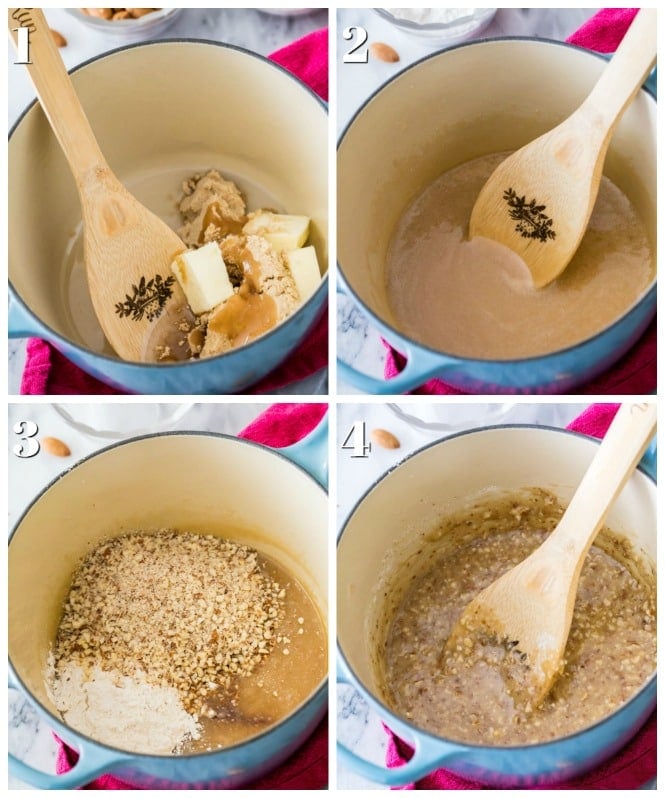 How to Make Lace Cookies
Lace cookies are simple to make, and it all starts by caramelizing a few ingredients in a saucepan on the stovetop.
Melt together butter, sugars, and corn syrup.
Cook the sugar has melted (stir constantly so it doesn't burn!). Bring to a boil, then immediately remove from heat.
Stir in remaining ingredients.
Allow the batter to cool for about 5 minutes, this will allow it to thicken a bit and will just make it easier to scoop.
Scoop batter by 1 ½ teaspoon (yes, teaspoon!) sized scoop onto parchment paper lined baking sheet.
Bake for 9 minutes, rotating the pan halfway through.
Keep an eye on your cookies as they bake (especially the first batch, in case you need to make any adjustments to subsequent batches). As they bake they will bubble, flatten, and spread. They are usually finished when they are a light golden-brown color and the bubbling has stopped.
Be careful, even a minute too long in the oven can end up burning them, and if they don't bake long enough they won't crisp up properly as they cool.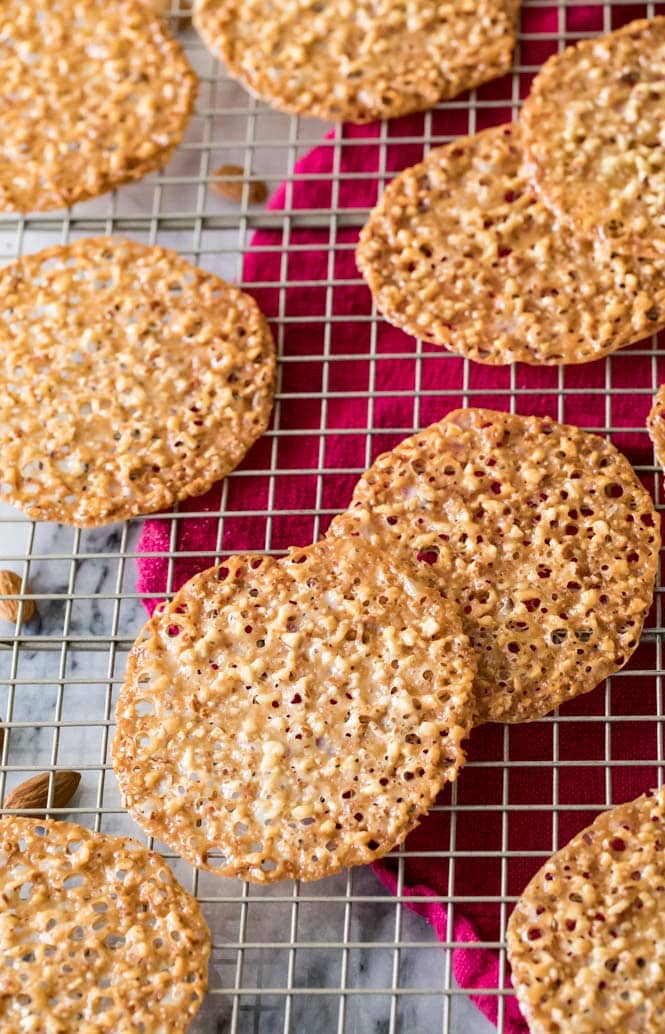 How to Store
Store lace cookies in a cool, dry place in an airtight container for up to one week. Because of their candy-like texture you will want to keep away from humidity, and I also recommend separating layers of cookies with parchment paper to keep them from sticking together.
Most importantly you want to store them carefully. Lace cookies are extremely thin and brittle, after all. I took a bag to share to Zach's softball game over the summer (in preparation for baby Luke I did a lot of the development and testing for the recipes you're seeing now earlier in the year) and dropped it about 3 feet and every single cookie was completely shattered, so pack with care.
Enjoy!
More Recipes to Try:
Let's bake together! Follow me on my YouTube channel where I've already uploaded over 200 recipe videos that you can watch for free!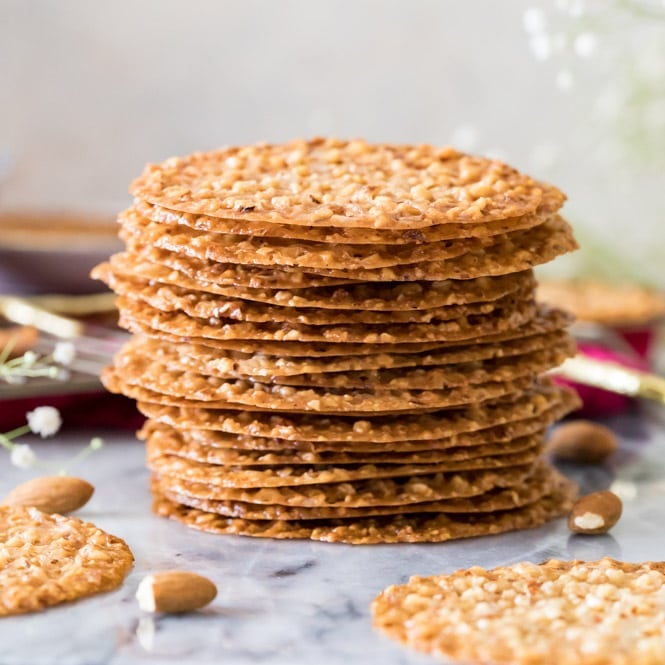 Lace Cookies
Sweet, snappy, brittle Lace Cookies are surprisingly simple to make! These thin and crispy cookies taste like a cookie/candy hybrid. Bet you can't eat just one!
Be sure to check out the recipe VIDEO!
Print
Pin
Rate
Instructions
Preheat oven to 350F and line cookie sheet with parchment paper.

In a medium-sized saucepan, combine butter, sugars, and corn syrup.

Cook over medium heat, stirring contantly, until sugar has melted and mixture just begins to boil.

Once boiling, remove from heat and stir in vanilla extract, salt, flour, and finely chopped almonds, stirring until completely combined.

Allow to cool for five minutes, then drop by 1 ½ teaspoon onto prepared cookie sheet, spacing cookies at least several inches apart (cookies will spread quite a bit in the oven, so give them some space!).

Bake on 350F for 9 minutes, rotating halfway through baking. You can usually tell the cookies are finished baking when they stop bubbling and are a light golden brown in color. Keep an eye on them because they can burn quickly.

Allow cookies to cool completely on baking sheet. They won't be crisp until cooled.

Keep in mind that the lace cookie batter/dough will thicken as it cools, that is completely fine and won't affect the outcome of the cookies.
Notes
¹I usually will measure out the almonds and then pulse in a food processor until finely chopped.
Nut-Free Substitute
I've successfully made these lace cookies nut-free by substituting ⅔ cup of whole oats (I do not put them in the food processor) for the almonds.
Nutrition
Serving:
1
lace cookie
|
Calories:
109
kcal
|
Carbohydrates:
9
g
|
Protein:
2
g
|
Fat:
4
g
|
Saturated Fat:
1
g
|
Monounsaturated Fat:
1
g
|
Cholesterol:
4
mg
|
Sodium:
23
mg
|
Potassium:
53
mg
|
Fiber:
1
g
|
Sugar:
6
g
|
Vitamin A:
3
IU
|
Calcium:
1
mg
|
Iron:
1
mg
Nutritional information is based on third-party calculations and should be considered an estimate only. Actual nutritional content will vary based upon brands used, measuring methods, cooking method, portion sizes, and more.