Chocolaty, single-serving-sized, made-from-scratch Ghosts in the Graveyard Treats.
We had a long, dreary, very gray and very rainy weekend.
There were some bright spots, though.  My family celebrated my sister's 21st birthday (which included a 3 hour wait for all 11 of us to eat at The Cheesecake Factory — this is where I would insert a shocked-face emoji right now, if I could), the sun came out just long enough to take the dogs for a nice long walk, and Zach and I finished the first season of Stranger Things (cannot wait for season 2!).
Caught up in the gloomy fall weather and feeling a little partial to the paranormal (thanks to Stranger Things), I thought a Ghosts in the Graveyard dessert would be appropriate, especially with Halloween a mere 28 days away.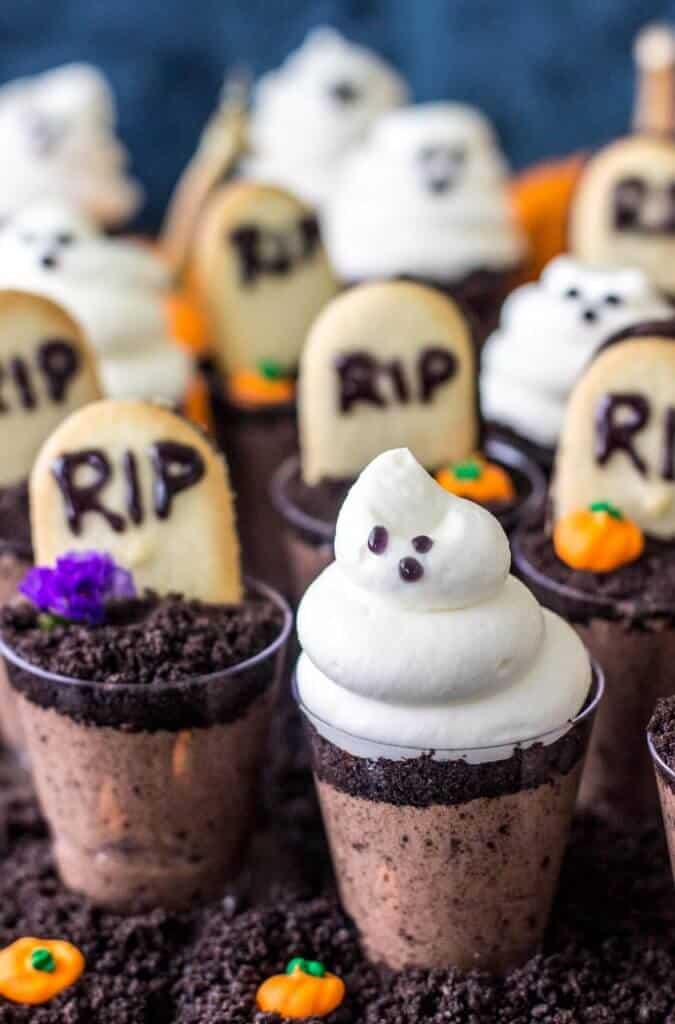 My mom used to make "Ghosts in the Graveyard" when I was a kid, but it was done a little differently.  The classic dessert is made in a 13×9 pan (at least, it was in our house), the graveyard constructed of pudding and topped with cookie crumbs, cookie tombstones, and ghosts.
I remember planting the Milano cookies in the pudding and then strategically carving out my slice of the "graveyard" so that I got both tombstone and ghost.
Given my affinity for mini desserts, and especially for dessert shooters, I individualized the dessert into adorable single-serving-sized portions.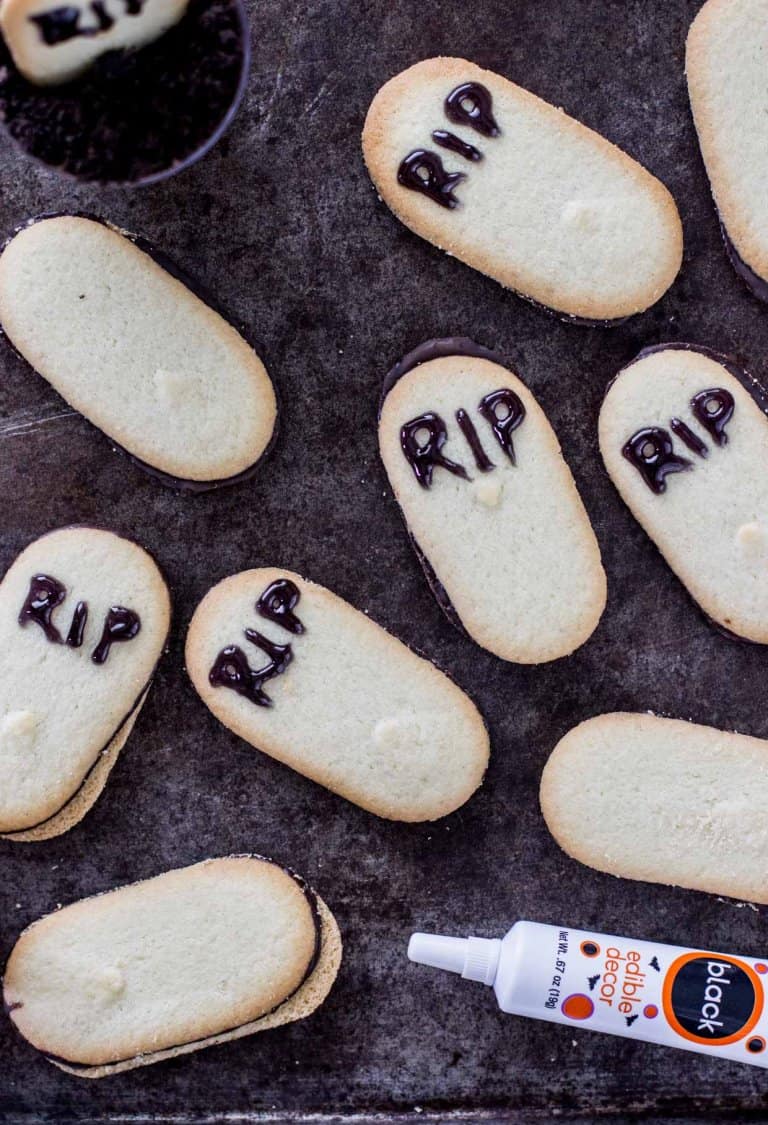 I made these treats from scratch mimicking the same chocolate filling that I used for my sister's birthday pie, only using a heavier portion of chocolate and stirring in crumbled Oreos for a "dirtier" look.
It may seem like a lot of steps because you have to melt the chocolate separately, wait for it to cool, and whip the heavy cream at two different points, but it's really pretty simple for a from-scratch dessert.  It's worth every extra dish, but I also included notes in case you wanted to speed things up a bit and substitute Cool Whip.
Enjoy (and try not to look to closely at my ghosts in the background, they are sad specimen indeed)!
Full recipe just below the video.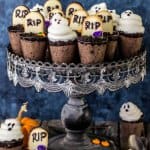 Ghosts in the Graveyard Dessert Shooters
Ingredients
Filling
1

cup

chocolate chips

175g

2

cups

heavy cream

divided (474 ml)

8

oz

cream cheese

softened (227g)

28

Oreo Cookies

pulverized in food processor

1

cup

powdered sugar

200g

1/2

teaspoon

vanilla extract
Whipped Cream Ghosts**
1

cup

heavy cream

(237ml)

3/4

cup

powdered sugar

(150g)

1/2

teaspoon

vanilla
Other optional toppings
12

Milano sandwich cookies

1

tube

Black premade frosting for writing
Instructions
In a small saucepan, combine 1 cup chocolate chips and 1/2 cup of the heavy cream over medium-low heat, stirring frequently until chocolate chips are completely melted and mixture is smooth.

Remove from heat and pour into a heatproof bowl. Stir in vanilla extract.

Allow mixture to cool completely before continuing.

In a clean, medium-sized bowl, use an electric mixer to beat remaining 1 1/2 cups heavy cream to stiff peaks. Set aside.

In bowl of stand mixer, combine cream cheese and (cooled) chocolate mixture, stirring until completely combined.

Gradually add powdered sugar until completely combined. Scrape down sides of bowl as needed.

Stir in vanilla extract and 1 1/2 cups of the Oreo crumbs (reserve remaining crumbs to sprinkle over tops of shooters).

Fold in whipped cream and then stir on low-speed until completely combined.

Set out 24 disposable shot glasses.

Pour mixture into large Ziploc bag, snip off one corner and pipe filling into shot glasses, filling about 3/4 full.

Cover tops of each shooter with remaining Oreo crumbs.

Prepare Milano cookies buy using black frosting to write "RIP" on upper half of cookie.

Press Milano cookies firmly into half of the shooters so that only the half of the cookie reading "RIP" is protruding (like tombstones).
Ghosts
Prepare whipped cream ghosts by combining heavy cream, powdered sugar, and vanilla in clean medium-sized bowl and whisking until stiff peaks form. (You may instead skip this step and use Cool Whip).

Pour whipped cream (or Cool Whip)into large piping bag fitted with a large round tip and pipe ghost-shaped swirls on top of the remaininghalf of dessert shooters.

Use black frosting to gently draw eyes and mouths on ghosts

Serve & enjoy!
Recipe Notes
I ALWAYS BUY MY SHOT GLASSES
HERE FROM AMAZON
(affiliate link) *You may substitute 12 oz of Cool Whip for the 1 1/2 cups whipped heavy cream in the filling (you will still need the 1/2 cup for melting with the chocolate). **You can substitute additional Cool Whip to make these ghosts, if you prefer.  This recipe makes enough for about 10-12 ghosts and is assuming you will top the rest of the shooters with cookie tombstones.  You may double the recipe if you would like them all to be topped with ghosts.
This post contains affiliate links, which means that if you purchase anything through these links I will get a small commission at no extra cost to you.  Please view the disclosure policy for more information.
Recommended Tools:
PIN IT:
You Might Also Like:
Pumpkin Pie Cheesecake Dessert Shooters
Nutella Crunch Dessert Shooters