Soft, chewy, Funfetti Oreo Bars!  These buttery cake batter flavored bars are jam-packed with mini chocolate chips, colorful sprinkles, and a center layer of Oreo cookies.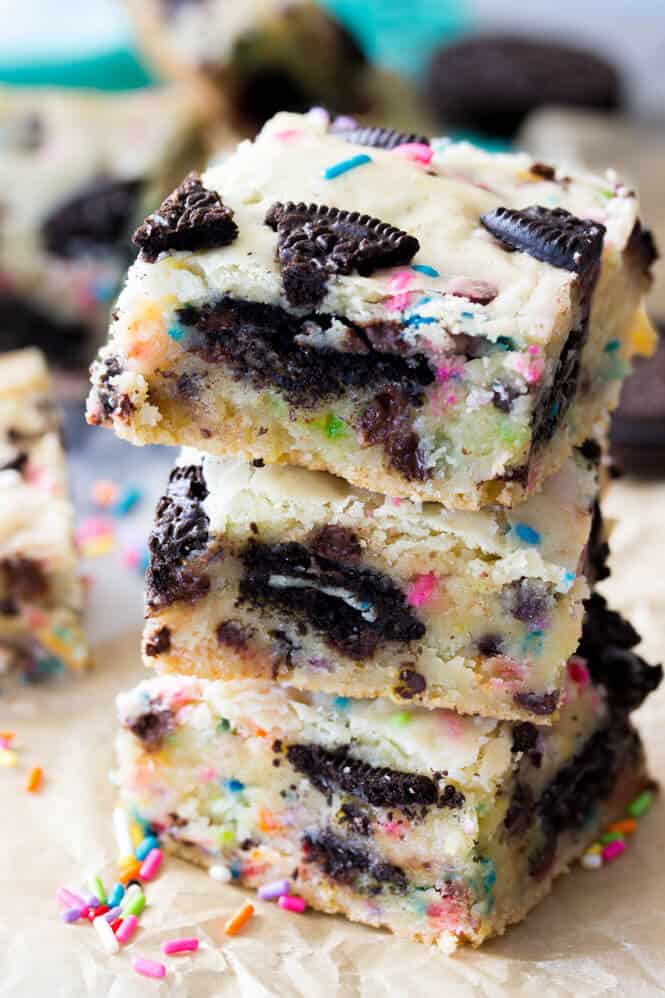 Continuing with my tradition of putting desserts inside of other desserts, today I've stuffed a solid layer of Oreo cookies inside a cake batter flavored blondie to bring you these Funfetti Oreo Bars.
We had a busy weekend; my Saturday involved a quick trip to urgent care because a certain husband of mine accidentally took a razor blade to his thumb while he was working in the garage.
I'll spare you the gory details because I'm definitely not trying to make you lose your appetite, but five stitches later we were back at home — Zach nursing his wound with a whole row of leftover Funfetti Oreo Bars, and me tackling the gigantic pile of dishes I'd left when we hurried out the door (guess who can't help me do dishes for a few weeks now — I don't know how I'm going to make it).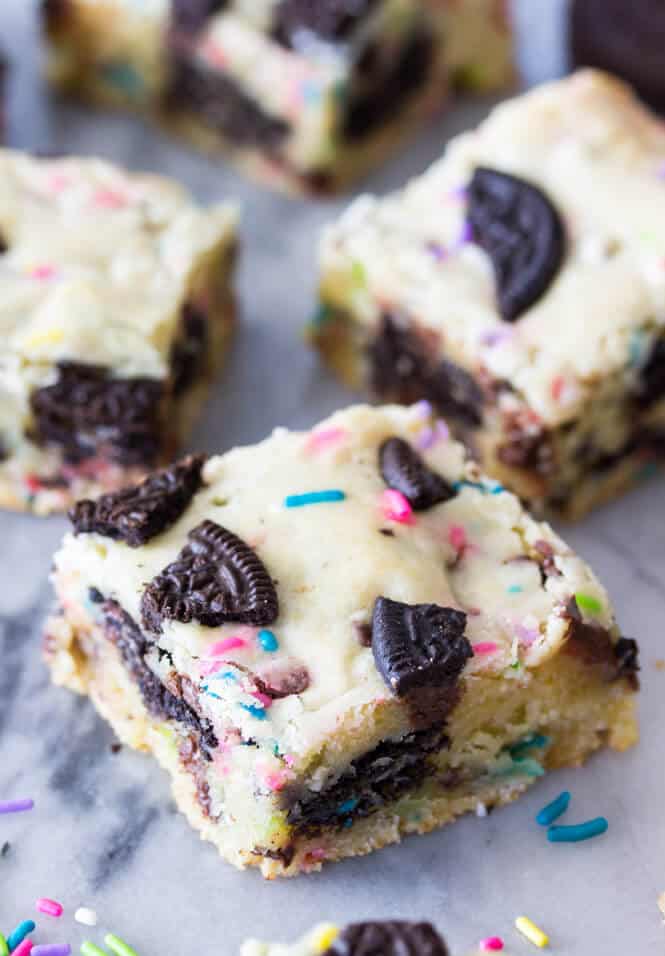 Despite the fact that the events of the past few days didn't exactly lend themselves to a "party", I've been referring to these as "party bars" all weekend, and I think you can tell why just from looking at them.
We have colorful sprinkles, Oreo cookies, mini chocolate chips all together and all encased in buttery cookie bar goodness… yeah, "party" seemed like the right word to use.
For blogging purposes I gave them a more descriptive (if not drier) name — Funfetti Oreo Bars, but I can't seem to remember that when I'm talking about them in real life.  They'll always be party bars to me.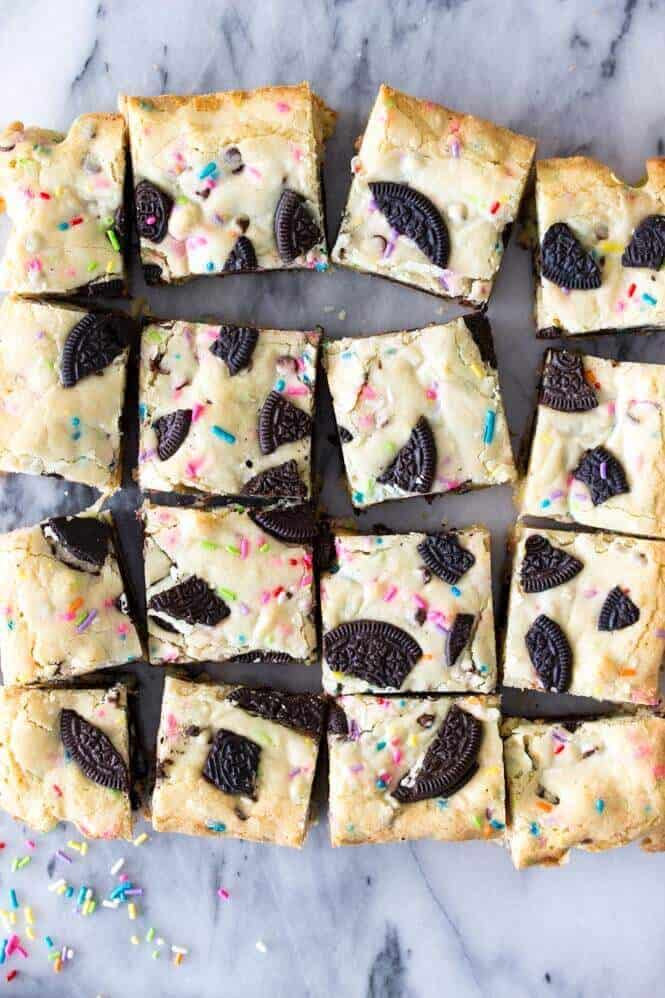 In the past I've liked to use cake batter in some of my funfetti desserts for a real "cake batter flavor", but I think I've achieved that taste here (and here) without using any box mix today.  I can't say that I won't ever use cake mix in any of my desserts again, but I am trying to move away from that.
A little extra vanilla, a higher ratio of white sugar to brown sugar, melted butter (the better to infuse the batter with a rich, buttery flavor), and a heavy pour of sprinkles all lend themselves to a sweet cake batter flavor without that processed aftertaste.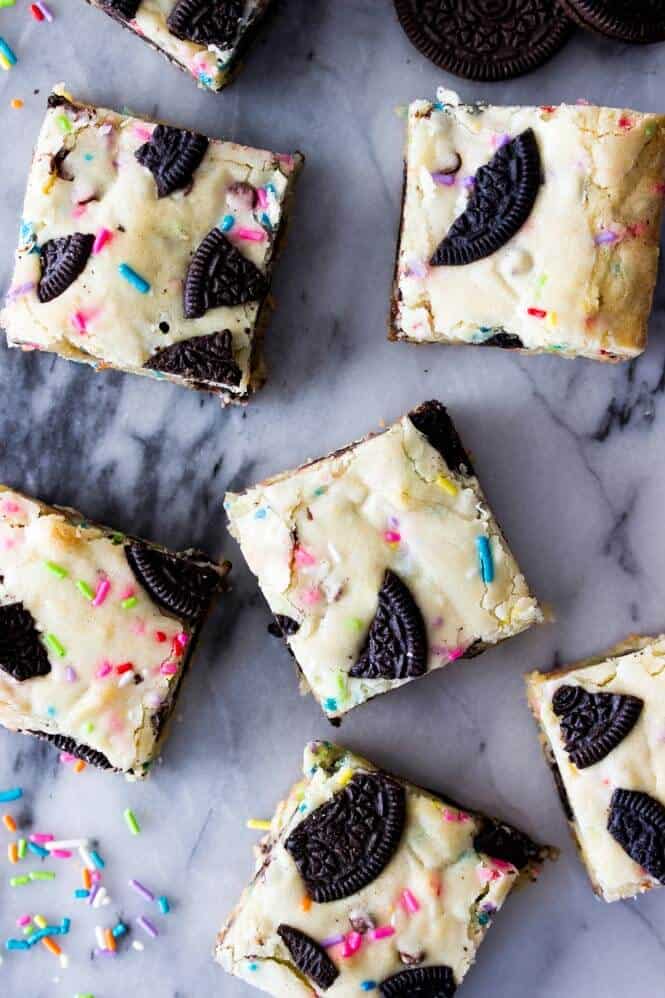 These funfetti oreo bars are soft (very similar to my Congo Squares) with chewy edges and crunchy Oreo bits in every bite.
The sprinkles add a great texture to every bite (in addition to the slight crunch of the Oreos) and I added mini chocolate chips to the batter, too, for a little extra chocoalty-ness (Chocolateness? Chocolatiness? Someone help me out here) .
They're simple to make, too (no mixer required)!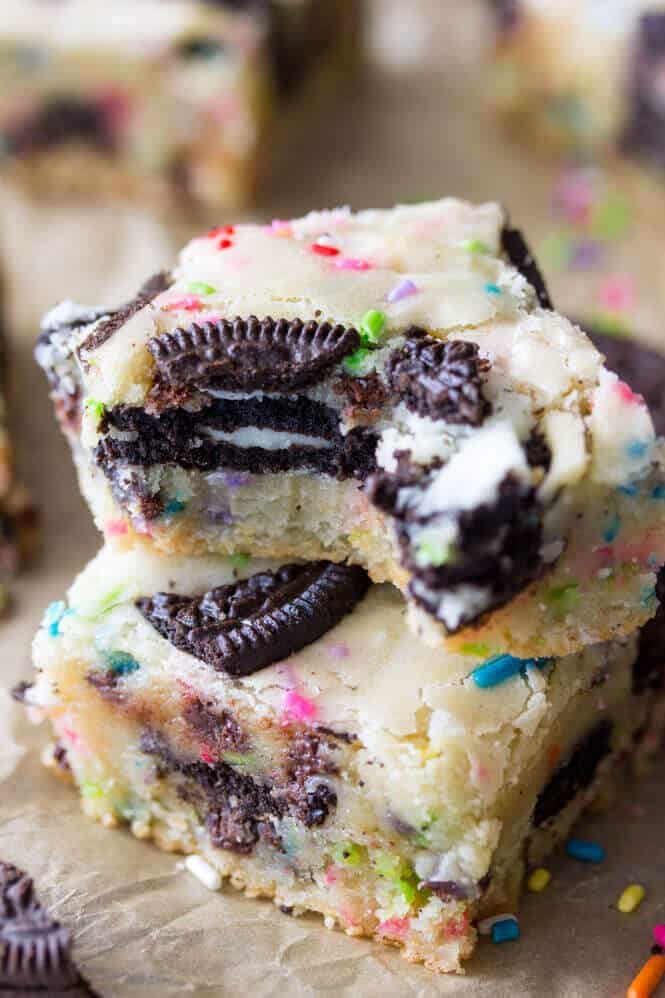 The first time I made these, I broke up the Oreos and stirred the pieces into the batter, but I decided I liked the cleaner look of layering the cookies in the center of the bars (when everything was stirred together, they looked like a muddy black and white mess).
To make them, you'll spread about half the batter into a 9×9 pan and then press a layer of Oreos over the batter.  Then, bury them beneath the remaining batter and top with additional Oreo pieces.
I plan on making a video sometime this week to show the process, but you shouldn't have a problem assembling them by following the recipe.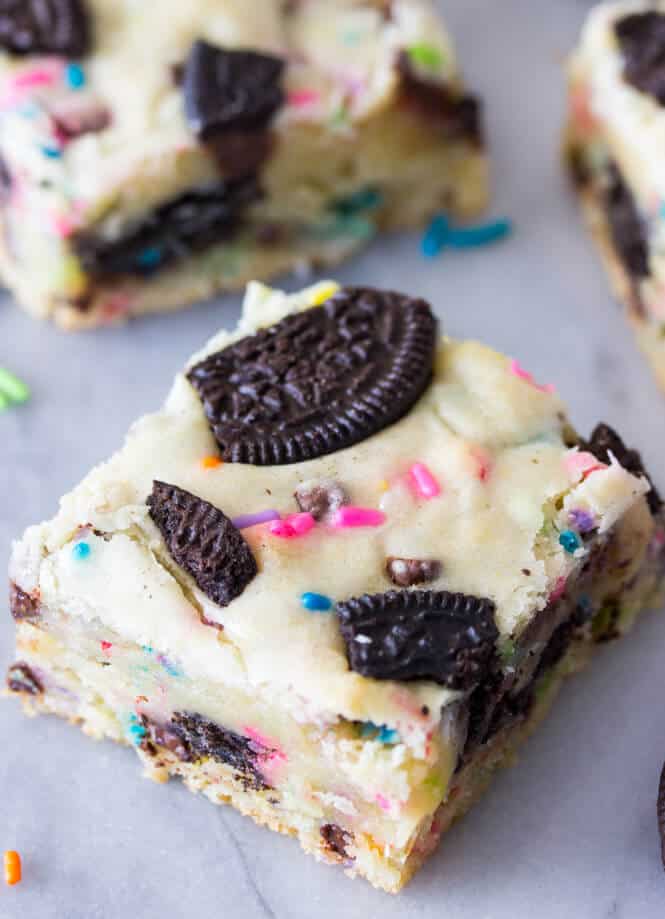 Fun Fact: These Funfetti Oreo Bars are also great for consoling yourself after you accidentally smack your husband's newly-stitched thumb and then feel like the worst wife ever.  Sorry Zach!
Enjoy!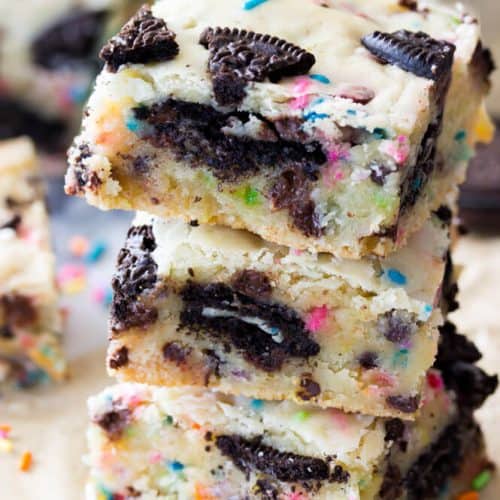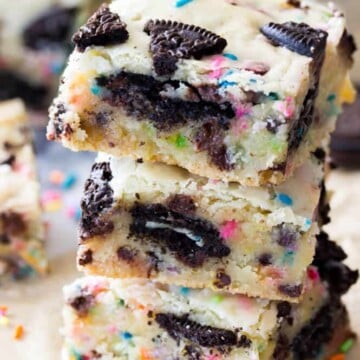 Funfetti Oreo Bars
Funfetti Oreo Bars -- soft, chewy blondies with an Oreo cookie layer
Print
Pin
Rate
Ingredients
1

cup

butter, melted

(226g)

1 ¼

cup

sugar

(250g)

½

cup

light brown sugar tightly packed

(100g)

2

eggs + 1 egg yolk room temperature preferred

2

teaspoon

vanilla extract

2 ½

cups

all purpose flour 285g

2

teaspoons

cornstarch

½

teaspoon

baking powder

1

teaspoon

salt

½

cup

mini semisweet chocolate chips

(85g)

16 + 5

Oreo cookies

¼

cup

colored sprinkles
Instructions
Preheat oven to 350F (177C) and prepare a 9x9 pan by lining with parchment paper (or lightly grease and flour).

Combine melted butter and sugars in a large bowl, stir well.

Add eggs, and egg yolk one at a time, stirring well after each addition.

Stir in vanilla extract.

In a separate, medium-sized bowl, whisk together flour, cornstarch, baking powder, and salt.

Gradually stir dry ingredients into wet until completely combined. Stir in chocolate chips and then sprinkles.

Spread half of the batter evenly into prepared pan. Firmly press 16 Oreo cookies in an even layer over the batter.

Drop remaining batter by large spoonfuls over the cookies and use a spatula or knife to evenly spread over the cookies.

Gently break 5 remaining Oreos into pieces and press firmly into the top of the batter, if desired.

Bake on 350F (177C) for 35-40 minutes -- until edges just begin to turn golden brown and a toothpick inserted in the center comes out clean or with few moist crumbs.

Allow to cool before cutting and serving (don't cool too long, though -- these are amazing when served still slightly warm!)
Nutrition
Serving:
1
bar
|
Calories:
127
kcal
|
Carbohydrates:
22
g
|
Protein:
1
g
|
Fat:
4
g
|
Saturated Fat:
2
g
|
Cholesterol:
1
mg
|
Sodium:
146
mg
|
Potassium:
67
mg
|
Fiber:
1
g
|
Sugar:
18
g
|
Vitamin A:
2
IU
|
Calcium:
13
mg
|
Iron:
1
mg
PIN IT, & FOLLOW ME ON PINTEREST:


You Might Also Like: