Chewy, chocolaty brownies layered with Reese's peanut butter cups and loaded with crushed Oreos.
In two days, the New Year's resolutioners will be at it.  Healthy recipes will reign supreme and Pinterest and Google will be inundated with people scouring for low-fat and healthy options (I even have a few lighter desserts planned for the start of 2016). Quinoa will fly off the grocery store shelves at unparalelled speed and the gyms will be clogged with new patrons (and plagued by broken machinery).
Perhaps in 2016 these habits will stick and we will clink our mugs of matcha tea together and munch on rice cakes while we spend our days discussing the best ways to incorporate kale into our diets, but today is not that day.  Today, I have something diabolically delicious to share with you, something just right for sending off 2015 (and the calories don't carry over into the new year, right?).
Today I present to you these Peanut Butter Cup Loaded Oreo Brownies, and I highly recommend that you don't let 2015 pass you by without having tried them.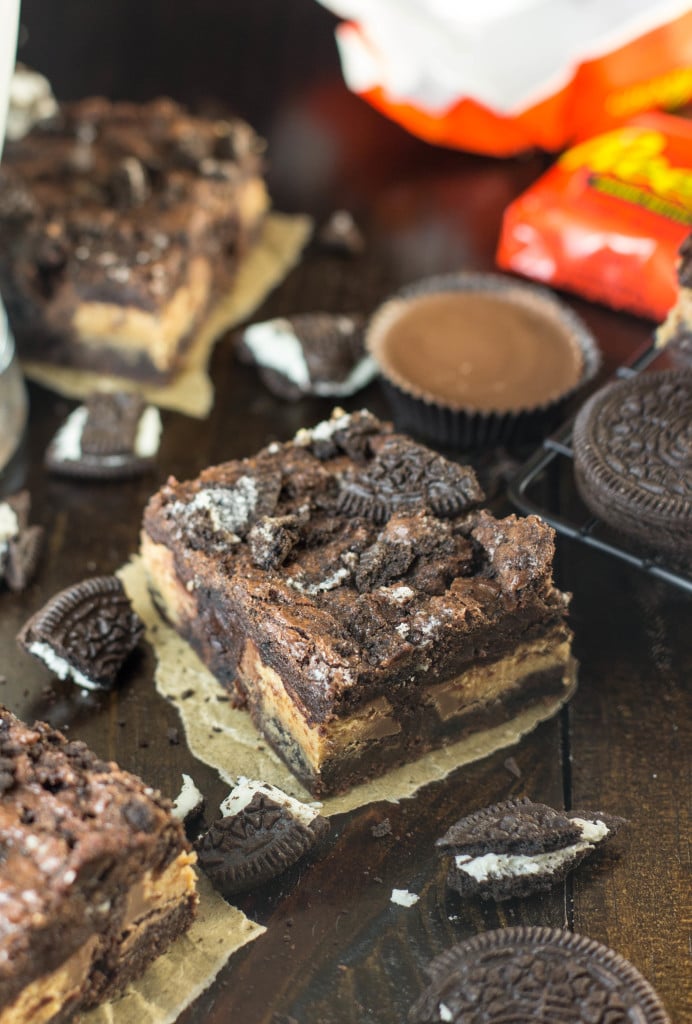 These brownies almost didn't make it onto the blog.
Not because of any defect or shortcoming on their part (I mean, just look at them) but because I am a glutton of the highest degree with an embarrassing and indomitable lack of self-control.  A "sample" of a corner turned into a magic trick where I made half a pan of brownies disappear in less than 30 seconds — and I still hadn't taken my photographs yet.  I held myself off from polishing off the pan just long enough to snap a few shots and then I called my sister and begged her to come pick them up (she obliged) because I couldn't trust myself around them any longer.
They are, in fact, quite untrustworthy.  They're seductive and sinister and pull you in like a siren to a sailor, but it's worth every calorie — sheer perfection in every bite.  Chewy, exceedingly chocolaty, stuffed with mines of milk chocolate and peanut butter cups, pumped full of cookie bits, the shiny, crackly top littered with cookie pieces, these cookies are a dream come true, a flavor explosion, a confectionary firework.
These peanut butter cup stuffed Oreo brownies are just the right way to send 2015 out with a bang.  Happy (almost) New Year, everyone!
Peanut Butter Oreo Brownies
Ingredients
12

Tbsp

butter

cut into Tbsp-sized pieces, 1 1/2 sticks

3/4

cup

cocoa powder

1 2/3

cup

granulated sugar

2

Tbsp

water

1

tsp

vanilla extract

2

eggs + 1 egg yolk

lightly beaten

1 1/3

cup

all-purpose flour

1/2

tsp

baking powder

1/4

tsp

salt

15

Oreo Cookies

divided

16

Peanut Butter Cups
Instructions
Preheat oven to 350F and lightly grease/spray a 9x9 pan.

In a large, microwave-safe bowl microwave your butter until melted.

Stir in cocoa powder and sugar.

Stir in water and vanilla extract.

Add eggs and egg yolk, stirring until combined..

In a separate bowl, combine flour, baking powder and salt.

Gradually add to butter mixture until completely combined.

Break/crush 12 Oreo Cookies (do not completely grind into fine crumbs, I placed them in a Ziploc bag and smacked them with a rolling pin until they were broken into pieces) and fold into the batter.

Layer about half of the brownie mixture into the bottom of your prepared pan. Evenly spread peanut butter cups over the batter, gently pushing down so they are snug.

Spread the remaining half of the batter on top.

Crush your remaining Oreos and sprinkle over the top of the batter.

Bake at 350F for 35-40 minutes (the toothpick test is difficult to do here due to the peanut butter cups -- the best way to tell that these are done is to look for set centers that have firmed and the center should feel somewhat set and not liquidy to your fingertips).

Allow to cool before serving.
You May Also Like
Chocolate Chip Cookie Brownies
Peanut Butter Stuffed Chocolate Muffins
Deep Dish Peanut Butter Chocolate Pie