Today I'm sharing my all-time favorite French Onion Soup! This recipe is simple with only a few ingredients, but we're transforming them into an exquisite, crave-worthy & cozy soup. I'm walking you through all the steps to make sure yours turns out better than anything you can get in a restaurant. Recipe includes a how-to video!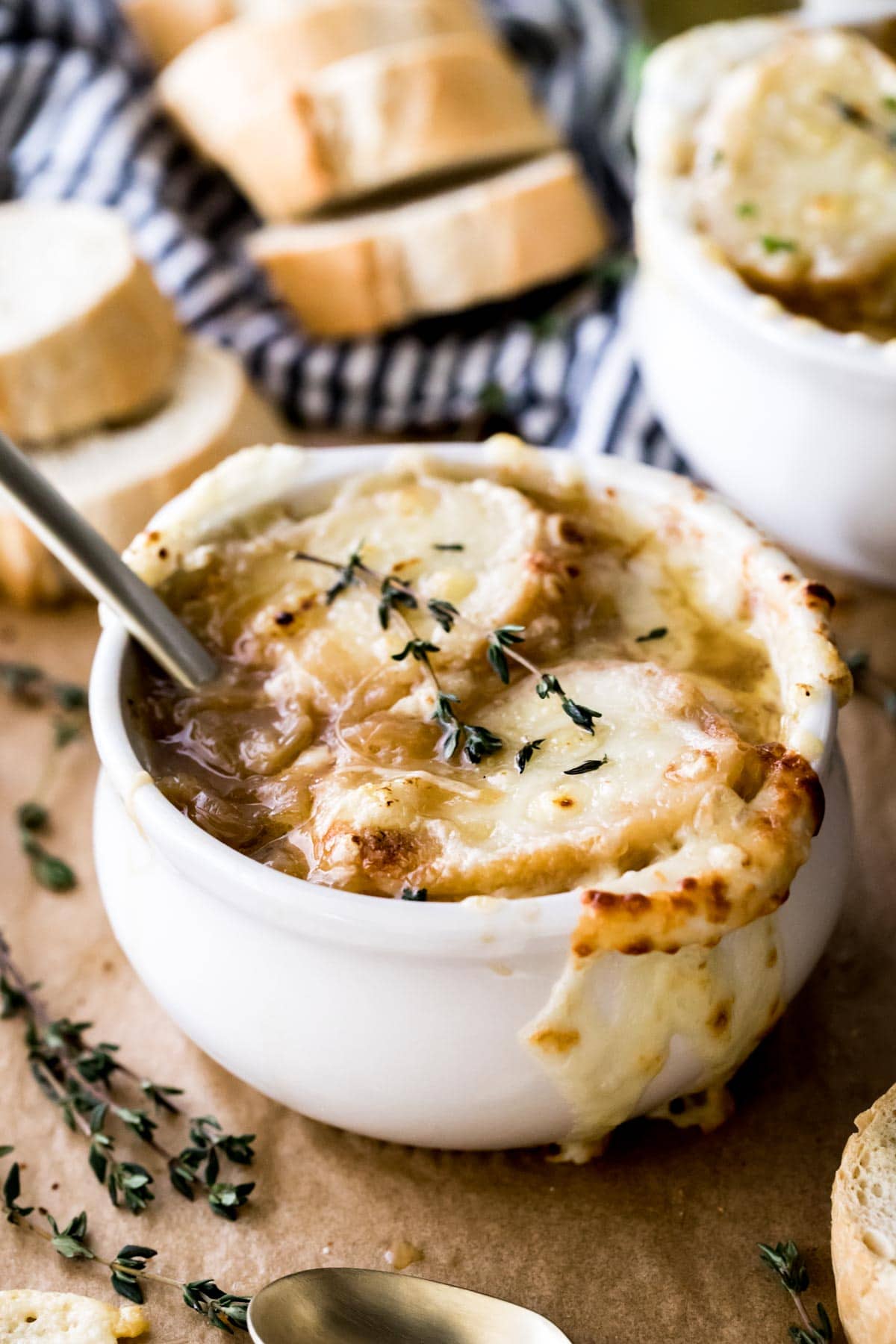 My Favorite Cozy Soup
I don't think I could've picked a better day to share this recipe. I don't know what kind of warm weather you might currently be blessed with, but my entire yard is covered in a blanket of snow (and it's still swirling down), I'm curled up under a much warmer blanket beside the fire, it's frigid outside, and I'm craving comfort food. While I wouldn't turn down a bowl any time of year, there really isn't a better way to thaw out after being out in the snow than with a bowl of French onion soup.
This is my favorite soup (Zach hates onions and won't touch it, but it even tops my beloved potato soup and broccoli cheddar soup). Yes, it's simple, but so flavorful, made with a rich broth, caramelized onions, garlic infused toast and, of course, lots and lots of toasty, melty cheese.

Today I'll walk you through all of the steps and hopefully answer any questions you might have to make sure you have flawless results at home. Make sure you leave a comment (or tag me on Instagram!) and let me know how you enjoy the recipe!
What You Need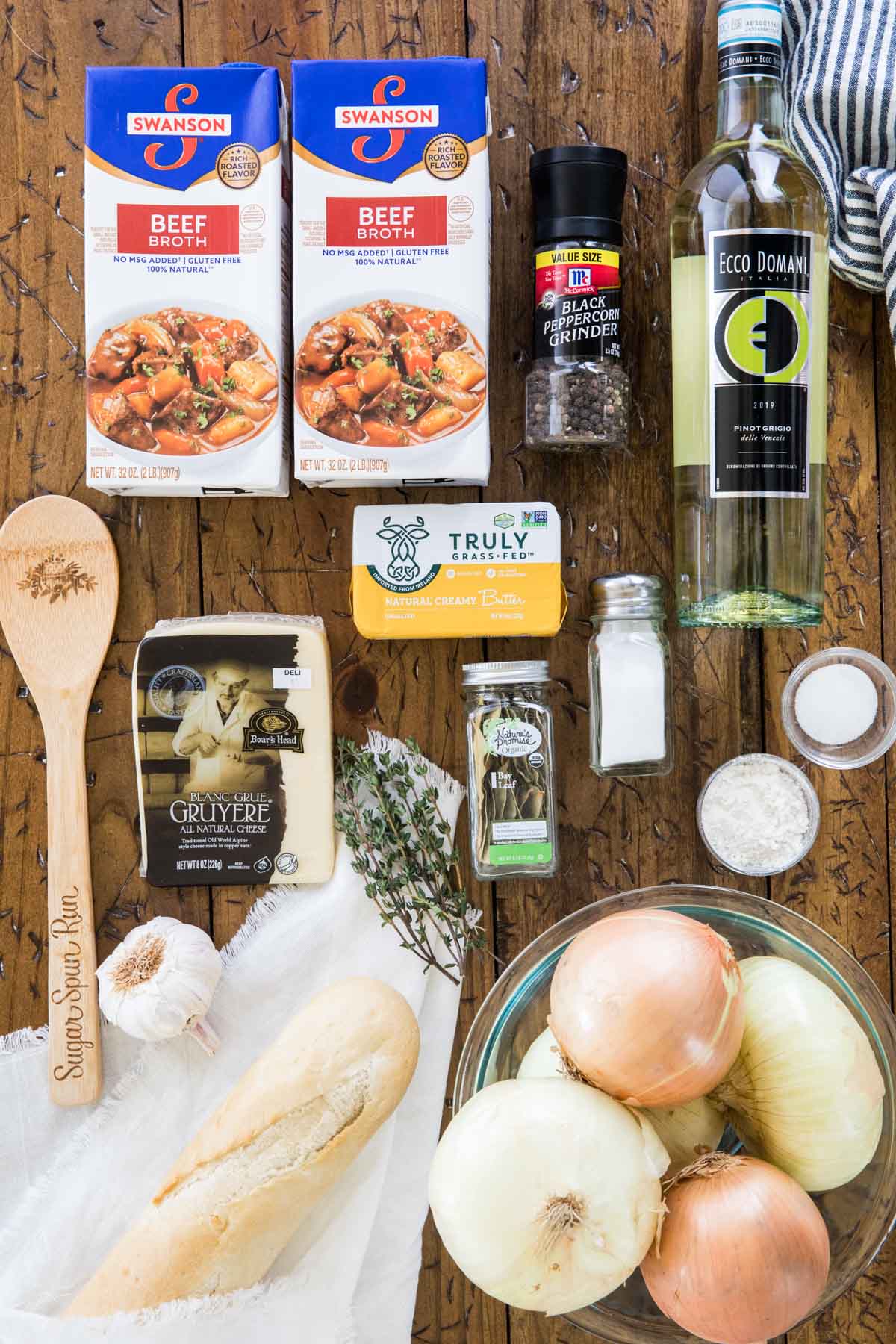 French onion soup has contended origins (don't so many foods!?), but it originated from basic, simple ingredients: some broth (or water), onions, and bread and cheese for the top. Today it remains true to its roots in many ways, using only simple ingredients but carefully orchestrated for maximum flavor. Let's talk about those ingredients.
Onions. I talk in my FAQ section (below) about what kind of onions are best and why, but for here I'll just tell you that I use a blend of sweet and yellow onions.
Butter. I use unsalted butter because this gives me more control over the salty flavor of my broth, but salted would work. You'll be tasting the broth and adding salt to taste as needed, anyway. I always like to use a high-quality, European-style butter, it has a better flavor and when you're making a recipe with such few ingredients, the quality of each one really is important.
Beef broth. This is possibly the most important ingredient in French onion soup and where most of the variability of taste will occur. Use a good quality and flavorful broth, but for truly exquisite soup I recommend you try your hand at making your own beef broth. Some recipes use water instead of broth, flavoring the soup almost entirely with the onions, but I strongly prefer beef broth (see note below this list, especially if you are a vegetarian).
Sugar. It's not necessary to caramelize your onions, but it helps so add a pinch in the beginning.
Flour. I use a small amount to add richness and a bit of thickness to the broth.
Wine. Wine adds a beautiful sharpness to an otherwise salty dish, it's great for adding dimension/depth of flavor. I'm no connoisseur, but you should use a dry white wine that you would enjoy drinking. I always aim for a bottle in the mid-price range (don't use cooking wine). Pinot Grigio is my wine of choice for cooking, but I have other options for you in my FAQ section below (including how to omit the wine).
Thyme. For best results you should use several springs of fresh thyme. Dried thyme may be substituted in a pinch (about ¾-1 teaspoon), but again, quality of ingredients really matters here!
Bay leaves. These, along with the thyme, impart an herby flavor to the broth. If you can find fresh bay leaves I envy you because I have never been so lucky (small-town living). I use two dried leaves, but if you have fresh you'll use a single fresh leaf (unless you like a stronger bay flavor!).
Salt and pepper. These will largely be to taste. How much salt you need may vary wildly depending on your beef broth of choice. I usually find that using ¼ teaspoon in the beginning is enough, but always taste-test!
Garlic… but not how you think… I do not put garlic in my soup. It's not a classic ingredient and even after all of my testing I was happy to leave it out (which is saying something, I mean have you tried my meatballs with their 7 cloves of garlic??). Instead, I make something akin to bruschetta bread, after toasting my slices of French bread I rub them with garlic. While you can skip this, it adds a wonderful flavor in each bite, taking my soup to the next level.
French bread. A few slices of crusty, toasted French bread, I toast mine before adding them to the soup. Hopefully I'll have a from-scratch recipe for this to you soon!
Cheese. Gruyere is the classic choice for French onion soup. Buy a block and shred it over your soup and then again over your bread. See my FAQ section for some notes on substitutions.
And that's it! Serve with your favorite dessert (I recommend banana pudding, Eton mess, or chocolate pie!) or just enjoy by the spoonful!
Shout out to all of you food-nerds like myself who read through that whole list! I may have a tendency to over-explain, but when I'm making a recipe I like to know exactly why each ingredient was chosen so I like to share that with you, too! For the full recipe with amounts, please scroll down to the recipe card at the bottom of the post.
How to Cut Onions for French Onion Soup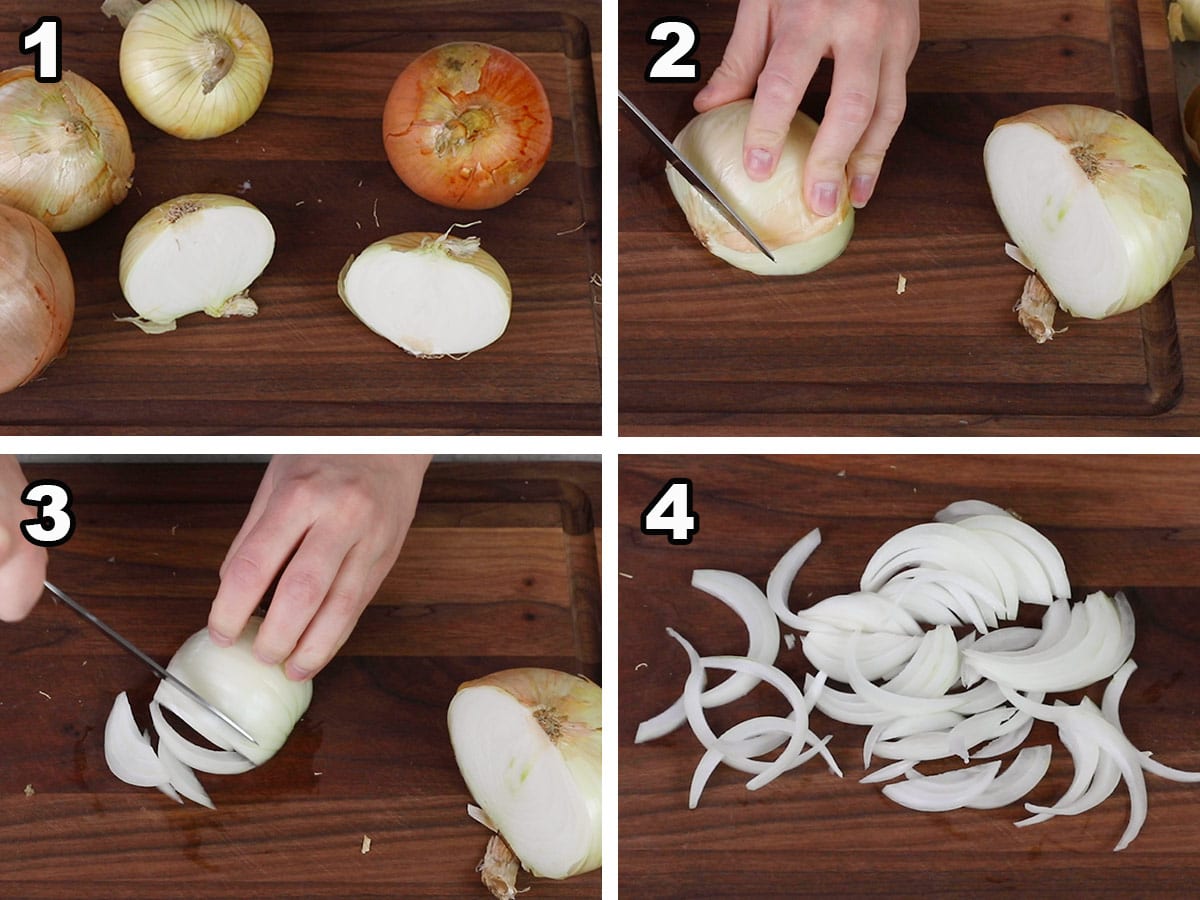 Because the onions are the key ingredient I wanted to take a moment to discuss the proper way to cut them:
Cut the onion from root to stem.
Slice off the ends and remove the outer skin
Slice onions with the grain, keeping your cuts very thin!
Continue to slice until you have sliced all of your onions into strips ⅛″ (.3cm) thick (you want them very thin!).
How to Make French Onion Soup
Melt butter in a large soup pot or enameled Dutch oven.
Add onions and toss so that every onion slice is coated in a thin layer of butter.
Cook, stirring frequently, until onions are dark brown and caramelized. Keep your heat medium at all times; cranking up the heat can result in burnt, bitter onions. This will take at least approximately an hour to do properly but can vary depending on how thick you cut your onions and precisely how large you make your slices and even what pot you are uisng. If your onions start to stick to the pan or you notice brown marks on the bottom of the pan, simply deglaze with a small amount of your beef broth.
Once onions are caramelized, add remaining ingredients (broth/herbs) and allow to simmer while you prepare the bread.

Assembly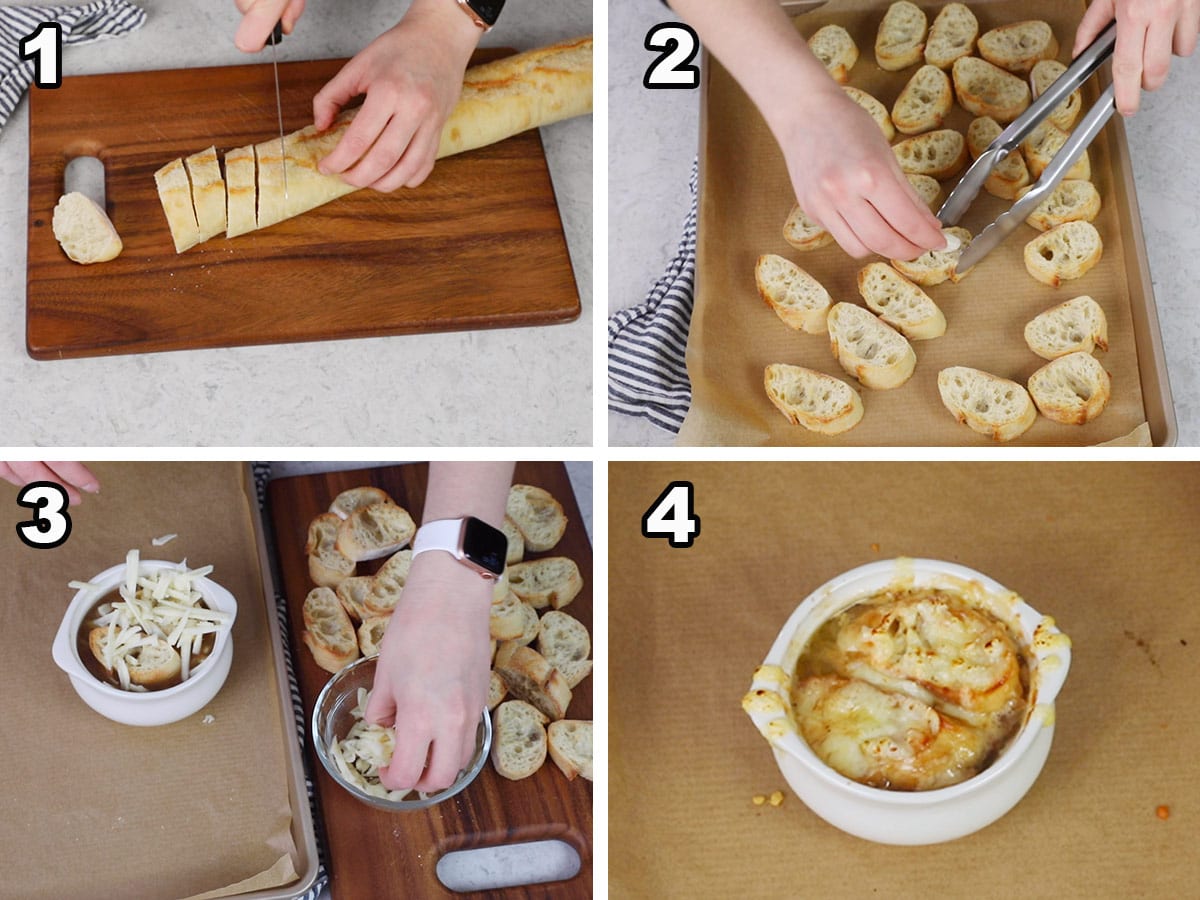 Slice a baguette into slices approximately 1″ thick. Arrange them on a baking sheet and bake on high heat until lightly toasted. For added richness, lightly brush the bread slices with melted butter before toasting.
Rub one toasted surface of each slice of bread with a clove of garlic that you've sliced in half (cut-side down, of course). The bread will be hot, so be careful!
Portion the soup into a crock then sprinkle a bit of grated over it. Top with your toasted bread and then even more cheese.
Arrange crocks on a baking sheet and transfer to the oven. Cook on high heat until cheese is melty and beginning to brown. Serve and enjoy!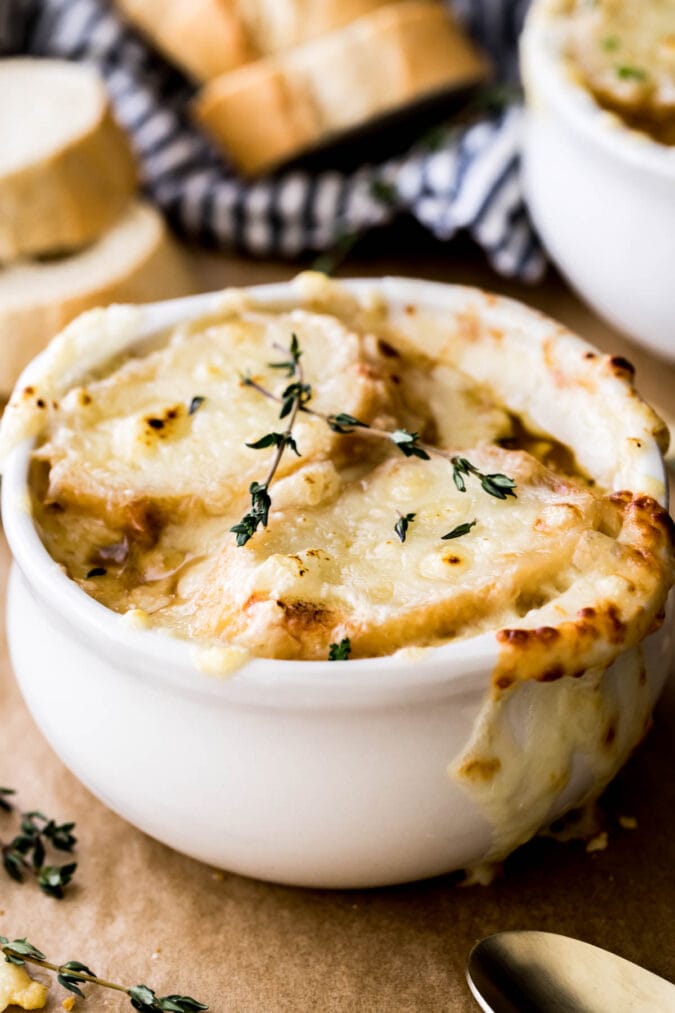 Frequently Asked Questions
What kind of onion is best for French onion soup?
Sweet Vidalia onions are the quintessential choice, but you could also use yellow onions. Personally, I like to use a blend of Vidalia and yellow onions, it makes the soup slightly more robust without being overly sweet. 
I've never used white or red onions myself because I don't personally feel that they're the best choice, but you could, just expect a different flavor profile.

What can I use instead of white wine? (alcoholic alternatives and non-alcoholic options)
Alcoholic options: My preference is white wine and I use Pinot Grigio. I feel a dry white complements the soup rather than muddying it with conflicting notes the way I feel red wine does. However, in a pinch you may substitute a dry red wine, and some people like to use dry sherry or brandy or dry vermouth (I would use a splash less than the ⅔ cup called for, closer to ½ cup). Guinness is another option! Keep in mind that much (but not all) of the alcohol is cooked off in the cooking process.
Non-alcoholic options: Substitute the wine with ½ cup beef or chicken broth mixed with 2-3 Tablespoons of vinegar. Some recipes substitute pure concord grape juice for the wine, and while I haven't tried it I think it would work well here.
What kind of cheese is best?
A good quality cheese is recommended and gruyere is a classic choice. Provolone or mozzarella will work in a pinch (and in fact my dad, French onion soup aficionado, always prefers mozzarella even if it is frowned upon by some purists).
Can I make this in advance?
French onion soup is actually great for making in advance. Make the soup a day or two ahead of serving and store by itself in the fridge in an airtight container (the flavors actually become even better as it sits!). You can also toast the french bread/rub it with garlic a day or two in advance and store in an airtight container (room temperature).
Then, when you're ready to serve, simply follow my assembly instructions in the recipe card.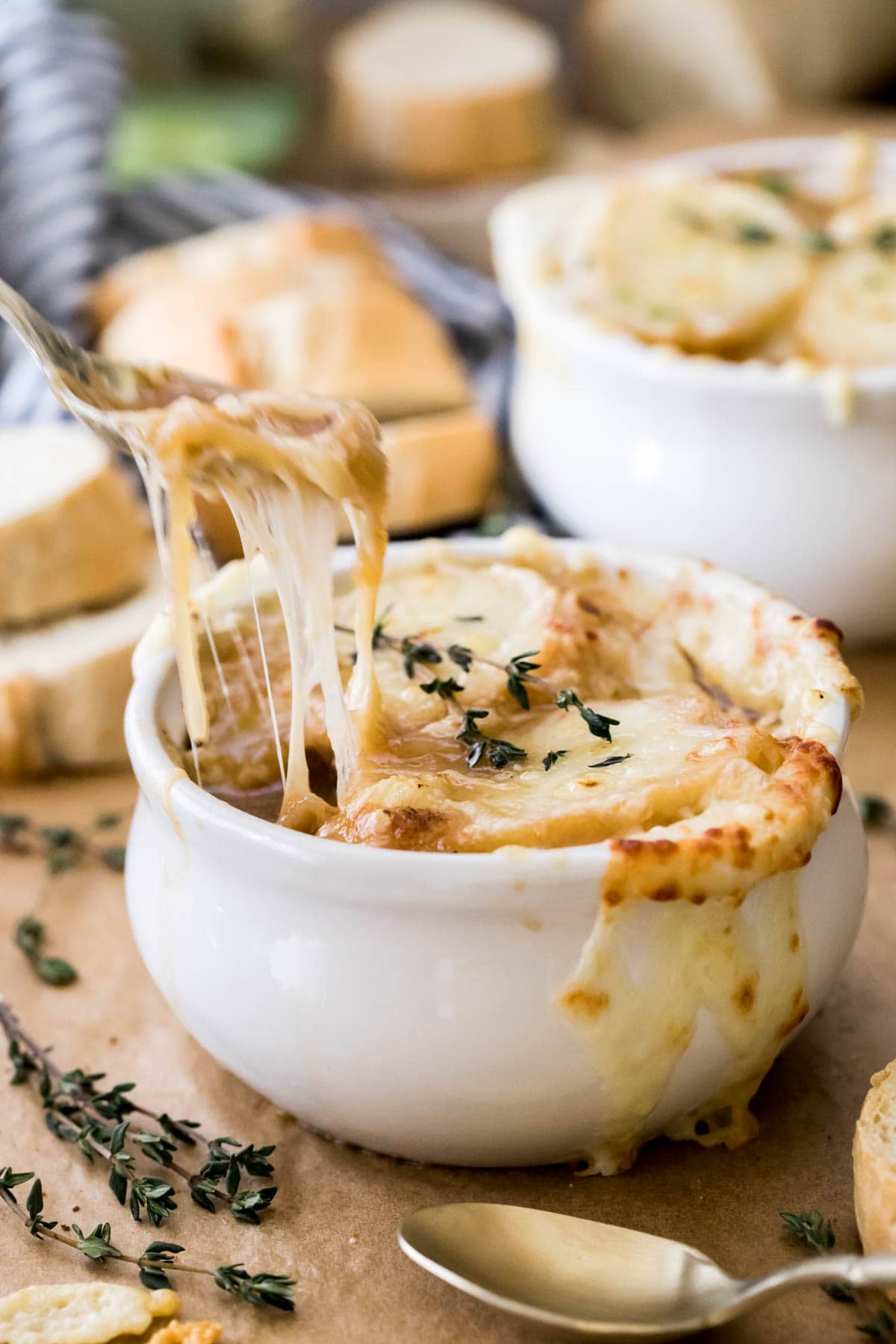 More Cozy Comfort Food:
Enjoy!
Let's bake together! Make sure to check out the how-to VIDEO in the recipe card!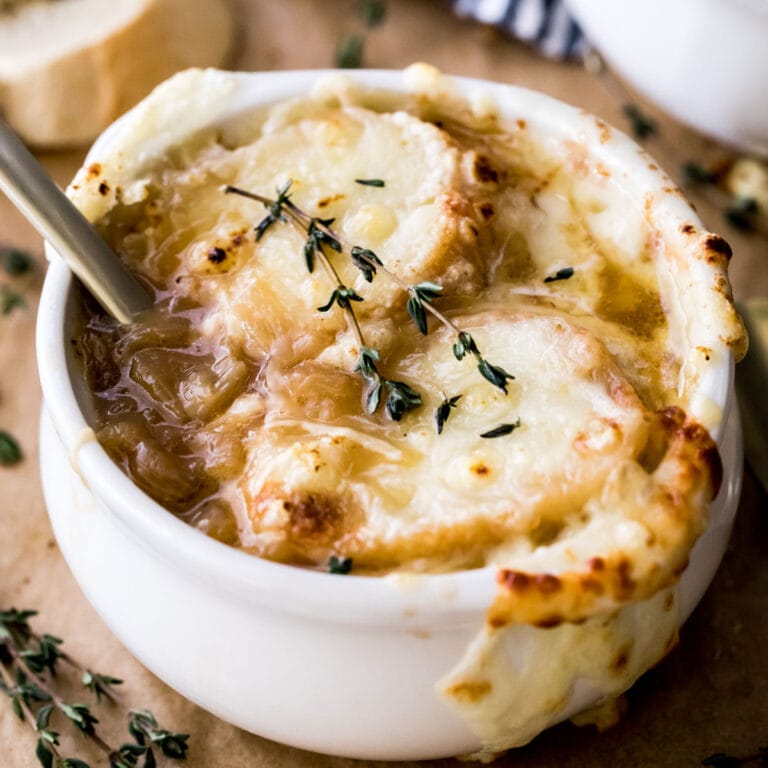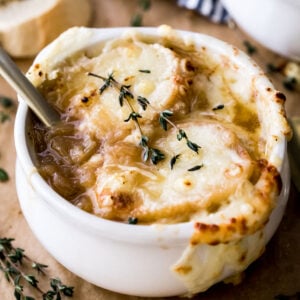 French Onion Soup
My all-time favorite French Onion Soup! This recipe is simple with only a few ingredients, but we're transforming them into an exquisite, crave-worthy cozy soup and I'm talking you through all the steps to make sure yours turns out better than anything you can get in a restaurant.
Print
Pin
Rate
Servings:
6
servings (approximately 1.5 cups each)
Ingredients
4

Tablespoons

unsalted butter

plus additional for brushing bread, optional

3.5

lbs

(

1.6

kg

)

onions

I use a blend of sweet Vidalia and yellow onions.

1

teaspoon

granulated sugar

½

teaspoon

salt

1 ½

Tablespoons

all-purpose flour

⅔

cup

(

157

ml

)

dry white wine¹

I used Pinot Grigio

8

cups

(

1.9

L

)

beef broth

3

sprigs

fresh thyme

plus additional for topping if desired

2

dried

bay leaves

or 1 fresh bay leaf

½

teaspoon

freshly ground black pepper
For Topping
8

oz

gruyere cheese²

shredded

1

loaf

French bread

sliced into ¾" thick slices

1

large

garlic clove
Instructions
Prepare onions by slicing root to stem, removing the outer layer, and then slicing with the grain in ⅛" slices (see post or video for detailed instructions and visual). Set aside.

Melt butter in a large Dutch oven over medium heat.

4 Tablespoons unsalted butter

Add sliced onions, sugar, and salt and stir until all onions have been coated with butter. Cover and cook for 10 minutes.

3.5 lbs (1.6 kg) onions,

1 teaspoon granulated sugar,

½ teaspoon salt

Uncover and continue to cook, stirring as needed, until onions are caramelized, this will take approximately 40-60 minutes. Near the end you will need to stir the onions frequently to keep them from burning and may need to reduce your heat. If the onions begin to stick to the bottom, simply deglaze the pan with a small splash of your beef broth.

Once onions are caramelized, pour the wine over the onions and cook, stirring frequently, until the wine has been absorbed/cooked out and the alcohol smell is gone (about 3-5 minutes).

⅔ cup (157 ml) dry white wine¹

Sprinkle flour over the onions and stir, cooking on medium/low heat for 2 minutes.

1 ½ Tablespoons all-purpose flour

Add beef broth (add the first half of this slowly, making sure to scrape the bottom of the pan as you do), thyme, bay leaves, and black pepper. Stir well and increase heat to bring to a boil.

8 cups (1.9 L) beef broth,

3 sprigs fresh thyme,

2 dried bay leaves,

½ teaspoon freshly ground black pepper

Once boiling, reduce heat and simmer for 15-30 minutes. Meanwhile, arrange your oven rack to the upper third of your oven and preheat oven to 425F (220C).

Place your bread slices in an even layer on a baking sheet. If desired, brush each side lightly with melted butter. Once oven is preheated, cook the bread until lightly toasted, about 5-10 minutes. Remove from oven (don't turn off the oven!) and slice the garlic clove in half. Rub the cut half of the garlic against one surface of each slice of bread (the bread will be hot! I usually hold the bread with tongs while I rub the garlic against the surface).

1 loaf French bread,

1 large garlic clove

Once soup has simmered, taste it and add more salt as needed (whether or not you need more and how much will vary greatly depending on the brand and type of broth you used). Remove thyme and bay leaves as you come across them.
Assembly
Portion soup into crocks and sprinkle a bit of Gruyere over the surface. Top with bread slices (as many as fit nicely into the crock) and then top with additional cheese.

Arrange crocks on a baking sheet and place in the top rack of your oven and bake until cheese is bubbly and beginning to turn golden brown.

Remove and serve, topped with additional fresh thyme if desired.
Notes
¹Wine. You cook out much of the alcohol in the wine, but if you want to make it completely alcohol-free you can simply substitute it with ½ cup beef broth or chicken broth mixed with a a 2-3 Tablespoons of vinegar (white wine, red wine, balsamic, or white are good choices). Some sources also recommend using grape juice instead, which I have never tried personally.  ²Cheese. Fontina, Swiss, or Mozzarella will work instead. Provolone is another option if you do not have any of the other options.
Nutrition
Serving:
1
serving
|
Calories:
578
kcal
|
Carbohydrates:
66
g
|
Protein:
26
g
|
Fat:
22
g
|
Saturated Fat:
13
g
|
Trans Fat:
1
g
|
Cholesterol:
62
mg
|
Sodium:
1866
mg
|
Potassium:
707
mg
|
Fiber:
6
g
|
Sugar:
14
g
|
Vitamin A:
642
IU
|
Vitamin C:
21
mg
|
Calcium:
503
mg
|
Iron:
4
mg
Nutritional information is based on third-party calculations and should be considered an estimate only. Actual nutritional content will vary based upon brands used, measuring methods, cooking method, portion sizes, and more.