This Old Fashioned Easter Egg Candy is a generations-old family recipe.  We make it every year for Easter and it never lasts long.  Don't be alarmed by the mashed potatoes that the recipe calls for, they are a critical ingredient that I was skeptical of at first, but you'll never be able to even tell that they're mixed in the filling!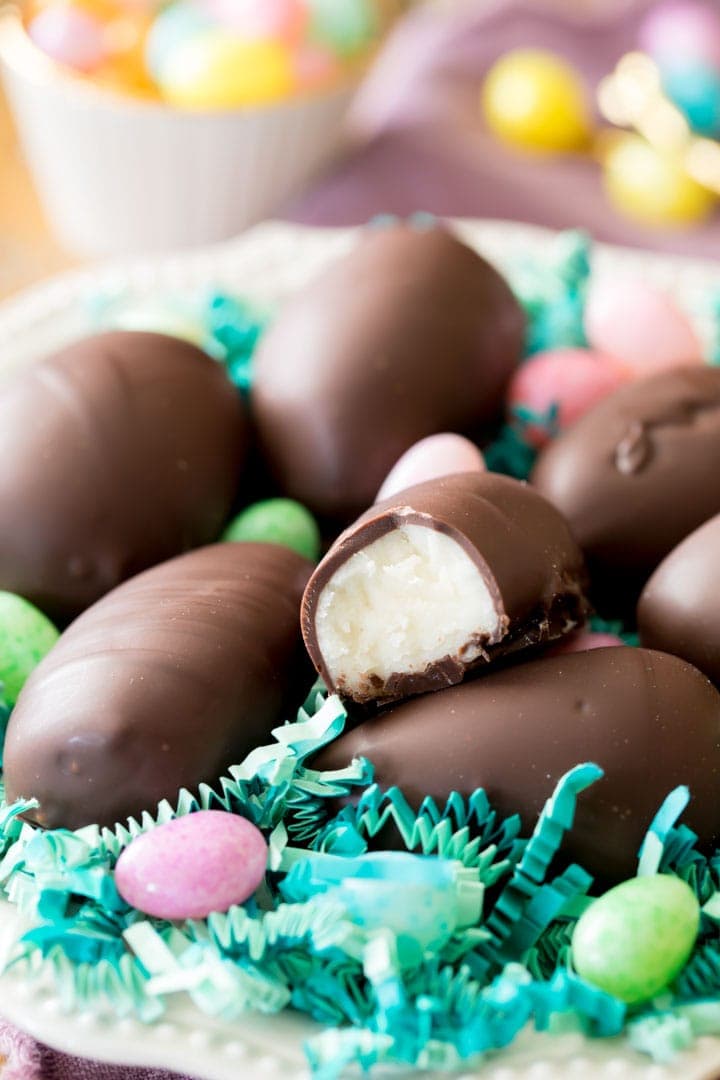 This old fashioned Easter egg candy is a generations-old recipe that has been in my family for a long time. It's amazing, highly coveted by family friends, and it also includes a critical secret ingredient that you might have not seen coming.
Potatoes.
Believe it or not, the filling for these Easter Egg Candies is made partly of mashed potatoes.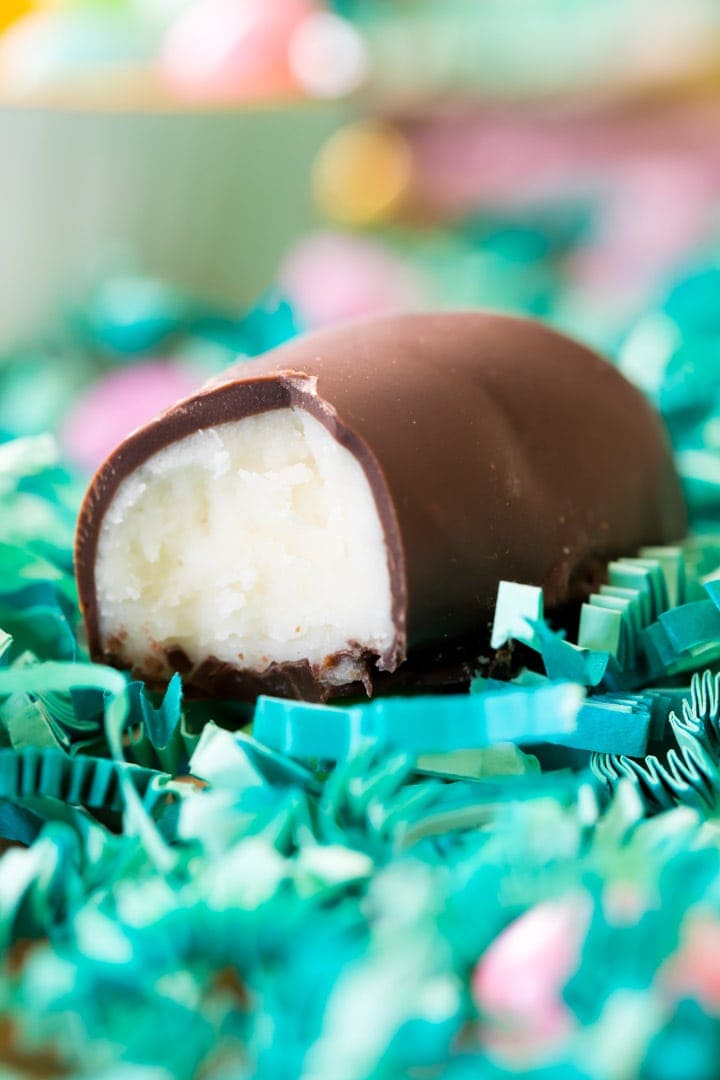 I'll be the first to admit that I had was severely skeptical the first time my mom showed me how to make this candy.  When she started to peel the potatoes I thought she was joking, and I also thought there was no chance I would ever eat a candy that had anything to do with potatoes.
I was wrong.
The potatoes mostly serve for binding together the otherwise very sweet, sugary filling for these Easter Egg Candies.  It's untraceable in the finished product, and I encourage you to see if your guests can figure out what the "secret ingredient" actually is.
Tips for Making Old Fashioned Easter Egg Candy
To make the potatoes, peel them, dice them into even-sized cubes, and boil them until tender when pierced with a fork, then drain and allow them to cool completely before mashing.  You must make fresh mashed potatoes specifically for this recipe, don't use leftover, seasoned mashed potatoes that may have other ingredients (milk, pepper, garlic, etc.) mixed in.
Let the potatoes cool completely.  Don't refrigerate them, just leave them at room temperature once you've drained them until they are completely cooled, and then mash them until no lumps remain.
Add more sugar as needed.  The dough will need to chill before you can roll it into eggs and it will be too tacky when first mixed up, but it should be somewhat shapeable. If it's too runny, add more sugar, up to 2 cups more.
Dust your hands with powdered sugar when rolling the eggs — the dough won't stick to your hands and you'll get nice smooth easter eggs that way.
My grandmother's recipe used unsweetened chocolate for the coating, as the filling can be very sweet and the unsweetened chocolate helps temper the sweetness.  My family found the unsweetened chocolate to be much too bitter, and so I recommend using semisweet chips instead.
I thin my chocolate a bit with a teaspoon of shortening, it helps the chocolate cover the eggs more neatly, but is optional (my grandmother's recipe used paraffin wax.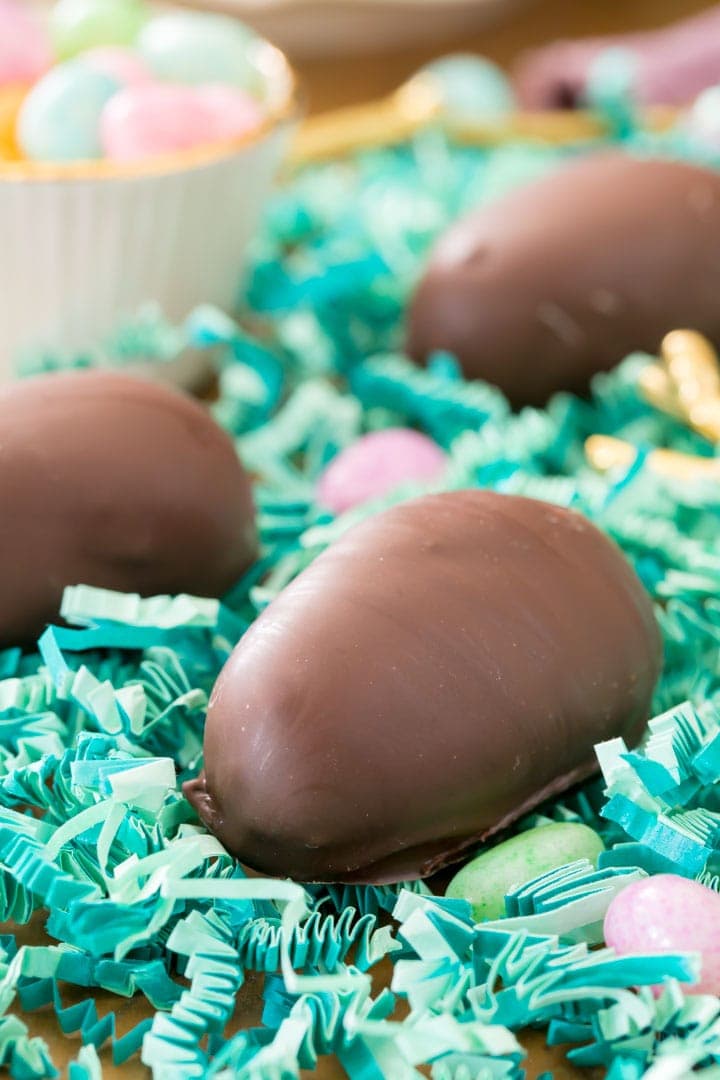 Enjoy!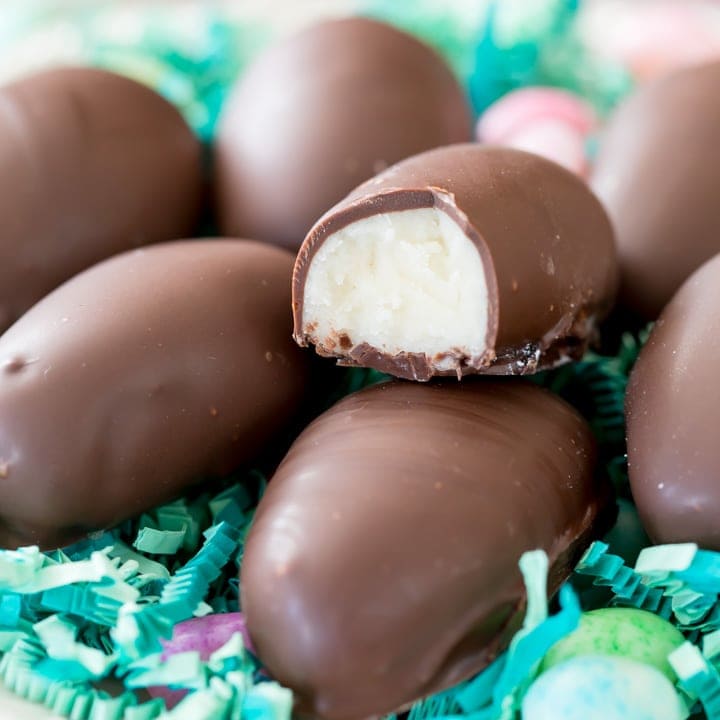 Old Fashioned Easter Egg Candy
Old Fashioned Easter Egg Candy made with mashed potatoes!
Print
Pin
Rate
Ingredients
½

cup

plain mashed potatoes, completely cooled

see note (115g)

½

cup (1 stick)

unsalted butter

softened (113g)

¼

teaspoon

table salt

5

cups

powdered sugar

plus additional as needed (625g)

2

teaspoons

vanilla extract

12

oz

chocolate bars

coarsely chopped (I like to use Ghirardelli 65% dark chocolate, see note if using chocolate chips) (340g)
Instructions
Using an electric mixer or stand mixer (with paddle attachment), stir together mashed potatoes, butter, salt and 1 cup (125g) powdered sugar until completely combined.

With mixer on low-speed, add in remaining sugar, 1 cup (125g) at a time.

Stir in vanilla extract and check the consistency of the batter. It should be cohesive and will be sticky at this point but should not be runny/separating. If it is runny, add additional powdered sugar as needed.

Cover and refrigerate filling for at least 1 hour.

Once chilled, scoop dough by 1 ½ Tablespoon and roll between your hands into egg shape. Place eggs on wax-paper lined cookie tray. If dough is still sticky, chill for longer or dust your hands with powdered sugar before rolling.  Return eggs to the refrigerator while you prepare the chocolate coating

Place chopped chocolate in a double boiler (see note to microwave instead) over simmering water and stir constantly until melted.

Remove eggs from the refrigerator. Dip a fork in chocolte then place the egg on the tines of the fork. Use a spoon to drizzle chocolate all over the egg until coated, then slide back onto the baking sheet to allow the chocolate to harden before enjoying.

Return eggs to the refrigerator and refrigerate until chocolate coating has hardened.
Notes
Notes on potatoes
Use russet potatoes for best results. I recommend piercing the potato all over with a fork and baking in the microwave for approximately 4 minutes on each side until potato is tender when pierced with a fork. No salt/pepper or any other flavoring should be added.  Potatoes that have been peeled, boiled and mashed will also work but periodically they retain too much moisture and the batter will be too runny to manage.
Allow potatoes to cool completely before adding sugar. Otherwise they will melt the sugar and you will end up with a very runny mess.  I recommend allowing them to cool at room temperature rather than the fridge, as sometimes the condensation from the fridge can also make the mixture runny.
Chocolate Notes 
Dark chocolate is best as this candy is very sweet and the dark chocolate keeps it from being too sweet. My grandmother's original recipe uses unsweetened chocolate, which I sometimes use, too! 
Dark or semisweet chocolate chips will work in a pinch, though the chocolate doesn't melt as nicely. I will usually add a teaspoon of vegetable shortening or coconut oil in with the chocolate to thin it a bit, making it easier to pour and coat the eggs. 
Microwave instead of double boiler
If using the microwave to melt the chocolate, simply place in a microwave-safe bowl and heat in 20 second increments, stirring in between, until completely melted. 
Potato Candy Variations
Another variation of this candy can be made by rolling the filling into cigar shapes and rolling in 2 Tablespoons of cinnamon for Cinnamon Cigar Candy or you can roll into a sheet, spread with peanut butter, and roll into a log and slice for peanut butter pinwheel potato candy.
Storing
Store in an airtight container in the refrigerator. Eggs will keep for at least one week.
Nutrition
Serving:
1
easter egg candy
|
Calories:
249
kcal
|
Carbohydrates:
36
g
|
Protein:
1
g
|
Fat:
12
g
|
Saturated Fat:
7
g
|
Cholesterol:
11
mg
|
Sodium:
36
mg
|
Potassium:
129
mg
|
Fiber:
2
g
|
Sugar:
31
g
|
Vitamin A:
124
IU
|
Vitamin C:
1
mg
|
Calcium:
14
mg
|
Iron:
1
mg
Nutritional information is based on third-party calculations and should be considered an estimate only. Actual nutritional content will vary based upon brands used, measuring methods, cooking method, portion sizes, and more.
Recipe originally published April 19, 2014.  Photos and some text updated March 19, 2018.