Perfectly-spiced, incredibly moist carrot cake sandwiched around a rich layer of vanilla cheesecake and then frosted with a whipped cream cheese icing.  This cake is pure decadence, but surprisingly refreshing, and is the perfect way to kick-start springtime.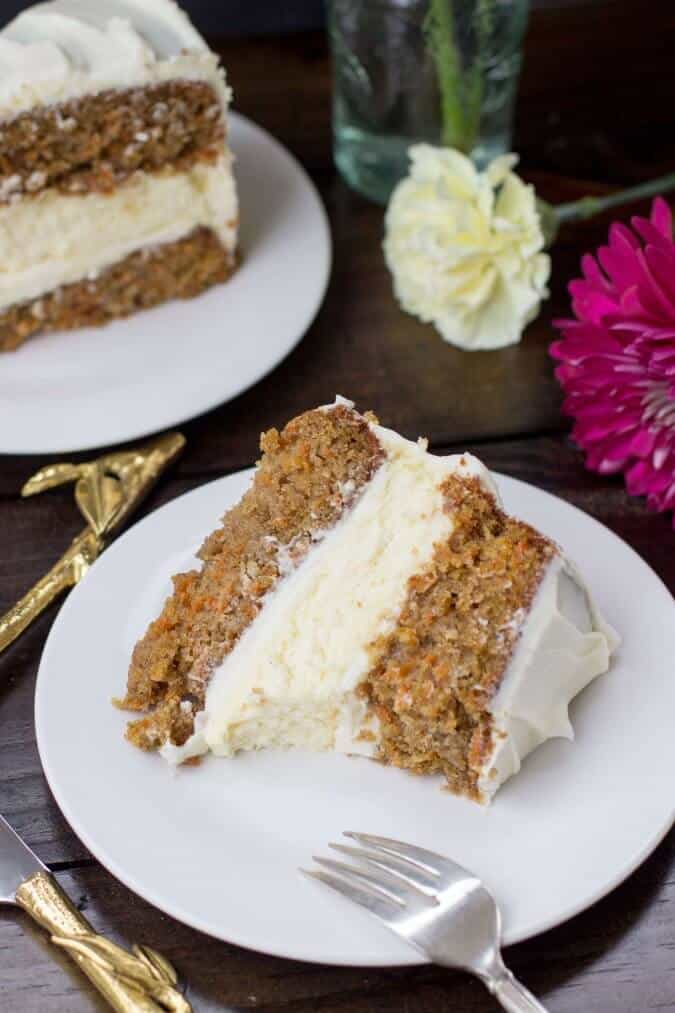 I had a different recipe I'd planned to share with you today — one laden with chocolate and laced with caffeine– but with today being the first day of Spring, nothing seemed quite as appropriate as a carrot cake (even better, a cheesecake stuffed one!).
Despite its glaring absence of both chocolate and caffeine (and it's abundance of proudly touted vegetables… I mean, seriously), carrot cake ranks highly among my favorite cakes.
I avoided it when I was younger, determined that my mom wouldn't dupe me into eating a cake made out of carrots, but then there was that thick layer of cream cheese frosting blanketing the whole thing.  And I really wanted that frosting, because unlike most super-sweet buttercream frostings, cream cheese frosting achieves a delicate balance of sweetness with hints of a subtle, cream cheese-tang.  I could eat it by the spoonful.
So I caved.  And I found myself with a forkful of cake made from carrots.
And I haven't looked back since.
The thing I'd always loved about cream cheese frosting was that it reminded me of one of my favorite desserts: cheesecake.  Considering my affinity for cheesecake stuffed cakes (exhibit A; exhibit B), a cheesecake stuffed carrot cake was the obvious next cake-challenge for the site (and it was a challenge, no recipes are quite as tricky for me to nail as cakes).
While it took a few tries to achieve a perfectly moist cake, a perfectly creamy cheesecake, and a suitable ratio of one to the other, I finally have a beautifully balanced cake to share with you on this first day of spring.
Since the cheesecake is already plenty rich, I whipped the icing with a few tablespoons of heavy cream for a light and airy texture.  The icing recipe makes enough to fully cover the entire cake, but I found that I preferred it with a semi-naked frosting around the sides, so as not to make this already-rich cake any richer.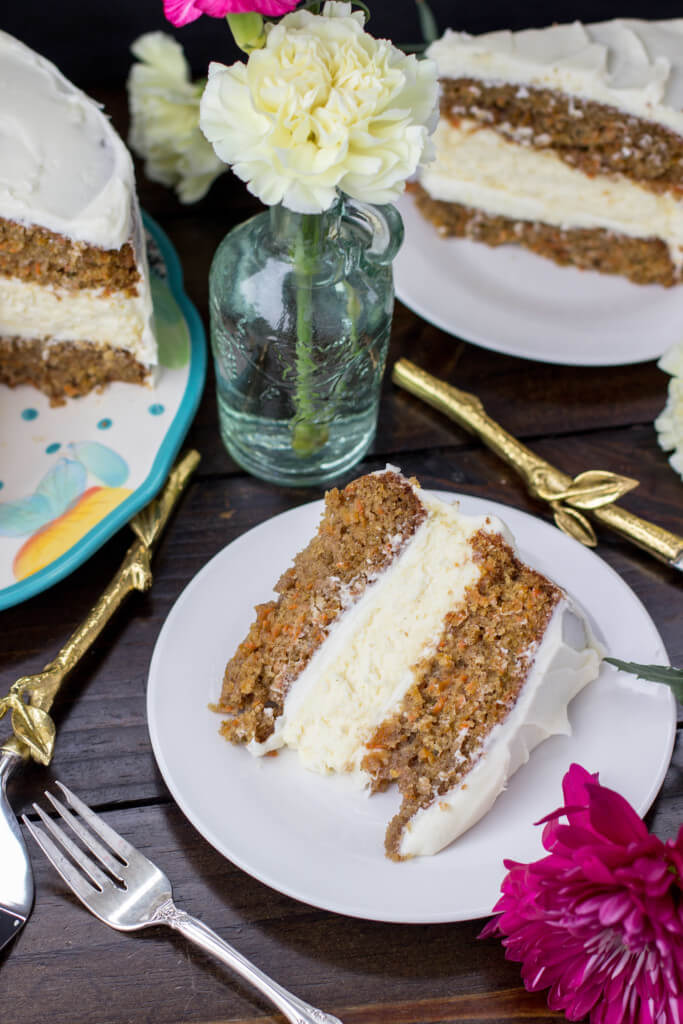 It's a combination of cheesecake and cream cheese frosting that won't leave you feeling overwhelmed with cream cheese, trust me.
This final, winning carrot cake was made without nuts (and without pineapple) at the request of my youngest sister, but earlier versions of this cake included a cup of chopped walnuts and I've listed them as an option in the recipe.
I suppose raisins are also a possible add-in, but why anyone would ruin a perfectly good cake with raisins is beyond me (…apologies if you actually like raisins).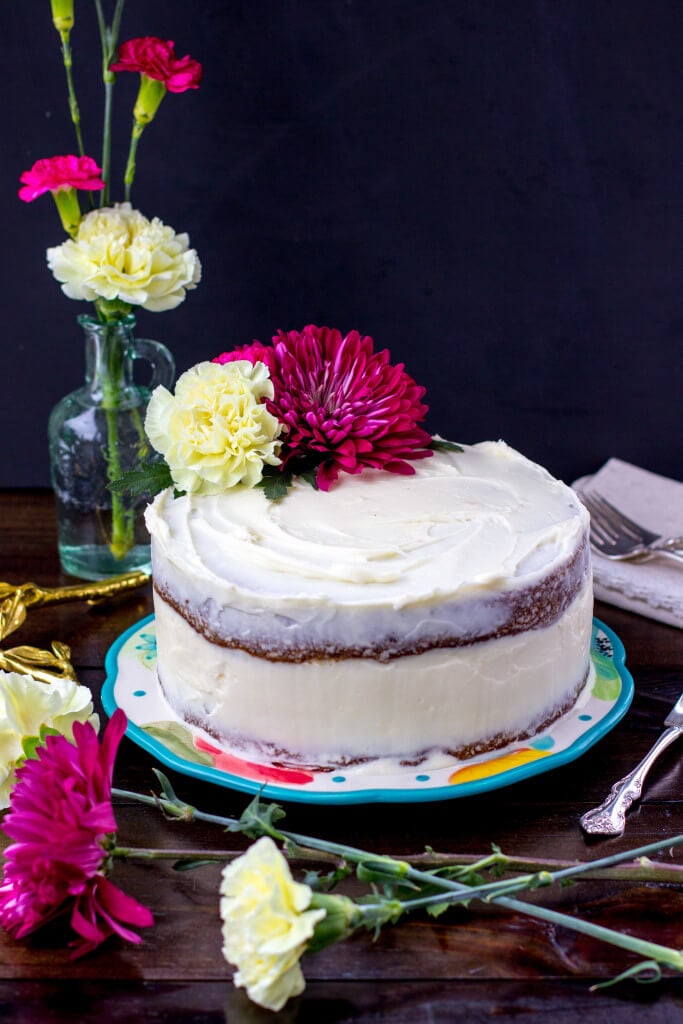 This cake is the perfect springtime paradigm; moist and rich yet somehow simultaneously light and refreshing (I credit the carrots and the whipped frosting).  It would make the perfect addition to your Easter dessert table.
Enjoy!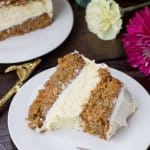 Cheesecake Layered Carrot Cake
Soft, moist carrot cake layered with a cheesecake center and covered in whipped cream cheese frosting.
Ingredients
Cheesecake *The cheesecake will need to cool for 4-6 hours before you can layer it with your carrot cake
24

oz

cream cheese

softened (three 8-oz packages)

1

cup

sugar

1

tsp

vanilla extract

1/2

cup

sour cream

3

eggs
Carrot Cake
2 1/2

cups

all-purpose flour

1

cup

granulated sugar

1

cup

light brown sugar

packed

1 1/2

tsp

baking soda

1

tsp

baking powder

1

tsp

salt

2

tsp

cinnamon

1/2

tsp

nutmeg

1 1/2

cups

canola oil

4

eggs

room temperature

1

Tbsp

vanilla extract

3

cups

grated carrots

1

cup

chopped walnuts or pecans

optional
Frosting
16

oz

cream cheese

softened

8

Tbsp

butter

softened

1 1/2

tsp

vanilla extract

4

cups

powdered sugar

2

Tbsp

heavy cream
Instructions
Cheesecake
Prepare cheesecake at least 4-6 hours before you wish to assemble the cake!

Preheat oven to 350F

Line 9" springform pan with parchment paper (remove the bottom, cover with a square of parchment paper and return rim (parchment paper will be sticking out the sides). This helps to make the cheesecake more easily transferable to the center of the other cake.

In mixer, beat together softened cream cheese, sugar and vanilla, scraping down the sides with a spatula occasionally to ensure it is mixed well. (beat on medium-speed about 1-2 minutes, scraping down side occasionally, it should be creamy and well-mixed)

Add sour cream, mix well, stopping once to scrape down the sides before mixing again.

Add eggs, one at a time, beating until just mixed after each addition (and scraping down the sides after each addition)

Pour cheesecake batter into prepared springform pan.

Bake on 350F for 40 minutes.

Remove from oven and allow to cool to room temperature before transferring to fridge to cool for at least 4 hours.
Carrot Cake
Preheat oven to 350F and lightly but thoroughly grease 2 9-inch round pans.

In large bowl or KitchenAid mixer whisk together flour, sugars, baking powder, baking soda, salt, cinnamon and nutmeg.

Stir in canola oil. Add eggs, one at a time, pausing to scrape down sides of the bowl after each addition.

Stir in vanilla extract.

Stir in carrots and nuts (if using).

Evenly divide between prepared baking pans and bake on 350 for 30-35 minutes (toothpick inserted in center should come out mostly clean with only few crumbs).

Allow to cool in the pans for 10 minutes, then run a knife around the edge and invert onto cooling rack to cool completely.
Frosting & Assembly
In KitchenAid or with hand mixer, cream together butter and cream cheese. Stir in vanilla extract.

Gradually, carefully, stir in powdered sugar until completely combined (be sure to scrape down sides of bowl to ensure ingredients are well-combined).

Add heavy cream and beat on medium-high speed for 30 seconds. Scrape down sides of bowl and then beat again for 15 more seconds.

Once cake and cheesecake have both cooled completely, carefully transfer one 9" carrot cake layer to cake stand/serving platter and layer the top with the cream cheese frosting.

Run a knife around the inside edge of the springform pan to loosen the cheesecake and remove the sides of the pan. Carefully place the cheesecake on the prepared carrot cake layer (you may need to trim the sides of the cheesecake with a sharp knife). Layer the top of the cheesecake with the frosting.

Place second carrot cake layer on top of iced cheesecake layer.

Apply icing to the top and around the sides of the cake. You may wholly cover the cake or run a straight edge spatula against the surface of the cake for a semi-naked look.

Serve. Keep uneaten cake in the refrigerator.
Nutrition Facts
Cheesecake Layered Carrot Cake
Amount Per Serving
Calories 696
* Percent Daily Values are based on a 2000 calorie diet.
You Might Also Like:
Strawberry Lemon Layered Angel Food Cake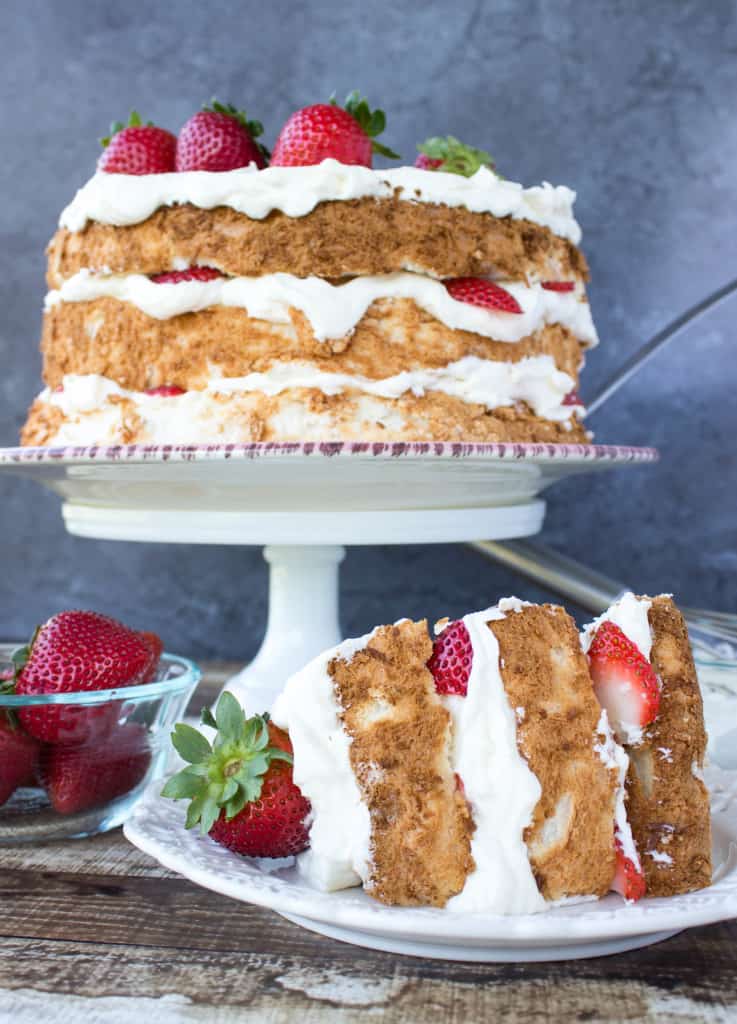 Banana Cake with Brown Sugar Cream Cheese Frosting
Cheesecake Stuffed Dark Chocolate Cake
PIN IT:
This Cheesecake Layered Carrot Cake was originally published 3/16/16 — text has been updated.