How to make Chocolate Covered Strawberries at home! This is a simple recipe with lots of tips for flawless berries and a perfectly smooth, flawless chocolate coating every time. Perfect for serving alongside a champagne granita for New Year's Eve or Valentine's Day!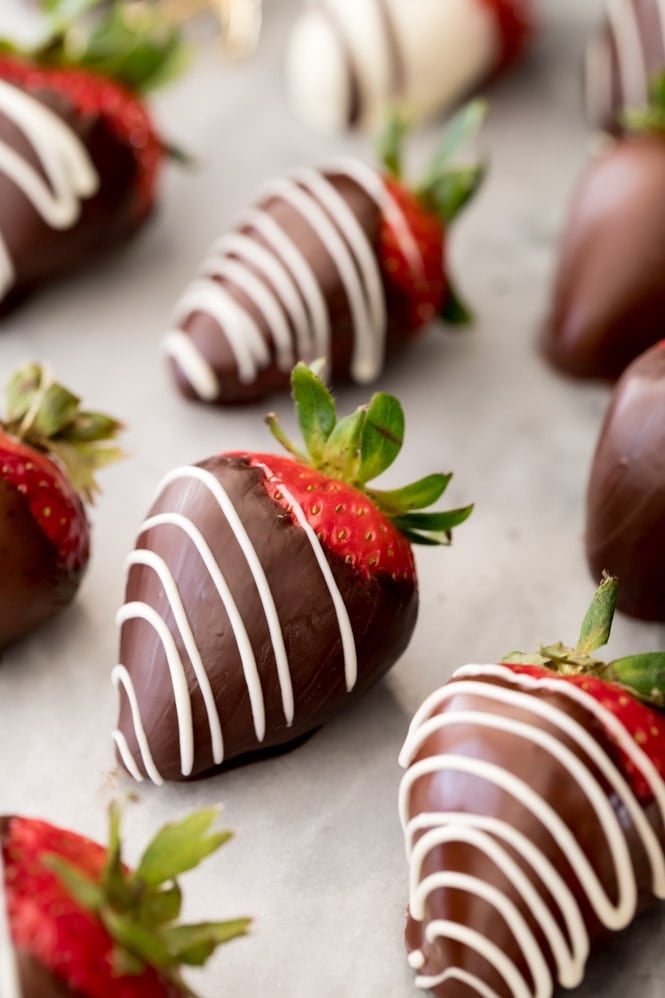 How to Make Chocolate Covered Strawberries
Today's recipe is hardly a recipe. Chocolate Covered Strawberries are insanely simple to make and so, so good.
My family enjoys them every year on New Year's Eve, (though they're a great Valentine's Day dessert, too!) and I thought I'd share some of the tips and tricks that we've picked up over the years for perfect, beautiful chocolate covered strawberries every time.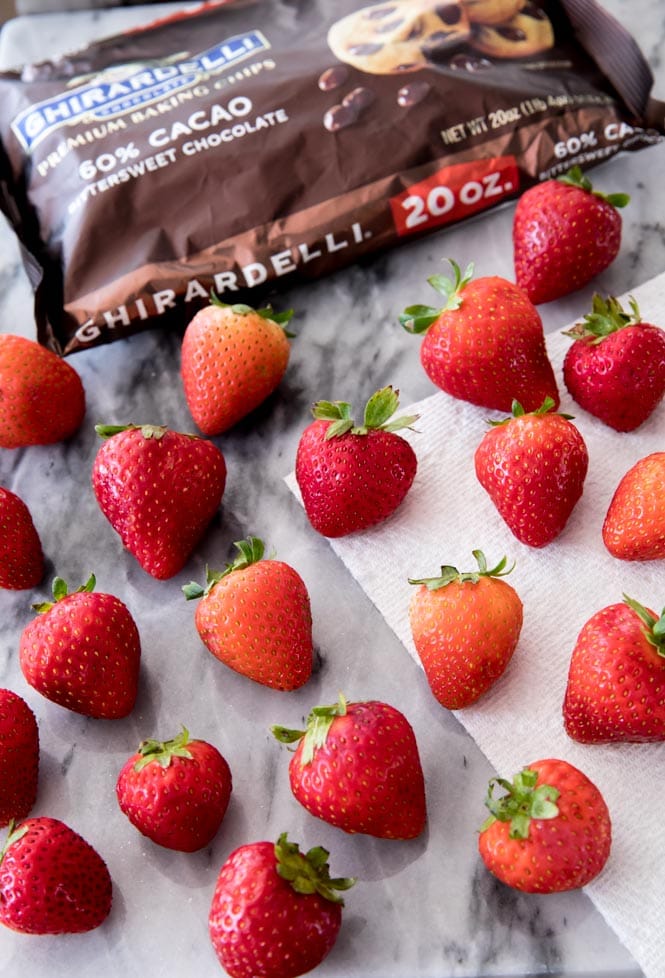 Clean, DRY Berries are Key
Start by preparing your berries! You'll need 2-3 pounds of fresh strawberries. Make sure to rinse them very well, but just as importantly make sure to dry them very well. I go over every strawberry individually with a paper towel and blot as much water as I can from the berry and from the stem.
If any of that water gets into your chocolate, it can end up ruining it or leave you with streaky looking chocolate.
Next, you'll need your chocolate. Chocolate bars will actually work great for this recipe, you'll need 12 oz total and will want to chop it into chocolate-chip-sized pieces. I generally prefer to use chocolate chips, but only if they are good quality chocolate chips!
Ghirardelli is my current preference, they melt beautifully. I have not been a fan of Nestle recently (did they change their recipe?) and their chocolate melts much too thickly for me. If you do choose to try with a lower quality of chocolate, I recommend stirring in a teaspoon or two of shortening to help thin it out.
How to Melt Chocolate for Chocolate Covered Strawberries
There are two ways to melt chocolate when making chocolate covered strawberries. You can do this in the microwave or on the stovetop in a double-boiler. I generally tend to prefer using the double boiler, it lets me keep a closer eye on my chocolate.
Microwave
To melt chocolate in the microwave, simply place it in a medium-sized heat-proof bowl. Be sure to reserve about 1 heaping tablespoon of chocolate, we'll add this in at the end. Heat in 20-30 second increments, stirring really well in between, until chocolate is completely melted.
It's important that you pause frequently to stir to ensure your chocolate is heating evenly. If it gets too hot, it can end up "seizing", which leaves you with a thick, lumpy, grainy-looking chocolate. There are some tips and tricks out there for salvaging seized chocolate, but generally I recommend starting over if this happens.
Stovetop
If you have a double boiler you will want to use that. If you don't, you can make one, like I did. Fill a small saucepan with about an inch and a half of water. Fit a small heatproof bowl over the saucepan and make sure the bottom of the bowl isn't touching the water.
Remove the bowl for the time being and bring your water to a simmer. Once it's simmering, add your chocolate to the bowl but reserve about 1 heaping tablespoon to be added later. Turn the stovetop heat down to your lowest setting, replace the bowl over the water, and stir constantly until the chocolate is completely melted. As with our microwave method, frequent stirring is critical to keep the chocolate from seizing.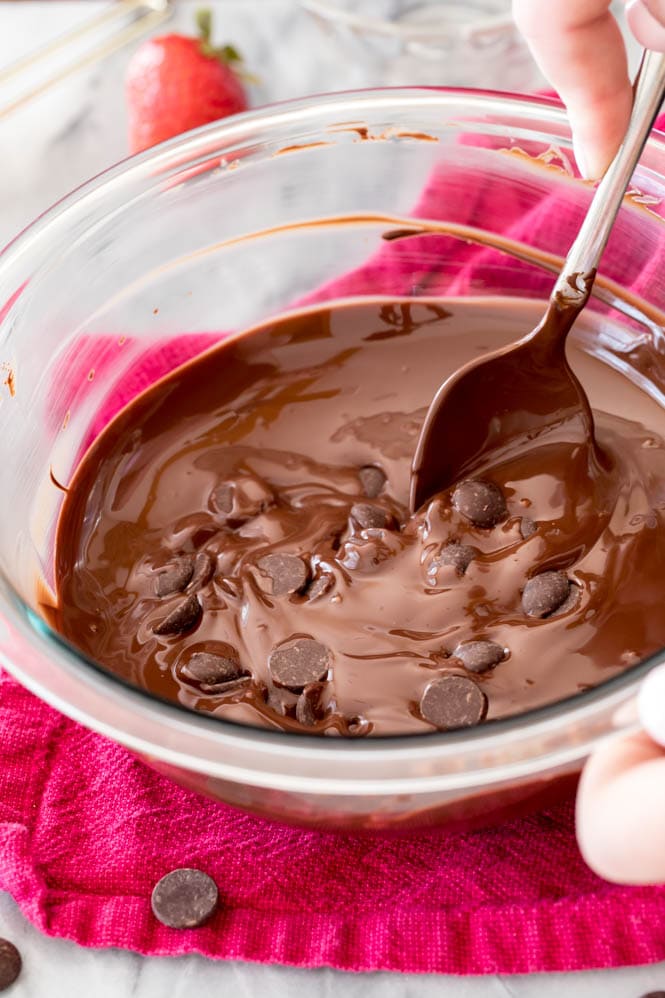 "Tempering" Chocolate
If you've ever coated something in chocolate before and ended up with streaky white lines throughout, it's because your chocolate wasn't tempered. Tempering chocolate (I use a cheater's method, more on that below) only takes a minute and helps give our chocolate a nice, even, glossy sheen, even once it's cooled completely.
Once your chocolate is melted (whether you used the microwave or stovetop method) remove from heat (wipe the bottom of the bowl if you were using a double boiler, as condensation will have formed) and toss in the reserved chocolate from earlier. Stir this very well until it is completely melted along with the other chocolate (it may take a minute, but it will all melt).
What we are doing here is tempering the chocolate. Kind of. Chocolatiers use a more exact and technical method for doing this. It involves candy thermometers: heat ⅔ of your chocolate to 113F, remove from heat, cool it to 100F, add remaining chocolate, stir until melted, and then continue.
My method for chocolate covered strawberries isn't nearly as technical, but it has worked for me for years and it's a lot quicker.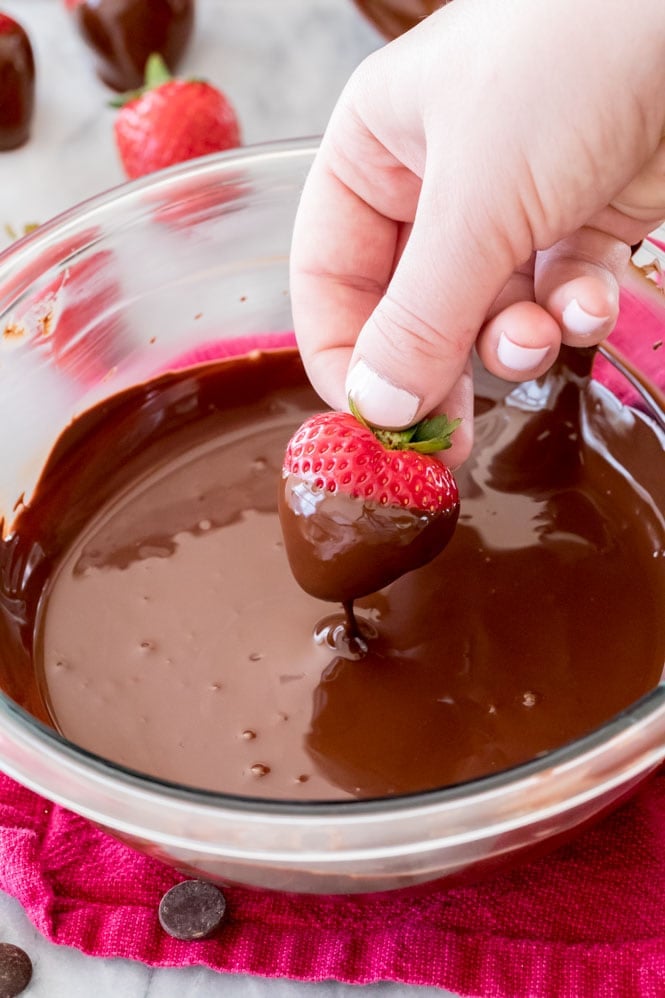 Once all of your chocolate is melted, you are ready to dip your strawberries. I like to pat them dry one last time with a paper towel for good measure. Make sure you have a wax paper lined surface or cookie sheet ready to place them once they've been dipped.
If you'd like, drizzle the dipped strawberries with white chocolate for a pretty contrasting effect as they set.
Placing these strawberries in the refrigerator for 10 minutes or so will speed up the setting process for the chocolate, but I'll usually let them sit at room temperature until the chocolate is hardened. This can take an hour or longer.
How to Store & How Long Will They Keep:
Generally I don't really recommend storing chocolate covered strawberries, at least not for longer than 12 hours.
If you must store them, store them in the refrigerator in an airtight container for up to 24 hours. Generally I recommend dipping your strawberries the same day you intend to serve them. I also think they are best served at room temperature rather than ice cold from the refrigerator. Your sensitive-toothed friends will thank you.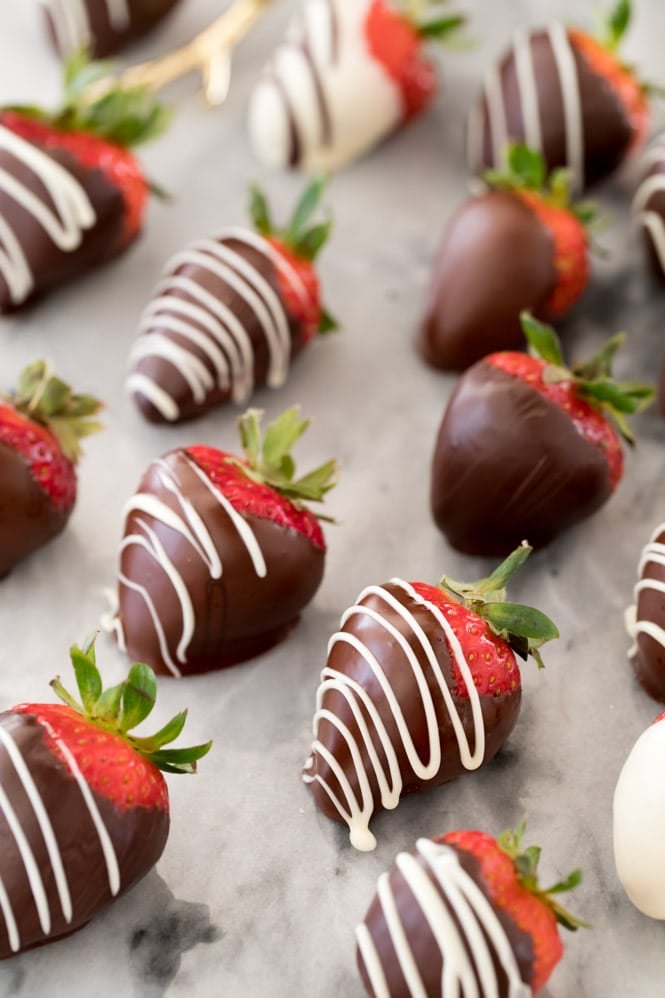 Enjoy!
More Candy Recipes to Try: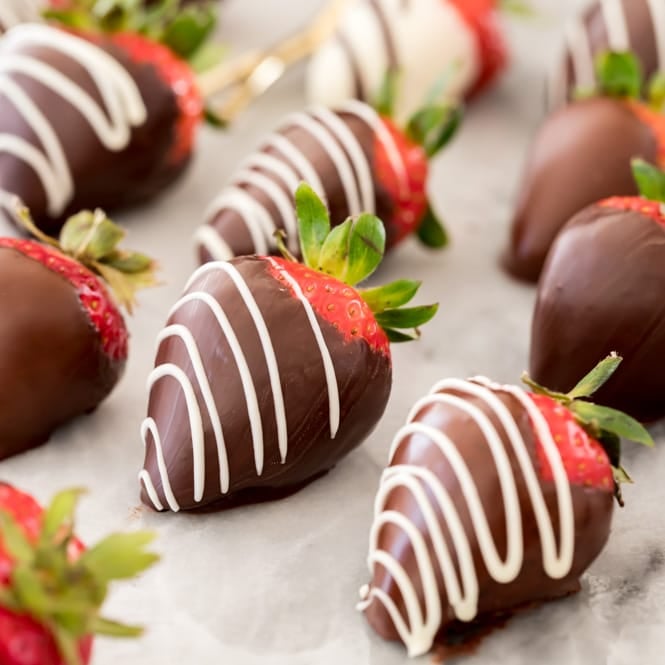 Chocolate Covered Strawberries
How to make Chocolate Covered Strawberries at home! This is a simple recipe with lots of tips for a perfectly smooth, flawless chocolate coating every time.
This recipe explains how to melt your chocolate on the stovetop, if you prefer to do so in the microwave please see the instructions provided in the body of the post.
Print
Pin
Rate
Servings:
2
lbs (approximately 50 berries)
Ingredients
2.5

lbs

strawberries

well rinsed and thoroughly patted dry (1.1kg)

12

oz

Ghirardelli dark chocolate chips

340g

½

cup

Ghirardelli white chocolate chips

melted for drizzling (optional) (85g)

Finely chopped nuts, shredded coconut, or anything else you might like to dip your strawberries in

(optional)
Instructions
Prepare your strawberries by rinsing well and then thoroughly patting dry with paper towels. It is very important that you get as much water as possible off of the berries or it could end up ruining your dipping chocolate.

Fill a small saucepan with 1-2 inches of water and find a medium-sized heatproof bowl that fits over the saucepan without touching the water.

Remove the bowl and add your chocolate, but reserve 2 Tablespoons for tempering later.

Bring the water in your saucepan to a simmer on the stovetop. Once simmering, reduce heat to low and rest your bowl with chocolate in the saucepan.

Stir constantly until chocolate is completely melted.

Once chocolate is smooth, remove bowl from heat and wipe the bottom of the bowl. Add reserved 2 tablespoons of chocolate chips and stir until they are melted (this helps keep your chocolate from becoming streaky).

Pat your strawberries dry once more, then dip by holding the berry firmly by the stem and dipping into the chocolate.

If desired, dip in chopped nuts, coconut, etc. while chocolate is still warm and then transfer to a wax paper lined cookie sheet to allow the chocolate to set.

If drizzling with white chocolate, melt the chocolate chips either in a double boiler or in the microwave and then drizzle over the strawberries. For neat drizzles I like to pour the chocolate into a ziploc bat and then snip off a tiny corner of the bag to drizzle over the berries.

Allow chocolate to set at room temperature before enjoying.
Nutrition
Serving:
1
strawberry (excluding nuts or additional toppings)
|
Calories:
44
kcal
|
Carbohydrates:
5
g
|
Protein:
1
g
|
Fat:
3
g
|
Saturated Fat:
2
g
|
Potassium:
35
mg
|
Fiber:
1
g
|
Sugar:
4
g
|
Vitamin C:
13
mg
|
Calcium:
4
mg
|
Iron:
4
mg
Nutritional information is based on third-party calculations and should be considered an estimate only. Actual nutritional content will vary based upon brands used, measuring methods, cooking method, portion sizes, and more.