A simple recipe for fresh and easy homemade cranberry sauce.  Made with real whole cranberries and just 3 other ingredients, this is an easy traditional must-have for your next holiday dinner.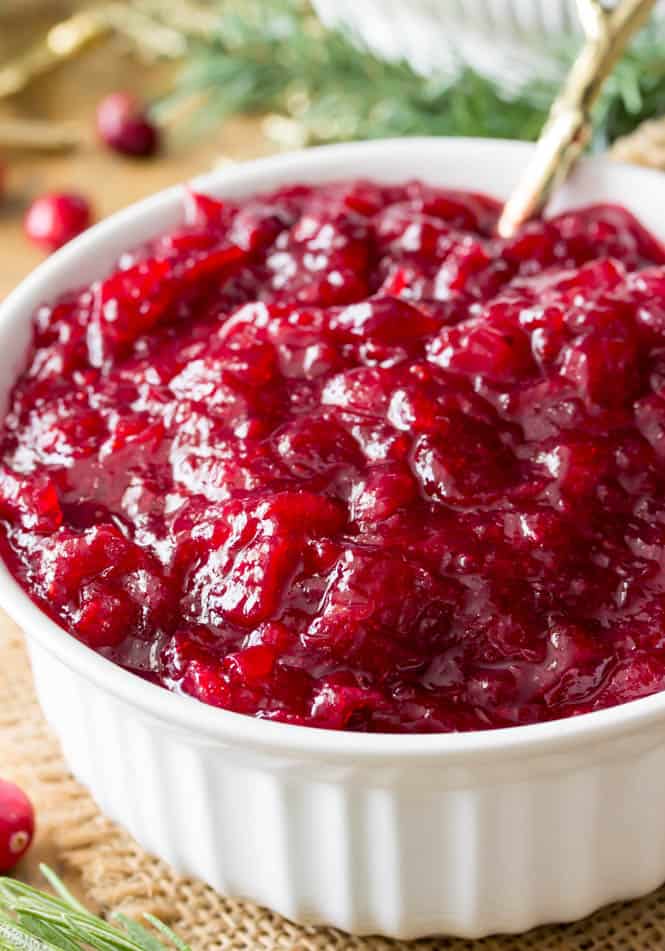 Who here is hosting Thanksgiving dinner this year?
Don't look at me, while I'd love to someday, my biggest contributions to holiday get-togethers usually land on the dessert table. Pumpkin pie (topped off with homemade whipped cream!), chocolate pie, apple pie, these are my usual subjects and most familiar territory, but this year I'm trying to branch out a little bit.
I already shared my honey wheat rolls that would make a great addition to your bread basket, but this year I also developed this super simple cranberry sauce recipe that's almost as easy as opening a jar of the canned stuff.  And I'm totally guilty of indulging in the canned stuff, but no longer!
All you need is 4 simple ingredients (5 if you count the water, do you count the water? I've spent far too much time thinking about this) and a saucepan.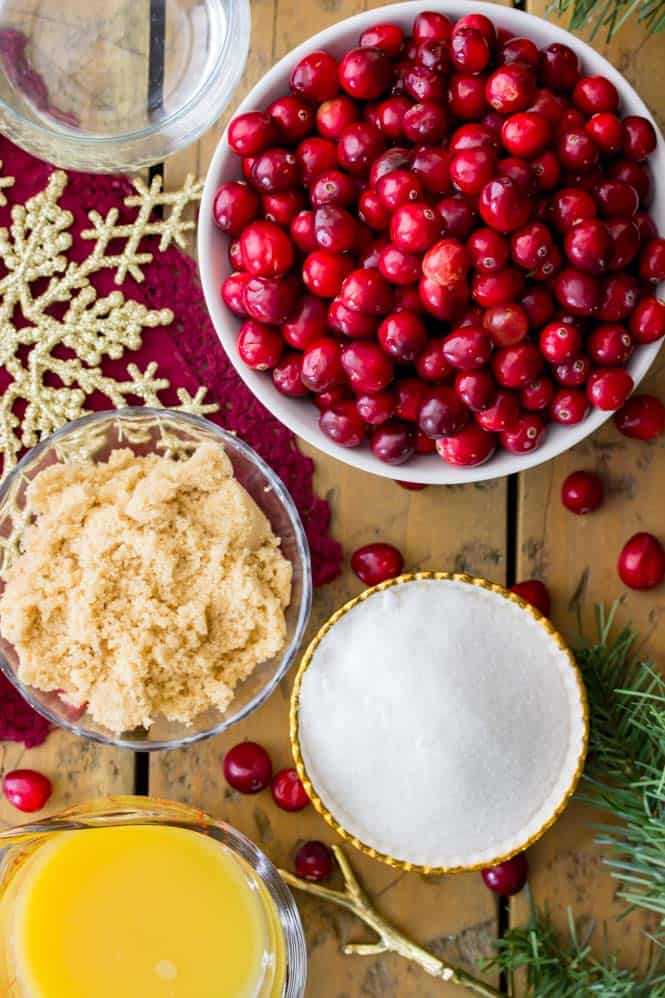 How to make cranberry sauce
For this cranberry sauce recipe, we'll be using fresh cranberries (you should be able to find a 12 oz bag in the produce section of your grocery store), a combination of brown sugar and white sugar, and a splash of OJ  (and some water, too, right).
I like to use some orange juice for my liquid, rather than just water.  The juice adds a subtle flavor that really makes this cranberry sauce shine.
The way that you make cranberry sauce is to cook these berries in liquid until they burst open their skins.  You have a little bit of wiggle room when making your sauce to adjust it to your preference.  If you like to have a few whole berries in your cranberry sauce, then you can add a few several minutes before the sauce is done cooking or you can remove the berries from the heat before all of them have burst.  I personally prefer mine to all be burst, so I leave them on the stovetop to cook until they all have popped.
If the sauce seems very runny, just remember that it will thicken as it cools.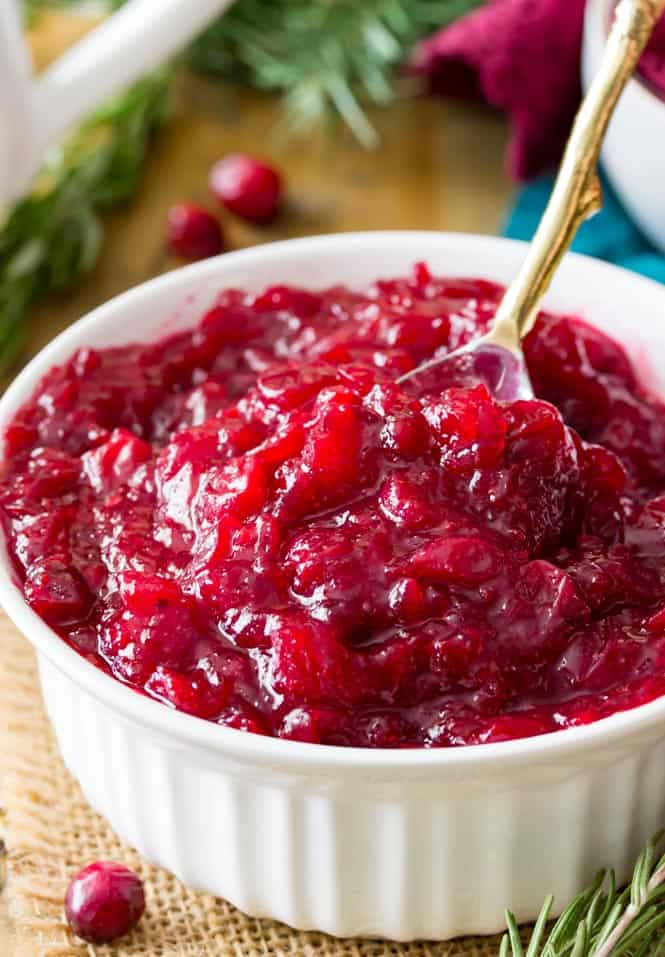 So that's how you make cranberry sauce, no can required!  Did you know it was that easy?
Oh, also, photographing cranberry sauce is NOT easy.  I always thought photographing pies was a difficult task, but jellied cranberry sauce is definitely a different animal all together.  Yikes!
Enjoy!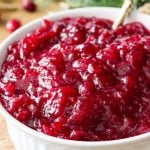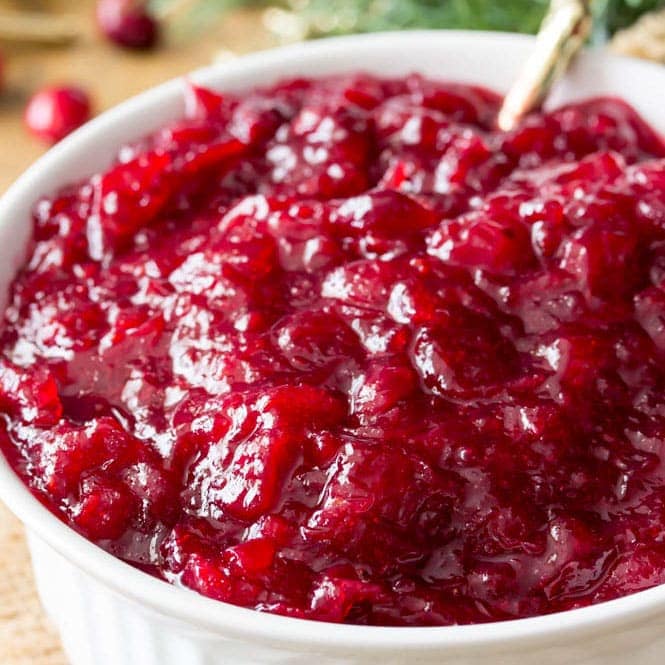 Homemade Cranberry Sauce
An easy homemade cranberry sauce, made with fresh cranberries and just a handful of other ingredients.
Ingredients
2/3

cup

sugar 133g

(133g)

⅓

cup

light brown sugar, tightly packed

(67g)

1/3

cup

water

(78ml)

⅔

cup

orange juice

(157 ml)

12

oz

cranberries

rinsed and picked through -- bad/bruised cranberries removed (340g)
Instructions
Combine sugars, water, and orange juice in a medium-sized saucepan over medium heat. Stir occasionally until sugars are dissolved, and bring to a boil.

Add cranberries and return to a boil. , reduce heat cook 10-15 minutes until berries have popped (careful, there's some splatter) and mixture slightly reduced

Reduce heat to simmer and continue to cook cranberries, stirring occasionally, 10-15 minutes or until all or most berries have burst (careful, there is some splatter) and the mixture is slightly reduced. The longer you cook your cranberries the thicker your mixture will be, but it will also thicken up after standing.

Transfer mixture to a bowl and allow it to cool for at least 20 minutes at room temperature.

Cover and refrigerate at least 2 hours before serving.

Cranberry sauce can be prepared up to 3 days in advance; keep refrigerated in a covered container.
Nutrition Facts
Homemade Cranberry Sauce
Amount Per Serving (1 serving)
Calories 95
* Percent Daily Values are based on a 2000 calorie diet.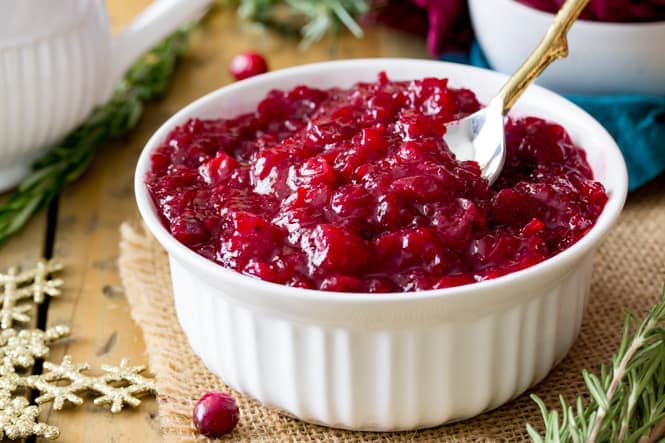 PIN IT: