This Carrot Cake Cheesecake consists of two layers of moist carrot cake sandwiched around a rich cheesecake. It's topped with a whipped cream cheese icing for one decadent, but surprisingly refreshing, dessert. Recipe includes a how-to video!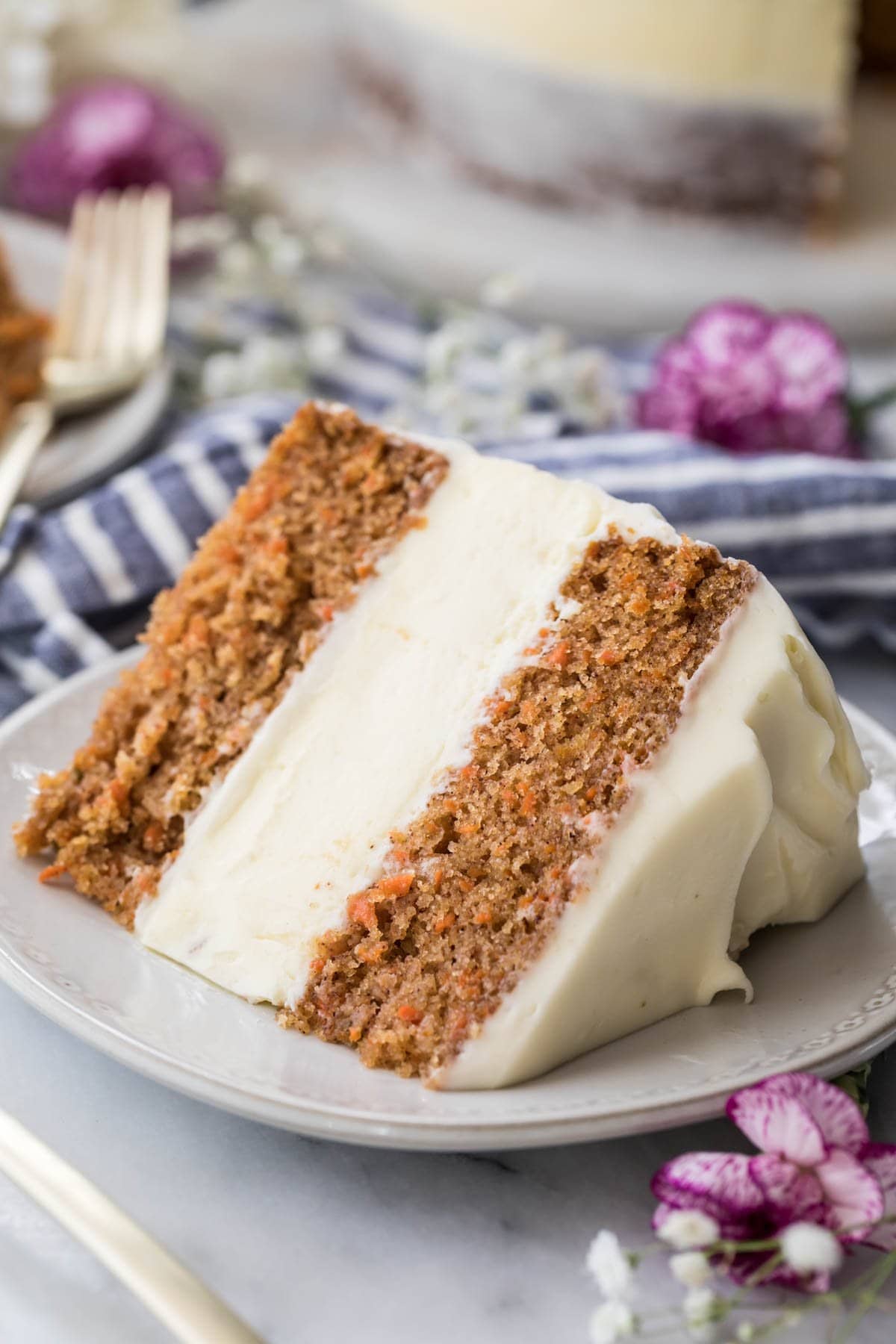 This carrot cake cheesecake is one of my most prized recipes, and it's an absolute showstopper–no other dessert can compare (except maybe my cheesecake stuffed chocolate cake!). With its incredibly moist and perfectly spiced carrot cake layers, sweet but tangy cheesecake center, and a lighter, whipped version of my cream cheese frosting, this is most definitely one of my favorite cakes.
While it took a few tries to achieve a perfectly moist cake, a perfectly creamy cheesecake, and a suitable ratio of one to the other, I finally have a beautifully balanced cake to share with you. I have a feeling this carrot cake cheesecake will be the star of many Easter dessert tables; but then again, it would be divine for any dessert table, anytime, ever.
Let's dive right in!
What You Need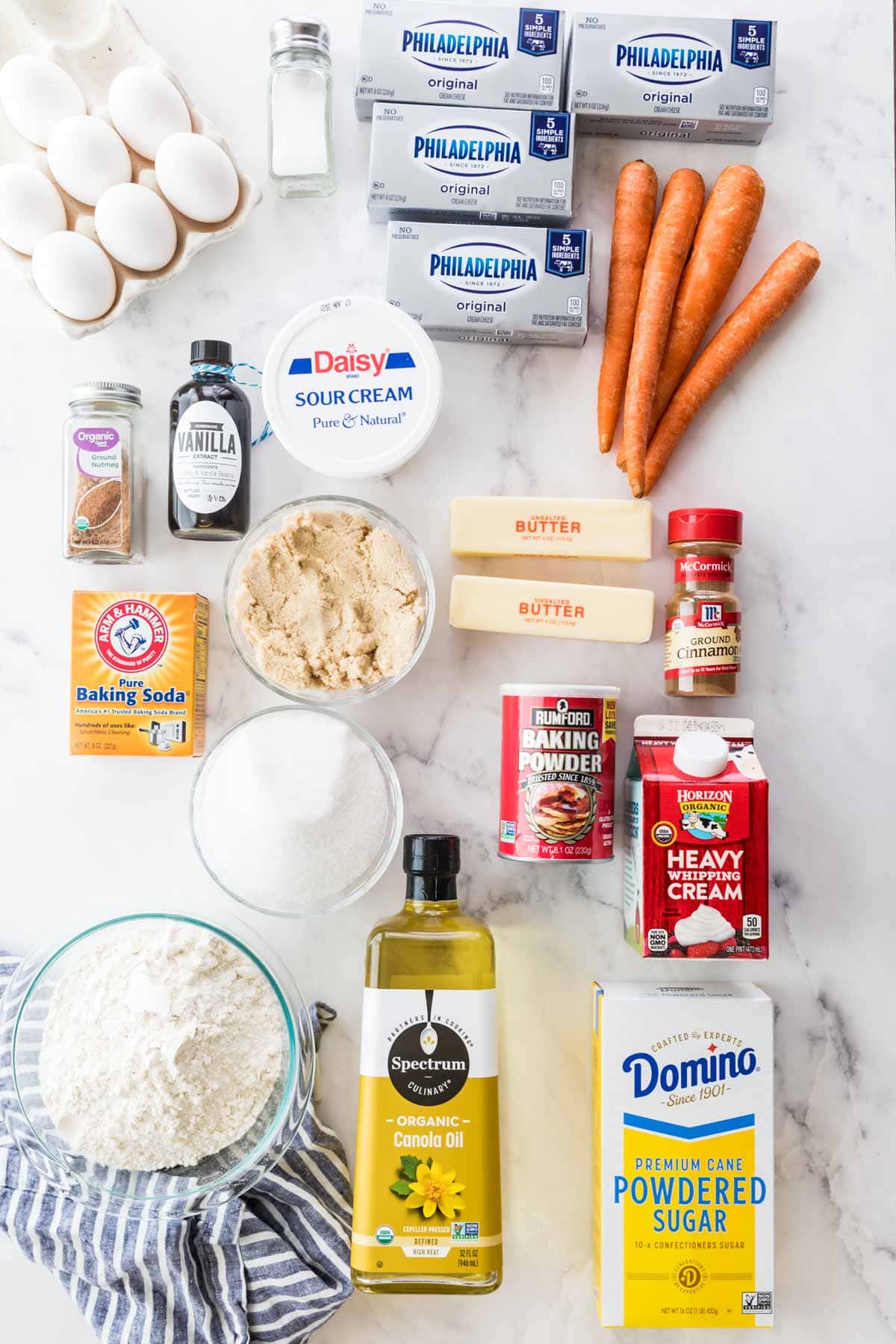 Here are a few of the key ingredients you'll need to make this stunning carrot cake cheesecake:
Cream cheese. You'll need a total of 32oz of softened cream cheese for this recipe. This will be divided between the cheesecake layer and the cream cheese frosting.
Sour cream. Use full-fat sour cream for the cheesecake portion. Full-fat, plain Greek yogurt could also work in a pinch.
Eggs. These should be room temperature before you add them. You'll need seven eggs total for this carrot cake cheesecake. It's a hefty cake!
Flour. All-purpose works best here. If substituted properly, cake flour could work, but it won't yield as dense of a crumb–which we actually want in this cake!
Brown sugar. I like to use half light brown sugar, half granulated sugar for depth of flavor in the cake portion of my carrot cake cheesecake.
Cinnamon + nutmeg. I like to spice my carrot cake with both cinnamon and nutmeg. Some people have asked me if they can add others, like allspice or clove, and that's fine (although the flavor will be more similar to a spice cake).
Oil + butter. We'll add both oil and butter for a moist and flavorful cake.
Carrots. Make sure to peel your carrots before grating them–this results in a cleaner looking carrot cake. I find I need about four carrots for this recipe.
Chopped nuts. These are optional, but if you like nuts in your carrot cake, you can use either walnuts or pecans. If you lightly toast them first, that's even better!
Heavy cream. Just a splash of cream helps the frosting whip up so it's light and airy, which complements this rich cake nicely.
Powdered sugar. We'll add enough to make the frosting sweet, but not too sweet.
Vanilla. A teaspoon of vanilla extract adds just the right amount of flavor without overpowering the cream cheese in the frosting and the cheesecake.
SAM'S TIP: I find the easiest way to grate carrots is to use a food processor. I start with the shred blade then switch to the standard blade before pulsing a few times until the carrots are fine pieces. Make sure you only pulse briefly, or you may end up with carrot puree!
Remember, this is just an overview of the ingredients I used and why. For the full recipe please scroll down to the bottom of the post!
How to Make Carrot Cake Cheesecake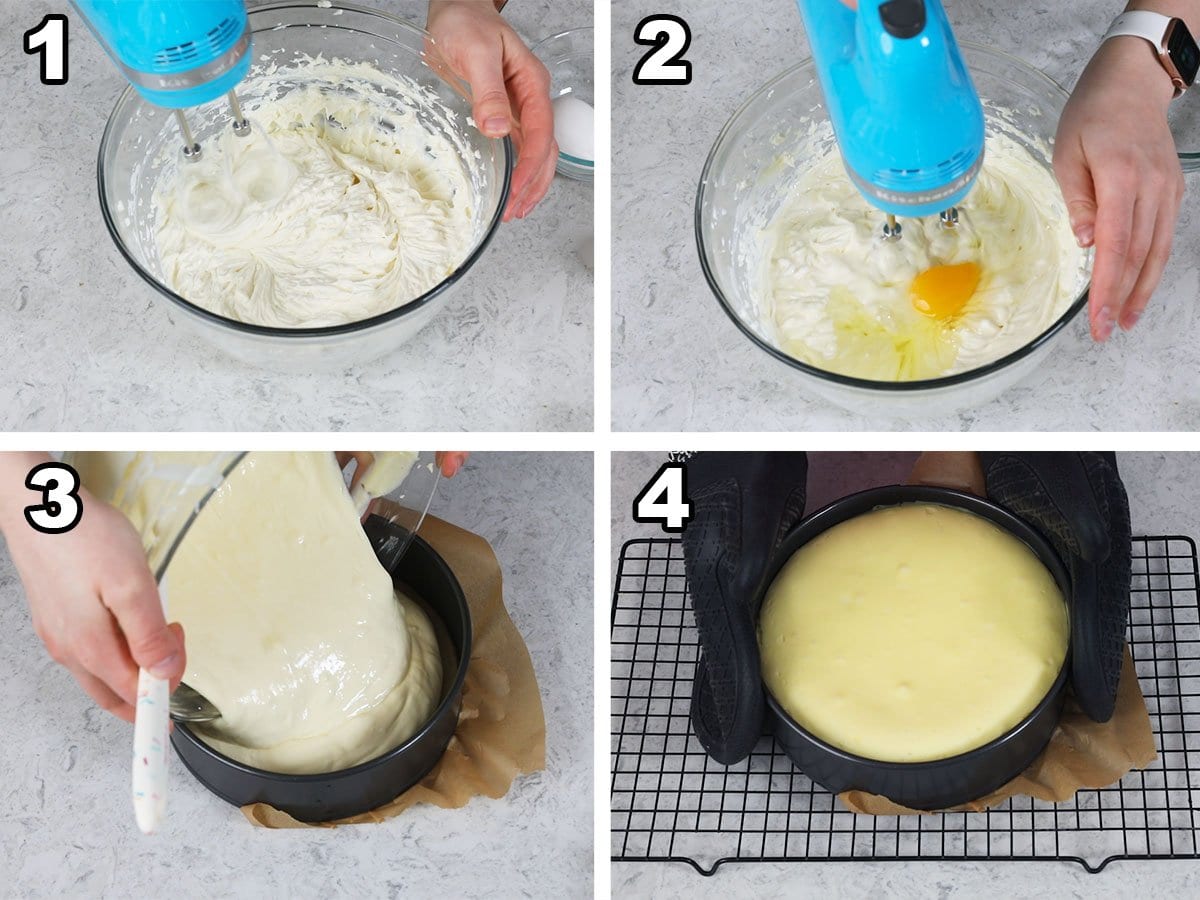 Beat the cream cheese and sugar until the mixture is smooth and creamy. Add the sour cream and vanilla and beat again until combined.
Add the eggs one at a time with the mixer on low speed, mixing until just combined after each addition.
Pour the cheesecake batter into a parchment lined springform pan and bake it for 35 minutes at 325F.
Let the cheesecake cool in its pan for 10 minutes before running a knife around the inside edge (but keep it in the pan). Let the cake cool to room temperature, then cover the pan with foil and let it chill in the fridge for at least four hours.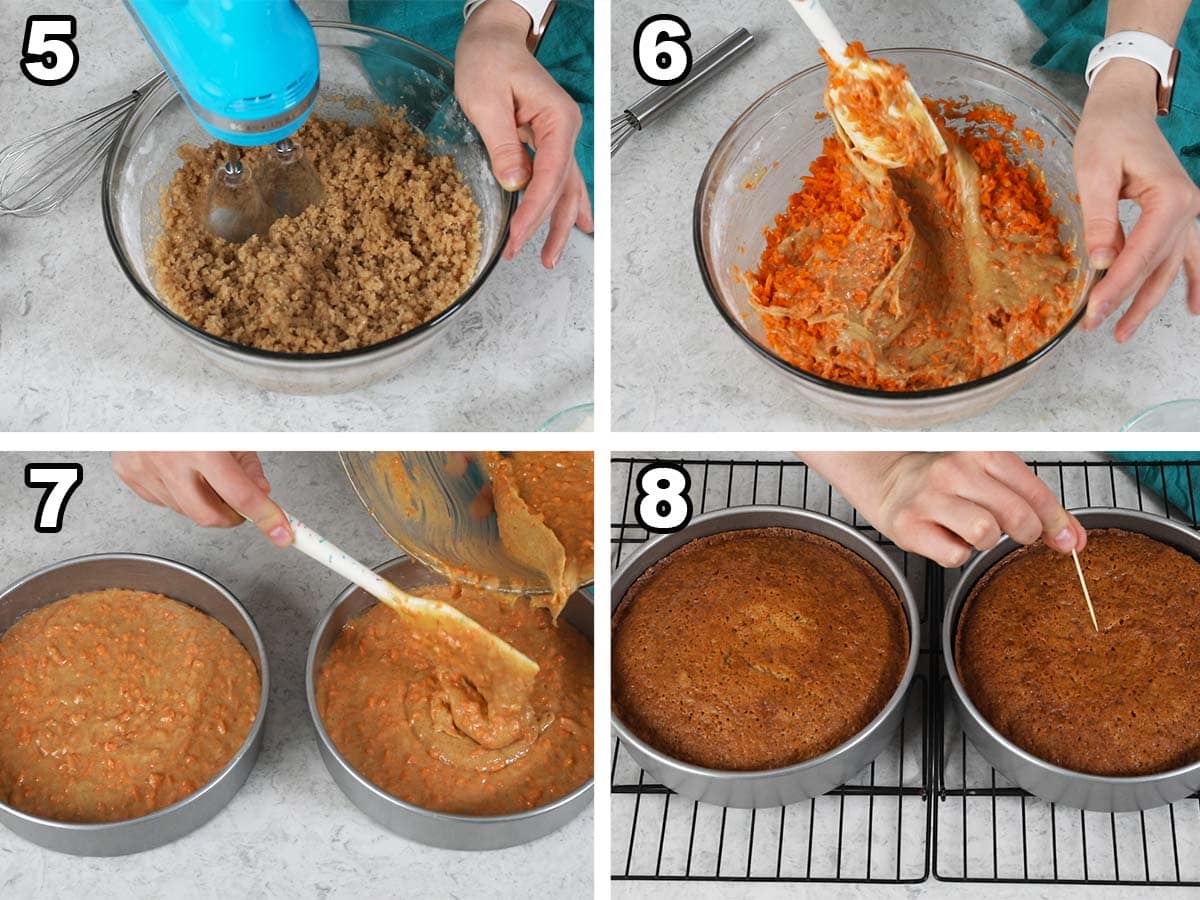 Combine the dry ingredients for the cake in a large mixing bowl. Add the oil and melted butter and mix until everything is well combined.
Add the eggs one at a time, then stir in the vanilla, carrots, and nuts (if using).
Divide the batter evenly among two greased, floured, and parchment lined cake pans and bake at 350F for 40 minutes.
Test the cakes for doneness with a toothpick, then let the cakes cool in their pans for 10-15 minutes before running a knife around the edges and inverting onto a cooling rack to cool completely.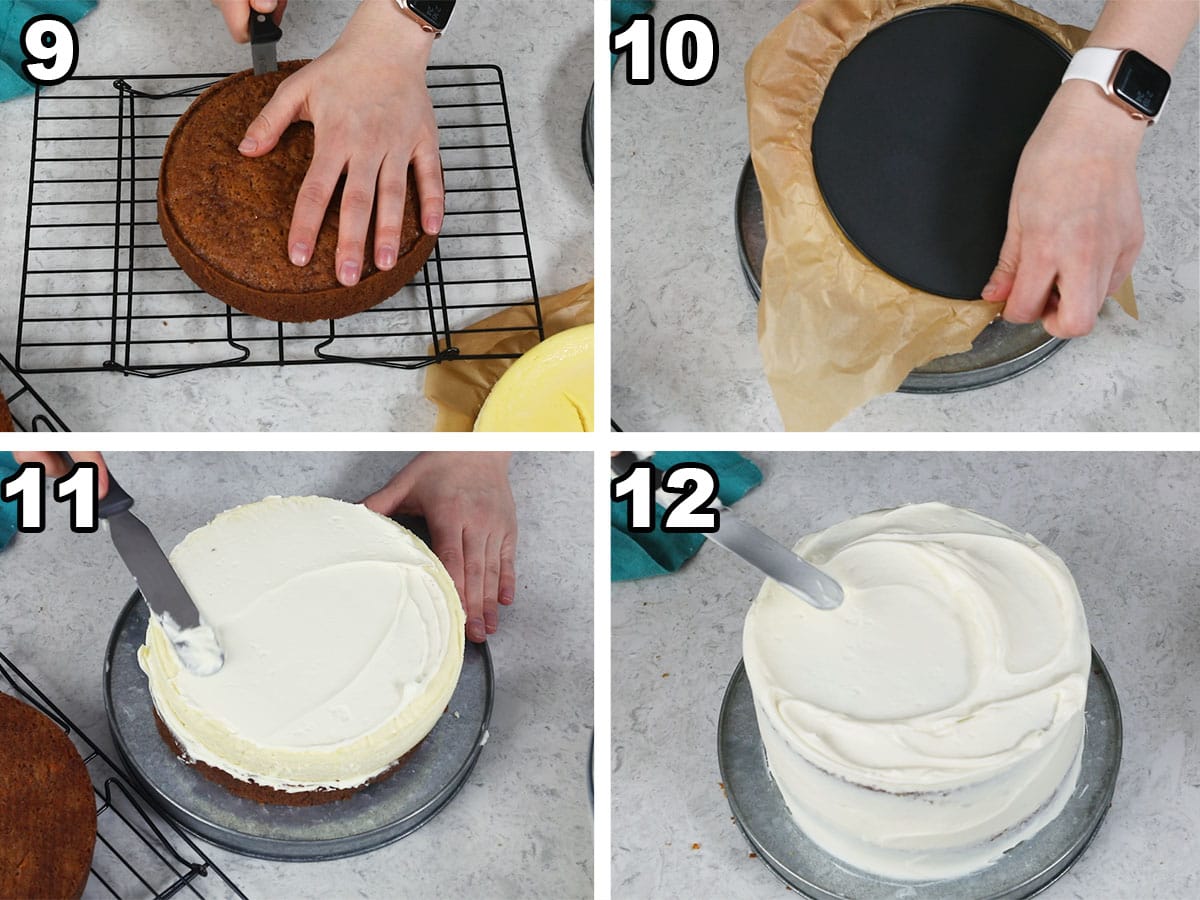 Remove the collar from the springform pan and, if needed, level your cakes. Place one cake layer onto your serving platter and cover it with frosting.
Carefully invert your cheesecake onto your frosted cake layer.
Cover the cheesecake layer with icing before adding the final cake layer on top.
Frost the entire cake as desired. Slice and enjoy!
SAM'S TIP: To line your springform pan, first remove the base from the collar. Then, place a piece of parchment paper directly onto the round base. Apply the collar as normal, placing it directly over the parchment. Finally, lock the pan in place so the excess paper fans out around the bottom. This will ensure that your cheesecake can be easily removed from the pan once it has cooled!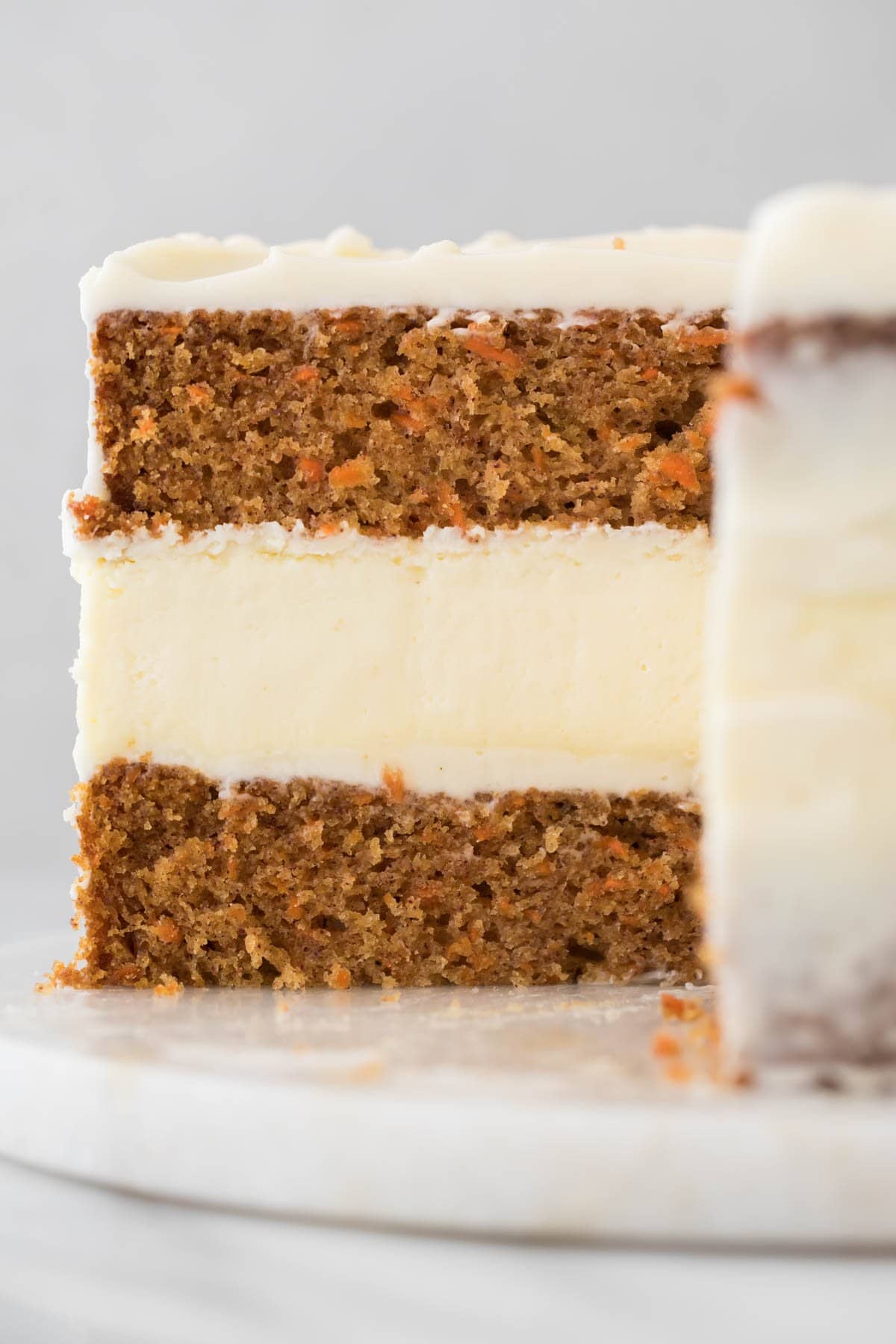 Frequently Asked Questions
Can I add raisins or pineapple to my carrot cake cheesecake?
I suppose raisins are a possible add-in, but why anyone would ruin a perfectly good cake with raisins is beyond me (…sorry if you actually like raisins!). I'm also not that big of a fan of pineapple in my carrot cake, but I think it could work if drained properly.
Can I use this recipe to make a regular carrot cake?
Yes, you can absolutely make this cake without the cheesecake center for a regular carrot cake. If you choose to do so, I recommend using my thicker cream cheese frosting for the best flavor (you don't need such a thick frosting if you have a layer of cheesecake in the center, but without the cheesecake, a thicker frosting would be more desirable, at least in my opinion!).

Along the same vein, if you'd like to make just the cheesecake layer, you can–but I'd really recommend making my actual cheesecake recipe (with the crust!) instead. The cheesecake in today's recipe is a smaller, slightly different variation.
Do I need to use a water bath?
No! Like my other cheesecake recipes, this carrot cake cheesecake doesn't need a water bath. To prevent cracks, just make sure to take care to not over-beat your ingredients and allow your cheesecake to cool slowly (like in the oven with the door cracked or in a warm place). If you ask me though, I'm even less worried about cracks in this particular recipe since the cheesecake layer is hidden!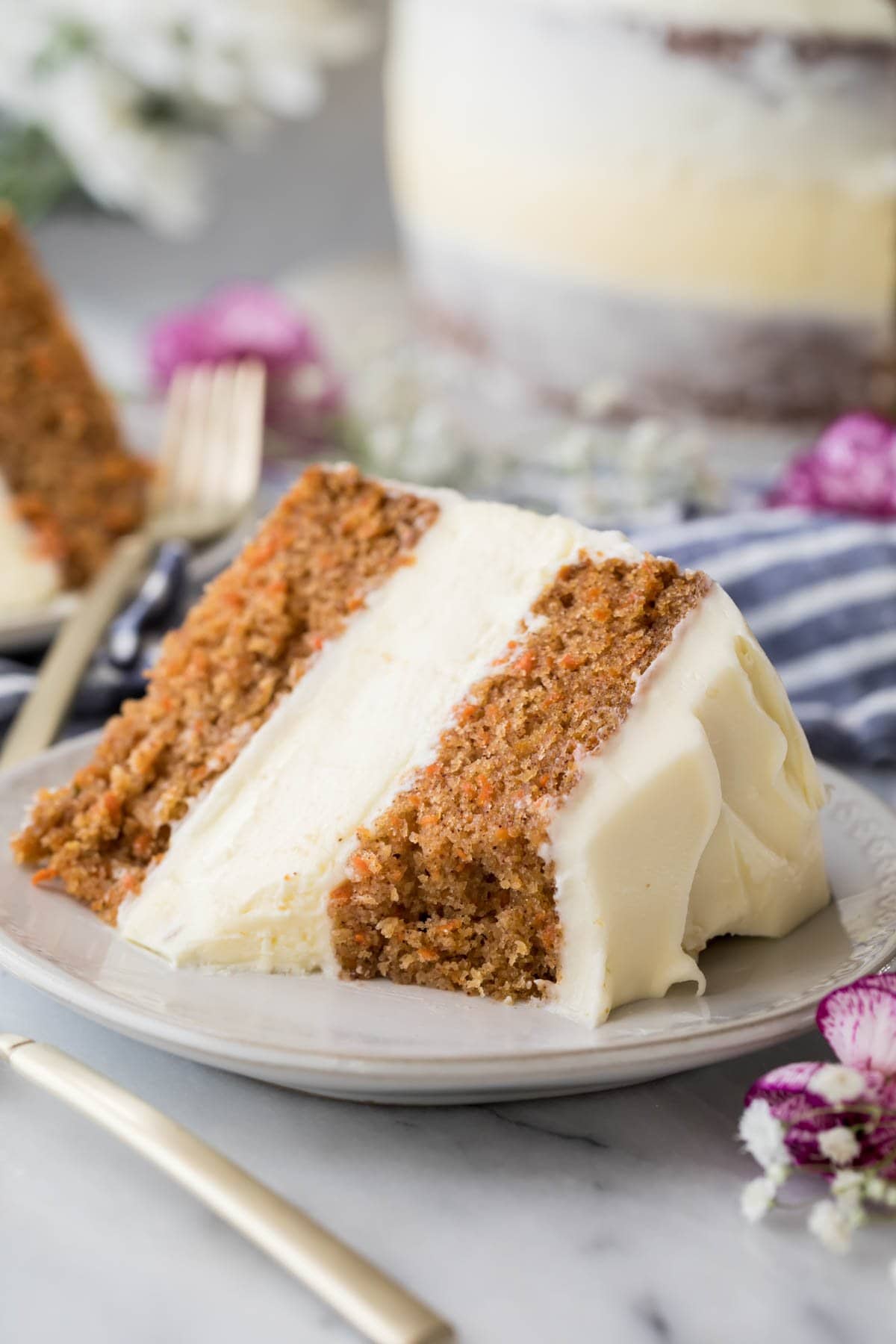 Enjoy!
Let's bake together! I'll be walking you through all the steps in my written recipe and video below! If you try this recipe, be sure to tag me on Instagram, and you can also find me on YouTube and Facebook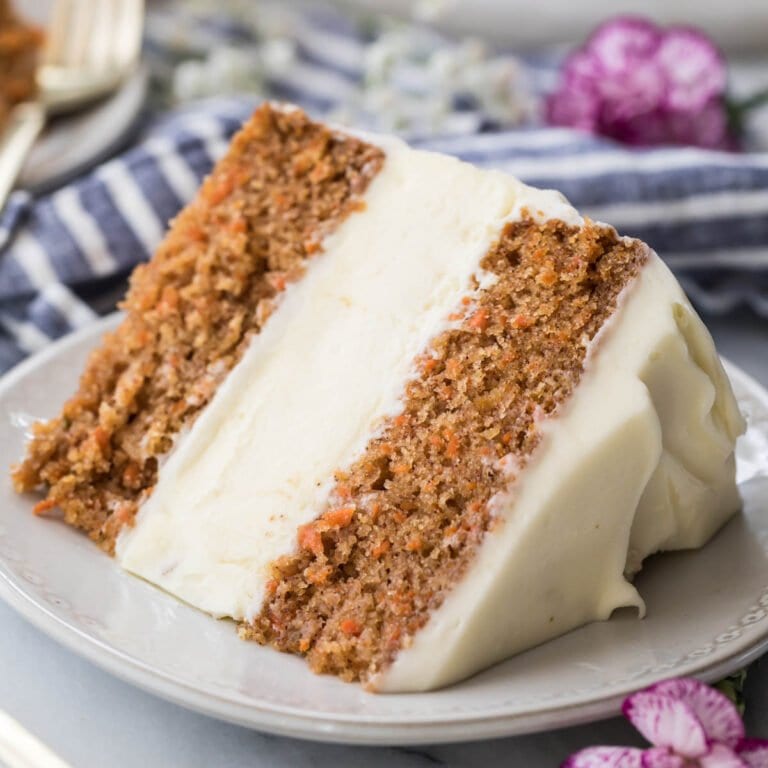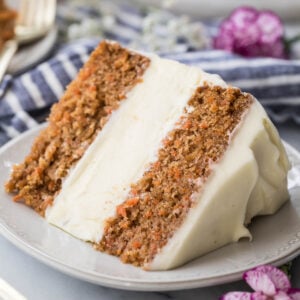 Carrot Cake Cheesecake
This carrot cake cheesecake consists of two layers of moist carrot cake sandwiched around a rich cheesecake. It's topped with a whipped cream cheese icing for one decadent, but surprisingly refreshing desert.
Recipe includes a how-to video! 
Print
Pin
Rate
Ingredients
Instructions
Preheat oven to 325F (165C) and line the bottom of an 8" round springform pan with parchment paper.

In a large bowl, use an electric mixer to beat together cream cheese and sugar until smooth, creamy, and lump-free (be sure to scrape the sides and bottom of the bowl).

Add sour cream and vanilla extract and stir on low-speed until combined.

With mixer on low-speed, add eggs, one at a time, stirring until just combined after each addition (over-beating the eggs can make the cheesecake crack and make the texture off so don't overdo it).

Pour into prepared pan and bake in 325F (165C) oven for 35 minutes or until cheesecake is set. Center may still be slightly jiggly like jello and edges may be beginning to slightly crack or turn a light golden brown.

Allow cheesecake to cool for ten minutes then carefully run a knife around the edge to loosen from the pan. Allow to cool until no longer warm to the touch then cover with foil and place in refrigerator to chill completely (at least 4 hours, preferably overnight, before assembling). Note: I do not remove the ring around the springform pan until I am ready to assemble the cake.
Carrot Cake
Preheat oven to 350F (175C) and grease and flour the sides and bottom of two 8" round cake pans (I like to also line the bottom of each pan with a round of parchment paper for extra insurance against sticking). Set side.

In a large bowl, whisk together flour, sugars, baking soda, baking powder, salt, cinnamon and nutmeg until well-combined.

Add oil and melted butter and stir until well-combined (mixture will be thick, but make sure batter is well-combined and no flour spots remain).

Stir in eggs, one at a time, then stir in vanilla extract, carrots, and walnuts or pecans (if using).

Divide batter into prepared pans and transfer to 350F (175C) oven and bake for 40 minutes or until a toothpick inserted in the center of the cake comes out with a few moist crumbs or clean. Allow cakes to cool in pan for 10-15 minutes then run a knife around the edge of the pan to loosen the cake from the sides and carefully invert to a cooling rack to cool completely before assembling. Meanwhile, prepare frosting.
Frosting
In a large bowl, use an electric mixer to beat together butter and cream cheese until creamy and smooth.

Add vanilla and salt and stir well.

With mixer on low-speed, gradually add powdered sugar until ingredients are completely combined.

Add heavy cream and gradually increase mixer speed to high, then beat for 15-30 seconds until light and creamy.
Assembly
Level cakes if needed/desired and remove the collar from the springform pan. Place one cake layer on cake platter and cover with a layer of frosting.

Carefully invert cooled cheesecake on top of the cake layer, cover with another layer of frosting, and top with remaining cake layer.

Spread a smooth layer of frosting over the entire cake. Cut and serve, Store remaining cake covered in the refrigerator for up to 5 days.
Notes
Making in Advance
The cheesecake must be prepared at least 4 hours in advance to give it adequate time to chill and to be manageable. You can prepare the cheesecake up to 2 days in advance, simply leave in the springform pan and cover with plastic wrap or foil until ready to assemble (if any moisture forms on the surface simply dab it of with a paper towel). Cake layers may be prepared up to a day in advance of assembly, allow to cool and then wrap thoroughly in plastic wrap and store at room temperature until ready to assemble. Frosting may be prepared a day in advance. Store in the refrigerator in an airtight container, then let sit at room temperature until it's soft enough to spread (you may need to stir the frosting before using).
Nutrition
Serving:
1
serving
|
Calories:
798
kcal
|
Carbohydrates:
90
g
|
Protein:
11
g
|
Fat:
45
g
|
Saturated Fat:
23
g
|
Polyunsaturated Fat:
6
g
|
Monounsaturated Fat:
11
g
|
Trans Fat:
1
g
|
Cholesterol:
194
mg
|
Sodium:
620
mg
|
Potassium:
310
mg
|
Fiber:
2
g
|
Sugar:
70
g
|
Vitamin A:
6046
IU
|
Vitamin C:
2
mg
|
Calcium:
148
mg
|
Iron:
2
mg
Nutritional information is based on third-party calculations and should be considered an estimate only. Actual nutritional content will vary based upon brands used, measuring methods, cooking method, portion sizes, and more.
Related Recipes
Recipe originally published in March of 2018. I've updated the recipe slightly to improve upon it and make the directions more clear, and the photos have been updated. The post has been updated and a video has been added to make this post as clear and helpful as possible!