Butter Cookies are a classic favorite holiday cookie but they're also great all year around! Crisp, buttery cookies with melt-in-your-mouth interiors, these are super simple with just 6 ingredients and no chilling required! 
These are one of my favorite Christmas cookies, simpler to make than decorated Sugar Cookies and amazing when dipped in dark chocolate (and decorated with sprinkles!).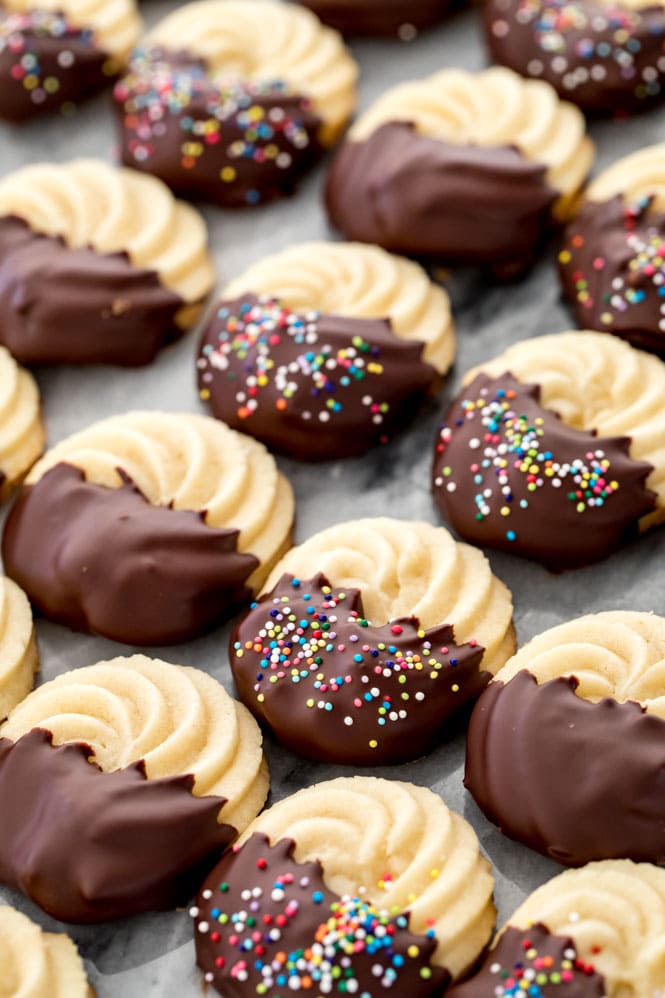 Crisp on the Outside, Soft on the Inside, Buttery Butter Cookies
These butter cookies are one of the simplest cookies to ever grace the face of my blog and yet they are one of my all-time favorites. Maybe because they're so easy?
But they're not just one of my favorites… my mom helps me with my baking and recipe development (and dishes!) almost every day of the week. She and my little sister leave my house with tons and tons of spare desserts, and often dessert fails, too.
So you would think she might want a break from sugar and flour and butter and even cookies when she goes home, but no. The day we finally nailed this butter cookie recipe (and there days and days of fails beforehand), she went home and made herself (and my siblings) another batch of these cookies.
That's how good these butter cookies are.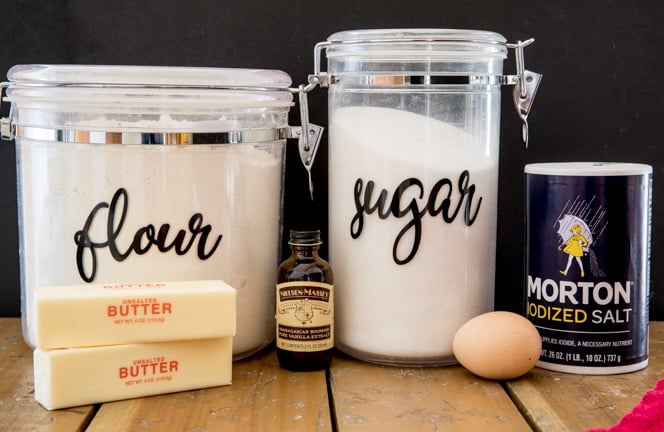 And I know that I mentioned they're easy, but really, 6 basic ingredients (7 if you want to dip them in chocolate, which you do), no chilling, no frills… I think you're going to love these.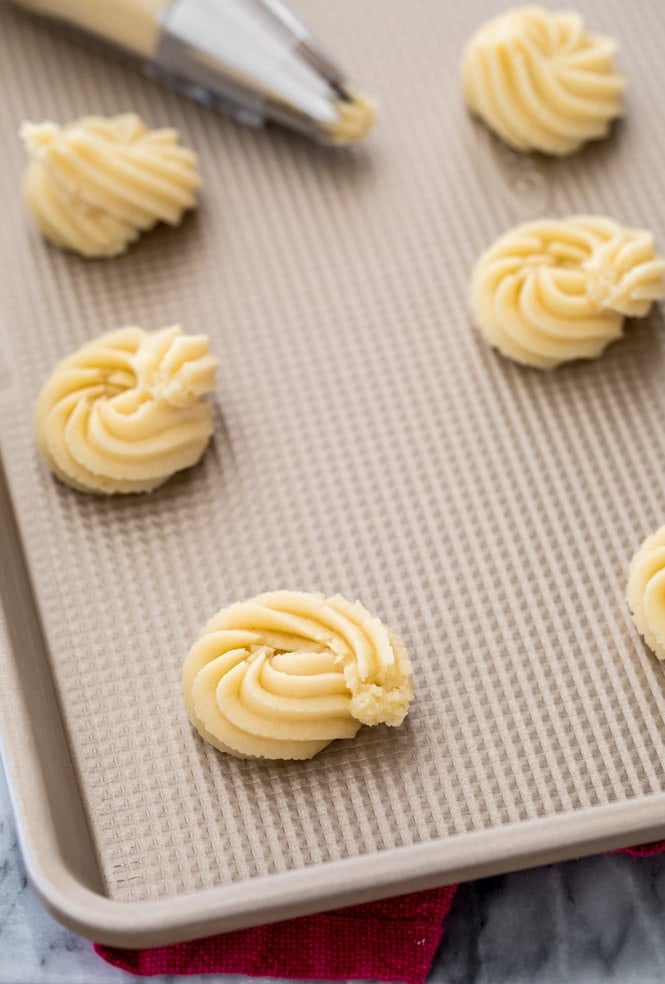 How to Make Butter Cookies
Cream together butter and sugar.
Stir in egg, vanilla extract, and salt.
Gradually stir in flour until completely combined.
Place half of the dough into a piping bag fitted with a large tip and pipe in a circular design onto an ungreased cookie sheet (I don't line my baking sheets with parchment paper).
Bake until edges are just beginning to turn golden brown.
Allow to cool, then dip in melted chocolate and decorate with sprinkles.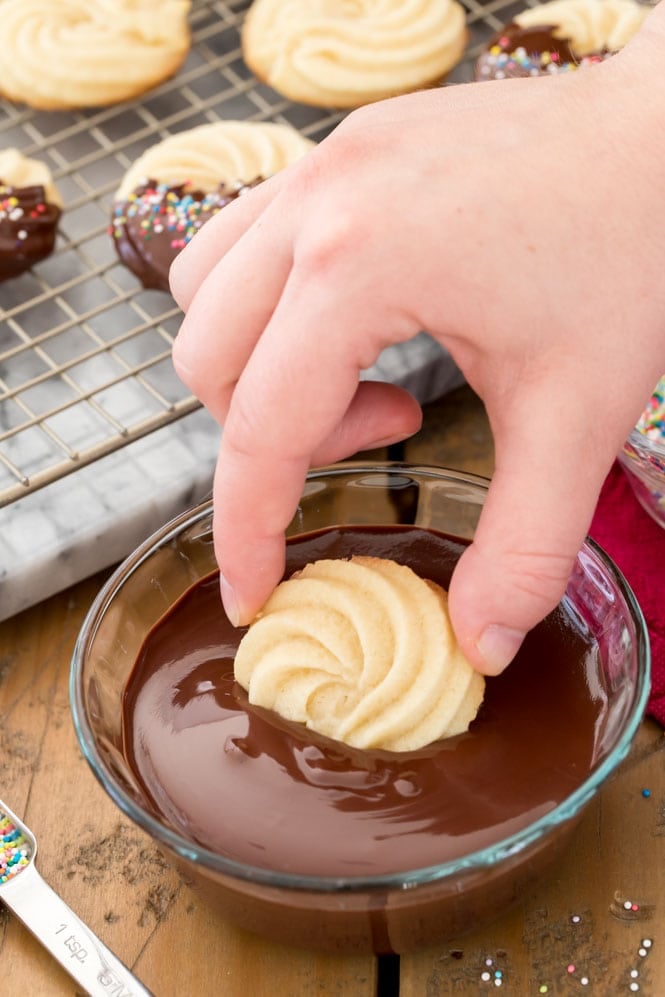 What is the Difference Between Sugar and Butter Cookies?
The biggest difference between sugar cookies and butter cookies is that sugar cookies are often rolled thin and cut out using cookie cutters. While butter cookies will hold their shape while baking, the dough is much softer and for best results should be piped onto a baking sheet and then baked. Butter cookies (probably unsurprisingly) also contain a higher percentage of butter while sugar cookies have a higher flour to butter/fat ratio. Here is my favorite recipe for sugar cookies (and it's a good one, just check out all those 5 star ratings!).
Shortbread cookies are another similar cookie, they are more crumbly and tender than butter cookies and bake at a lower temperature.
How Long Do Butter Cookies Last?
Butter cookies will keep for up to 2-3 weeks. Be sure to store them in an airtight container at room temperature.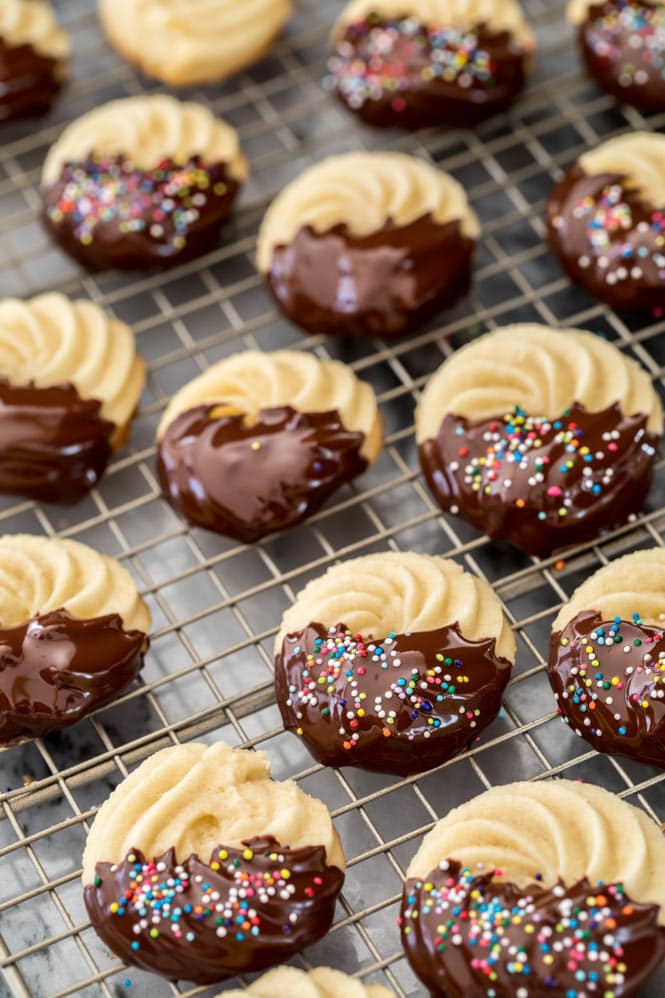 Tips for Making Butter Cookies
These cookies are simple, but here are a few little tips and tricks to help you on your way!
Your butter should be softened, but not so soft that it's melt-y or oily on the outside. I'll usually set mine outside of the fridge about 45-60 minutes before I begin baking.
"Regular" butter will work perfectly in this recipe, but I love splurging on European butter for an even better taste! This recipe has so few ingredients that using the best quality really makes a difference!
Only place about half of your cookie dough in the piping bag at a time. It makes it easier to pipe and less likely that you'll bust open your piping bag!
I used the Ateco 827 tip and made these butter cookies into simple swirls. If you make your swirls smaller or larger the cookies will need to bake for less or more time, respectively. Keep an eye on them! Also, if you use a different tip your baking time will vary (and smaller tips will be much harder to squeeze the dough through).
Dipping your cookies in melted chocolate is optional, but it adds a nice touch. I recommend adding a small bit of shortening to the chocolate to ensure that it's thin enough so that it dips well and you can still see the details of the cookie. If you use a premium chocolate like Ghirardelli, you can probably get away without adding the shortening, but I've found some less expensive chocolate just stays much too thick.
Placing your butter cookies in the fridge for about 10-15 minutes after dipping in chocolate will expedite the hardening of the chocolate! Don't leave them in for too long, though, or they will start to dry out.

Enjoy!
More Classic Cookie Recipes:
Let's bake together! Follow me on my YouTube channel where I've already uploaded over 200 recipe videos that you can watch for free! I've included a short version of the video in today's post, but for the full-length Butter Cookie video please see my YouTube channel. 💜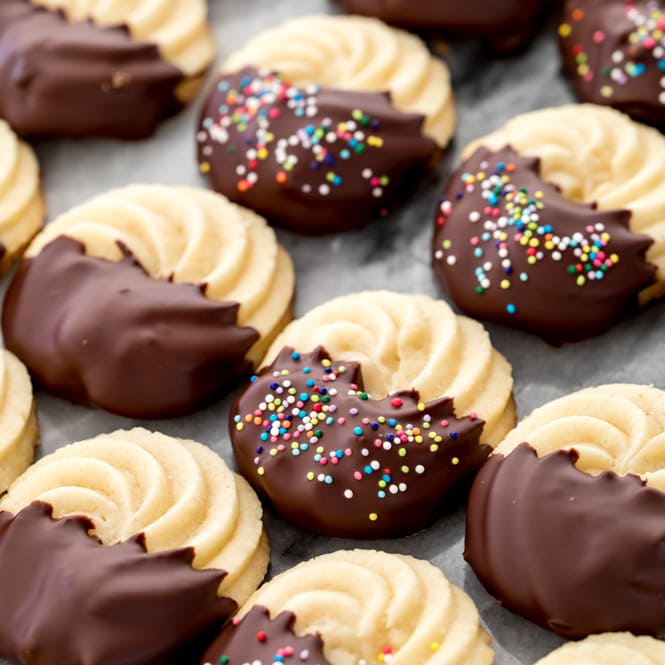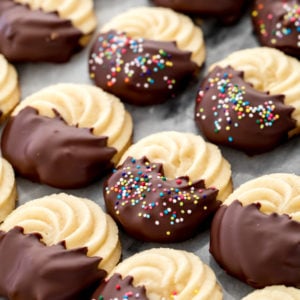 Butter Cookies
Butter Cookies are a classic favorite holiday cookie but they're also great all year around! Crisp, buttery cookies with melt-in-your-mouth interiors, these are super simple with just 6 ingredients and no chilling required!I STRONGLY RECOMMEND A LARGE ATECO 827 TIP TO PIPE THIS DOUGH, ANY SMALLER AND YOU MAY NOT BE ABLE TO PIPE THE DOUGH.Be sure to check out the how-to VIDEO!
Print
Pin
Rate
Ingredients
1

cup

unsalted butter

softened (226g)

¾

cup

granulated sugar

150g

1

large

egg yolk

2

teaspoons

vanilla extract

¼

teaspoon

salt

2

cups + 2 Tablespoons

all-purpose flour¹

265g ("plain flour" in the UK)
For Chocolate (optional)
1

cup

dark chocolate chips

170g

½

teaspoon

vegetable shortening

I use Crisco

Nonpareil sprinkles

optional
Instructions
Preheat oven 375F (190C)

In a large bowl (or, preferably, in the bowl of a stand mixer), combine butter and sugar and beat together with an electric mixer until creamy and very well-combined.

Add egg yolk, vanilla extract, and salt and beat well. Pause to scrape the sides and bottom of the bowl to ensure that all ingredients are well incorporated.

With mixer on low speed, gradually add flour until the flour is completely combined. Again you should pause to scrape the sides and bottom of the bowl.

Fit a large piping bag with Ateco 827 piping tip and portion half of the cookie dough into the bag².

Pipe cookies into swirl shapes on an unlined, ungreased cookie sheet. Transfer to 375F (190C) preheated oven and bake for 10-12 minutes or until edges of cookies are just beginning to turn golden brown.

Allow cookies to cool for 10 minutes on cookie sheet before transferring to cooling rack to cool completely.

Do not pipe cookie dough onto a hot or warm cookie sheet.

Once cookies have cooled completely, dip in chocolate (if desired).
Chocolate
Combine chocolate chips and shortening in a small bowl. Heat in the microwave in 20 second increments, stirring well in between, until chocolate is completely melted and smooth.

Dip cookies in chocolate and transfer to a wax paper lined cookie sheet. Decorate with nonpareils or other sprinkles, if desired.

Allow chocolate to harden before enjoying. You can speed up this process by placing the cookies in the refrigerator for about 15 minutes.
Notes
¹A few people have commented that their dough was too stiff to pipe. While the dough is a bit stiff (this is important for the cookies to hold their shape) it should not be too stiff to pipe. You will need to use an Ateco 827 tip for best results (I've found that most people having trouble have been using smaller tips), anything smaller or more closed will likely be too difficult to pipe.
Another possible reason for too-stiff dough is that the flour was accidentally over-measured. Please see my post about how to measure flour properly (you should lightly spoon the flour into a measuring cup and then level it off, never scoop the flour directly into the measuring cup). 
²I recommend portioning just half the batter at a time because it is easier to pipe the cookie dough if there is less in the bag.
Help! I don't have the right piping tip OR My dough ended up too stiff to pipe
Don't have an Ateco 827? Don't kill your hand trying to use a smaller tip! You can instead drop the cookie dough by rounded 1 ½ Tablespoon onto the baking sheet and use the tines of a fork to make a criss-cross pattern (like if you were making peanut butter cookies) and bake as directed.
As mentioned above, the most likely reason for being unable to pipe the dough is if the flour was over-measured (see notes above), the ingredients weren't combined well enough (especially if the butter and sugar weren't well-creamed), or if you're trying to use a piping tip that is too small.
Some people have reported success with adding a splash of milk to the dough (though keep in mind that because you have lowered the ratio of butter to other ingredients the cookies may not be as buttery/flavorful) or you can also try warming the dough in the piping bag between your hands by squeezing it before piping.
How to Store
Butter Cookies will keep for up to 2-3 weeks in an airtight container at room temperature.
Nutrition
Serving:
1
cookie (includes chocolate/sprinkles)
|
Calories:
146
kcal
|
Carbohydrates:
16
g
|
Protein:
1
g
|
Fat:
9
g
|
Saturated Fat:
5
g
|
Monounsaturated Fat:
2
g
|
Cholesterol:
26
mg
|
Sodium:
24
mg
|
Potassium:
3
mg
|
Sugar:
9
g
|
Vitamin A:
5
IU
Nutritional information is based on third-party calculations and should be considered an estimate only. Actual nutritional content will vary based upon brands used, measuring methods, cooking method, portion sizes, and more.